August 24, 2018 | Sandy Giardi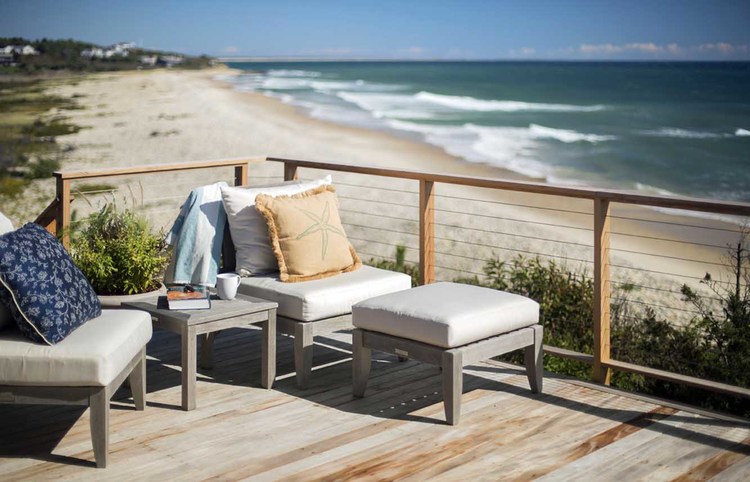 With just a few short weeks of summer left, we're etching the joyful, if fleeting, days spent by the water in our minds. We know that, as sure as the evening air turns crisp, we'll soon be in a "wish we were there" state of mind. Instead of feeling wistful, we're bottling these feel-good scenes created by New England's finest architects, builders and designers, and basking in snapshots of their collective talents. The following postcard-perfect waterside moments are worth writing home about….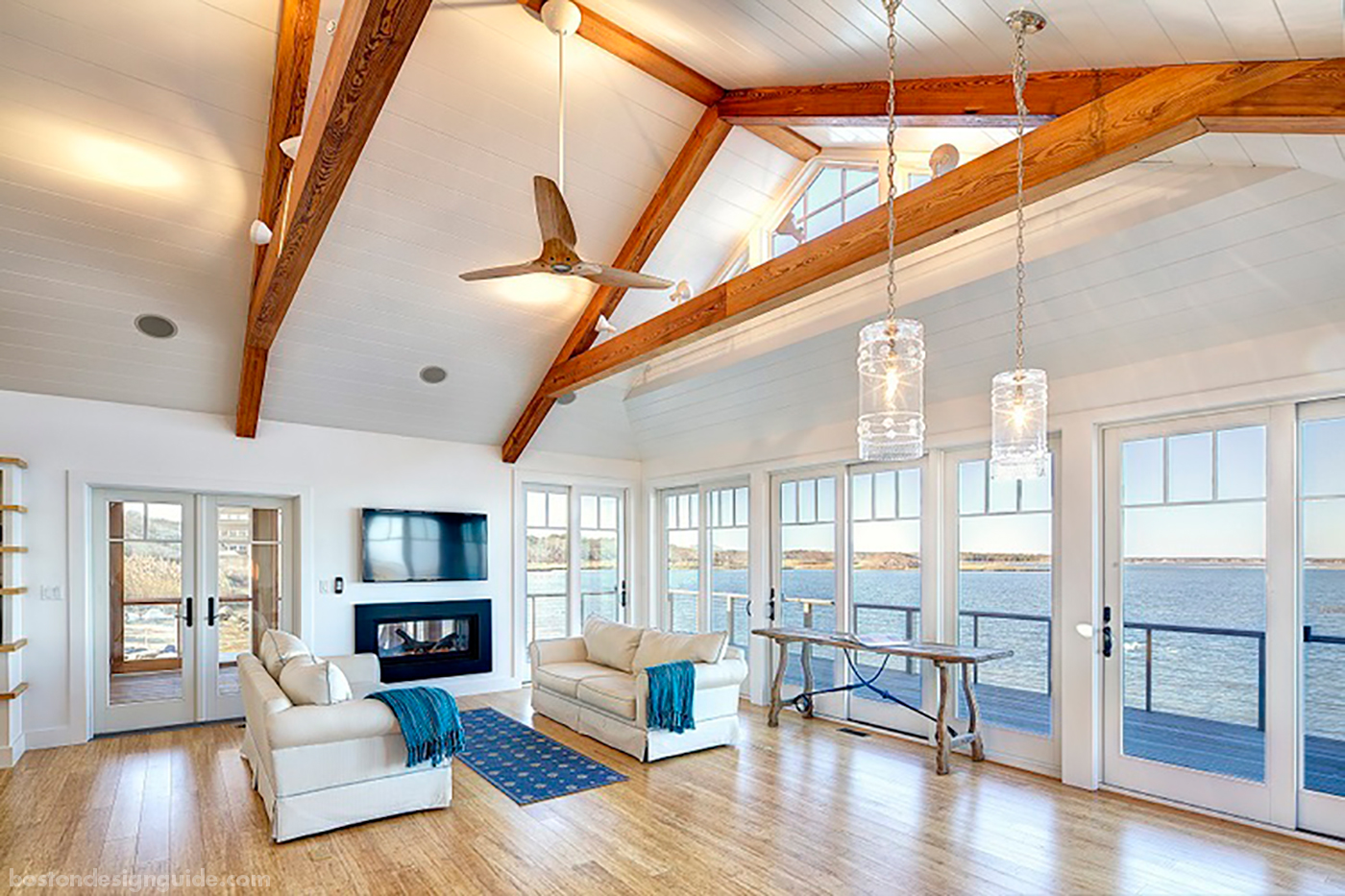 Residential design by Sherman Associates
Sherman Associates gave this renovated beach "camp" on Martha's Vineyard a boathouse feel with a design that blurs the lines of indoors and out. This refreshing and clean-lined getaway isn't just by the water. At times, it is over the water, and designed to let surging tides flow underneath it without disturbing the structure. Its chiseled roofline keeps a deliberately low profile, allowing the beauty of the landscape to shine.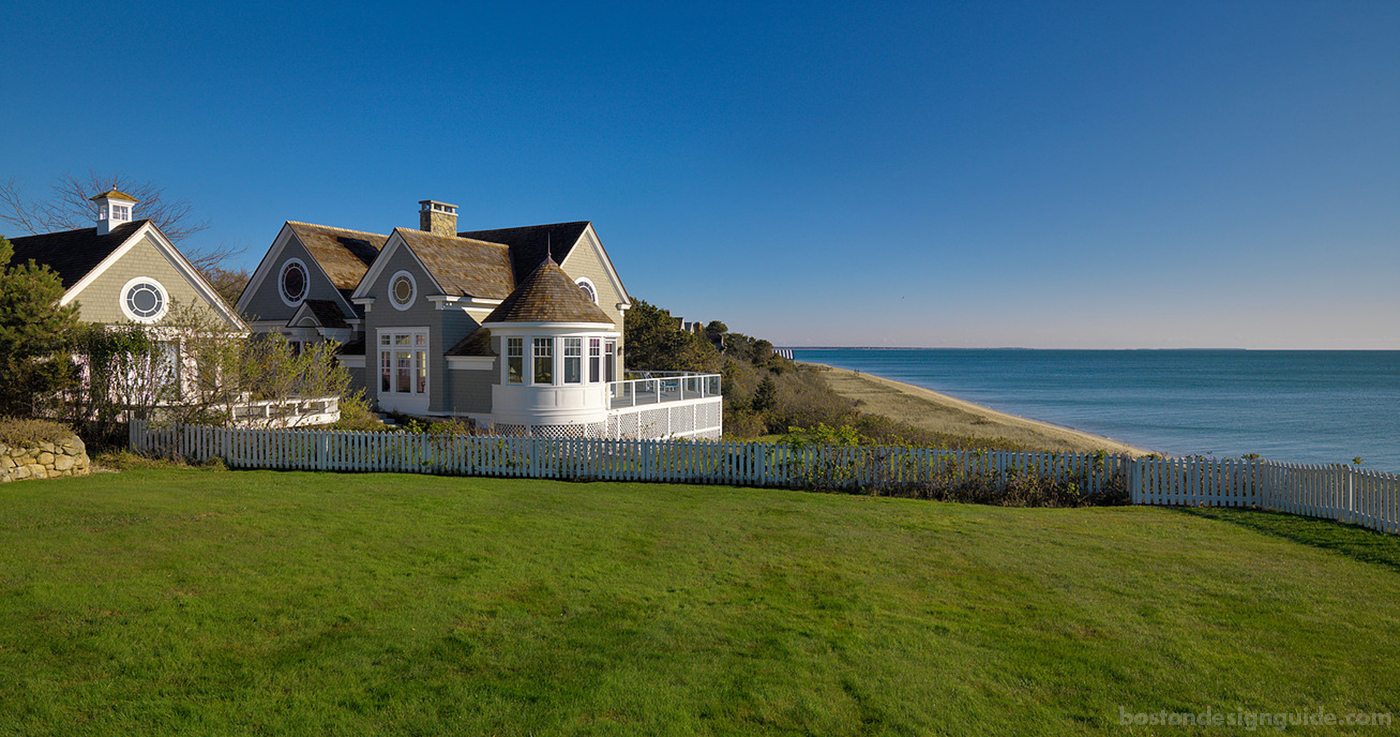 Construction by SG Custom Homes; architecture by Jan Gleysteen Architect; photography by Richard Mandelkorn
SG Custom Homes' striking renovation in New Seabury, designed by Jan Gleysteen Architects, is appropriately known as "Cliffside" to celebrate its singular vantage overlooking Vineyard Sound. From the way the home is sited—it is angled to the shoreline for jaw-dropping views from most rooms—to its parade of circular windows to the "disappearing" glass railings of the deck that don't obstruct the terrain, this home was built to soak up its unspoiled setting.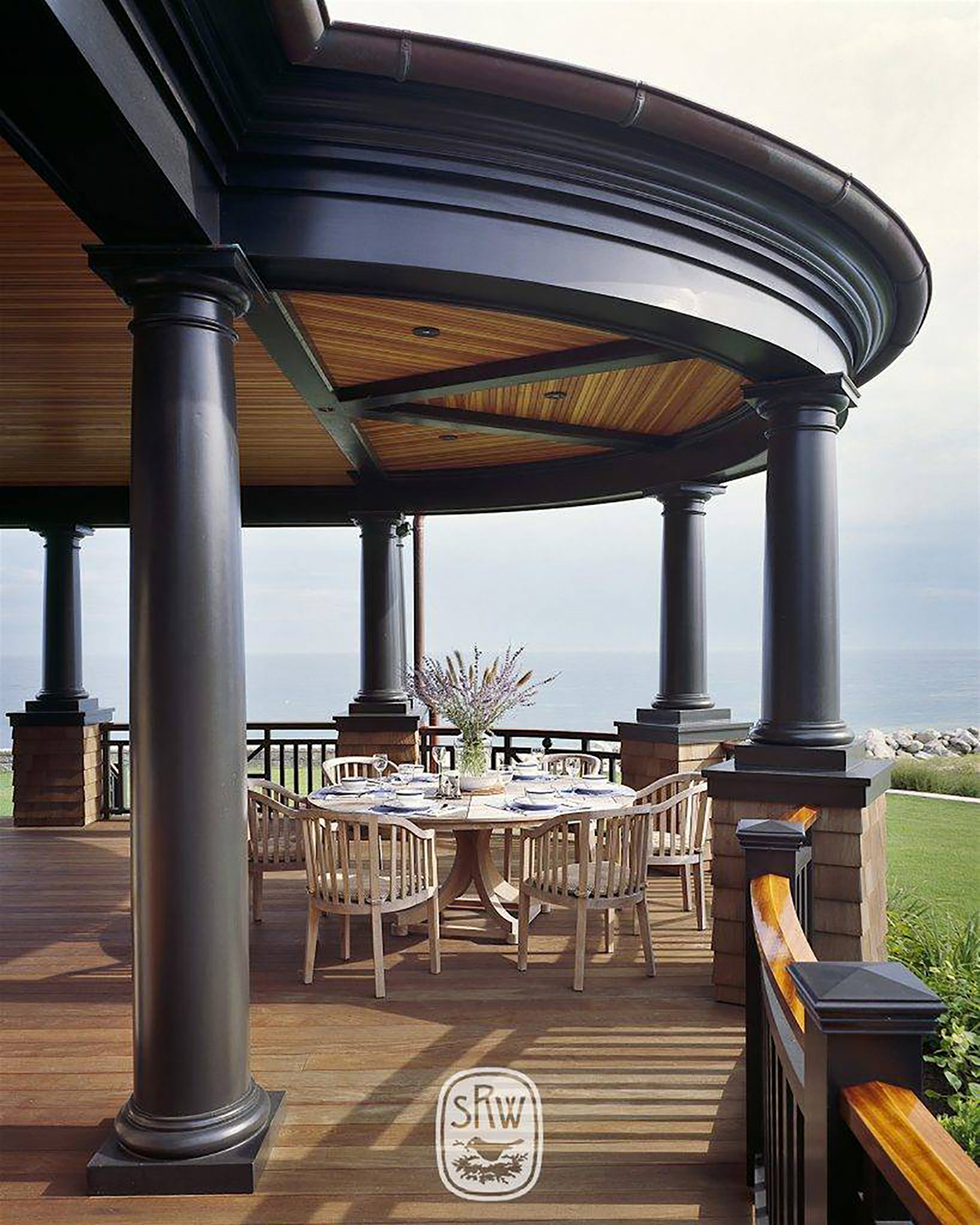 Architecture by Shope Reno Wharton; construction by Dennis Clarke Building Contractor; landscape architecture by Katherine Field and Associates; interior design by Eric Hilton Ltd.
This open-air veranda on an oceanfront home in Rhode Island's Watch Hill (Taylor Swift's vacation spot) is the ideal spot to sup (and sip!) during summertime. Architect Shope Reno Wharton ensured that intoxicating breezes and sparkling vistas were given a place at the table within the circular portion of a wraparound, seaward-facing deck of an incredible Shingle-style home.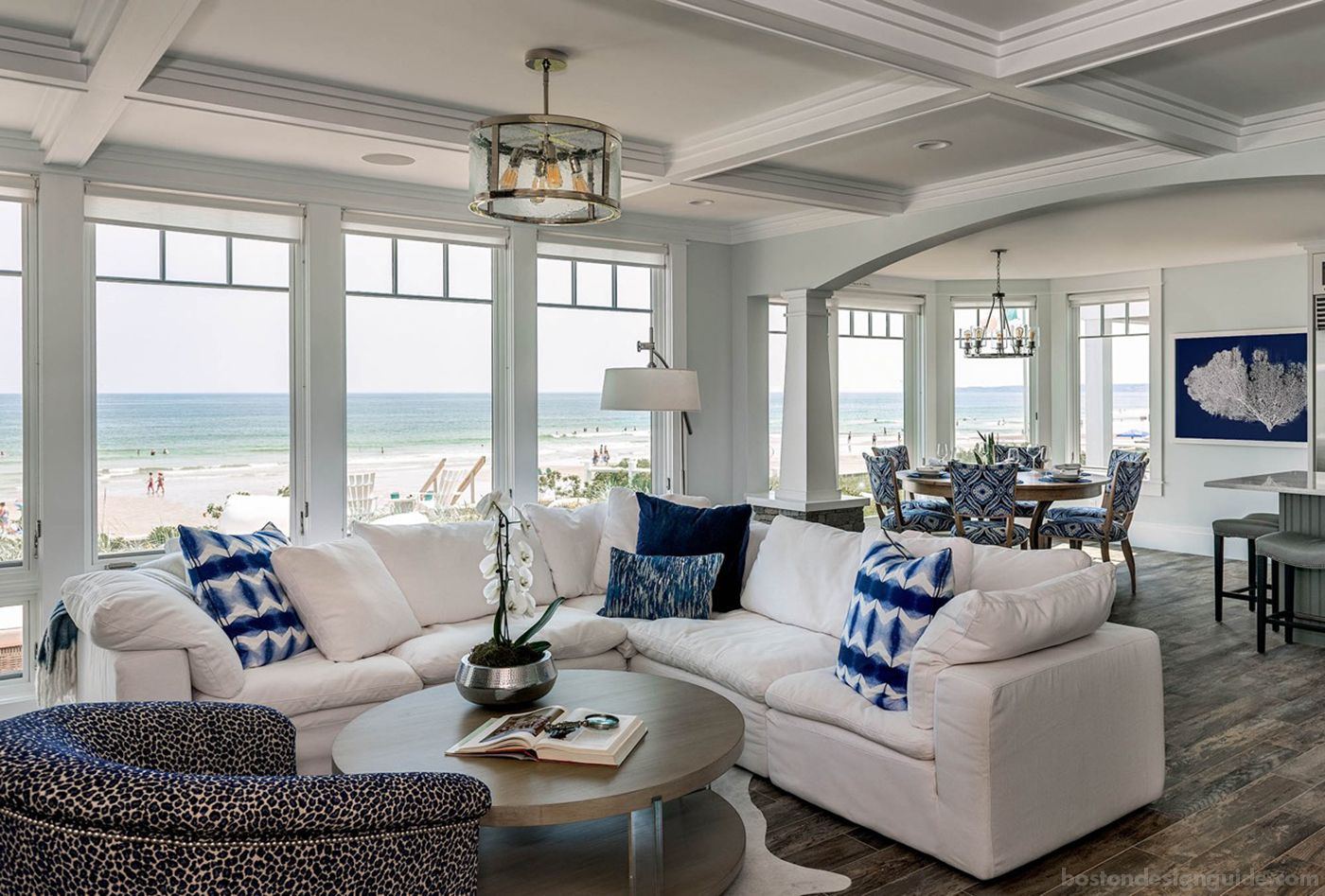 Interior design by Boehm Graham Interior Design; photography by Rob Karosis
The "backyard" of a vacation house simply doesn't get any better than this stunning backdrop to a beach home in Wells, Maine. Here, residents and houseguests can take in the blue-green sea and the action on the shore through a procession of glorious floor-to-ceiling windows. The interior design by Kacey Graham of Boehm Graham Interior Design is as refreshing as a dip in the surf. The open-concept living spaces are swathed with white-sand hues, deep, contrasting wood and pops of inky indigo.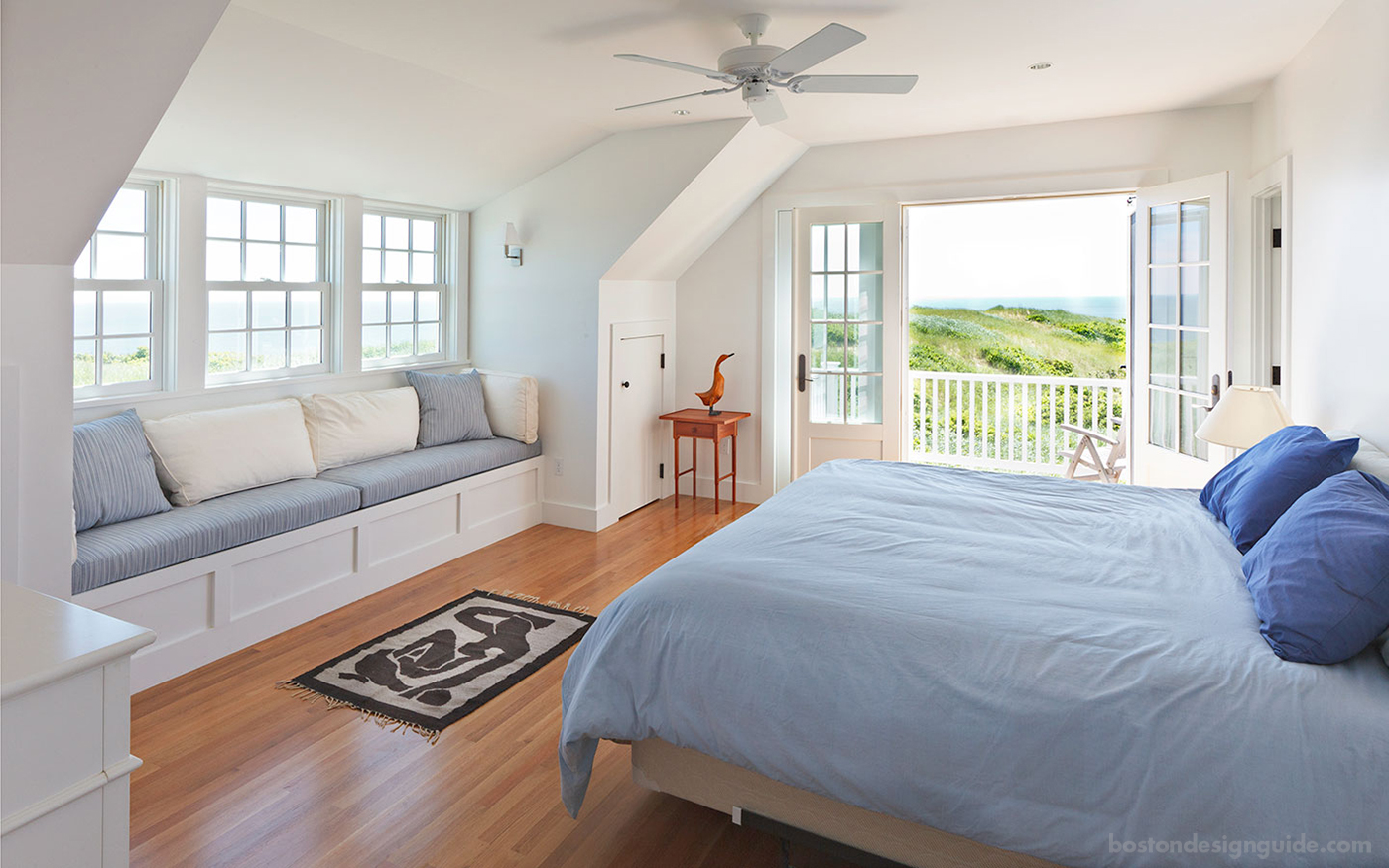 Construction by Cape Associates; architecture by Jones & Boer Architecture
This breezy bedroom in a Truro cottage built by Cape Associates is the picture of seaside simplicity. With its custom built-ins and cushioned bench seating, the room is restful and restorative, with a less-is-more aesthetic that draws the gaze out to the ocean and over the dune. The private deck is the scene-stealer, and the ultimate perch to greet and end a summer's day.
Construction by Bayside Building, Inc.
This stunning, traditional family compound constructed by Bayside Building, Inc. was blessed with an exquisite lot and a dream-home mentality. The custom coastal estate was crafted to become a destination in its own right, and boasts the easy grace of the Cape Cod lifestyle. While impressive, the home sits comfortably within its euphoric natural surroundings, with beach and water views stretching out from the peninsula on three sides.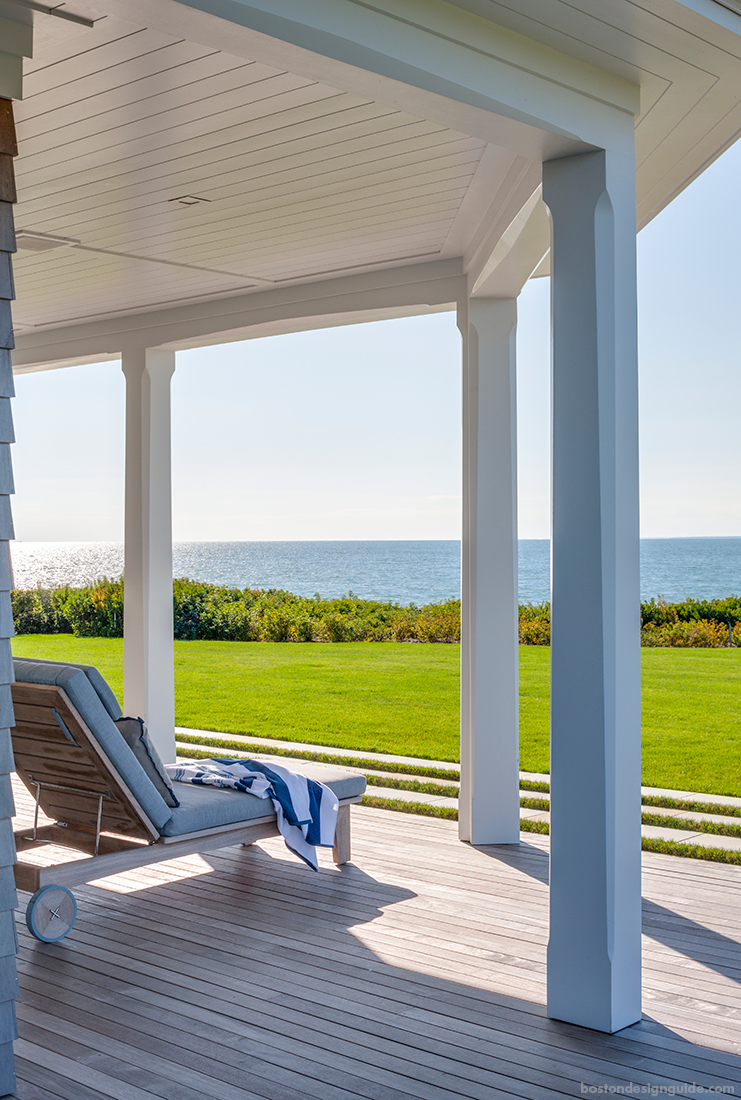 Architecture by Hutker Architects; construction by C.H. Newton Builders; landscape architecture by Reed Hilderbrand; landscape construction by RP Marzilli & Company; photography by Brian Vanden Brink
The silver-gray deck of an oceanfront paradise on a Buzzards Bay promontory delivers heaven-sent views of the grounds and sea. Much of the landscape's splendor can be credited to the way the lush, linear lawn gives way to a tangle of beach plums and then to the glinting azure waters. The success of this scene was no small task for landscape contractor R.P. Marzilli & Company, given that the grounds had to be seeded amid a constant wind. We'd say their efforts more than paid off— we'll be dreaming of this chaise throughout the offseason.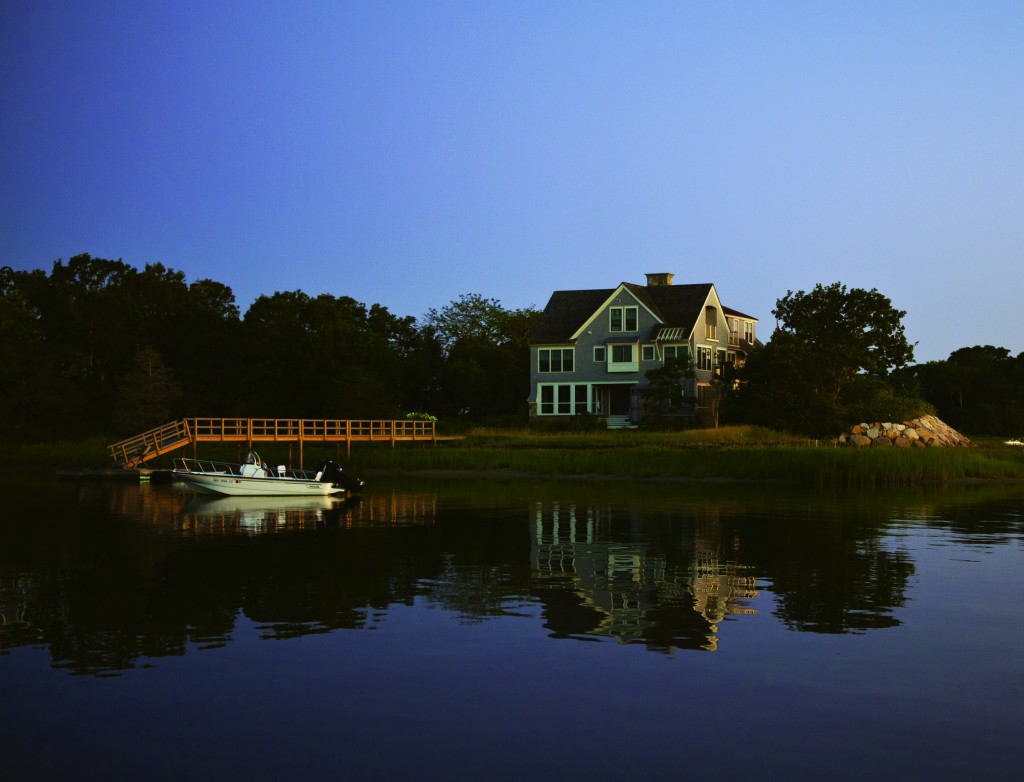 Architecture by D. Michael Collins Architects; construction by Kenneth Vona Construction; photography by Jeff Adams Photography and Sam Gray Photography
A "simple, barefoot" home conceived by D. Michael Collins Architects and built by Kenneth Vona Construction, graces a grassy, eastward facing point on the dappled waters of the bay with sightlines that stretch to the ocean beyond. The design MO called for framing the house's water views wherever possible, and architect Michael Collins answered by creating unique experiences in every room—the kitchen is bathed in the light of sunrise, while the screened porch sees colorful sunsets.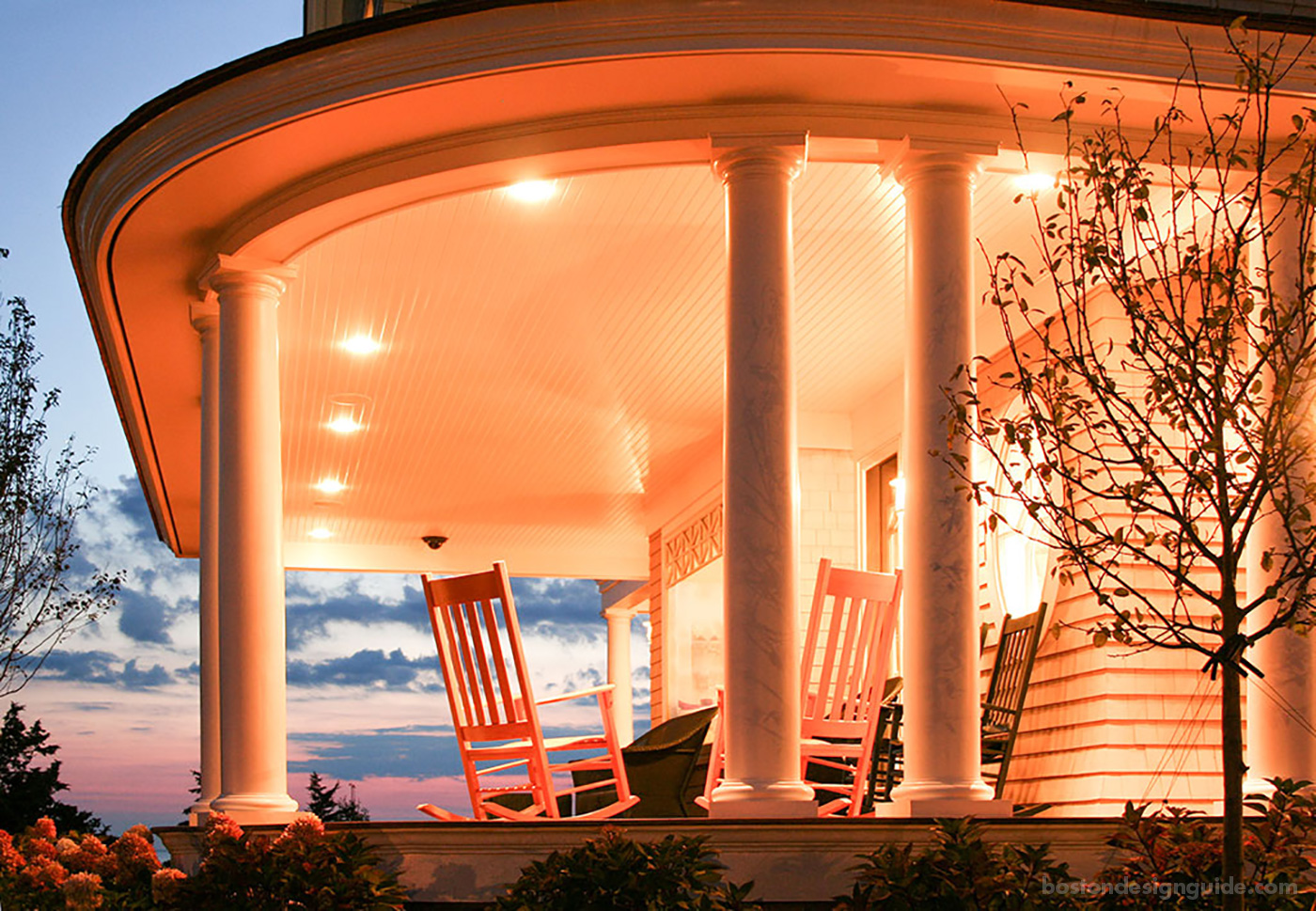 Architecture by John Dvorsack Architect; construction by E.W. Tarca Construction
Speaking of sunsets, this gilded, gracious veranda, imagined by John Dvorsack Architect and built by E.W. Tarca Construction, is nestled by West Falmouth's Woodneck Beach. It is among the classic Shingle-Style's many scenic lookouts, we'd say rivaling the home's widow walk, dubbed "The Sunset Deck," for its precise orientation on the line of the setting sun during summer solstice. On a clear day, this quintessential Cape estate is blessed with views of Cuttyhunk Island to the southwest and the Cape Cod Canal railroad bridge to the north. 
Main image: Martha's Vineyard Interior Design; design by Liz Stiving-Nichols & Lauren Morgan; photography by Eric Roth