May 13, 2019 | Sandy Giardi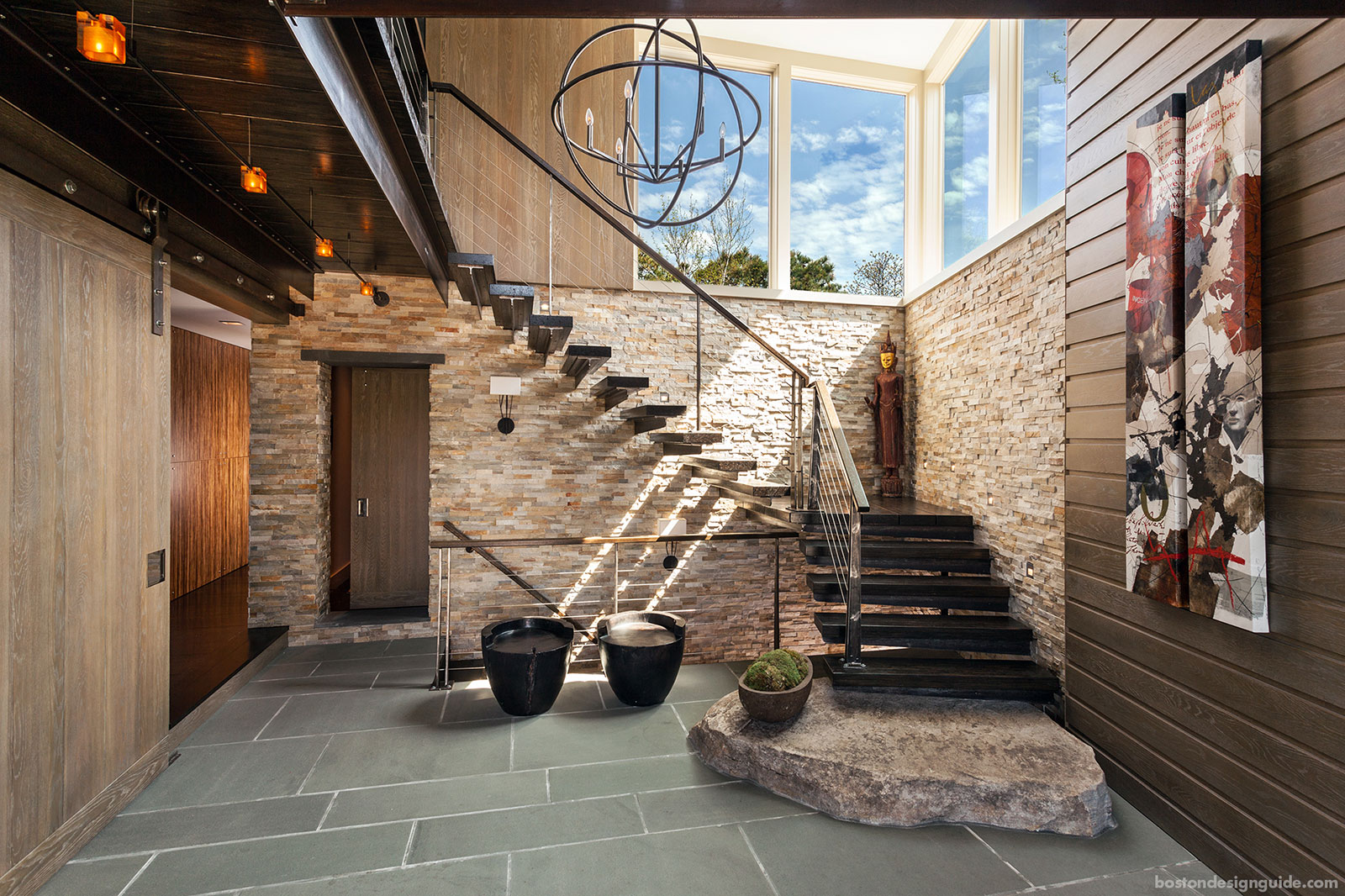 Far more than a means of access, staircases can be the home or office's single largest statement maker, representing both the height of design and craft. Both functional and sculptural, the perfect staircase immediately commands the attention of all who enter, all but shouting the word "custom!" from the rafters. The following stairways are nothing short of, well, heaven. They are not just works of art; they are feats of engineering and craftsmanship.
Seacoast Stunner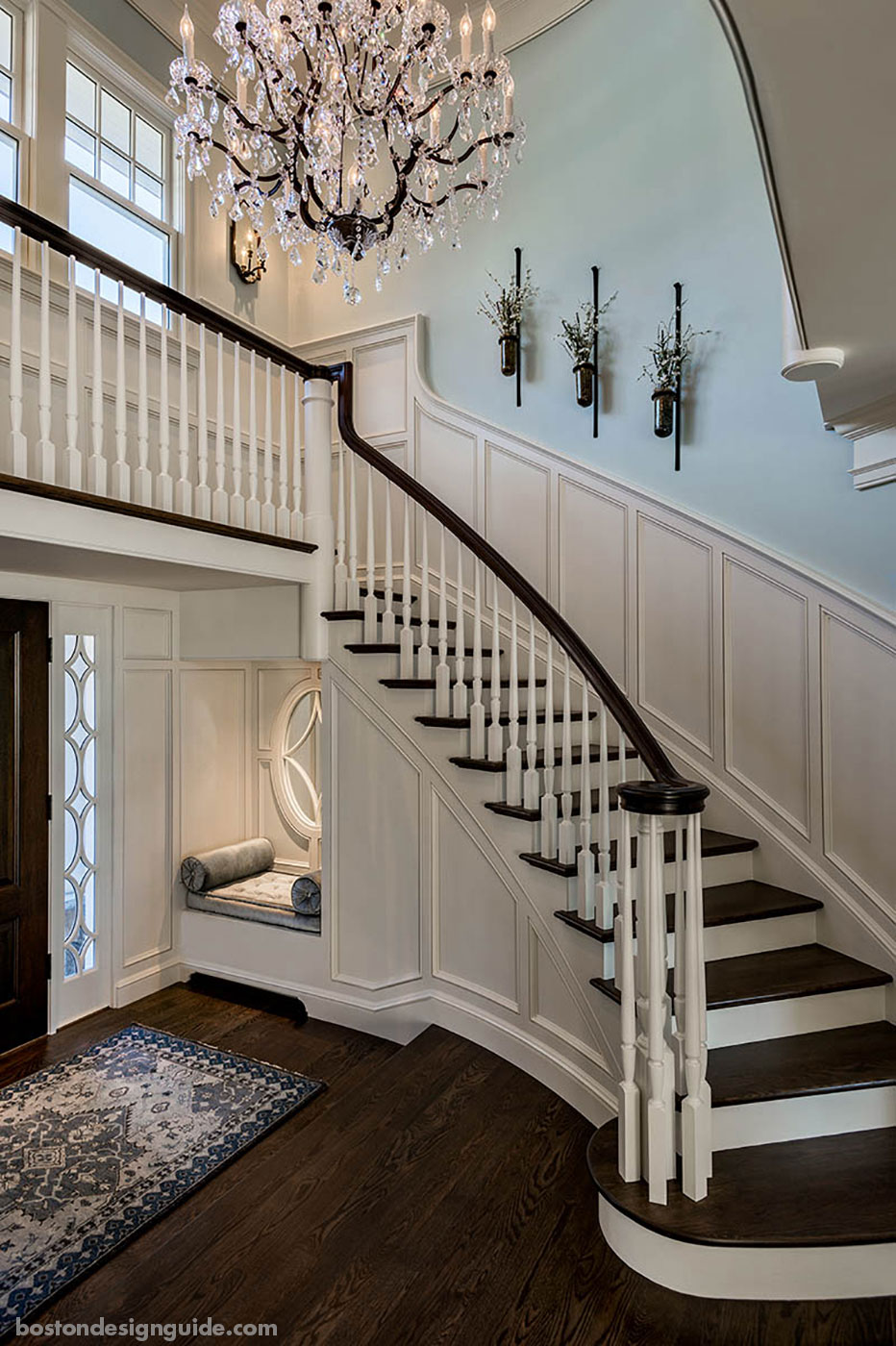 constructed by CM Ragusa Builders; architecture by TMS Architects; photo by Rob Karosis Photography
This U-shaped vision in cream and white oak cabinetry, designed by TMS Architects and built by CM Ragusa Builders, is a focal point in its seaside home. CM Ragusa Builders' accomplished carpenters built it "by hand, in place," explains principal Chris Ragusa, as they do with all of their custom stairs. The railing was laminated right there, using the stair as a form to ensure a perfect fit. Its striking good looks are a product of the details made in their in-house millwork shop, from the curved paneling transcending the stair to the tight procession of balusters that stretches from the newel post to the balcony to the lighted seated alcove tucked by the door. 
Whale Watch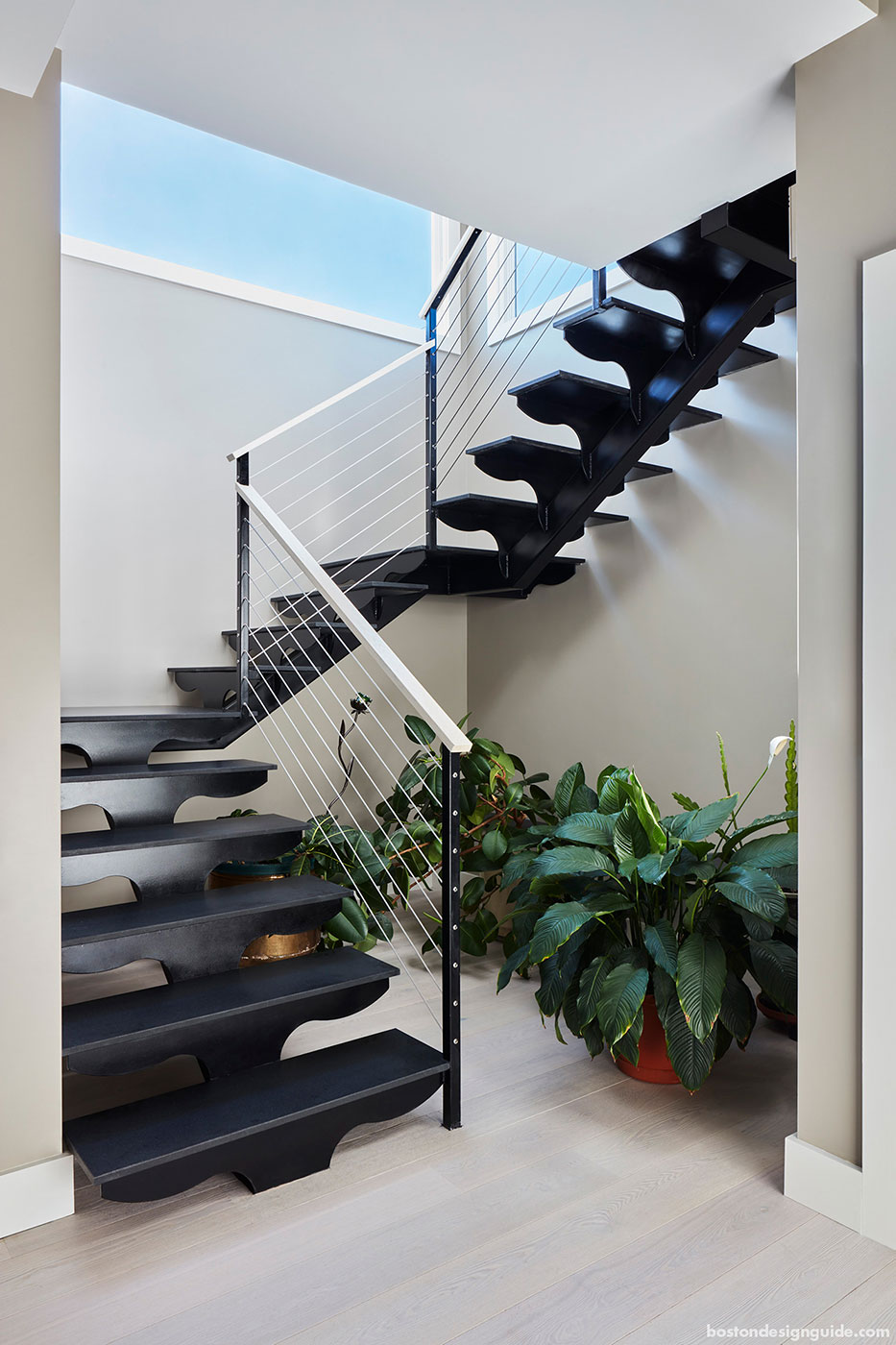 Constructed by Groom Construction; architecture by Craig Bosworth
This floating staircase for a seaside residence in Marblehead built by Groom Construction makes a definite splash in its minimalist setting with its unique design by architect Craig Bosworth. This staircase, with its parade of interconnected whale tails, was the collective brainchild of Bosworth, Groom Construction Project Manager Tim Dougherty and Matt Symes of Colonial Iron Works. The barely-there cable railing keeps the eye on the stairs (manufactured by Colonial Iron Works), and the slate treads and landings by Italmarble Co.
Blond Ambition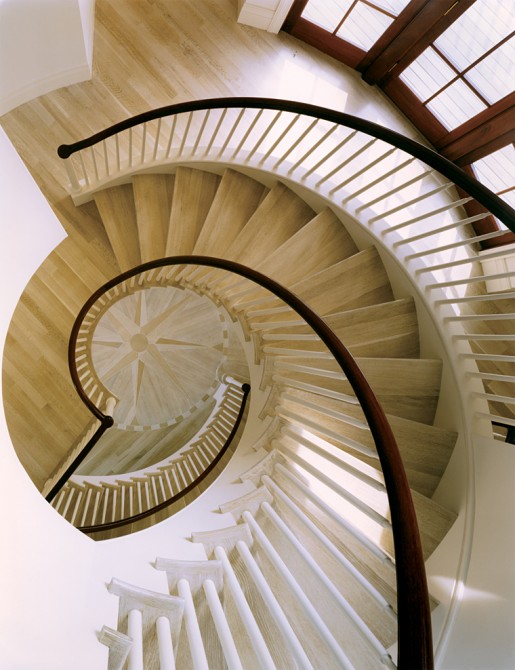 Architecture by Nicholaeff Architecture + Design; construction by Rogers & Marney Builders; stairway by D.S. Nelson Co., Inc.; photo by Peter Vanderwarker
This circular stair, conceived for a custom home on Cape Cod designed by Nicholaeff Architecture + Design and constructed by Rogers & Marney Builders, has a nautilus shell design and a compass rose at its core. We have long admired the way architect Doreve Nicholaeff negotiates curves, and this inspired stair, which spirals in on itself as it ascends from the second to the third floor, is a stellar example. Comprised of limed quarter sawn oak treads and mahogany railings (to match the door), the stairway serves as the pivotal point of the home's two wings. Completed over two decades ago, this project, like the shell that inspired it, has stood the test of time. D.S. Nelson Co., Inc. constructed the three-story stairway, while Rogers & Marney Builders built and preassembled the compass rose, which has 248 pieces and multiple finishes, in its millshop, explains Owner Gary Souza.
The Rising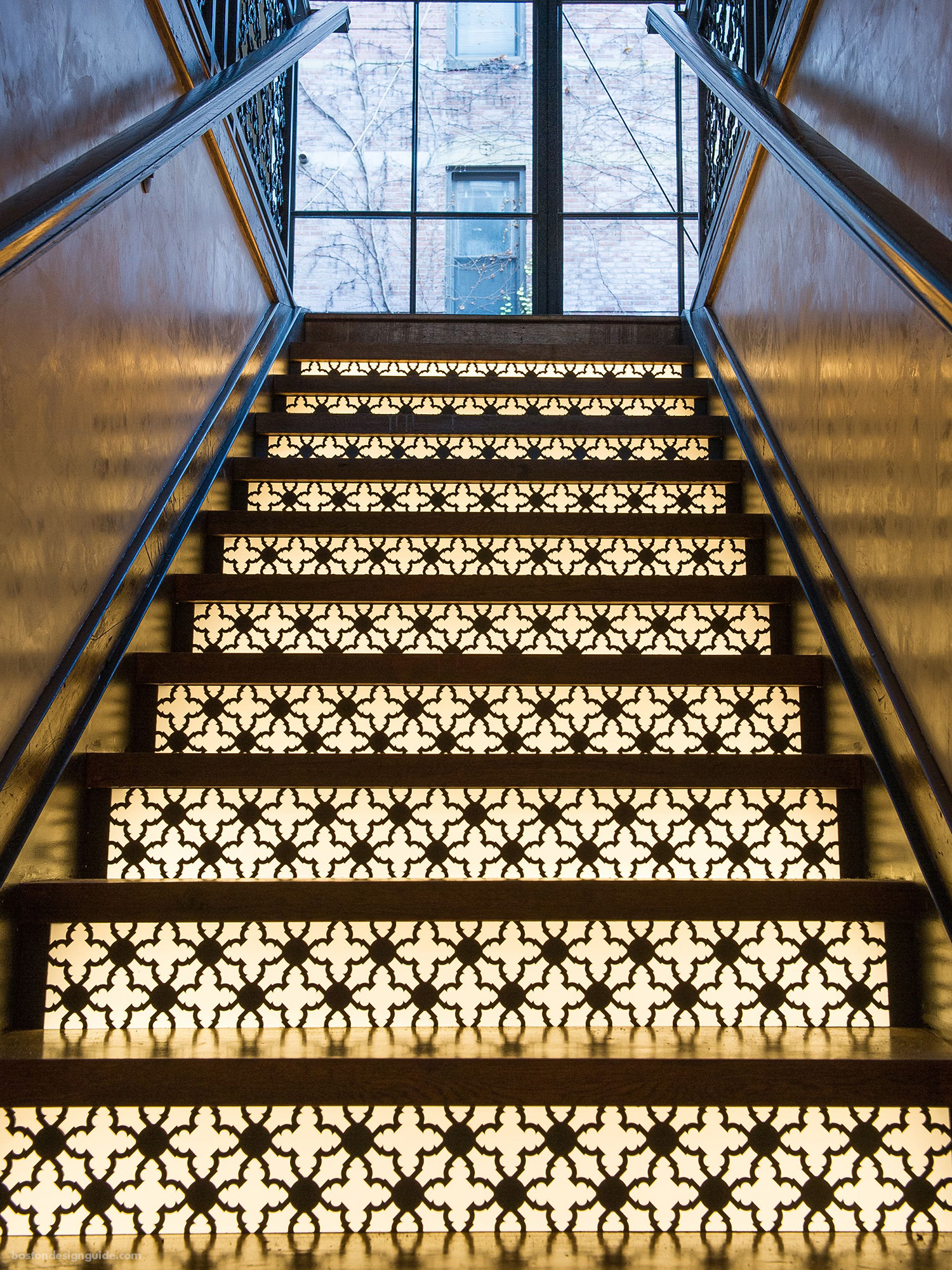 photo courtesy of Make Architectural Metalworking
While Paul Meneses of Make Architectural Metalworking didn't work on the stringers, rails or treads of this brilliant staircase that glows in SRV Boston, an Italian-style wine bar, he did work on the element that makes it so wonderful: the risers. The risers, which form the backing of the stair, are comprised of ¼-inch laser cut steel, enriched to a dark patina by a urethane lacquer. The design is a riff on a quatrefoil pattern, backlit by LED to make it all the more impactful. Its seamless look is no coincidence; the risers were installed from underneath the stair, hiding the fasteners, fit into a small trough in the upper tread and screwed into the back of the corresponding lower tread. He also worked on the establishment's large custom steel wine rack, and the hand-patinaed steel hardware for a room-dividing system.
Grand Central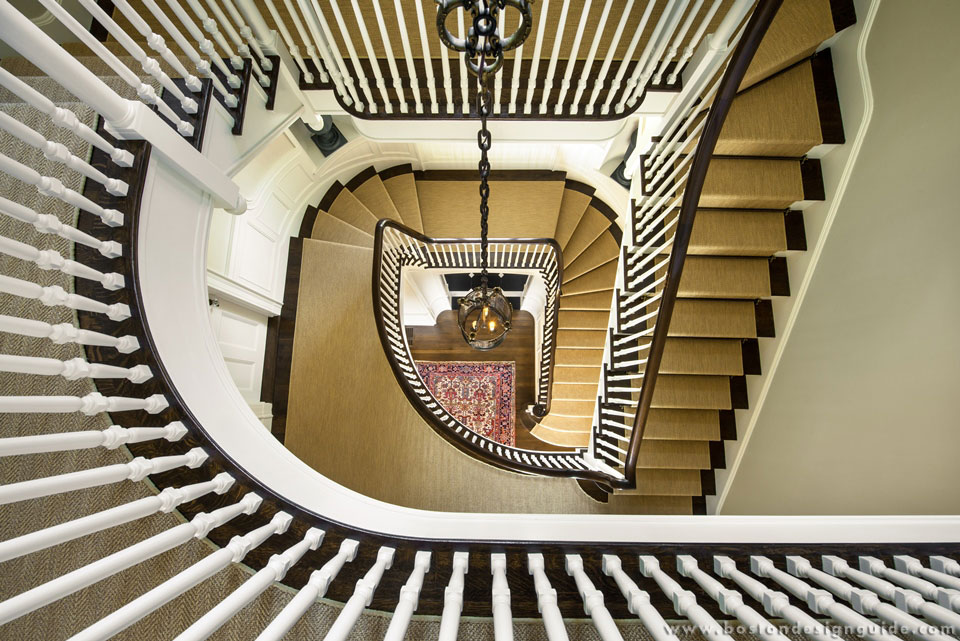 Construction by Parker Construction; designer: Scarborough-Phillips Design
This traditional stair hall is at the heart of a 1900s Georgian Revival located in Providence, renovated by Parker Construction. Custom millwork abounds throughout the stately home, and certainly makes its presence known in this graceful multi-story stair with lavish paneling and a wrap-around balustrade.
Pitch Perfect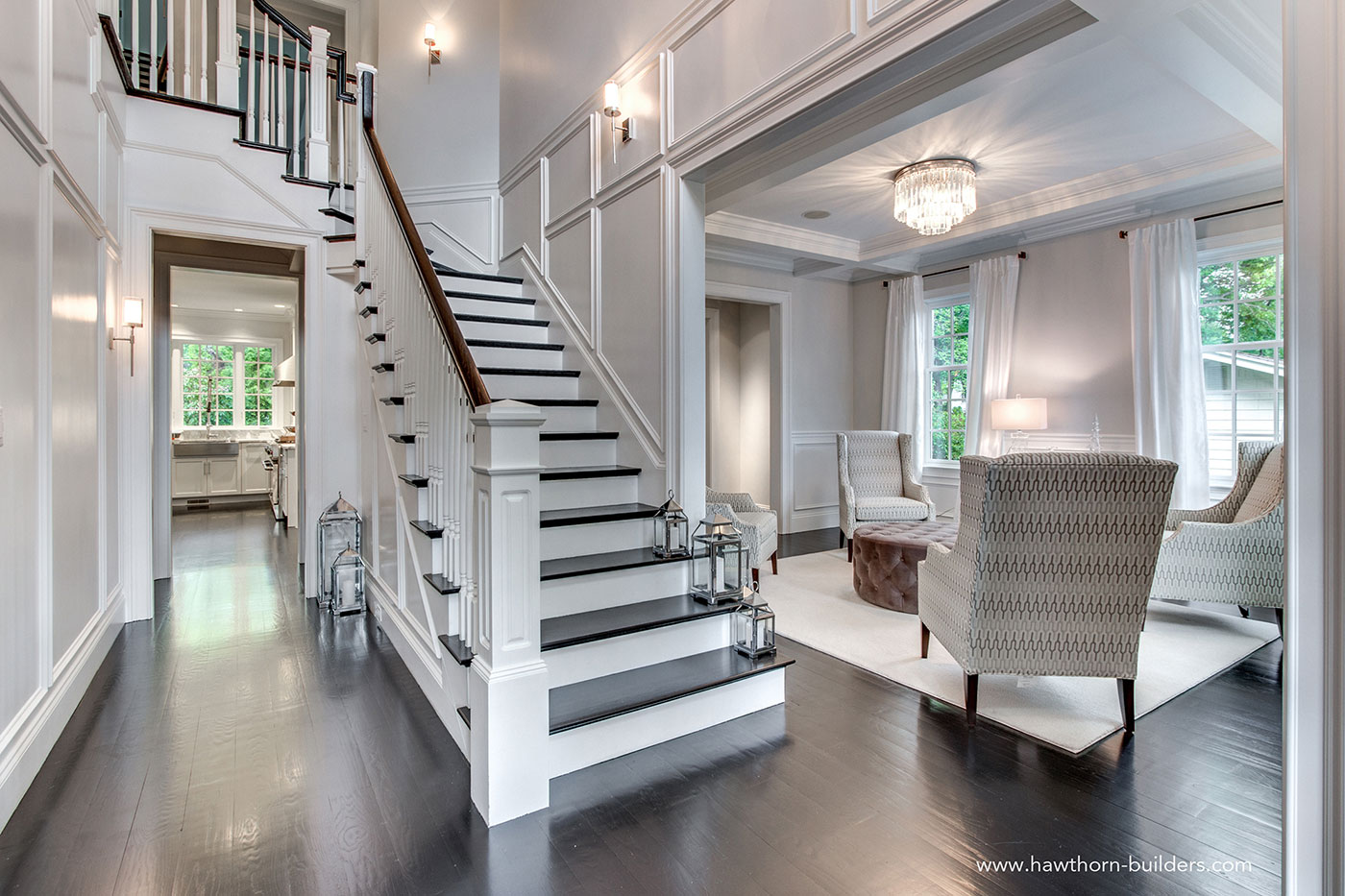 Construction by Hawthorn Builders
This impeccable stairway, traversing the first floor of a new build in Needham by Hawthorn Builders, opens up to the formal living room of a modern colonial. Its appeal stems from its mastery of proportion and scale; its balusters were kept smaller so as not to detract from the floor to ceiling paneling, says the firm. The feature is a study in contrasts; its stark white looks all the more pristine against the oak treads stained in an ebony finish to match the hardwood floors.
Clear Favorite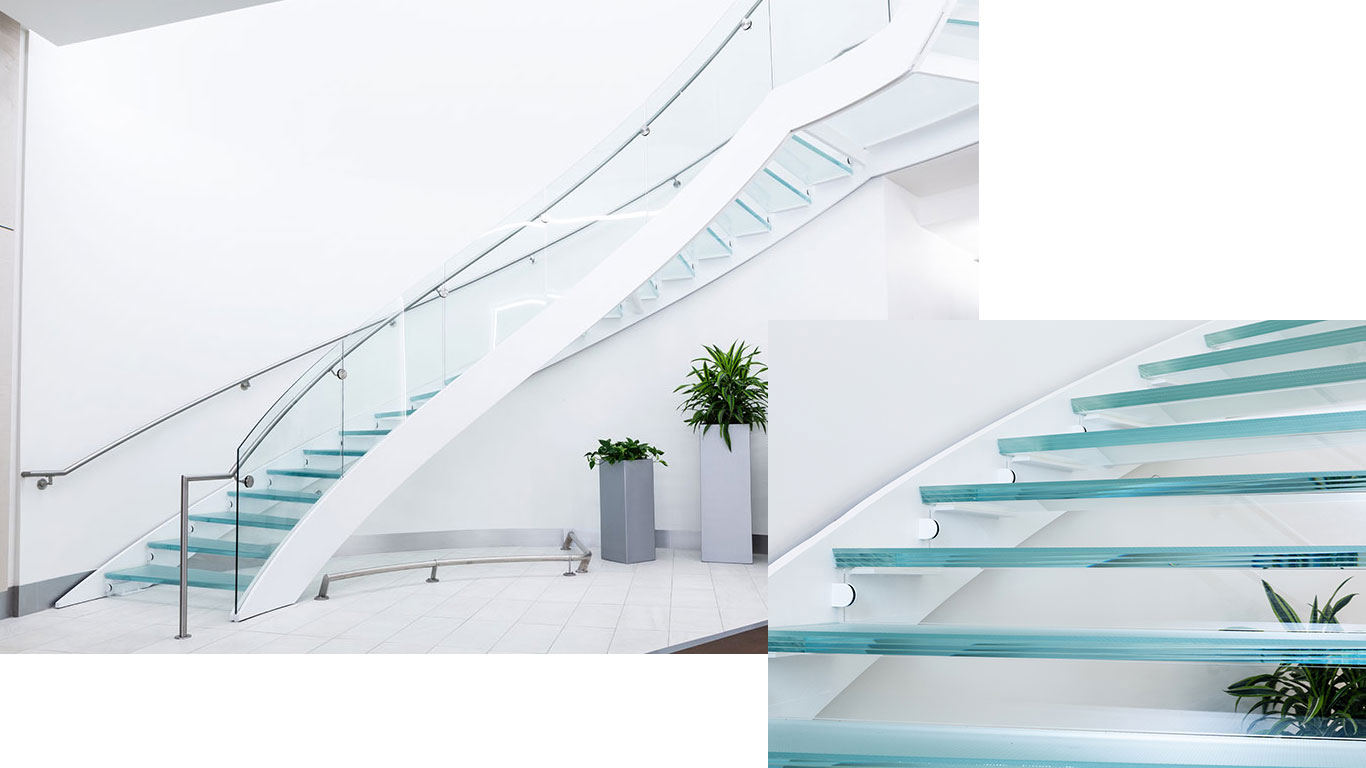 Photos courtesy of WOON-TECH
We're guessing there's no glass ceiling in the progressive Cambridge office building pictured here, but thanks to boutique glass fabricator WOON-TECH, there is—without question—one smashing glass staircase. Dubbed the "Stairway to Heaven" by the employees who make the regular ascent, this shining construct fashioned from low-iron "Colorless" Glass, with its perfect angles, shape cut radius on the inner and outer edges, quadruple glass lamination on the anti-slip stairs, vertical risers polished (by hand!) to fit between each stair tread, would be equally at home in a contemporary art museum. Artisans in WOON-TECH's factory fabricated each and every component, while Melrose Glass performed the masterful install. 
Industrial Strength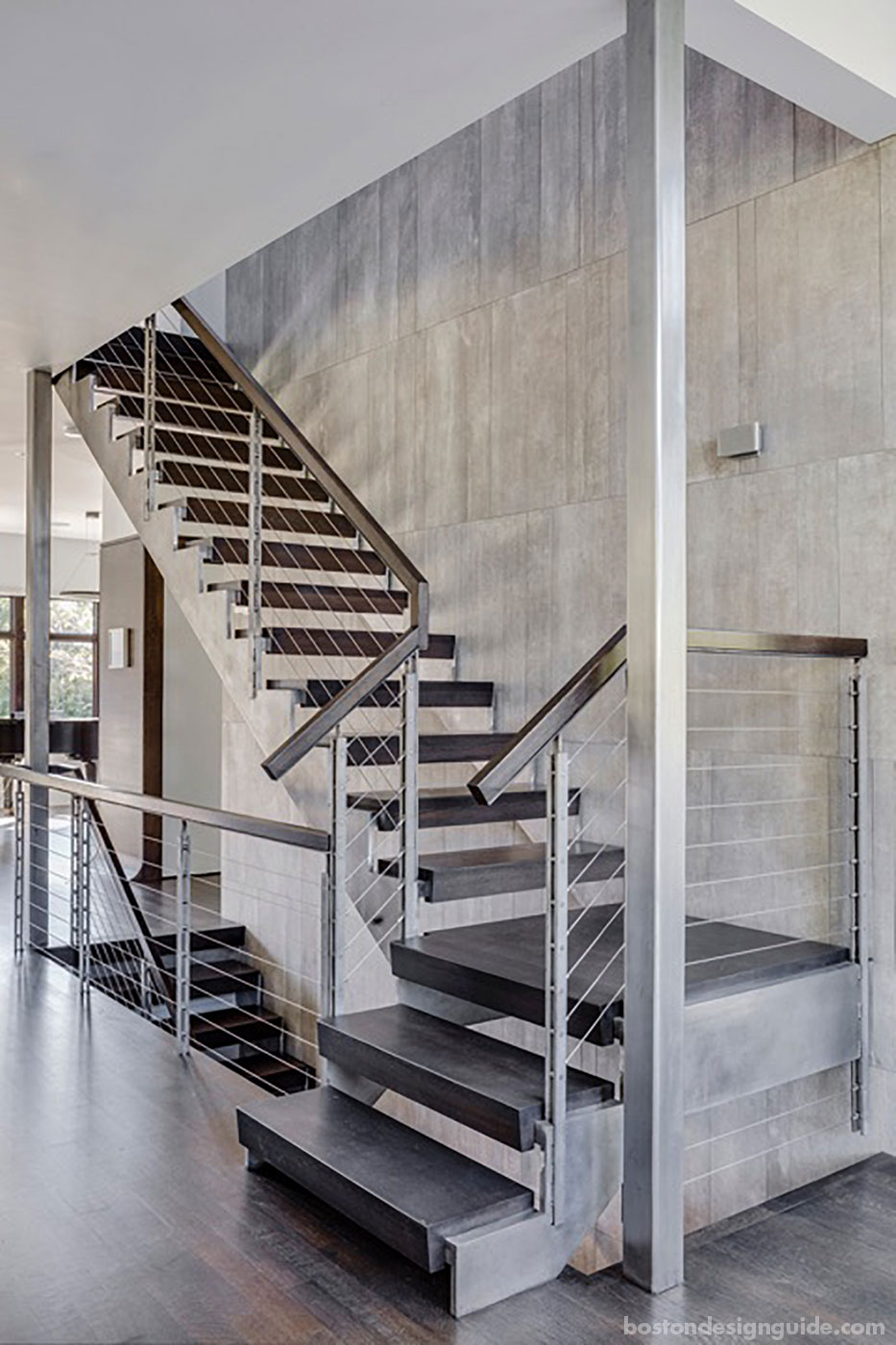 Architecture by LDa Architecture & Interiors; construction by Denali Construction Corp.; photo by Greg Premru
This formidable staircase was designed by an architect for an architect; namely Treffle LaFleche, AIA LEED, of LDa Architecture & Interiors, "so you can imagine its level of detail," says Principal Jim DePaolo of builder Denali Construction Corp. The intricate two-story stair, a cutting-edge masterwork in steel, stained white oak (on the treads and railings), and custom Stainless steel cables and posts, proved to be a herculean build. Its landings were 300 to 400 pounds, says DePaolo, while its four-inch solid treads, which required no risers, weighed in at 80 pounds apiece. The 700-pound stringers (the toothy construct that anchors each stair) were cut and ground on site and installed using chain pulls.
Top image: Kistler & Knapp Builders