August 26, 2020 | Sandy Giardi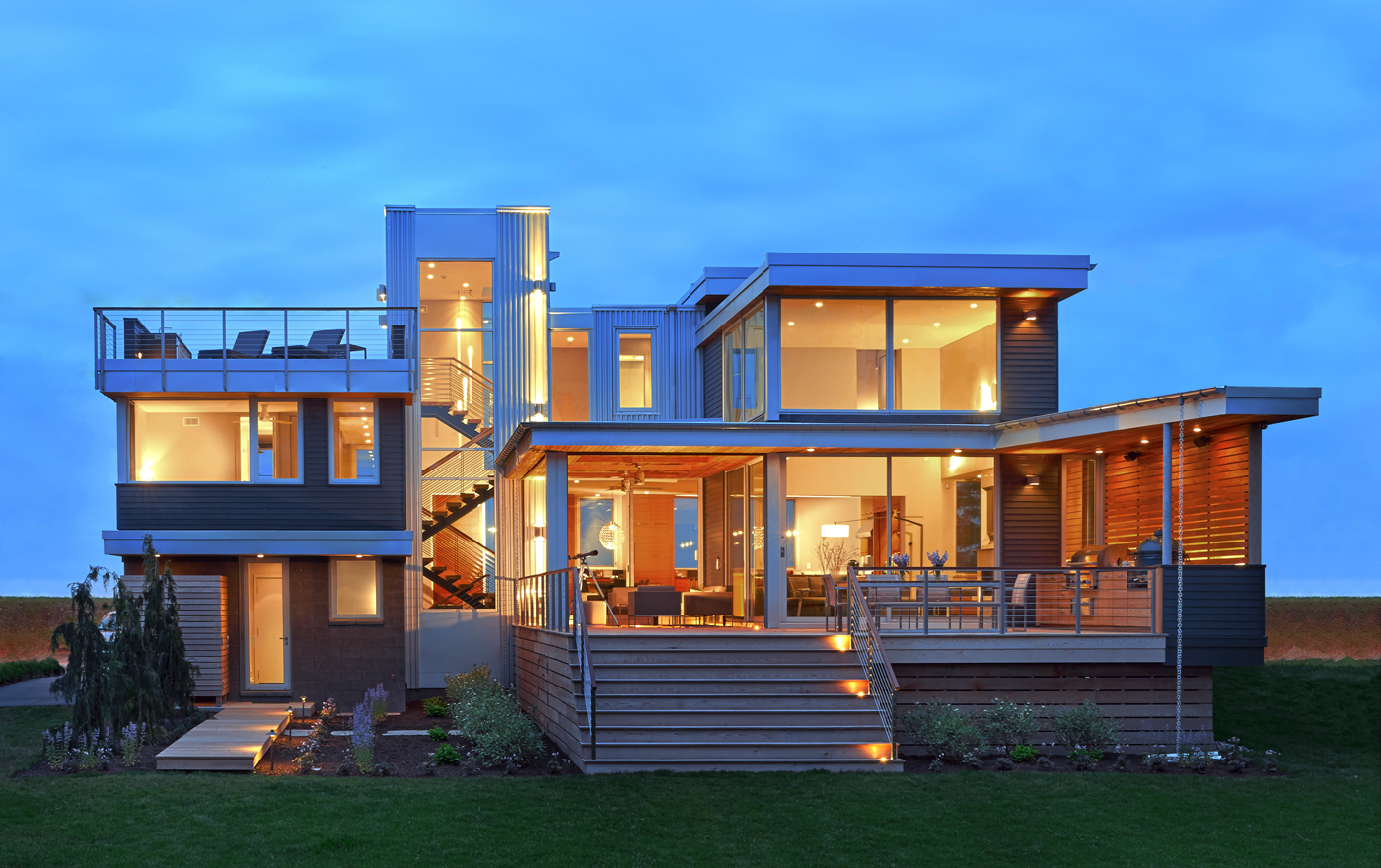 While meteorologists would likely contend otherwise, here at BDG, we think of the "Lake Effect" as the phenomenon that occurs the moment we cast our eyes on the shimmering, blue-green waters of a lake, and spend time within an "of-the-landscape" home crafted to take full advantage of those picturesque water views.  
There is something about those sun-dappled waters, disturbed only by the concentric ripples of a loon as it takes a plunge or the gentle wake of a kayak that elicits an immediate sense of calm and well-being. And, as for the constructs lining the banks? Whether camp-style or compound, contemporary or classic, we are charmed by these striking lake homes designed to drink it all in….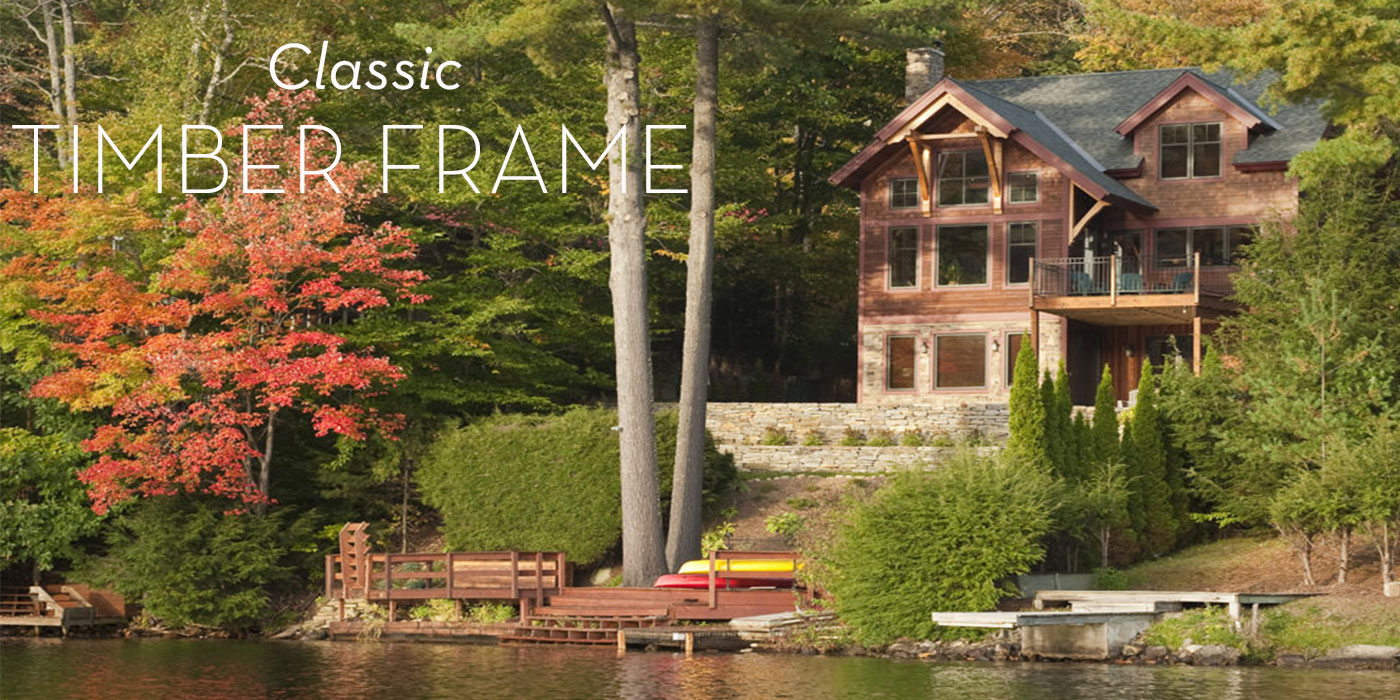 Designed by Bensonwood; photo by Al Karevy
With its heavy timber frame, clapboard siding and heritage colors, this Vermont lake house by Bensonwood epitomizes the perfect lakeside retreat. Situated on a narrow lot with a steep slope that descends to Lake Rescue, this four-season escape was designed with maximum outlooks to the water.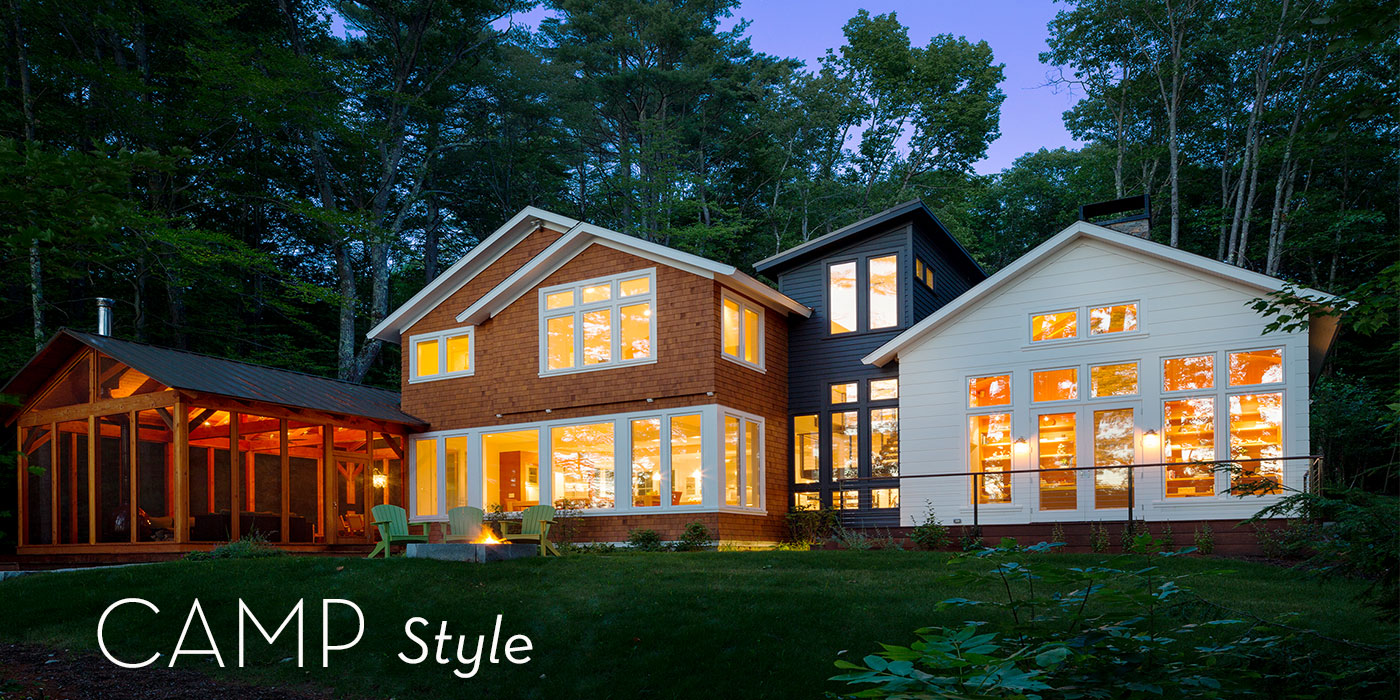 Architecture by LDa Architecture & Interiors; construction by Denali Construction Corp.; landscape architecture: Matthew Cunningham Landscape; photo by Greg Premru
This camp-style home on New Hampshire's Squam Lake, designed by LDa Architecture & Interiors and constructed by Denali Construction Corp., is etched with a playful here-and-now vibe, as well as a sense of nostalgia. It was inspired by the summers the homeowner spent at a grandfather's lake house and crafted for the enjoyment of the next generation.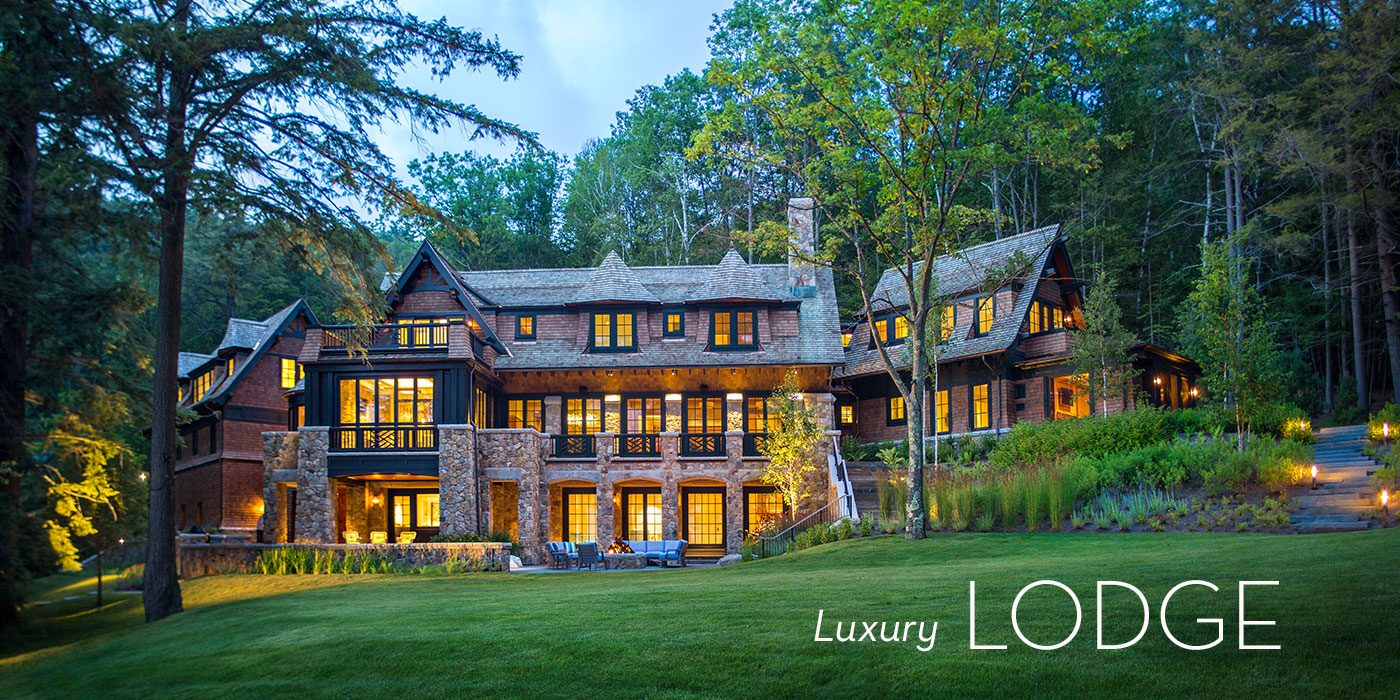 Architecture: Shope Reno Wharton; construction by KVC Builders; landscape architecture by Wagner Hodgson Landscape Architects; photo by Jim Westphalen Photography
This spectacular, Adirondack-style home, designed by Shope Reno Wharton and constructed by KVC Builders, is a vision on the banks of Lake Sunapee. With its cedar, stone and deep forest-green trim, the lake house, while expansive, is one with its setting and camouflaged in part by the trees that surround it.
Architecture by Jill Neubauer Architects; construction by Miller Starbuck Corporation; photo by Charles Mayer
Aptly named Lucky Pines, this enchanting pond-side construct is sited within a 4.5-acre pine woodland and was designed by Jill Neubauer Architects as the architect's own residence. The home was inspired by her grandparents' log cabin in the Northwest woods of Wisconsin, and boasts a "rustic industrial" aesthetic that incorporates magnificent white pine preserved from the site.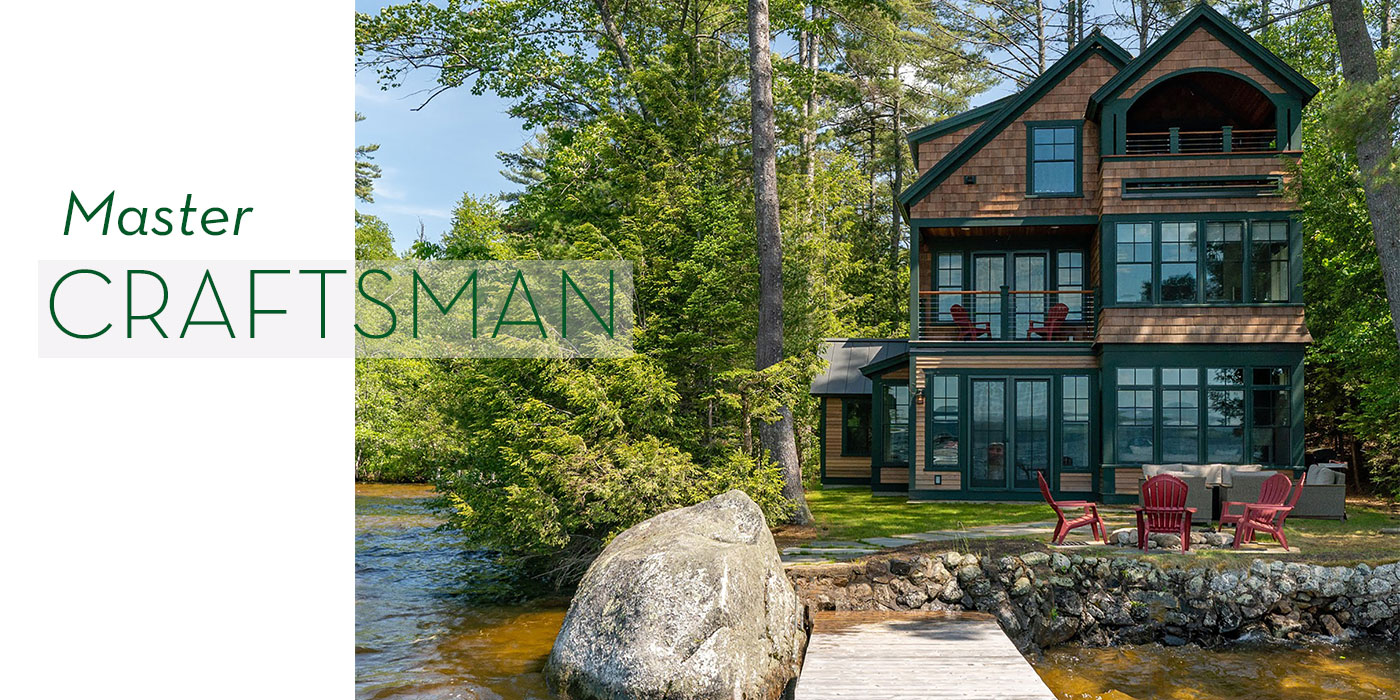 Architecture by Cummings Architects
This Craftsman-style shingle lake house peacefully coexists with the pines that surround a resplendent waterfront site on New Hampshire's Lake Sunapee. The clients of this lakeside refuge approached Cummings Architects to design an open-concept home that captures the exquisite lake views and blends in seamlessly with the forested landscape.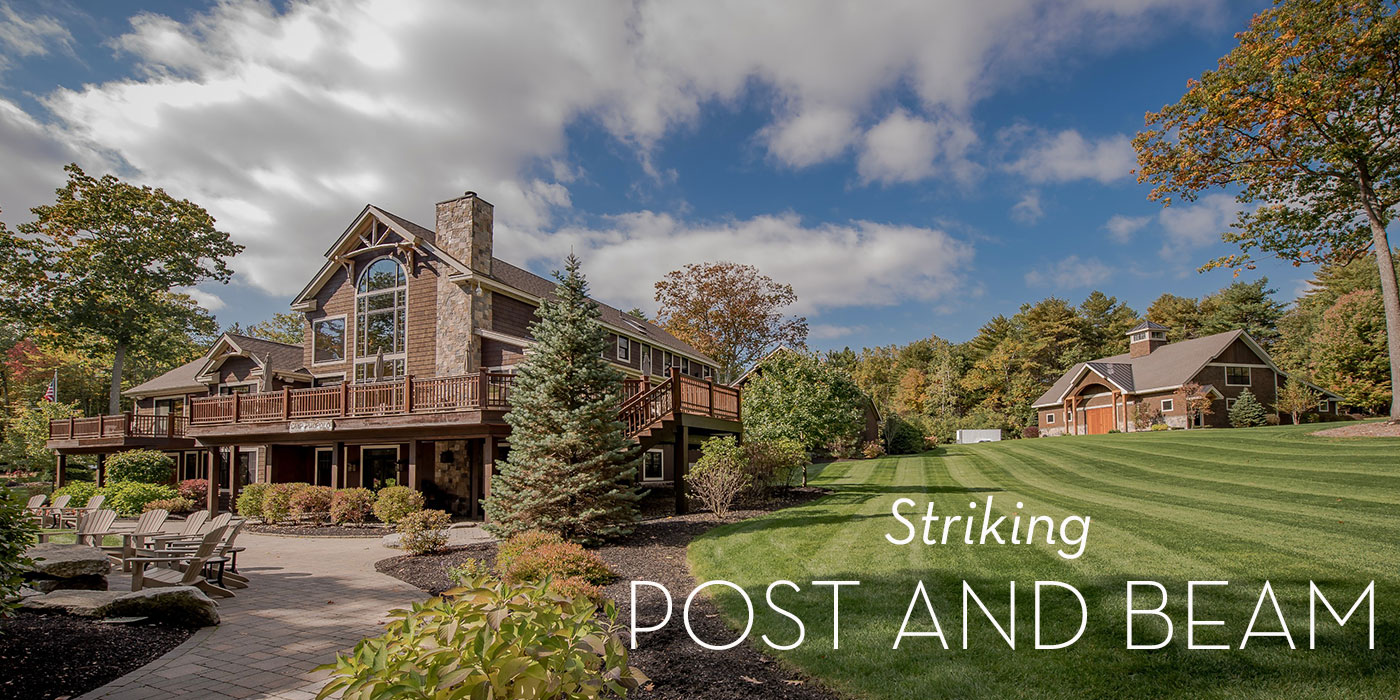 Design by Yankee Barn Homes; General Contractor; Lakes Region Design Group; Photo by Northpeak Photography
This post and beam dream of a home is Yankee Barn Homes' Meredith design. The custom lakeside home features a soaring central great room with sky-high windows to soak in the scenery from within, and wraparound decks for outside viewing.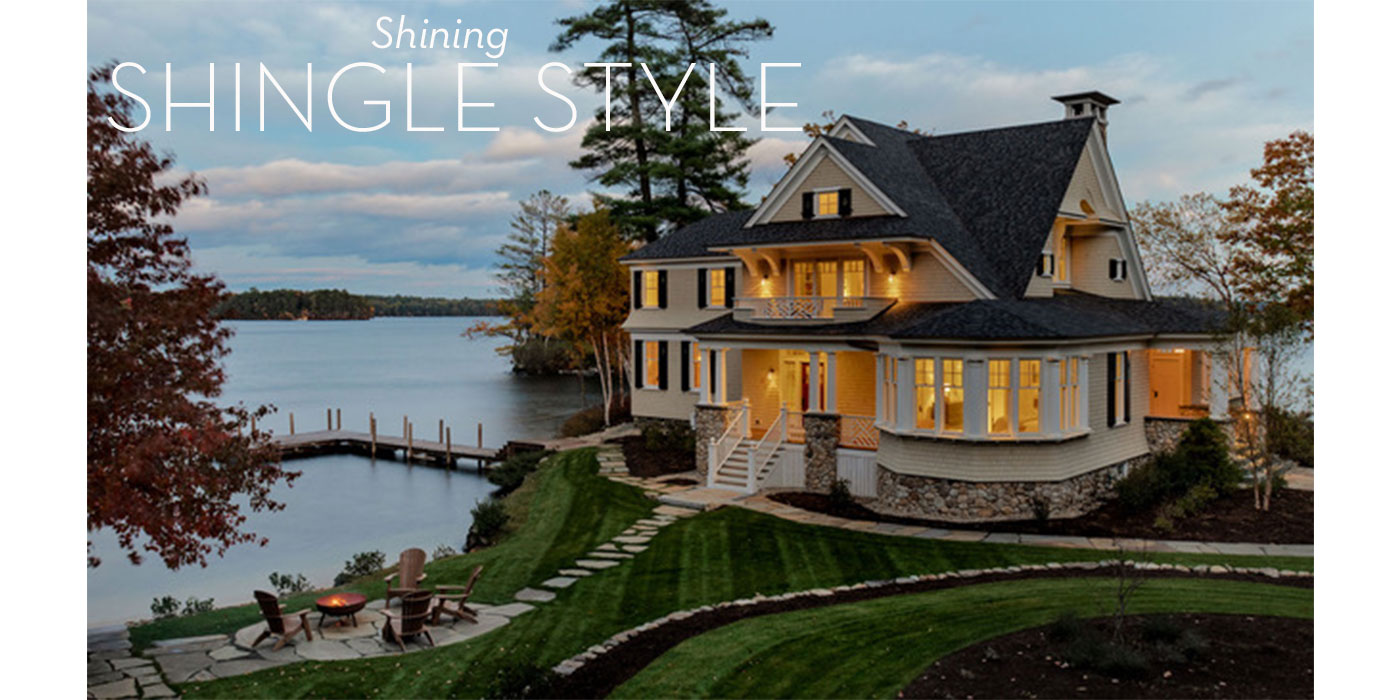 Construction by CM Ragusa; photo by Rob Karosis
Constructed by CM Ragusa Builders, this Shingle Style renovation utilized the existing foundation to allow the home to be built on the edge of Lake Winnipesaukee. Replete with stone and surrounded by water on three sides, the timeless lake house has a distinctive air that suggests it has graced this enviable perch for quite some time.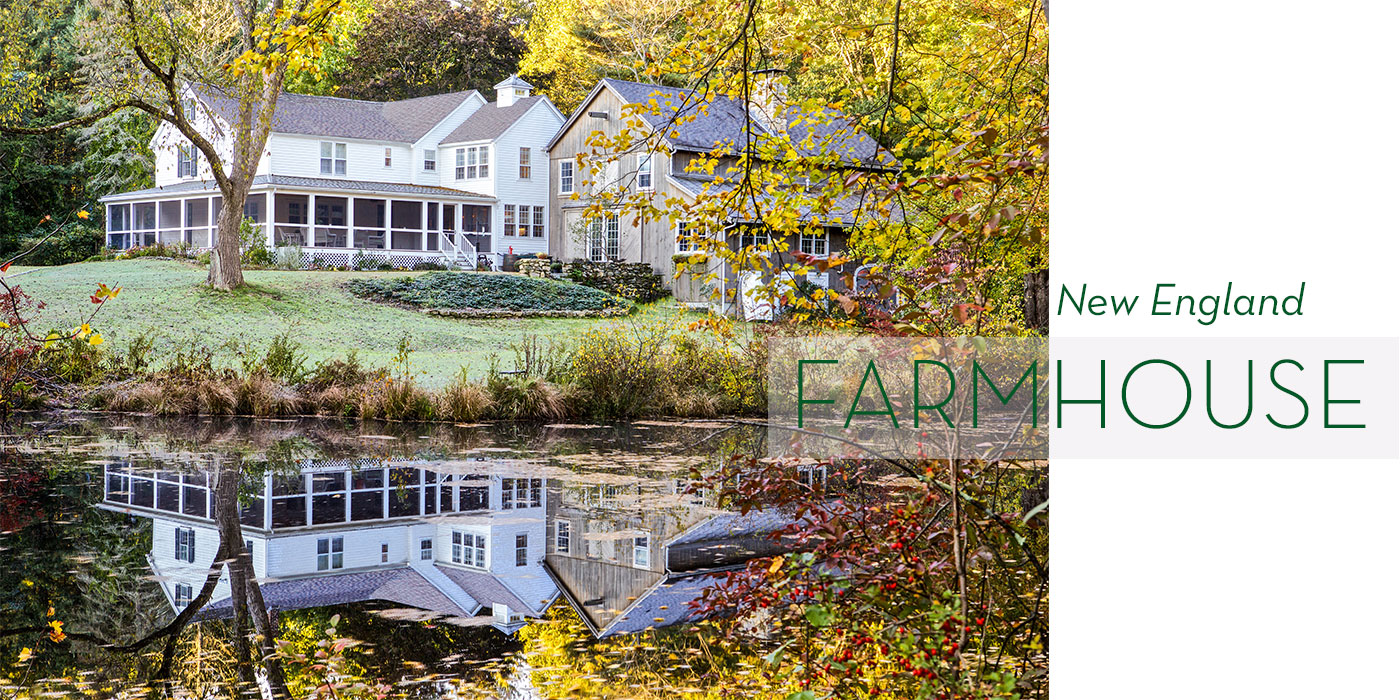 Architecture by Slocum Hall Design Group; construction by The Remodeling Company; photo by Daniel Nystedt @nystedtphotography
This picturesque farmhouse, designed by Slocum Hall Design Group, stayed true to its New England roots throughout a restoration and expansion project. The homestead casts a spell of authenticity and now boasts a screened-in porch with views of a large pond on its property.
Pictured Top: A modern, minimalist lake house designed by Foley Fiore Architecture has views of Lake Ontario to the north and Irondequoit Bay to the south.
Architecture by Foley Fiore Architecture; Contractor: Hamilton Stern; Photo by David Lamb Photography.