Company Profile: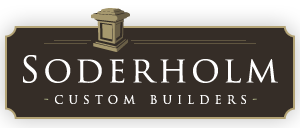 If there is one word that summarizes the philosophy of South Natick based Soderholm Custom Builders, it is teamwork. Father and son partners, Ken and Sam Soderholm, bring complementary skills, experience, and personalities to this third generation company.
Additionally, their large and loyal team of extremely skilled and responsive subcontractors and suppliers convey a sense of teamwork to every project, large or small.
This "team" concept extends to the collaborative relationship with clients, architects, designers, and Soderholm Custom Builders, all working together to bring clients' visions and hopes to a completely satisfactory conclusion. "We believe that our clients' judgment of our work, our integrity, and our willingness to stand behind everything we do long after a project is complete is the most important factor in whether we consider ourselves to be successful builders and remodelers."
Visit Soderholm Custom Builders to learn more.
SaveSave