Company Profile: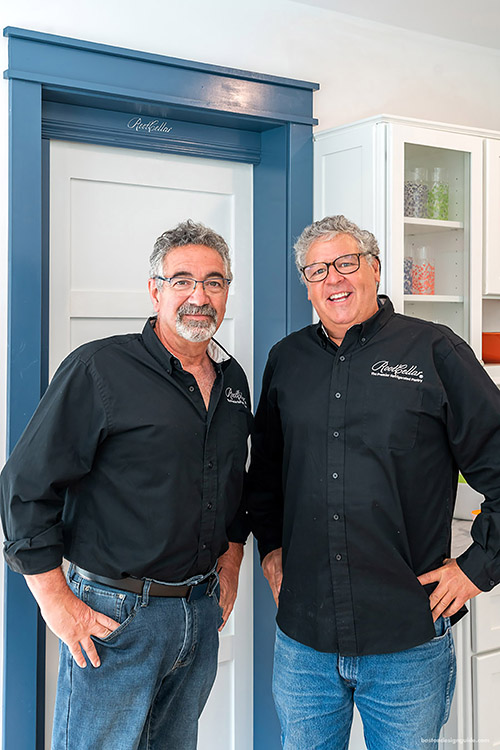 Don Lake and Paul DeLorenzo, founders of RootCellar Concepts 
RootCellar® Concepts is a highly efficient, well-appointed walk-in cooler/freezer designed to fit and look great in a residential kitchen. Masquerading as a pantry, this new home product offers a minimum of 400 cubic feet of storage space - more than ten times the space of a traditional refrigerator.
At RootCellar our mission is to innovate the way people purchase and store perishable foods. Nearly everyone can relate to the shortcomings of the traditional appliance ~ never enough room and some items are simply too large to fit.  And many of us have things hidden on the back of the shelves that age until they spoil. 
Our solution: a beautifully appointed refrigerated pantry with spacious shelving and a hands-free automatic door custom matched to your kitchen style.  In addition to refrigerated space, floor-to-ceiling freezer space is available in whatever volume you choose.
RootCellar Concepts features:
Custom-design for each and every home

Touch-less automatic door - walk in or out with your hands full

Spacious storage that can accommodate larger items or cases of items

Unobscured shelving. No searching or foraging for items means less waste and superior organization

State-of-the-art electronics and controls to ensure energy efficiency

Advanced systems with remote monitoring and alarming

Pan-tilt web cam to view contents remotely, especially while shopping
We work with homeowners, designers and contractors to customize and install each RootCellar®.  Every unit is made specially to serve individual lifestyle needs and décor preferences.