July 10, 2020 | Sandy Giardi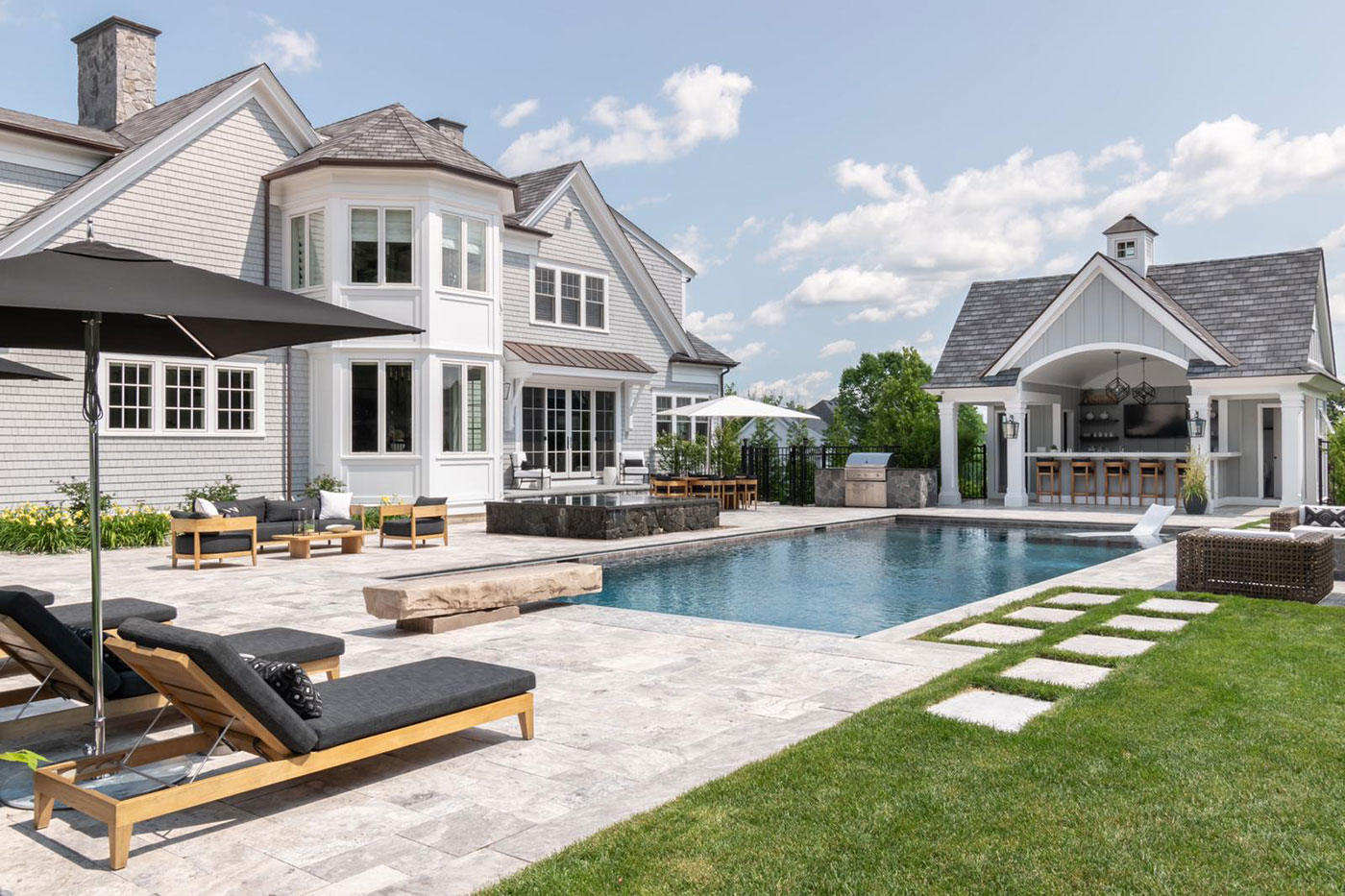 Perhaps more than any other architectural structure, pool houses are designed with recreation and relaxation in mind. These functional, feel-good outbuildings allow homeowners to vacation in their own backyard and soak up the beauty of the landscape. No longer simply shelters for a quick change or toweling off après swim, pool houses have become luxurious, stylish settings equipped for full days of lounging. Here follows ten of our favorite poolside paradises…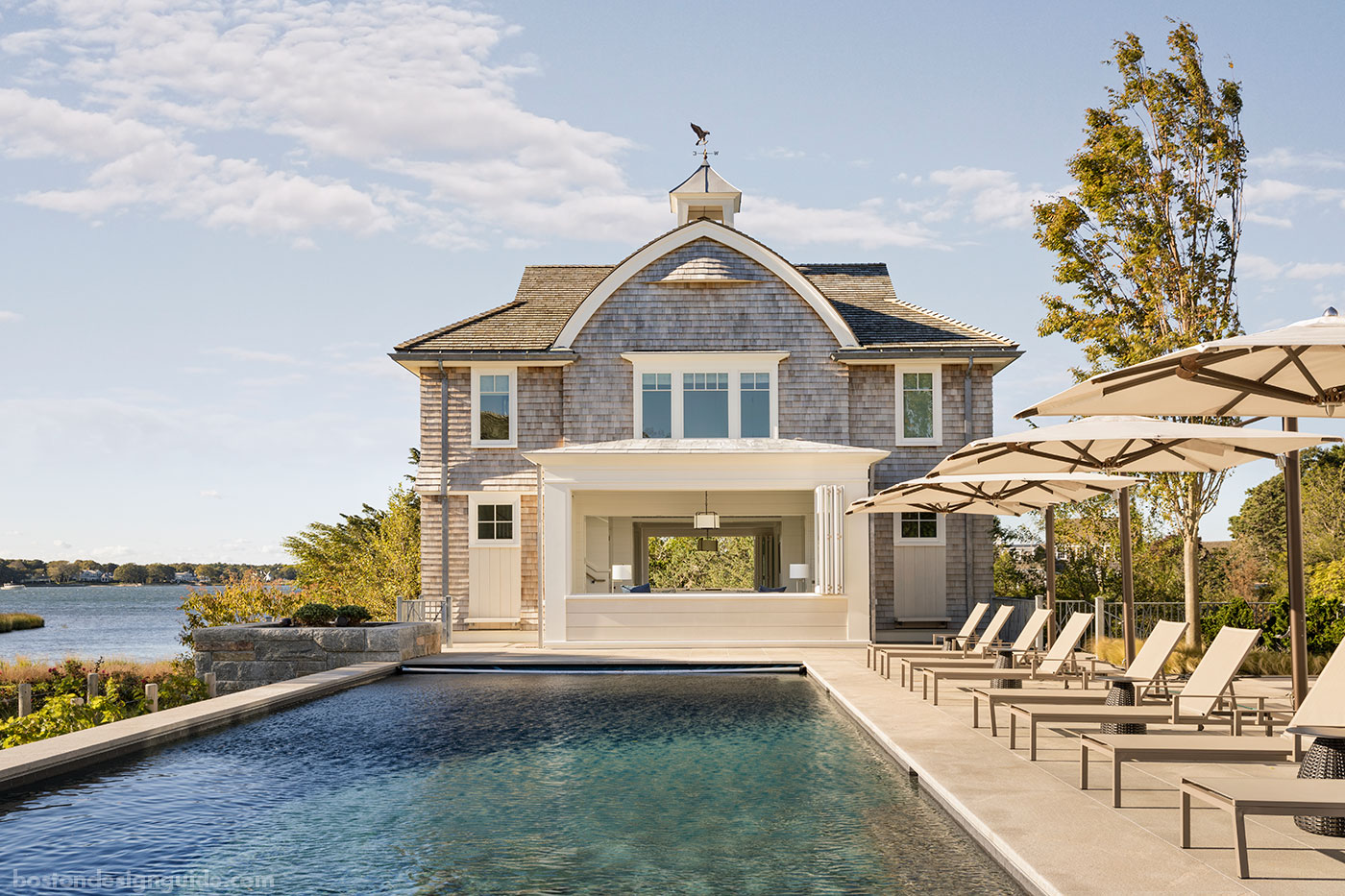 Architecture by Catalano Architects; construction by KVC Builders, landscape architecture: Hawk Design; interior design by Manuel de Santaren; photo by Trent Bell
With its graceful curves and red cedar shingles, this elegant outbuilding designed by Catalano Architects and constructed by KVC Builders is part of a Cape Cod summer campus that calls to multiple generations. It is one of a few structures nestled around the pool, and blessed with shimmering water views on both sides and a chic, first floor living space that invites in sea breezes.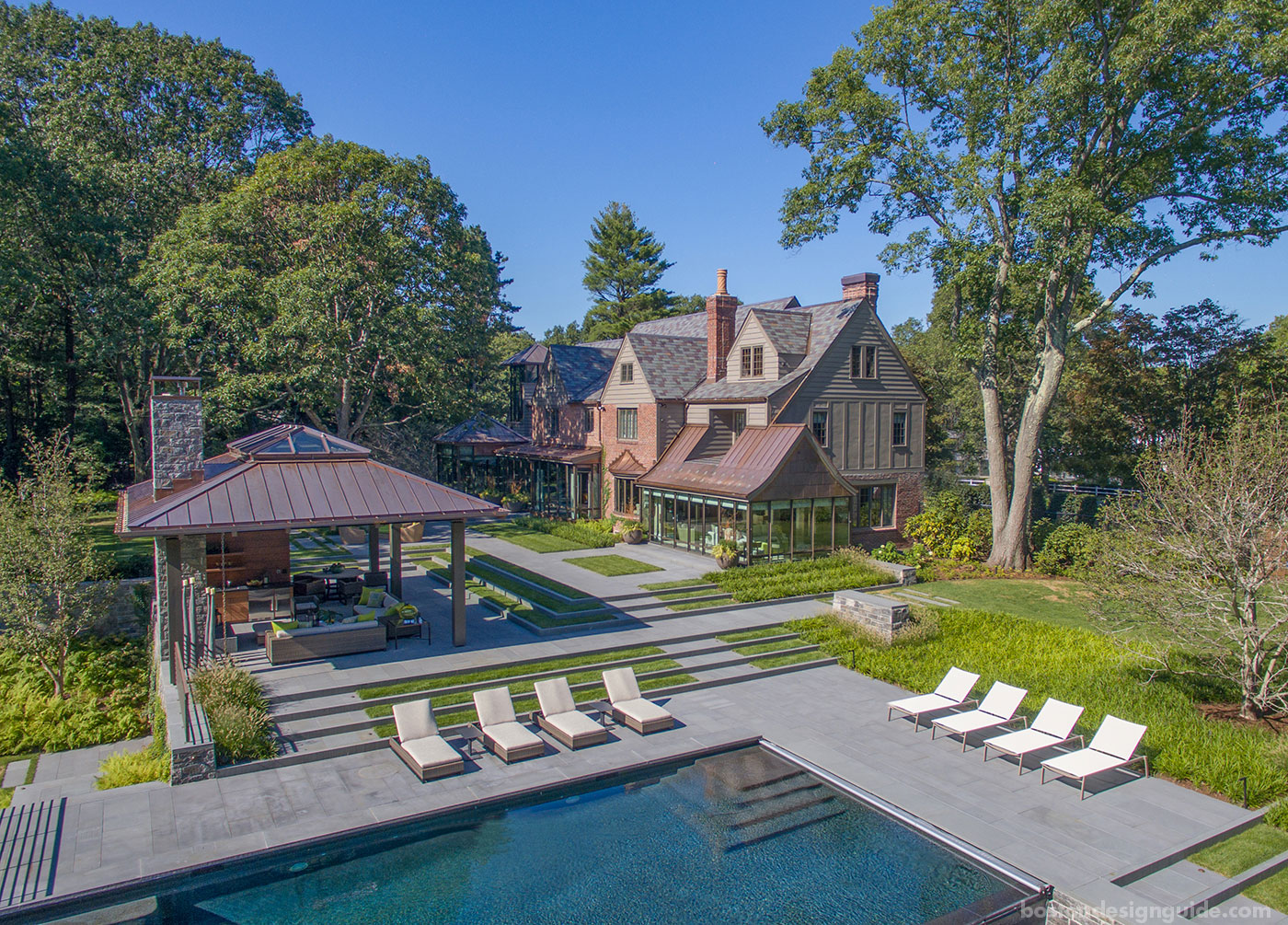 Architecture by LDa Architecture & Interiors; construction by Sea-Dar; landscape architecture by Dan Gordon Landscape Architects; landscape construction by R.P. Marzilli & Company; photo by Eric Roth 
This open-air pavilion, conceived for a gracious Tudor-style estate, was born of an extensive renovation of the house and grounds that would both "transform and increase utility of the property," offers Dan Gordon Landscape Architects. The shaded setting has clean, contemporary lines, a fireplace, wet bar and multiple seating configurations that reflect the casual lifestyle of its occupants.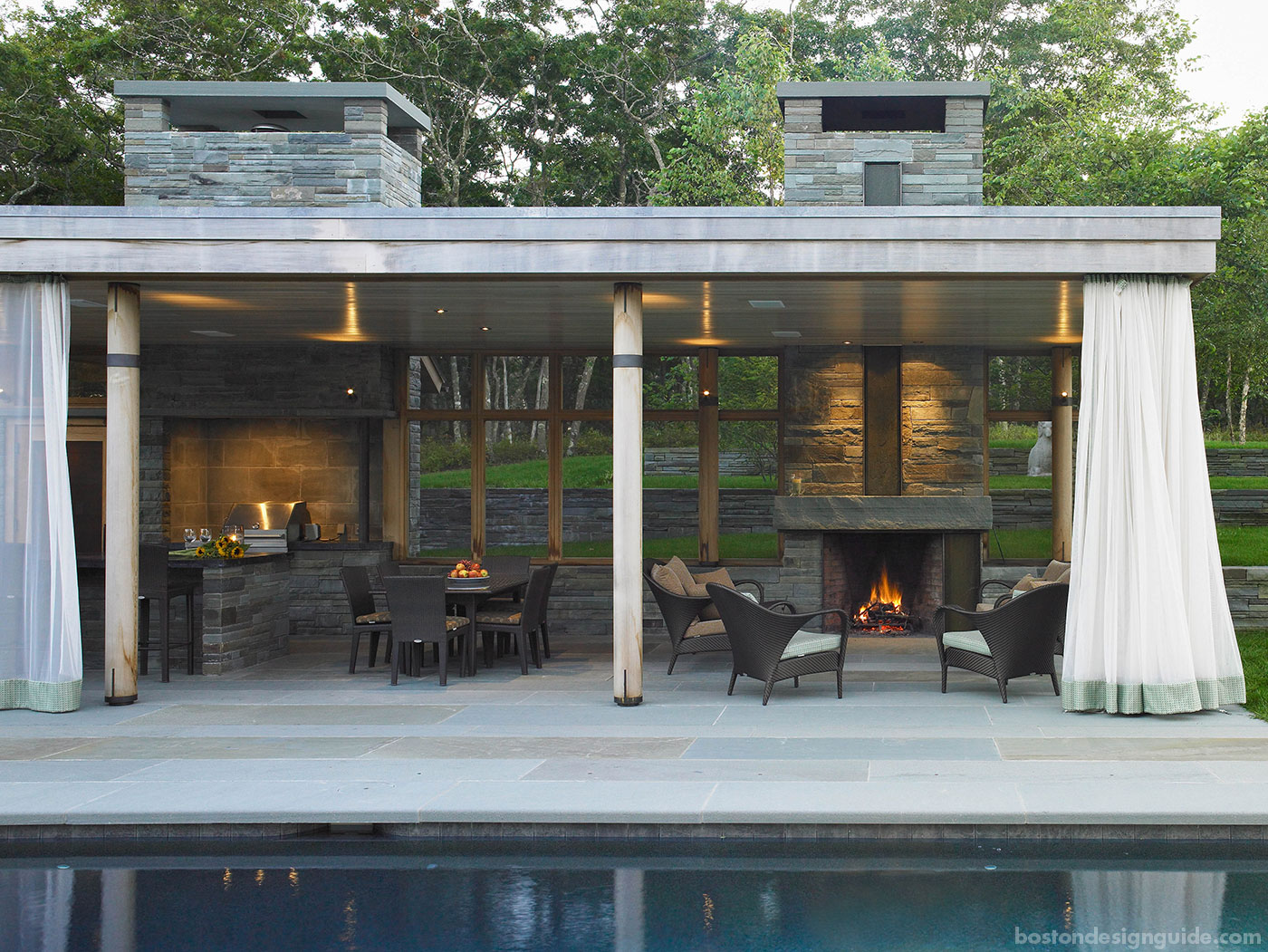 Architecture by Jill Neubauer Architects; landscape architecture by Stephen Stimson Associates; construction by Doyle Construction Company; landscape construction by Landscope Landscaping; pool by Custom Quality Pools; photo by Charles Mayer
A beautiful bathhouse and pool pavilion, adjacent to an infinity pool on Martha's Vineyard, is "simple but soulful," says Architect Jill Neubauer of Jill Neubauer Architects. It is also substantive; in essence, a complete outdoor home with cooking, dining and a fireside living area, an outdoor shower and mosquito-netting curtains that envelop the structure come nightfall.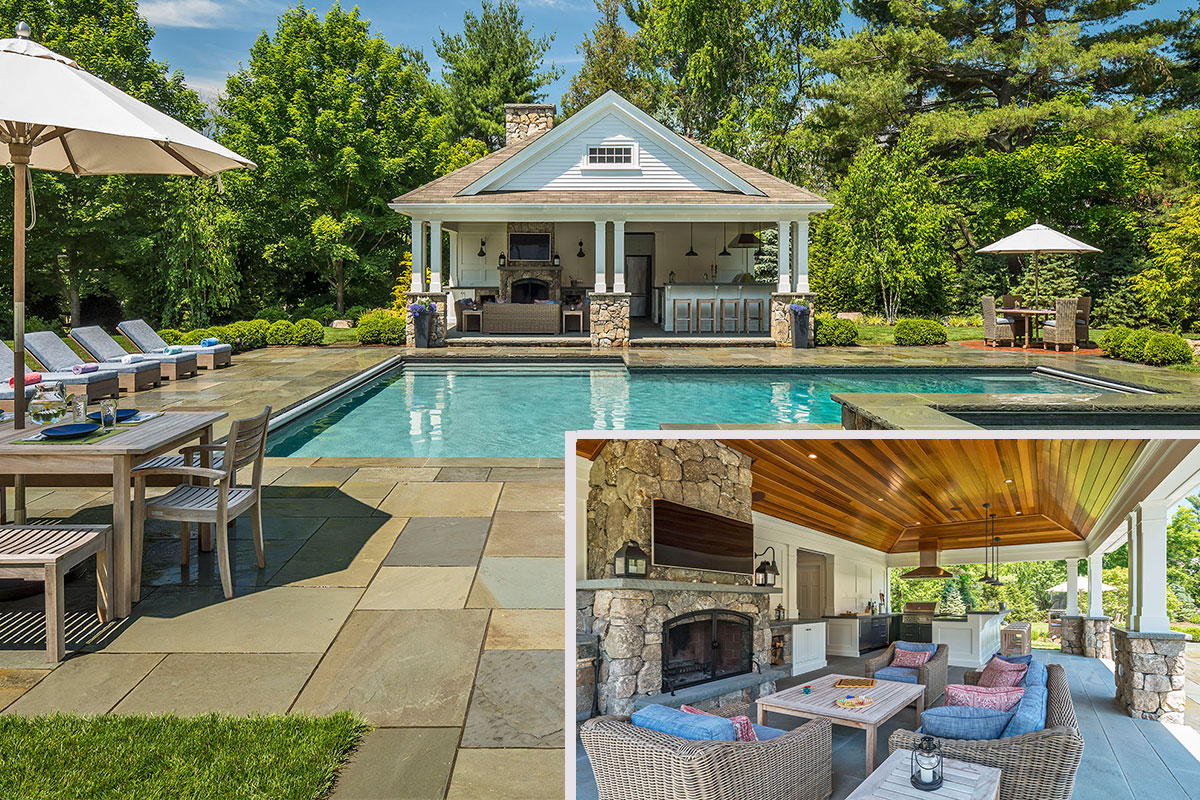 Construction: Twin Peaks Construction; landscape architecture: Sudbury Design Group; photos by Richard Mandelkorn
This striking pavilion in Medfield, designed by Sudbury Design Group in collaboration with Twin Peaks Construction, is a central gathering place within a large pool garden created for a young active family. Casual in spirit yet refined in its palette of materials, the structure houses a fireplace and full outdoor kitchen, providing alfresco living in multiple seasons.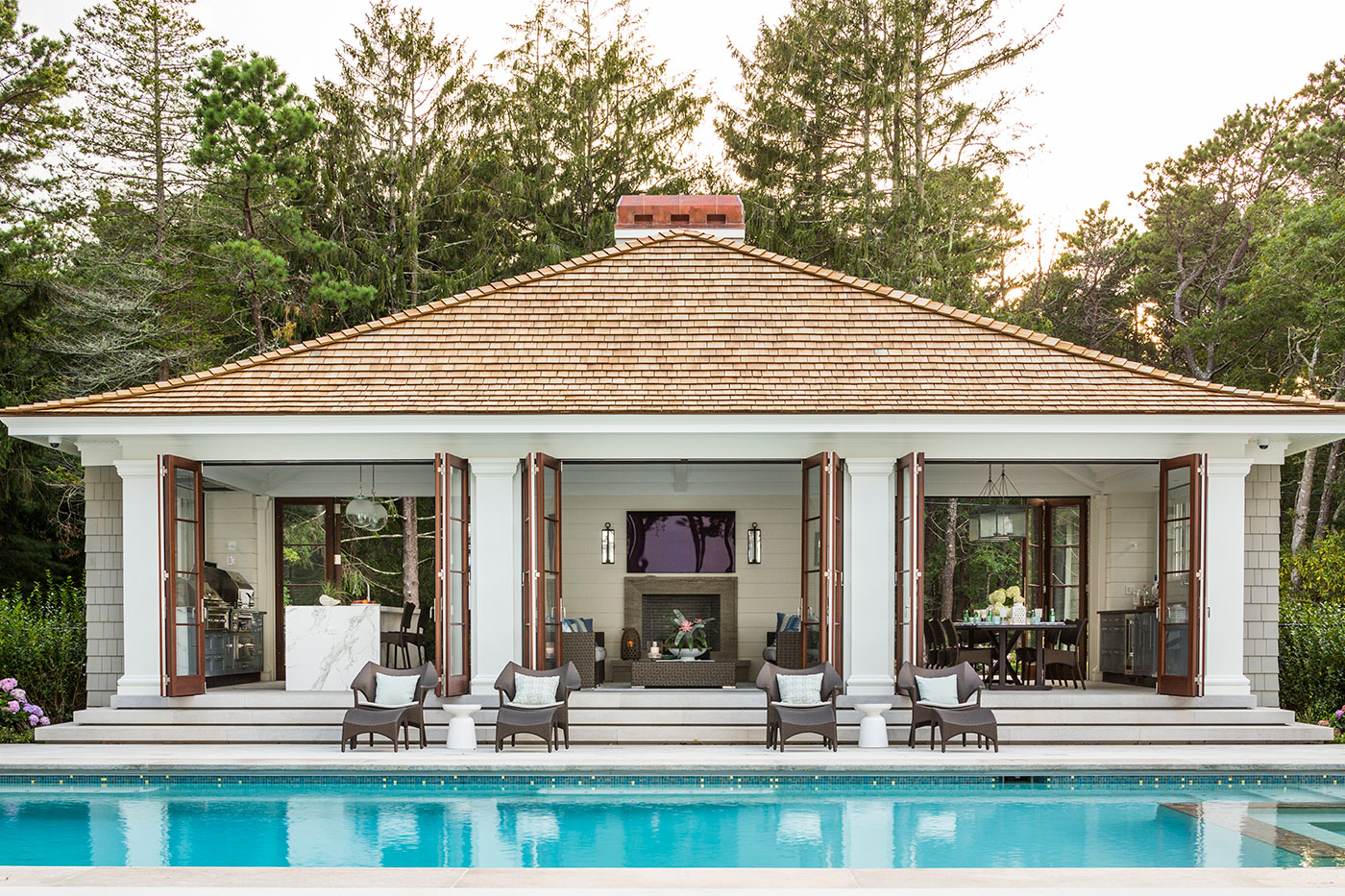 Architecture by Paul Weber Architecture; general contractor: C.H. Newton Builders, Inc.; landscape architecture by Katherine Field and Associates; photo by Keller + Keller 
A tranquil pool house in an exclusive seaside enclave on the Cape provides a picture-perfect setting for open-air dining and summertime entertaining. Designed by Paul Weber Architecture and constructed by C.H. Newton Builders, the refined retreat boasts a full kitchen and separate dining space on either side of a central great room and three sets of mahogany doors that open up to the crystal-clear pool.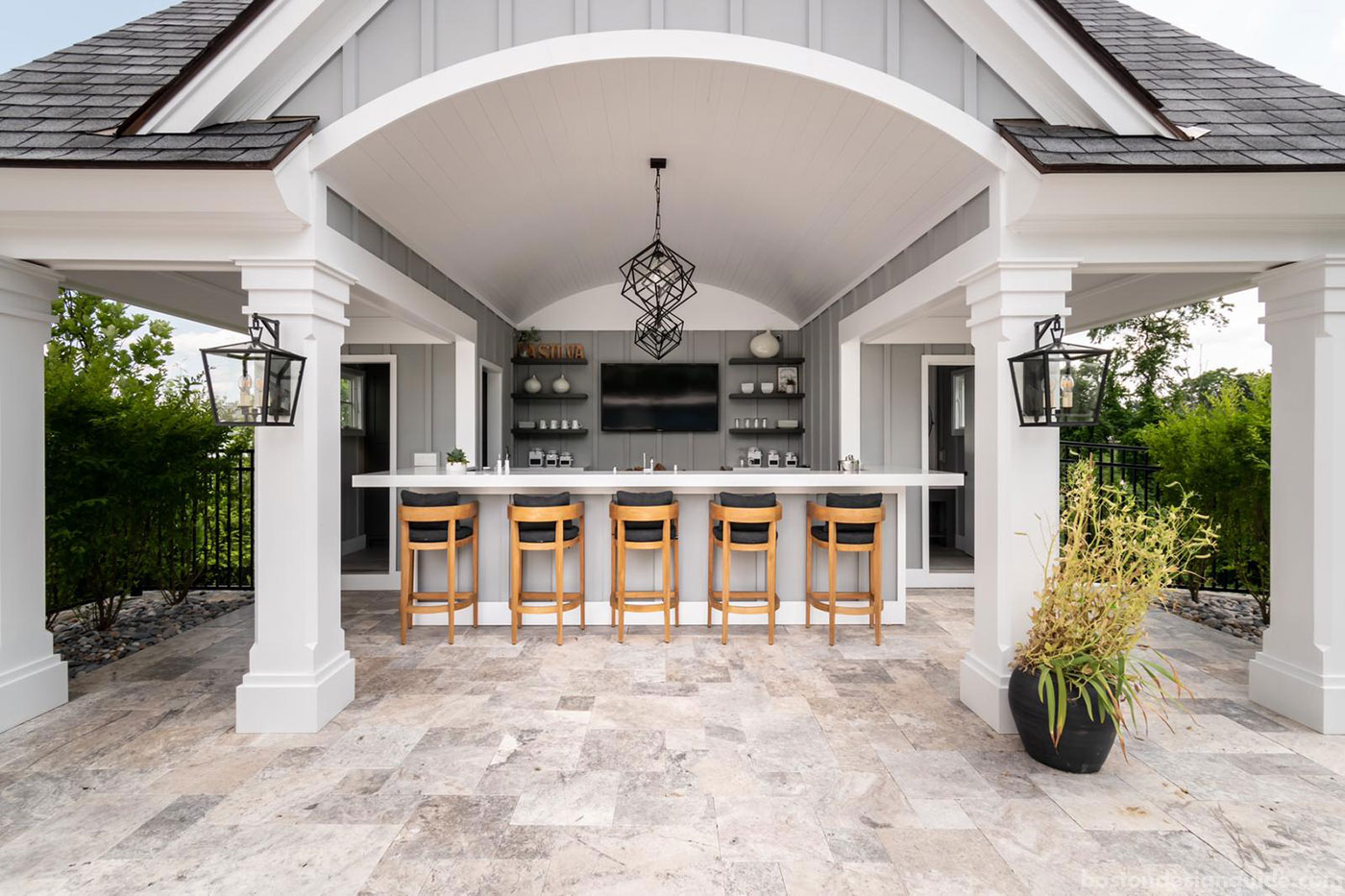 Construction by Brendon - Mota, LLC; architecture by HPA Design, Inc.; landscaping: Paradigm Landscaping; photo by Adrine Hanna of Hanna Media
With its ample bar and outside TV, an impeccable Cape Cod pool house constructed by Brendon Properties doubles as a watering hole within a multifaceted landscape design. The handsome structure, which flanks the outdoor grill, caters to poolside entertaining and beautifully complements the architecture of the main home.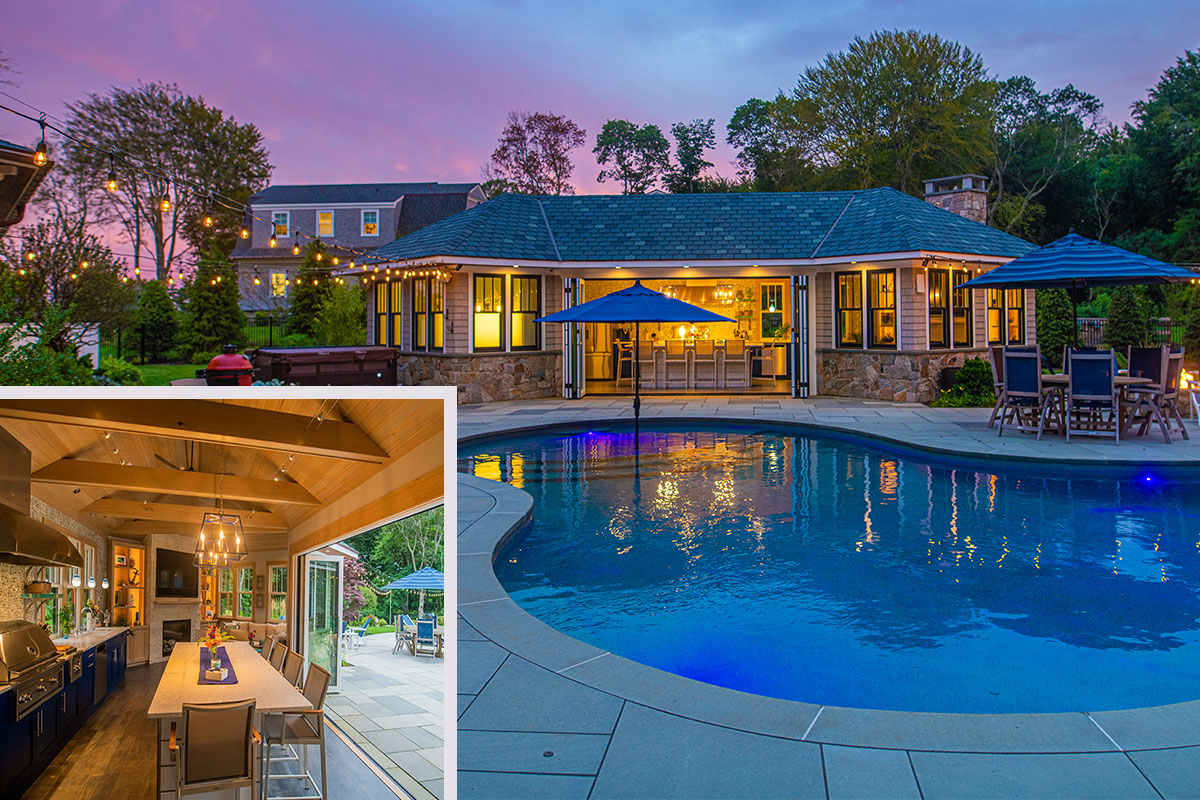 Design/build: Sweenor Builders, Inc.; landscape design/build: Landscape Creations; photos by Seth Jacobson Photography
This atmospheric pool house is the centerpiece of a magical backyard retreat in Narragansett, Rhode Island, designed and constructed by Landscape Creations. The Shingle-Style structure complements the architectural design and organic materials of the main home and includes a full kitchen, media nook, shower and floor-to-ceiling accordion doors that open wide for seamless indoor-outdoor entertaining.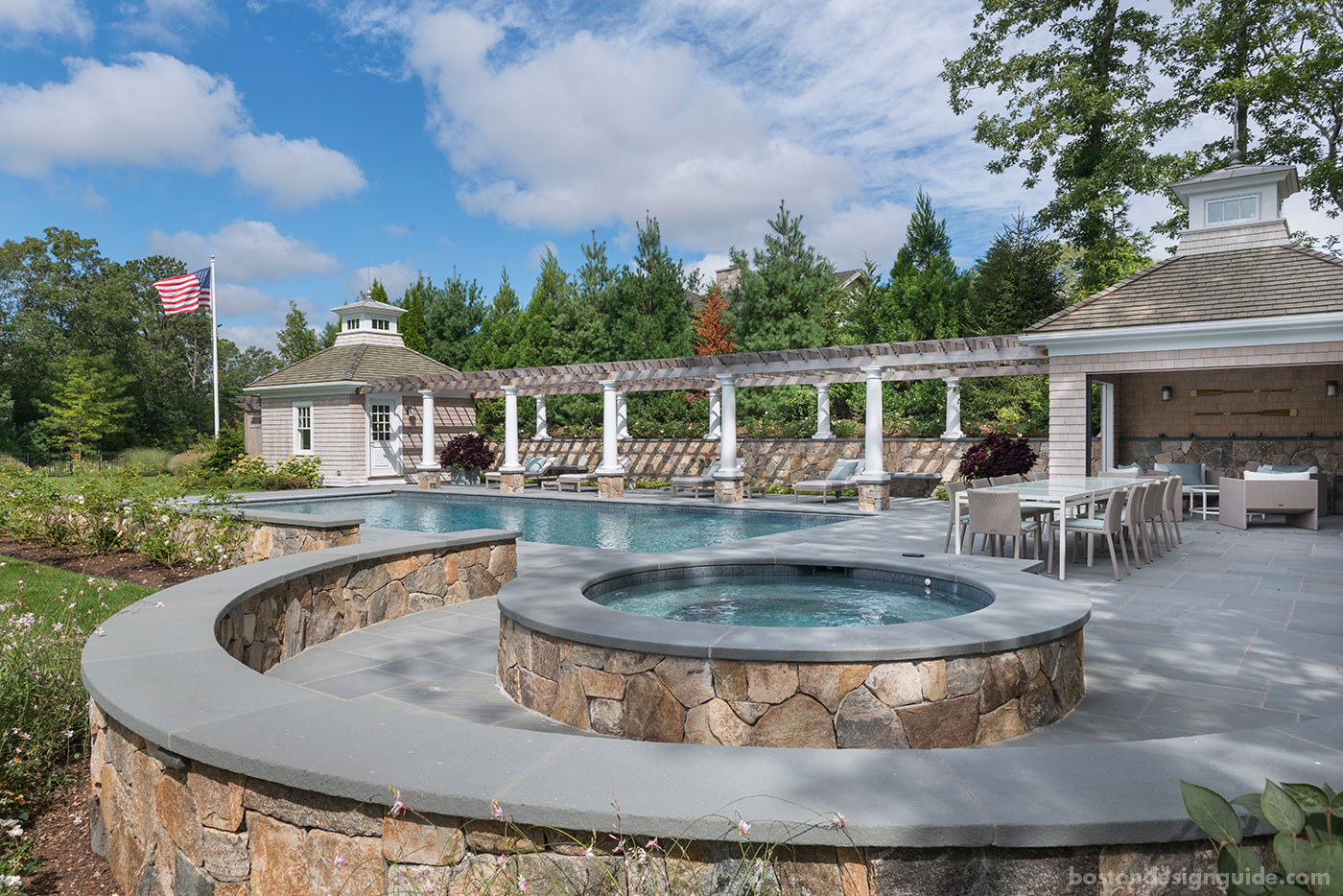 Architecture by Archi-Tech Associates; contractor: Rogers & Marney Builders, Inc.; landscape architect: Phil Cheney; landscape contractor: Joyce Landscaping; photo by Nat Rea
This expansive pool terrace complements a gracious Shingle Style home on Cape Cod, constructed by Rogers & Marney Builders, Inc. Its inventive design is comprised of dual structures—one open, one closed—conjoined by a pergola that stretches the length of the hardscape that adds partial shade to its chaises.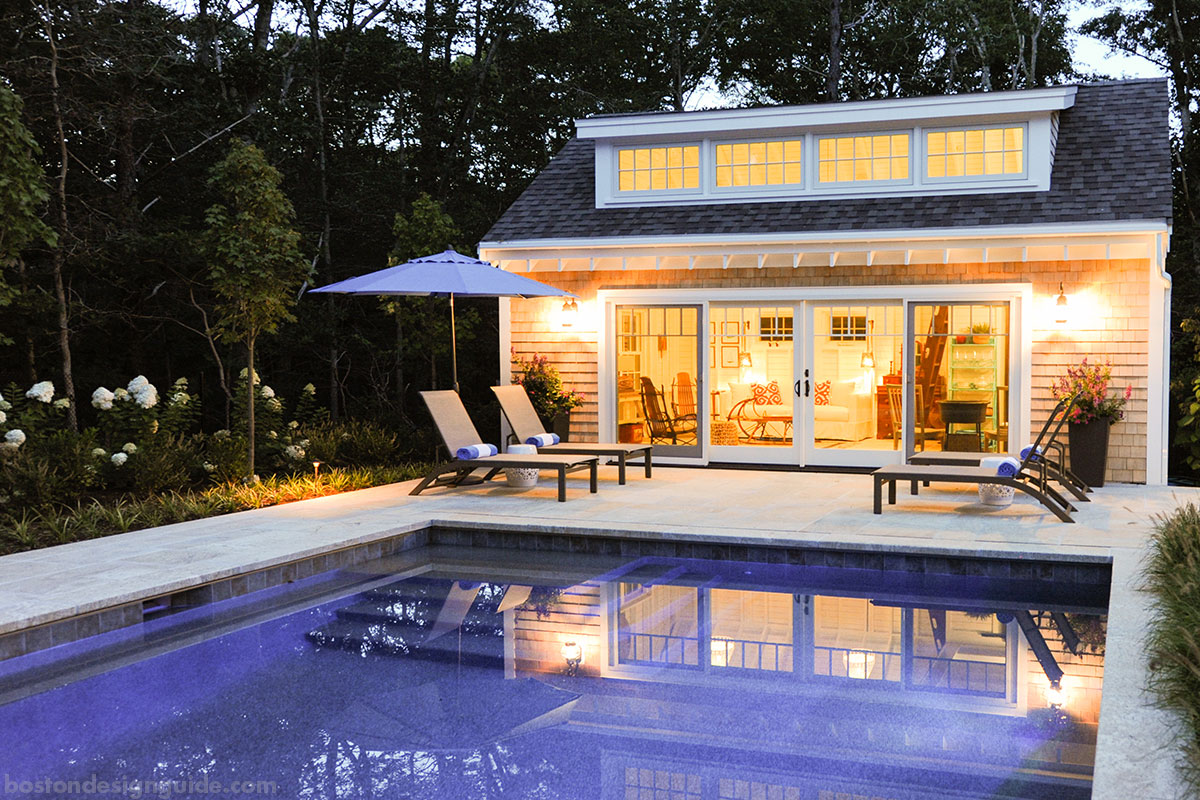 Architecture: Salt Architecture; construction: Peter Coffin Builders; landscape architecture: Bernice Wahler Landscapes; photographer Alissa Hike Harris
Salt Architecture's light-filled shingle-style pool house serves as an enticing anchor for Bernice Wahler Landscape's glittering pool garden. The charming, pitch-perfect structure has a cottage feel, fully appointed sitting area, kitchenette and a sun-splashed loft space, thanks to a band of upper windows.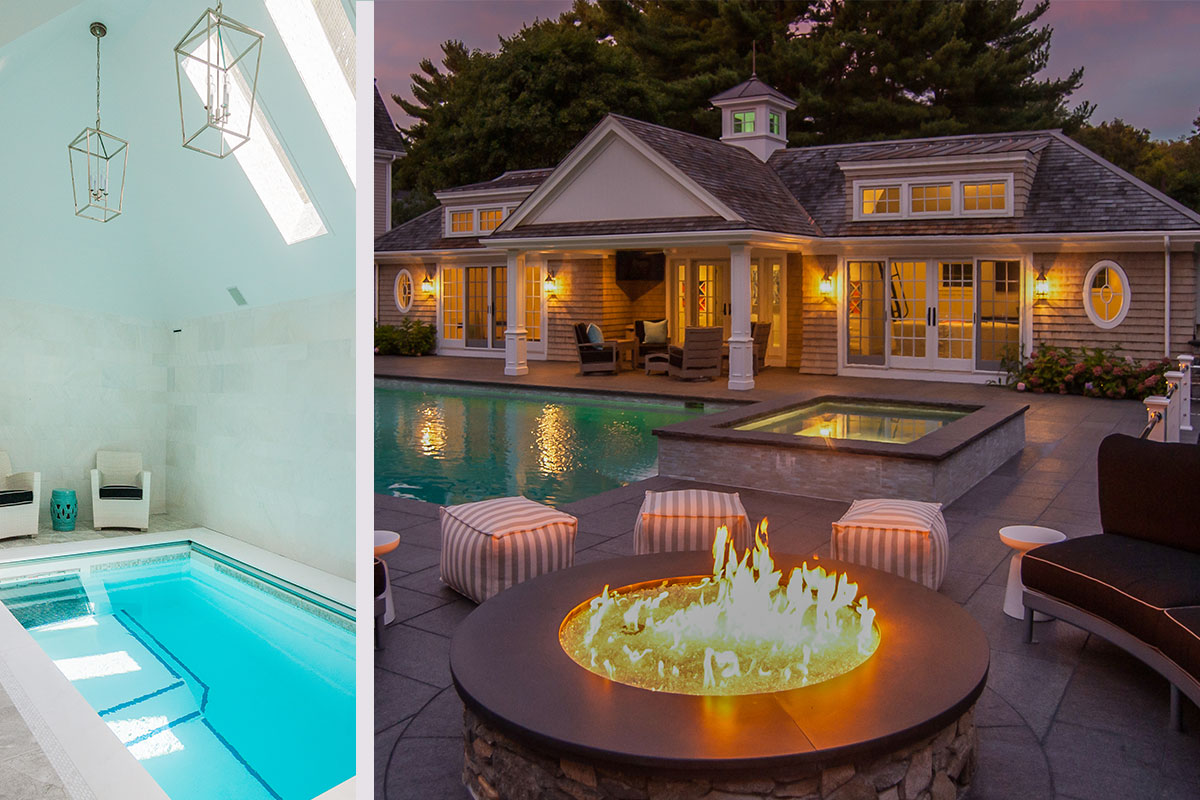 Architecture by ArchiPlicity; contractor: Thorson Restoration and Construction; photos by Katherine Jackson Architectural Photography
Designed by ArchiPlicity, a luxurious pool house in Hingham completes an award-winning residential oasis. With its classic detailing and cupola crown, the outbuilding shines inside and out. Its indoor spaces, which include a changing area, bath, family entertaining room and indoor swim spa were designed "to work in conjunction with the outdoor rooms," offers the firm.
Pictured top: Construction by Brendon - Mota, LLC; architecture by HPA Design, Inc.; landscaping: Paradigm Landscaping; photo by Adrine Hanna of Hanna Media