May 14, 2021 | Marykate Forte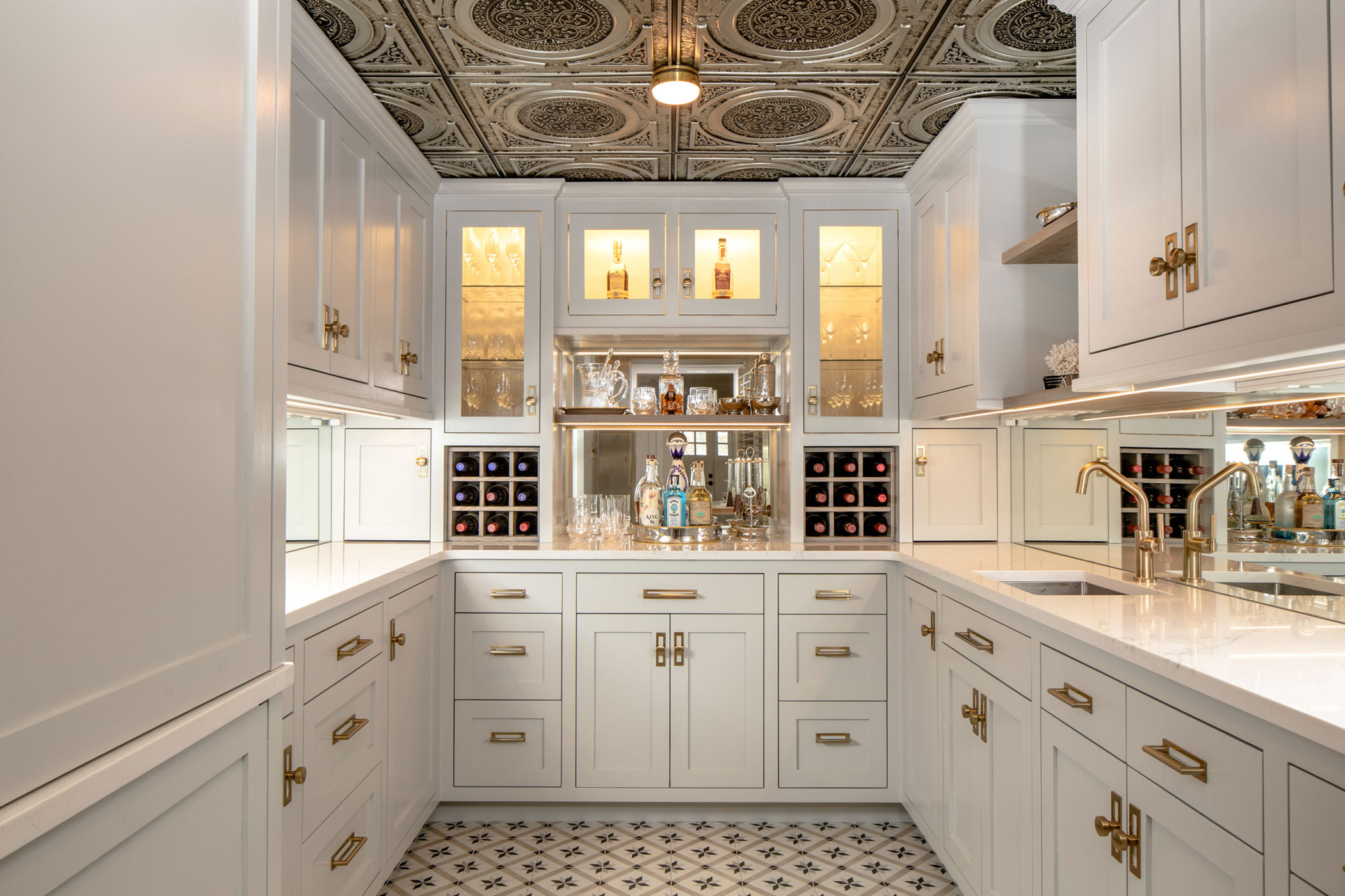 A renovation transforms this space from business to pleasure. 
Warm metals, tin ceiling tiles, and a mirrored backsplash transformed this bank vault into a jewel box. Previously an old bank, the building was renovated into a house and the homeowners wanted to live with some of its original detailing. They contracted Timothy Costello, owner of Costello Fine Homes and Bill Barr, an interior designer with Surroundings (now part of The River Shops)  to convert the vault into a bar and elevated butler's pantry off of the dining room.
The homeowners, who love to entertain, wanted additional cabinet space for storage and an area for party buffets and things of that nature, says Costello. "Essentially the idea was to create a place for a liquor bar, coffee bar, and beverage center, and an area to service for entertaining."
White sliding barn doors reveal the bank vault's original metal door, enclosing the new custom bar and pantry, adjacent to the kitchen. Initially, the 96-square-foot space had poured concrete on the ceiling, walls, and floor, now softened with a tin ceiling and tile flooring.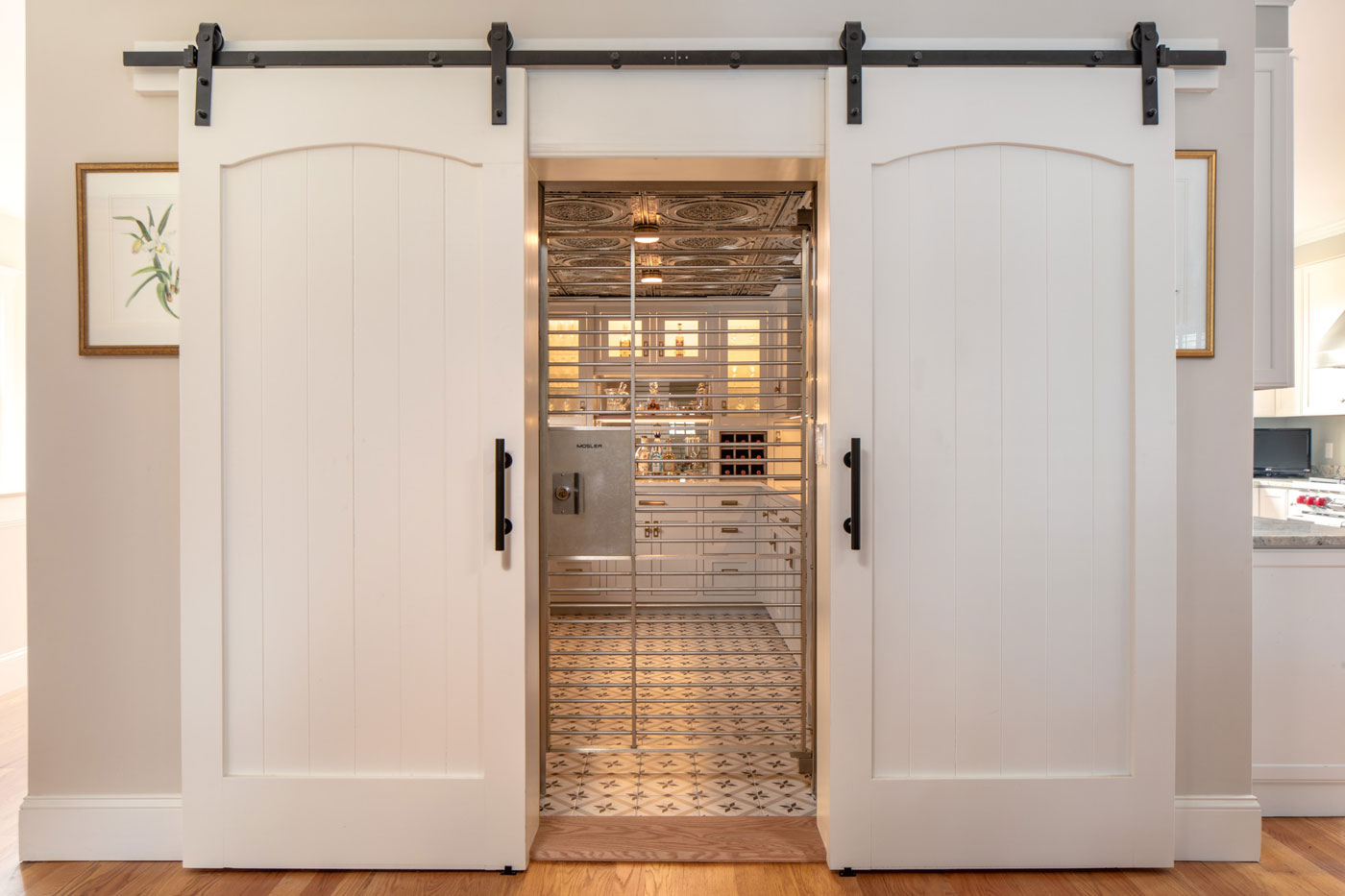 "We chased a high aesthetic," says Barr. "Instead of making it an extension of the kitchen, I had the distinct idea to make it different and special."
Maple wood cabinets designed and fabricated by Costello feature brushed brass hardware finishes that add warmth to the space and contrast the polished chrome and stainless steel in the kitchen. A matching brushed brass Brizo faucet sits on top of a white rhino marble counter, with reclaimed chestnut wine racks and shelving.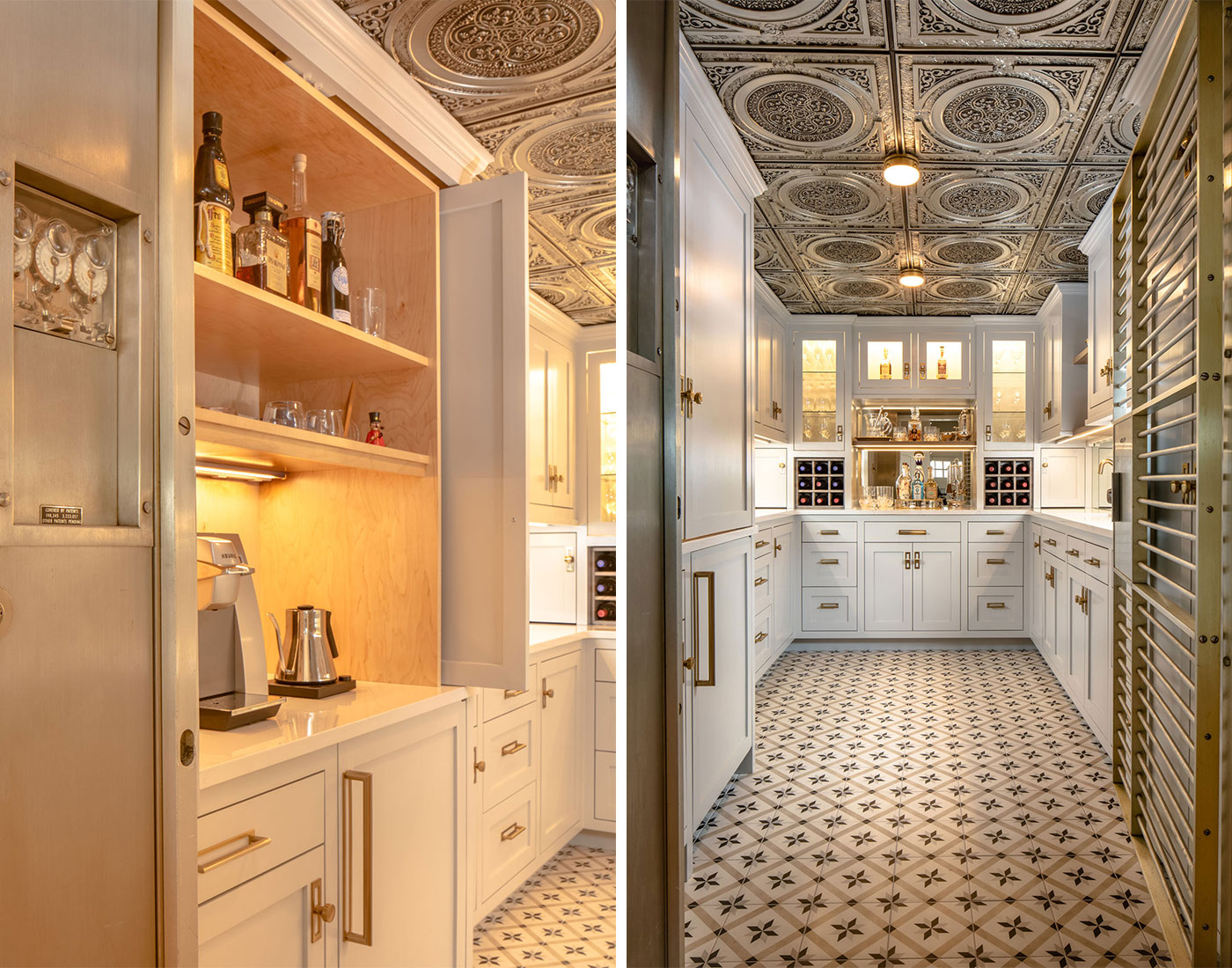 Mirrored backsplash and under-shelf lighting add depth and sparkle to the small space, along with additional shelf and cabinet lighting. Round Visual Comfort puck lights are simple with brass and oil rubbed bronze that pair well with the tin ceiling, hardware, and faucet metals. Tan and gray painted ceramic tile flooring seamlessly flow into the living space off the area.
Keeping the original vault door was the homeowner's decision since it fit into the bar theme and could be used as a conversation piece. Preserving and celebrating the space's banking origins also led to the homeowners keeping the dials and original stainless cabinets.