Company Profile: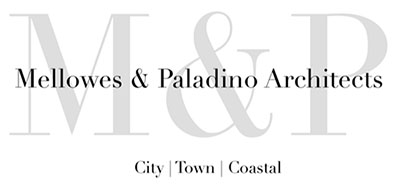 Mellowes & Paladino Architects seeks to provide the highest level of personal service to our clients and create architecture of enduring quality. 
We believe that what makes our work successful is our ability to be responsive to the needs of the client while working effectively in close collaboration with a dedicated design team.
Jim Mellowes and Bob Paladino share many years of combined experience in the New England area. The work of the firm is informed by a traditional palette, but each project represents a process of exploration, synthesis and innovation. We are able to achieve excellence through insightful and sensitive design solutions that are reinforced with a constant refinement of detail.
We are committed to following the leading edge of green building practices with special emphasis on energy conscious design. We apply these principles throughout the entire design process and, along with the design team, assure their integration in the completed project.
Our work focuses mainly on the design of large and small custom residences, new additions and the renovations of existing homes. We have also completed commercial and institutional projects. Along with builders, landscape architects and interior designers, we strive to work seamlessly as a unified design team to assure that the wishes and aspirations of the client are reflected in the final project.
Visit Mellows & Paladino Architects for more information.