Company Profile: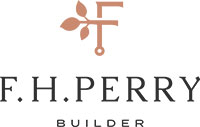 Forty years spent building and renovating homes for people brings a lot of satisfaction. And, a lot of knowledge. It means F.H. Perry knows the ins and outs of working inside just about every Boston neighborhood as well as those surrounding them.
Whether it's successfully managing traffic flow to allow for construction deliveries down one of those charmingly narrow, one-way streets in Cambridge or handling the nuanced differences in pulling permits from Beacon Hill to the waterfront, the F.H. Perry team thrives on making the complex simple. Then there's the decades' worth of project time spent in Weston, Wellesley, Newton, and Brookline restoring estates and residences that have stood the test of time and building others to join their ranks. 

Headed by Allison Iantosca, owner and president of F.H. Perry Builder, the F.H. Perry team helps homeowners move projects from dreaming about to creating. In their hands, the build process is not only painless, it's exceptionally rewarding, which is why those in the trade and homeowners alike continually count on F.H. Perry to successfully deliver on their vision.
 
​Visit F.H. Perry Builder to learn more.