Company Profile: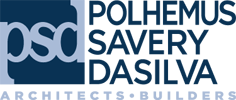 Polhemus Savery DaSilva Architects Builders (PSD) is nationally recognized for architectural design and quality construction throughout coastal southeastern New England. Offering an innovative single source for new construction and renovations, the firm provides design, construction and management that is fully integrated, thoughtfully executed and carefully attuned to each specific client.
PSD carefully guides clients through every step of the design-build process – from site selection and permitting, to architectural and interior design, to construction and landscaping. This comprehensive approach begins with client wishes and needs, discovers client spirit and vision, and yields creatively designed projects that are meticulously executed and seamlessly delivered.
An uncompromising commitment to design excellence, attention to detail, and environmental sensitivity make PSD highly regarded leaders in their field. Founded in 1996 and led by architects Peter Polhemus and John DaSilva and builder Aaron Polhemus, the New England-based firm has an office on Cape Cod in Massachusetts.