November 3, 2020 | Sandy Giardi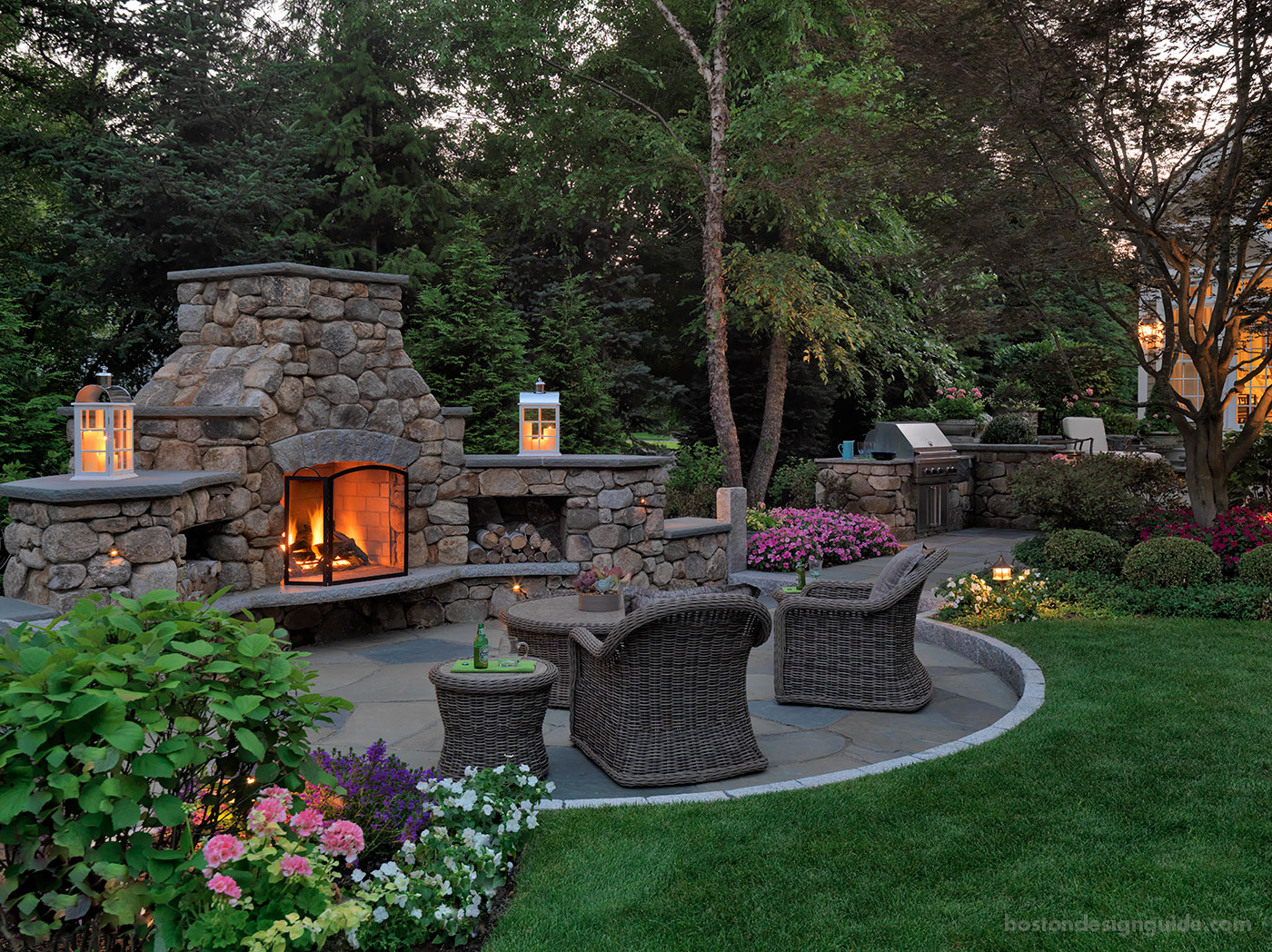 Outdoor fire features have been a saving grace during COVID and continue to be. In this season of staying home, fire pits and fireplaces have served as destinations on our own properties and as a breath of fresh air from the confines of home. These soul-warming fireside designs are among our favorites….
Holy Smokes!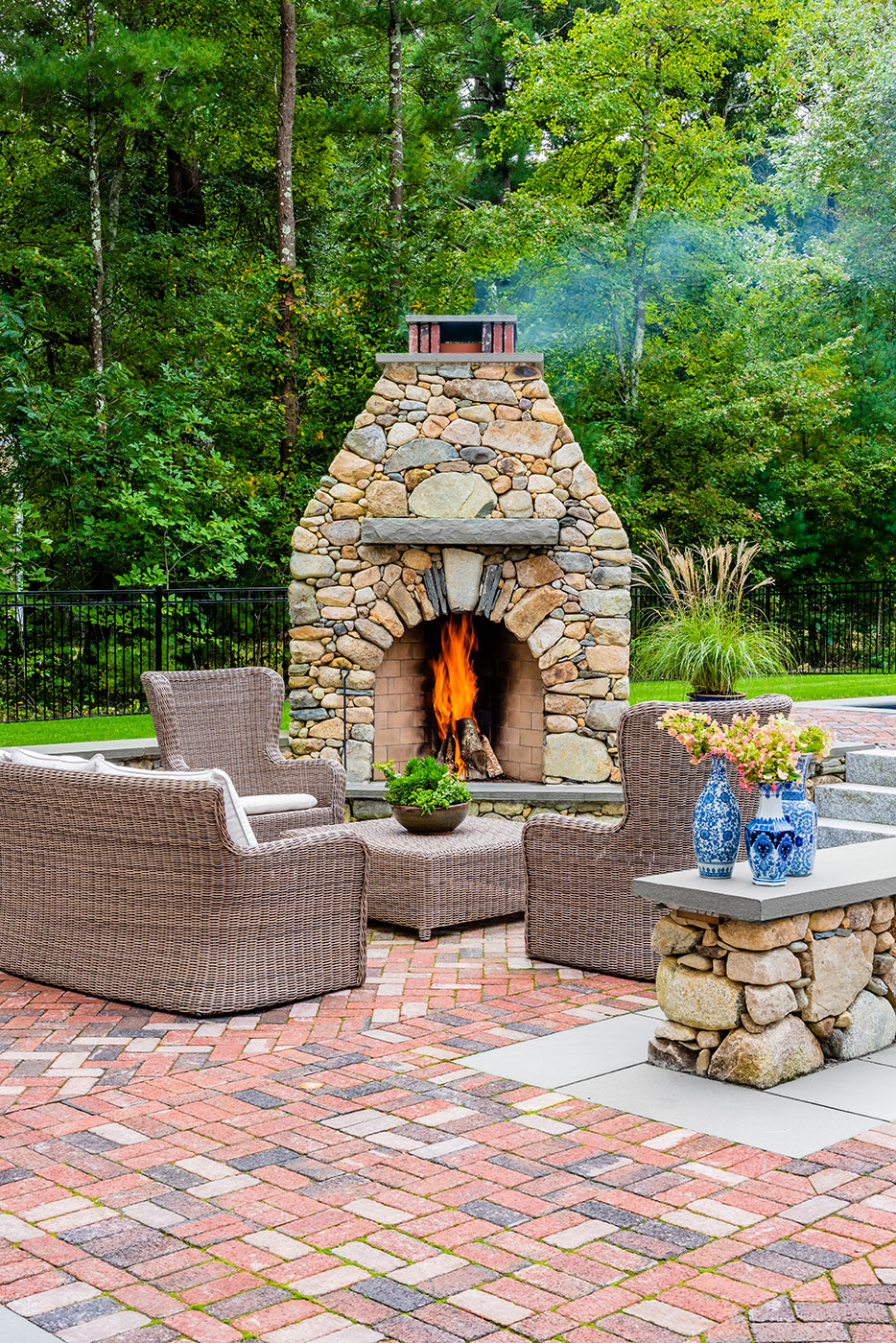 Masonry by BrickStone Design + Build; photo by Keitaro Yoshioka
This wood-burning beauty by BrickStone Design + Build is the backbone of what is, in essence, a second living room situated on a brick patio with a bluestone border. The artfully rendered fireplace was custom built for the client and sculpted in New England fieldstone with a bluestone mantel to match the banding of the patio and the caps of the stone walls, which double as additional seating. 
Modern Marvel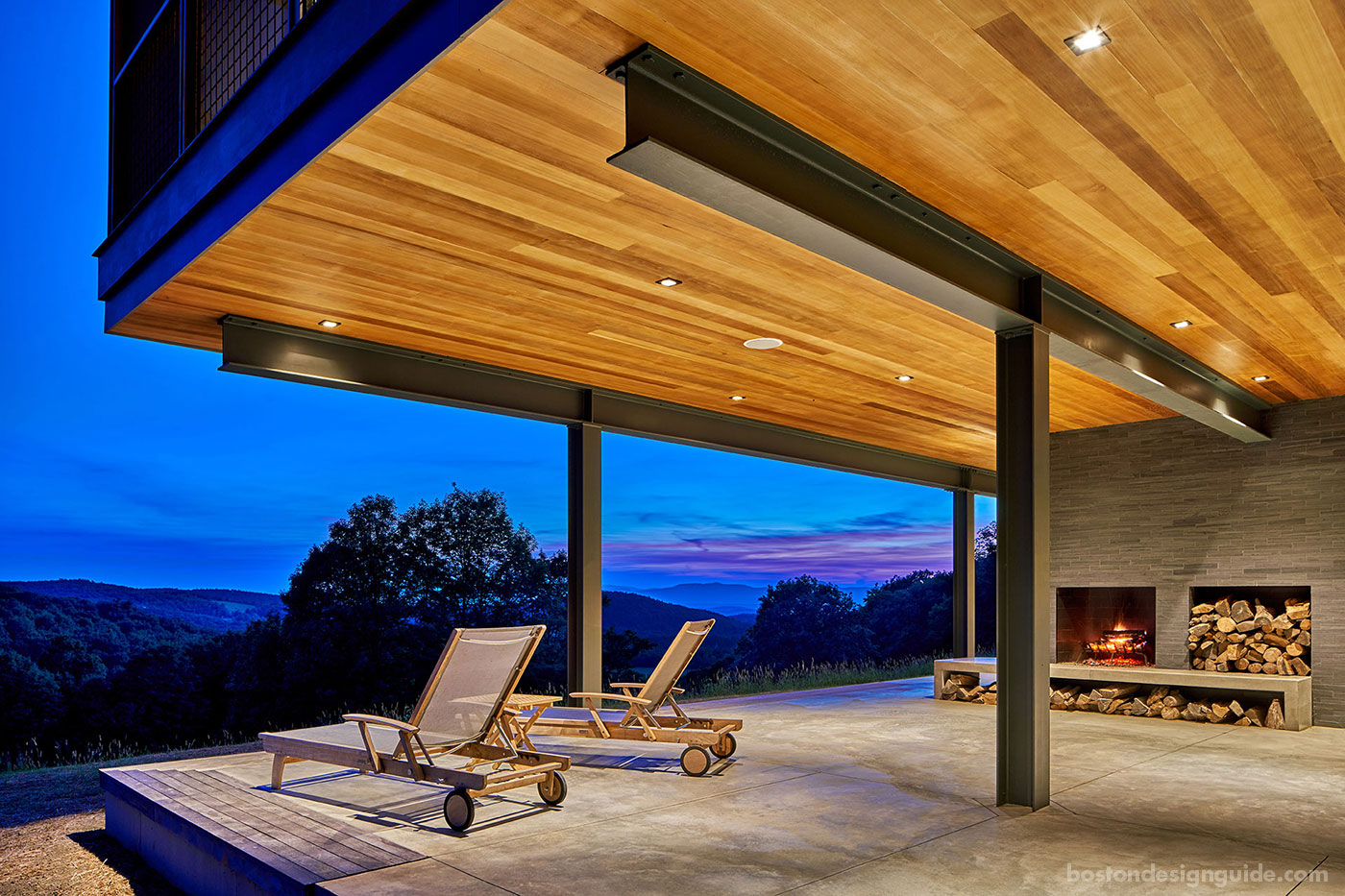 Landscape architecture by Matthew Cunningham Landscape Design; architecture by Mathison Architects; construction by George Lagonia Construction; landscape construction by Creative Country Landscape; photo by Jason Keen + Co.
This incredible family retreat in the Catskills, with a landscape conceived by Matthew Cunningham Landscape Design, boasts majestic mountain views and a terrace and hearth of poured and polished concrete. The wood-burning fireplace warms the inhabitants as they sit protected within the cantilevered, contemporary space and take in the ever-changing vistas from the Ipe wood bench or chaise lounges.
Double the Pleasure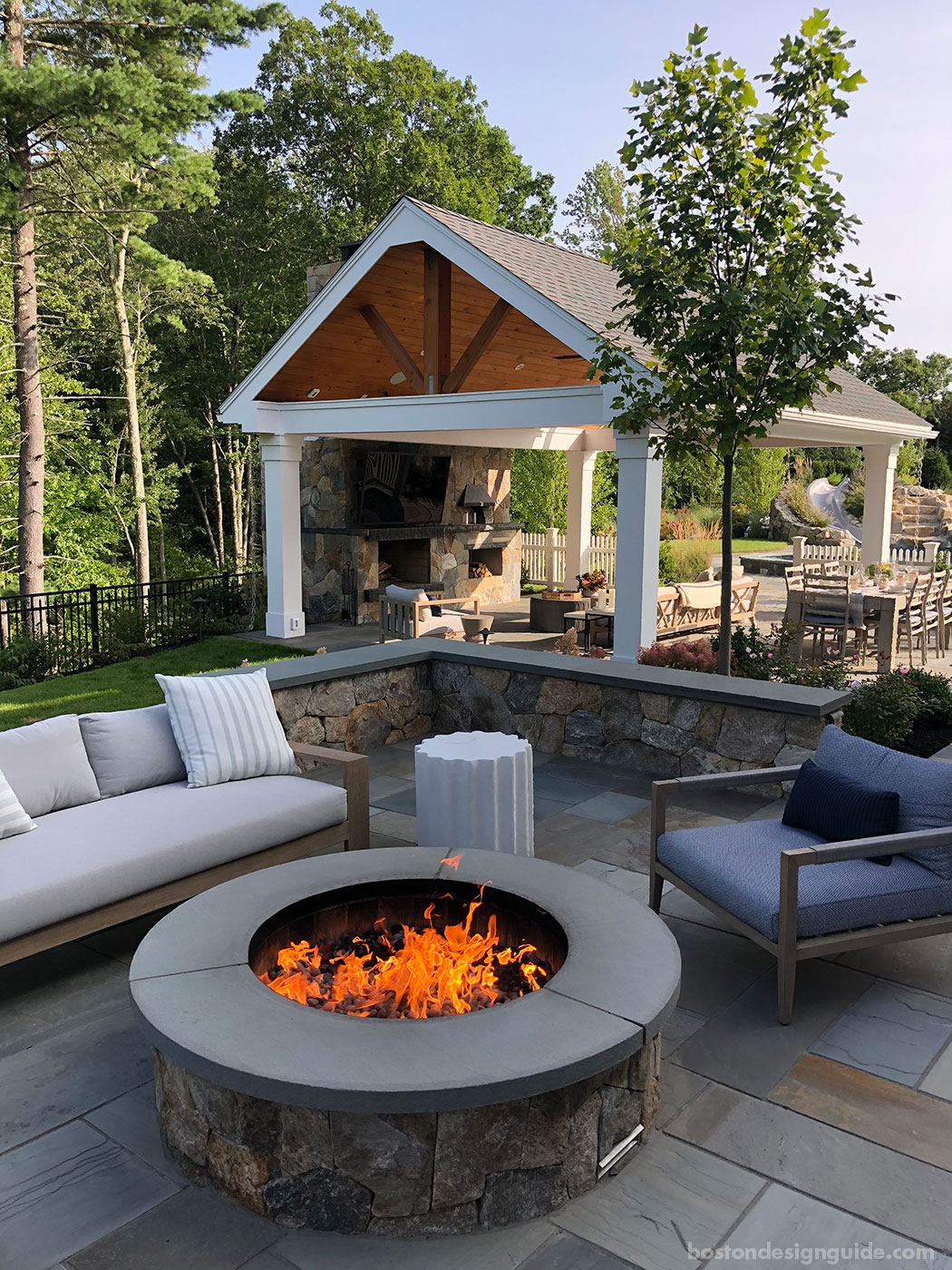 Landscape design and installation by a Blade of Grass; carpentry by Kris Osgood 
When it comes to fanning the flames, this landscape design in Westwood by a Blade of Grass features the best of both worlds. While a wood-burning fireplace warms the open-air structure, a ring of fire, built out of mosaic New England fieldone capped in thermal bluestone, is open to the elements, inviting conversation on a raised natural cleft bluestone patio space.
Granite State
Landscape design by Pellettieri Associates, Inc.; fireplace mason: Mark James Stone Masonry, LLC; photo by Jeff Sinon
Though part of a larger landscape program in Newbury, New Hampshire, blessed with a pool and pool deck, this commanding fireplace gets a terrace and grade of its own. Here, Pellettieri Associates, Inc. positions the multi-tiered fireplace, with its artistic mix of stone, against a backdrop of trees, allowing residents to feast on the flames as well as autumn's glory. 
Jet Fueled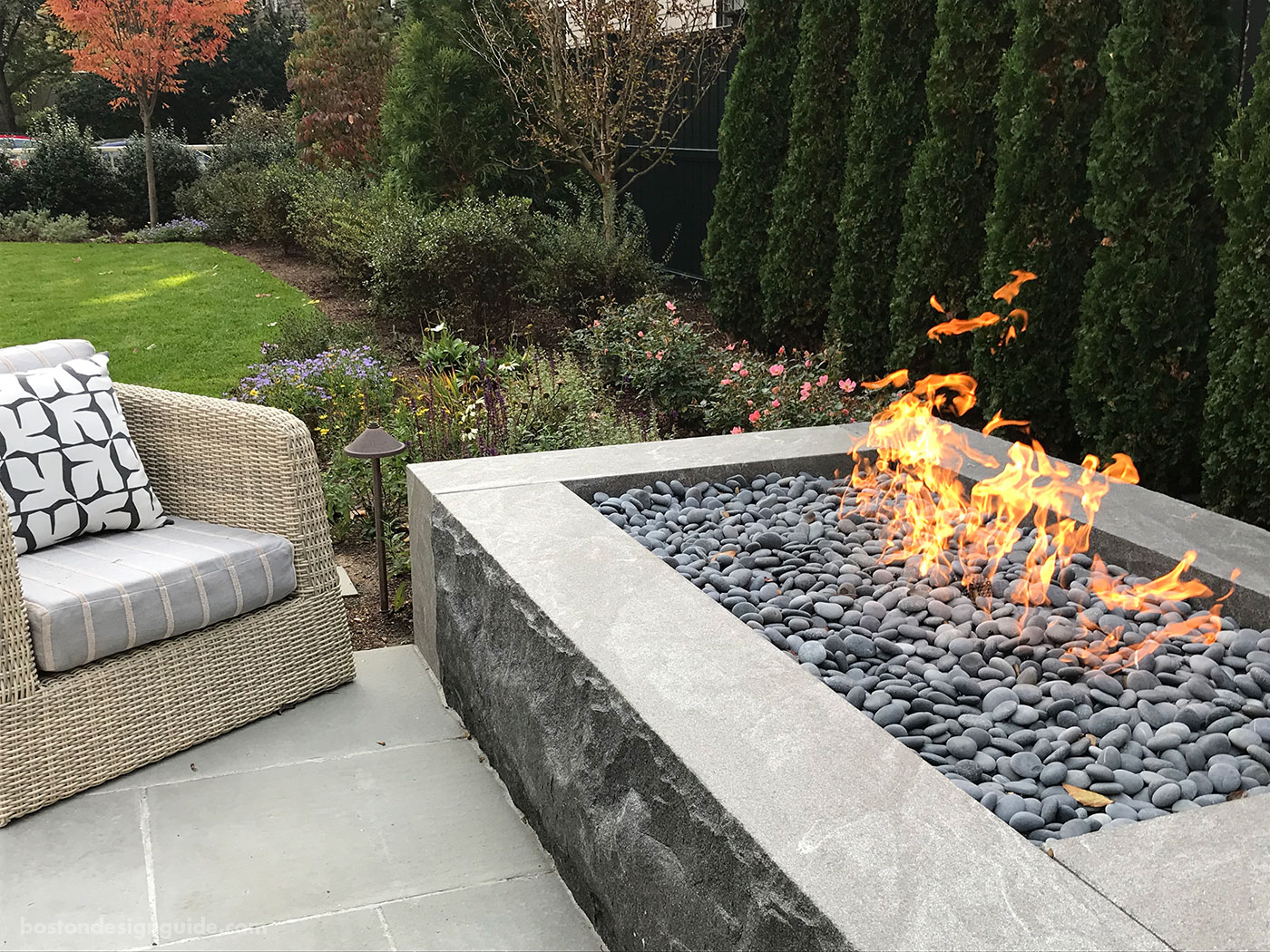 Landscape architecture by Gregory Lombardi Design; landscape construction by Landscape Creations
This impressive rectangular fire feature was key within an urban landscape designed by landscape architect Gregory Lombardi Design and constructed by Landscape Creations "that was carefully crafted to maximize space for an active family," offers Principal Troy Sober of Gregory Lombardi Design. Crafted in Jet Mist granite with a thermal top and split faces, the fire feature was a high priority for the residents, explains Sober, "as it allows them to enjoy the shoulder seasons and is visible from many of the interior rooms."
Curves Ahead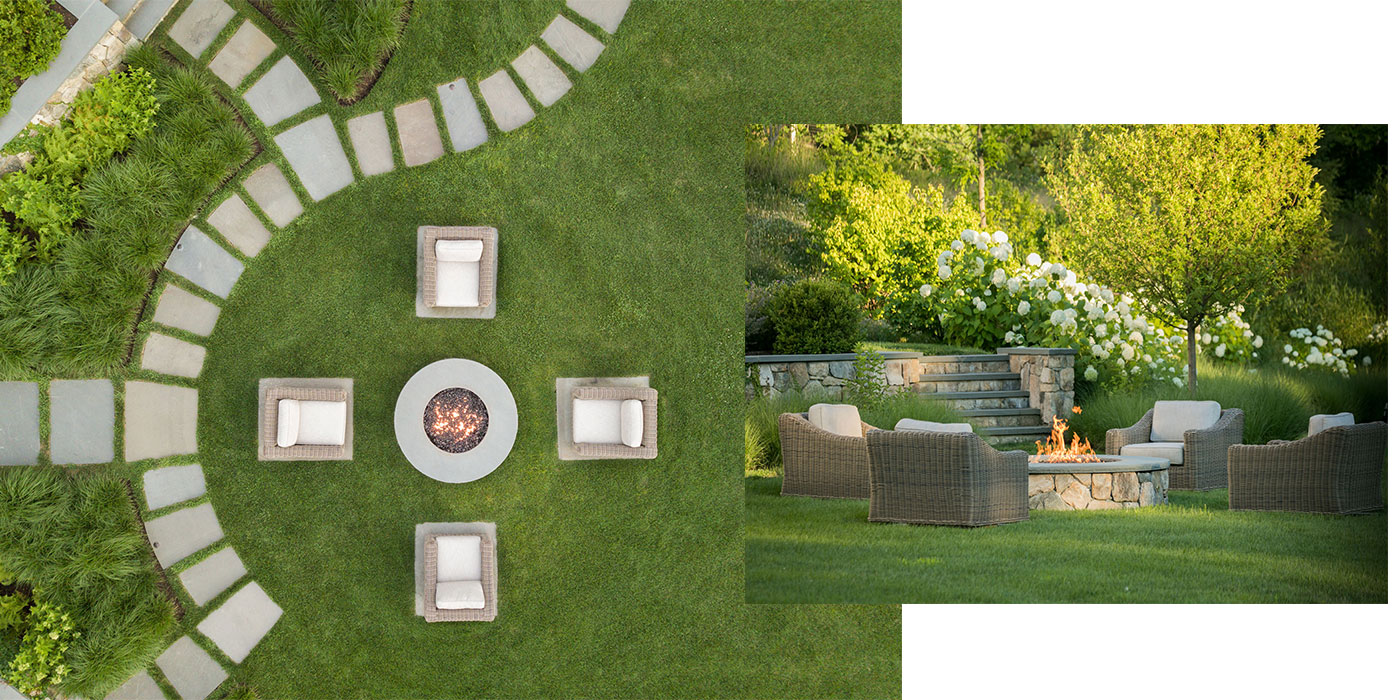 Landscape design by Dan Gordon Landscape Architects; landscape construction by The Picot Company; photo by Neil Landino
A clean-lined landscape design in Dover by Dan Gordon Landscape Architects caters to "an active outdoor lifestyle," says the firm, and is characterized by its graceful curves and sense of movement. While part of a larger outdoor program, the fieldstone gas fire pit provides a central nexus for congregating and is fashioned in the character of the surrounding masonry and bluestone steppers.
Room with a View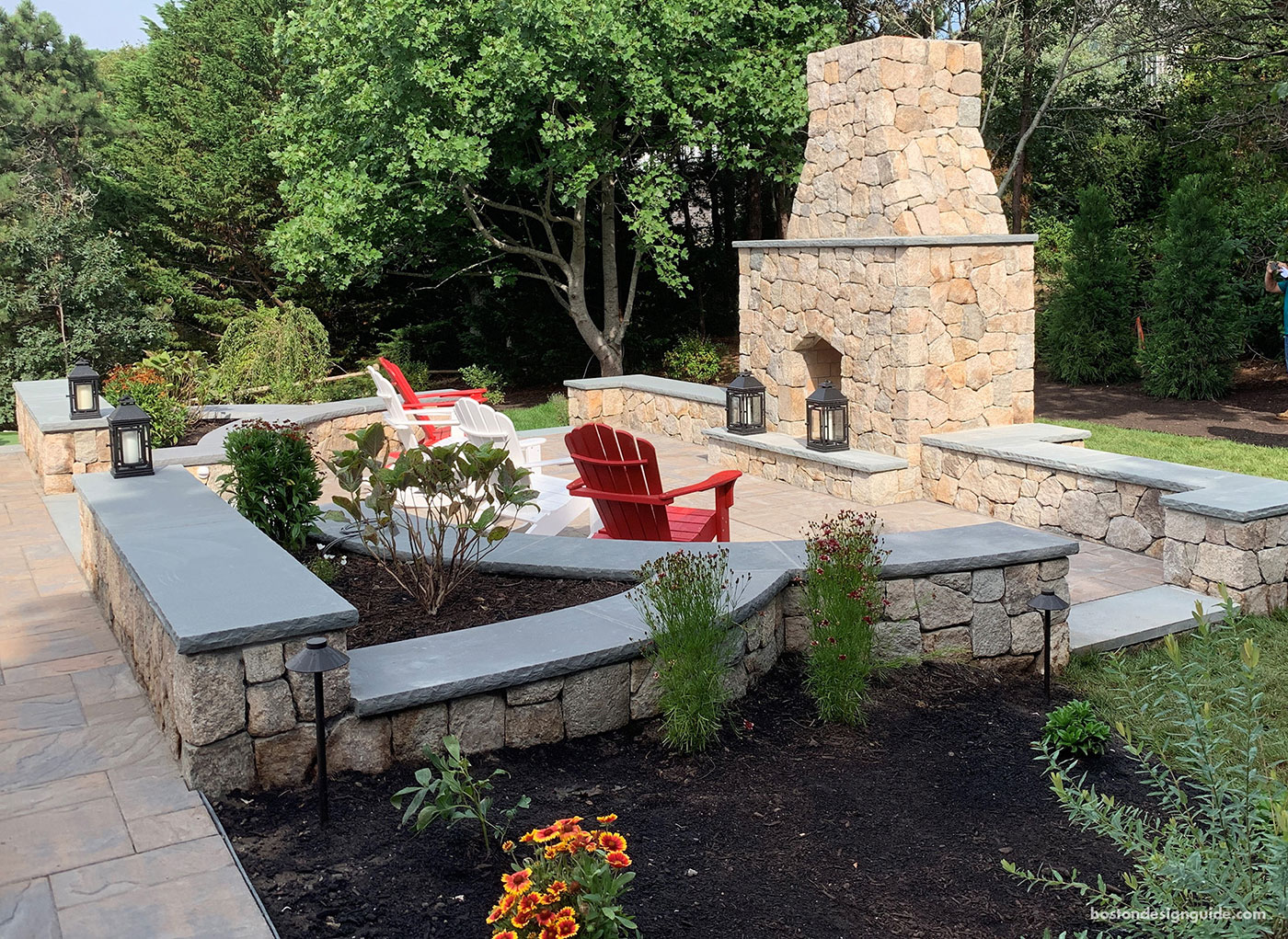 Landscape construction by Blue Claw Associates
This "split face" New England fieldstone fireplace with bluestone caps is the anchor of this ruggedly handsome terrace crafted by Blue Claw Associates. President Ian McCarthy explains that, while "fire pits are great and have more of a 'camping feel,' outdoor fireplaces make a space feel like a real outdoor room." They also tend to make those on the terrace a little bit toastier; "heat from a fireplace emanates outwardly," says McCarthy, "while fire pit heat goes straight up." 
A Family Affair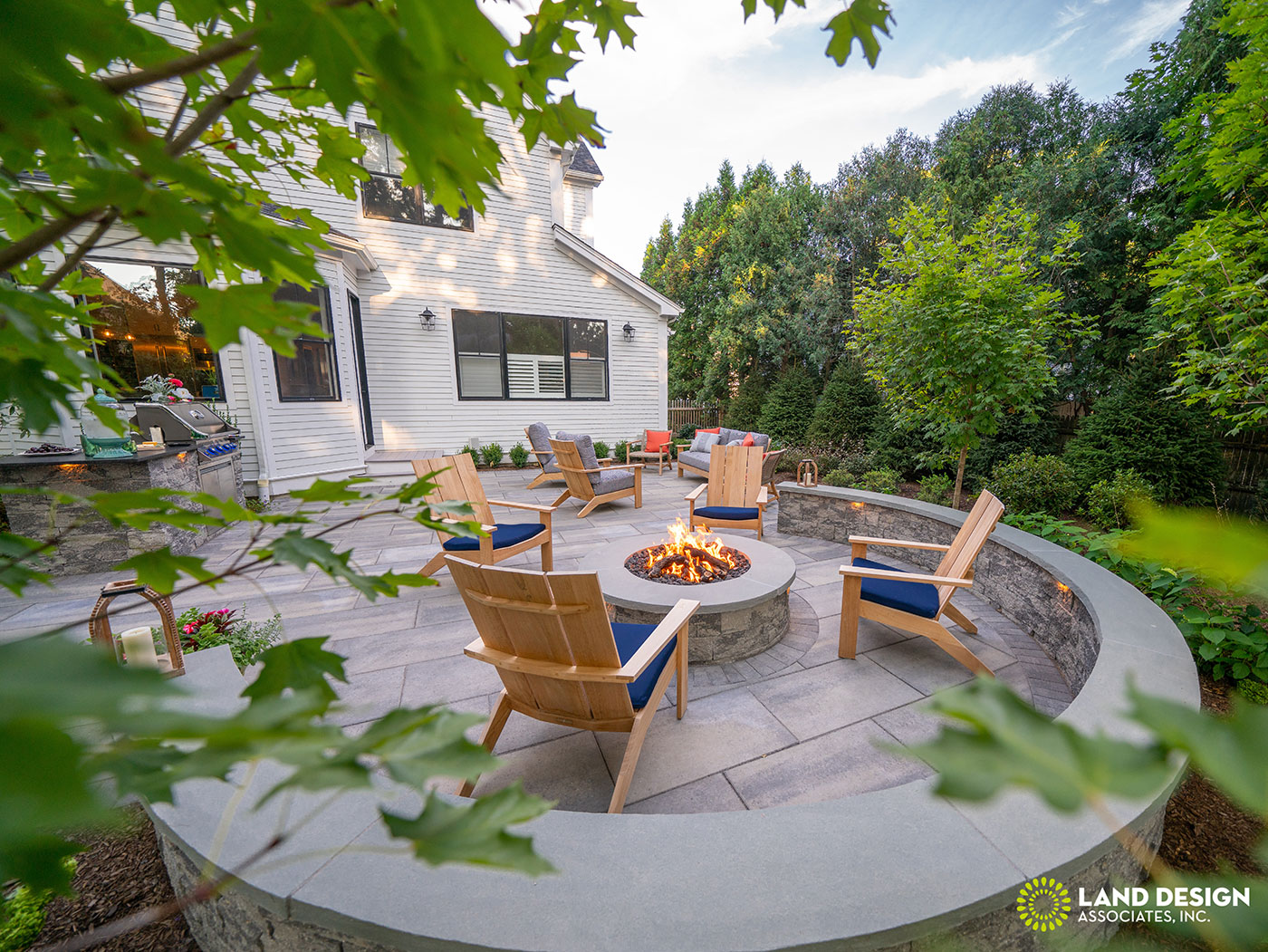 Landscape design and construction by Land Design Associates, Inc; photo by John Egan
Thanks to Land Design Associates, Inc., this custom, Techo-Bloc patio with its central gas fire pit has become the new heart of this home. The landscape design and build firm transformed a blank backyard into a series of outdoor spaces (think lush lawn, kitchen grill island and fire pit circle) that bring family and friends together. "The family now has a special place to gather around the fire after a day of school or work," says Land Design Associates' John Egan, "where they can connect over some gooey S'mores."
Top image: Landscape architecture by Sudbury Design Group; photo by Richard Mandelkorn