July 3, 2020 | Sandy Giardi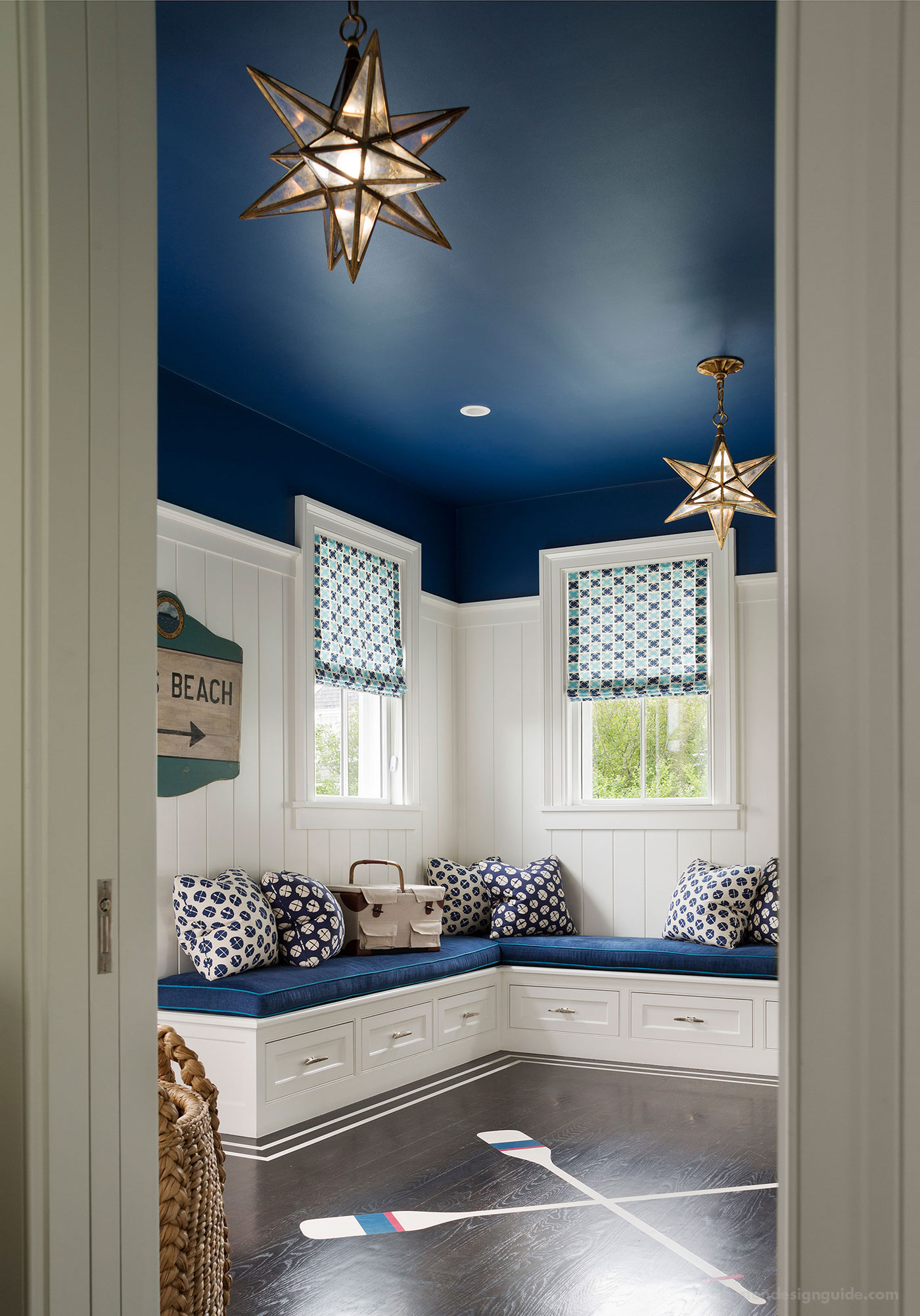 We pledge allegiance to spaces and styles that celebrate the all-American motifs. The featured designs incorporate stars or stripes or both, giving a nod to Old Glory. Whether subtle, as in the crisp Nantucket entryway (shown above) conceived by SLC Interiors, where a set of constellations suspended from a midnight-blue ceiling softly illuminate a space that points all to the beach, or more overt, like the red, white and blue cottage-style children's room below, these scenes have a palpable air of patriotism.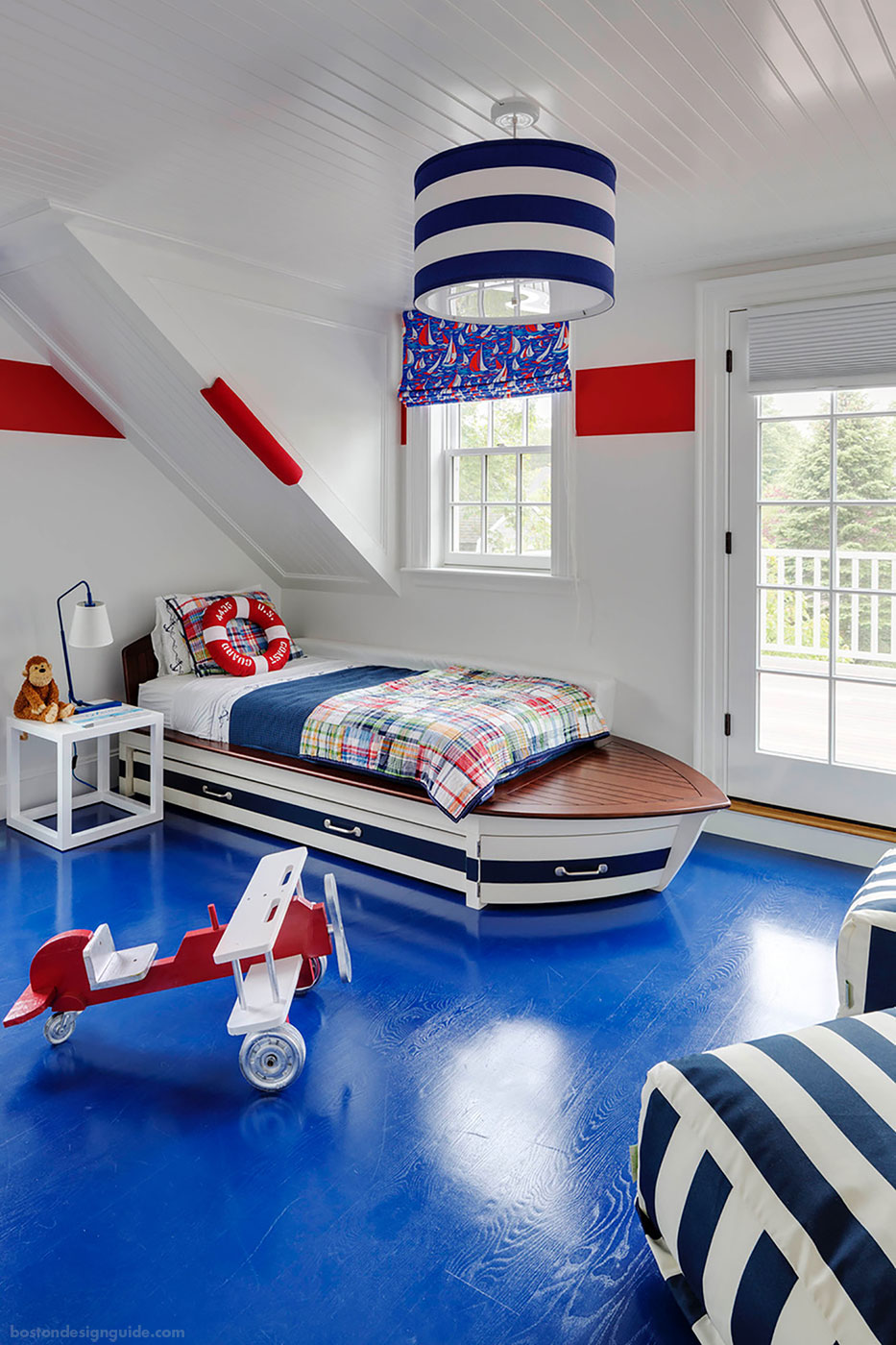 Architecture by Patrick Ahearn Architect; construction by Rosbeck Builders; photograph by Greg Premru Photography
This children's bedroom of a cottage in Edgartown, designed by Patrick Ahearn, FAIA of Patrick Ahearn Architect, really shows its stripes. We love the navy and white detailing on the boat-styled bed, drum fixture and upholstery. The look is dynamite alongside the broad red stripe that emblazons the wall, and the field of shiny bright blue on the flooring.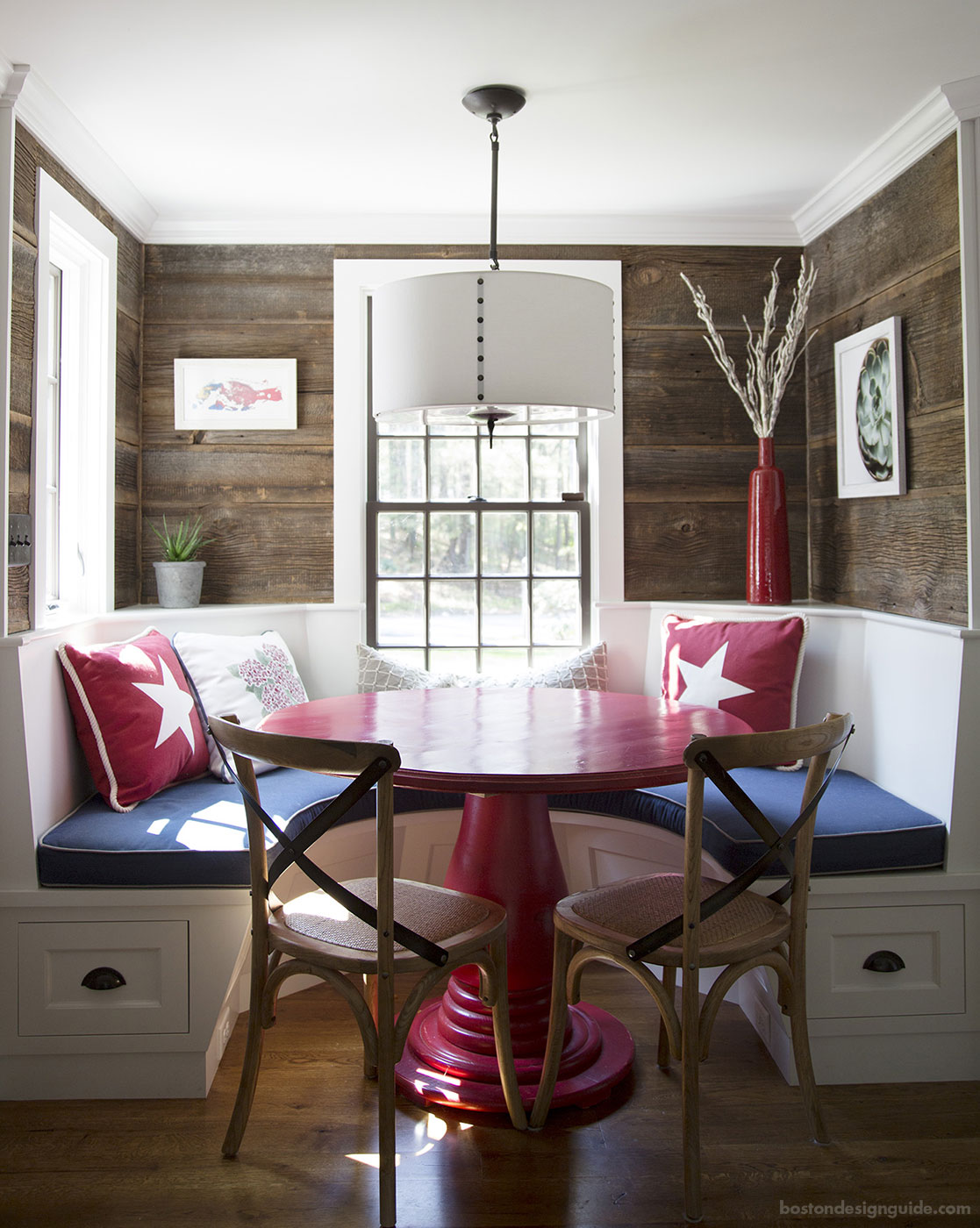 Construction by brookes + hill custom builders, inc.
Every day is Flag Day when gathered at the table of a beautiful bespoke eating nook in a home constructed by brookes + hill custom builders, inc. This space is bold and proud with its white built-in banquette seating with royal blue cushions, take-notice red pedestal table and star-spangled pillows.
Construction by E.W. Tarca Construction, Inc.
The striped perch of a beachside alcove constructed by E.W. Tarca Construction, Inc. is an ideal setting for a nap post-patriot games. The blue tones of the space are breezy and coastal in spirit, as is the starfish pattern of the chaise's upholstery.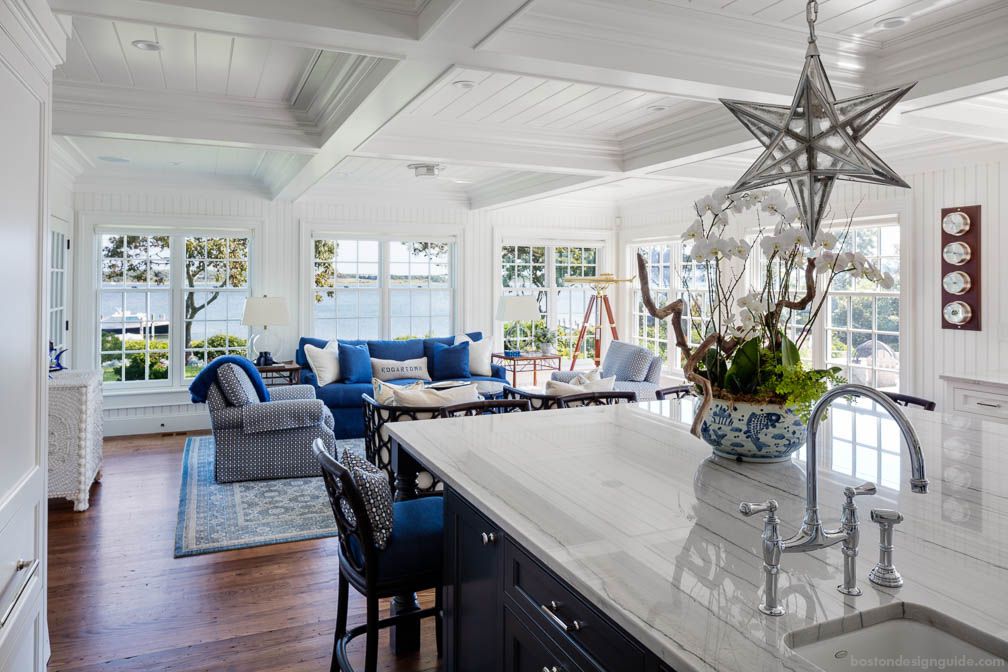 Architecture by Patrick Ahearn Architect; construction by Colonial Reproductions, Inc.
A silver star fixture alights the island of a shipshape kitchen on Martha's Vineyard, conceived by Patrick Ahearn Architect and constructed by Colonial Reproductions, Inc. The light evokes the star of a compass rose and lends a nautical flair to the waterside, open-concept living space.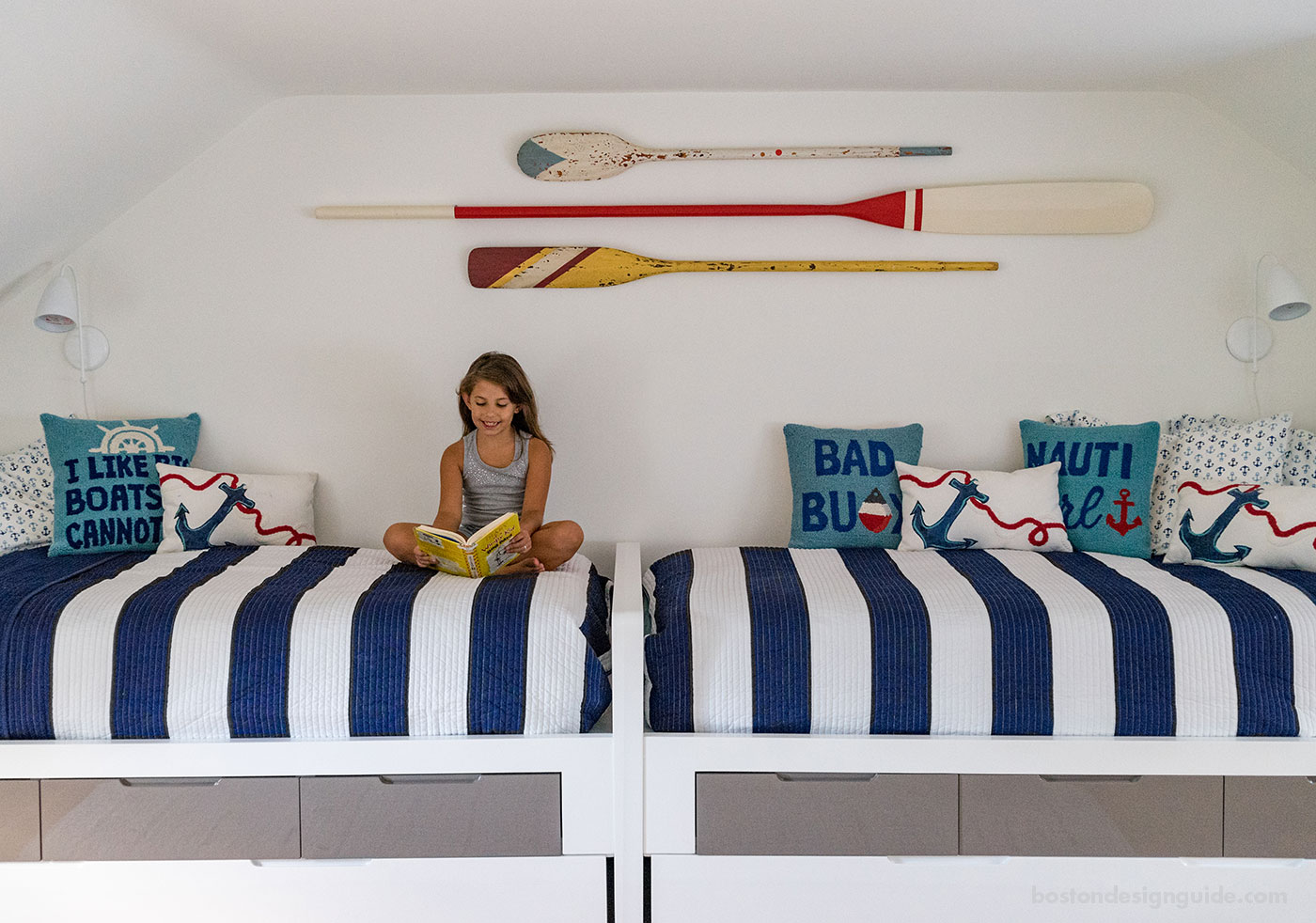 Architecture by Hutker Architects; interior design by Martha's Vineyard Interior Design; photo by Eric Roth
The twin bunks of a lively bedroom—designed by Martha's Vineyard Interior Design, with architecture by Hutker Architects—give stripes a starring role. We salute the sea-worthy scene, high-flying oar décor, sassy pillow talk and stow-away built-ins that make the room an inspired port of call.
Incorporate the all-American motifs within your own abode…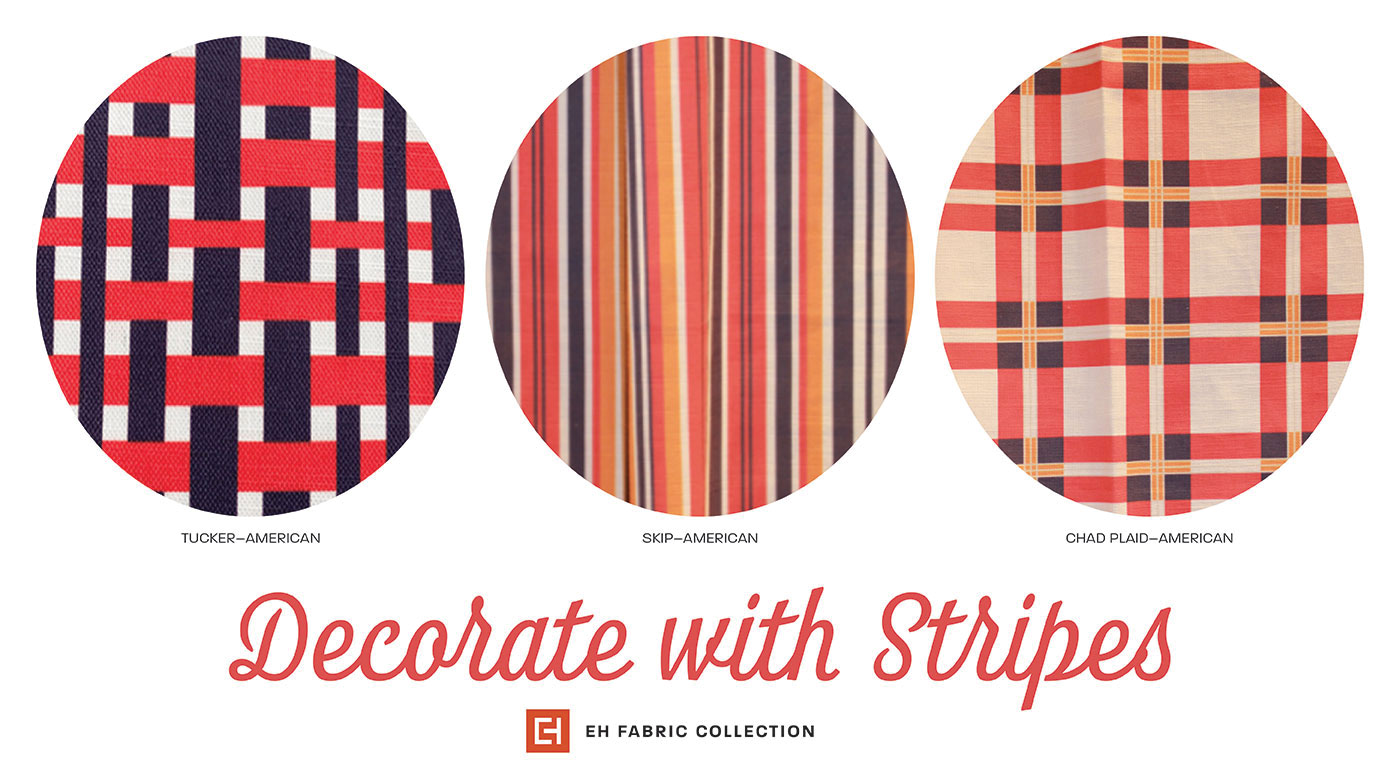 Boston interior designer Eric Haydel of
Eric Haydel Design
 has released a fabric collection that breathes new life into prized patterns that previously may have read as "stuffy or old-fashioned." The fabrics above, which are available to the trade at his Boston Design Center showroom, suit drapery, upholstery and pillows and "honor a traditional motif of Americana in an imaginative way," says Haydel. Colors are inspired by his favorite anthem, America the Beautiful: blues from the oceans, and reds and oranges from the deserts and plains.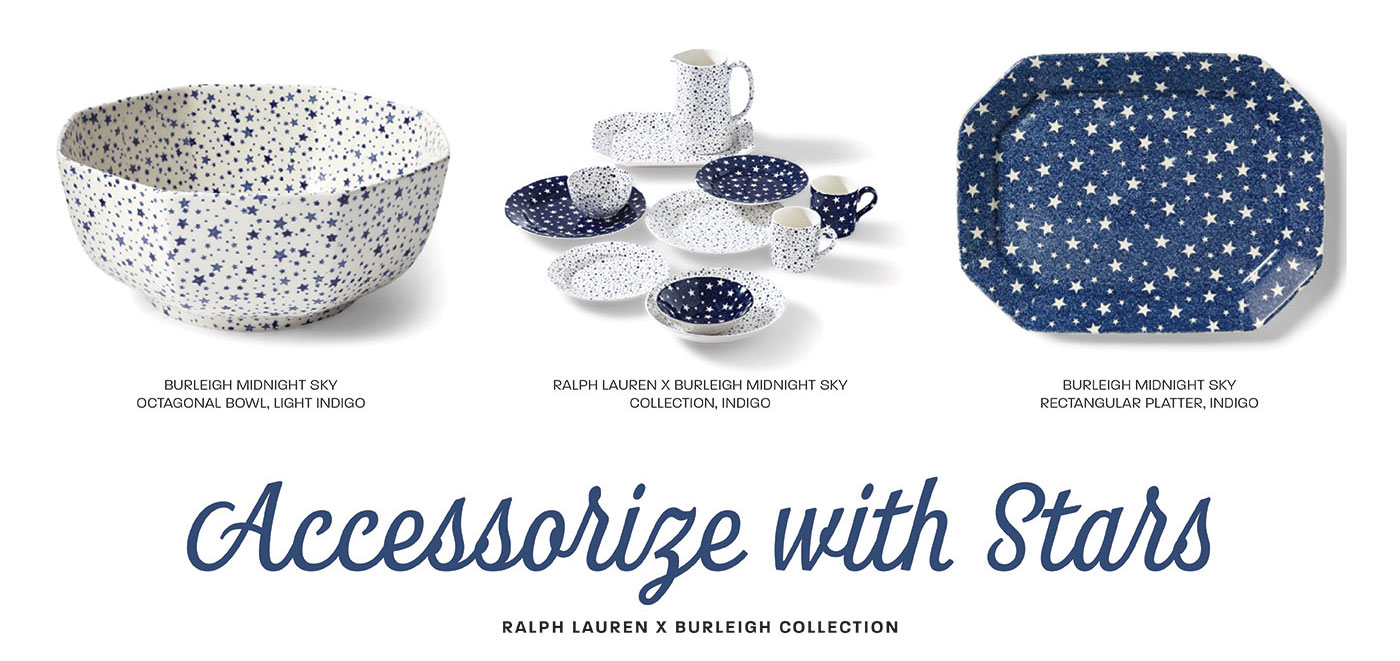 Entertaining has long been a Fourth of July tradition, whether on a grand level or smaller-scale.
Ralph Lauren Home
collaborated with Burleigh, England's most storied name in pottery, to create a collection that celebrates artisanal craftsmanship and leaves revelers starry-eyed. This partnership marks the first time that Burleigh, a pioneer in pottery that uses a labor-intensive, time-honored technique for transferring pattern to its fine earthenware, has put the patterns of another designer on its pottery. The pieces above feature the "Midnight Sky" motif, a blaze of denim-blue and clay-white reminiscent of RRL signature bandanas and the American Northwest heritage. Click
here
for purchase or to learn more about the collection.
Top image: Interior design by SLC Interiors; photograph by Durston Saylor Photography