August 21, 2019 | Edie Ravenelle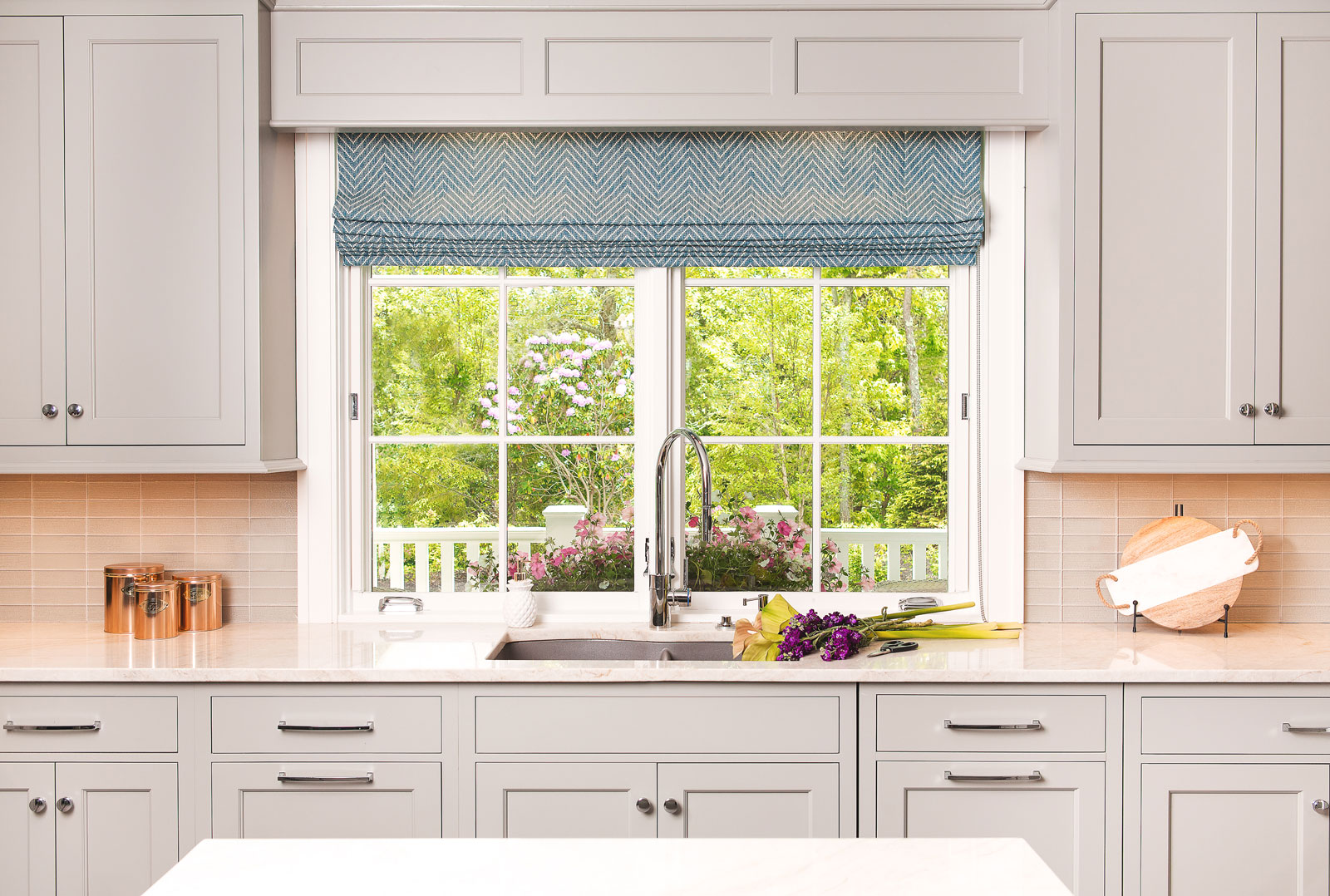 Whether or not your home has actual ocean views, the right coastal kitchen design can feature all that you love about your favorite shore. Here's how five pros achieve that end for their clients. 
Instantly Entertaining in Chatham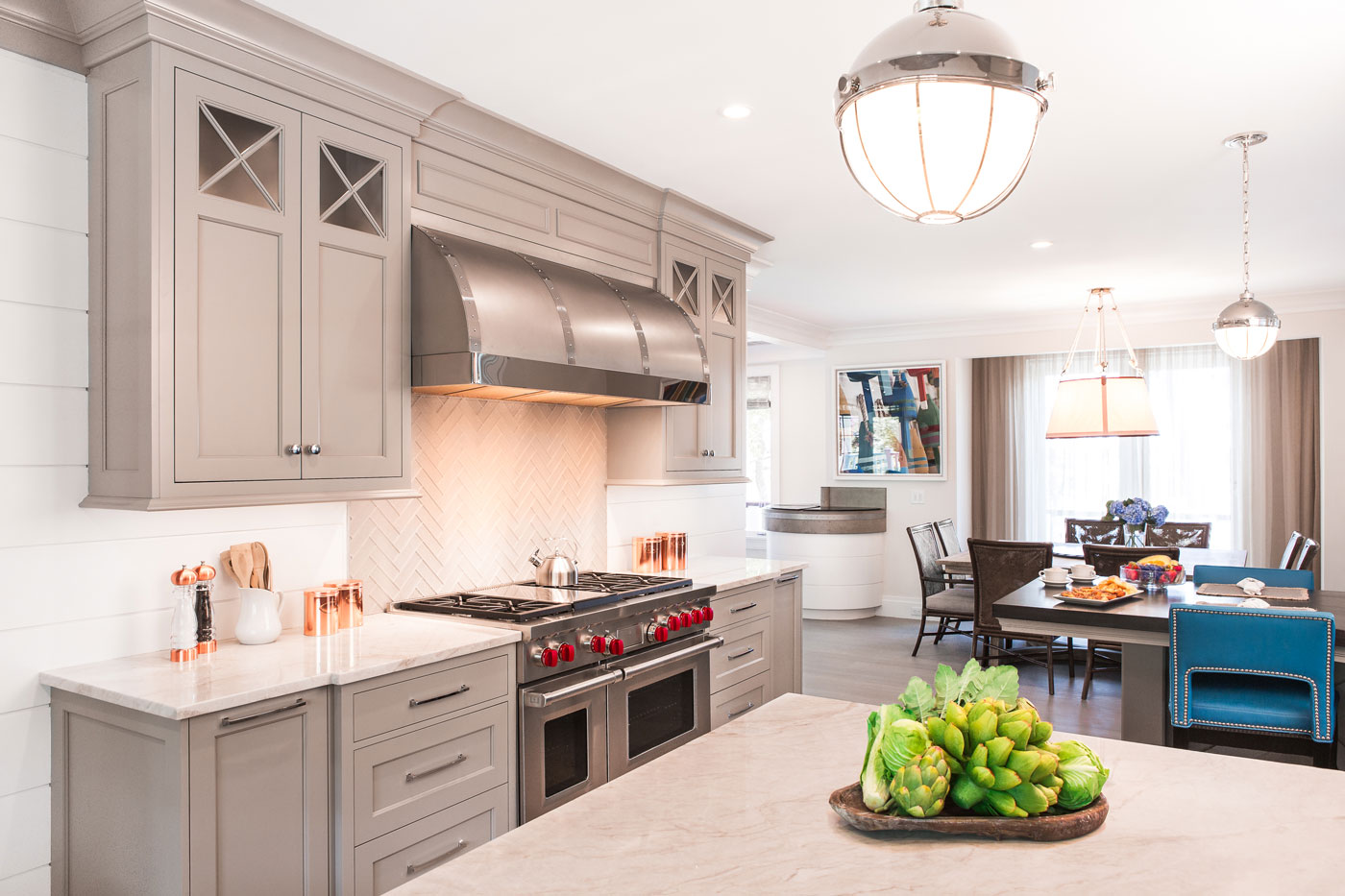 Roomscapes Cabinetry and Design Center; photo by Derrick Zellman
Roomscapes Cabinetry and Design Center Director Judy Whalen knew her clients were all about making the most of their often-used Chatham deepwater dock. "They wanted a better connection to the outdoors with a less-formal coastal look that was still chic and classic to fit with the rest of their more traditional home," says Whalen. The answer: Transitional design choices that created an open, airy feel to unite a large kitchen area with separate bar and indoor and outdoor entertaining areas that included a three-season room and deck. "It was a remodel that required redeveloping the entire first floor," explains Whalen, "bringing the kitchen to the interior side and the bar and dining out to the three-season room, deck and water side."
Roomscapes Cabinetry and Design Center; photos by Derrick Zellman
For the bar area, Whalen selected a crisp white cabinetry in Shiplap Nordic White from Wood-Mode. The countertops are a natural quartz, under lit to create a subtle glow at night. The raised bar top features three-and-a-half-inch thick stained Lyptus wood adorned with polished nickel and glass nautical-inspired pendant lights. A wine fridge, refrigerator drawers and an icemaker are tucked near the bar-service window that opens behind the sink to service the deck and hot tub area. Hugging the corner of the bar that's towards the kitchen is a ship's wheel concrete basin with a central drain that's used as a raw bar or beverage cooler: "It's custom to our business and personalized to each client's design," adds Whalen. 
The kitchen nods to the traditional with beaded inset cabinets in Nimbus gray and Ann Sacks ecru glass tile installed in a running bond pattern. A custom barreled-metal hood was done in non-directional stainless steel, the kitchen counters are a natural quartzite called Taj Mahal, and the cerused oak floors are a custom finish.
A New Look in New Seabury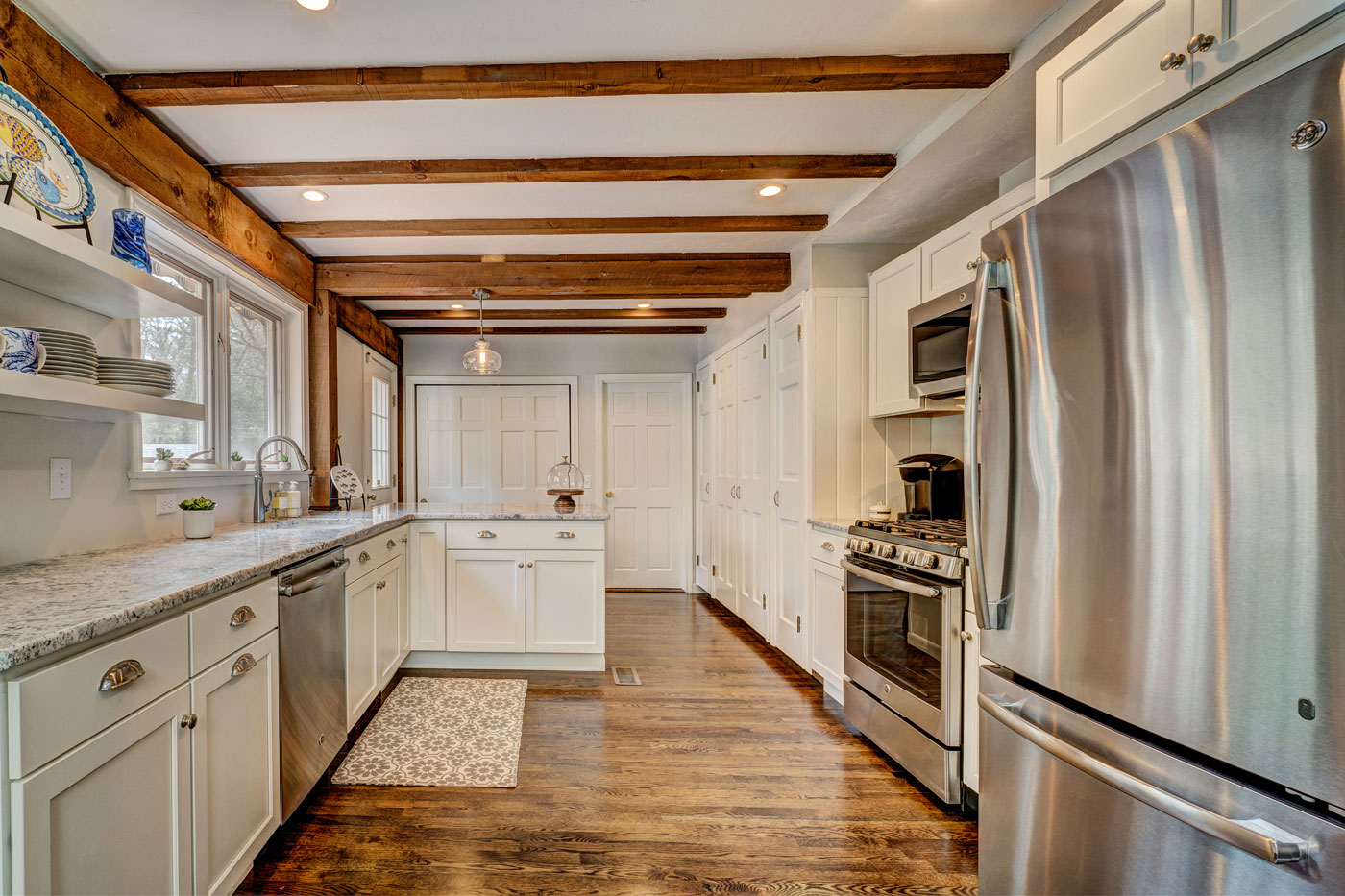 Barnes Custom Builders; photo by Scott Button
Charlie Barnes, owner and partner of Barnes Custom Builders in North Falmouth, helped this New Seabury second-home owner transform a closed-off, 80s-style kitchen into a more open coastal space that visually follows into the rest of the house and connects with a new screened porch. "We did a two-phase project to include the screened-in porch," says Barnes, "gutting the kitchen but leaving plumbing, windows and electrical in place to stay within the client's budget."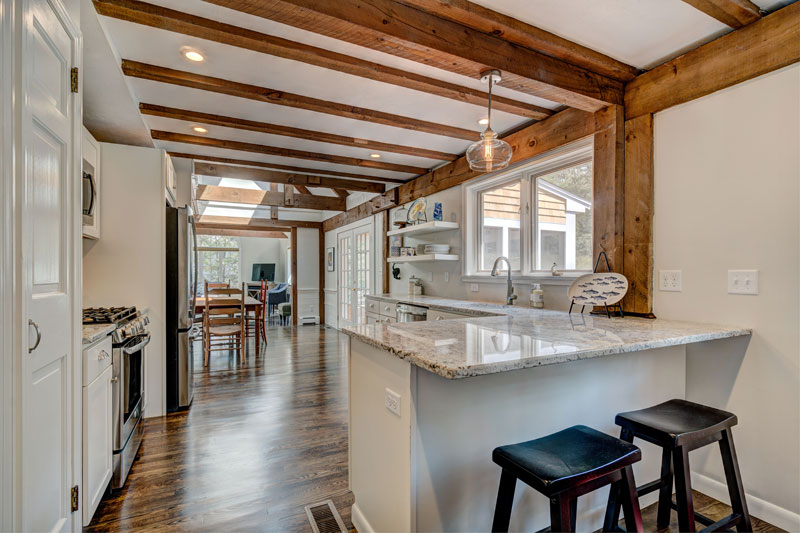 Barnes Custom Builders; photo by Scott Button
Barnes eliminated hanging cabinets that blocked sight lines, and the homeowner opted to nix all the upper cabinets as a further cost savings that also served to highlight the striking pre-existing wood beams. Barnes says his company aims to deliver a custom but stress-free remodeling experience to each client, whatever their budget. To achieve this they design all their kitchens in house  and carry their own line of painted wood cabinets. In this kitchen, a lighter granite choice was economical, beautiful and functional, pairing well with all-white cabinets and GE Profile stainless appliances. Newly installed wood floors were stained to blend seamlessly with the abutting wood floor.
White-Out in Orleans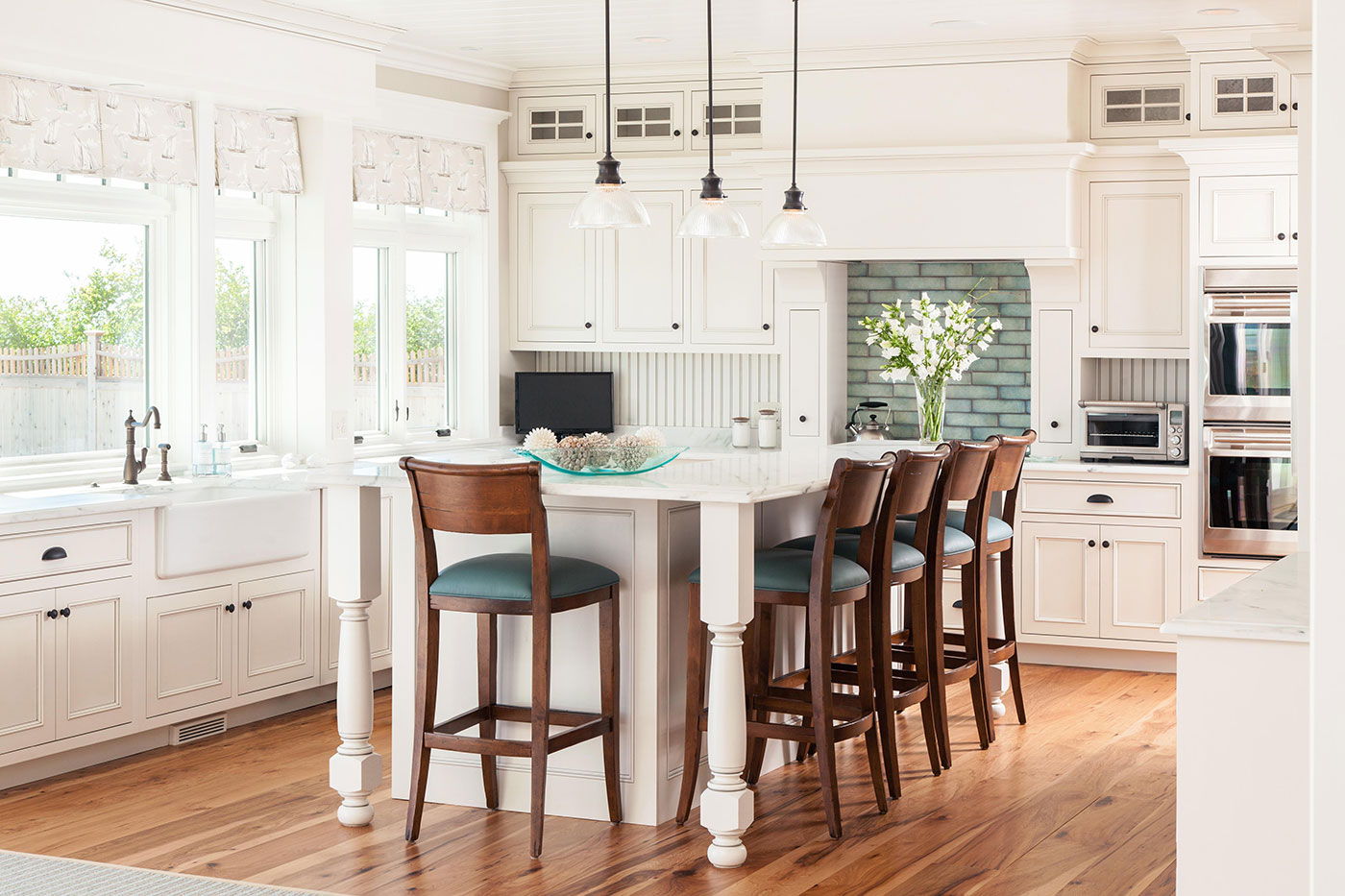 Surroundings Custom Interiors; photo by Dan Cutrona Photography
Susan Tuttle, owner and designer of Surroundings Custom Interiors, had clients who wanted a completely all-white kitchen in their Orleans home. "I favor a neutral design palette with added pops of color," says Tuttle, "especially when you are doing an all-white kitchen you need to add some personality so it tells something about who lives there and doesn't look like you just walked out of a showroom." Throughout the rest of the house, her client had used a light blue color that Tuttle featured in the striking handmade 3x12 ceramic-tile backsplash and bar stool upholstery. The wood on the stools picks up on the natural hickory floor tones. "When designing bar top eating I really like to place stools on more than one side to be more social, like a table," says Tuttle. "To add depth to the fully inset, flat-panel white cabinets we used a very soft, light glaze and oil-rubbed bronze hardware," she adds. The countertops are a white marble from New Hampshire. And antique halophane lights were reconditioned as pendants to add further interest to the classic coastal design and palette.
Cooking Coveside in Jamestown, RI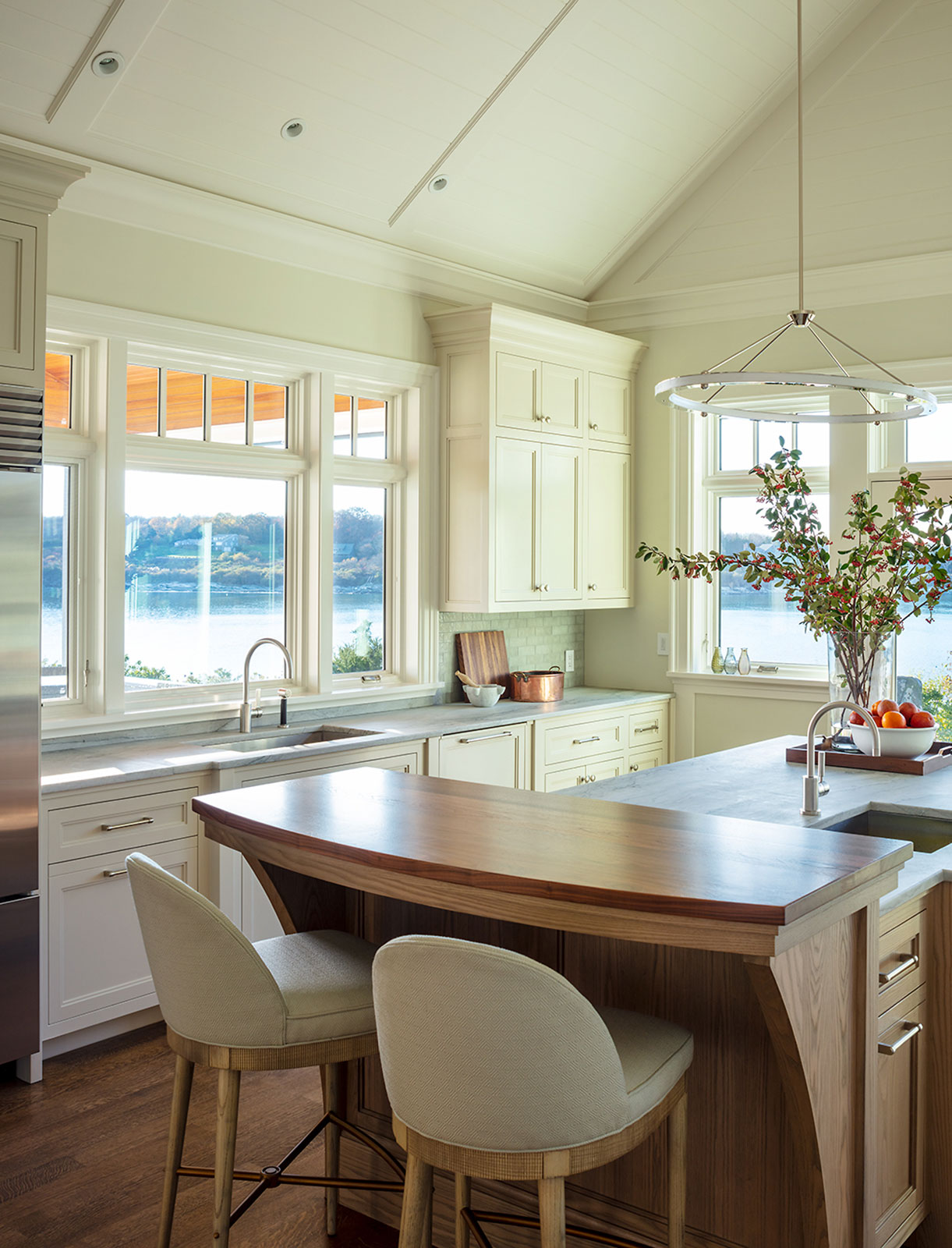 WKP Construction; photo by Warren Jagger
Wade Paquin, president and CEO of WKP Construction in Newport, had ocean views from almost every angle to work with in this large Mackerel Cove kitchen for his sailing and entertainment-oriented clients. "It's on the southern end of Jamestown, overlooking a long, deep cove with breathtaking sunsets," says Paquin. What began as a house renovation ended in a full demolition, building a new house on the same footprint. "I flip-flopped the existing kitchen and entertainment areas, moving the kitchen from the interior to the exterior and adding a new terrace and dining room with a connection to the screened-in porch quadrant of the house," explains Paquin. "The clients originally wanted just a summer house, but when we turned it over to them they liked it so much that they sold two other properties and made it their main home."
WKP Construction; photo by Warren Jagger
Kitchen design choices include a quartz countertop in Sea Pearl with similarly-hued glass tile backsplash. Painted custom millwork and inset cabinets feature scant use of uppers in lieu of windows that capture the panoramic ocean views beyond a large bluestone terrace and into a screen porch with a stunning cedar cathedral ceiling. A pantry is loaded with the same base and upper cabinetry for additional storage. The kitchen island cabinetry is ash with a walnut bartop.
On the Edge (of Glory!) in Rockport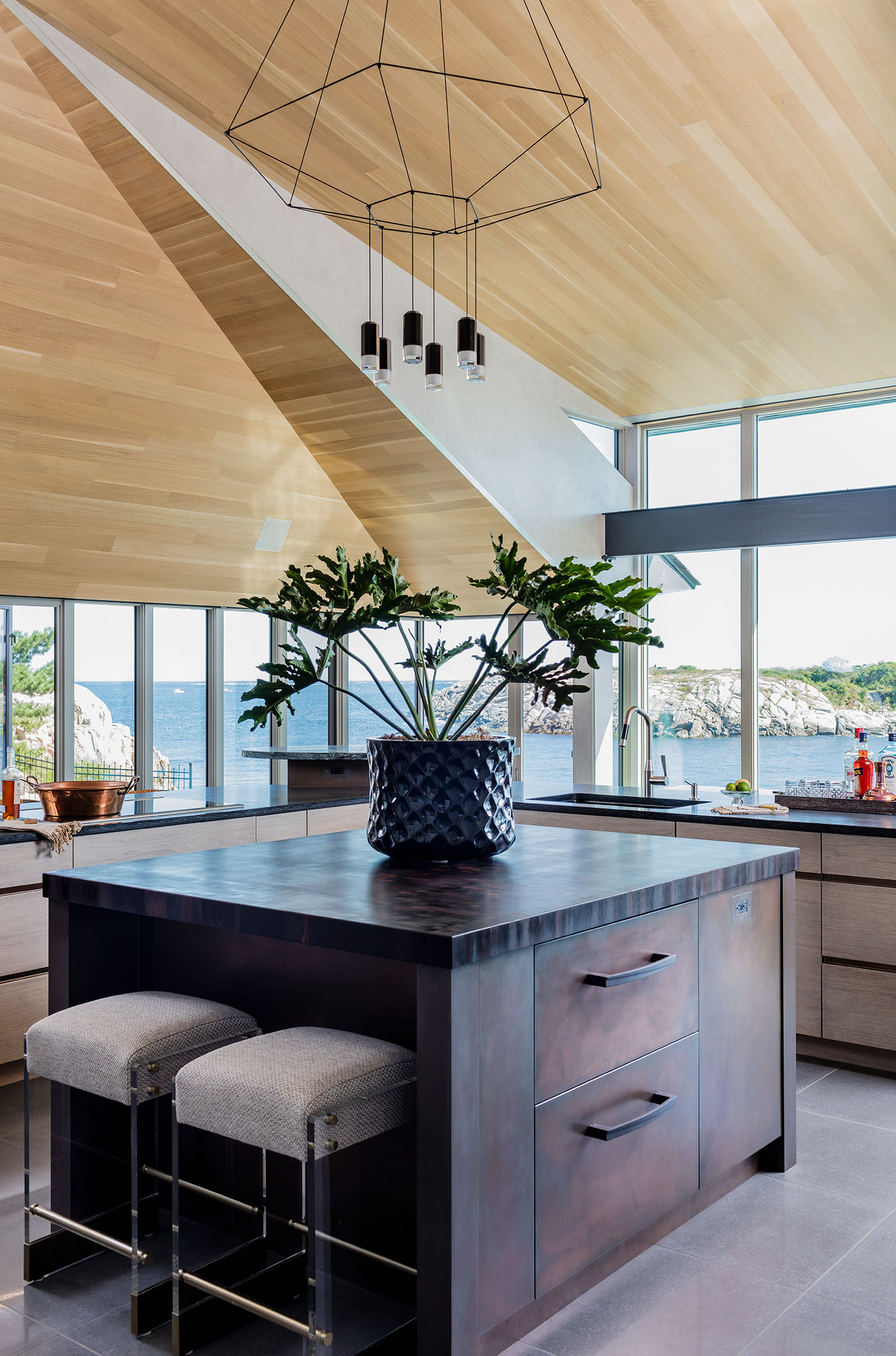 Kitchen by Venegas and Company; photo by Michael J. Lee Photography
Donna Venegas' Rockport clients, who love to cook, entertain and value natural material choices, also wanted their kitchen to feature panoramic ocean views. Venegas, owner and designer of Venegas and Company, and lead designer Michele Kelly had only one option to deliver what they wanted: "We had to move the kitchen from the front of the house to what was originally the living/dining room space." Maintaining the ocean views also required that the kitchen to be predominantly constructed in the center of the room. "We used only one interior wall for the wall ovens, a refrigerator column and a coffee station/food pantry," explains Venegas, "but the majority of the kitchen is designed in two islands—a prep island and a working island—to create comfortable work zones, with seating around the perimeter so the homeowner can engage with family or guests at all times."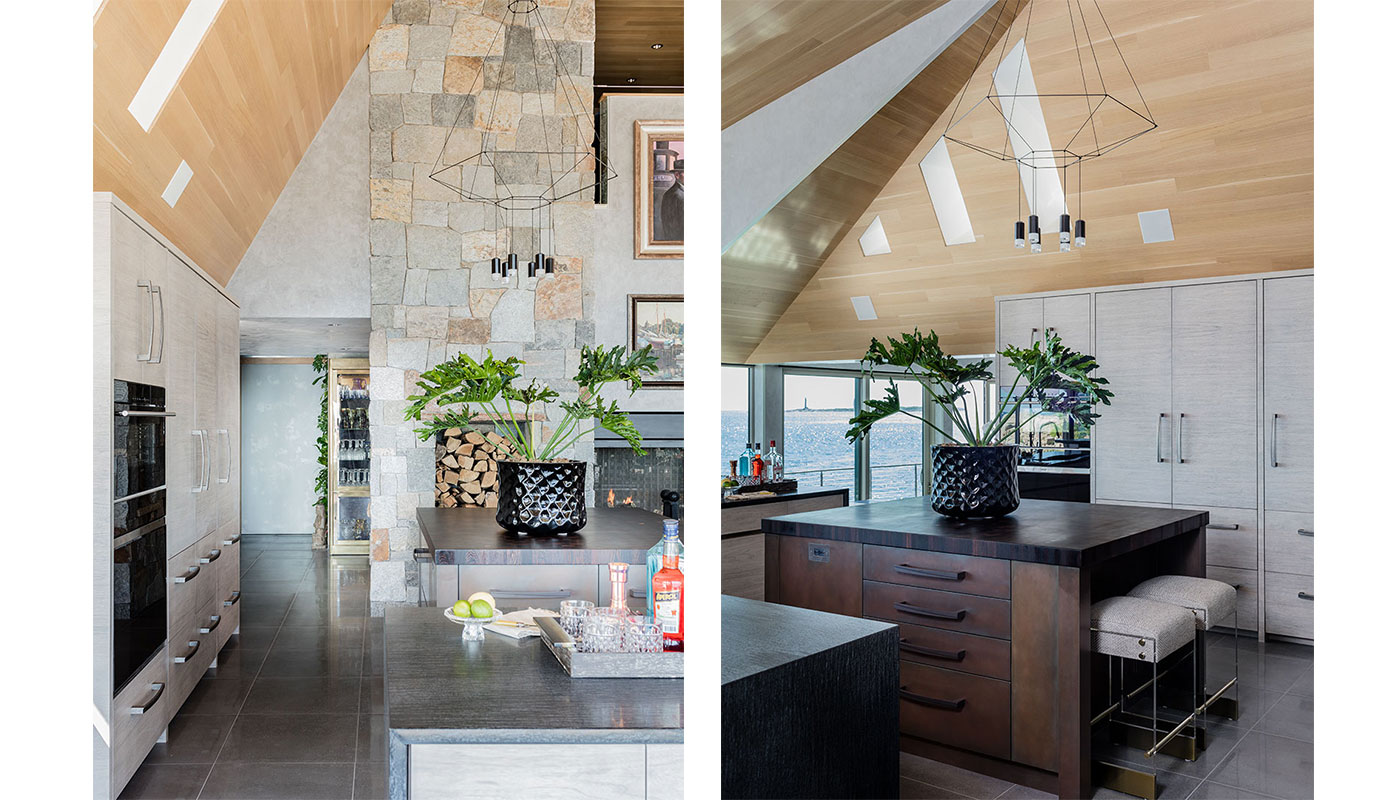 Kitchen by Venegas and Company; photo by Michael J. Lee Photography
Wire-brushed butternut veneer was used for the large island and the appliance wall, with the grain run horizontally in a matched pattern to subtly guide the eye around the room. The large island is topped with natural schist counters from Western Massachusetts. The smaller food-prep island features end-grain Wenge wood as a hard-working counter surface, accented that with an iron metallic painted finish on the cabinetry below. All of the materials blend harmoniously with a metallic porcelain tile on the floor and oak planks on the ceiling. Limited wall space dictated a 30-inch refrigerator column with a combination drawer unit in one of the islands. A low-profile induction cook top and downdraft add to the sleek look. "The homeowner loved the handle-less design of the contemporary wall oven, and the matching black steam oven blends nicely with the overall palette," adds Venegas.
Main image: Roomscapes Cabinetry & Design Center; photo by Derrick Zellman