Company Profile: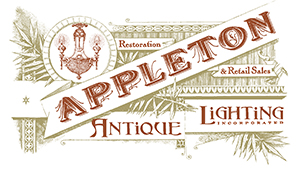 At Appleton Antique Lighting, we are specialists in the restoration of antique lighting. We have a full service UL certified workshop dedicated to the many aspects of lighting restoration such as rewiring, metal refinishing, and crystal cleaning.  With over 35 years of experience spanning two generations, we pride ourselves on doing the finest restoration work in New England for Historic Properties, Homeowners, and members of the Design Community. Notable past projects include Harvard University, Symphony Hall, and King's Chapel.
In our Chestnut Hill showroom, we have a large collection of completely restored antique lighting for sale.  Every piece has been cleaned and repaired by hand, with new wiring to meet current electrical codes.  We have a large selection of electrified gas and oil lights from the Victorian Era, Gas and Electric and Early Electric fixtures from the turn of the century.  Our collection includes fine french and Italian Chandeliers and Sconces.  Our collection is rounded out by table lamps and floor lamps, and a large selection of lampshades and accessories to complete the piece.  
If you are looking for a specific item, we can consult with you, using pictures, dimensions and your personal style to help you find the right piece for your dining room, foyer, bathroom, or anywhere else in your home.  
- Jane and Emilia Deimezis
Visit Appleton Antique Lighting for more information.
SaveSave