Company Profile: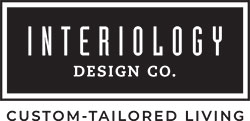 Interiology Design Co. helps our clients transform their homes into luxurious, exquisitely executed, inspiring spaces that express their distinctive style and envelop the way they live.
Every project starts with our careful understanding of your goals, lifestyle and tastes. We guide you through an expansive exploration of design concepts, and the selection of the finest materials and details. We manage every step of the process, saving time and avoiding costly mistakes. The results are custom-tailored interiors our clients are excited to come home to and share with those they love.
What separates Interiology Design Co. from other full-service certified interior design teams is our unparalleled client experience, innovative design solutions and impeccable service. Our clients quickly grow to trust us and we mutually value our relationship.
Putting what is best for our clients at the heart of everything we do is why we created The Experience Studio. The Studio is a meticulously curated collection of the finest furnishings, fixtures and finishes, installed and operational in our residential spaces for a uniquely immersive design experience.
Schedule a conversation with a member of our design team in The Experience Studio to embark on your journey today.