January 20, 2020 | Sandy Giardi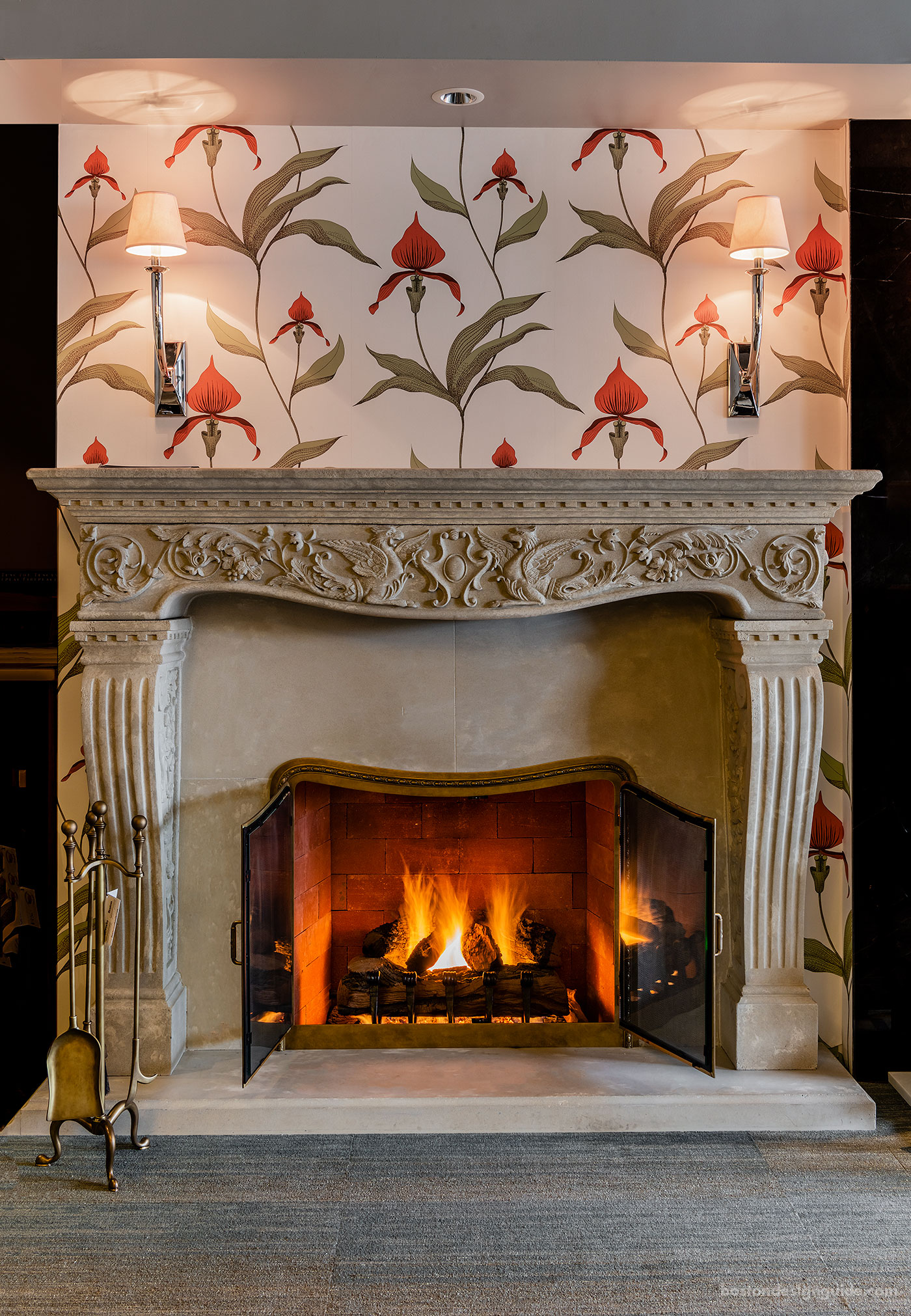 As a society, we have long been drawn to fire, and captivated by the dance of flames. Plus, let's face it, during the big chill of winter, especially here in New England, the room with a fire is where we want to be. Gas-burning fireplaces are the most coveted for their convenience, but which option is best for you? Whether you're in search of hygge (the oft-repeated Danish word for the art of coziness) or an additional heat source, Project Manager Susan Grabowsky of Boston Fine Home Details in Newton, helps us whittle down the choices.
IF YOU HAVE AN EXISTING FIREPLACE...
Gas Log Fireplace (pictured above)
Opt for a gas log fireplace if you're looking to convert your wood-burning fireplace to gas. A gas log fireplace goes into a standard wood-burning fireplace, using your existing masonry. This is a great choice for traditionalists, as the ceramic gas log set looks realistic and resembles a wood-burning fire, and emits a bit of radiant heat.
Gas log fireplaces use the room air for combustion, just like a wood-burning fire, and vent using the existing chimney. "These are really popular in New England," says Grabowsky, "as so many homes have old fireplaces." Boston Fine Home Details' curated collection has a split oak fire on display, which looks like you just had wood delivered.
Gas Insert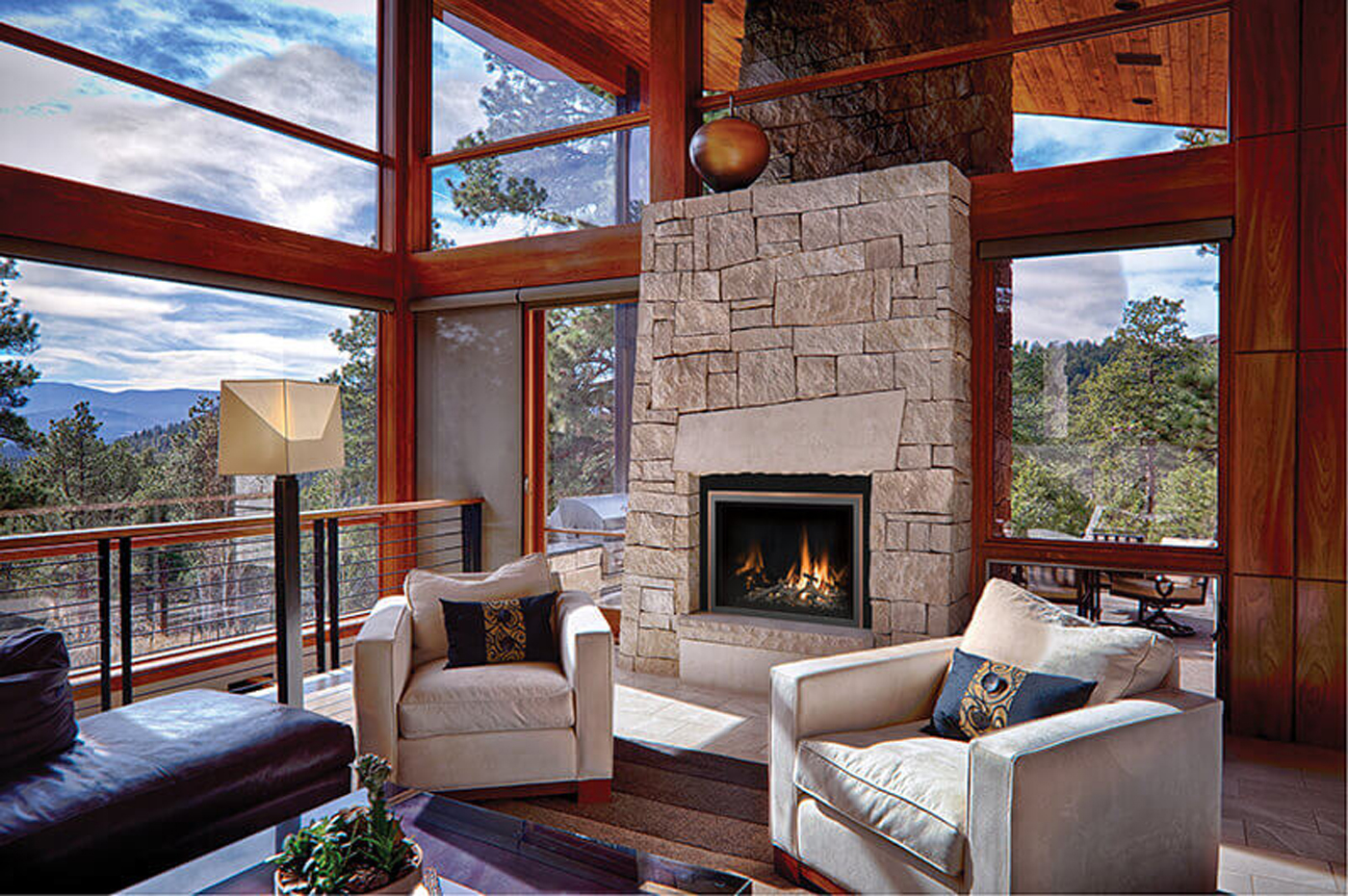 photo courtesy of Brassworks and Boston Fine Home Details
Gas inserts, which are sealed units, are used as supplementary heat sources, and also utilize an existing masonry fireplace. A gas insert—essentially, a firebox fitted and sized to your fireplace—uses your existing chimney but its own venting. All gas inserts come with a simple attached screen for safety (the sealed glass front gets very hot), or you can add one of Boston Fine Home Details' custom, hand forged, fireplace screens.
"Gas inserts are really heaters," says Grabowsky, that can warm up anywhere from 1000 to 3000 square feet. "The nice thing, too," she continues, "is that you can operate a gas insert when the power goes out, which, unfortunately, does happen here in New England, as it just uses gas and the battery remote."
IF YOU DON'T...
Zero Clearance Direct Vent Gas Fireplace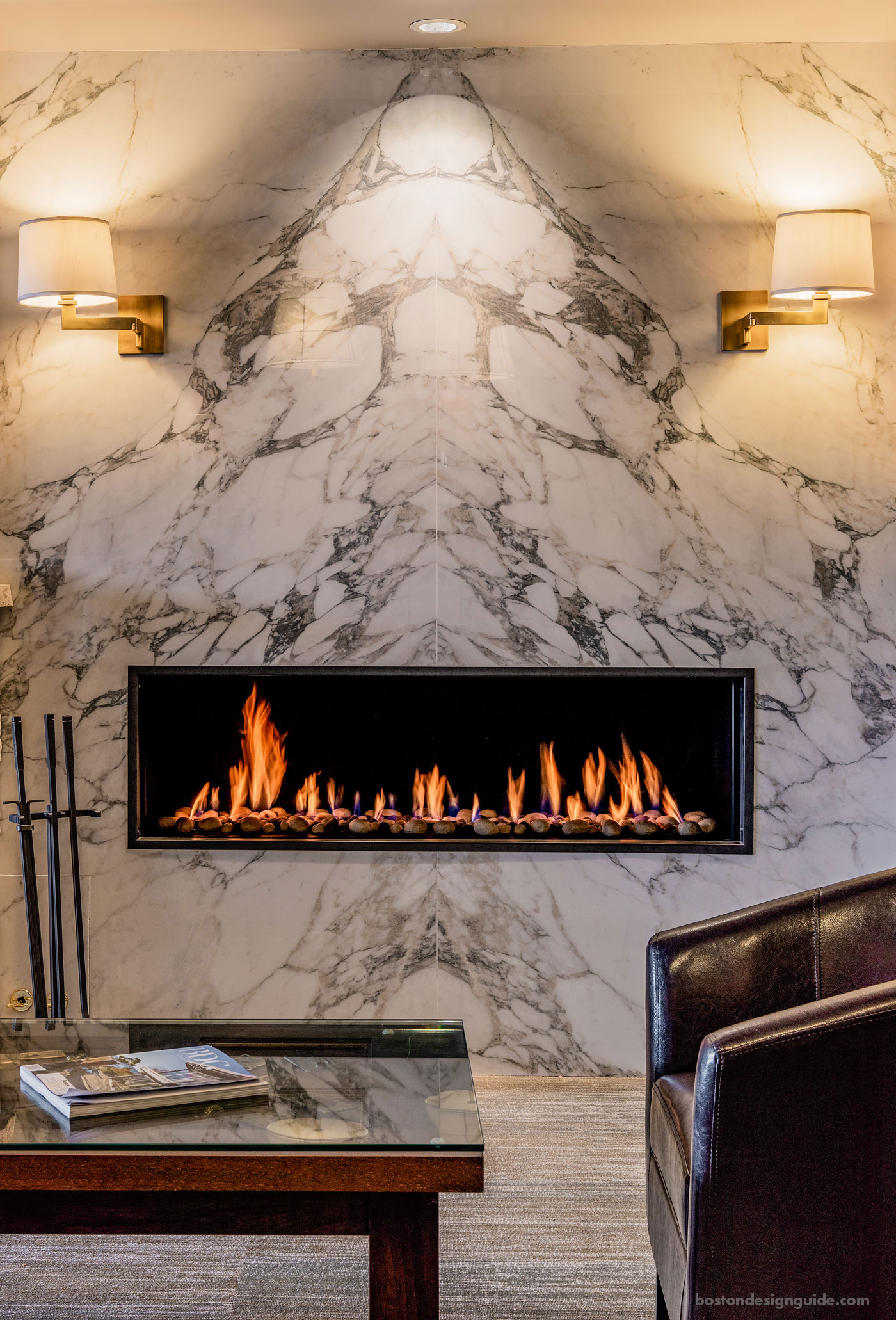 Photo by Keitaro Yoshioka
Zero clearance fireplaces are by far the most popular, explains Grabowsky, and versatile. These types of fireplaces can have a classic, more traditional look or a more contemporary and linear aesthetic. And, with ten different widths with multiple glass sizes, as well as see-through units, homeowners can install one nearly wherever they fancy—in a corner, as a peninsula or as a room divider. You can even do an indoor-outdoor fireplace. Grabowsky recently completed a project that adds beauty and interest to a family room as well as the deck.
Homeowners can have a bit of fun with these fireplaces, and select birch, bamboo or glass to surround the flames, as well as colored LED lights, which can be changed to cast a given glow.
Homeowners need a plumber to run a gas line for all of the fireplaces above, and Boston Fine Home Details is happy to facilitate.
Don't despair if you don't have a gas line. Boston Fine Home Details now carries electric fireplaces. These fireplaces are "plug and play," says Grabowsky, and don't require anything other than an outlet. Some of the high-rises and newer communities don't have the option for gas, but residents are still looking for the ambience that a fireplace brings. Pair it with a gorgeous screen and perhaps the "Opti-Myst" feature. It emits water vapor that masquerades as smoke.
For more information, visit the curated collection at Boston Fine Home Details, 244 Needham Street, Newton, 617-244-3900 or the larger experience of Brassworks Fine Home Details, 379 Charles St., Providence, RI 02904, 401-421-5815, which, in addition to the above options, has a full range of wood-burning fireplaces, wood stoves and pellet stoves. Both stores carry a wealth of mantels, hardware and fireplace accessories, or "jewelry," like handcrafted fireplace screens and tools.
Top image by Keitaro Yoshioka