July 1, 2019 | Edie Ravenelle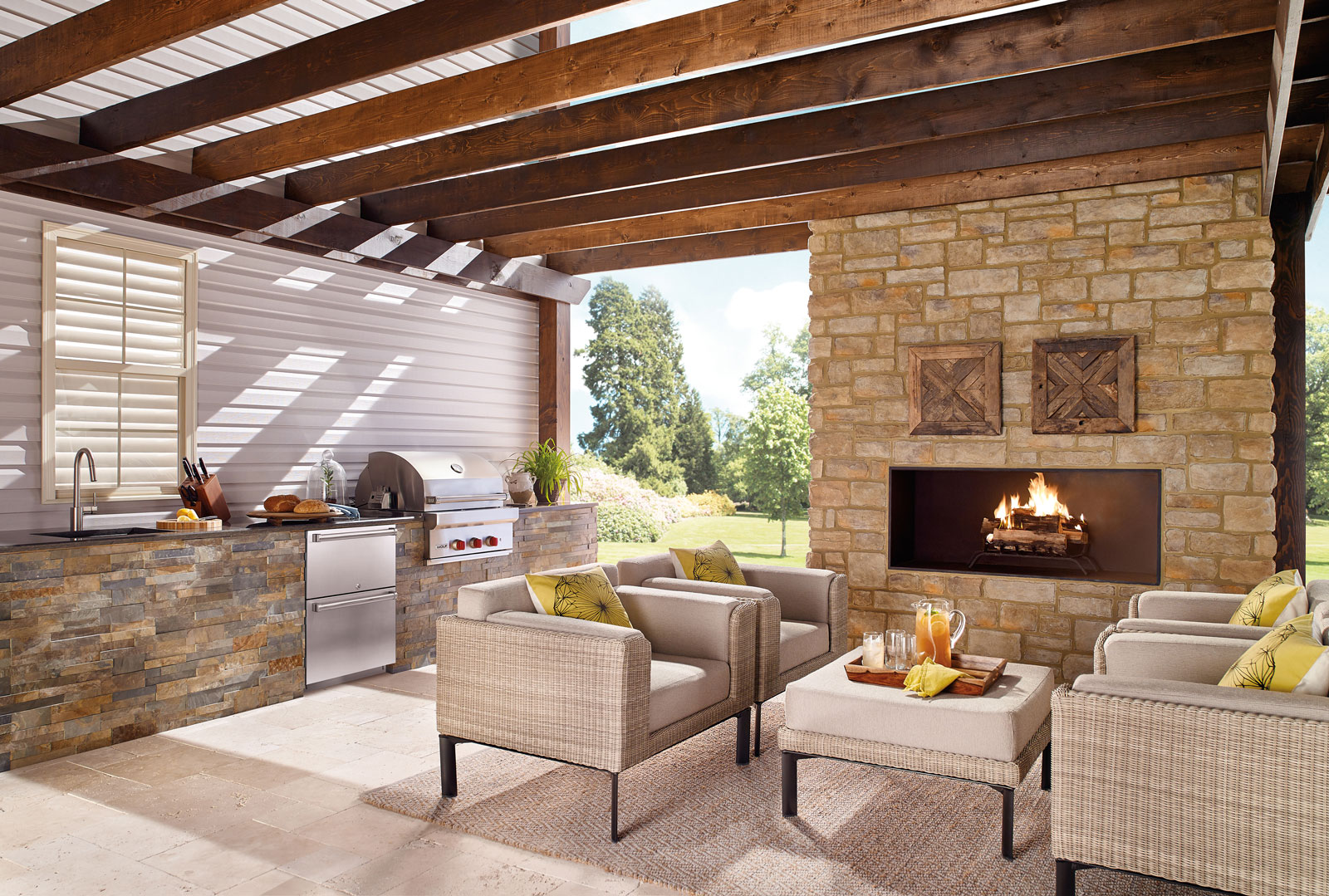 Summer is in full swing, so it's time to make the most of every fair weather day we get. These outdoor kitchens do exactly that: They inspire summertime entertaining at its blue-ribbon best. Together, they showcase key elements to consider in designing your own exceptional outdoor kitchen experience.
Refreshments with a View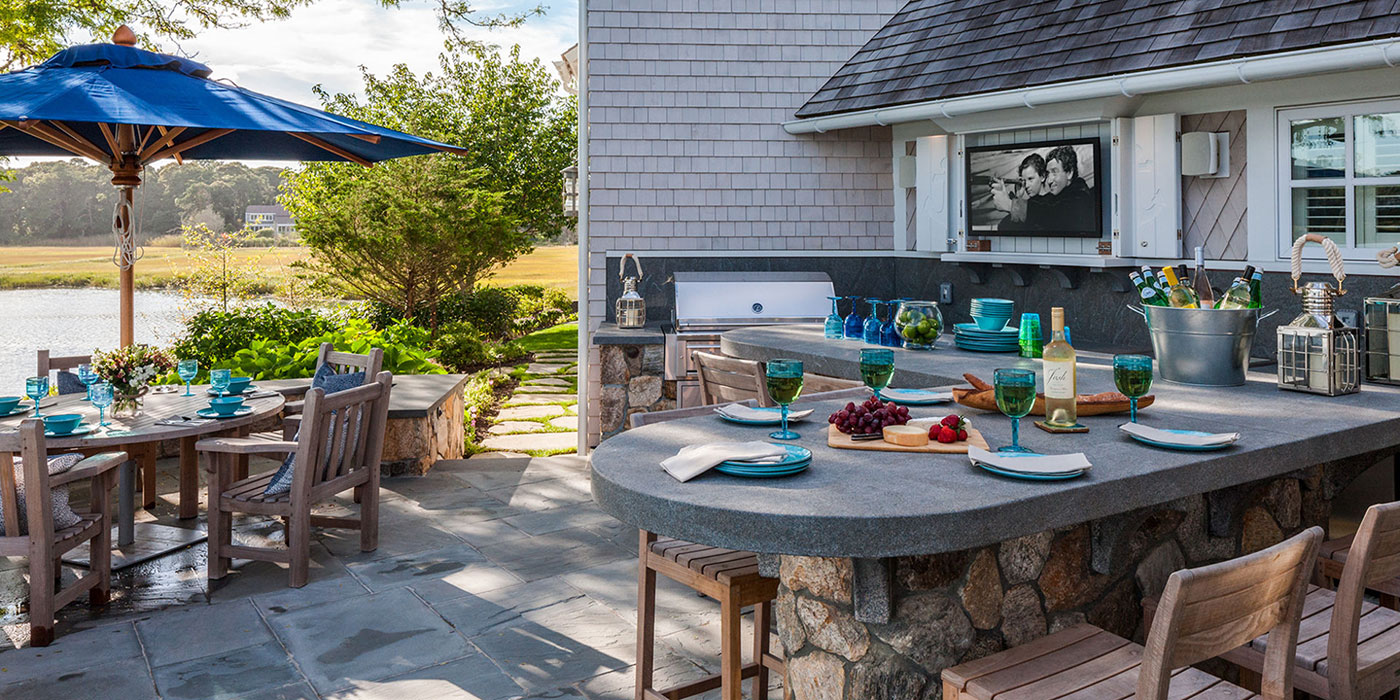 Architecture and construction by Polhemus Savery DaSilva Architects Builders
Although it's not always possible, placing your outdoor kitchen and dining adjacent to your indoor kitchen is ideal for ease of use and storage. "But if you have to give up a view, that's a decision the client has to make," says John DaSilva, design principal at Polhemus Savery DaSilva Architects Builders, who co-designed this house in Orleans with his wife Sharon DaSilva. Thankfully, no choice was necessary for this project. The house's orientation provided an ideal outdoor kitchen location, adjacent to the interior kitchen and able to integrate functional outdoor kitchen design with casual bar seating and a dining area that showcased the panoramic pond views. "We designed the landscape along with the architecture; don't allow the outdoor kitchen to be an afterthought," adds DaSilva. As an integrated architecture and construction firm, DaSilva pointed out one of the attention-to-design details that his firm is known for: "When closed, the TV cabinet doors form an image of an anchor that is repeated on the house's front shutters."
Patio Perfection

Landscape architecture by The MacDowell Company
"This Wellesley client had a small, shady backyard that we cleared back to the tree line, as far as we could go," explains Bruce MacDowell, owner of The MacDowell Company. "They have small children and wanted the largest pool they could get—19 feet by 36 feet—and as much usable outdoor living space as possible." Other client must-haves for this project included a short walk from the kitchen to the grilling and dining area and an elevated fire pit to watch over the pool. "The grill area is relatively basic with a trash receptacle and small fridge flanking the grill," says MacDowell, "but what you don't see is a power outlet tucked under the honed granite countertop, with a switch for the pool cover." He notes that outdoor kitchen countertops often require a higher height to accommodate utilities and paving. Also, granite countertops at an inch and a quarter that look good indoors won't look right on an outdoor kitchen: "You need a minimum of two inches and three inches looks even better."
Seamless Stone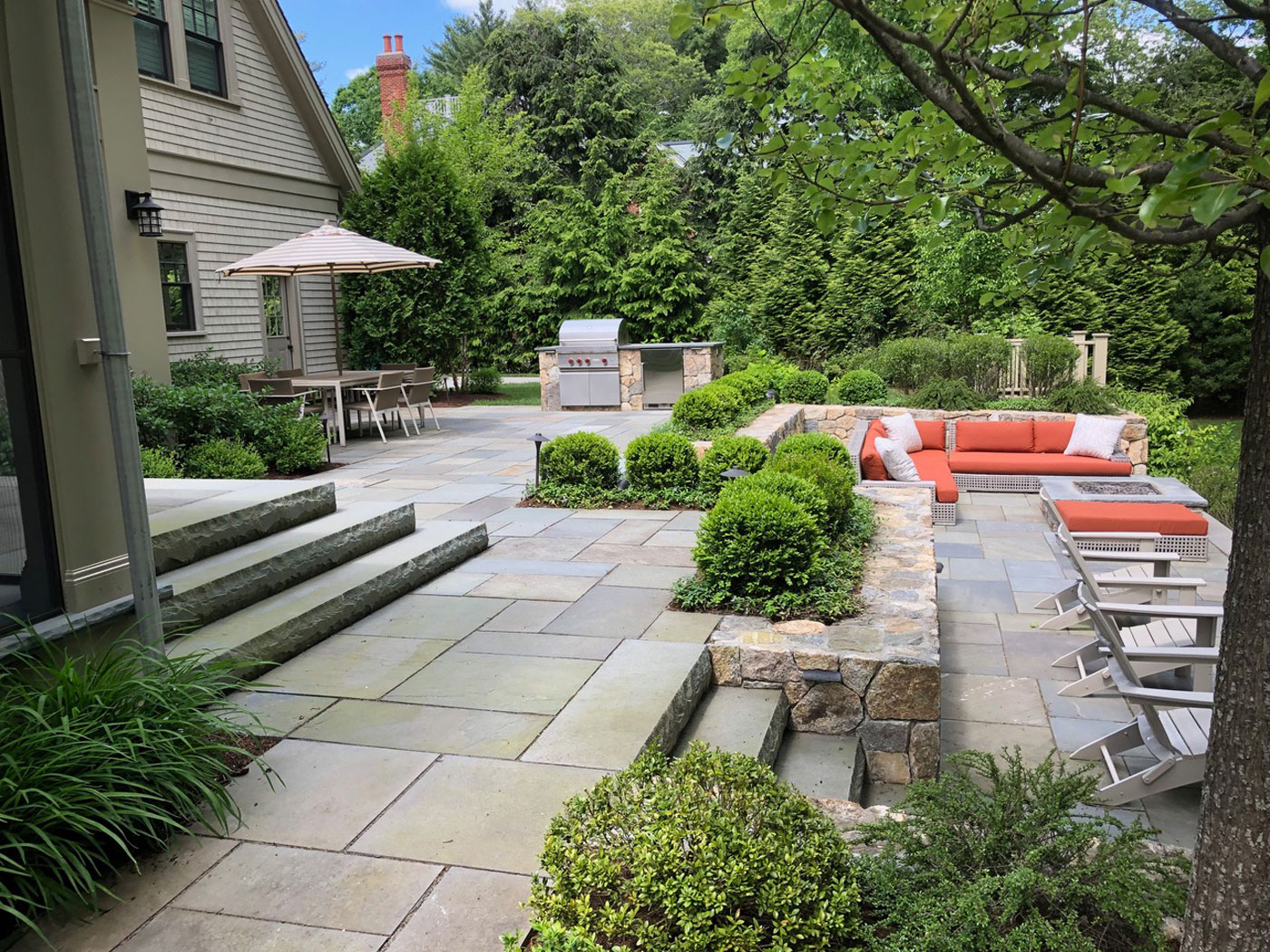 Landscape design and construction by a Blade of Grass
Heather Lashbrook Jones of a Blade of Grass thinks this tiered outdoor entertaining space that the landscape design and construction firm created for a Metro West client is a great example of how changes in level are aesthetically pleasing. "There was an existing outdoor kitchen that had the grill in the center, blocking the entertainment flow," Jones explains. "It was moved closer to the house, with the dining area." A Blade of Grass loves creating beautiful stone walls and used the same stone for a new retaining wall and for the outdoor kitchen. Jones recommends this integrated use of stone surfaces, selecting only two different stone elements to create a more seamless look.
Culinary Canopy
Landscape architecture by Sudbury Design Group; photo by Jim Westphalen Photography
If you're serious about cooking outdoors, this kitchen has everything you'll need, including a pergola with a retractable awning. "Not shown in the picture is the outdoor dining area and bar seating for six with a water view," says Mike Coutu, owner and president of Sudbury Design Group. "The Chatham homeowner wanted plenty of space for lots of outdoor entertaining." Coutu says that the pergola with a motorized retractable awning were carefully considered to ensure maximum use and comfort in the kitchen area. "The awning provides shade, protection from debris falling into food and from light rain, but you're not worried about smoke getting contained from cooking (as you would be if there were a fixed roof overhang)," adds Coutu. "It's a nice feature that can be motorized or not." Additional design elements are honed granite counters with a leathered finish and coated stainless steel cabinetry that won't show fingerprints and comes in a variety of color choices.
Pro Appliance Tip: Wolf barbecue grills, burner modules and warmer drawers, and Sub-Zero outdoor refrigerators, available at Clarke, New England's Official Sub-Zero, Wolf and Cove Showroom, offer the same premium quality and precision in cooking convenience outdoors that homeowners enjoy indoors. Units can be built in to your outdoor space designs, visit clarkeliving.com to learn more.
Main image: courtesy of Clarke