April 17, 2018 | Sandy Giardi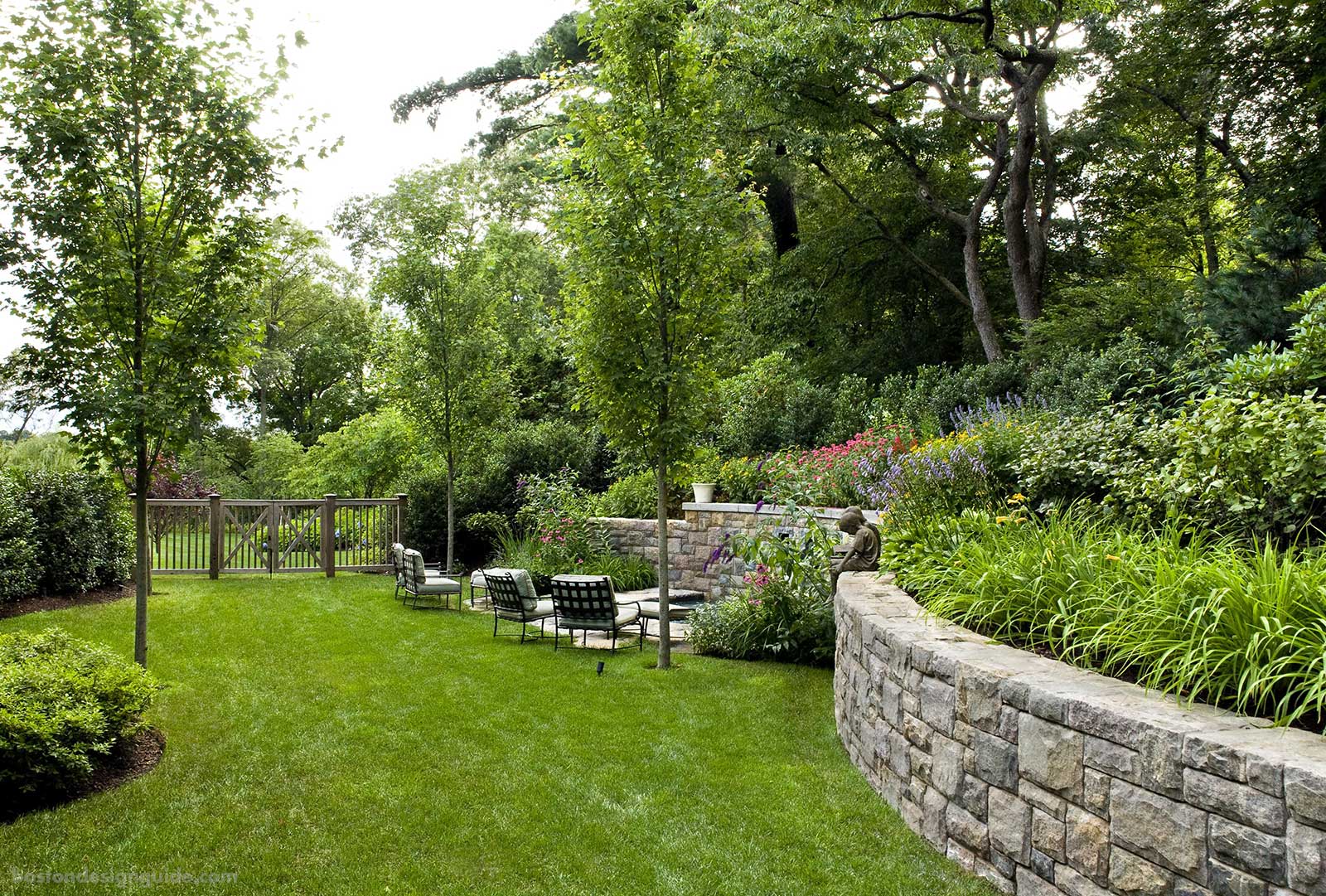 We won't sugarcoat it. This winter has left a mark, and sprucing up your yard is going to require some doing. Broken tree limbs are littering landscapes and roads; mailboxes have yelled "timber!" and sad, sagging fences are in dire need of repair. Luckily, BDG has just the professionals to help you tidy up your yard but good. We've compiled a list of tips to help you beautify your outdoor space. With a little legwork, there will be nothing left to do but enjoy!
How Much Mulch?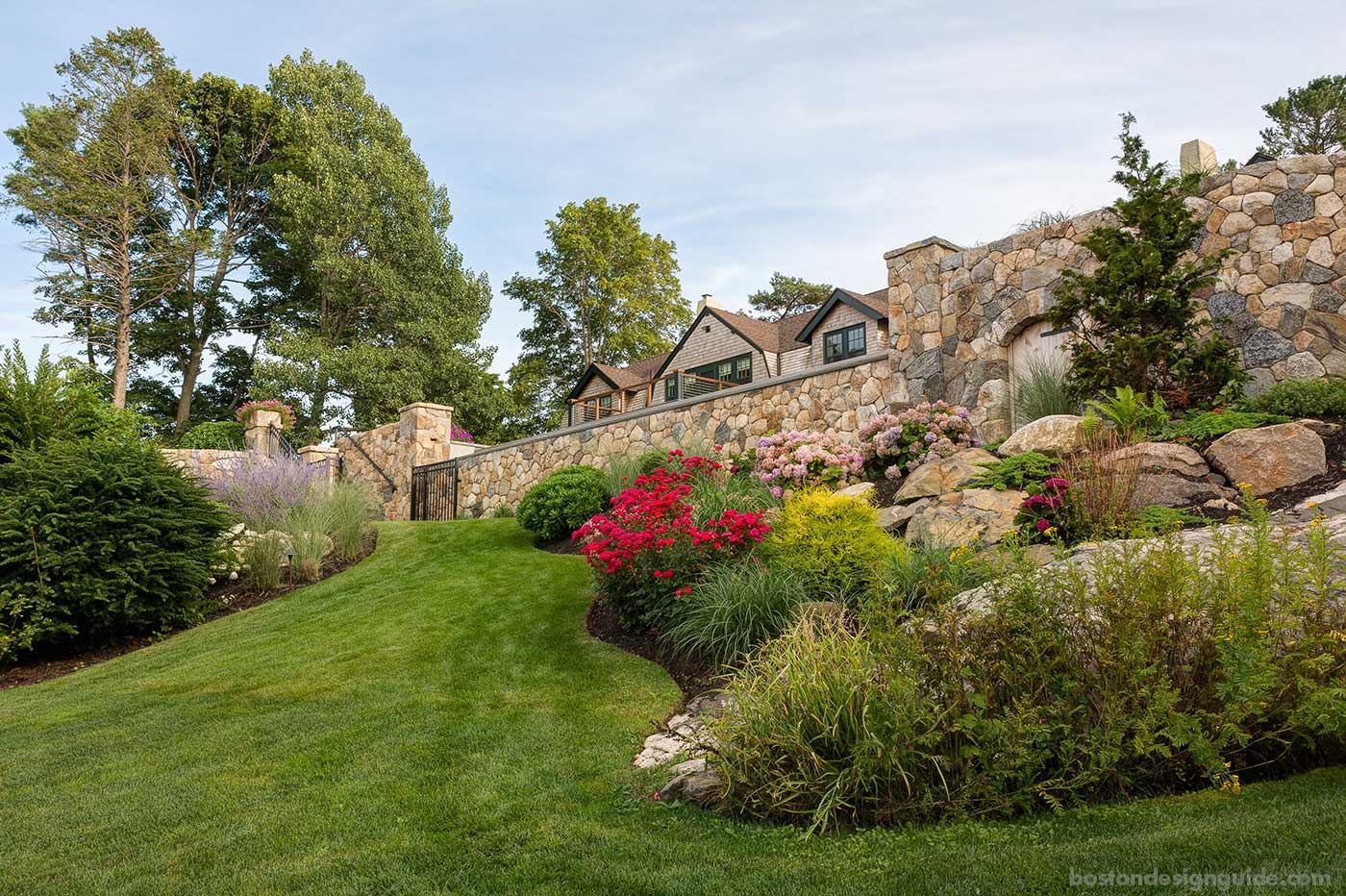 R.P. Marzilli; photo by Rosemary Fletcher Photography
Now, R.P. Marzilli & Company and other premier landscape contractors can do this job for you (R.P. Marzilli has its own mulch blower), but if you choose to go it alone, Robert Marzilli, president of R.P. Marzilli & Company, was kind enough to give us the dirt on mulch. According to Marzilli, there are two reasons to lay down mulch: one, aesthetics and two, to keep the weeds down.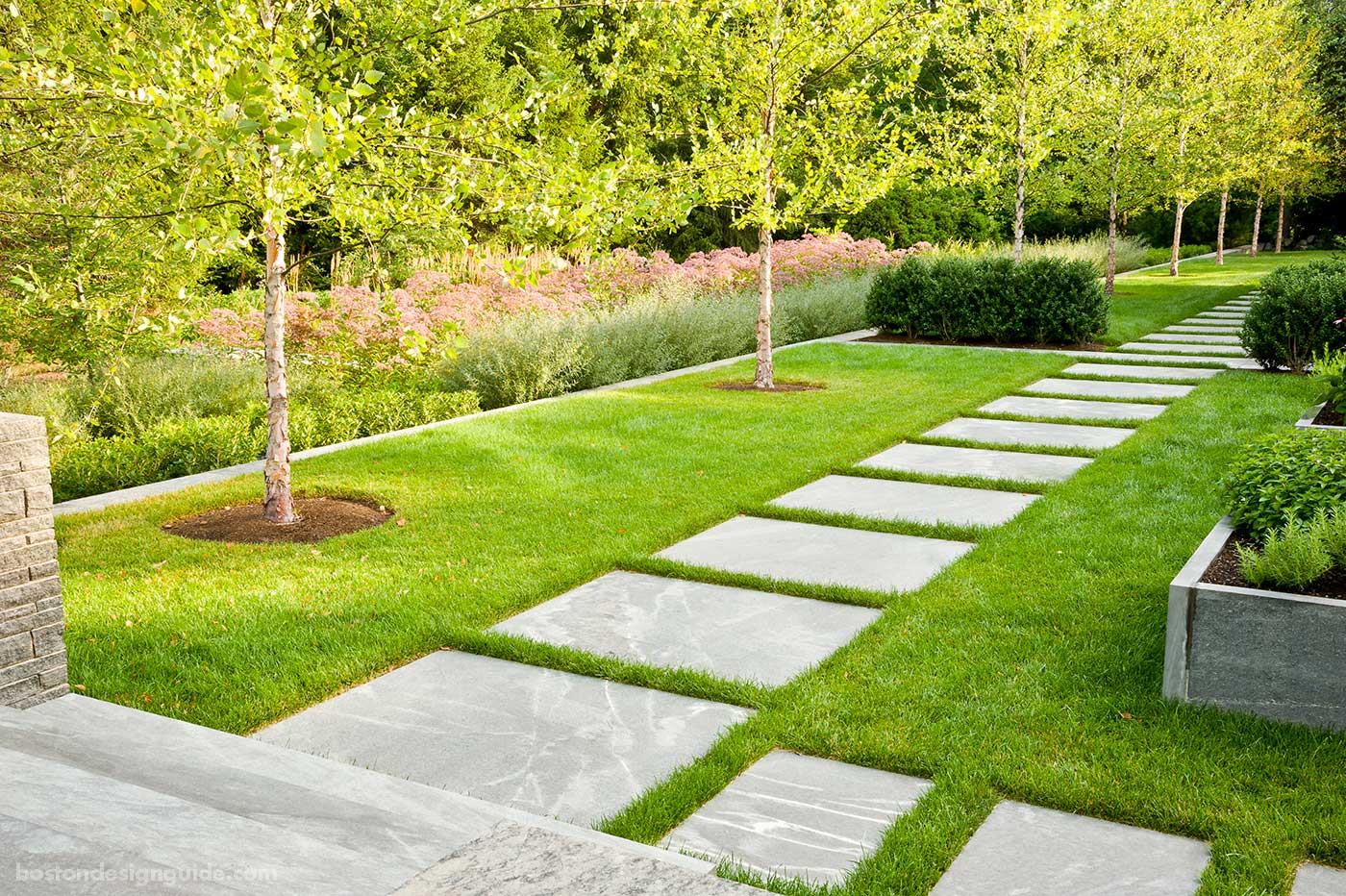 R.P. Marzilli; photo by Rosemary Fletcher Photography
R.P. Marzilli & Company tends to mulch early and once a season, and will add to the beds from time to time in the event of a washout (hello!!!). The first step is to clean your beds and remove the old bark before laying down new.
His biggest tip? Do not over-mulch. You should only have about two to three inches of mulch and don't pile it high against the trunk of trees or the bases of plants—that only invites disease. Also, when it gets too thick, the ground becomes impervious to water, so you're not going to get that beneficial rain.
If you're mulching ground cover areas and perennials, keep the layer thin; use just one inch, as too much mulch inhibits growth.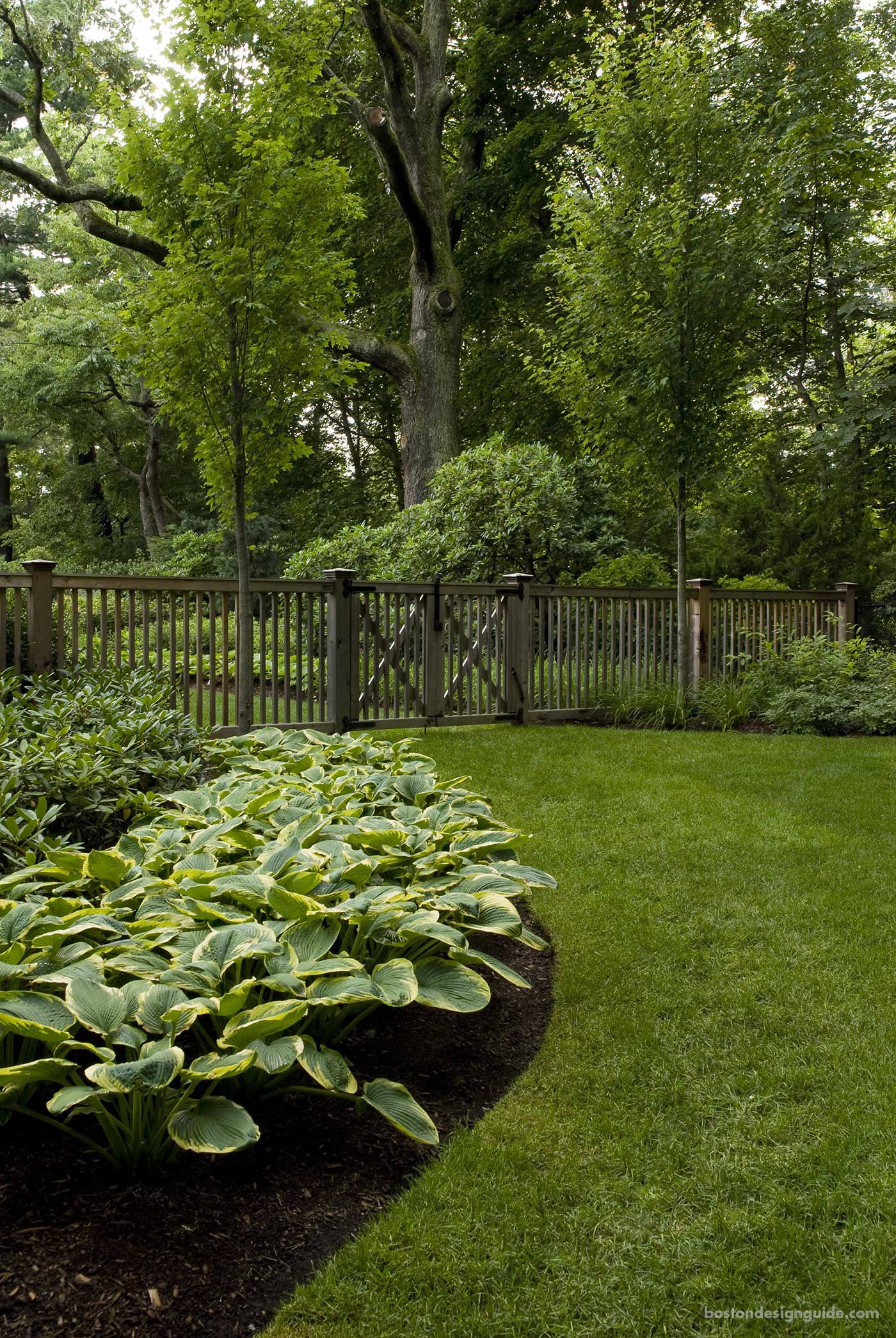 R.P. Marzilli; photo by Rosemary Fletcher Photography
What should your mulch look like? Steer clear of dyes and chemicals. While you may think red mulch screams "chemicals," some dark mulches are also dyed to get that deeper hue, so be sure to read the labels.
The finer the mulch the better. Marzilli uses a 50% leaf compost and 50% pine mulch blend that is pulverized. Stringy, coarser mulches don't break down as well, and adding the leaf compost gives you more organics in the soil and is better for it.
Makeover Your Mailbox and Lantern Posts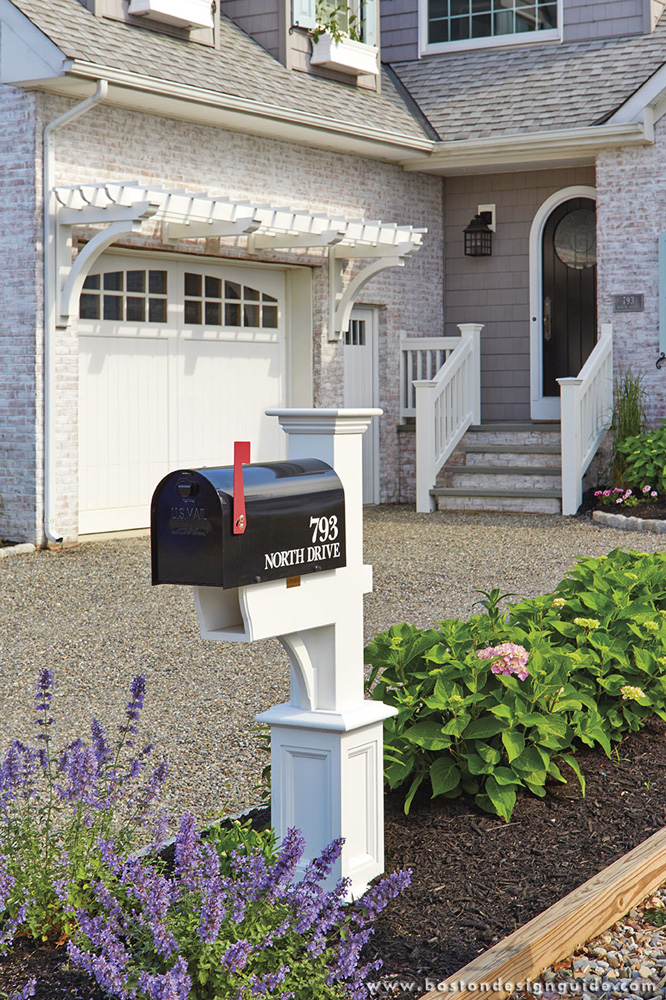 Walpole Outdoors
Was your poor mail carrier coming to the door every day with your post because your mailbox lost the fight to a nor'easter? Refresh your mailbox and lantern posts. It may sound silly, but realtors have told us that many potential buyers first judge a home by the mailbox—it has become a sort of streetside tip-off that the rest of the home is well tended.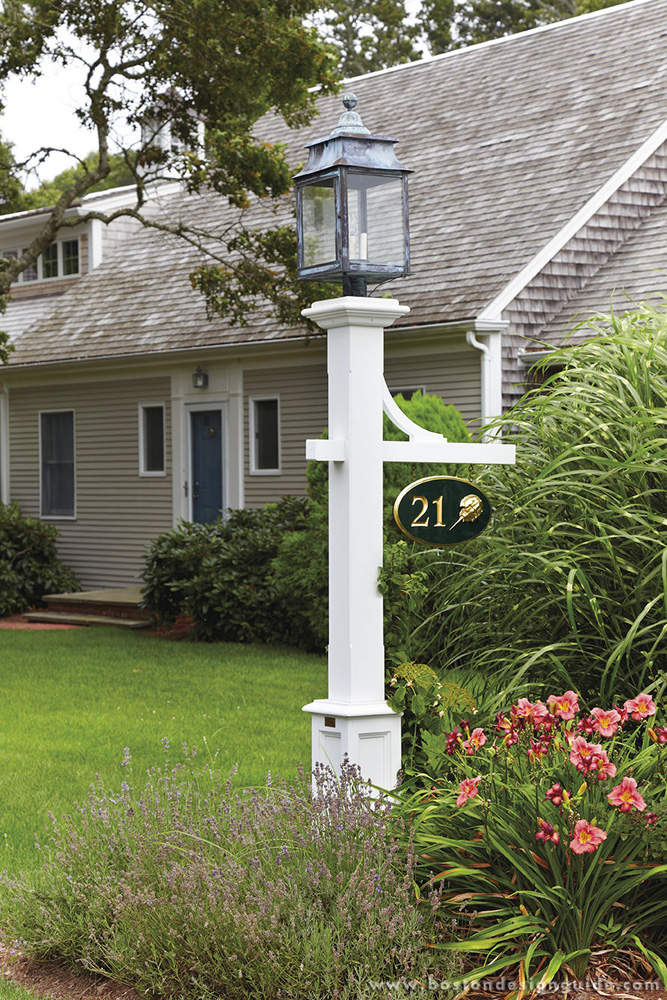 Walpole Outdoors
According to Walpole Outdoors, the lantern post and mailbox posts should reflect the style of your home. While handcrafted northern white cedar is a popular choice, you may want to consider a solid cellular vinyl option, as it is very low maintenance, or perhaps New Hampshire granite, as it is all but indestructible.
Freshen Up Your Fencing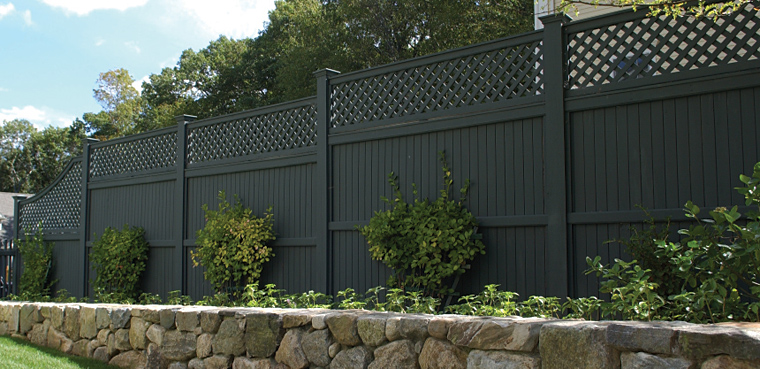 Perfection Fence
Beyond a finishing touch to your terrain, fences can make a strong design statement to your home's exterior. They can help define outdoor spaces and shape the landscape, create privacy or simply be a picturesque backdrop for your blooms.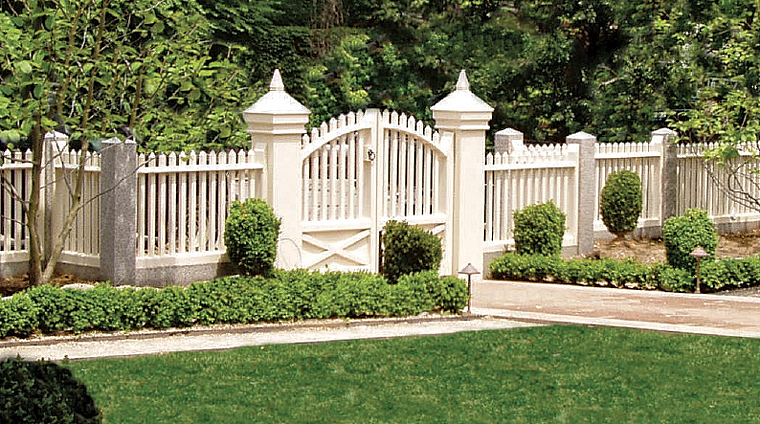 Perfection Fence
Perfection Fence can build the fences of your dreams, collaborating with landscape architects, architects and builders to create bespoke fencing for your yard. Their materials run the gamut, from hardwoods and metals to wildly durable wood alternatives like ForeverVinyl. Most can't distinguish the latter from wood; in fact, fencing made from cellular PVC is pervasive in coastal properties and more popular than ever for homeowners who haven't the time to stain and sand.
Consider an Entry Gate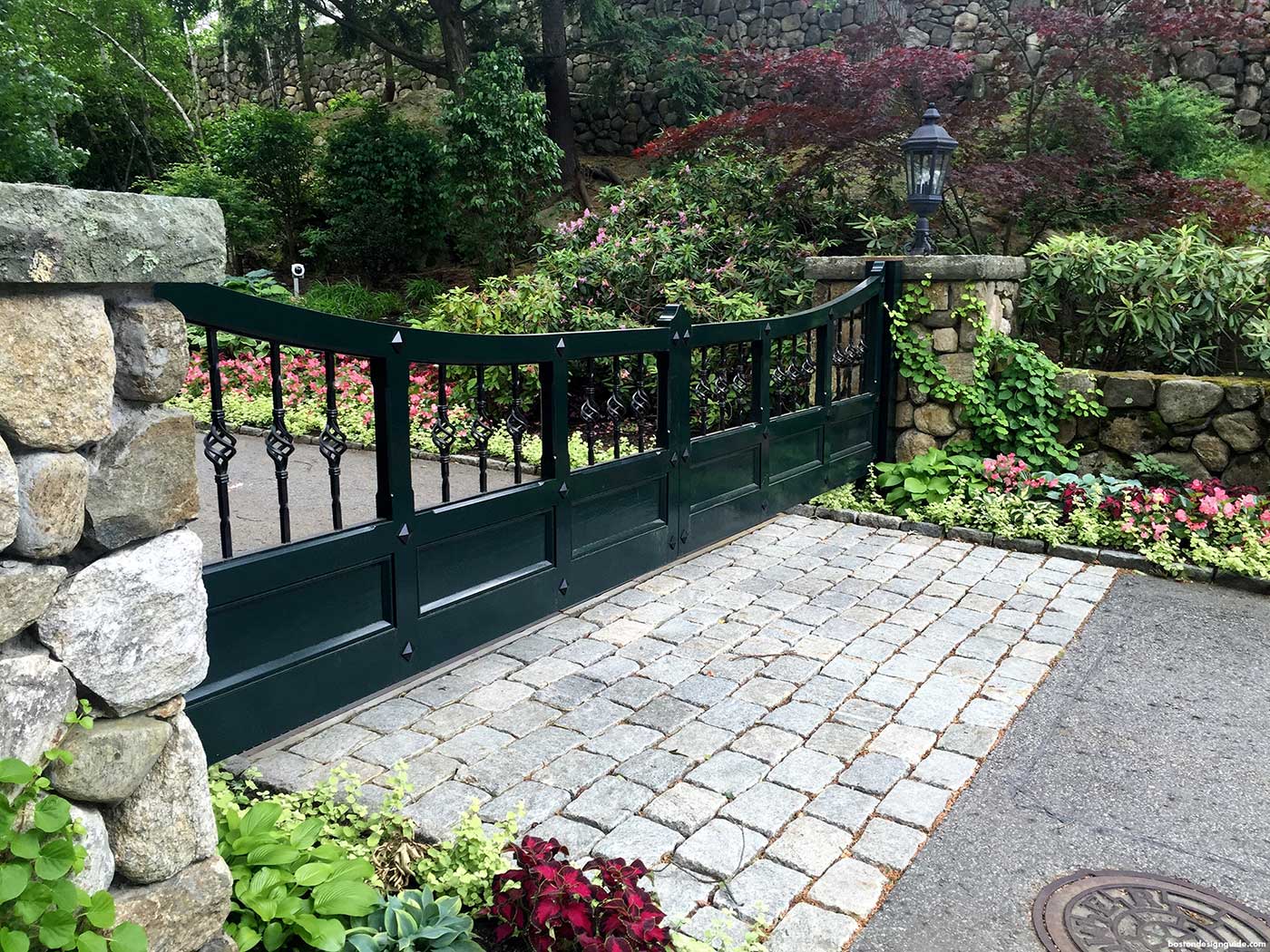 KINEGATE
If your fencing took a beating and you're thinking of installing an entry gate, KINEGATE is your go-to source. The company, a division of Kinefac Corporation, is built on maximizing first impressions, and there's a security benefit to their entry gates as well. KINEGATE's hand-forged solid steel, bronze and aluminum products are the ultimate statement on a high-end home and their solid mahogany woods (three inches thick!) "are built to last," says application designer Colin Butler.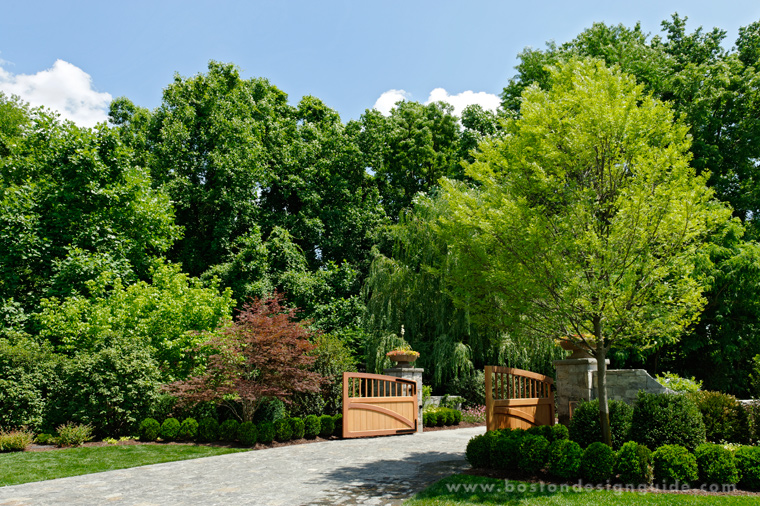 KINEGATE
As an entry gate is an investment to be sure, KINEGATE helps clients match their gates architecturally to their home via virtual imaging. This approach also allows homeowners to see what the new approach to their home will look like at the get-go—and be sure they're thrilled with it—before the "one-stop shop" engineers and installs their gate system.
Paint Your Front Door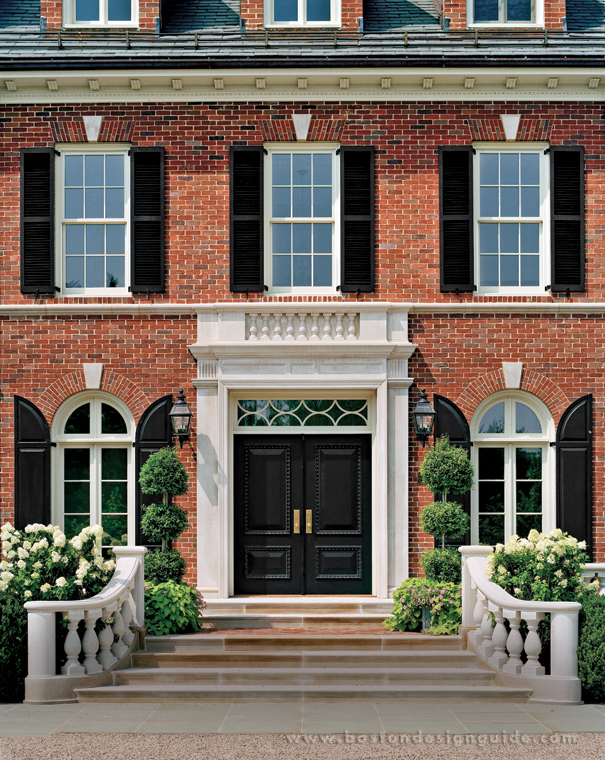 Kenneth Vona Construction
There's nothing like a fresh coat of paint on your front door to instantly elevate your entrance. Barbara Kotzen of Kotzen Interiors is a firm believer that a beautiful front door can give your home's exterior a decided facelift. Splurge on a good paint—C2 or Farrow & Ball are Kotzen's picks—and go gorgeous and glossy. And, if you use color, choose what you like over what's trending.
Say It with Flowers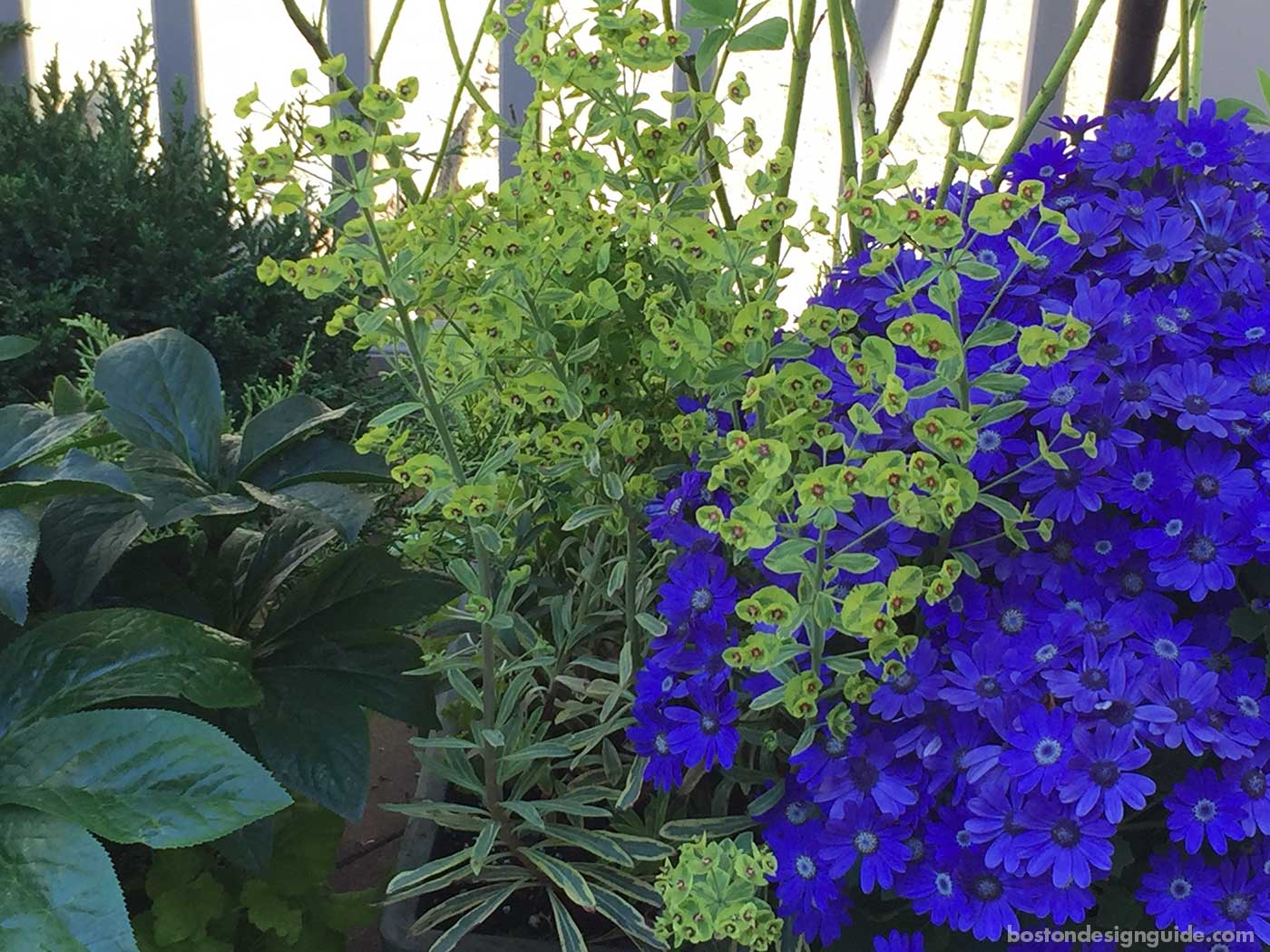 Artefact Home | Garden
Treat yourself to a job well done with new containers bursting with springtime blooms. In addition to an expertly edited array of inspired home furnishings, Artefact Home | Garden arranges artful spring mixes in containers ranging from unique urns to chiseled stone. Above, is one of the company's favorite pairings for charcoal and black containers: chartreuse euphorbia, cobalt blue petals and yellow twigged dogwood.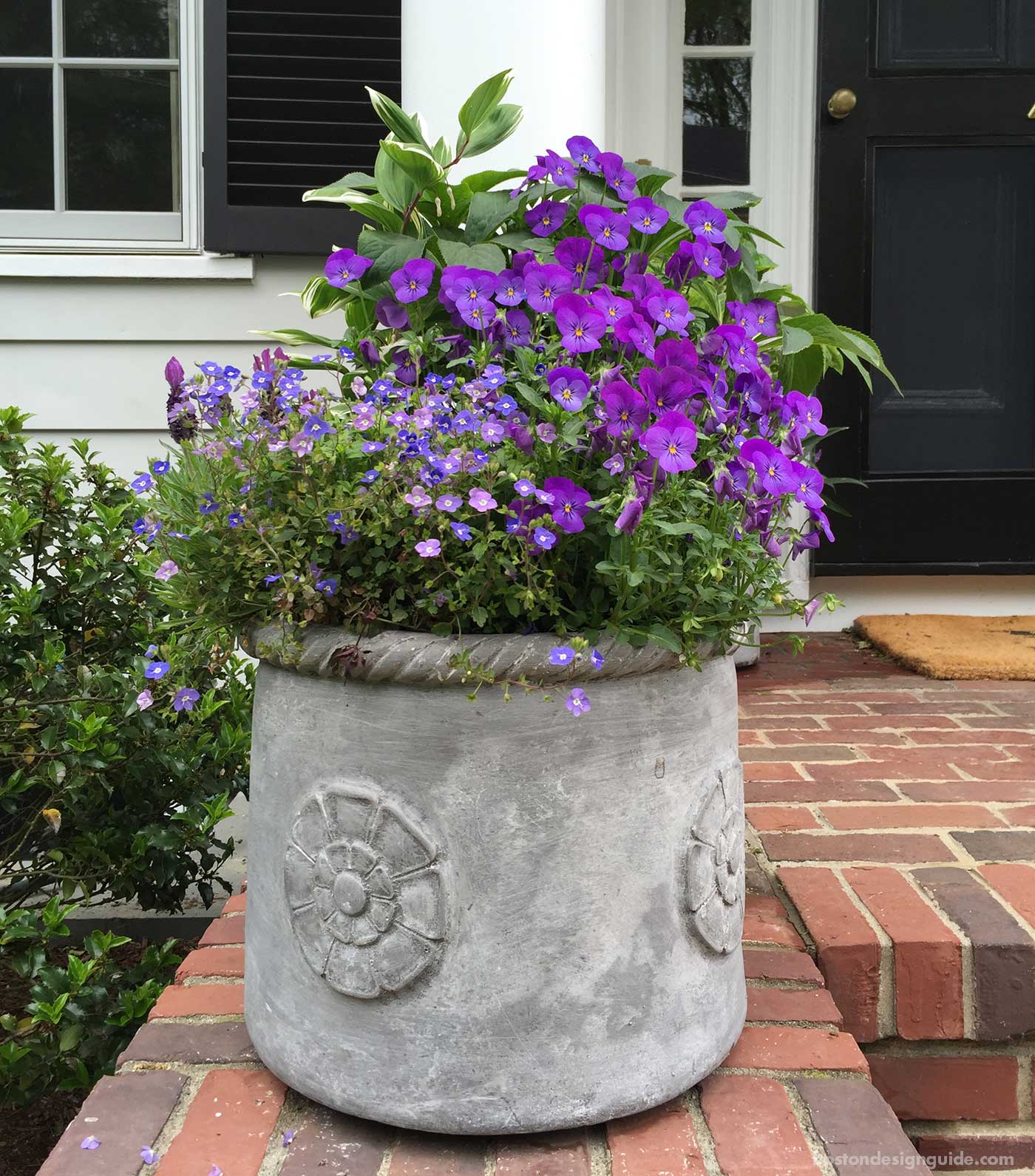 Artefact Home | Garden
There is nothing like lush greenery and shocks of color to add life and interest to your doorstep, windows and terraces. Here, a pansy mix, euphorbia and hellebores mingle in a lead gray planter. Owners Sue and Maureen Walsh love the effect of the bright green foliage near the black door, and so do we!
Main image: R.P. Marzilli and Company; image by Rosemary Fletcher