April 15, 2020 | Sandy Giardi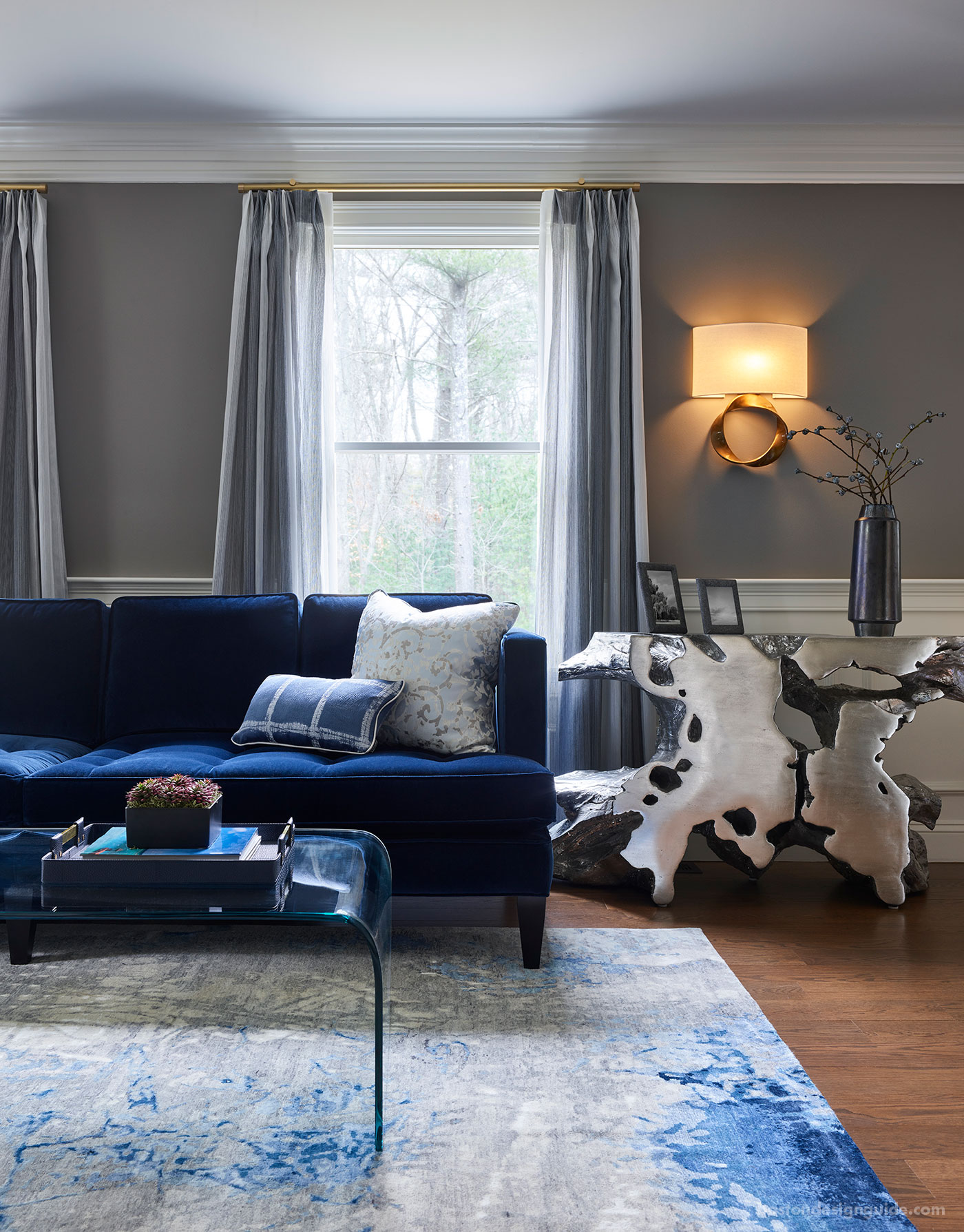 Now that we've all been sheltering in place for quite some time, what we love most about our living spaces—and what we don't—has suddenly become crystal clear. We know it from our own experiences, and it's also what President Mark Haddad of Interiology Design Co. has found in speaking with clients of his Watertown, Mass., interior design studio. "As we're forced to be home for this length of time," says Haddad, "the pros and cons of one's environment are really coming to light."
Given that in-depth interior projects have to remain squarely in the dreaming/scheming stage at the moment, Haddad offers some DIY quick fixes for loving your space right now. His fresh perspective and tips for immediate gratification are just the lift we need.
Paint!

"Because we're home, now is a great time to paint," says Haddad, whether it's just for a change of scenery or to cross off a task you've been meaning to get to. Painting is one of the simpler do-it-yourself projects, "and it's easy to give a room a facelift or give the house a completely different look," says Haddad. Paint your front door a vibrant new shade, like a high-gloss black or yellow (just make sure it's in keeping with the neighborhood!), lighten your space overall with a steadfast neutral or indicate spring and boost your mood with a bold and bright color. After all, says Haddad, "It's simply a can of paint. If you don't like it, you can paint over it."
Interiology is one of the few Greater Boston outposts to stock the upmarket paint Farrow & Ball. Currently, the brand is shipping direct to home addresses, says Haddad. Homeowners can call Interiology, provide their credit card information and have their pots of paint shipped directly.
Change Up Your Accessories & Accents

Reimagine and redistribute your accessories and home accents. A great way to refresh your living spaces is to collect your accessories, take stock and then "repurpose them in different locations," says Haddad. Changing out your accent pillows is one of the keys to this. If storage space is a concern, remember, you don't need to replace the inserts, just the covers. And, if you like to sew, all the better. You have a new project.
If you're thinking of purchasing home accessories, hold a virtual meeting with an Interiology designer and do a home walk-through. "This allows you to personalize your selections and alleviates that buy/return/buy/return process." Plus, says Haddad, they will ship directly to your home or curbside pickup is always available. Be on the lookout for their "Shop" feature coming soon to their website.
Update Your Bedding & Bath Towels

Go through your linen closet, and rid yourself of old towels and sheets, says Haddad. (Or maybe pass them on to the kids to make a fort!) Consider new top of bed materials and luxury towels, which are readily available and can be shipped to your home. Now is the time for simple delights. "Let yourself enjoy something new and fresh," says Haddad. "There's nothing like a luxurious towel (Interiology loves and stocks Matouk), if you've been using the same one for years."
Switch Up Your Pics

"Right now people are purging, cleaning and reminiscing," offers Haddad. After looking through old photographs, he suggests framing a few of the gems that you might have had in storage or in the attic. They needn't be wall-hung; they can line hallways or be perched on a side table or nightstand. "Highlighting a photo by putting it in a beautiful frame is what makes a difference," he maintains. Interiology has a curated collection of luxury frames in The Experience Studio—think faux shagreen with walnut or hair on hide, horn or leather—that is readily available and "a great way to give a space a new look." Pull a collection of a few photos and rotate them in your new frames every month to keep your visuals fresh and unique. 
The Notebook and Planning for the Future...
In time, we will gleefully emerge from our homesteads, but, in the meantime, keep a notebook handy in a room you wish to renovate in the future. As you move about the space, jot down notes about what you love about the space and what you don't. "Maybe you don't like that you have to walk across the room to turn the light on," says Haddad. This is a simple exercise but effective when you're ready to execute. "When it comes time to work with us as a designer," says Haddad, "there is already some tactile data that will help formulate a plan."
Visit Interiology Design Co. to learn more, or call 617-741-3131 to order paint, frames or schedule a virtual tour.