May 15, 2018 | Sandy Giardi
Shagreen, a term that typically refers to the skin of a stingray or shark, isn't new. The exotic leather has long been prized, and may even date back to the time of the pharaohs and the Chinese Han dynasty, and appeared during the Middle Ages on the sword hilts and armor of Japanese samurai. 
Europe started importing objects with a shagreen sheath in the mid-1700s, when a Parisian tanner—Galluchat—became the first expert on the material, and regularly crafted shagreen creations for the Court of Louis XV of France. (A derivative of his name, galuchat, is now the French word for shagreen.) The unique hide, which is marked by a smooth yet pebbled texture, also gained popularity in the Art Deco era, when French furniture luminaries like Clément Rousseau and Jean-Michael Frank used galuchat to create their most luxurious pieces.
Once again, the exotic skin has resurfaced. We're seeing the authentic version and its faux look-alike in high-end New England boutiques, showrooms for the home and furniture stores. The timeless material has an elegant vibe that borders on edgy—contemporary, even—and, it's clear we're not the only ones on the watch….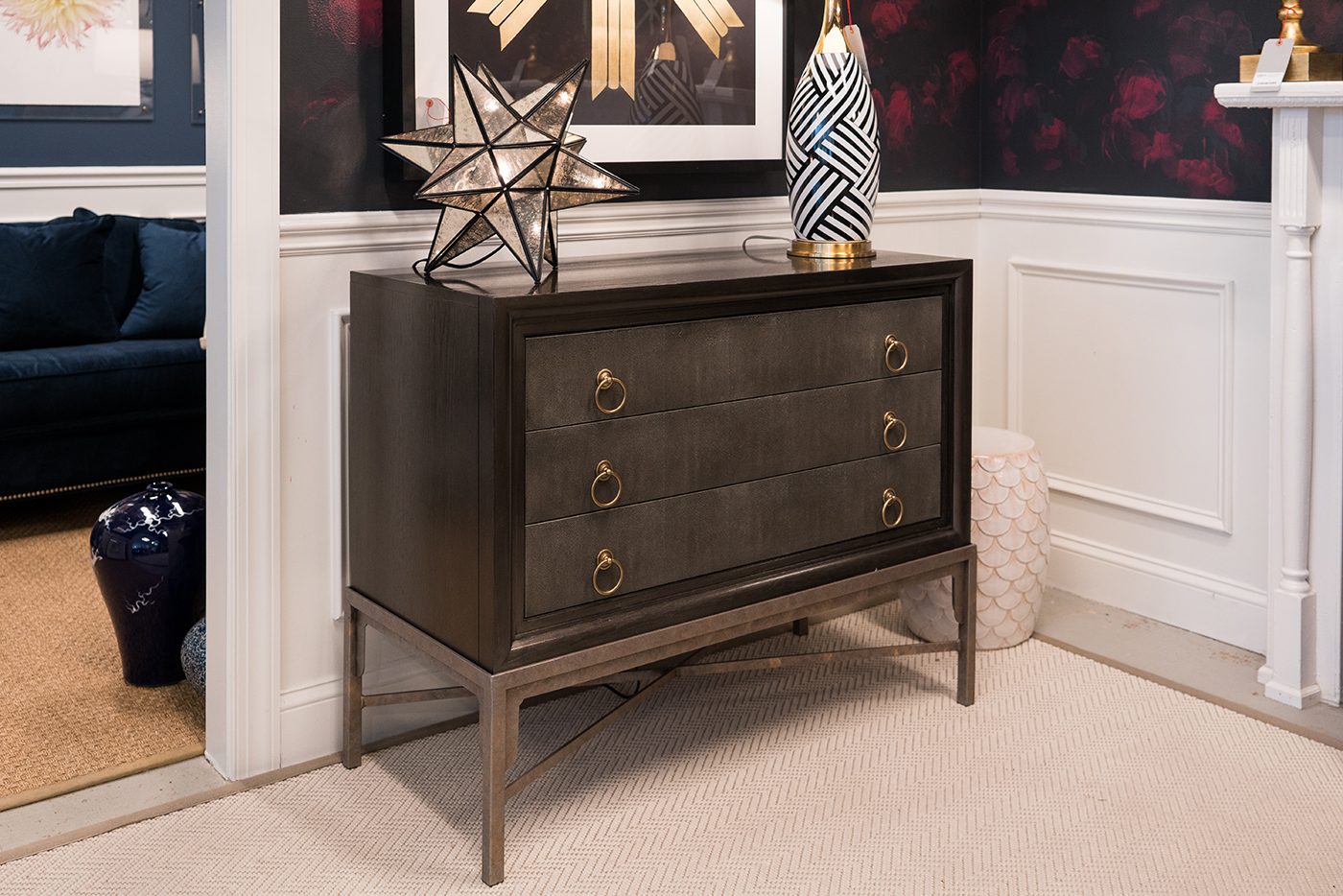 Darby Road Home's stunning two-toned Box on Stand is a gorgeous addition to the foyer, living room or bedroom; in fact, it's one of owner Michelle Coppolo's favorite pieces. The chest, by Sherrill Occasional, boasts charcoal shagreen drawers with a nickel wood finish and brass antique hardware. $4185.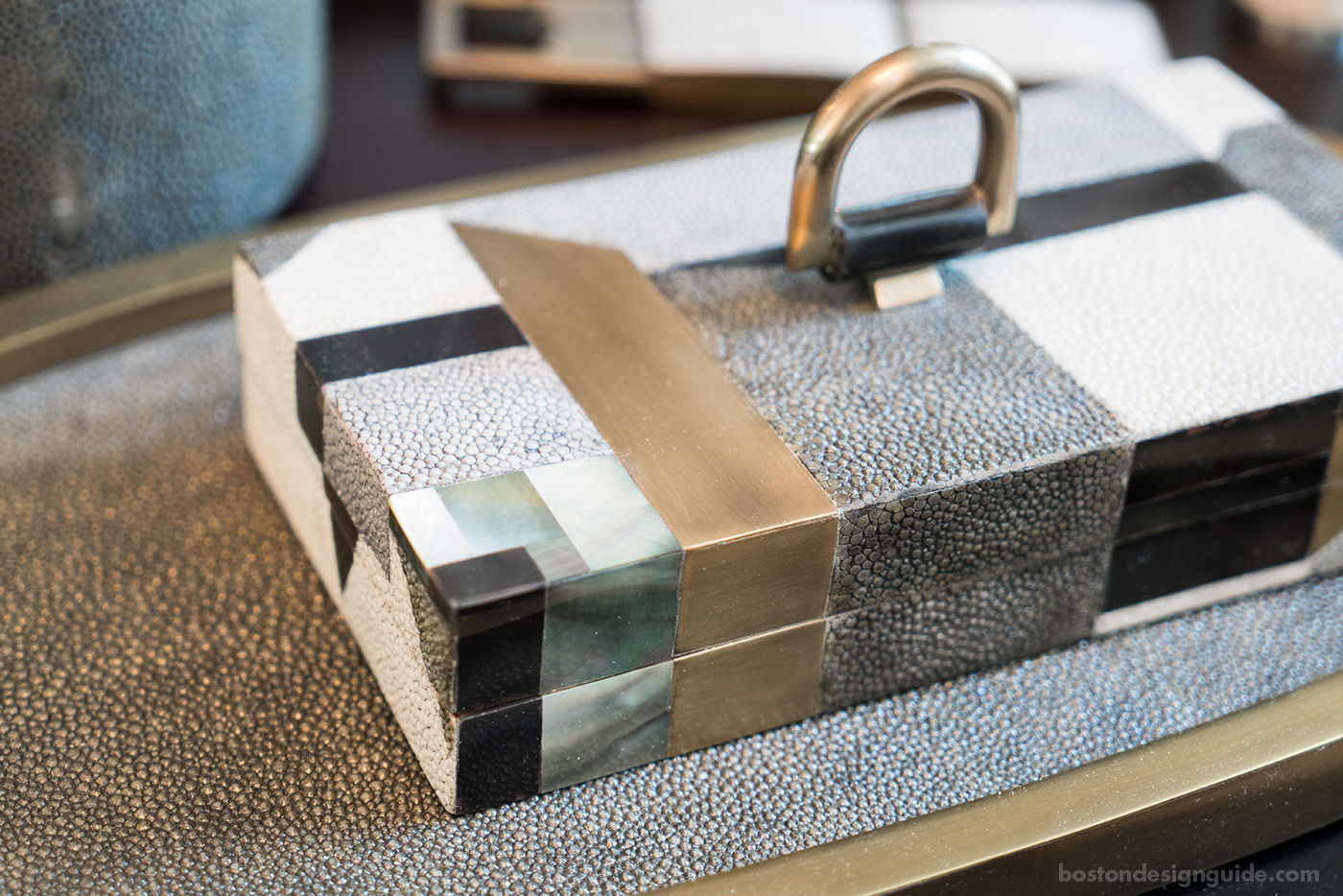 Owner Dale Lasden of TROVE, the fine home furnishings and gift store in Weston, jumps at the chance to showcase authentic shagreen. She has carried the exotic material since her store's inception, featuring the peerless objects of R&Y Augousti, and the slightly edgier line, KIFU Paris.
While TROVE displays shagreen trays, ice buckets, coasters, flasks and more, we were particularly taken by KIFU Paris' mosaic box (pictured above). The impressive piece is comprised of varying shades of shagreen and inlaid with pen shell and mother of pearl. $400, oval tray: $330.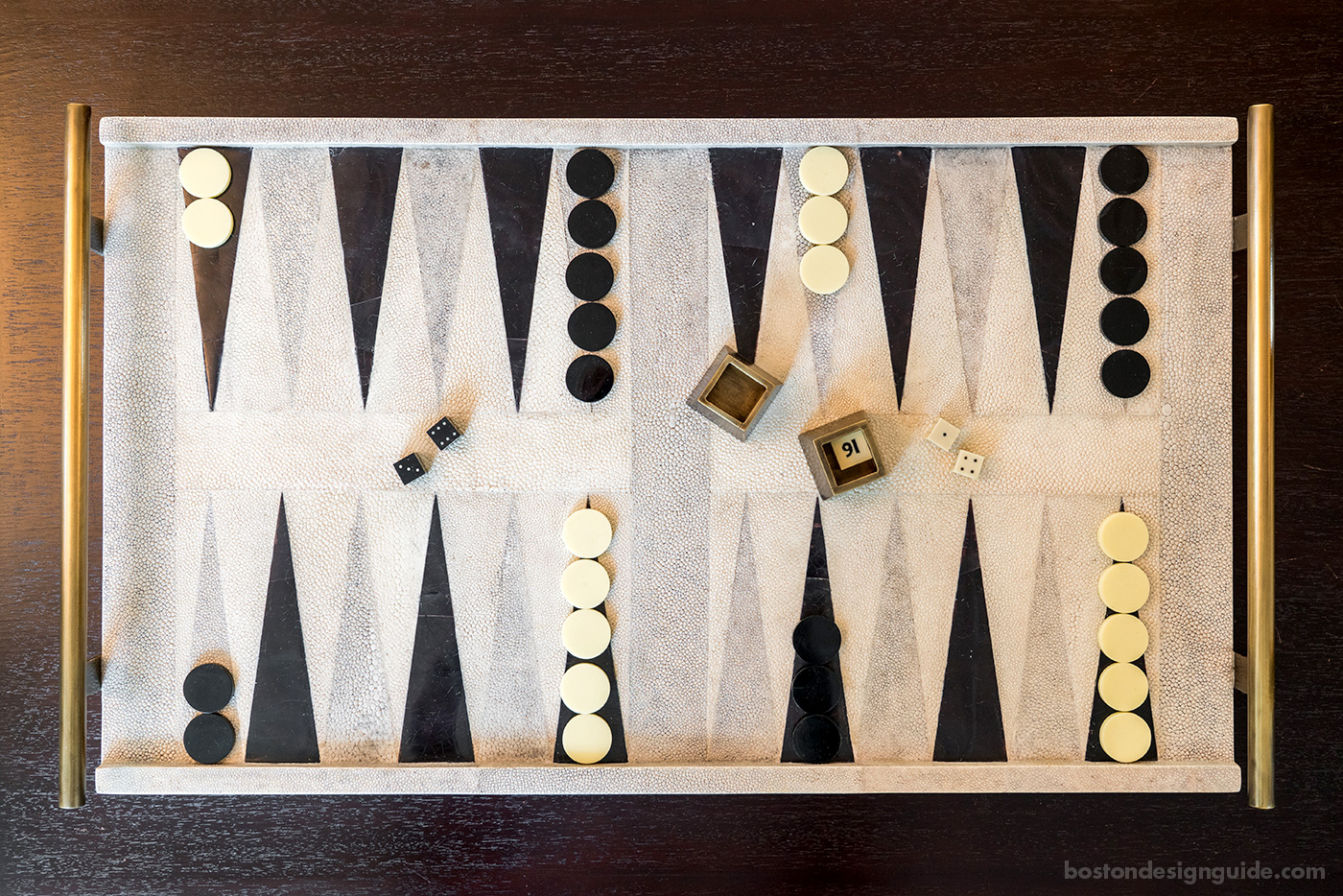 The studio's backgammon set also stopped us in our tracks. Lined with ivory shagreen, accented by brass, and with playing pieces of horn and bone, the set is an exquisite yet functional accent for any living room. $748. Available in full and travel sizes.

Photos courtesy IL Décor
With its slim, sexy lines, lavish texture, iron frame and antiqued brass finish, IL Décor's Atherton Console/Desk makes an elegant statement in any home office. Designed and manufactured by Weiman, the khaki shagreen surface of this high-end piece makes it as fashionable as it is enlightened. Price upon request, call for details and to order.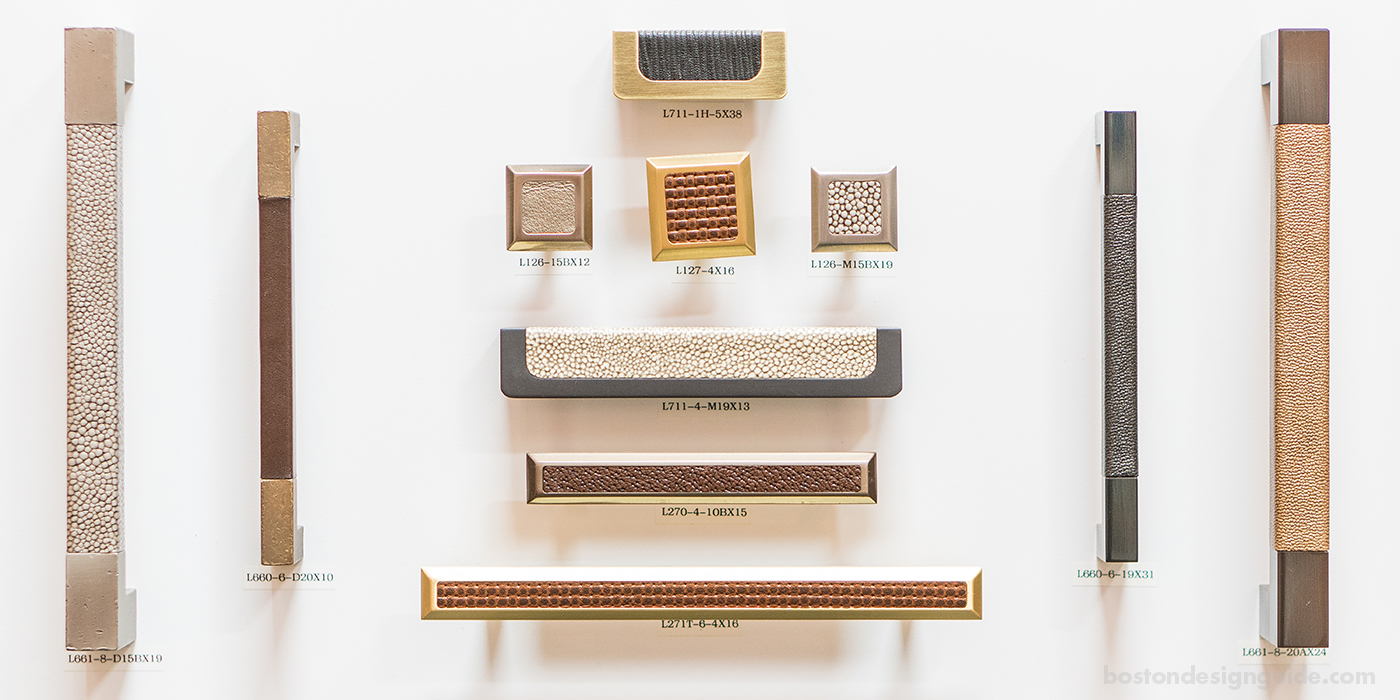 Needham Lock and Decorative Hardware, the grown-up equivalent of a candy store, features shagreen hardware with a luxe bearing. Owner Jon Shufro has always liked the rich look: "It's not your typical piece of hardware." His store, which is revered by the New England trade, features a variety of shagreen leathers by Edelman that clients can integrate into a complete line of door levers and pulls, knobs and cabinet handles—covering an entire piece or just the grip. Pricing varies.

The store also offers faux shagreen hardware by Turnstyle Designs, an on-the-rise company that duplicates the look of the exotic hide with a material called Amalfine. "It wears hard, and it looks like real shagreen," says Shufro, with finishes including bone, cocoa, black bronze and sand. Shufro just outfitted a complete kitchen in it, and is soon to be expanding the style. "Anything I think is cool or different or edgy, I'm going to bring into the showroom," he shares. Pricing varies.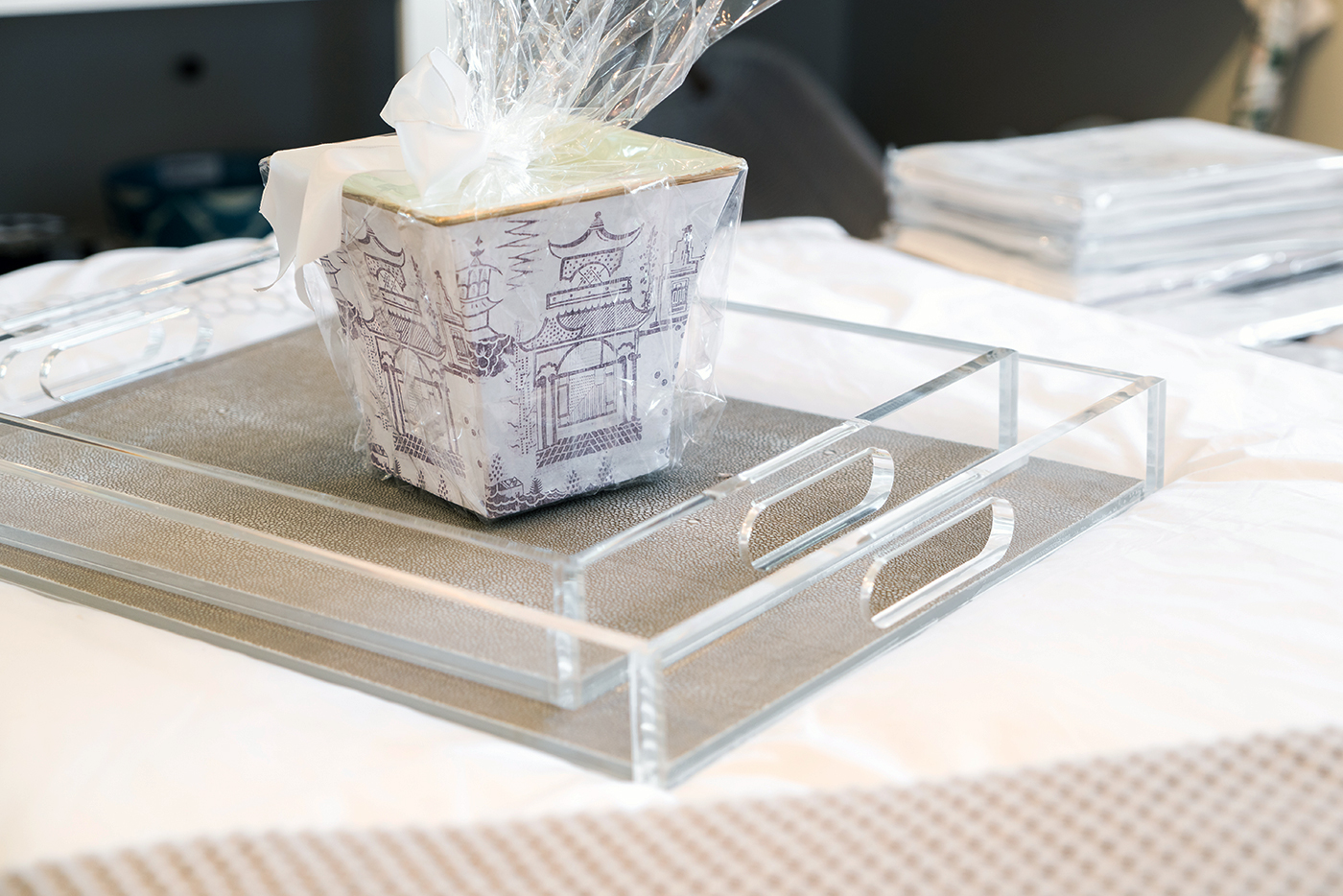 Blue Peacock, a home decorating store known for its design-center caliber wares, features a stunning set of Lucite and faux shagreen trays by Made Goods. The trays' rich, tactile surfaces shine with light cast through the clear acrylic, making the pair striking on its own or positively regal when serving up breakfast in bed. $900 for the set.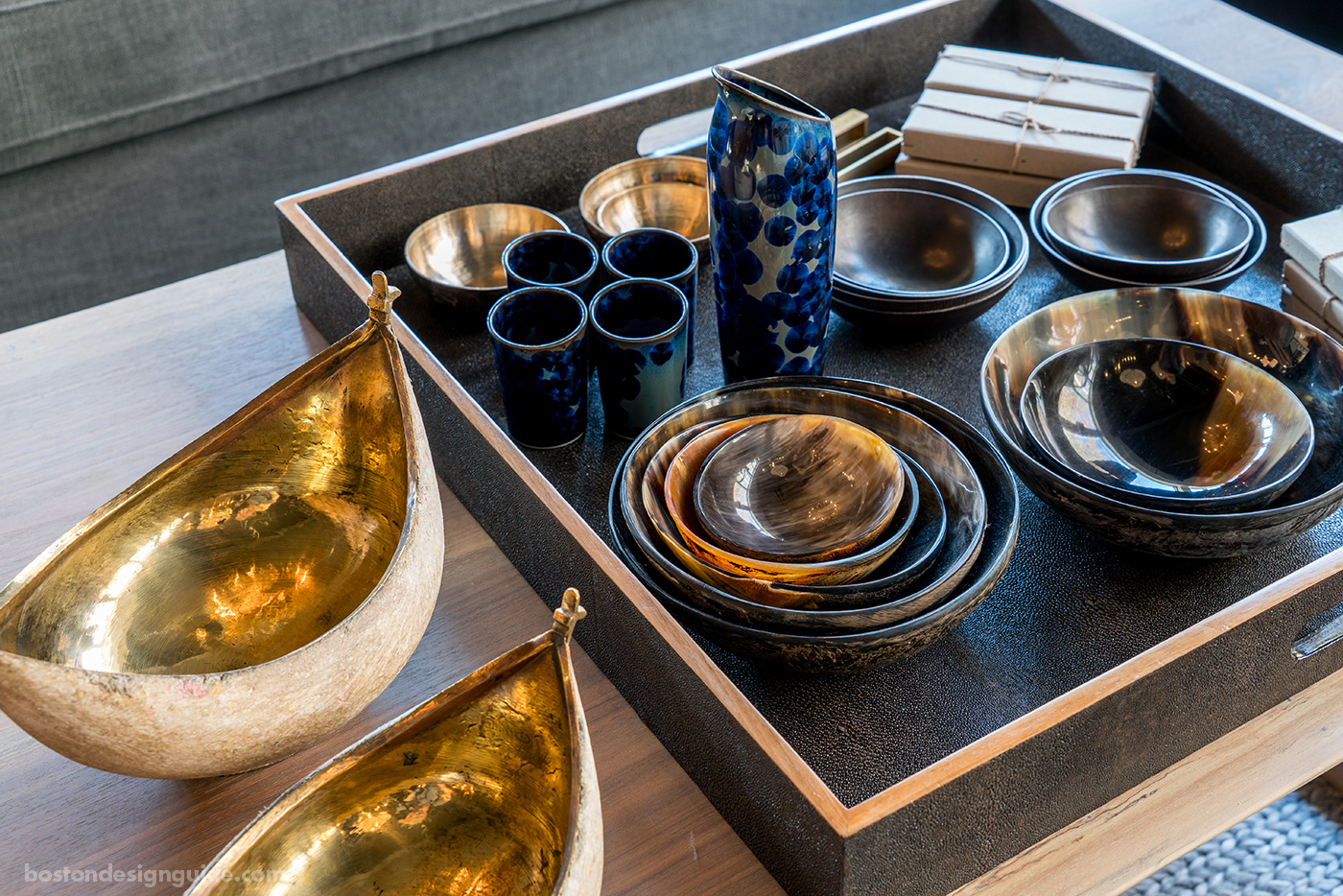 Artefact Home|Garden's faux shagreen trays, available in an array of shapes, sizes and shades, ensure that you'll entertain in style. Because the surface is made from pressed, finished leather, explains co-owner Sue Walsh, the tray is a "usable" perch for drinks or cocktails. Available in grey, mushroom and seal tones. Square: 24 x 24 $456, 18 x 18 $410; round: 20-inch diameter $426; 17-inch diameter $326.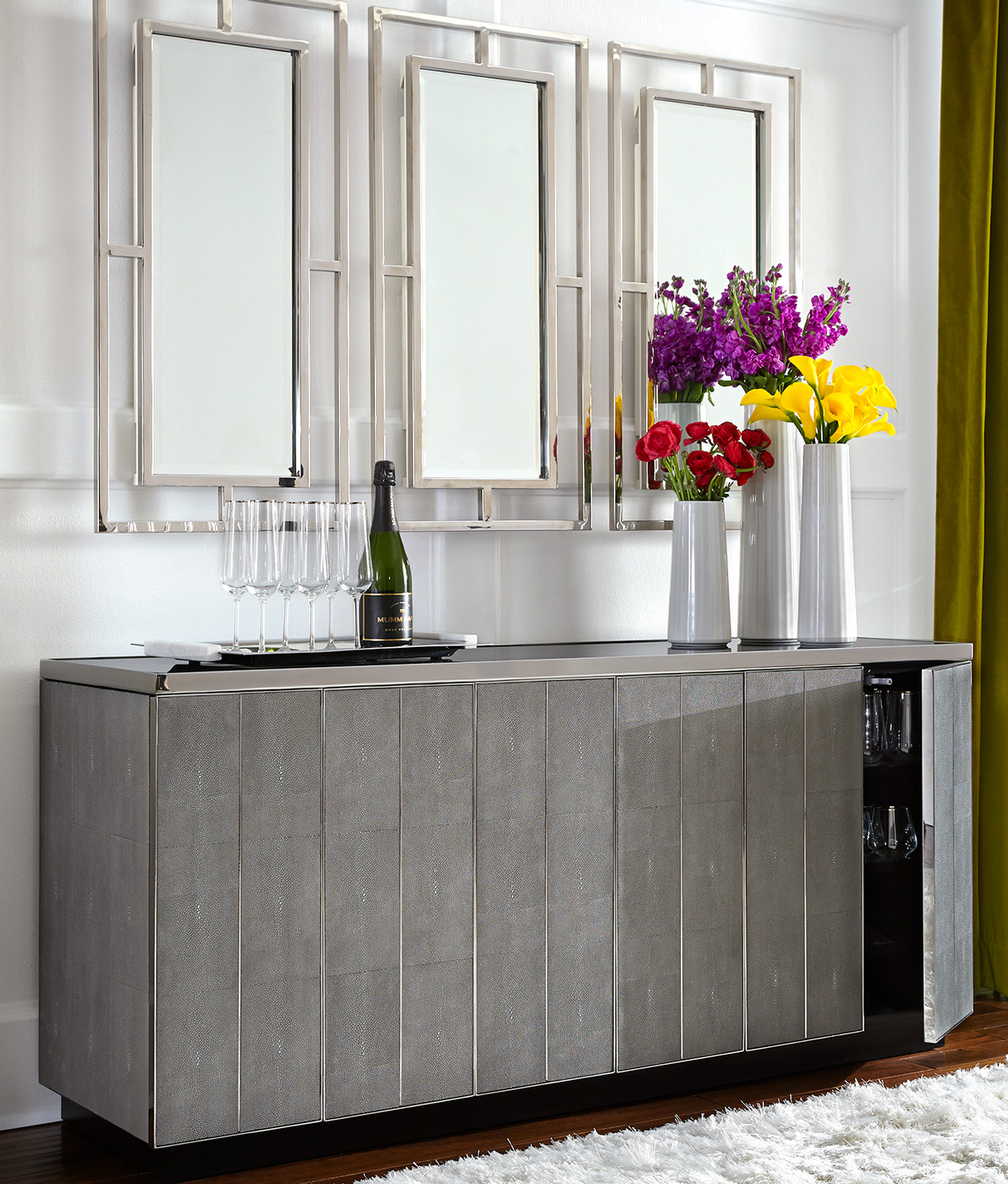 Photo courtesy Mitchell Gold + Bob Williams
Faux shagreen is making a few appearances in Mitchell Gold + Bob Williams' latest lookbook. Among the premier American furniture maker's offerings is a glam and gorgeous console worthy of Jay Gatsby. The Bond Media Console, with its textured, pewter-colored faux shagreen finish, provides a striking, high-polished home for barware and entertaining essentials. $3370. 
Photos by Liam McInerney, except where noted.