November 21, 2019 | Sandy Giardi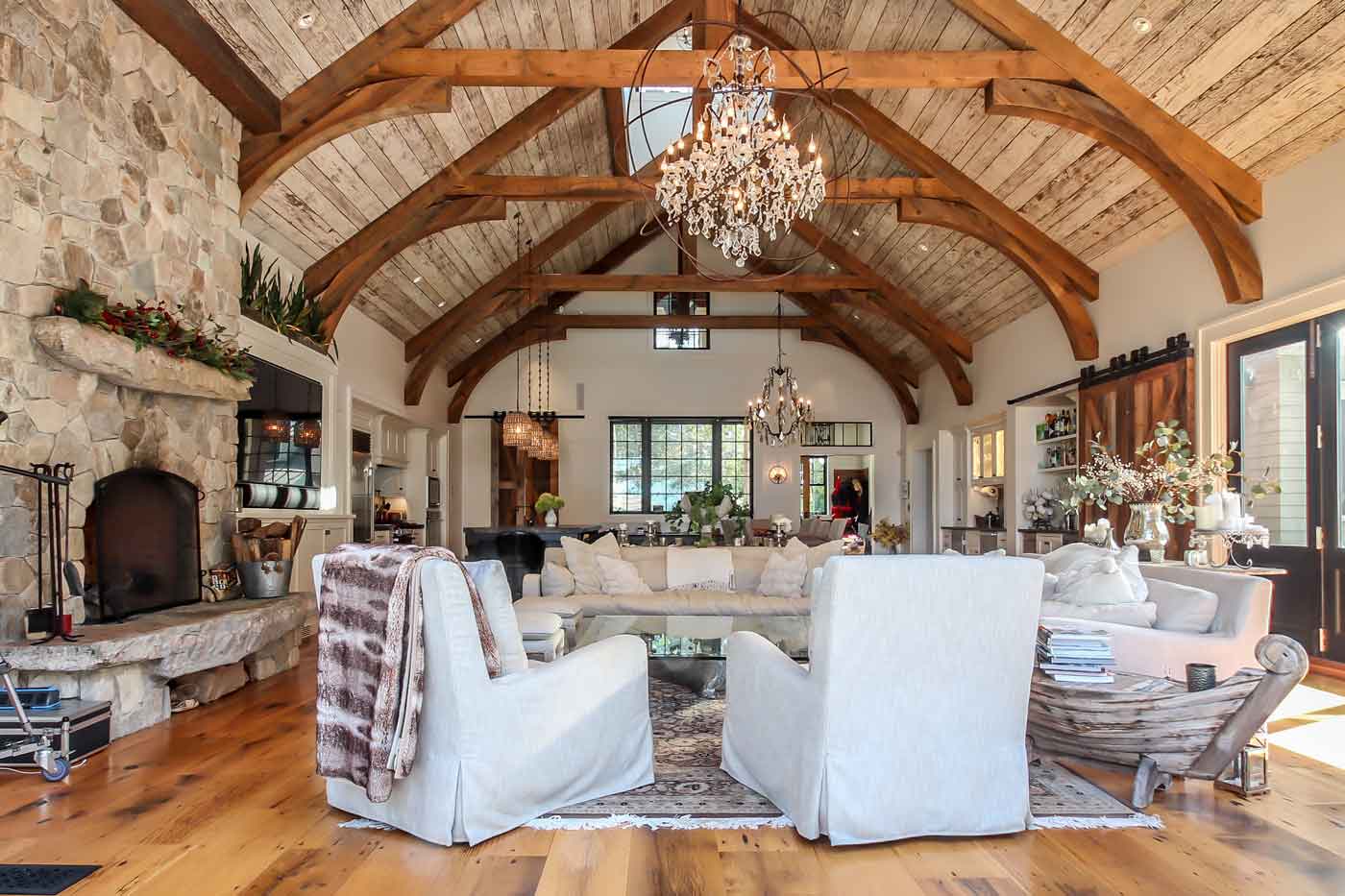 In the hands of premier builders, architectural designers and landscape professionals, rugged design elements take on a heightened sophistication....
Mudroom with a tack-room feel...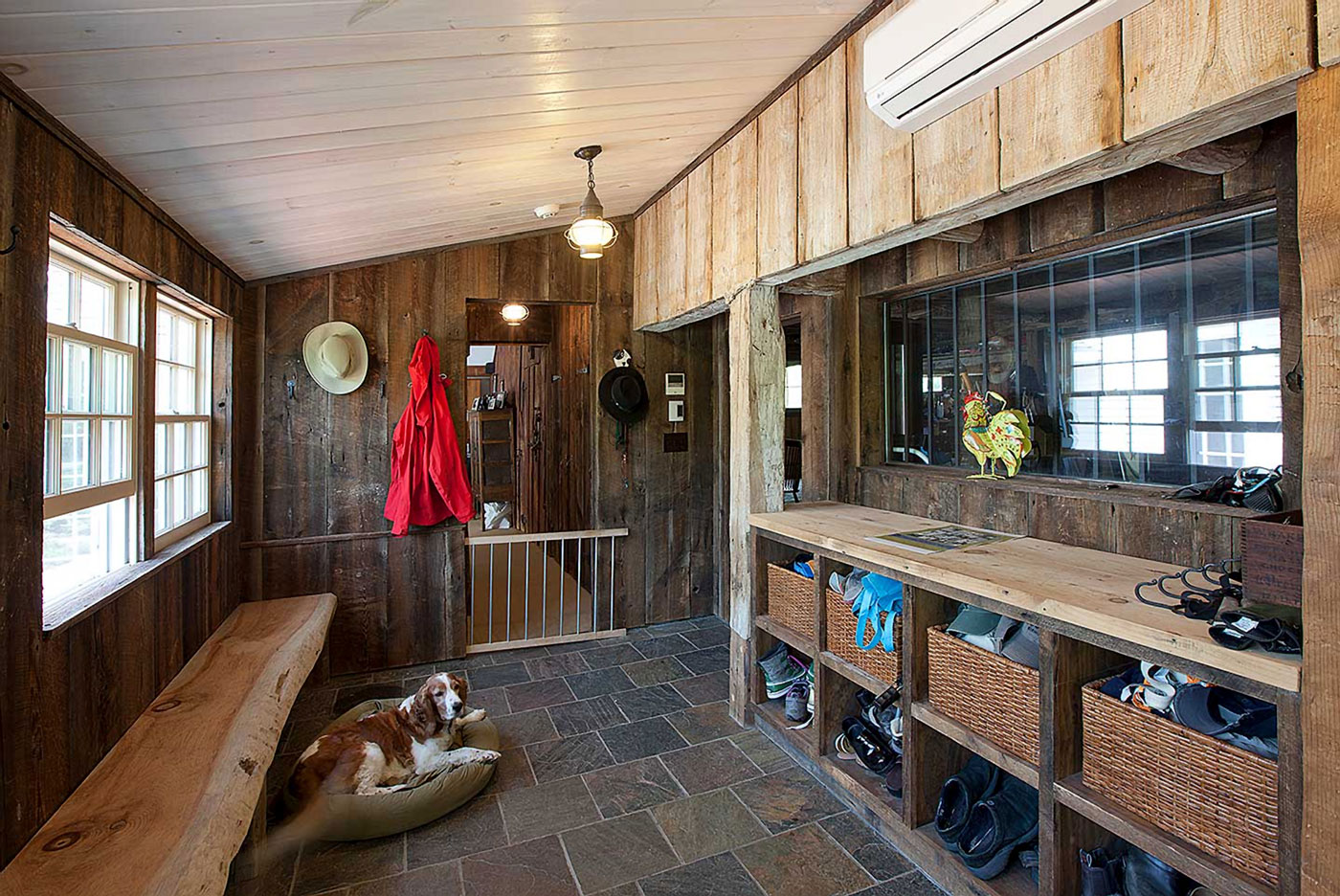 Builder: Merz Construction; architecture: Dewing Schmid Kearns Architects + Planners; photo by Peter Vanderwarker.
Part of an addition to a Carlisle farmhouse, this generous mudroom by Merz Construction abuts an existing antique barn. Rich yet utilitarian, the space certainly doesn't come off as new construction; its salvaged barn board, slate floor and live-edge wood bench are seamlessly integrated within the architecture of the 200-year-old home. Offers the firm, "Every aspect of the home is connected to showcase the beauty and integrity of the property." 
Meandering stone path…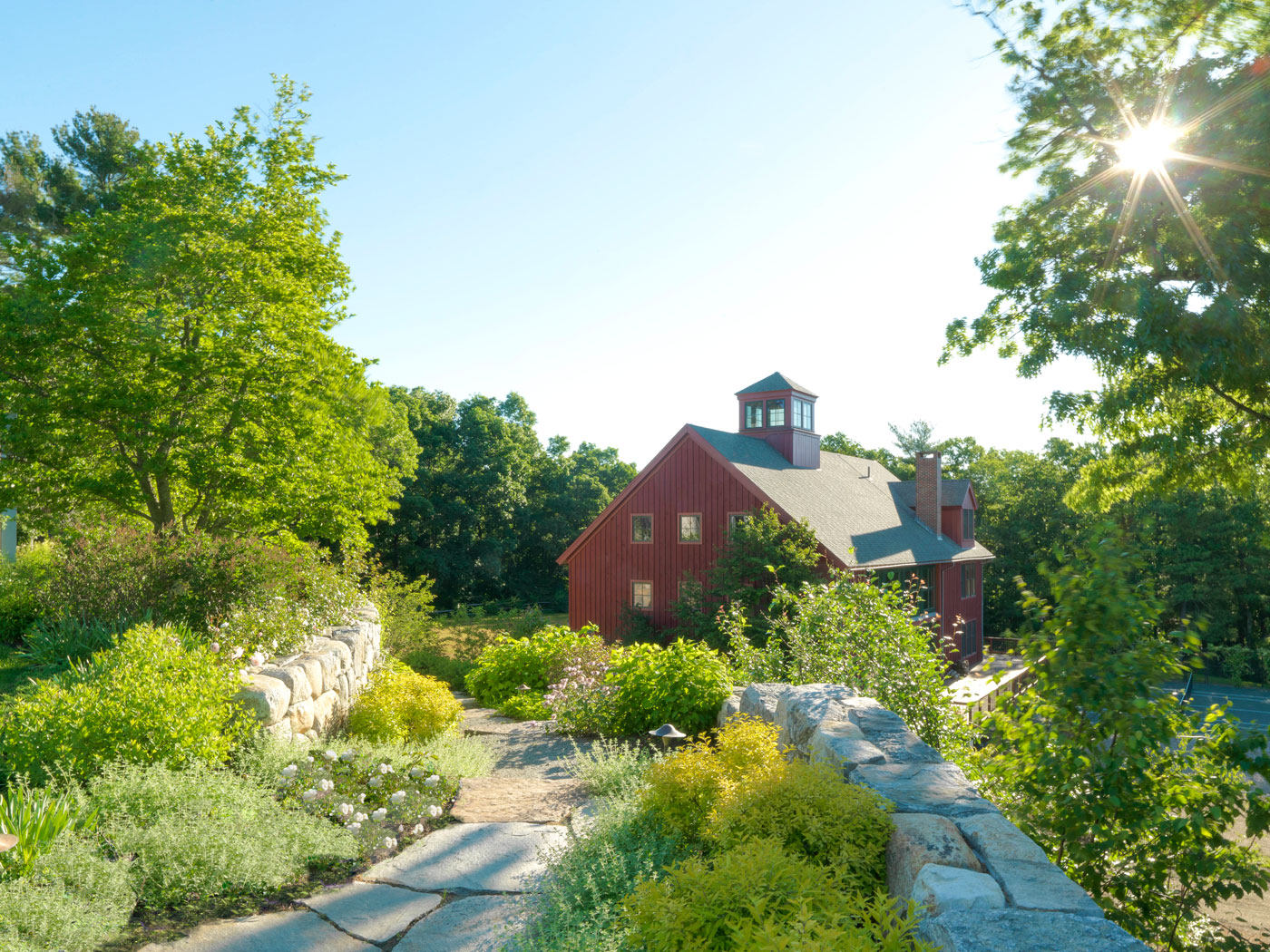 Landscape architecture: Gregory Lombardi Design; landscape construction: R.P. Marzilli & Co., Inc.; photo by Susan Teare.
Comprised of salvaged New England fieldstone steppers and Goshen stone, and flanked by natural fieldstone walls, this resplendent walkway, designed by Gregory Lombardi Design and constructed by R.P. Marzilli & Co. Inc., makes a gentle descent from the main home to a secondary residence and recreational building. Its plant palette uses a mix of native and ornamental plantings, including a variety of edible plants. The design was tailored "to the light and land conditions" of its terrain, explains Principal Troy Sober of Gregory Lombardi Design, "and integrated the natural and native qualities already thriving on the property." 
Party barn and guest house...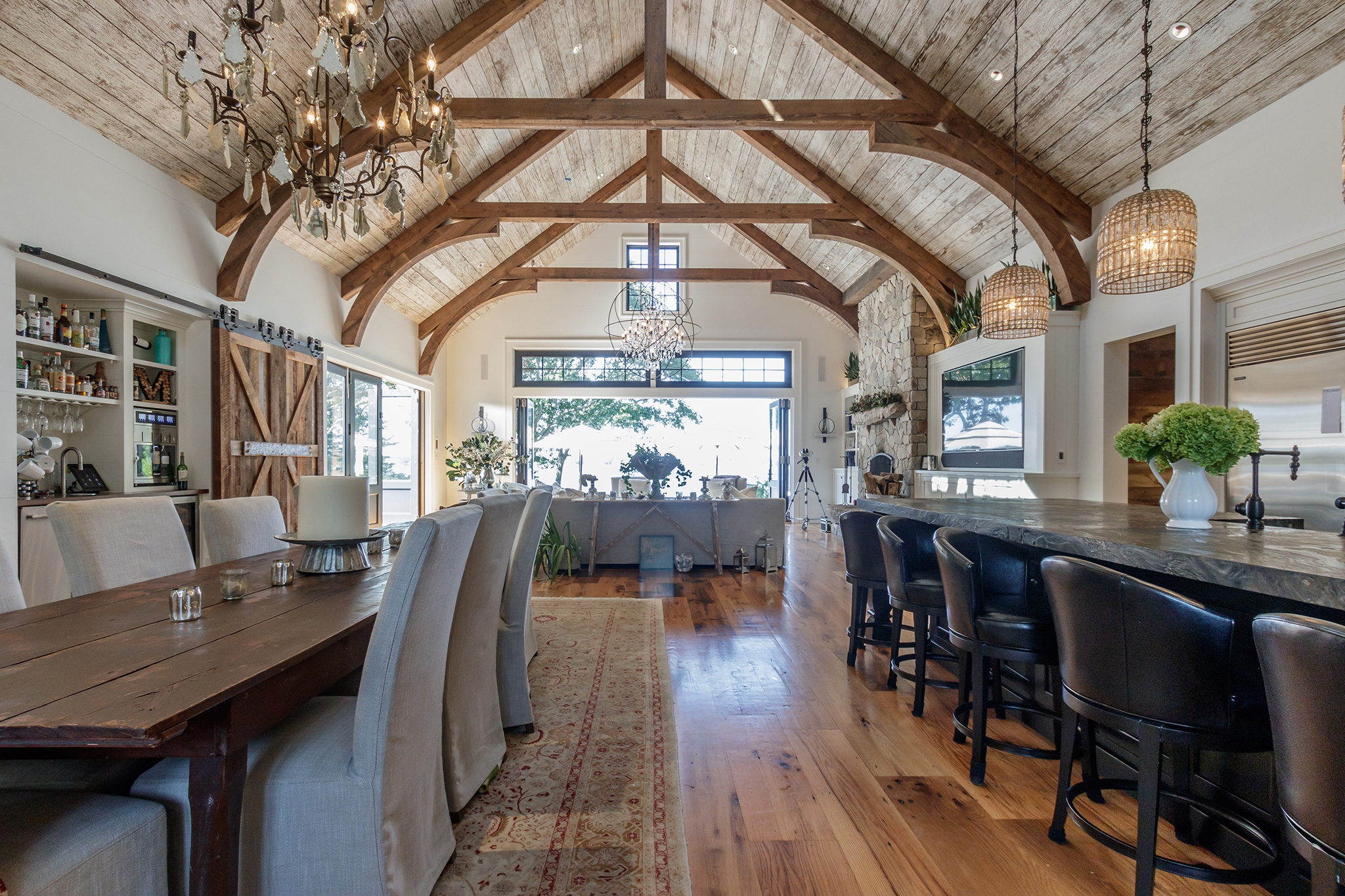 Architecture: BPC Architecture; photo by Erin Engen.
Though a new construction, this Osterville guest home and party barn, designed by BPC Architecture, "has a sense of history," explains BPC architect Joe Paul, and an overriding authenticity. From the outside, says Paul, the brick-red building, topped by a cupola, reads clearly as a barn, making it easy to believe it was a preexisting structure rehabbed and reimagined to form an extraordinary new setting. From within, however, the space imparts a rugged glamour. The resident served as the interior designer, and she expertly juxtaposed antiques and found and salvaged elements with items of restrained luxury. Custom milled antique beams from a former barn in Pennsylvania (softened by a curving bracket) were used on the trusses, while reclaimed painted boards grace the ceiling, in the same warm and earthy color palette of the stone fireplace. Antique oak was used for the flooring, and a reclaimed barn door slides to conceal the coffee and wine bar when it's not in use.
Dramatic chandeliers and lighting fixtures, a gleaming kitchen and a custom multi-fold door that opens to the harbor deliver a dash of opulence and a festive bearing. The setting truly shines when it's being enjoyed. Offers Paul, "The homeowners really use the house, and to see it full of people, is a pleasure."
Intimate family room and hearth…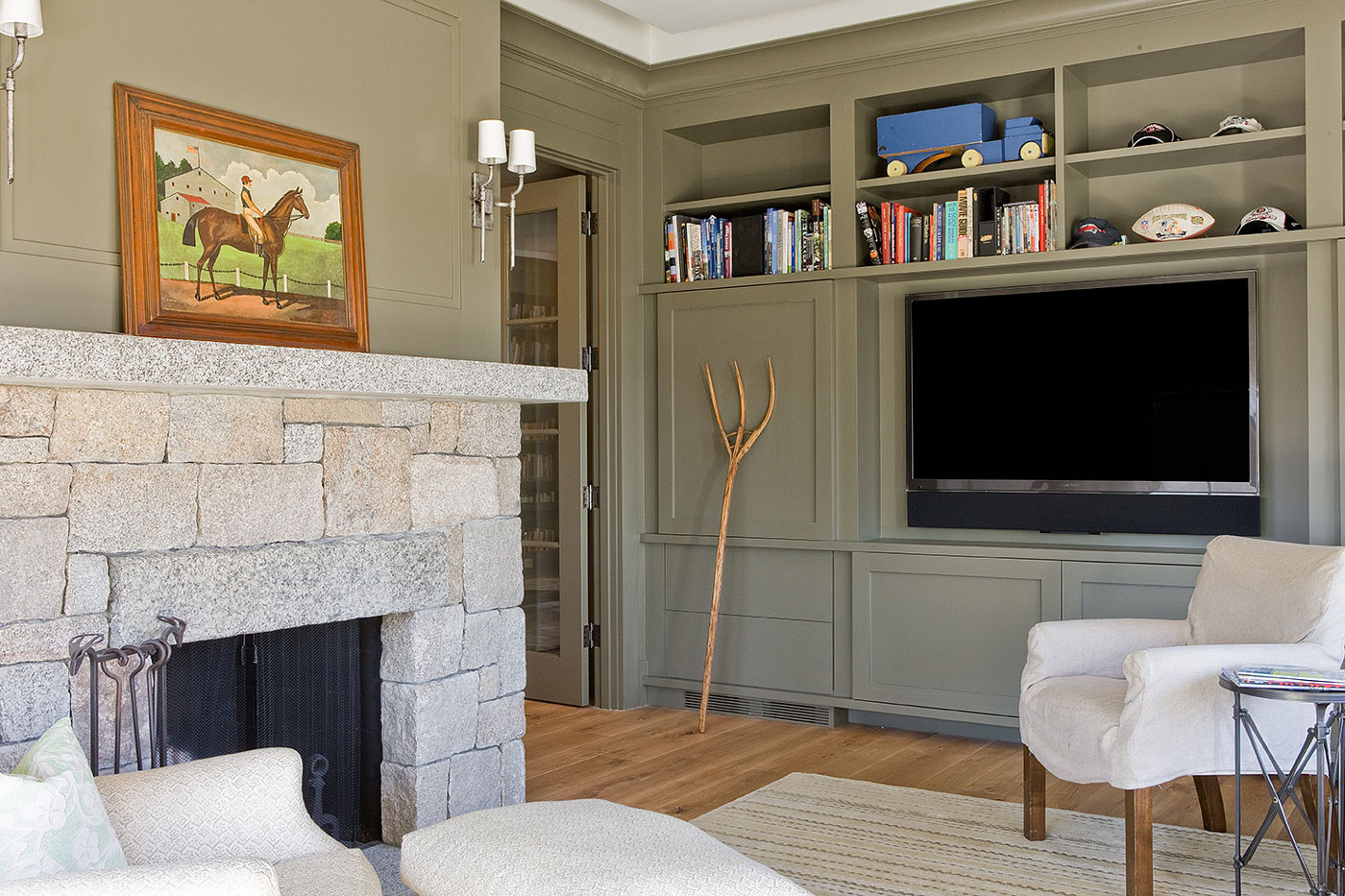 Builder: Brookes + Hill Custom Builders; architecture: D. Michael Collins Architects; interior design: Beauchemin Grassi Interiors; photo by Michael J. Lee Photography.
This granite hearth warms a transitional sitting room/family room in a Lexington home crafted by custom builder Brookes + Hill Custom Builders, perched high above the street and overlooking a rocky cliff. Its hearty presence serves as a counterpoint to the space's moss-green, clean-lined cabinetry, anchoring the environs and bringing a quiet sense of permanence. 
Timber frame master bedroom and bath...
Design: Worth & Wing; photo: David Welch Photography
This welcoming master bath and bedroom duo is representative of Worth & Wing's greater aesthetic; 99 percent of the residential and interior design firm's projects weave in an element that pays homage to the past. Incorporating an architectural salvage piece not only becomes a focal point, explains Principal Kristen Ellsworth-Wing, it also "reflects the bridge of the old and new." 
Such features bring character to new constructions, which "often are missing that warmth," she continues. Not here. In the above timber frame project, the client wanted to cultivate "a cozy gentleman's farm vibe," explains Co-Owner William Wing. The team answered by bringing in mismatched, multi-textured bedding, using a tin mantel with a wonderful cracked paint finish and wood bedposts that play up the volume of the space.
The master bath, just off the bedroom, also capitalizes on the height of the architecture, and features a crisp white claw-foot tub and a leaded glass window suspended from the ceiling to partition the toilet from the tub. Says William, "a lot of the detailing that Kristen does stems from the old cottages you find on Martha's Vineyard, making that bridge between the past and the present."
Hardy granite outdoor bar…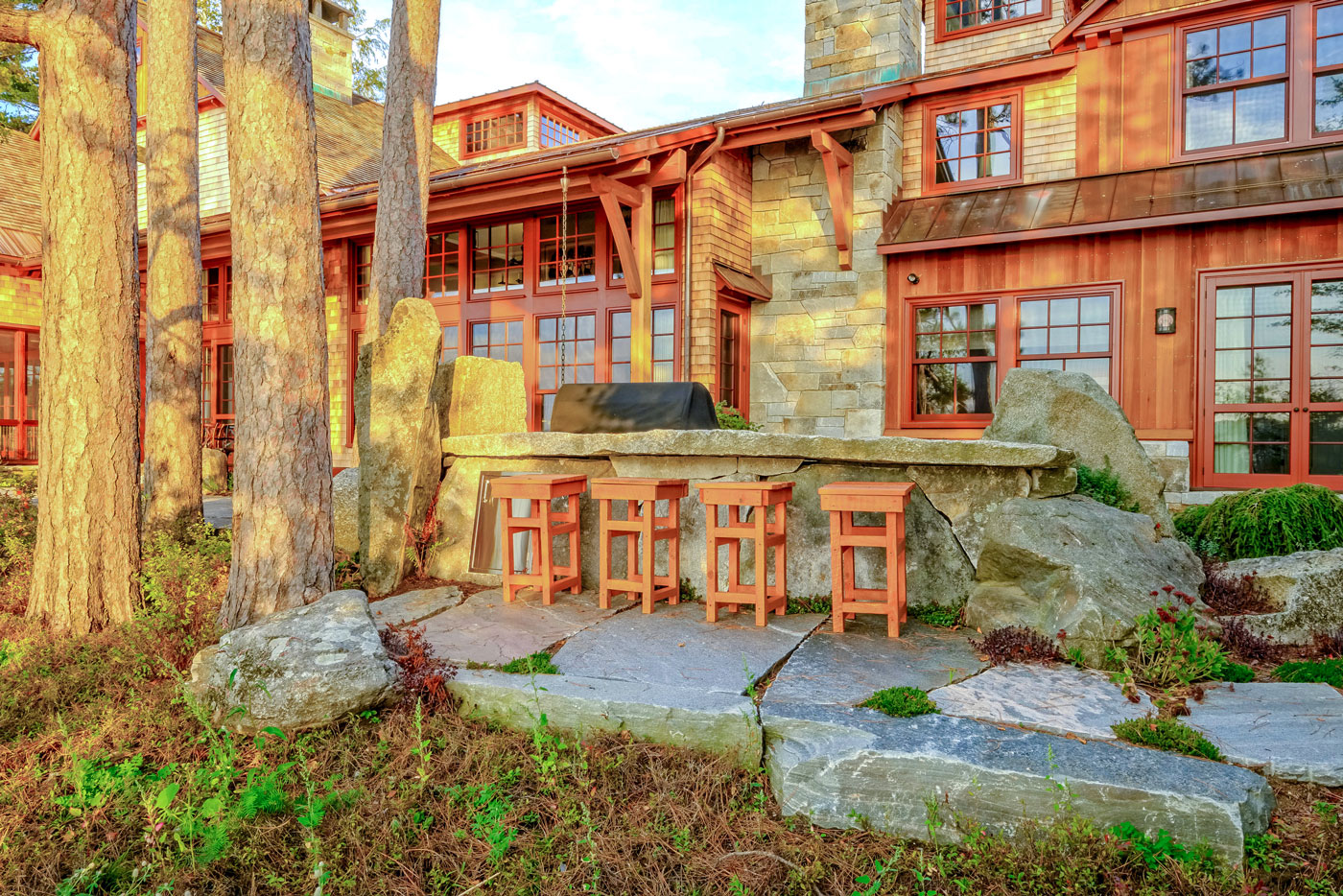 Landscape Builder/designer: Pellettieri Associates, Inc.
Granite State landscape design/build company Pellettieri Associates, Inc. takes its cues from nature, and this monolithic stone bar with an embedded grill seems to have emerged from the ledge surrounding Lake Sunapee. As shown by this sturdy and stunning hardscape, Pellettieri Associates, Inc. relies heavily on native granite when sourcing its enduring, sustainable projects. 
Top image: BPC Architecture; photo by Erin Engen.