July 1, 2020 | Sandy Giardi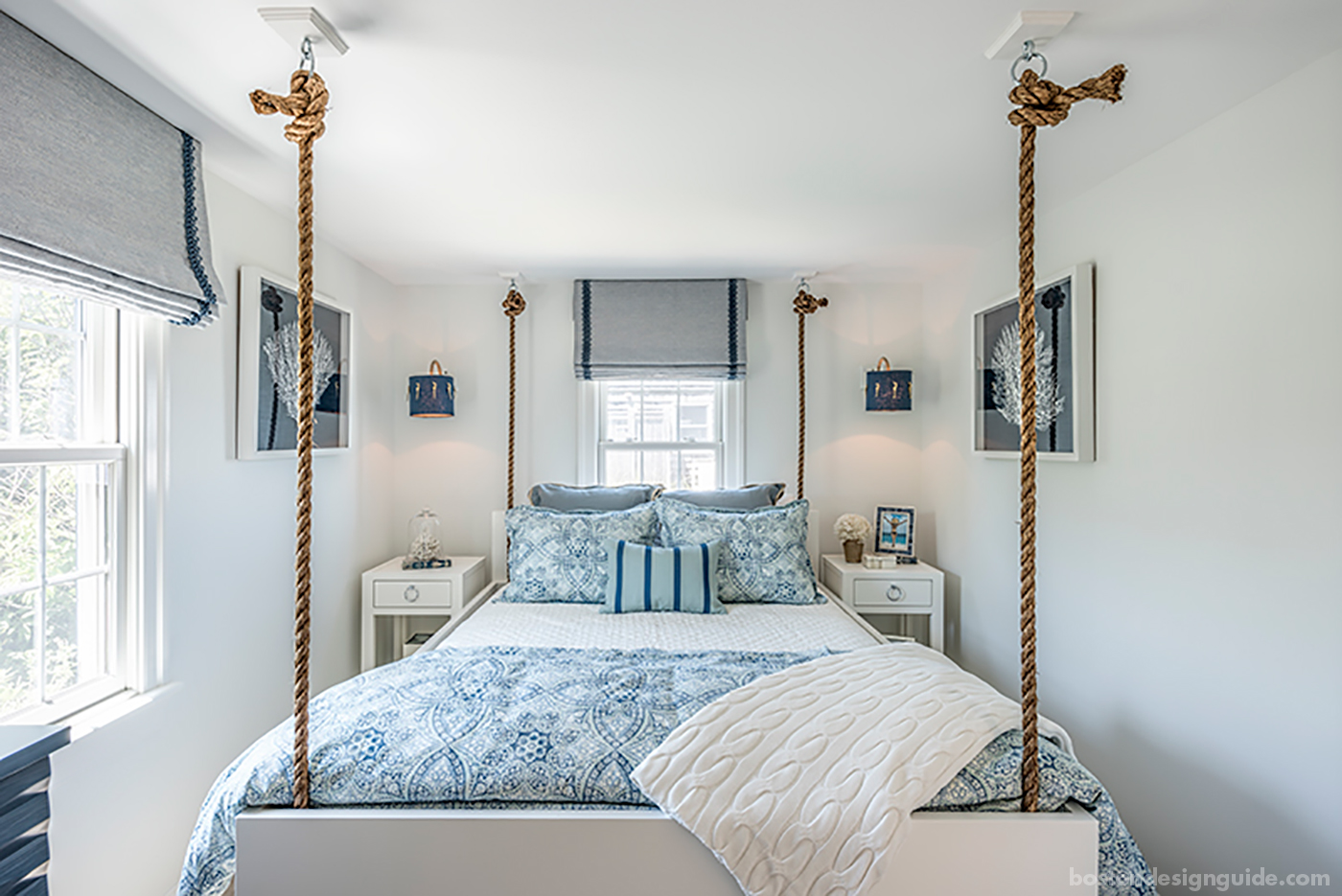 Recently, we've noticed that coastal interior designs are including hints of the rustic in their living spaces and using small measures of rope in their one-of-a-kind rooms. The hardy element is a perfect foil to the more polished features of a living space, establishing a sort of design tug-of-war that can be exceptionally enchanting.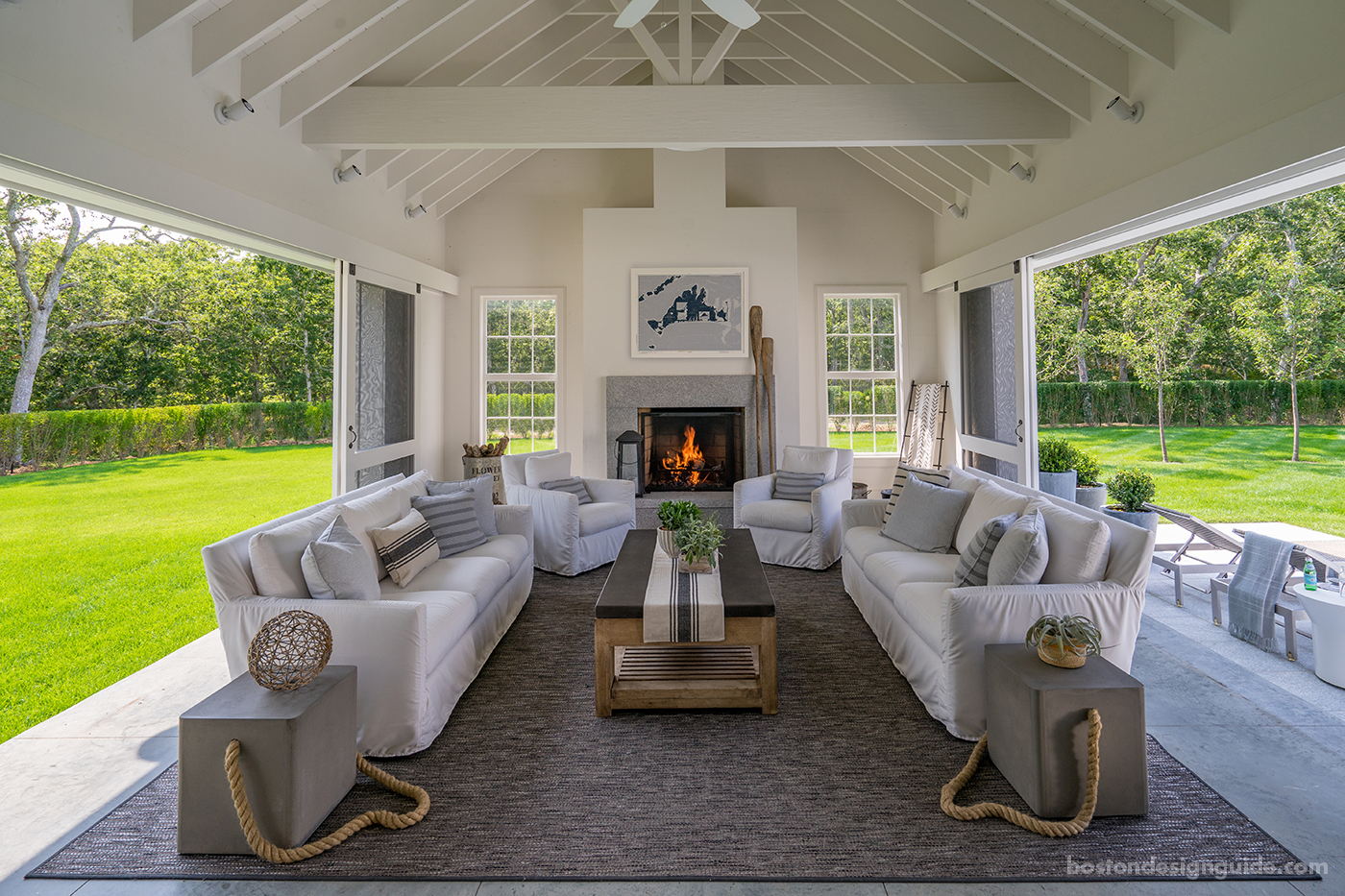 Interior design by Martha's Vineyard Interior Design; photo by Eric Roth
Liz Stiving-Nichols, Principal and Senior Designer of Martha's Vineyard Interior Design, explains that living and working in a coastal environment certainly serves as inspiration for many of her clients' homes. Her interior design studio "loves giving a subtle nod to our coastal surroundings without going overboard or worse…establishing a theme!" she offers, her advice priceless and pun right on point.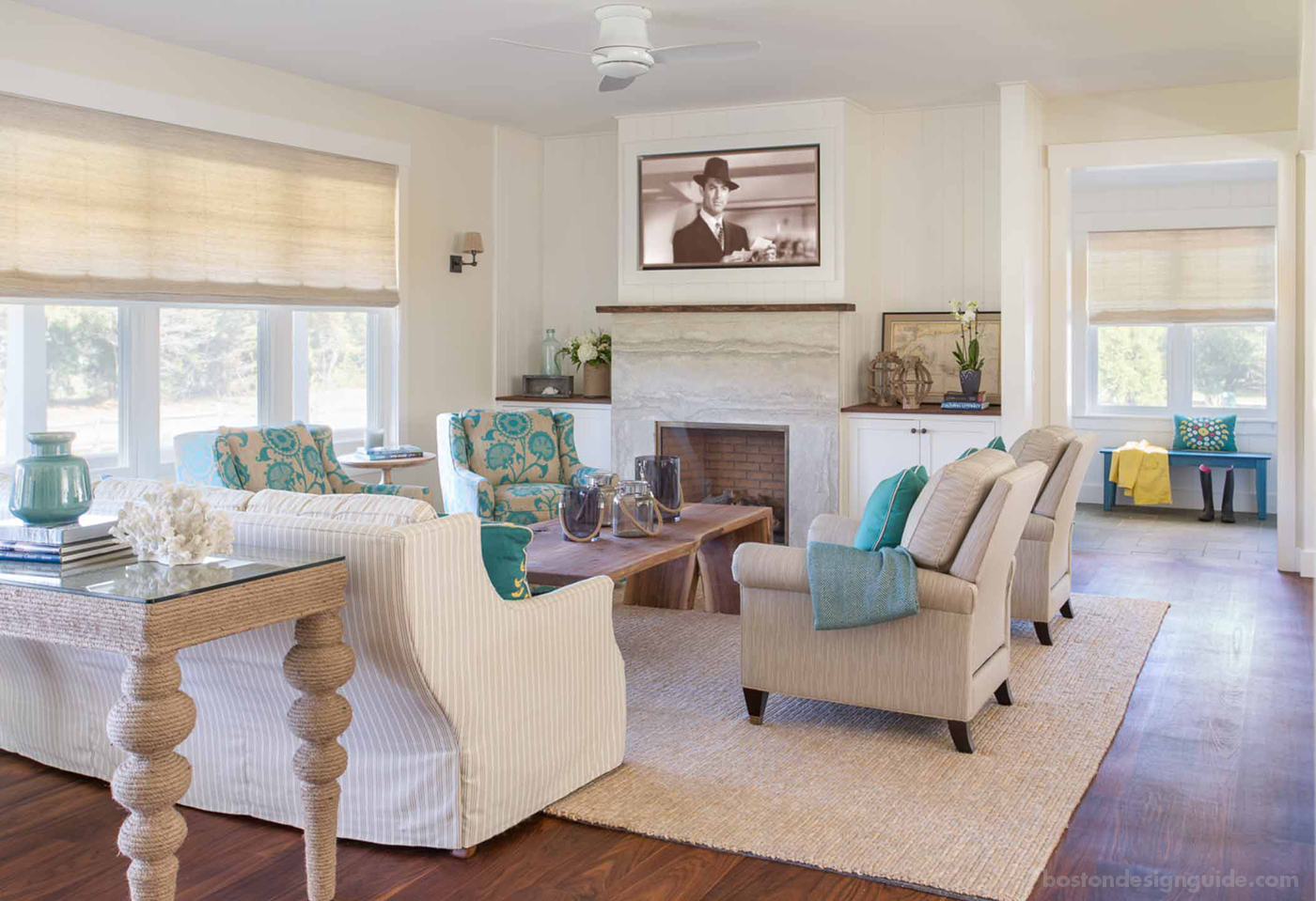 Interior design by Martha's Vineyard Interior Design; photo by Eric Roth
"When adding coastal elements, it's all about the subtleties and creating an effortless balance of textures and shapes," Stiving-Nichols continues. As in the case of the console table in the above design or the cement side tables/stools accented with rope in a poolside party barn shown earlier, "incorporating rustic rope within a more refined materials palette strikes that balance."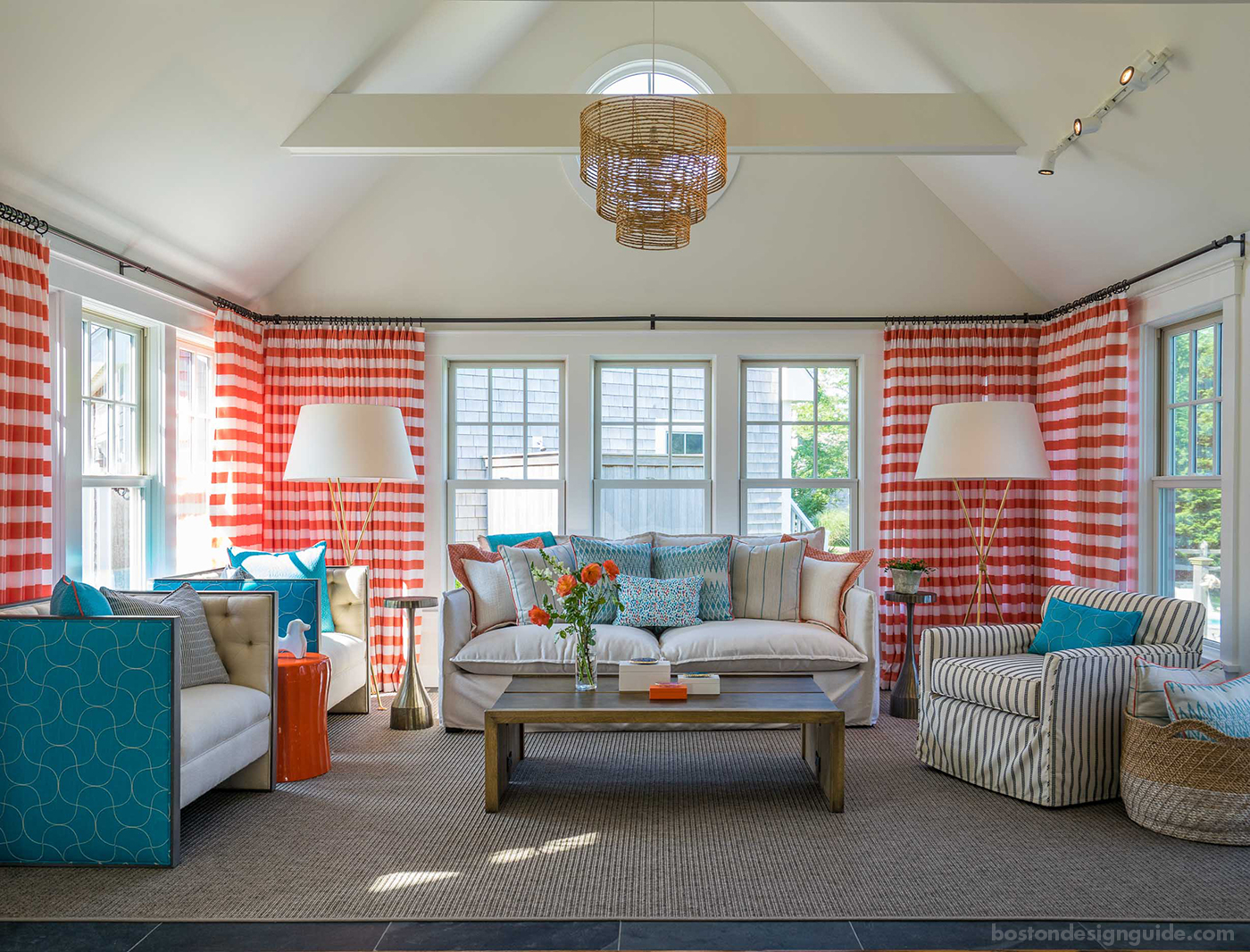 Interior design by Martha's Vineyard Interior Design; photo by Eric Roth
As a multidimensional neutral, rope lends itself to subdued color palettes and vibrant ones. In the above design for an Edgartown home, Stiving-Nichols brings in texture to the living space through the use of a three-tiered rope drum pendant light, and the teal-blue Kravet fabric with an embroidered rope detail that adorns the sides of the chairs.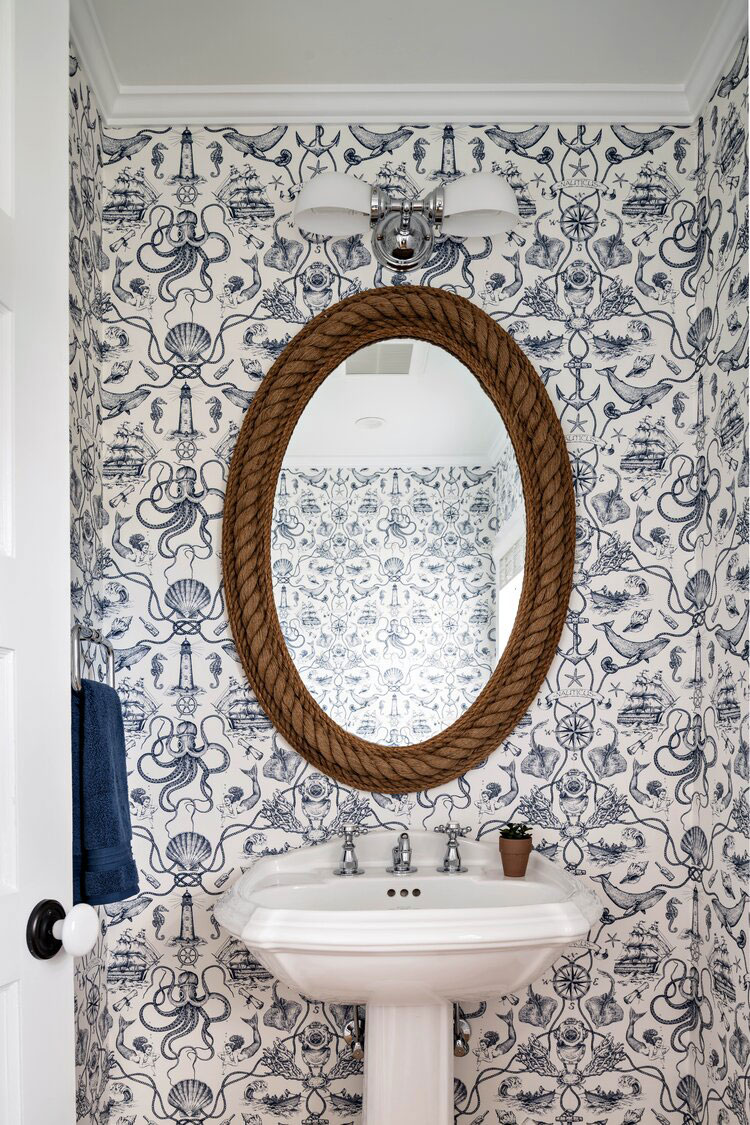 Interior design by Washashore Home; photo by Dan Cutrona
In a tiny powder bath conceived by Washashore Home, pictured above, a mirror framed with rope provides a spirited finish to fanciful blue and white wallpaper swimming with mermaids, octopi, whales and lighthouses. More cinnamon than driftwood in hue, "the rope mirror brings in a different layer of texture while still playing off the nautical theme," contends Owner and Designer Peyton Lambton, who heads up the design studio with fellow Owner/Designer Sarah Waldo. "We felt the paper and mirror were made for each other!"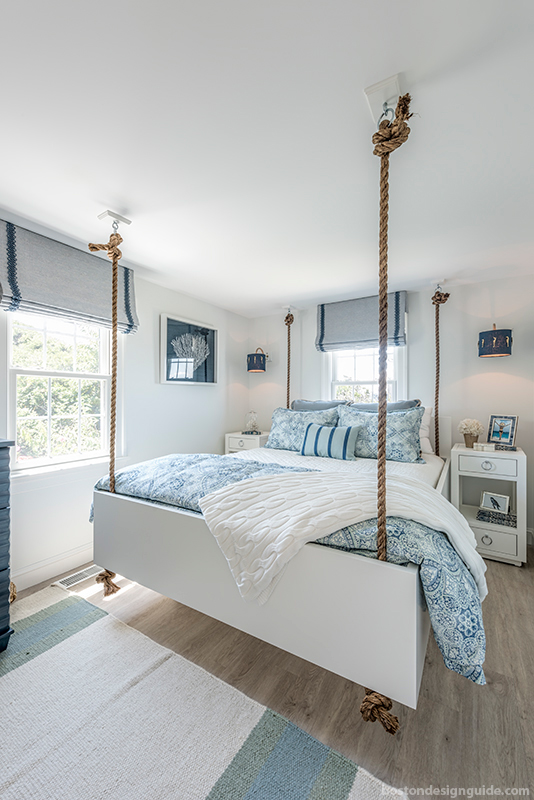 Interior design by Casabella Interiors; photo by Richard Gayle Photography
Rope also provided an extra bit of whimsy for another smaller-scale space, a guest bedroom designed by Casabella Interiors for a 1,008-square-foot, three-bedroom home that is literally on the beach, says owner Michele Chagnon-Holbrook. In a home this small, "every inch matters," says the designer; and, given that "you walk out from the deck to find your feet in the sand," so does every bedroom, she adds.
Due to a key window (which was moved to center with the bed), a headboard wouldn't work, explains Holbrook, so Casabella Interiors dreamed up a "suspended," queen-sized bed that reads like a swing, creating a look that is "sophisticated and ocean inspired, but not typical, like planks or shiplap," she says. The design studio crafted a stationary platform and affixed the box to the ceiling with knotted ropes and hooks. The firm was thoughtful in their approach; they purchased the rope from a marine store for authenticity, used hand knots and considered just the right gauge.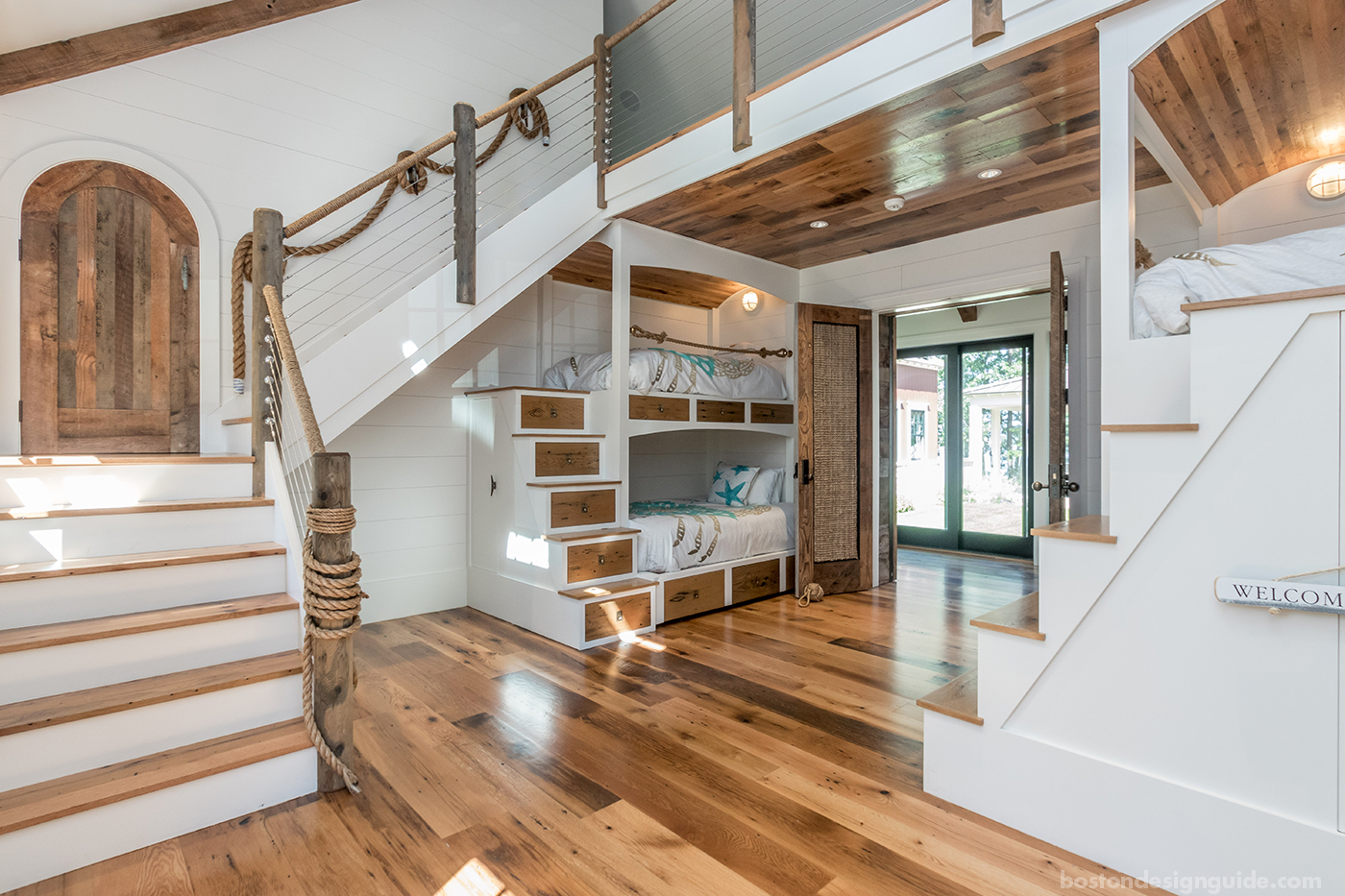 Designed by BPC Architecture + Interior Design
A Cape Cod bunk room, designed by BPC Architecture + Interior Design for younger swashbucklers, takes the virtues of rope, quite literally, to the next level. The architectural firm uses a few gauges of rope within the white-on-wood sleeping space, wrapping it around a pier newel post, the stair railing and running it right up to the loft.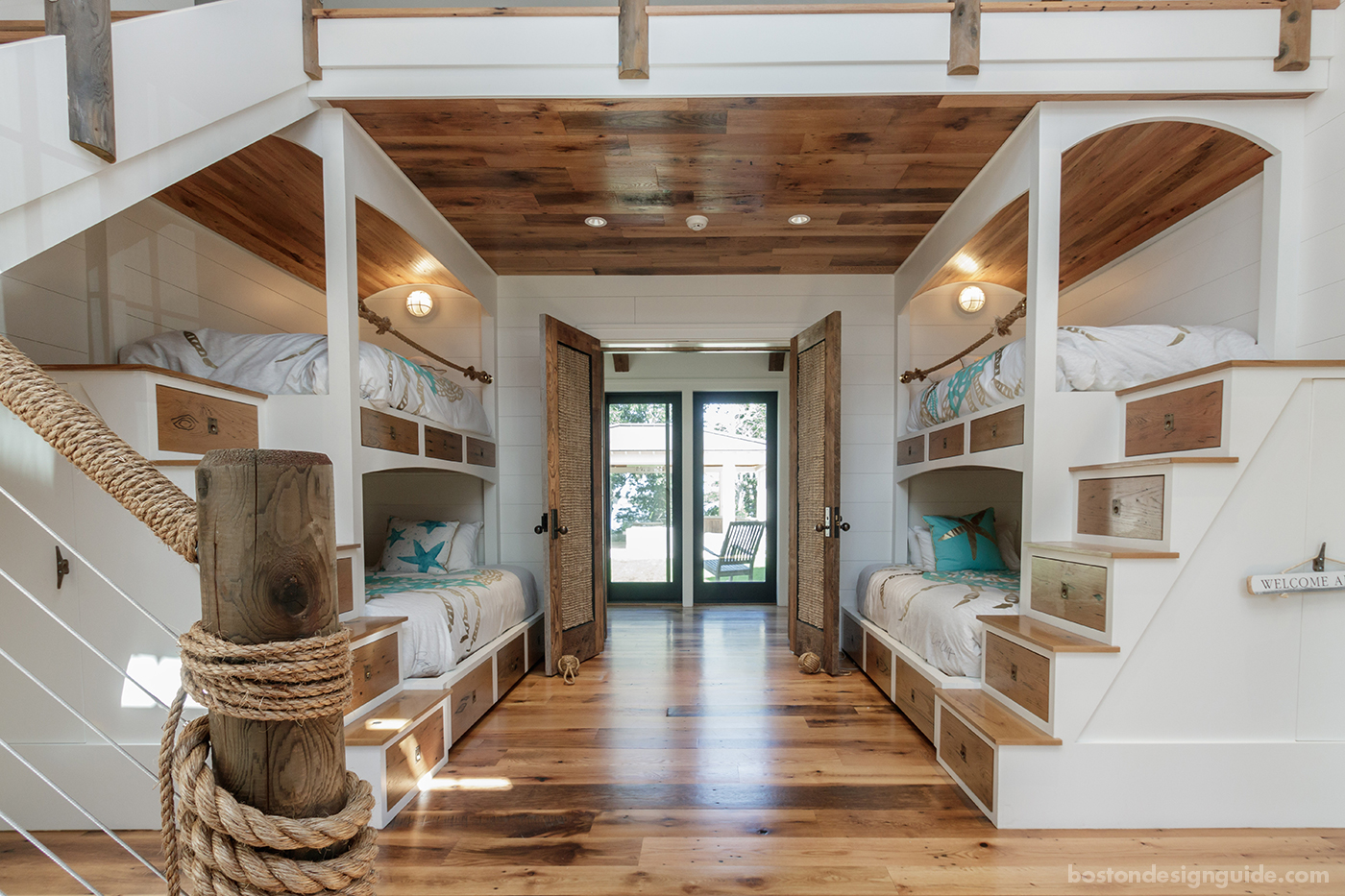 Designed by BPC Architecture + Interior Design
The rope's aesthetic is a natural with the bunk room's beautiful built-ins, wood flooring and ceiling, and the woven panels of the doors. It is functional, too; rope takes the form of monkey's fist doorstops at the foot of each door and as safety rails for the top bunks so that occupants won't go bump in the night.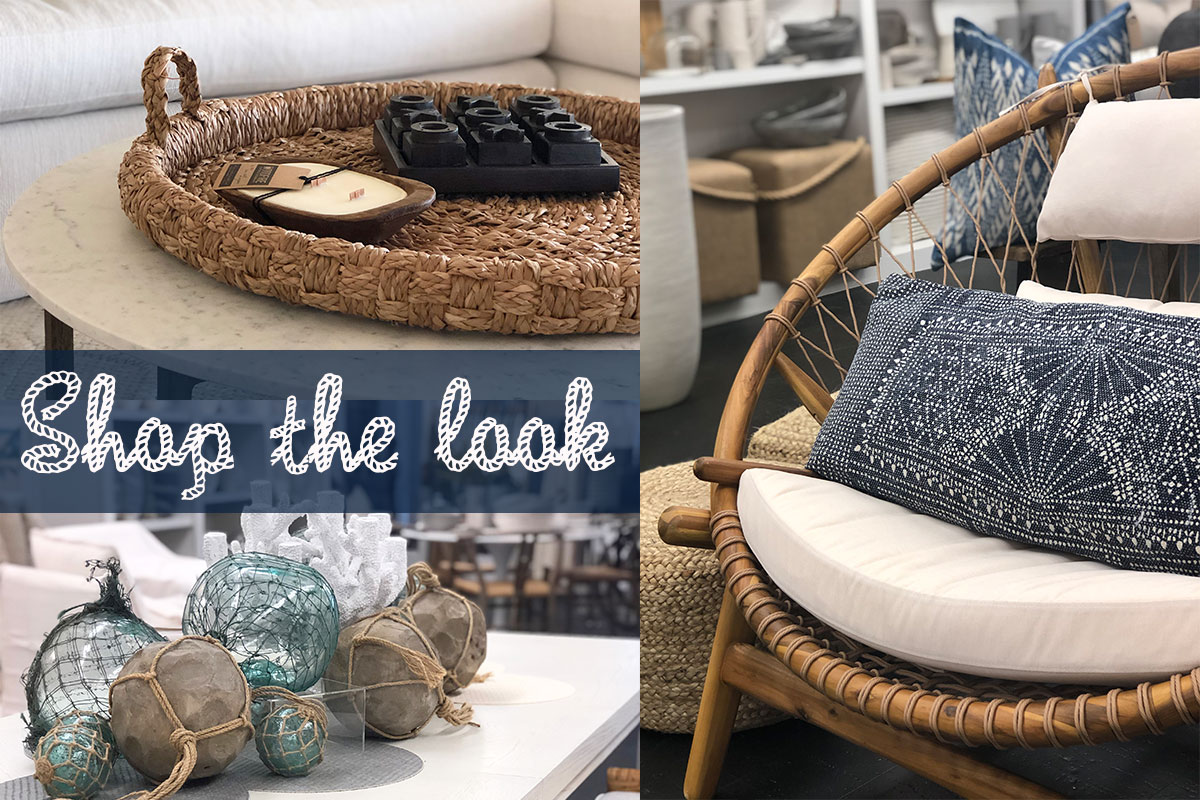 Bespoke Abode, a seasonal lifestyle boutique in the heart of Vineyard Haven founded by Martha's Vineyard Interior Design, features furniture, lamps and home accents that incorporate rope. The teak and rope hoop chairs, pictured above right, are wildly popular.
The shop is located at 56 Main Street, Vineyard Haven, and open daily from 10am-5pm.
Pictured top: Interior Design by Casabella Interiors; photography by Richard Gayle Photography