October 29, 2020 | Sandy Giardi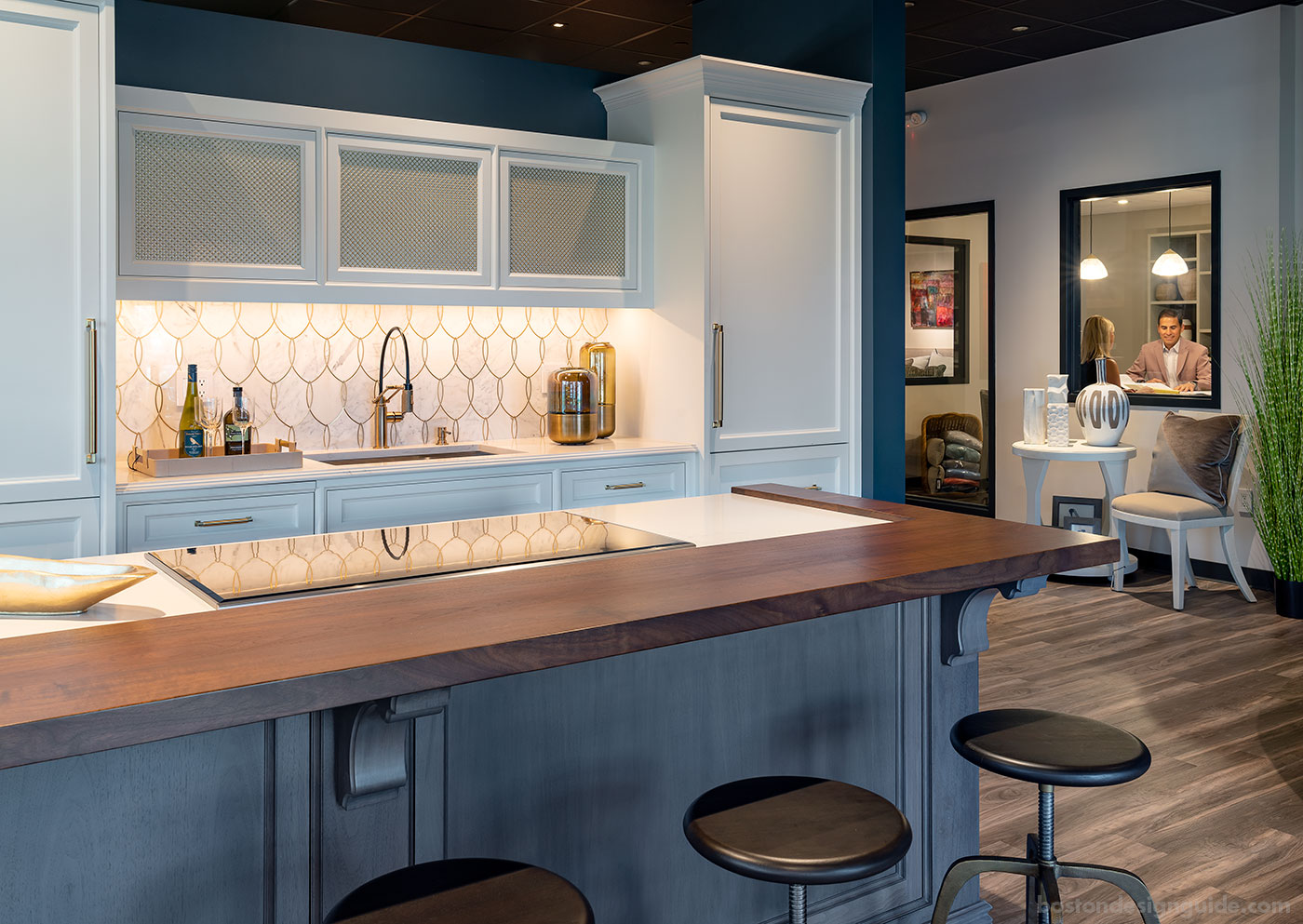 When we asked to profile Certified Master Kitchen and Bath Designer (CMKBD) Mark Haddad in his element, he naturally chose Interiology Design Co.'s Experience Studio in Watertown as the setting. The owner and his team work amid the studio's curated, comprehensive displays, a space brimming with design solutions for the whole home as well as one-of-kind accessories, upholstery, art and case goods.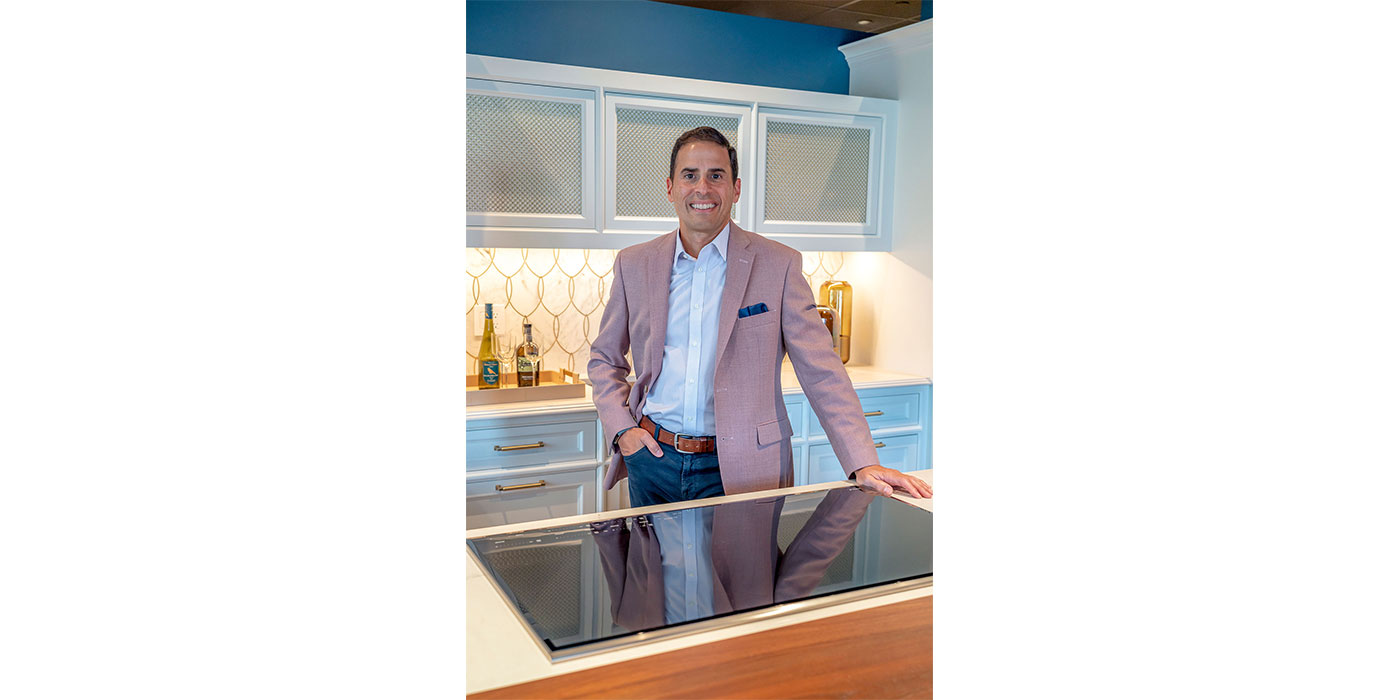 Interiology Design Co.'s impressive kitchen installations illuminate Haddad's 19-year depth of knowledge and coveted CMKBD level of certification—the industry's highest level, as it requires accredited instruction and rigorous ongoing education.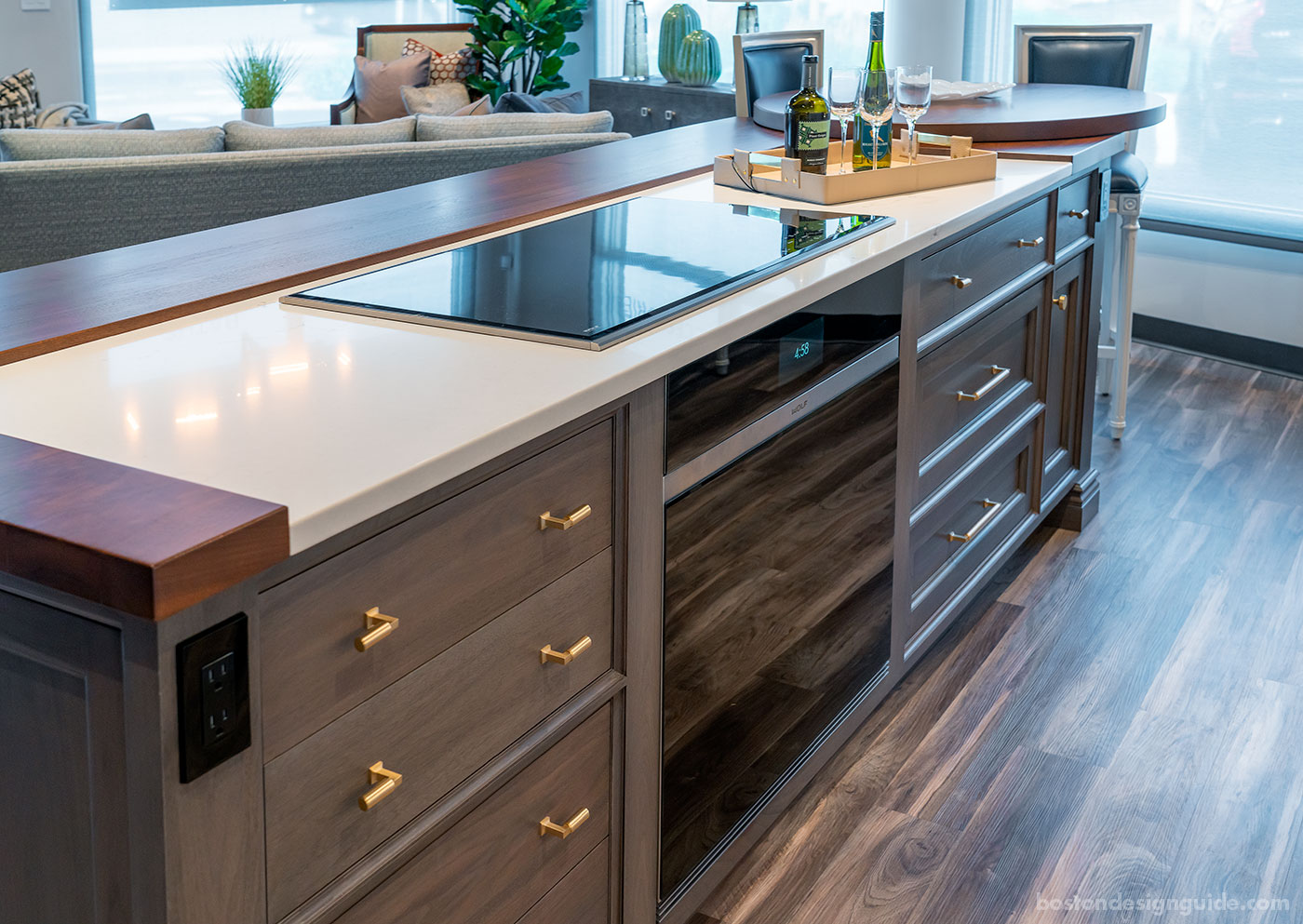 A fully operational Gourmet Kitchen (shown in the video below), situated in the front of the showroom, immediately impresses. A furniture-style walnut island—with a circular table extension that invites conversation—contains the cooktop, Wolf convection oven and warming drawer, and is packed with custom storage for pots and pans and knives.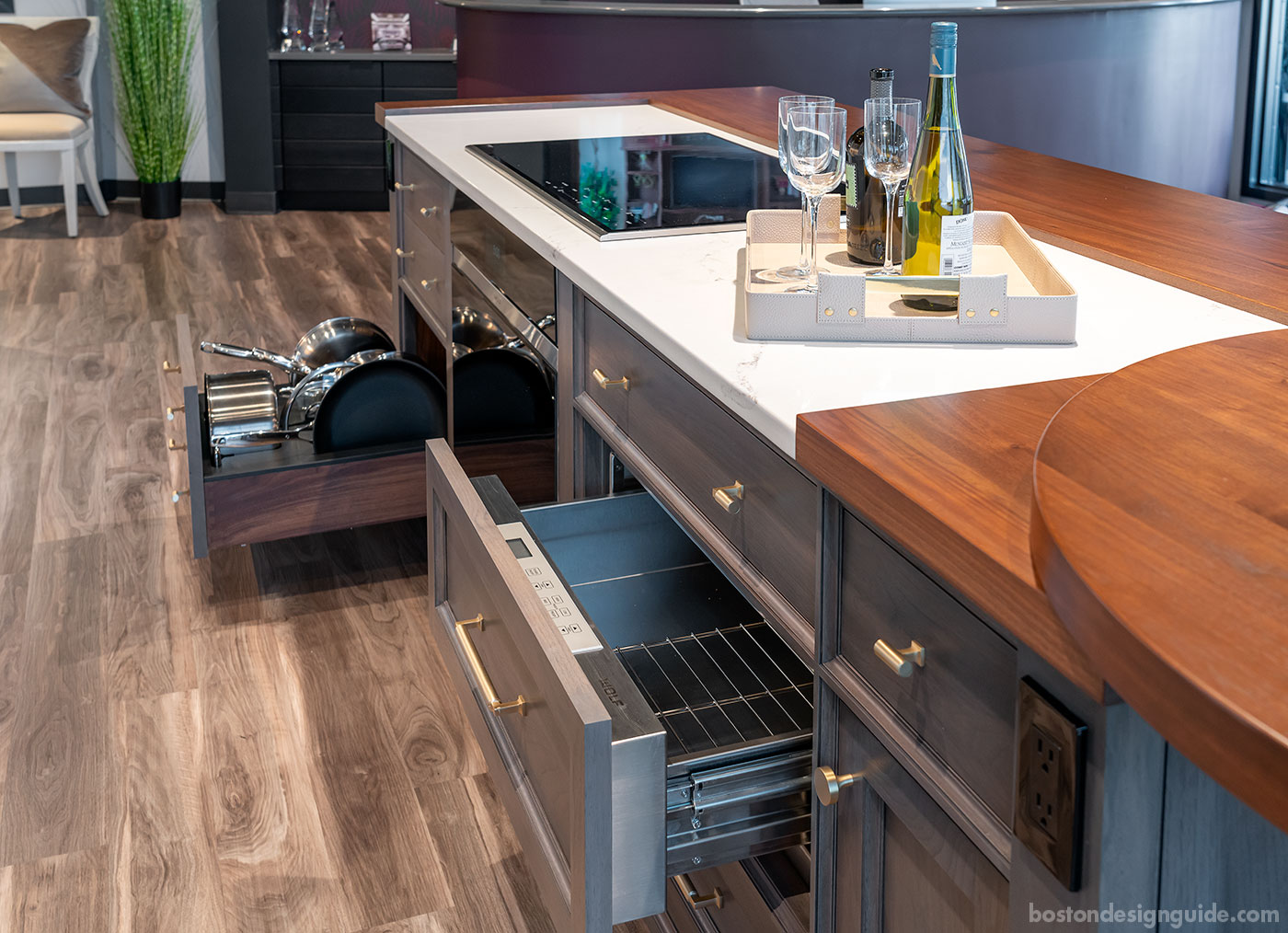 But it's the display's motorized cabinetry that Haddad lauds the most. The feature is ideal in kitchens with limited counter space, as it brings the doors up and out of the way, and allows home chefs to easily access fully opened cabinets when cooking. Ingredients are within arm's reach, but they're not taking up valuable space on your countertop. Take a look...
Homeowners with a penchant for modern design are taken by the contemporary "Coffee Kitchen," featuring Noisette cabinetry by Composit, a Caesarstone "Woodlands" counter with a Planter's Edge and a built-in pet station, which, says Haddad, are all the rage. Interiology is the first New England design studio to display Composit; the Italian cabinetry line is very popular in New York, Miami and LA.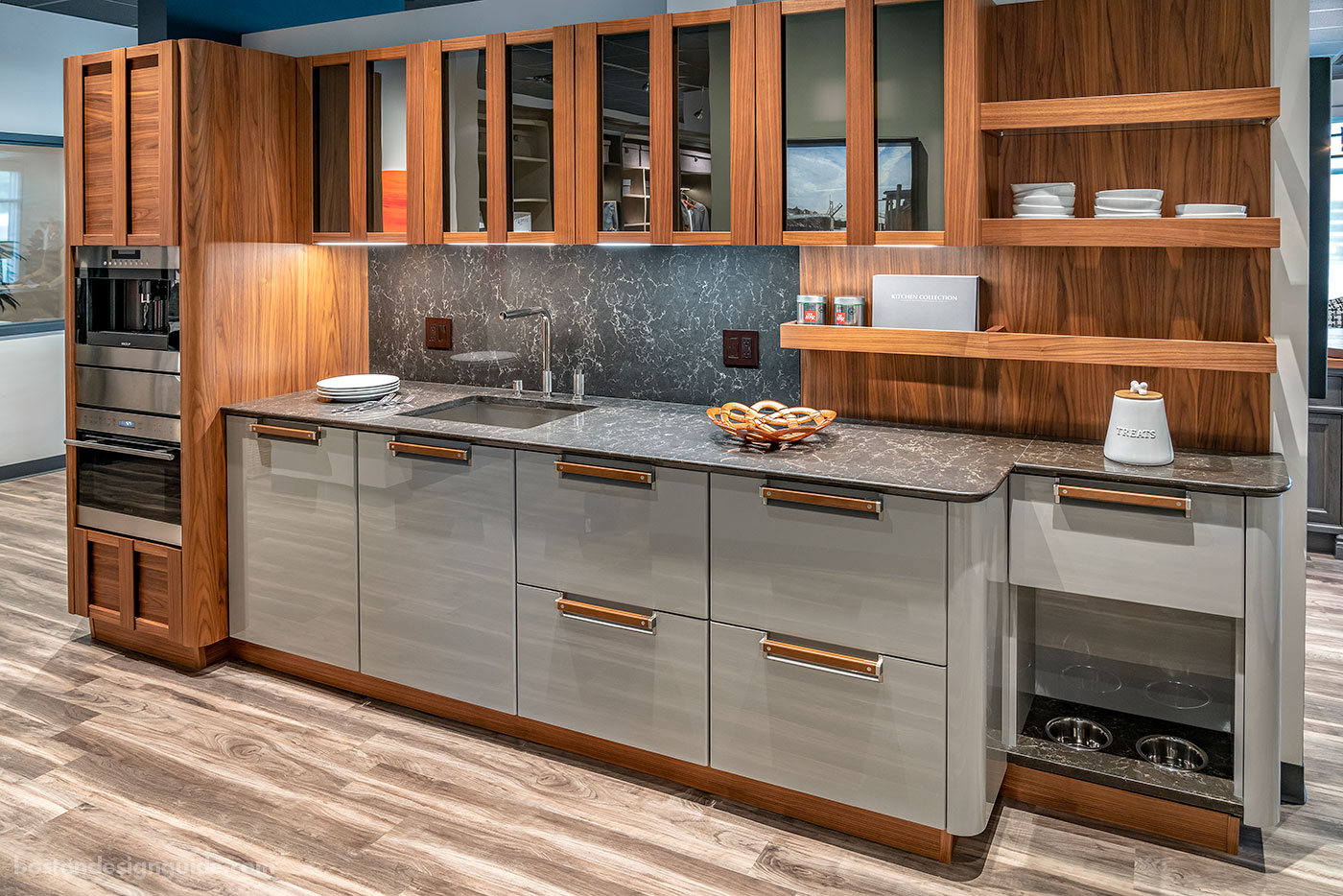 The white, high-gloss "Marilyn Kitchen" also features Composit cabinetry, though here, says Haddad, the designers incorporated a more traditional door style to achieve a transitional meets modern mix. This vignette features a Caesarstone "Pebble" counter with a waterfall edge, a glass backsplash with a "Sunshine" band and an ingenious LeMans Corner (pictured below left) with lighting and gliding shelves that maximize storage.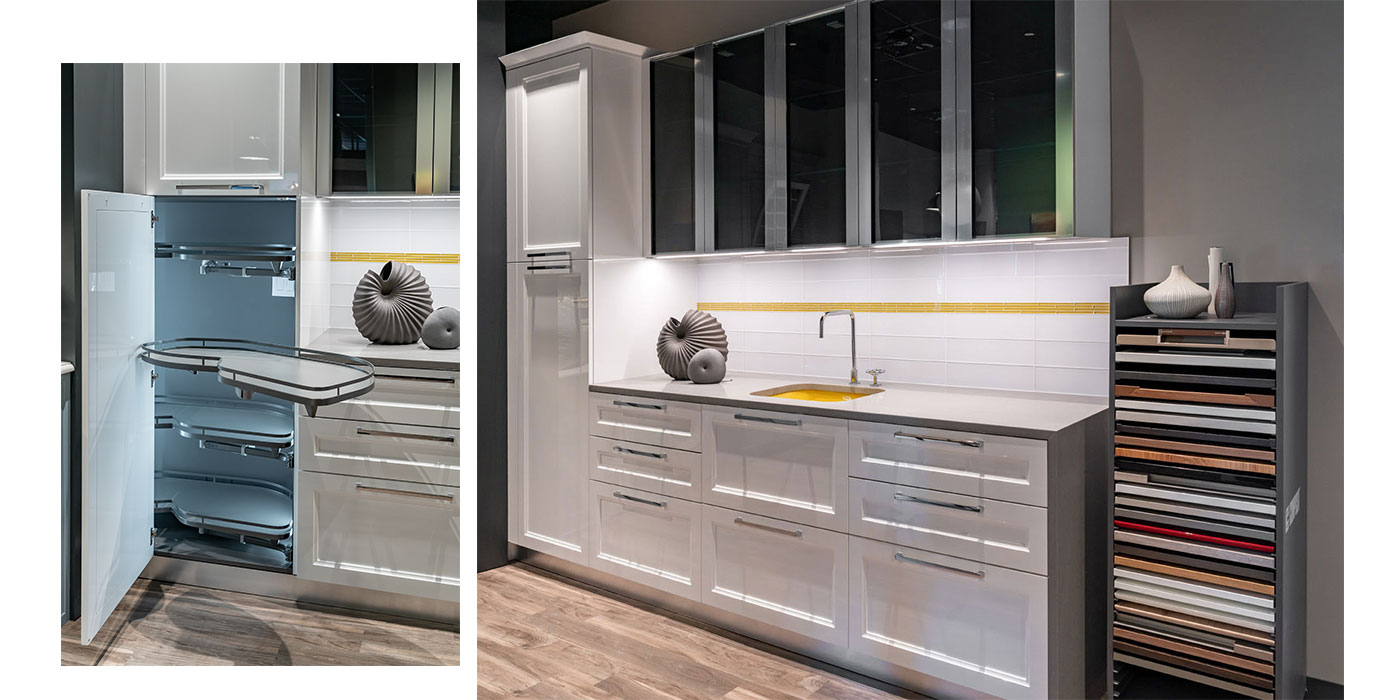 It is clear the studio is a winning resource for homeowners and trade professionals alike. Aside from the sexier considerations outlined above, kitchen design requires a thorough grasp of plumbing, electrical and structural aspects. "Designing a new kitchen is one of the most important investments you will make in your home," offers Haddad. "An NKBA (National Kitchen & Bath Association) certified designer expertly guides you through the process." 
Start your journey at The Experience Studio at 430 Main St. in Watertown or online at interiology.com.
Video and photography by Warren Patterson