January 7, 2019 | Sandy Giardi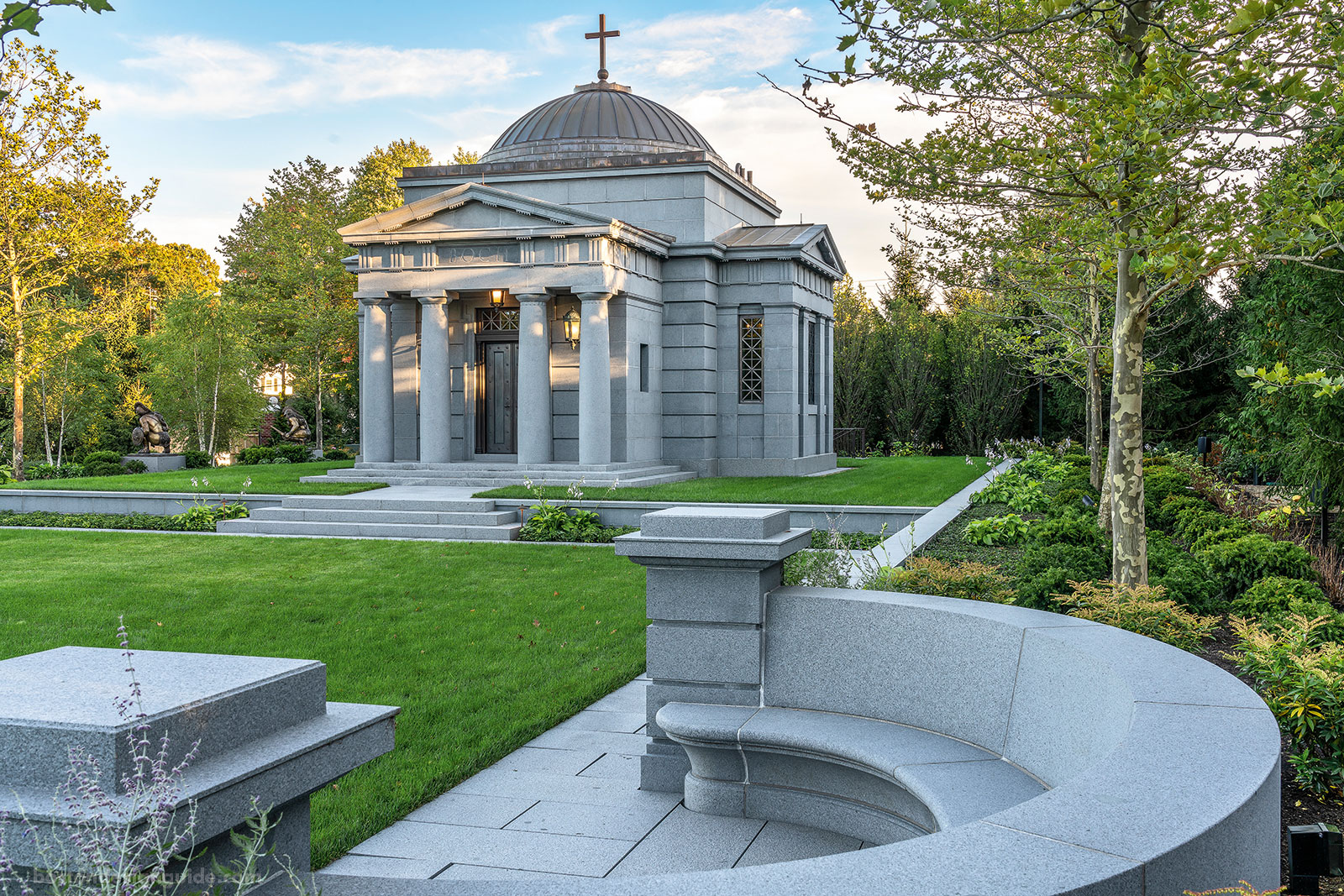 Not far from a busy, divided highway dotted with traffic lights and populated by strip malls and car dealerships, within a private block cloistered by hundreds of Norway spruce, is a garden for the ages. The extraordinary, expansive landscape, inspired in part by the vistas and terraces of the Dumbarton Oaks estate in Washington D.C., has an unmistakably European feel. Its series of structured yet intimate outdoor spaces, influenced by the surrounding architecture, and outlined with lattice brick walls, boxwoods and yew hedges, are something you might see on the continent, rather than Massachusetts.
"The entire grounds are traditional," explains landscape architect Brian Frazier of
Brian Frazier Design
, who began working on the initial phases of this property roughly 12 years ago in tandem with interior designer Anthony Catalfano of
Anthony Catalfano Interiors
, landscape contractor
R.P. Marzilli & Company
, architect Eric Daum of
Eric Inman Daum Architect
, LLC and built by
KVC Builders
. This site—and home—are not what you might expect from owner Ernie Boch, Jr., an auto czar, musician and philanthropist who, says Frazier, "looks like 'rock n' roll." 
And, while the president and CEO of
Subaru of New England
may have rock-star status in Boston as a fierce
advocate for the arts, music and culture
, his taste, at least in the case of his one-of-a-kind grounds, runs to the impeccably classic and refined. Which is not to say that there isn't something wonderfully outlandish about the latest phase of his property now reaching completion, the crown jewel of which is a garden pavilion where members of Boch's family are interred and remembered, and where he plans to be laid to rest.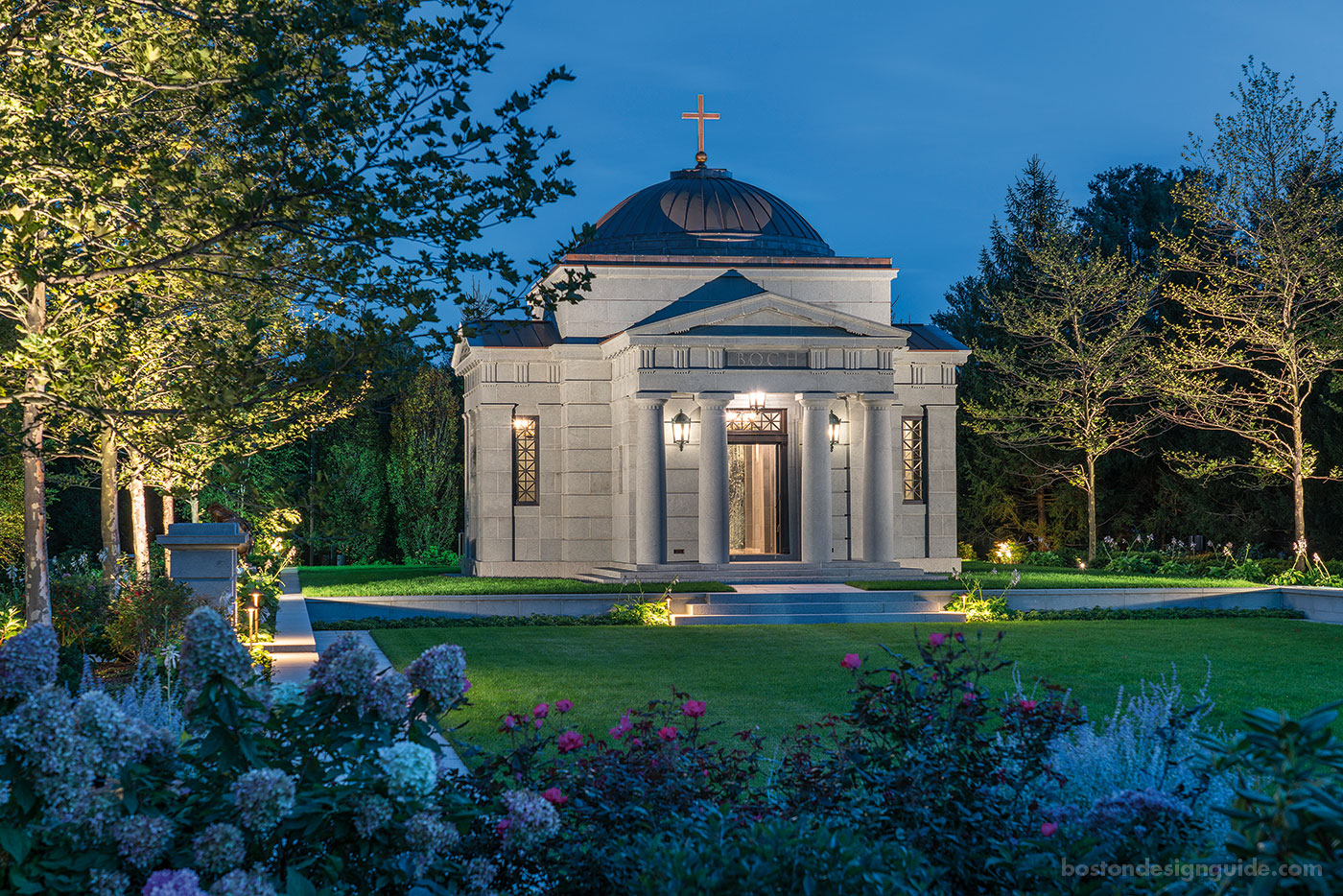 London planetrees set up the view, says Frazier, and "make it a special place." Initially, Frazier considered a reflecting pool, but Boch preferred a sunken lawn. Boch also insisted on a copper cross to crown the garden pavilion, rather than gold leaf, for an integrated, subtle effect.
The idea arose from a very practical purpose, explains Ernie Boch, Jr. "Statistics show that 80 percent of Americans have no plan for when they die. I'm not talking about wills," he says emphatically, "I'm talking about what they plan to do with their body." Couple that with the fact that town cemeteries are getting full, and Boch felt compelled to take matters into his own hands. Beautifully. 
He visited mausoleums all over the world—Europe, New Orleans, and, closer by, Brookline—to get ideas for his garden pavilion, and then assembled the finest team possible, he says, "to run with it." Daum's contemporary classical design, Catalfano's flawless counsel and Frazier's vision for the landscape and pebble terrace took the project to higher ground. It is a site created to endure, with a level of complexity and aestheticism that the team as a whole has rarely—if ever—experienced before.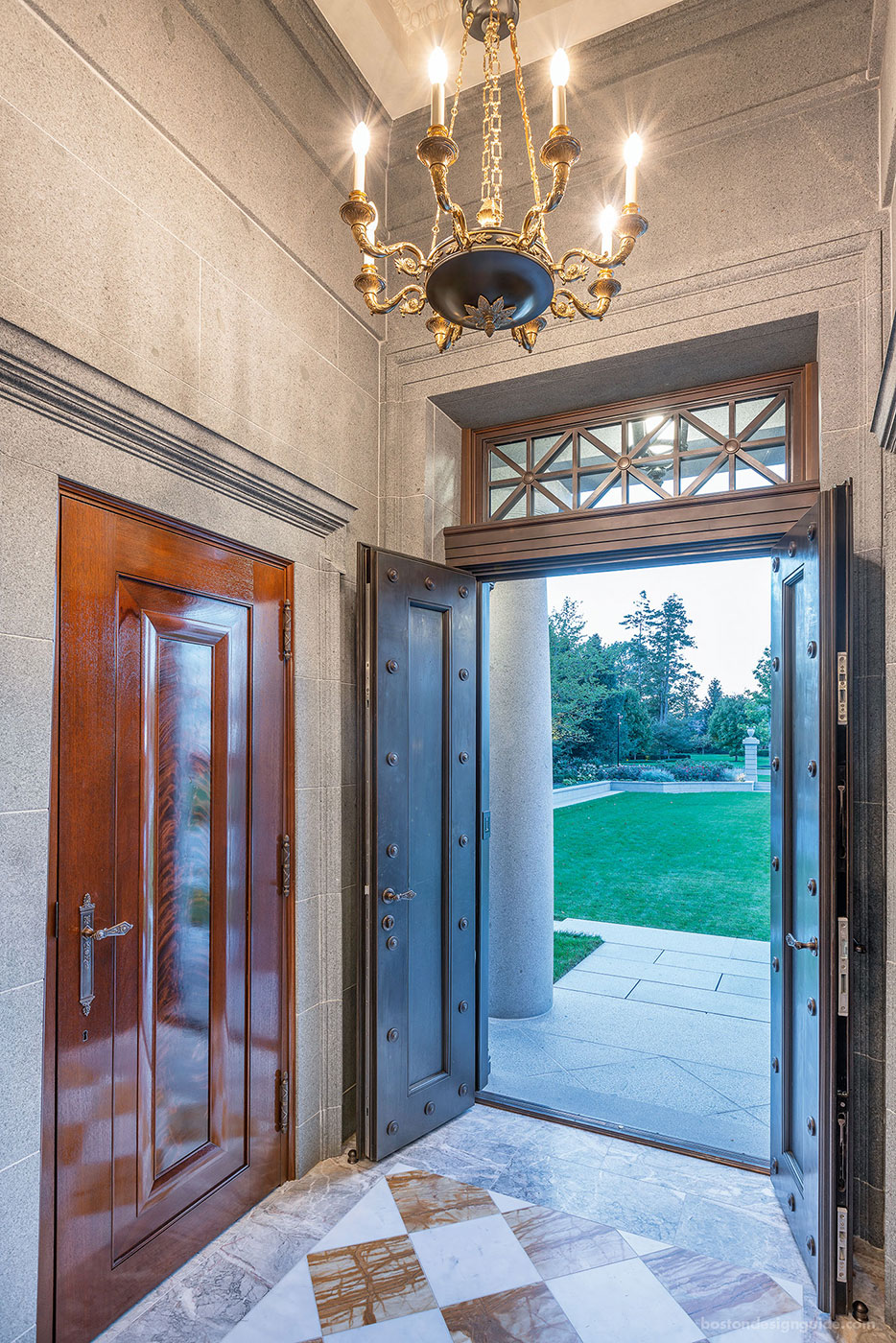 The main door to the building is custom bronze by Tishchler Und Sohn. The bronze door surround, which proved to be exceptionally tricky, were designed, fabricated, finished and installed by Wiemann Metalcraft. The interior door is mahogany with a crotch veneer panel fabricated by South Shore Millwork.
Daum's contemporary temple, a robust and instantly iconic vision in ashlar charcoal granite (selected for its kinship to Quincy granite) by
Kenneth Castellucci & Associates, Inc. 
harkens back to a long tradition of classical architecture, with the Greek Doric style its governing order. Its main volume is a cube, anointed by a hemispherical dome sheathed in standing-seam copper sheeting. Four wings project outward to the "cardinal points of the compass," explains Daum, and bronze doors and windows, fabricated by the renowned Tishchler Und Sohn, let in the landscape.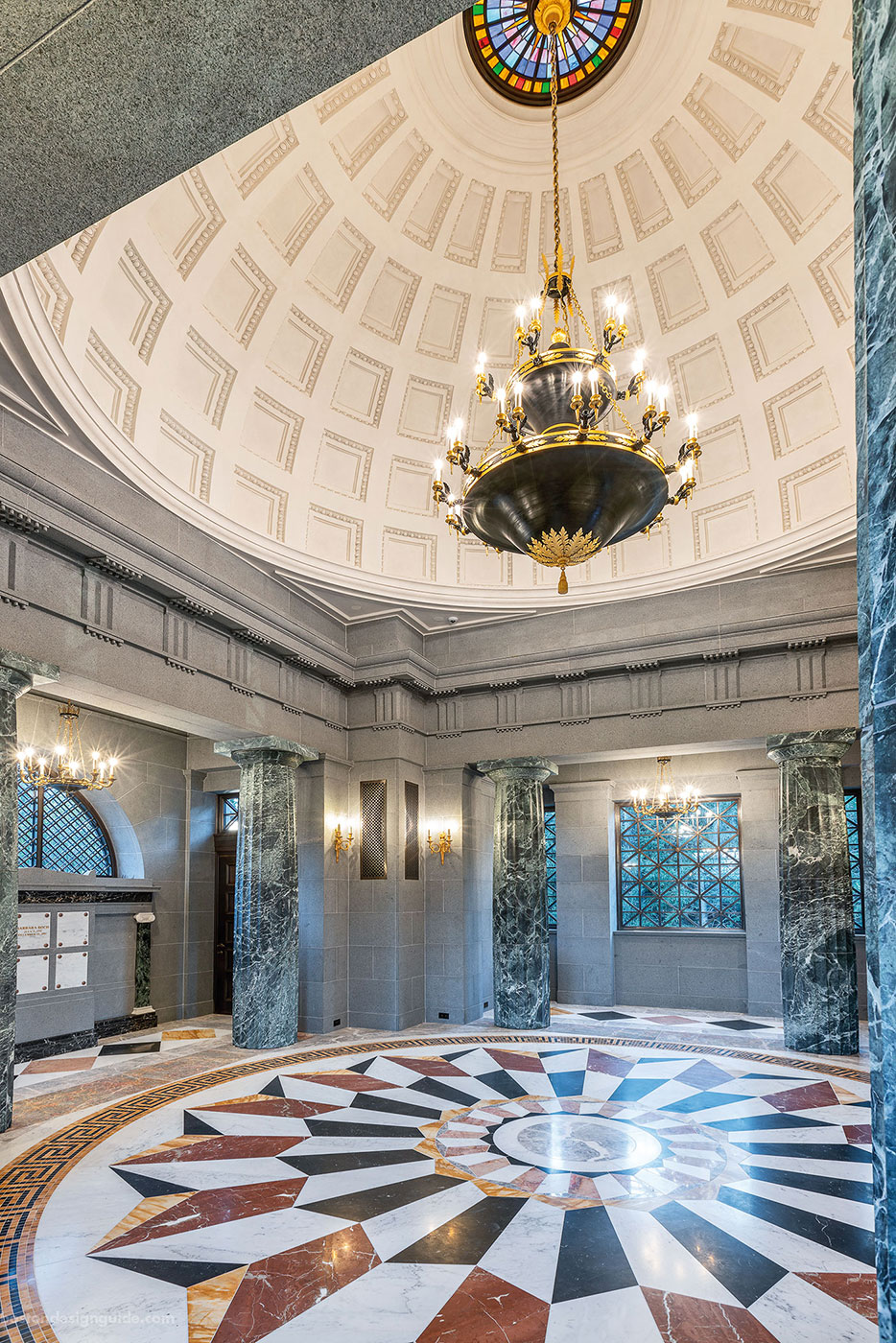 The coffered dome has 24 bays symbolizing the hours of the day and a bronze laylight in a sunburst pattern designed, fabricated, finished and installed by Wiemann Metalcraft. The marble floor was cut and carved in Italy and dry assembled as a mockup before it was shipped over. The interior columns are fluted and composed of stacked segments of Verdi Alpi Marble. The marble floor, columns and inscription tables were furnished and installed by Kenneth Castellucci & Associates, Inc.
The interior has an exalted, jewel-like bearing, with
natural stone work
 by
Kenneth Castellucci & Associates, Inc.
, including flooring composed of nine different marbles. A luminous stained glass laylight within the center of the dome draws the eye heavenward, its profusion of pinks and blues representing the evening sky and, at its center, the setting sun. Empire influenced chandeliers add further drama to the space.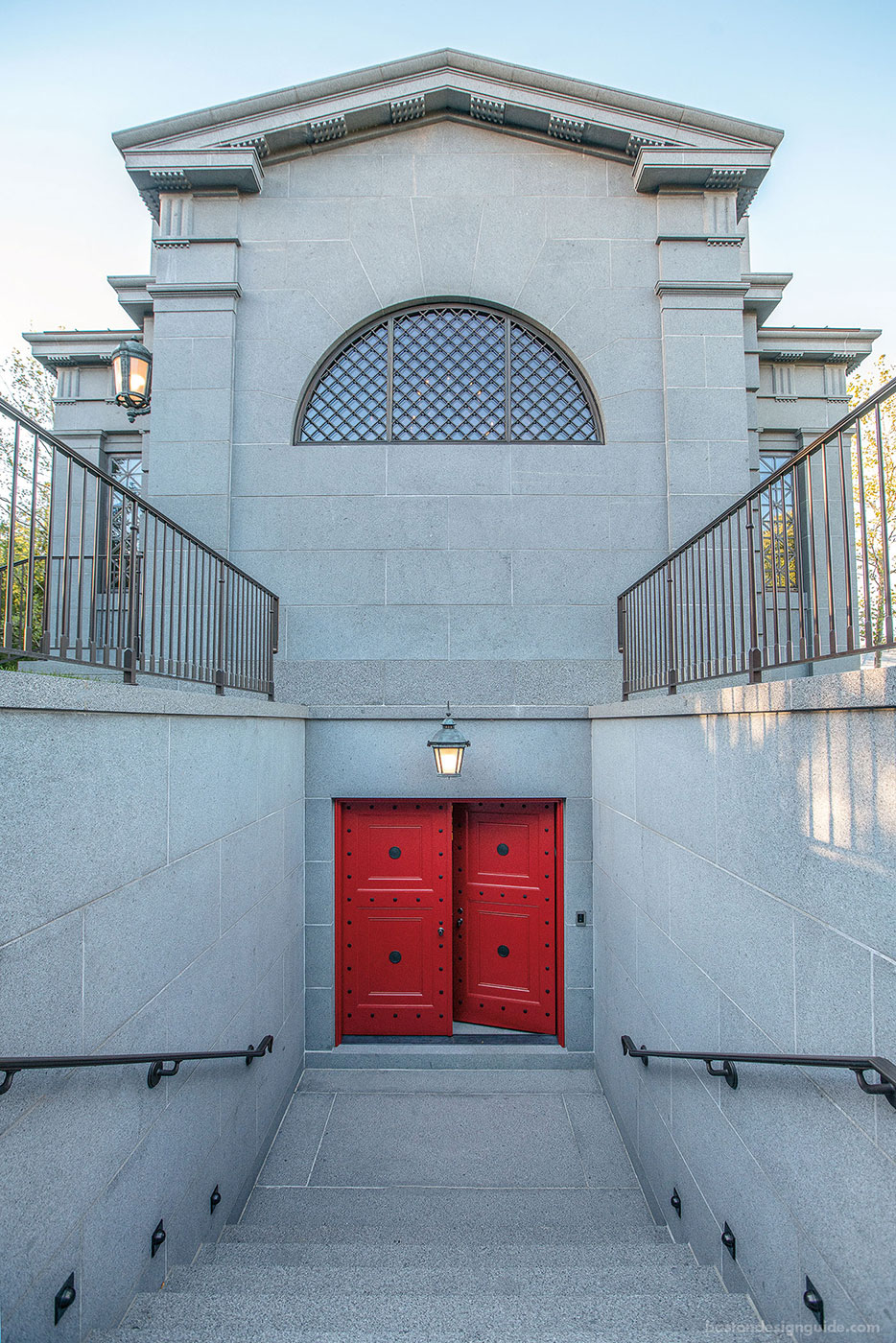 Kenneth Castellucci & Associates, Inc. did all the exterior granite cladding as well as the landscaping walls. Charcoal Gray Coldspring granite stairs descend to the crypt, which is marked by a red door. The custom bronze railings and vents are by Wiemann Metalwork.
While the upper sanctuary "celebrates the cycle of life," says Daum, the crypt below, accessed by stairs, signifies life's transience. Swathed in shades of grey, black and gold, it strikes a rich but solemn chord. Its rounded columns, which, says Frazier, aren't a necessity as the structure is so well built, look to be heavy with grief. "They're just ominous," says Boch. That's the only word for it."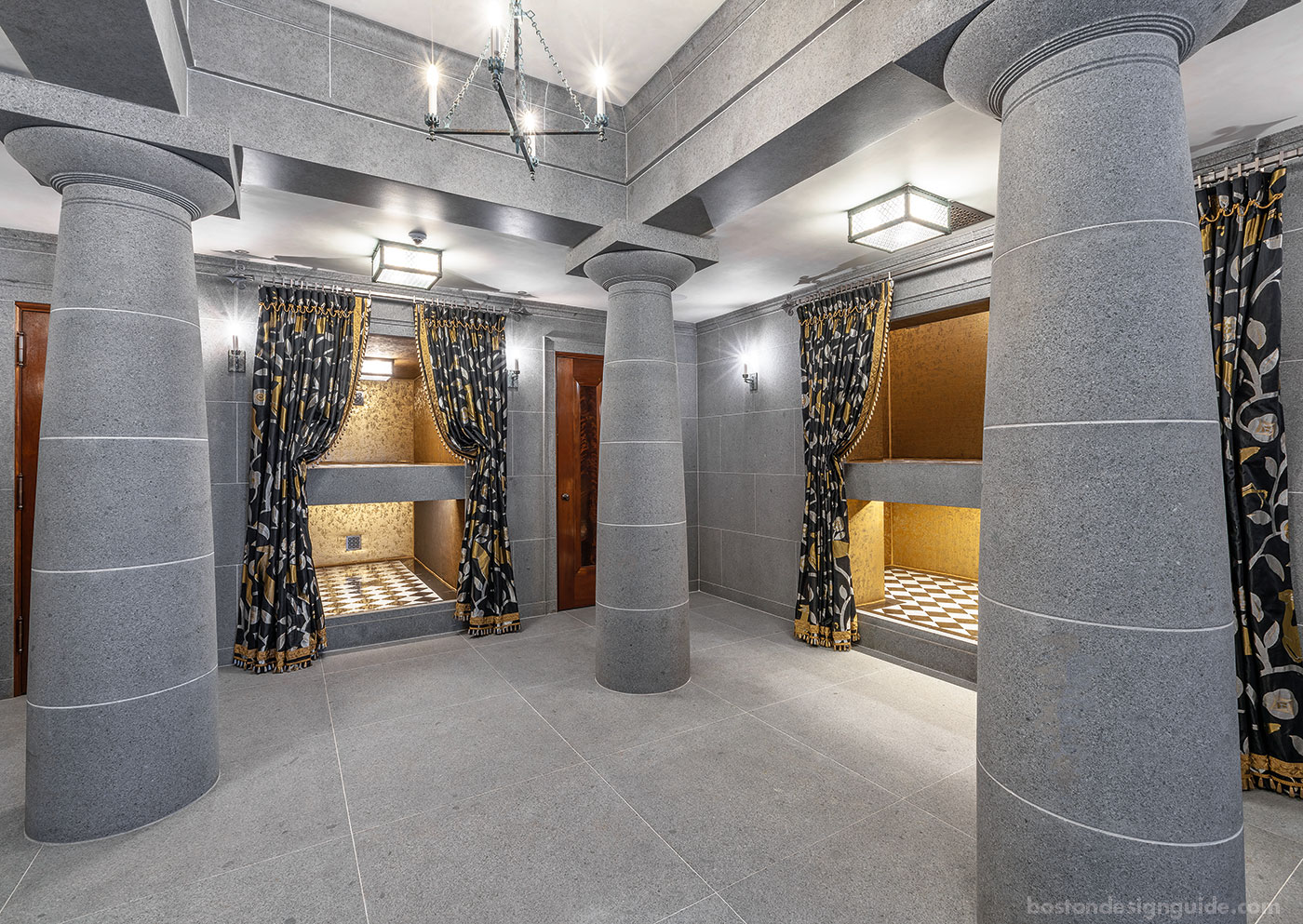 The hypostyle hall has four columns that suggest the weight of mourning in the sanctuary. Each chamber features fabric, fur and a curtain. "It's a very quiet and somber experience," says Boch. 
Directly on axis and embedded within the landscape, lies the pebble terrace, designed by Frazier and handcrafted by R.P. Marzilli & Company. Comprised of contrasting black and white Mexican beach stones hand-picked for size and length, the curving, flat terrace paves a singular path to the pavilion. Layers of taxus, hydrangea, Russian sage and boxwood surrounding the terrace are integral to the design. The plantings soften the stonework, "creating spaces that are warm and inviting," says project manager Chris Johnson of R.P. Marzilli & Company. "While the hardscape work is one-of-a-kind and unique, it would be nothing without the other layers," he continues, and the seamless and systematic terrain.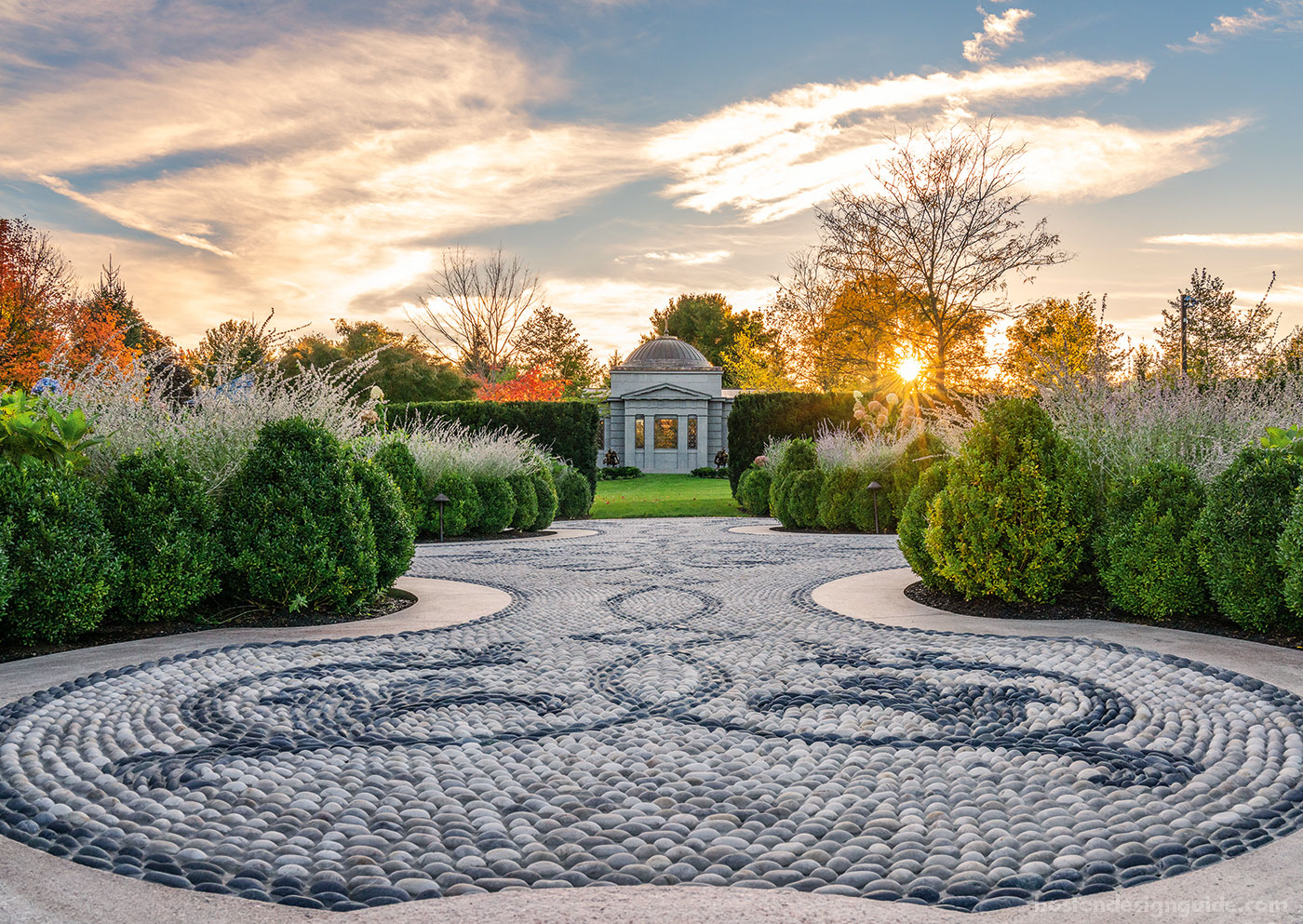 After excavating the site, installing forms for the outline, outfitting underground heating so that the terrace won't accumulate snow, and pouring the concrete, R.P. Marzilli & Company's craftsmen worked for three months under a tent structure during the winter of 2015-2016 (on their hands and knees) to guide every pebble into place. 
The execution of both the pebble terrace and garden pavilion required unparalleled dexterity from the team at R.P. Marzilli & Company and KVC Builders. "There are so many great details on this project," says KVC Builders project manager Jackson Mello, every one of which involved a high level of craft and, at times, problem solving. 
Throughout the build, KVC's Construction Supervisor Jack Griffin was an incredible implementer who navigated the project to new heights, says Mello. The job required the dome to be built in concrete, rather than the wood frame KVC would typically use. Due to the complexity of the structure, "more or less, we had to design backwards," explains Griffin. "The concrete had to be designed to fit within the finished stone drawings," clarifies Mello. "That's very different from the way we would normally build." 
The team not only succeeded, they soared, and every one of the professionals is grateful to Boch for having had this opportunity. It is, by all accounts, the project of a lifetime. "We'll never have another one like this," says Daum. "No, never," agrees Griffin.
The Team: 
Architecture: Eric Inman Daum Architect and Merrimack Design Architects, Eric Daum Partner in Charge
Builder: KVC Builders
Landscape Architect: Brian Frazier Design
Landscape Construction: R.P. Marzilli & Company
Interior Design: Anthony Catalfano Interiors
Millwork: South Shore Millwork
Natural Stone Work: Kenneth Castellucci & Associates, Inc.
Wood Finishing: Wayne Towle Master Finishing and Restoration
Tech Integration: Maverick Integration
Photography by Warren Patterson