May 17, 2018 | Sandy Giardi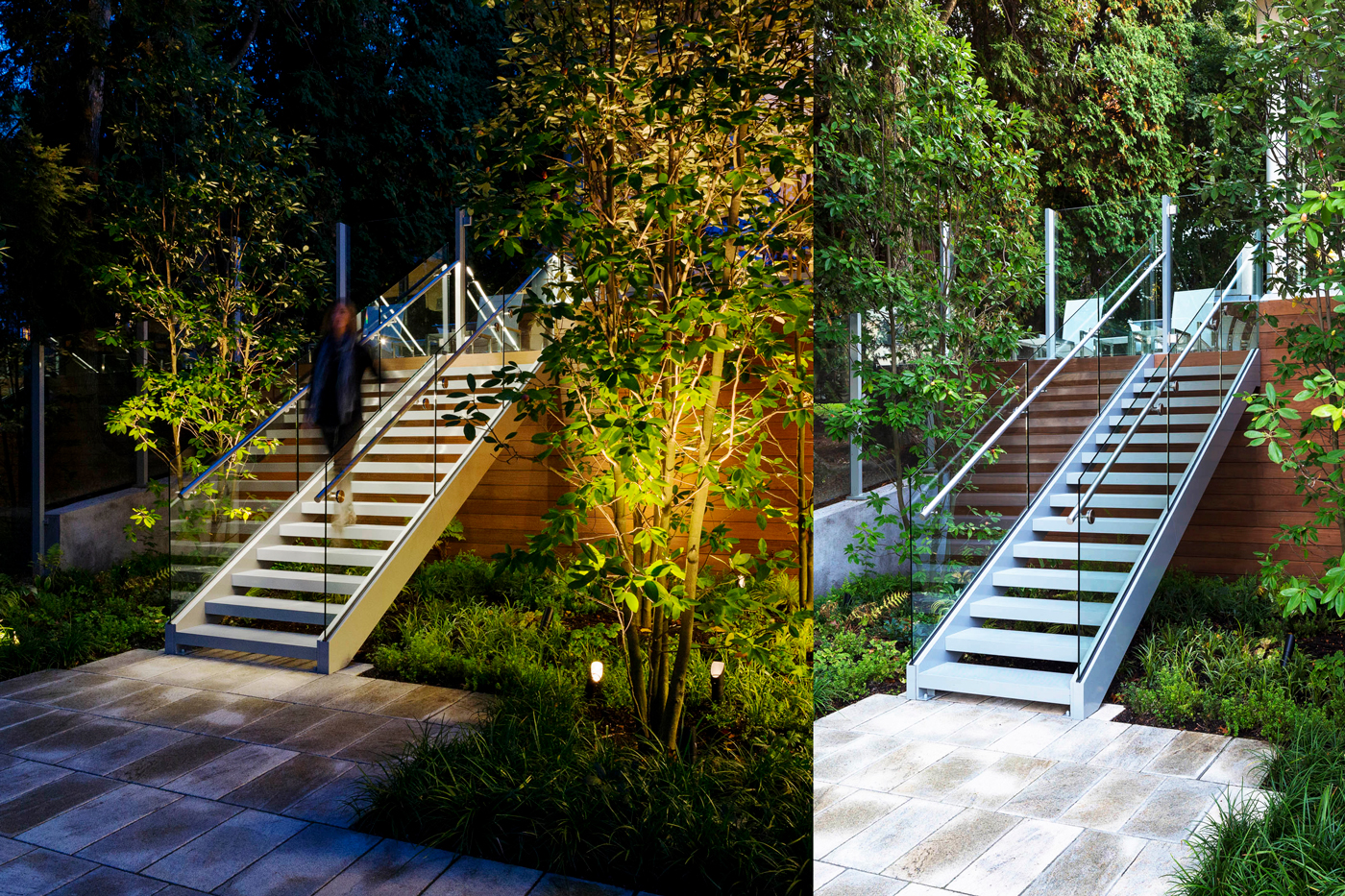 Same garden, two distinct looks. New England landscape professionals create sunny edens by day and spin magic come nightfall, carefully considering how their gardens look hour by hour and in every light.
Coastal Retreat
Landscape architecture by Sudbury Design Group
The difference in this Cape Cod pool terrace conceived by Sudbury Design Group is, well, night and day. This coastal retreat, which is enlivened by vibrant plantings and second-story flower boxes, is pure gold in full sun and recreation-ready. Come twilight, the terrain takes a dramatic turn, taking on a soft, heady mood and the feel of a resort with its shimmering waters and violet skies.
Reservoir Overlook

Landscape architecture: SiteCreative Landscape Architecture; landscape construction: R.P. Marzilli and Company; lighting design: Lana Nathe of Light Insight Design Studio; electrical contractor: Driscoll Electric Company; photo by Greg Premru Photography
The landscape of this contemporary property, built and maintained by R.P. Marzilli & Company, has a split personality depending on the hour. The linear hardscape and infinity pool has a quiet, secluded outlook during daylight hours, but after dark, it takes on a Hollywood Hills glamour. Light Insight Design Studio deserves much of that credit, as the firm illuminated key features in the softscape, tiered courtyards and architecture.
Cohasset Contemporary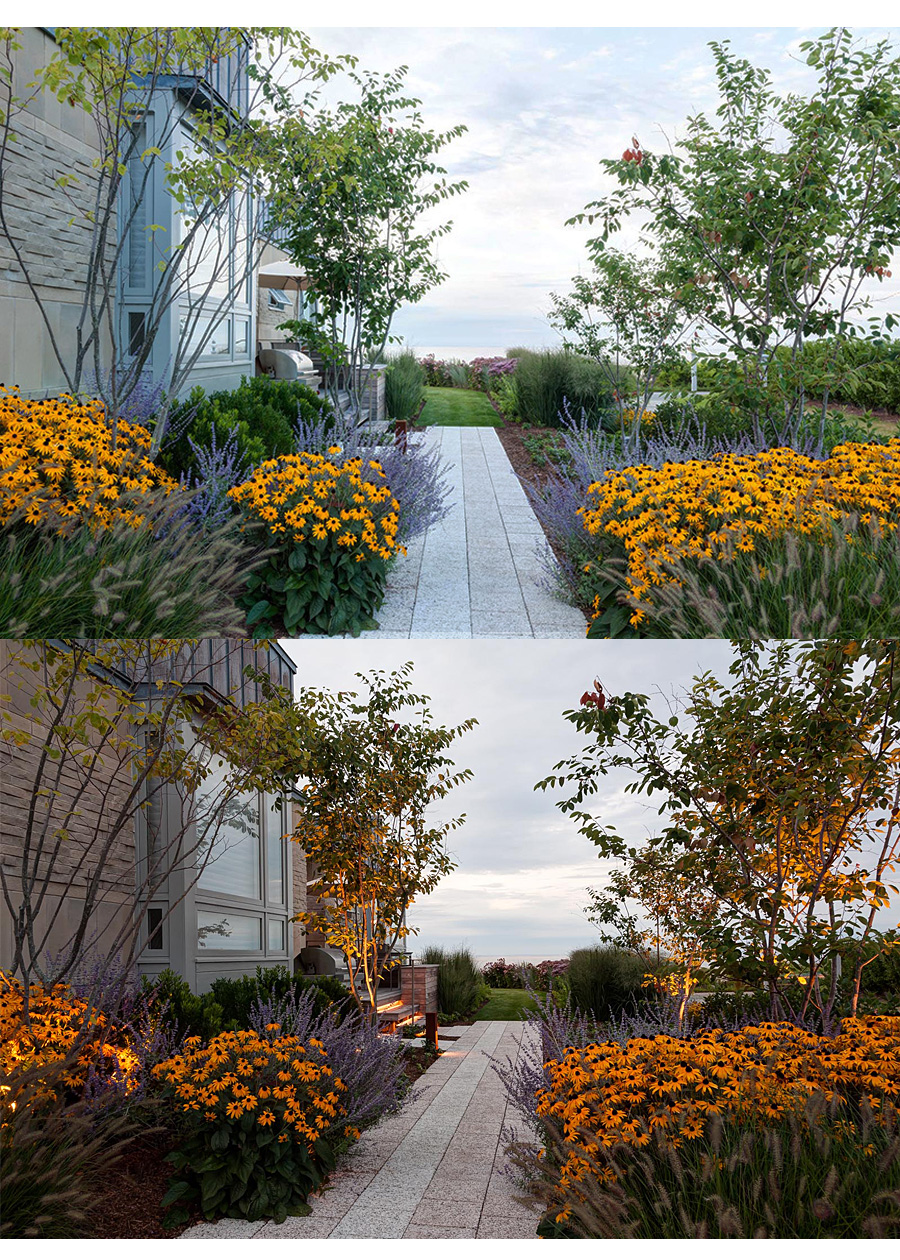 Landscape architecture by Gregory Lombardi Design; landscape construction by Paragon Landscaping; photo by Rosemary Fletcher
The intention of this coastal garden, designed by Gregory Lombardi Design and built by Paragon Landscape Construction, was to "make sense of a contemporary home" sited within a sea of traditional shingle-style homes. To soften the home's hard edges, coastal grasses and bold, durable plantings were used to line the cast stone pathway to the water. By day, this natural vista has a fresh-as-sea-air sensibility, and is rich with verdant greens and heather hues. Come dusk, the garden imparts a yellow-orange glow, with its honeyed shocks of black-eyed Susans, bronze step lighting and Cor-Ten steel.
Backyard Delight
Lansdscape architecture: Dan Gordon Landscape Architects; landscape construction: Paragon Landscape Construction; photo by Greg Premru Photography
In the above terrace design, Dan Gordon Landscape Architects and Paragon Landscape Construction joined forces to craft a multi-programmed playground that was built to extend the outdoor living season and provide a view of the game from every angle. Its fire and water elements go a long way into creating different atmospheres. By day, the still waters of the oversized spa reflect the sky and have a sense of tranquility, but come nightfall, the glowing spa, flames of the fire pit and pergola and outdoor bar lighting crackle with energy.
Brookline Facade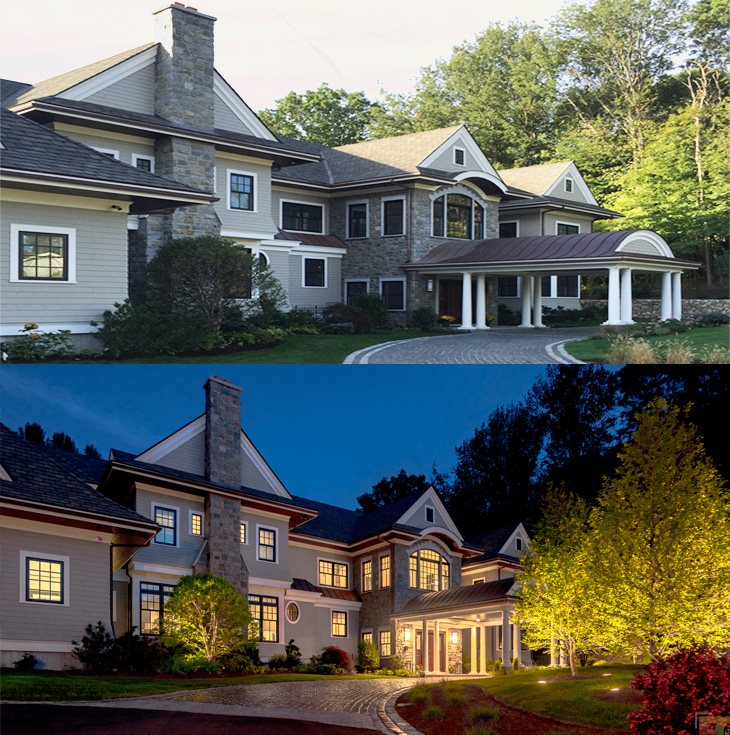 Backyards aren't the only sites that change face as the sun rises and falls. In this Brookline home, Dana Schock and Associates alters the ambience of the approach with carefully placed lighting, designed at the same time he envisions the landscape. Often, his lighting sources are built into the masonry and absorbed into the plant material, making it undetectable by day. By night, the home is bathed in "a wash of light, soft as a moonlit night," shares Schock. He achieves this look by highlighting selected plant materials, trees and changes in grade (like steps) from below or by backlighting, and grazing the façade of the house at key points.