August 30, 2019 | Sandy Giardi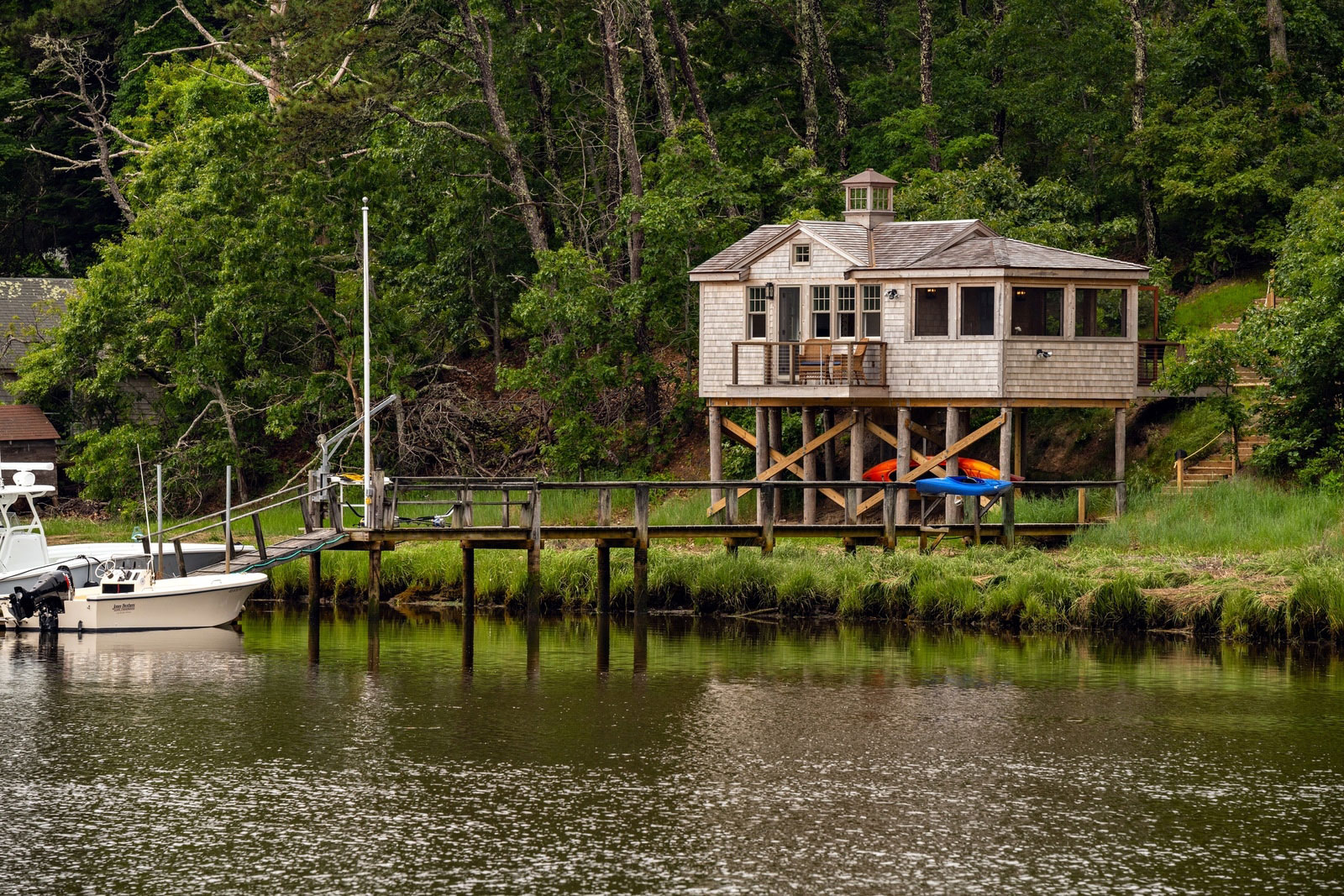 Ahhhh, Cape Cod….sandy beaches, tangles of beach plum, classic weathered shingles. There is an undeniable vibe to this idyllic locale and the nearby islands of Martha's Vineyard and Nantucket, and certain staples that we've come to associate with the good-for-the-soul summertime haunt. When we think of the Cape and Islands, sun-swept boardwalks, refreshing outdoor showers, perch-perfect boathouses, multistory decks and wrap-around porches spring to mind. In honor of Labor Day, we take a look at shining examples of these pervasive—and perfect—architectural constructs that we all know and love. 
The Boathouse
The just-enough and spot-on boathouse (shown above) overlooking a salt marsh in Orleans was constructed by McPhee Associates of Cape Cod for a fishing and boating enthusiast who often travels for work but needs a quiet office space when he's home. This vision in cedar, which "will gray as it ages and fade into the hillside," says President Rob McPhee, beautifully balances work and play. For now, it's a nautically minded home office that also facilitates fishing and boating with its proximity to the pier, and, later in life, it can serve as one fine bunkhouse for the family's young boys.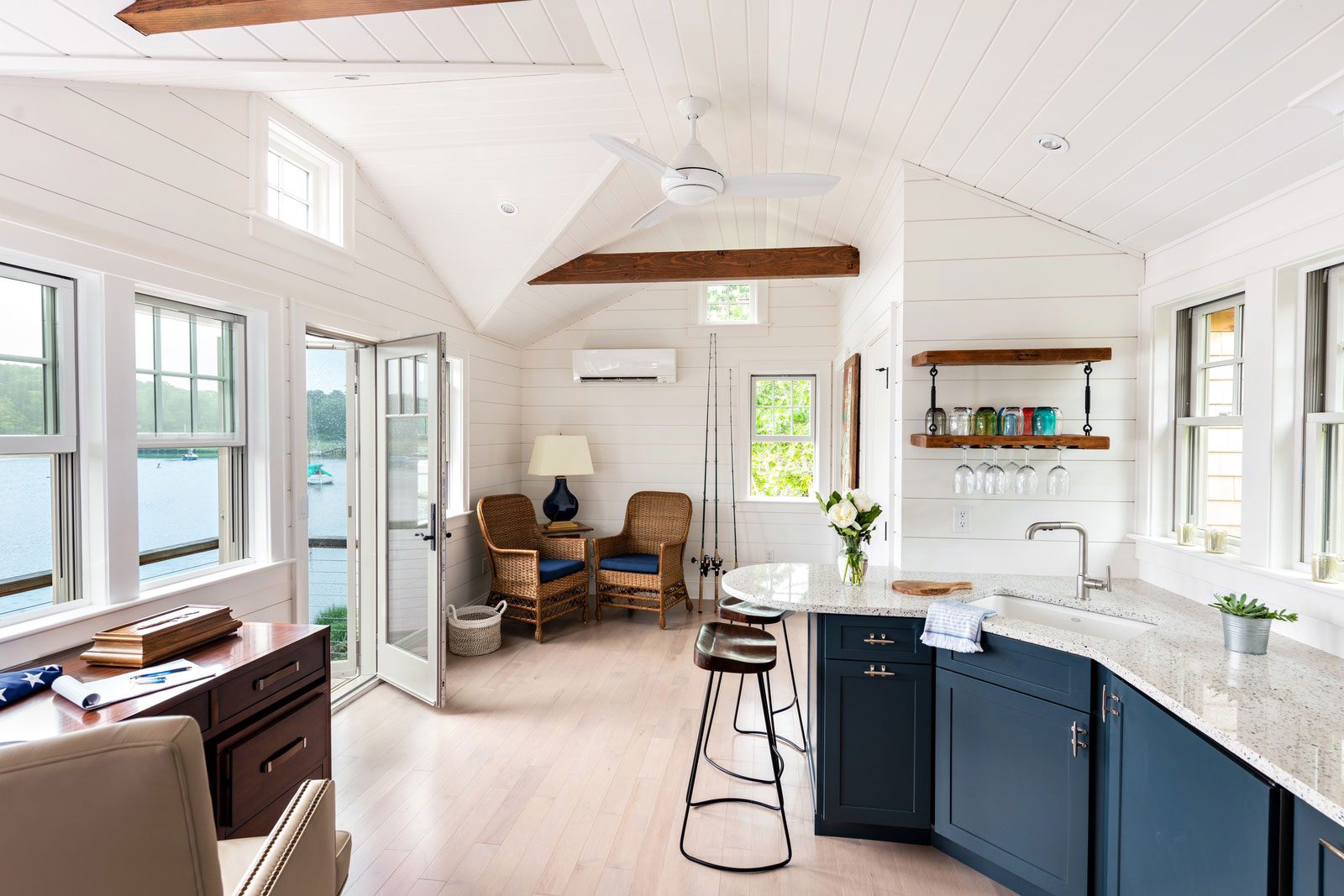 Construction by McPhee Associates of Cape Cod; photo by Dan Cutrona
The boathouse, situated at the foot of a brackish pond off Pleasant Bay, replaced a dilapidated existing structure, explains McPhee, and was raised up on pilings to accommodate today's flood zone elevations. The builder used the original footprint—a new project wouldn't have been granted permitting—and the clients' wish list to create an outbuilding with a cute screen porch, a small kitchenette, tiled bath and a sitting area laden with shiplap and fir beams.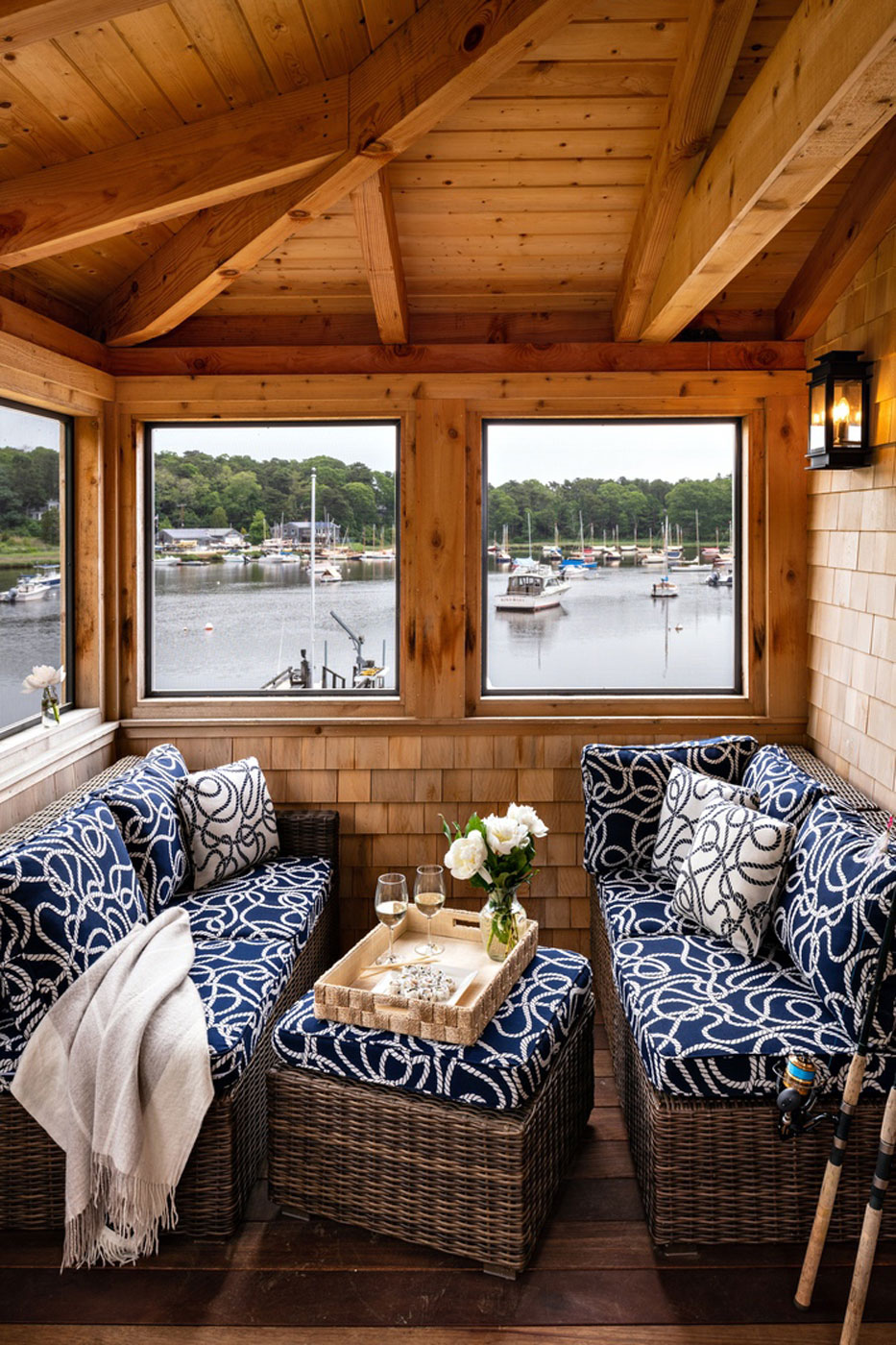 Construction by McPhee Associates of Cape Cod; photo by Dan Cutrona
The Outdoor Shower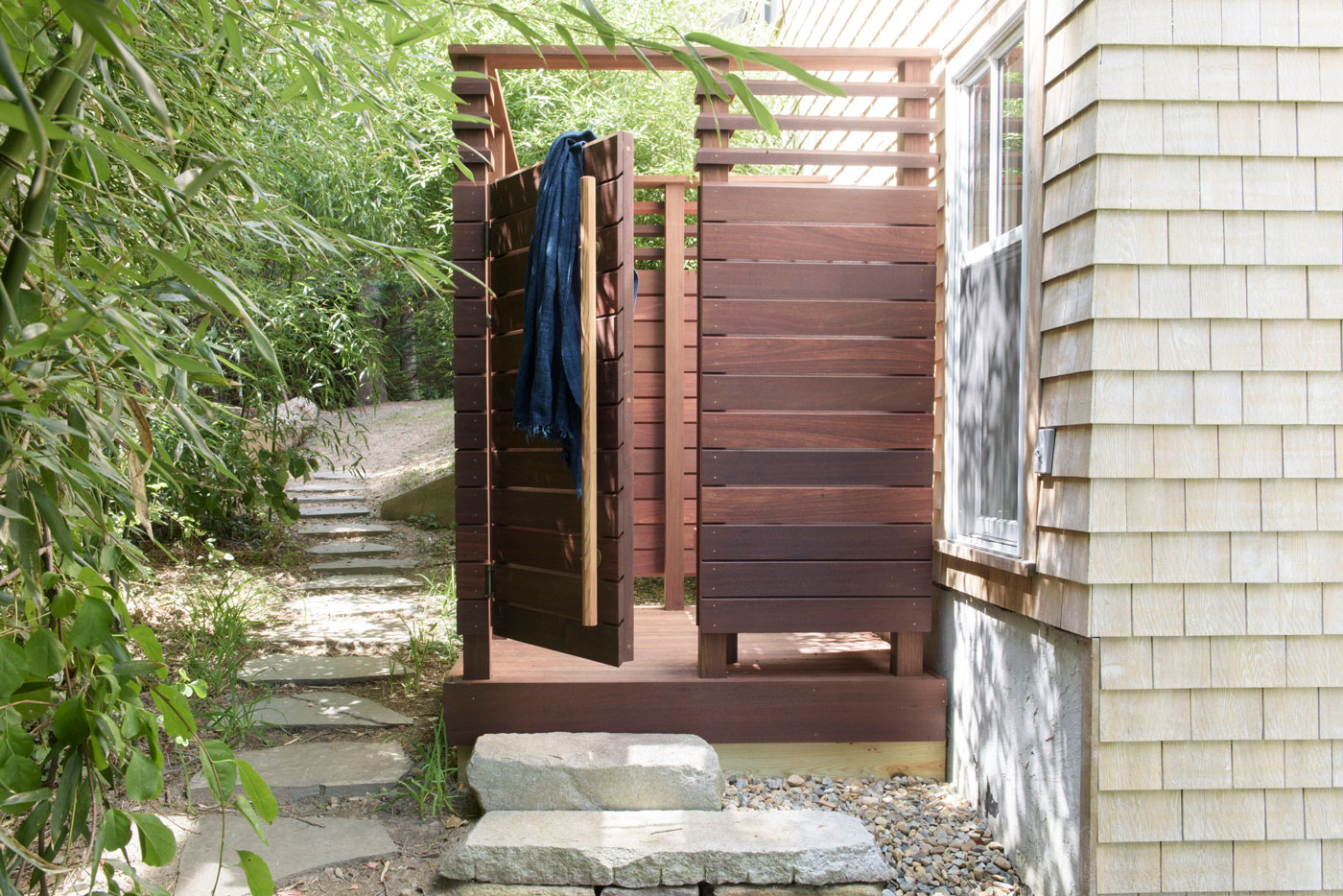 Photo courtesy of Worth & Wing
Worth & Wing, a progressive and comprehensive residential and interior design firm on Martha's Vineyard, considers the outdoor shower to be a staple in its projects. "If it's not planned for in the beginning of a project, it's always an 'add-in,' says principal Kristen Ellsworth-Wing. Almost every home they've worked on includes an outdoor shower—whether attached to the home, on the second story (both for privacy or to best take in a view), or as an oasis the homeowner accesses by path.  
"It's all about the location," says Ellsworth-Wing. As well as the level of privacy wanted, which is always an interesting conversation, she laughs. "It really has everything to do with incorporating it into the landscape," she continues, which is why the firm is currently working with a plantsman to filter the outdoor shower into the landscape design.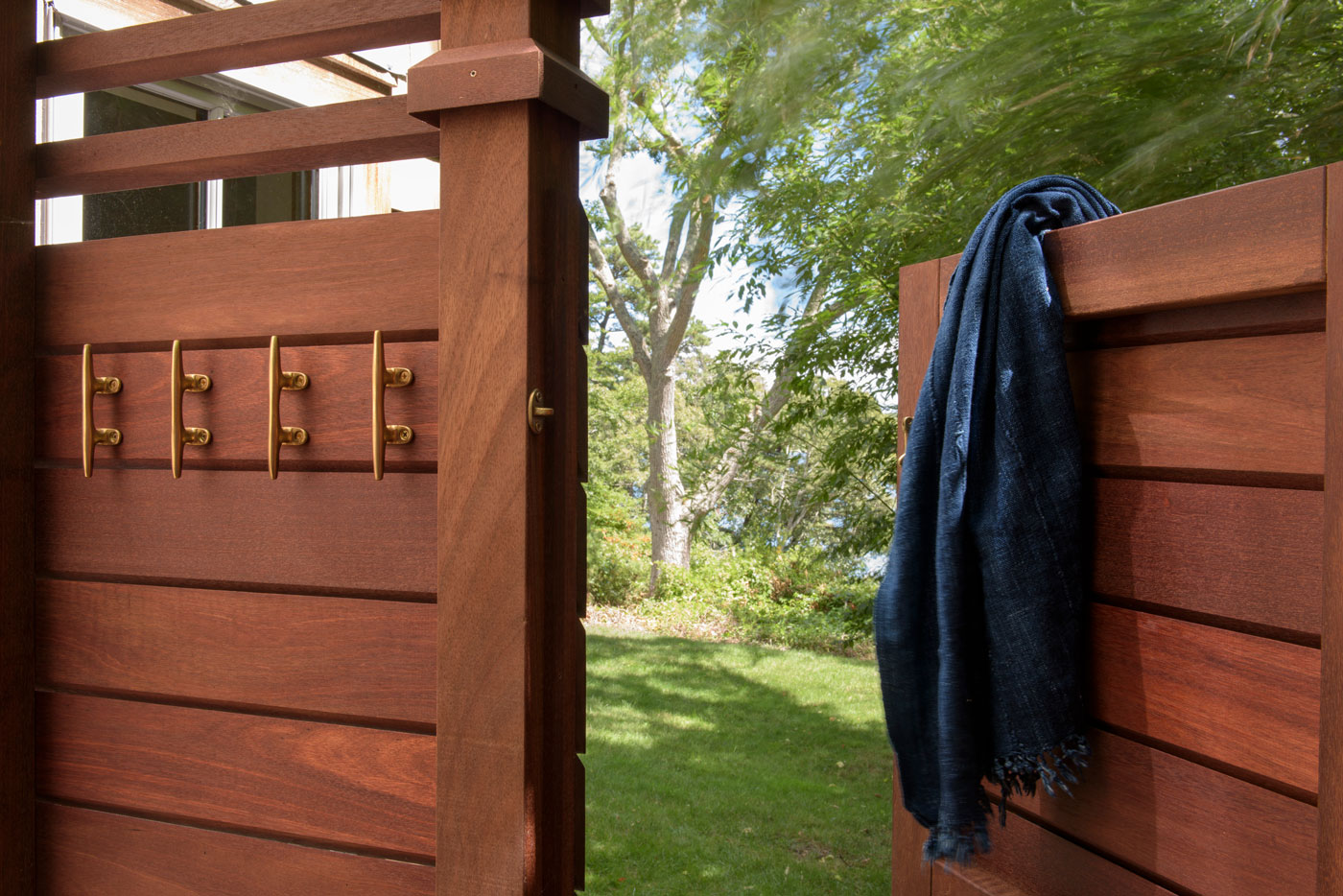 Photo courtesy of Worth & Wing
Aesthetics vary, but, as Worth & Wing also specializes in home staging, they have a knack for the details—even the outdoor showers get material boards (pictured below). These selections set the vibe, as evidenced by the mahogany outdoor shower shown above for a home on Tashmoo. All of the hardware gives a nod to the nautical; Worth & Wing used brass cleats as towel hooks and brass oar locks to mount the wooden door pull.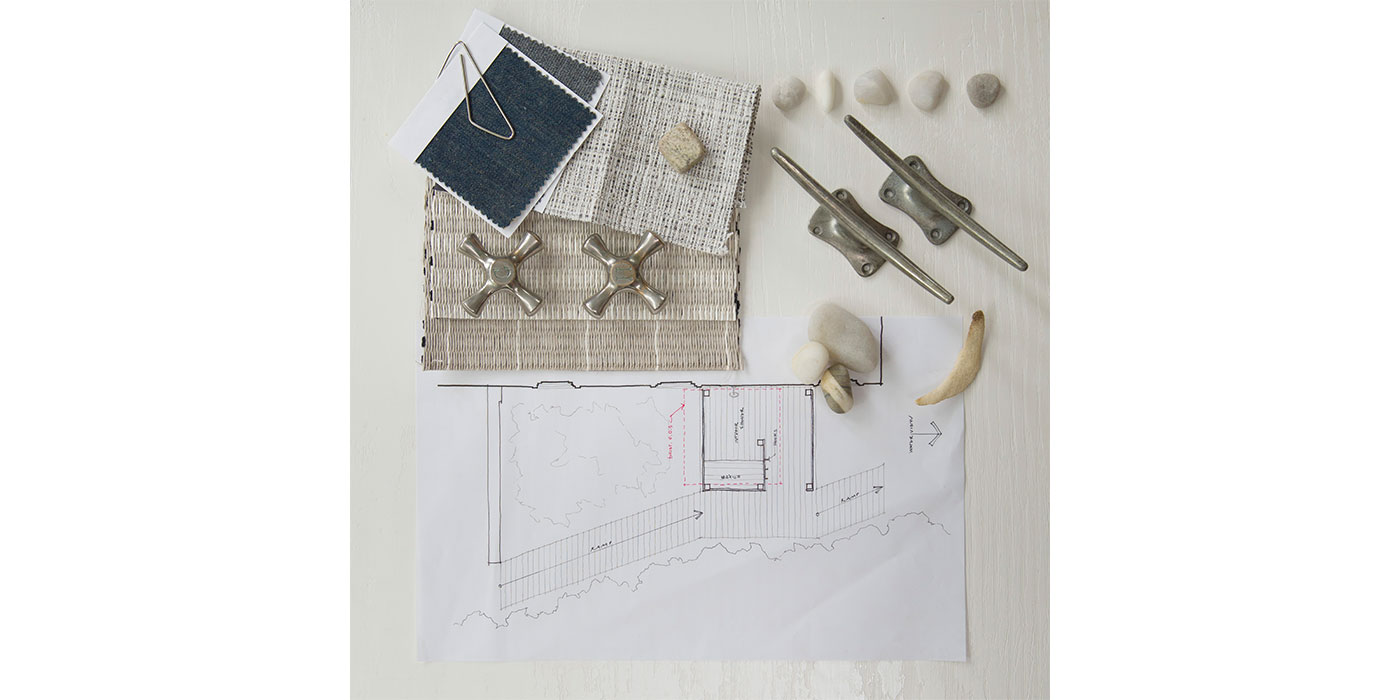 Material board by Worth & Wing
The sweetest detail, however? The mahogany walls, which will fade over time, have an angle cut into their profile so that, from the inside, you can catch sight of the water, but those on the outside can't see in.
The Boardwalk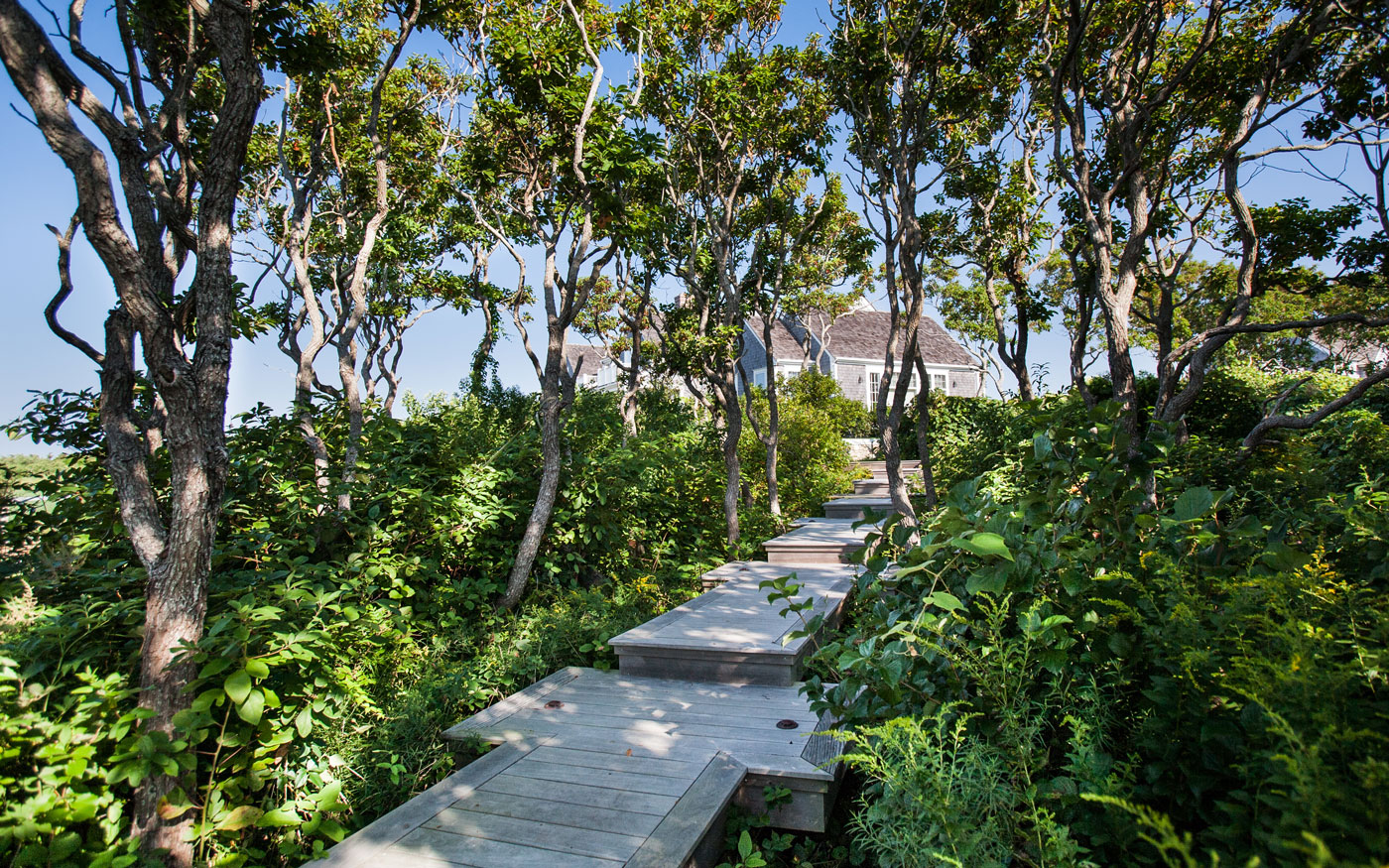 Landscape architecture by LeBlanc Jones Landscape Architects; architecture by Botticelli & Pohl Architects; photo courtesy of Leblanc Jones Landscape Architects
When it comes to waterfront properties, boardwalks are among the hardest-working constructs, and, we'd say, largely unsung. After all, boardwalks often serve as bridges to the beach and see scores of sandy feet and flip-flops traipsing expectantly to the shore and back again.
This boardwalk, designed for a property on a peninsula on the island of Nantucket by LeBlanc Jones Landscape Architects, is certainly worth celebrating. With its sculptural and stepped design, its crosses a grove of sassafras trees and thick vegetation as it rises to meet a swimming pool and pool house nestled into the slope. 
The Sunporch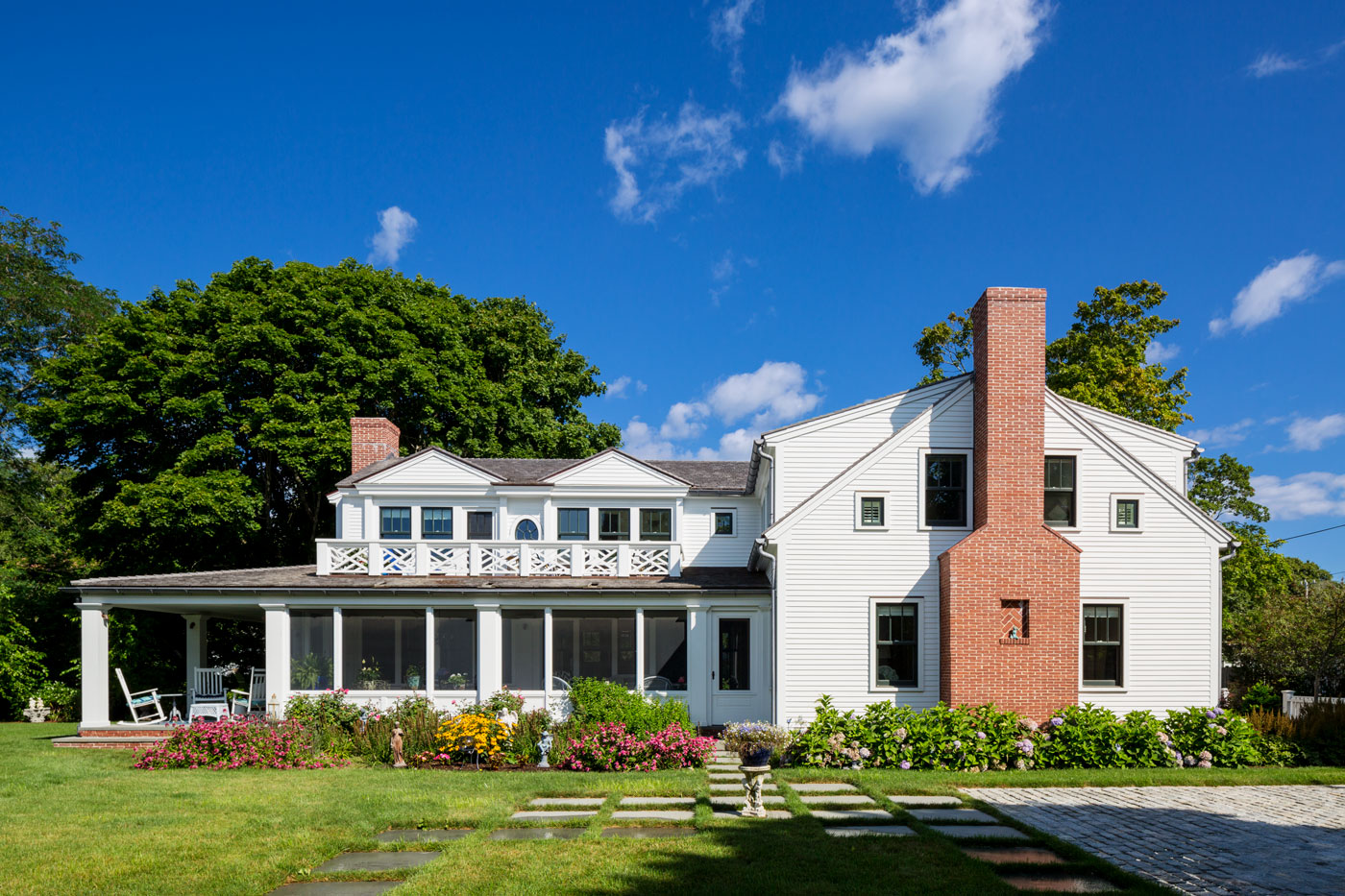 Architecture by Joseph W. Dick Architecture, Inc.; construction by Bannon Custom Builders 
As the room that everyone turns to for their morning coffee, a good book and casual dinners, the sunporch is quintessential Cape Cod. Half-in and half-out this living space, perhaps more than any other, is imbued with that relaxed and carefree feel that beach homes are all about.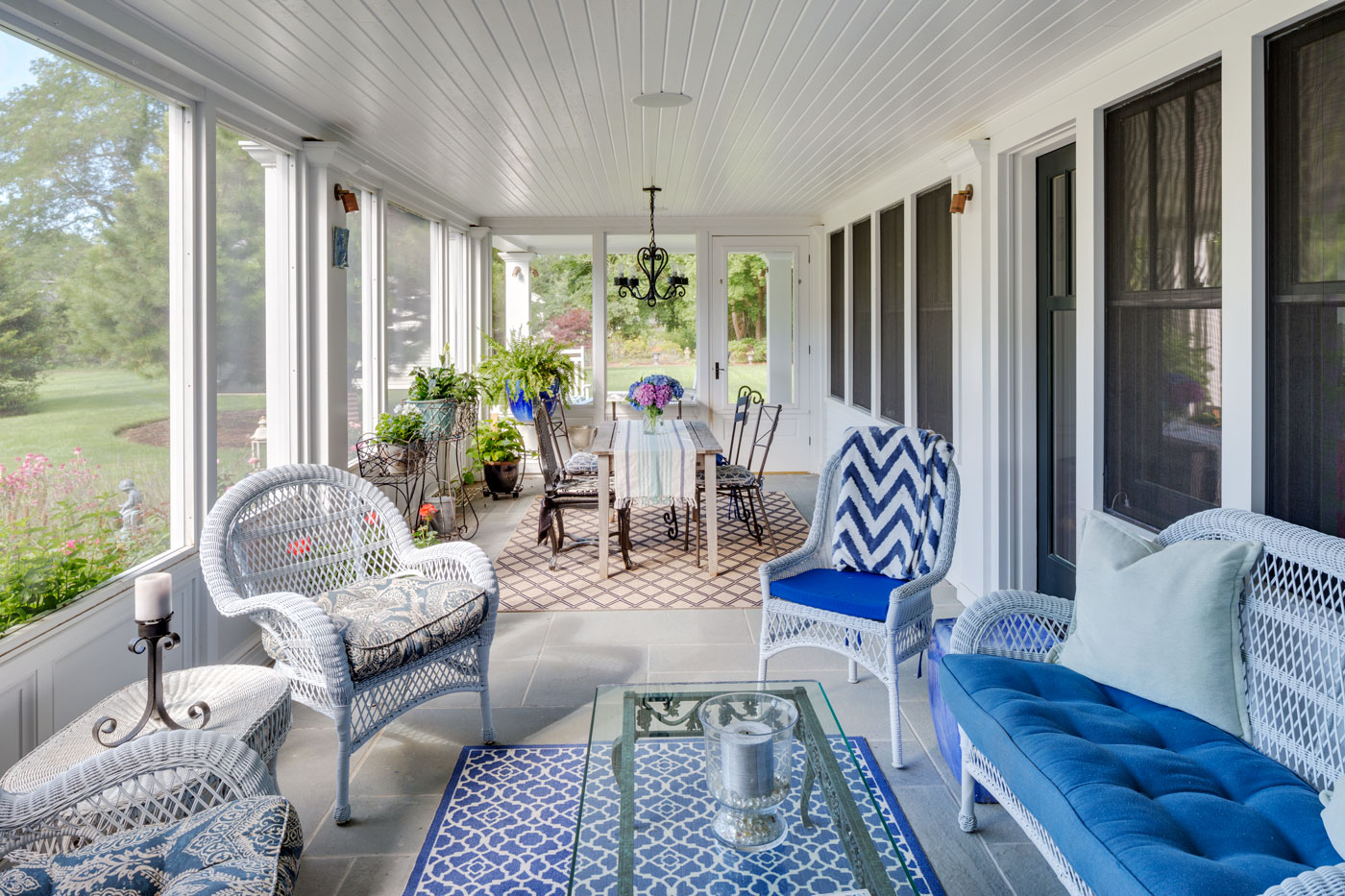 Architecture by Joseph W. Dick Architecture, Inc.; construction by Bannon Custom Builders 
For this three-season screened porch for a new construction on the Bass River built by Bannon Custom Builders, "the client wanted the best of everything," says Owner Paul Bannon. Though built in 2014, it champions the historic integrity of the neighborhood with timeless details, like a cedar beadboard ceiling and trim, that are aligned with cottages built in the 1800s.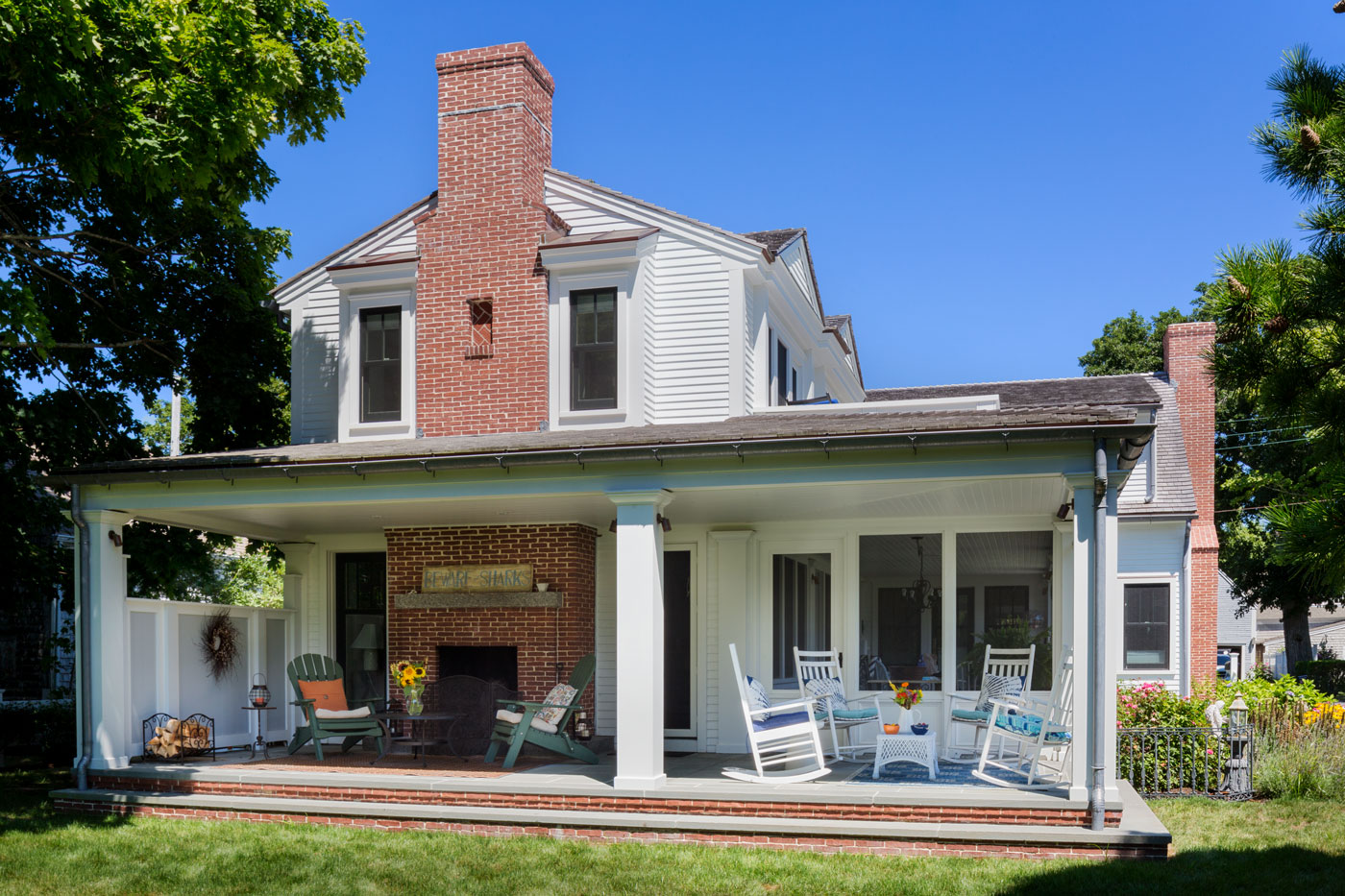 Architecture by Joseph W. Dick Architecture, Inc.; construction by Bannon Custom Builders 
The room can be screened in or enclosed in glass and spills into a rear, roofed porch that opens up to the elements, not to mention "a pretty spectacular piece of land," says the builder. The bluestone used underfoot in the sunroom continues around the bend to meet the bricked elements, including the warmth of an inviting outdoor fireplace. 
The Multistory Deck
Construction by Cape Dreams Building & Design; architecture by Steven Hayes; materials by Shepley; photo by Richard Gayle Photography
For waterfront homes and for those with a view, a multistory deck is the new must. "The deck is the place where everyone congregates come summer," says President Paul van Steensel of Cape Dreams Building & Design, and architects are answering with tiered designs that give homeowners an array of options—some areas with full sun, others atop the roof, some tailored for alfresco dining and still others for private moments (perhaps off the master bedroom)—but all with a view.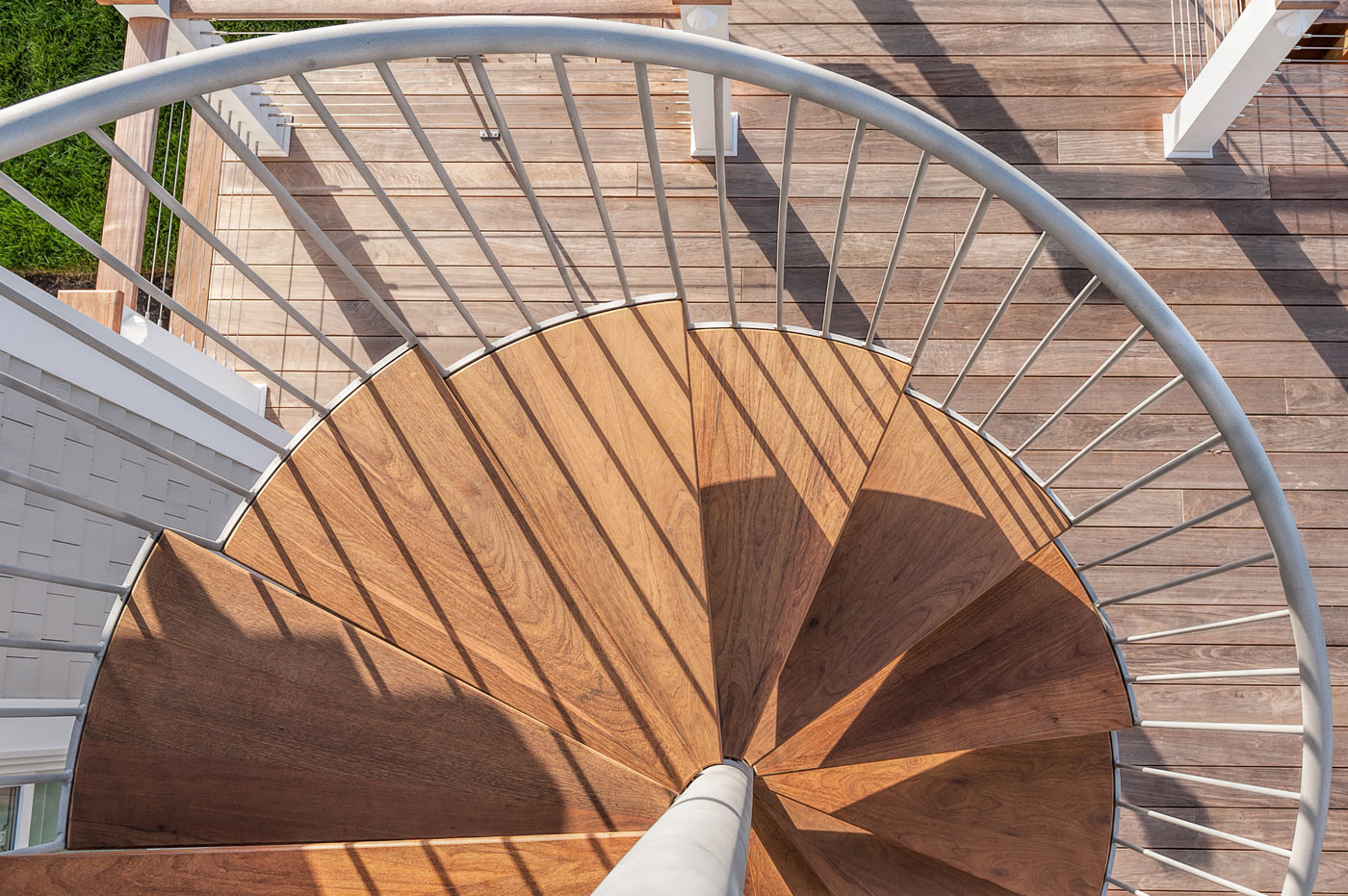 Construction by Cape Dreams Building & Design; architecture by Steven Hayes; materials by Shepley; photo by Richard Gayle Photography
The whole idea, shares van Steensel, is to capture those vistas from the second floor. Cape Dreams Building & Design has done quite a few multi-level decks recently, but the Brewster beauty shown here, he says, is among his firm's finest. The bayside home, designed by Architect Steven Hayes, nabbed Cape Dreams a Gold BRICC Award for excellence in construction, and we have to imagine the deck system played no small role. With materials provided by Shepley, this ipe wood deck features a fieldstone fireplace and cable railing so as not to obstruct the outlook.
To achieve its soaring and seamless look, Cape Dreams used blind fasteners to build the deck and fabricated custom radius railings for the spiral stair. Waterproofing multifloor decks is also key, says van Steensel (Cape Dreams uses LINE-X), as is going the extra mile on the ceilings underneath the top decks. Here they used V-Groove paneling complete with crown molding and recessed lighting.
Main image: photo by Dan Cutrona