September 10, 2023 | Maddie Brisbane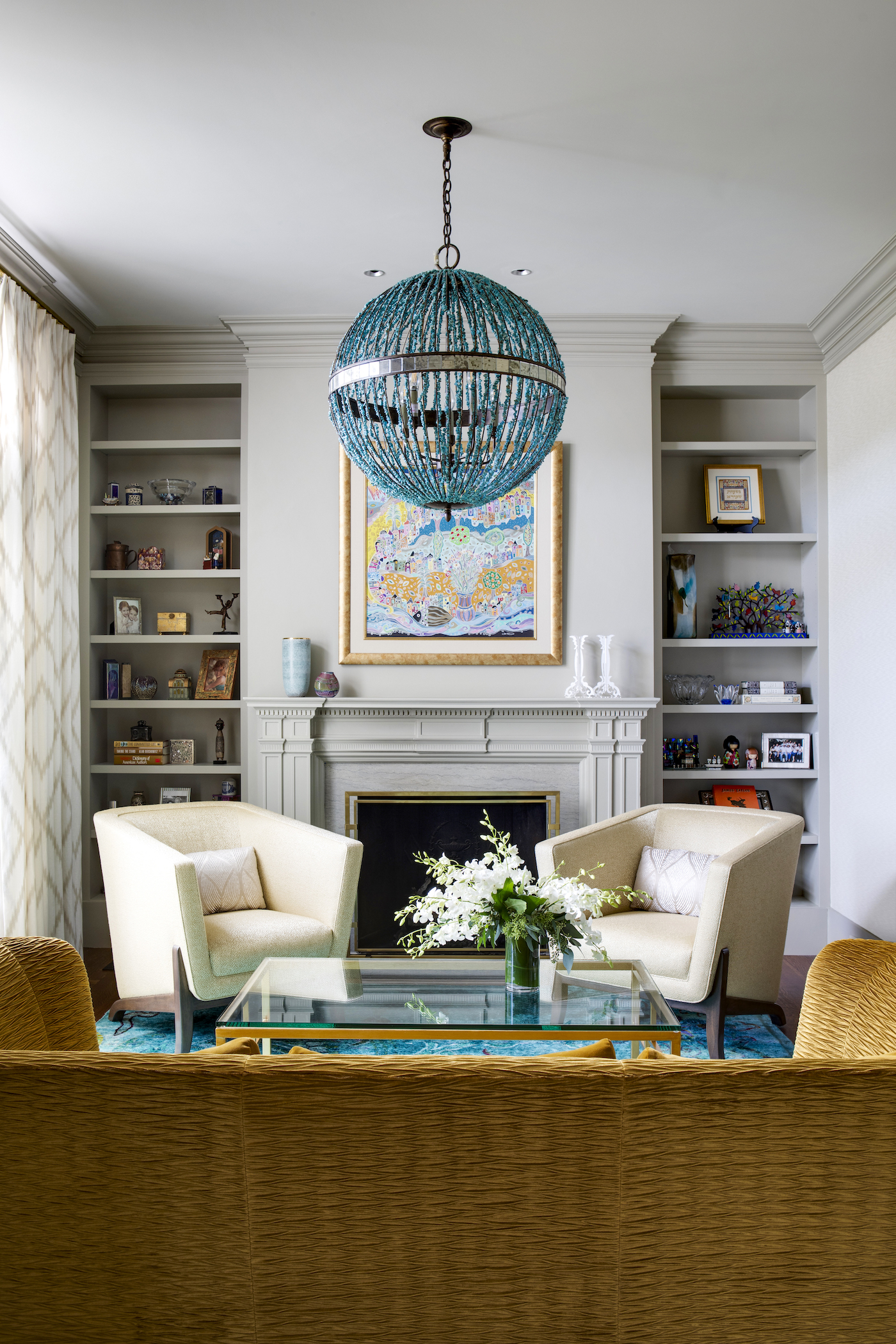 A charming old-world Brookline home is reimagined to embrace a holistic approach to modern living.
Sitting on an acre of land overlooking the Brookline Reservoir, this 1930's Georgian Revival-style home saw a renaissance of its own at the hands of architect Alan Mayer and the build team at Benchmark Builders. The full-scale renovation, which aimed to bring the home into the modern era while honoring its traditional character, touched every corner of its structure. The original house, while retaining a historic charm, was burdened by its fragmented layout and obscured views. "It lacked an overall concept of flow," Mayer observed, envisioning a grander, brighter, more open concept living space that would better suit a modern family. To that end, he schemed a plan that would eliminate dark, closed off corners to make way for spacious, light-filled rooms destined for easy living. "In any space, you want to maximize places in which you can see in multiple directions and create vantage points to and through other rooms," Mayer explains. The new configuration blends traditional and contemporary elements, where "no detail was ignored," says interior designer on the project Lindsay Pike.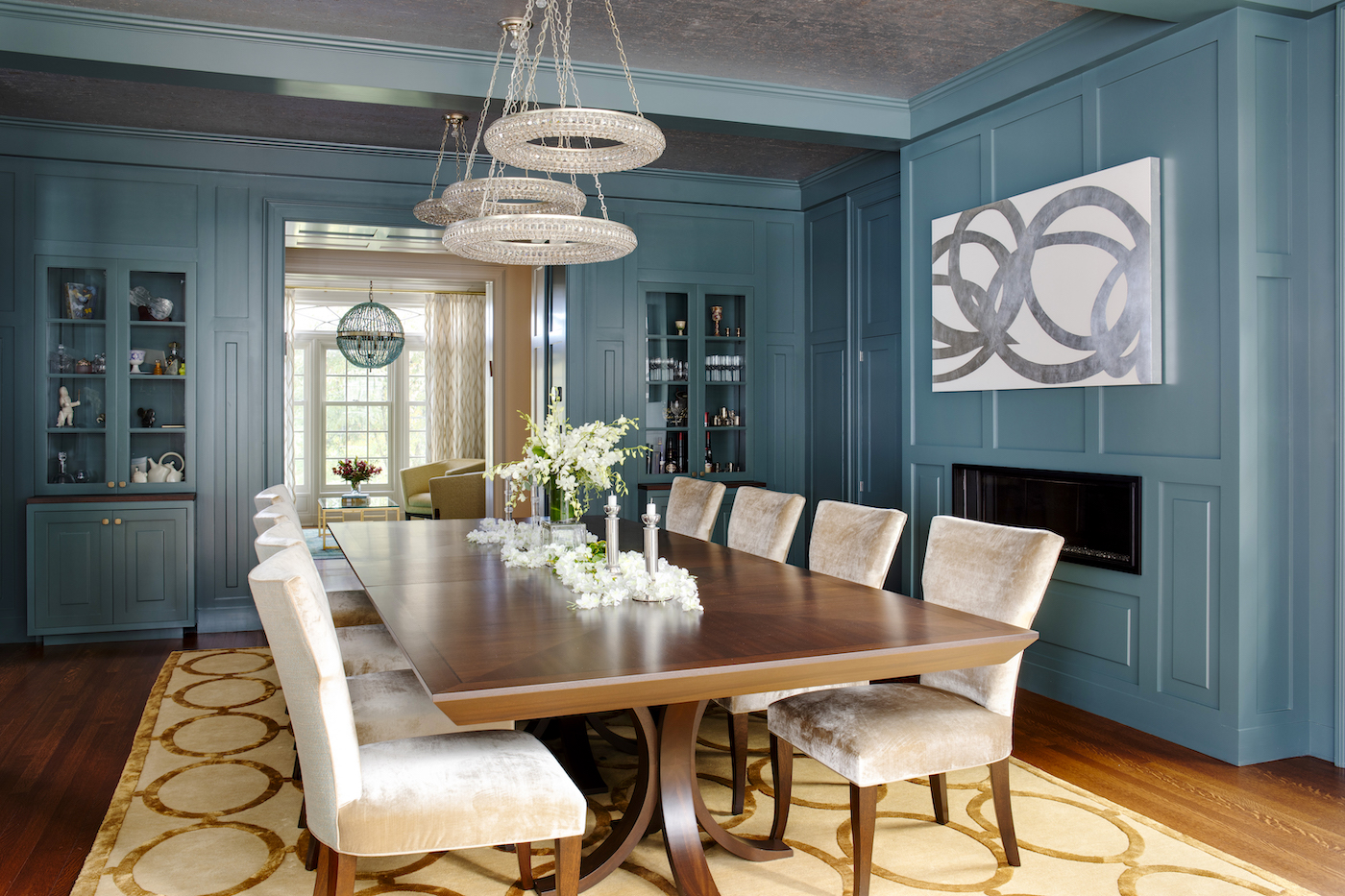 (Photography: Greg Premru)
Mayer conceived every architectural element to embrace rejuvenated interiors, where vibrant colors, striking light fixtures, and dynamic artwork offer a bold and playful vibe. The dining room caters to the client's love for large-scale entertaining, featuring rich teal blue walls and a custom-made dining table with extendable leaves integrated into the architecture. The kitchen embraces clean lines and a neutral palette, serving as an informal family gathering space.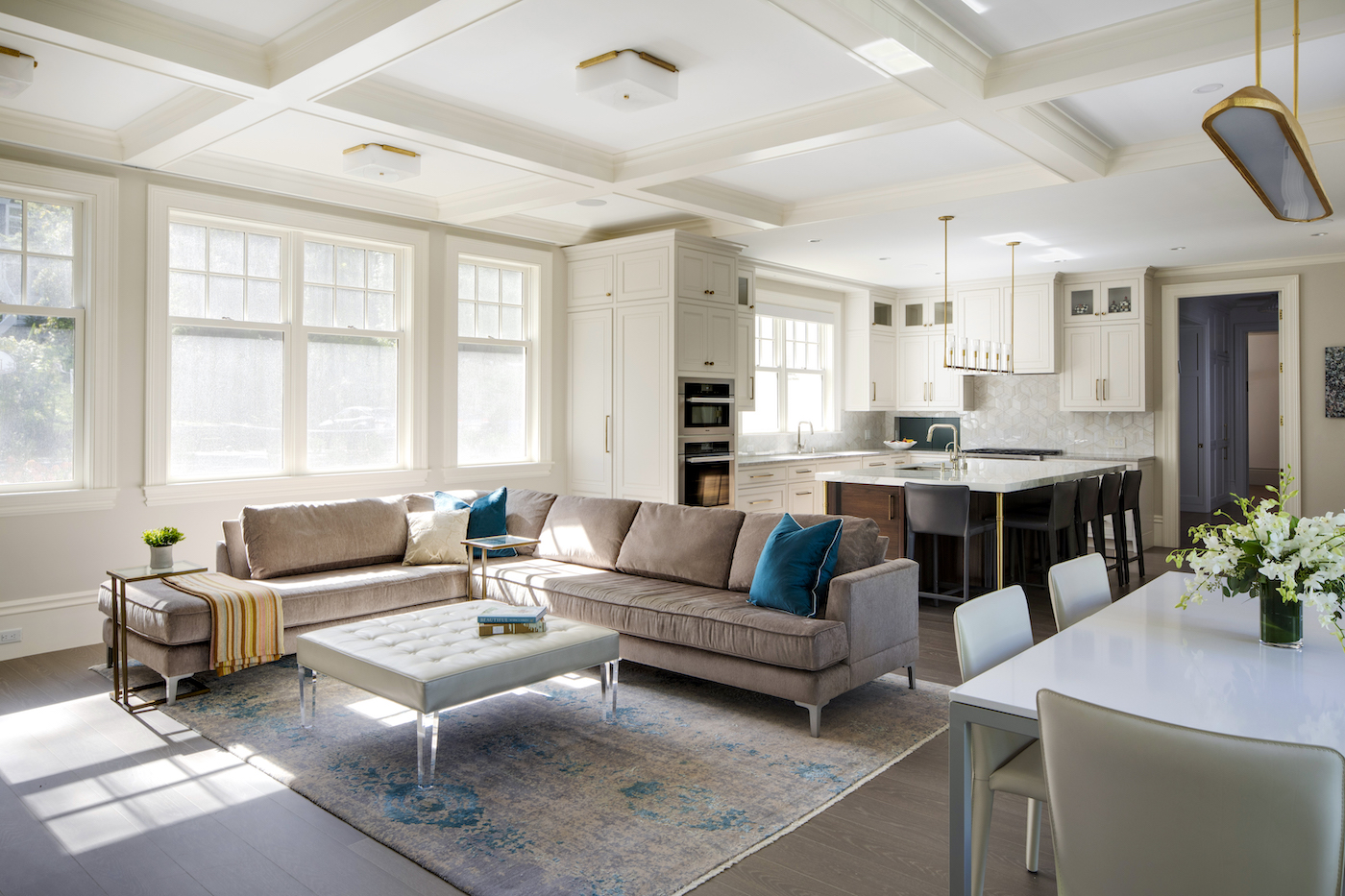 (Photography: Greg Premru)
"It's a really complex house, with lots of features and details," recalls Matt Harkins, Benchmark's owner and president. While this complexity sparked challenges, the collaborative spirit of all involved led to the success of the project. "From day one, there was an urgency to keep the project moving, so communication was key. We were all in touch daily, meeting 2-3 times a week, with anywhere from 20 to 50 people on site at any given time," Harkins notes. From transforming the floor plan, which boasts immaculate new moldings and intricate millwork at every turn, to installing a striking new elliptical staircase, restoring the exterior facade, and completely renovating the home's natatorium, the team's list of tasks was extensive. "There was really no down time," says Benchmark's VP of Construction Todd Jurgensen, who played an integral role in managing the large-scale project, and even got his hands dirty assembling an immaculate multi-slab limestone fireplace, which Mayer designed to bring a contemporary touch to the living room space.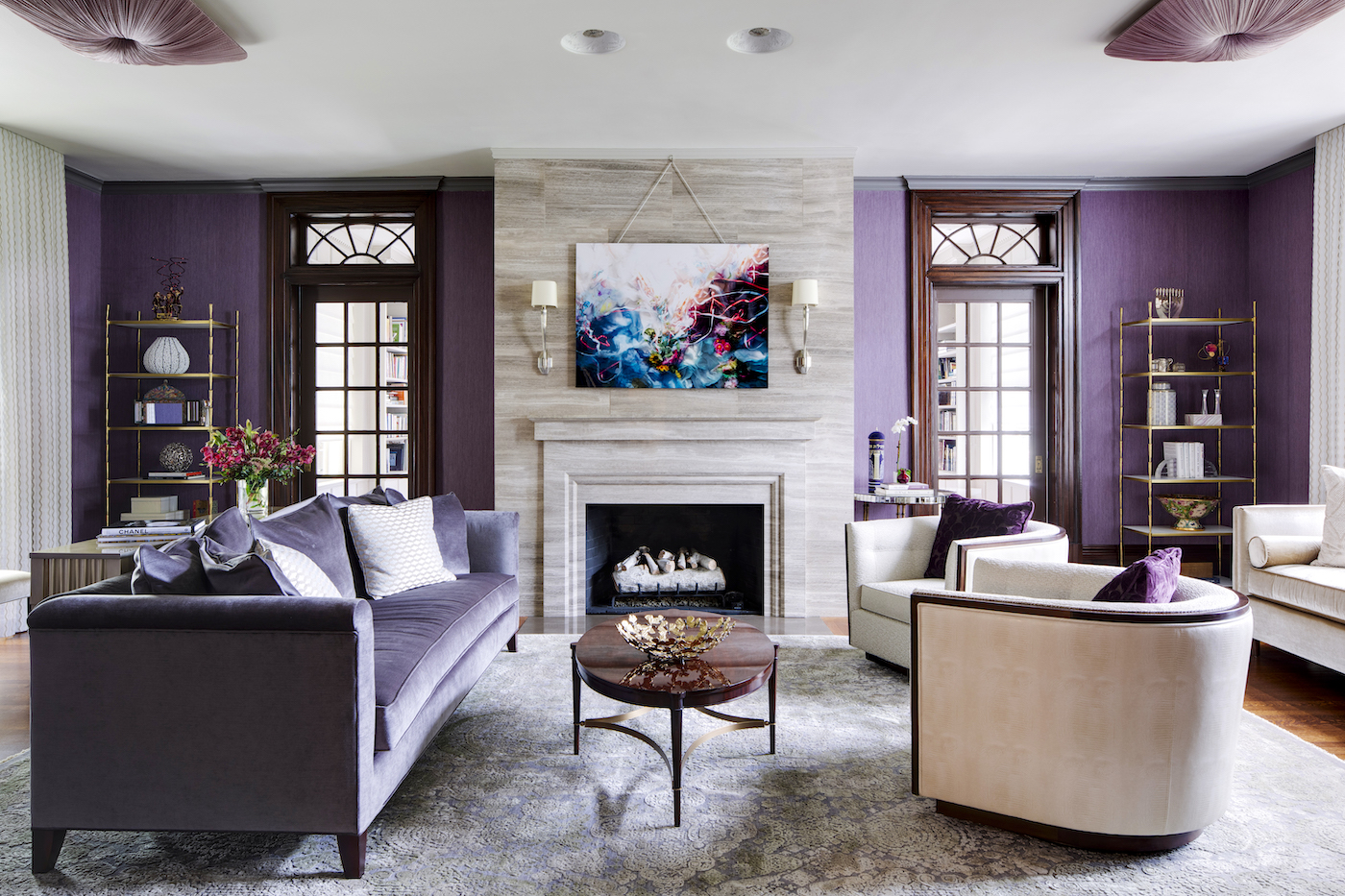 (Photography: Greg Premru)
Flanked by repurposed dark wood French doors, the fireplace is accentuated by purple silk wallpaper and complementary decor. "Maintaining the integrity of the home's history was a priority," says Mayer. Yet that did not hinder the designers from mindfully infusing contemporary flourishes, highlighted by an interplay of natural light that evokes a crisp, airy feel. The front foyer was upgraded with brand new ceiling paneling and crown moldings, and a period-correct glass paneled door that transforms a once-opaque entryway.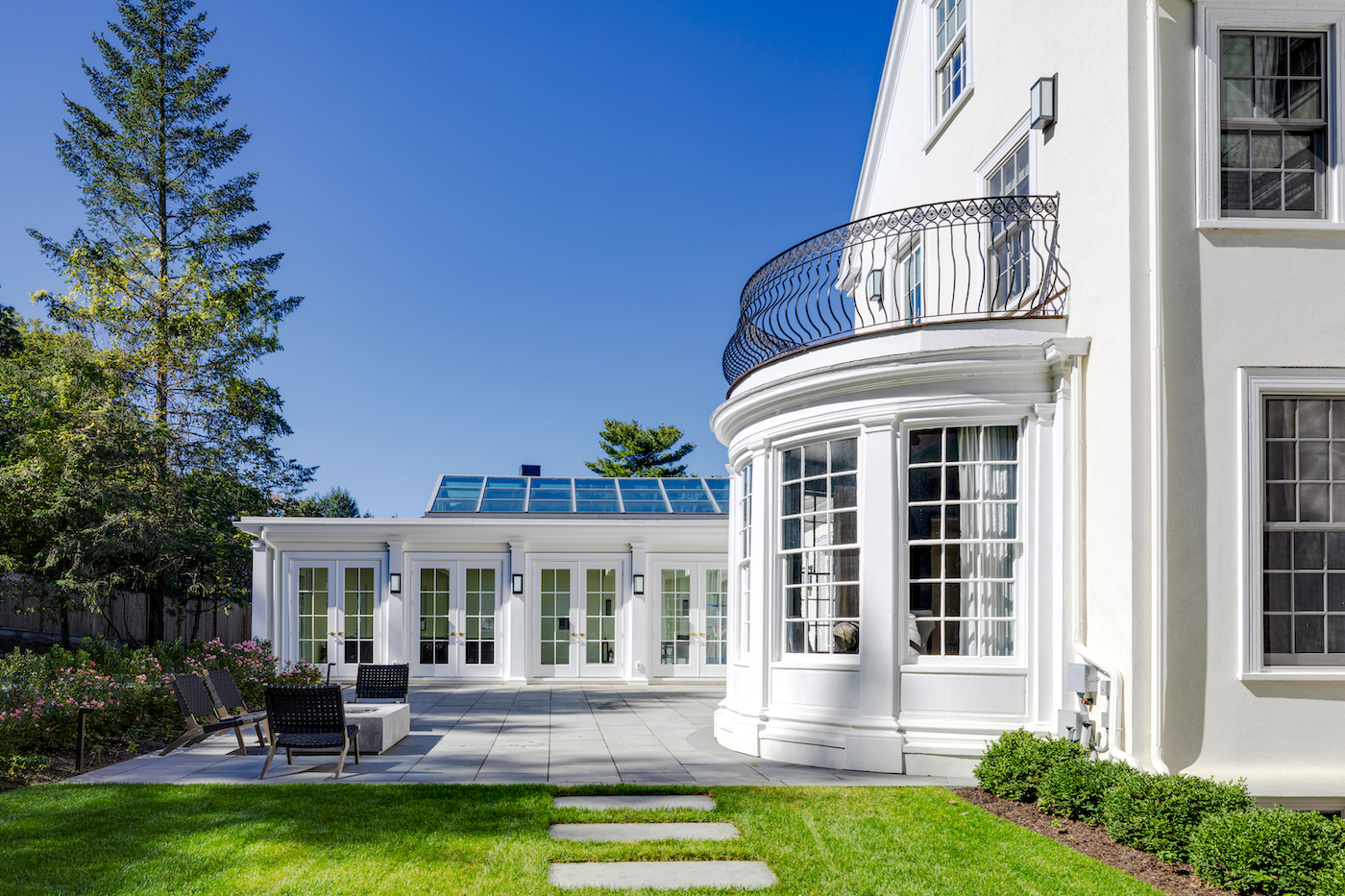 (Photography: Greg Premru)
Generously sized and thoughtfully designed, the hallways feel like rooms of their own, fostering a sense of continuity throughout the home. To illuminate the home's vertical connection points, Mayer reimagined a once dark, hidden stairwell as a modern architectural marvel, set against a light-filled backdrop of newly installed French doors, and reconfigured landings. A newly reimagined elliptical staircase entices visitors to explore the third floor of the home, where they'll find optimized views of the glistening Brookline Reservoir. The staircase, custom crafted by Cooper Stairworks, was delivered in one piece, requiring a tactful installation by the Benchmark crew.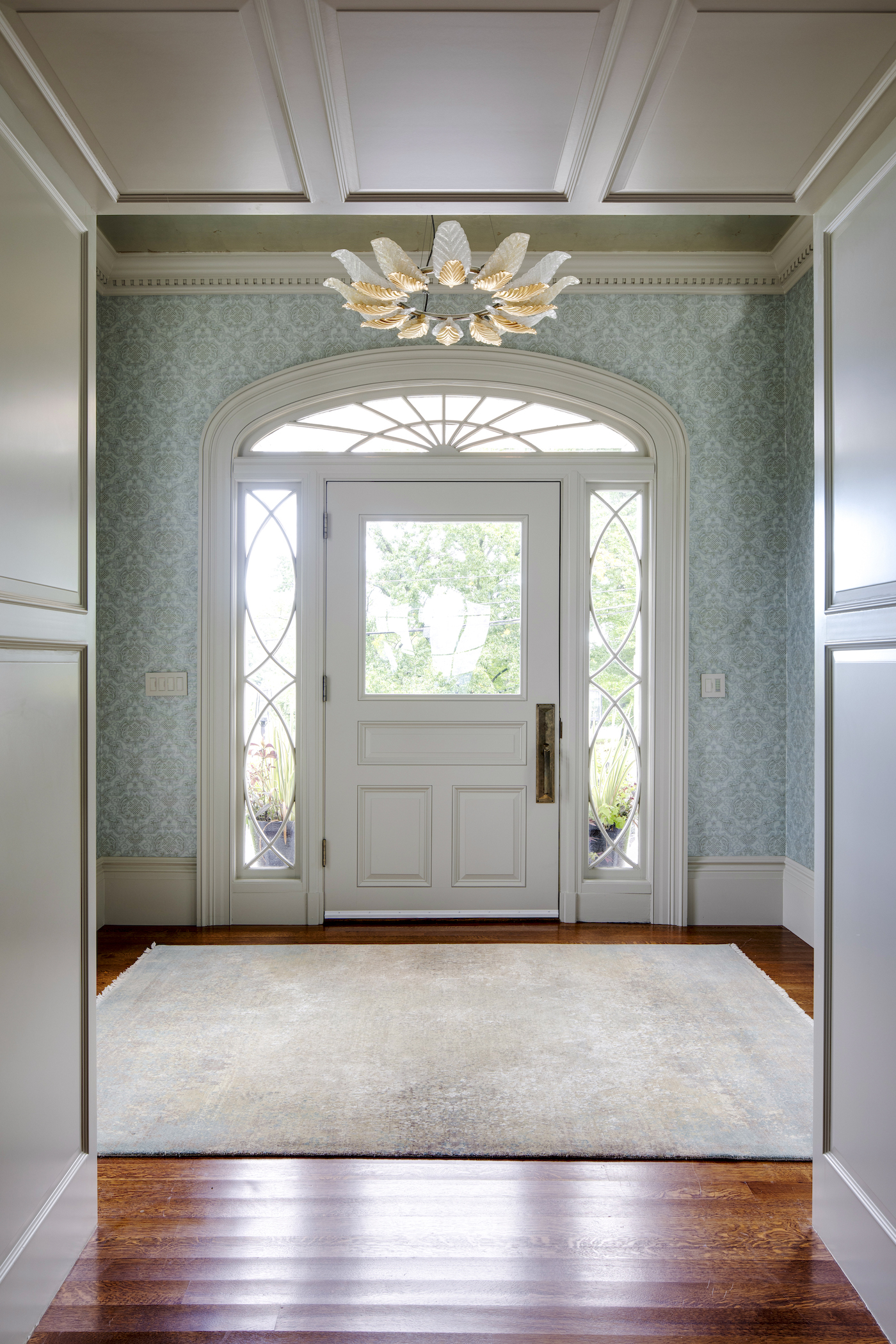 (Photography: Greg Premru)
The natatorium also underwent a complete reconstruction to accommodate a brand-new pool deck, an advanced climate control system, an integrated swim gym technology system, a secret vault for pool equipment storage, and a stunning fiberglass skylight that invites the outdoors in. "It was really exciting to see the home come together," Jurgensen reflects. When asked how the team felt upon seeing the final result of their diligent efforts, Bill Andrews, Benchmark Builders' Vice President of Business Development replies, "We were elated, to say the least."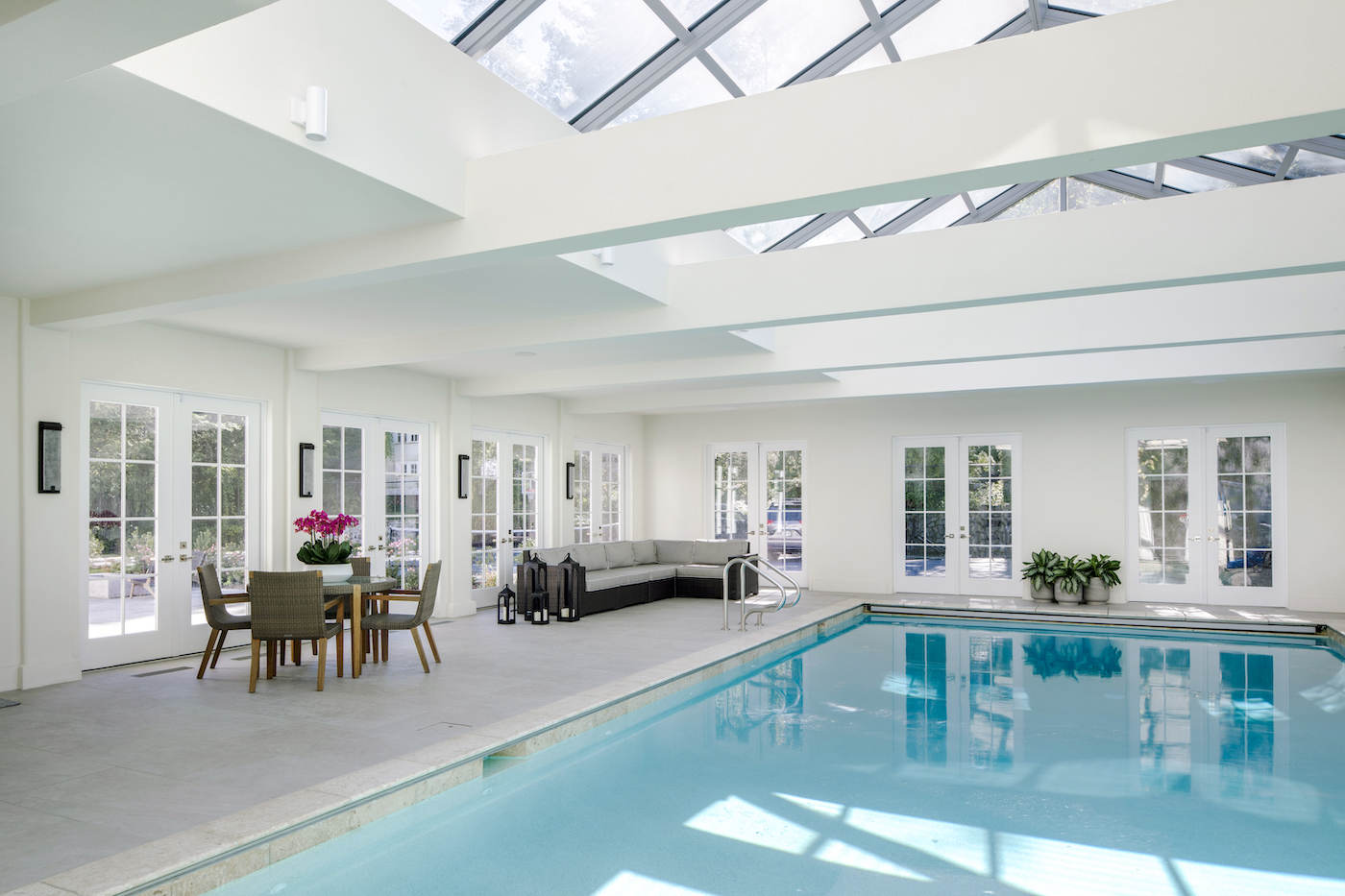 (Photography: Greg Premru)
Beyond the beauty of this home's transformation lies a deeper lesson. The results speak to the importance of connection in design, both with surrounding spaces and with a broader architectural vision. This reimagined home is a celebration of this concept, where every corner feels connected to something larger, embracing a holistic approach to modern living.
Architect: Mayer + Associates, Builder: Benchmark Builders, Inc., Interior Design: Mayer + Associates, Writer: Maddie Brisbane, Photographer: Greg Premru