August 31, 2023 | Maddie Brisbane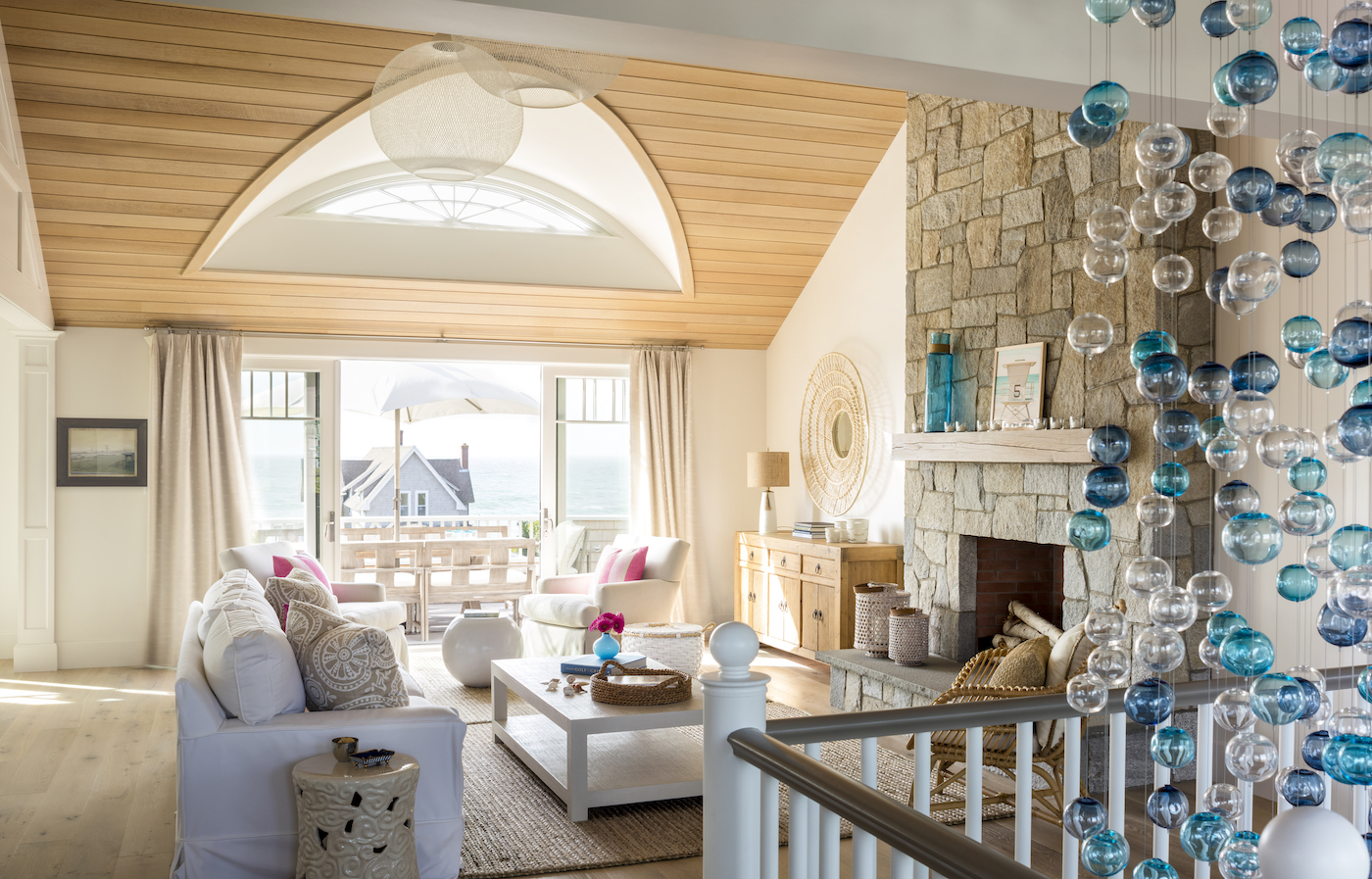 SV Design designs a dreamy Rhode Island home that prioritizes family living, cultivates connection, and embraces idyllic surroundings.
As one of four family homes on a cherished coastal enclave beaming with generational memories, this spacious property redefines the very essence of 'family first'. This theme of family was at the forefront of every design discourse between the client and architect Katy Finkenzeller of SV Design. With extended families occupying the other three independently-owned homes, it was important to integrate a sense of community and connection into the fourth home. The result is a quintessential Rhode Island summer retreat with thoughtfully-designed architecture and interiors that bring the whole family together.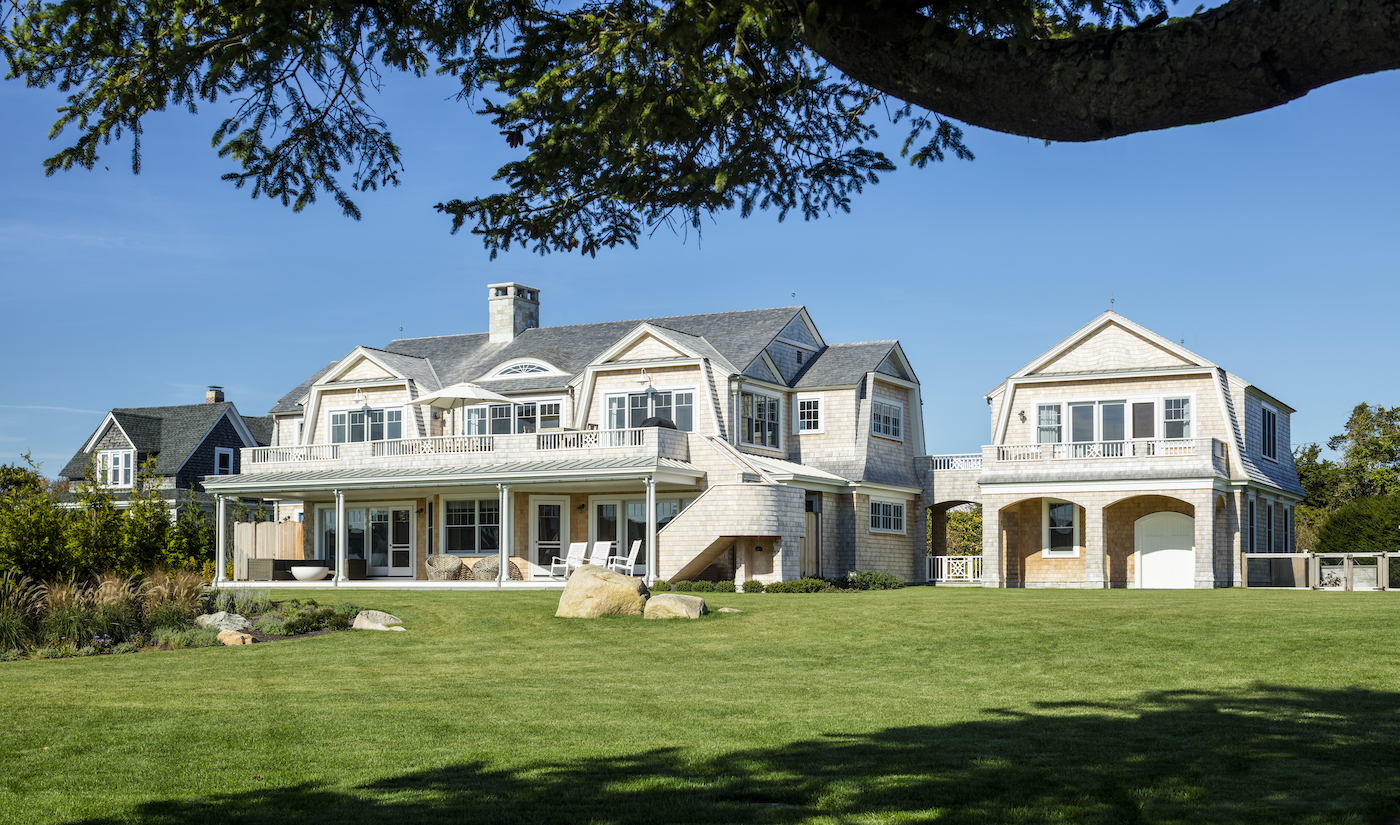 (Photography: Warren Jagger)
This was not the first project SV Design had worked on with this client. Although a vibrant palette was their usual go-to, the client opted for a more subdued pastel color array for the interiors to harmonize with surrounding natural elements. Happy to oblige with the request for softer tones, Senior Project Manager and Interior Designer Shelby Littlefield incorporated key pops of color and whimsical touches to reflect the fun-loving personality and breezy summer lifestyle of the client. "With SV Design doing both the architecture and interior design, it's an amazing process because we can curate everything for the client," says Finkenzeller. Personalized touches include a secret door in the bunkroom, sea creature bathroom towel hooks, a surfboard bench in the mudroom, and—believe it or not-–a cedar shingle-clad slide that offers a playful descent between upper and lower level patios.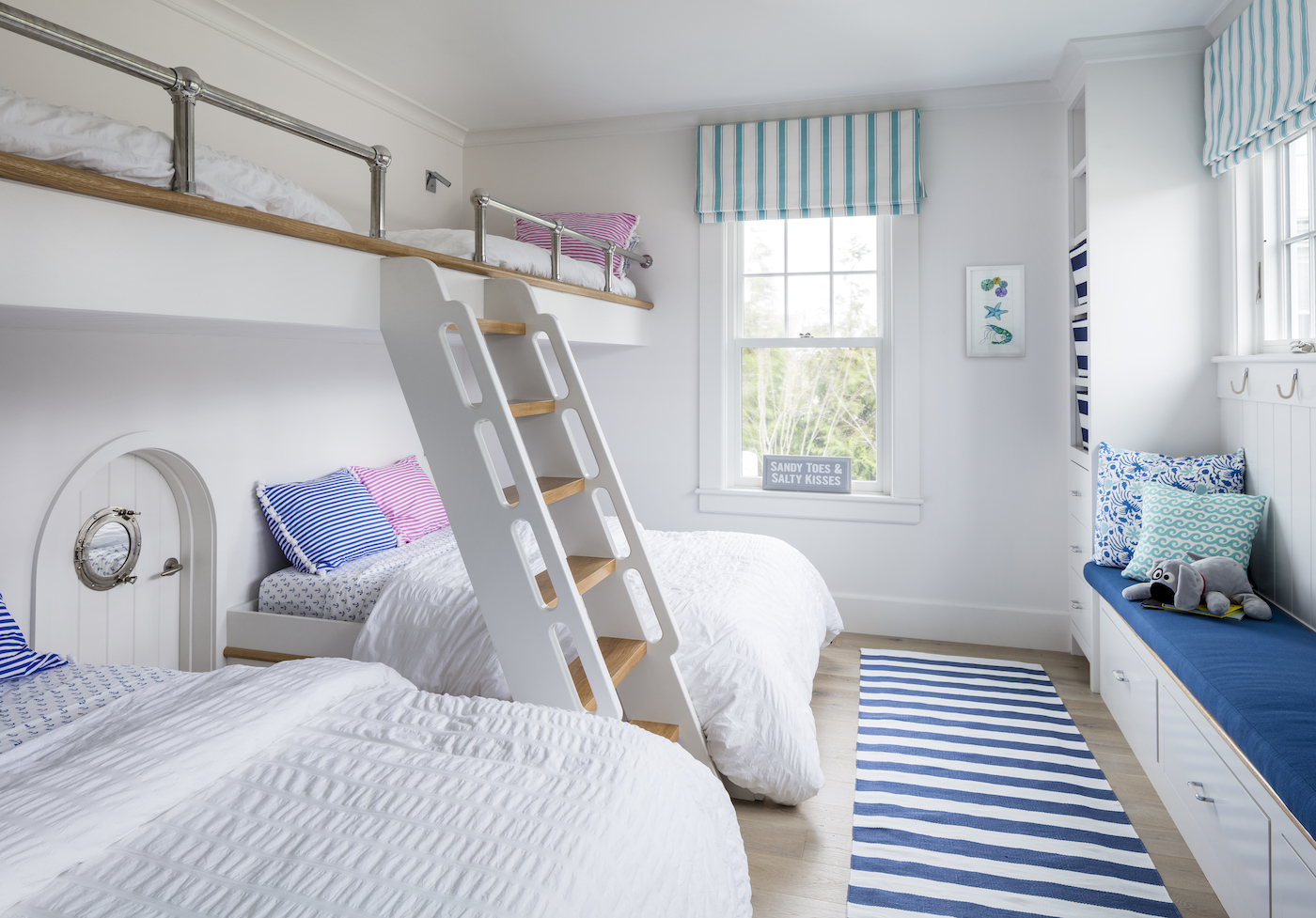 (Photography: Warren Jagger)
Bathed in the gentle glow of summer light, the interiors harmonize with the tranquil coastal surroundings through a soft pastel palette and effortless integration of indoor/outdoor leisure spaces.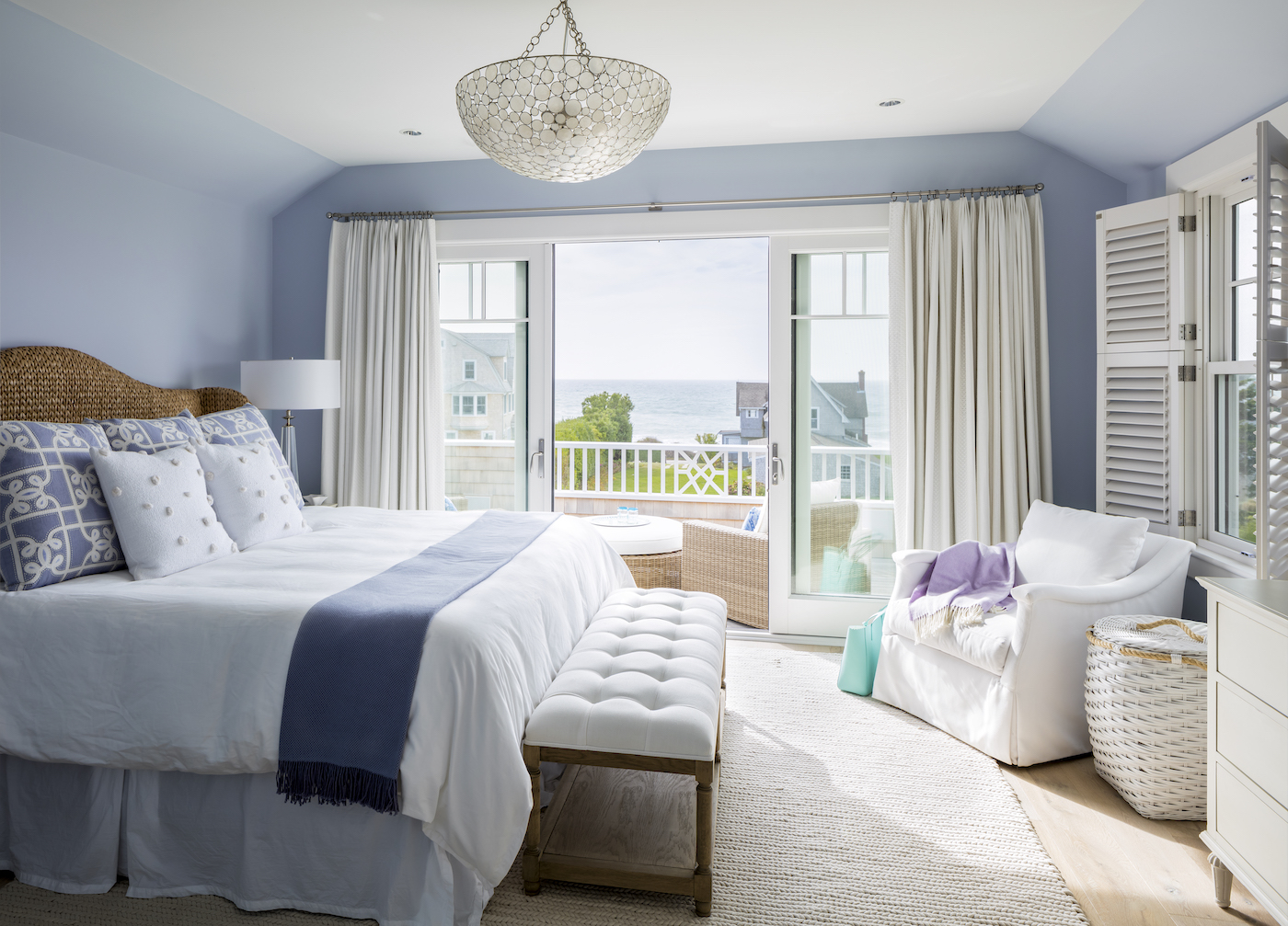 (Photography: Warren Jagger)
The home's design ensured that all of the principal living spaces and primary suite found their home on the second floor, which boasts the best views of the sea. Designed as an "upside down" house, as SV Design describes it, the kitchen and living room peer toward the water, while the first floor houses a cozy family room, beach gear storage space, and a mudroom conducive to a laid-back entryway to and from the beach.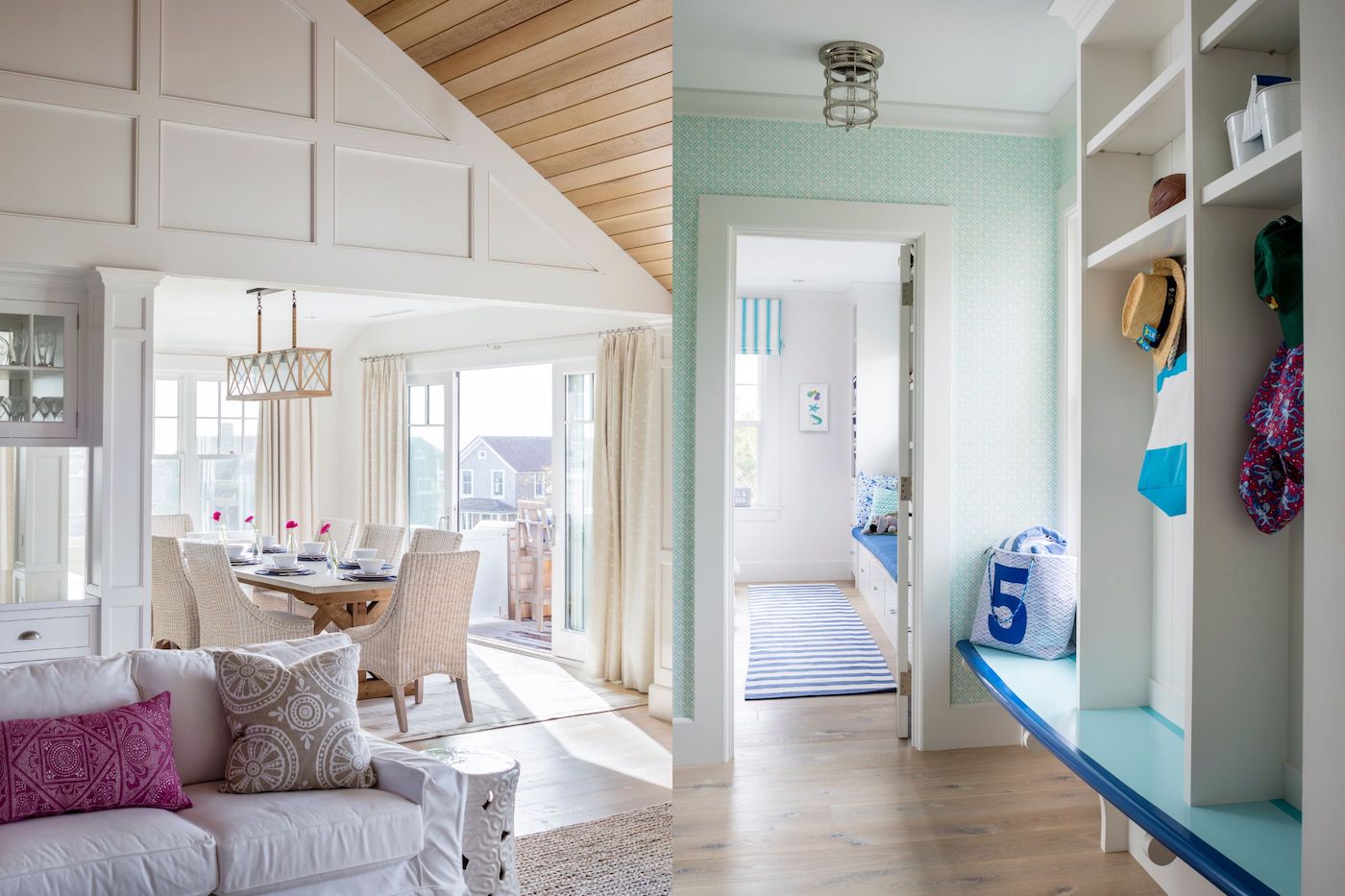 (Photography: Warren Jagger)
The configuration offers a dedicated formal entrance into the second floor level, as seen from the front facade. Crossing the threshold, views of the ocean and bright natural light offer a resplendent greeting into the living room, amplified by a large eyebrow dormer and sliding glass doors. Treated oak wood ceilings imbue the space with character and warmth that embraces a coastal ambiance. A wood-burning fireplace offers multi-season comfort to accommodate the family's frequent autumn visits. Holding court as a centerpiece is a bubble chandelier that mirrors the captivating allure of the surrounding aquatic world. Sliding doors reveal a second floor balcony that offers breathtaking sunset views that illuminate an al-fresco dining and leisure space. Adjacent to it, a fully stocked bar is conveniently located. Just steps away lies the heart of the home–the kitchen. Here, the entire family gathers to cook and enjoy one another's company. Expansive windows with views toward an iconic chapel are framed by a crisp blue tile backsplash and neutral cabinetry.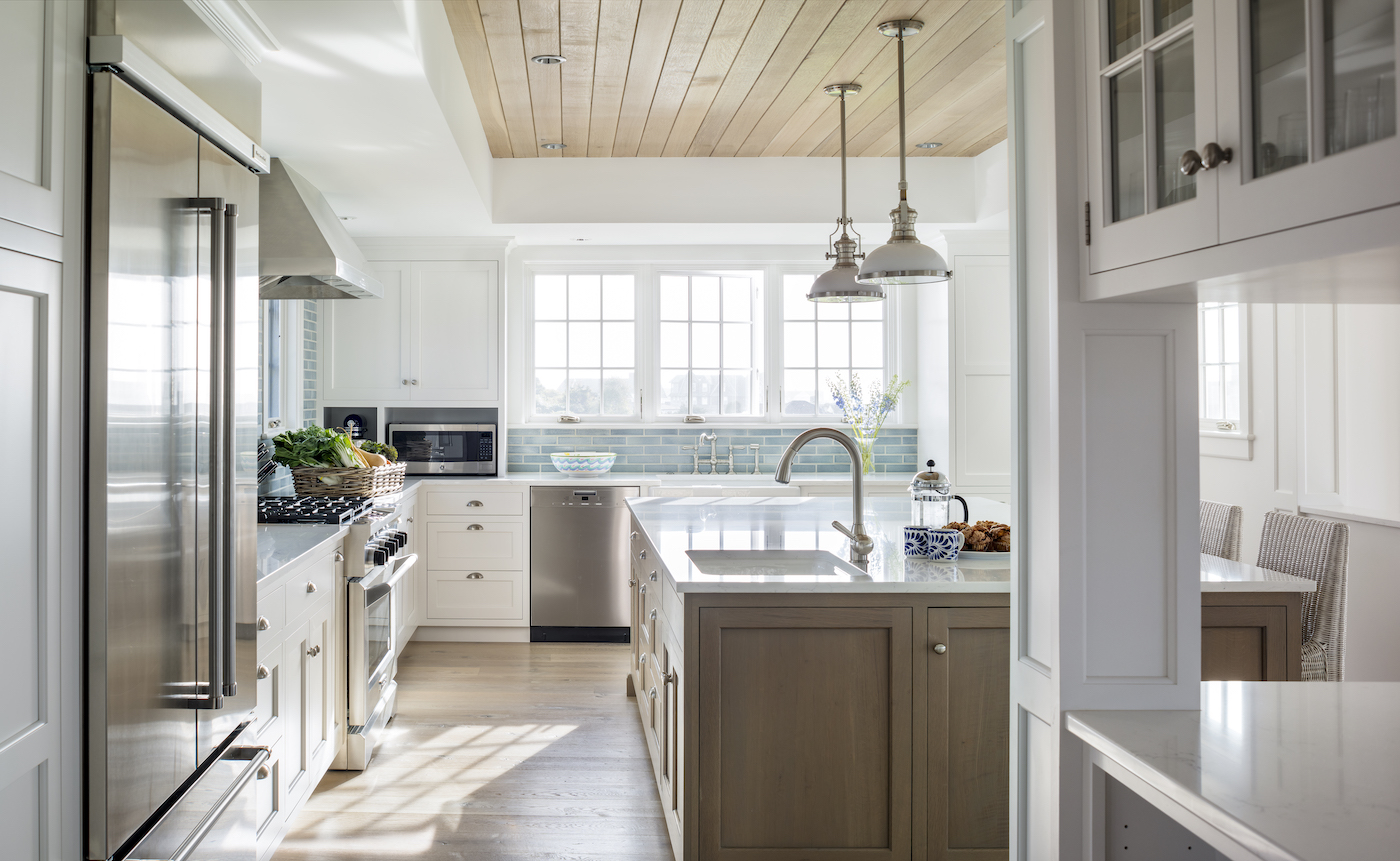 (Photography: Warren Jagger)
On the home's exterior, coastal charm rings true with white cedar shingles, a yellow cedar roof, and diamond and wave shingles placed on the front gables to create texture and variety. A two-floor garage and guest house are linked to the main home by way of an elegant footbridge that features an archway that perfectly frames a view toward the sea. With an abundance of intentionally designed connection points, the home embodies family living. "It's fun as a designer to feel like you're empowering people to live their fullest simply through creating a beautiful living space to enjoy every day," says Finkenzeller. As a product of SV Design's family-centered and personalized design approach, the house becomes more than a home, but an all-encompassing family delight.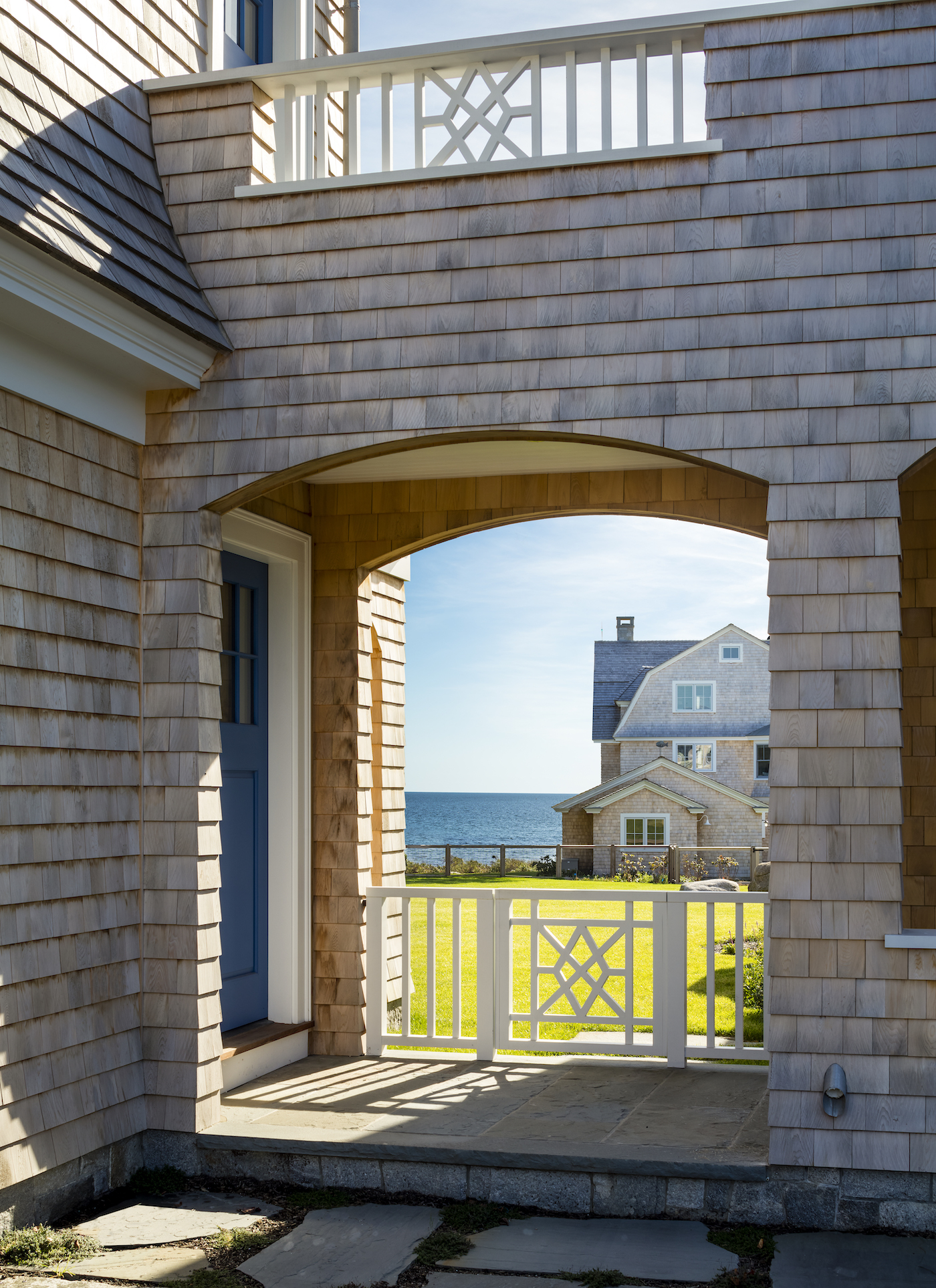 (Photography: Warren Jagger)
Architecture: SV Design, Interior Design: SV Design, Builder: Evergreen Building Systems, Writer: Maddie Brisbane, Photographer: Warren Jagger