Company Profile:

The craftspeople at Kenyon Woodworking provide unique custom woodwork that transforms a house into a home. There are no limits to the materials and designs that they can incorporate into their work.
Whether your project calls for exotic woods, fine details or impeccable finishes, Kenyon can assist in fulfilling your needs. All of Kenyon's custom, hand-crafted architectural millwork is produced in their shop in Jamaica Plain, MA.
Kenyon Woodworking offers design services but they also work closely with architects, designers and builders to help execute their projects. Detailed shop drawings combined with attentive project management contribute to their productive collaborations.
Visit Kenyon Woodworking to learn more.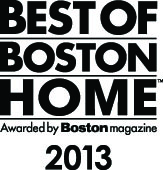 Best of Boston 2013, Best Custom Cabinetry, Kitchen