Company Profile: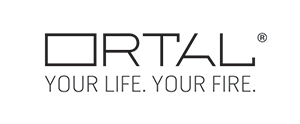 For over 30 years, Ortal has been known for designing and building luxury frameless gas fireplaces that add life into any living space. Ortal's fireplaces are planned in accordance with stringent requirements and are certified and approved for use in North America. Ortal's product line is constantly updated to offer the latest technologies and to set the trends for gas fireplace design and adaptability.
Rediscover luxury with Ortal's uncompromising quality of materials, rare craftmanship, safety standards, ease of installation and end-to-end service.
Ortal's fireplaces unique features enable extraordinary flexibility as well as safety and comfort. The Ortal team believes that magnificent homes deserve magnificent fireplaces, that is why they focus on exceeding the expectations of customers and the architectural design industry.
ORTAL
Your Life. Your Fire.