June 17, 2014 | Sandy Giardi
Ancient elements are fueling modern landscape designs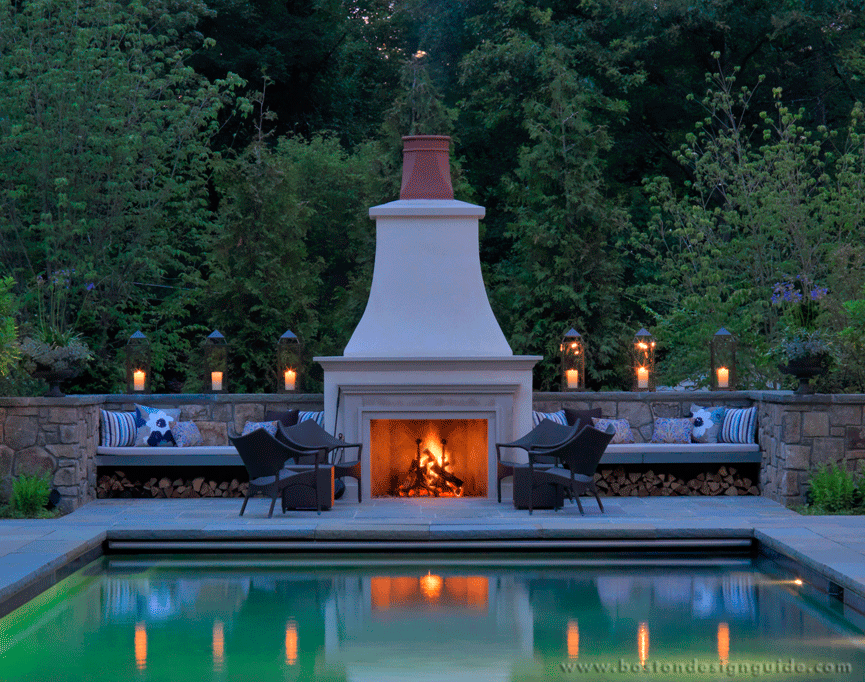 Katherine Field and Associates; photography by Richard Mandelkorn
The peace of water, the power of fire, small wonder more and more homeowners are incorporating these beautiful features within their landscapes. While on trend, these elements are anything but new. Since the beginning of time, people have been drawn to fire, riveted by its flames, comforted by its warmth. Water, too, has long been a focal point of classical gardens; Roman gardens were prized for their ornate fountains and still pools and basins. Today, New England landscape architects are seeing a return to these compelling features, not only for their powerful, sensuous beauty, but also because they extend the outdoor living season and make it infinitely more interesting.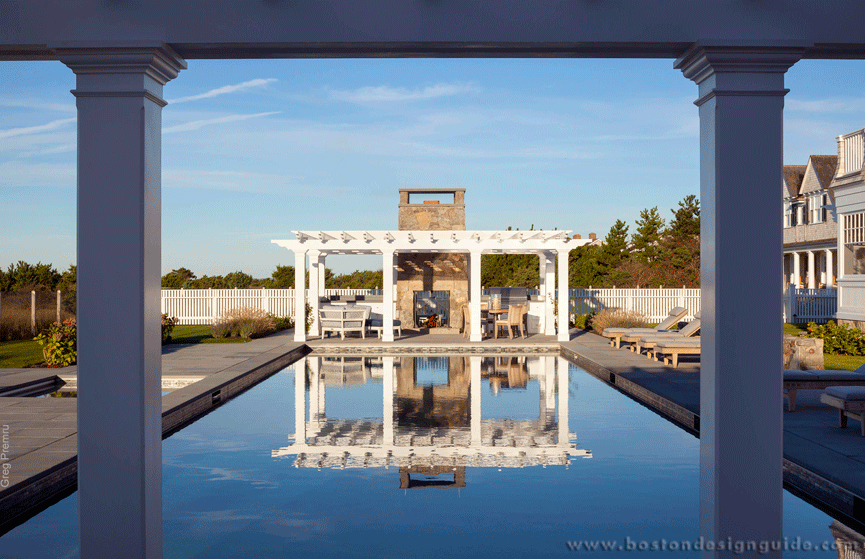 Dan K. Gordon Landscape Architects; photography by Greg Premru
Gregory Lombardi, president of Gregory Lombardi Design, maintains, "There's so much culturally and, probably, subliminally, that's hardwired into us as to what fire means—the comfort of it, the power of it, the primal nature of it. People can sit and watch a fire and it [becomes] a meditation; they just get lost in watching the flames. Water has a similar effect. It's so primal, and usually thought-provoking and restful."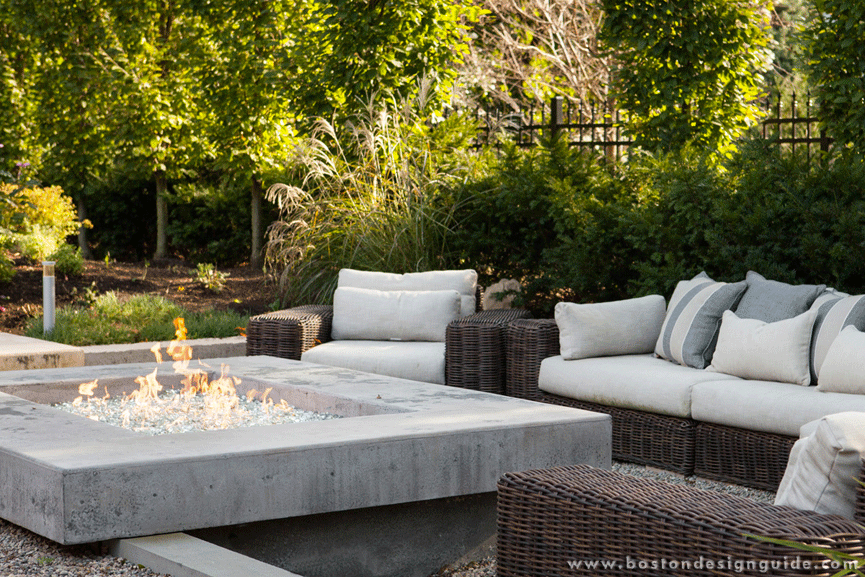 Gregory Lombardi Design; photography by Keller+Keller
Perhaps driven by the vast visual material available in this information age, Lombardi believes that New Englanders are eyeing outdoor living designs in the Southwest and California and even the Caribbean, and are open to imagining a more "year-round, inclusive type of outdoor living." It's something his firm pushes hard for, and suggests without hesitation.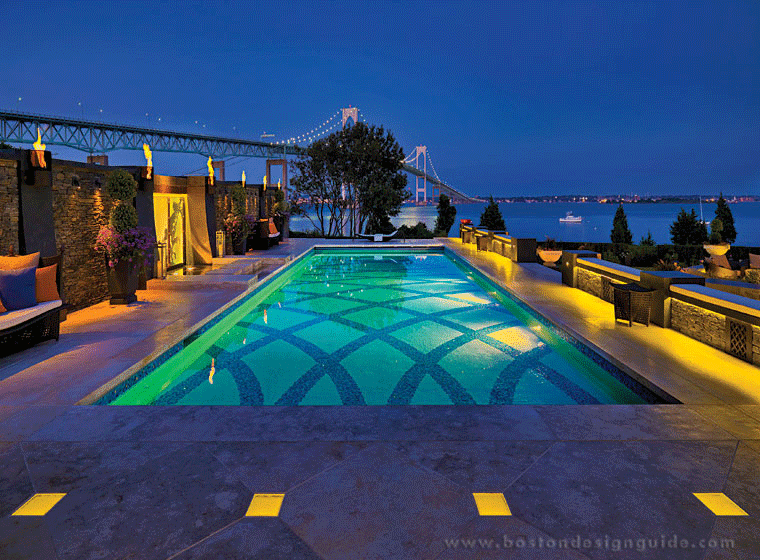 Katherine Field and Associates; photography by Richard Mandelkorn
"We're always working on ways to open up a house," says Lombardi. "People want to feel the inside-outside connection." Outdoor showers, spas, fireplaces and fire pits are all ways to extend the shoulder seasons (i.e. spring and fall). "They become a lifestyle enhancement," he adds. "We love it because it's an interesting new level of work for us. It's sort of grabbing the bull by the horns in New England climates."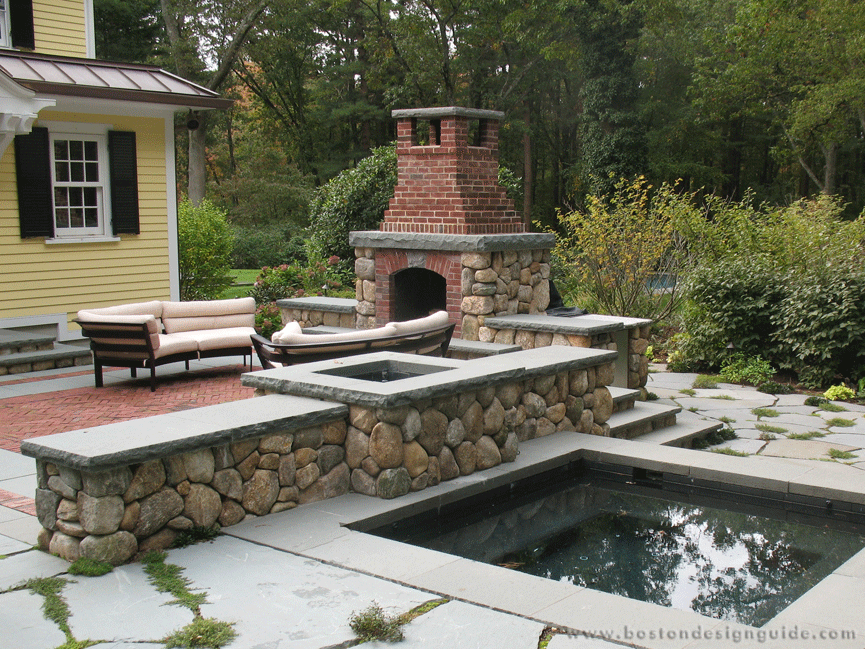 Dana Schock of Dana Schock and Associates concurs: "People are more in tune with developing outside living spaces as an extension of the house by way of fire pits, fireplaces and outdoor kitchens. Fire pits and fireplaces stretch out the season a bit on both ends in the cooler evenings."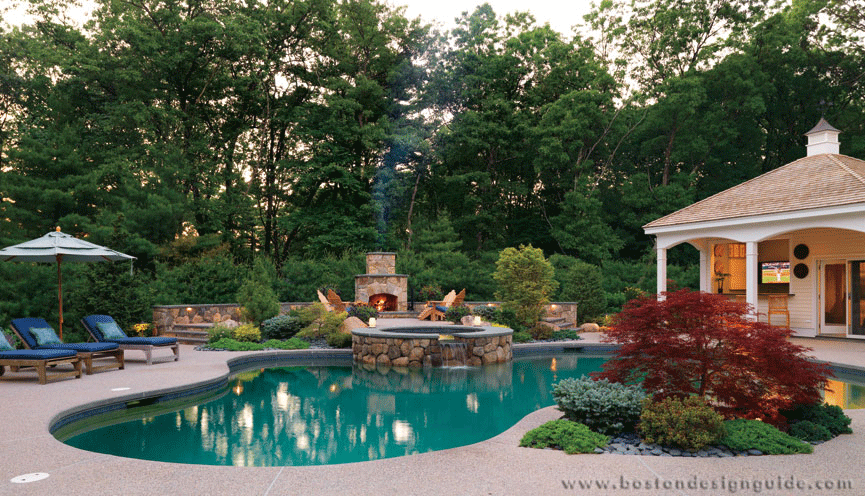 Dan K. Gordon, principal of Dan K. Gordon Landscape Architects, would take it one step further, adding that, even in New England, with careful thought—as well as radiant heat and portable heaters—landscape designs can extend the season well beyond a late-summer night. In fact, the design pictured below was made expressly for football season and includes a bar area, fire pit and oversized spa—all vantages from which you can view the game.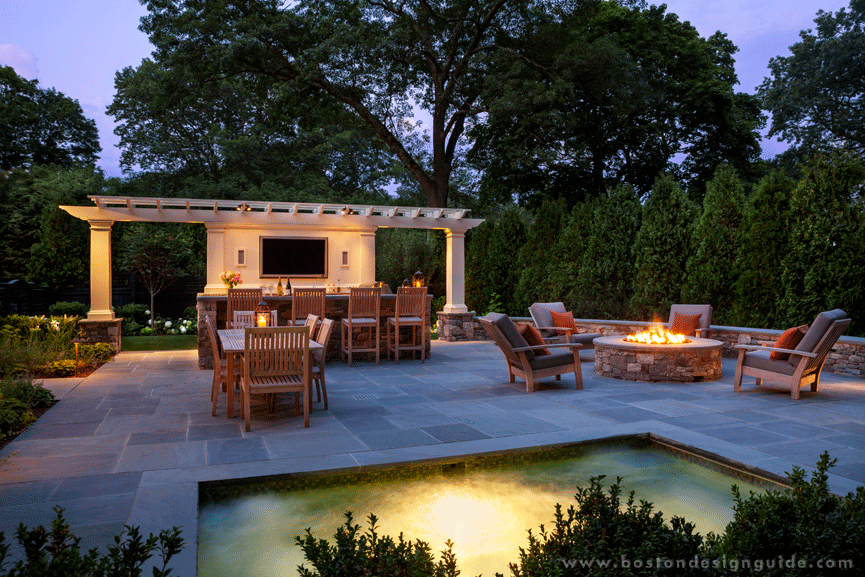 Dan K. Gordon Landscape Architects; photography by Greg Premru
It boils down to a desire for what Gordon labels as programmatic elements. For water, he explains, "the program would be a swimming pool or a spa, or a decorative element like a fountain." For fire it might be a fire pit, fireplace, bar or outdoor kitchen, or a combination thereof. Says Schock, the latter "provides a gathering and social hub for the family and for entertaining, and also lends a dramatic element to the architecture of the outdoor space."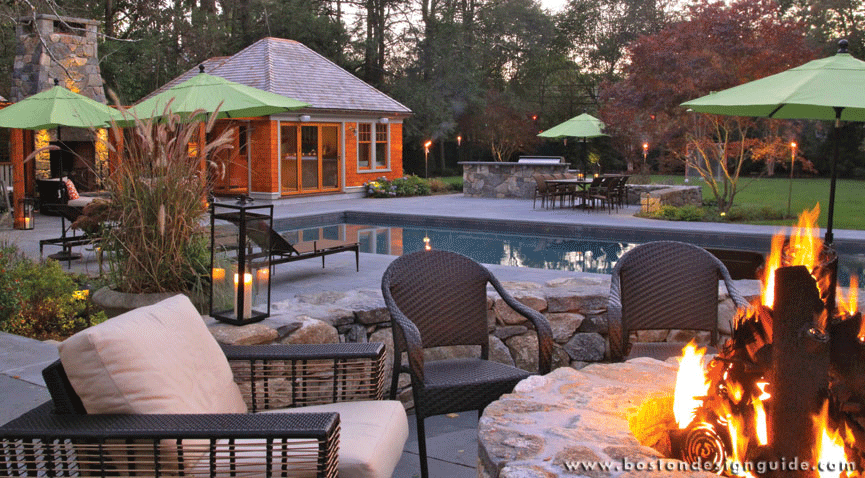 Embedding a program within the landscape generates "a reason to use your outdoor space and creates more interest in those outdoor spaces," says Gordon. "If you have a fire pit, all of a sudden it gives you a reason to go out in the winter or in the offseason," rather than staying indoors. It can serve as an activity for the kids, who can roast marshmallows while the adults linger in a different section of the terrace, or, as Lombardi mentions, it can "put a period at the end of the sentence that is an evening of entertaining," when a core group of guests sits fireside for one last glass of wine.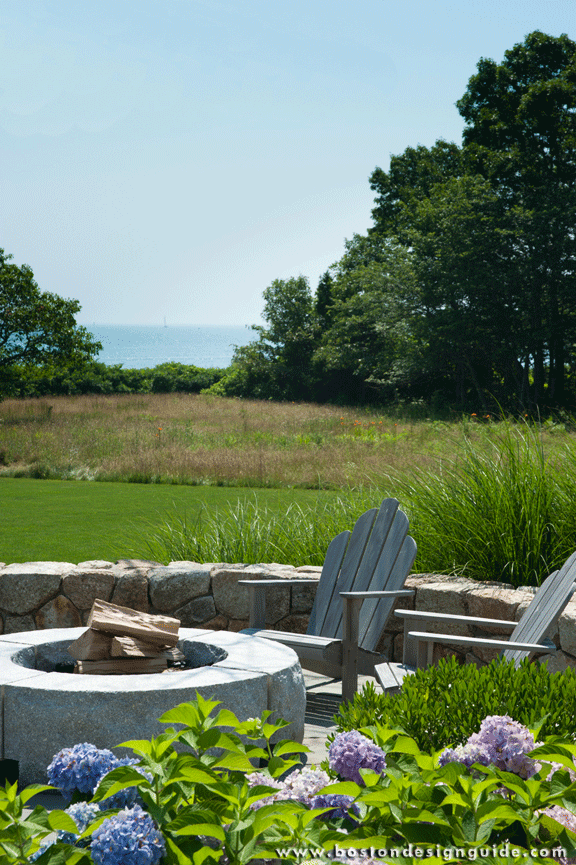 The same holds true for water. There is a recreational component that can be both active, à la kids splashing in the pool, or passive, as in reclining in a lounge chair on a resort-style baja shelf or immersing oneself in a spa or steeping pool, which, says Gordon, is "just a great way to sit in a space."
That is really what it's all about, says Lombardi, getting homeowners to "engage in the full landscape and enjoy their property." Chuckling, he cites a famous line from the film Field of Dreams, "If you build it, they will come." But it's not a joke; it's the reason people enlist landscape architects. Devices like fire elements, pools and spas are "a means to draw people in, as they explore and they discover."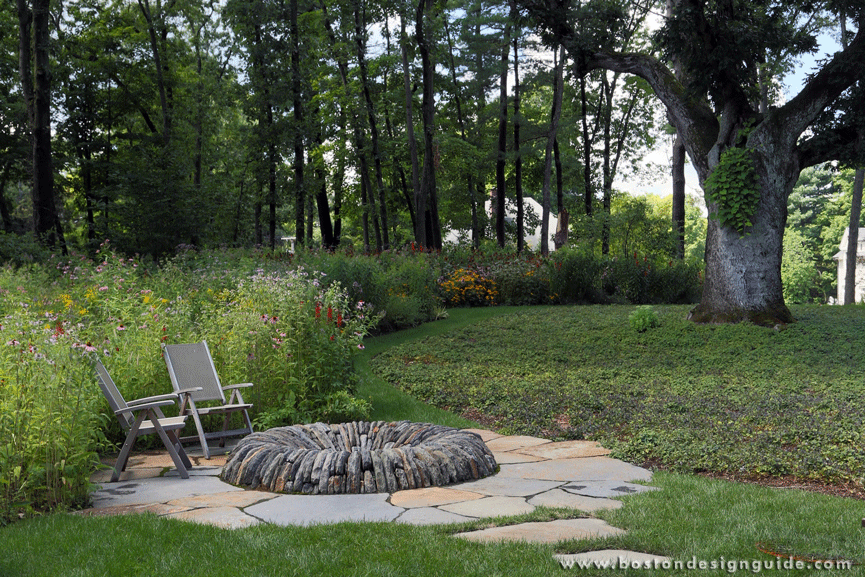 Gregory Lombardi Design; photography by Eric Roth
It's gratifying work, and homeowners reap the benefits. "I'm always happy when a client wants to include some sort of water feature in their project," says Katherine Field, Chief Creative Officer of Katherine Field and Associates. "Water is a very healing element. I'm all about being out in nature and letting it heal us, from a philosophical standpoint. It's why I do what I do; I really believe in the healing power—the uplifting power—of being out in nature."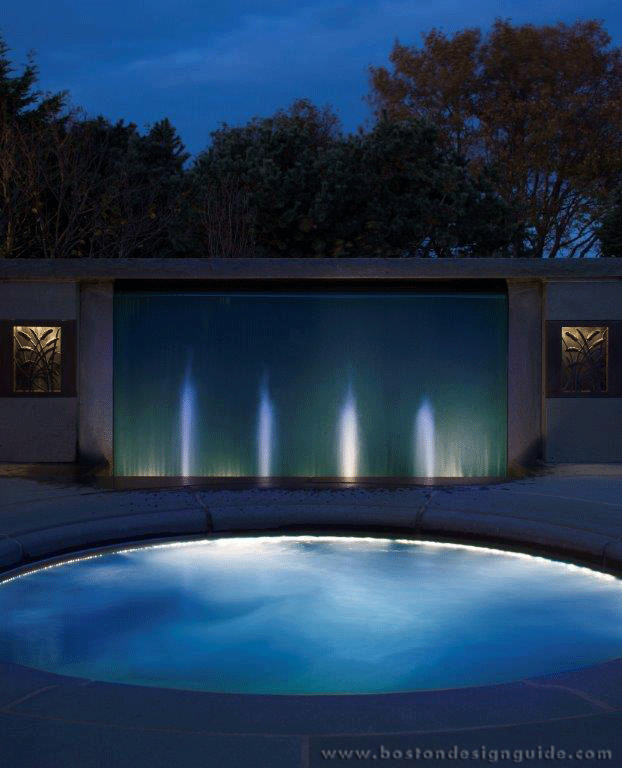 Katherine Field and Associates; photography by Warren Jagger
Field would argue that you should "always have water moving in your garden." Even a drizzle or a "small, self-circulating feature" not only blocks out peripheral sounds like traffic or neighbors, it brings one's landscape to the next level. Gordon illustrates, "When you walk into a garden and you hear that dripping sound of water, it has the same sensory component as the smell of boxwood or roses." There is a soothing and transporting nature to the inclusion of water within a landscape, as well as, of course, an aesthetic one.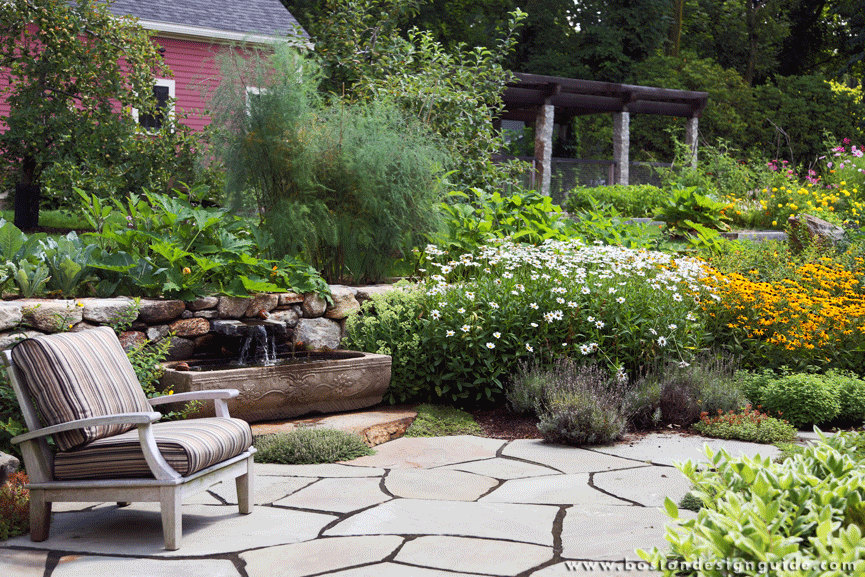 As a decorative element, whether a fountain or a waterfall built into the stone, water is as much about sound as it is about movement, texture and light. "To me," says Field, "water is all about light. The water itself is reflective. [It] will reflect the sky, or the elements that are at eye level. What you see in the water depends on where you are in the background."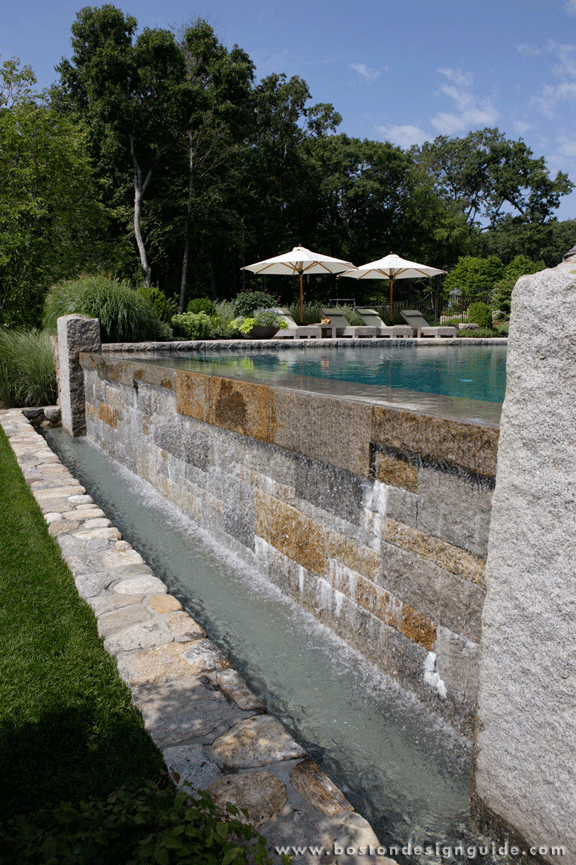 Gregory Lombardi Design; photography by Devin Hefferon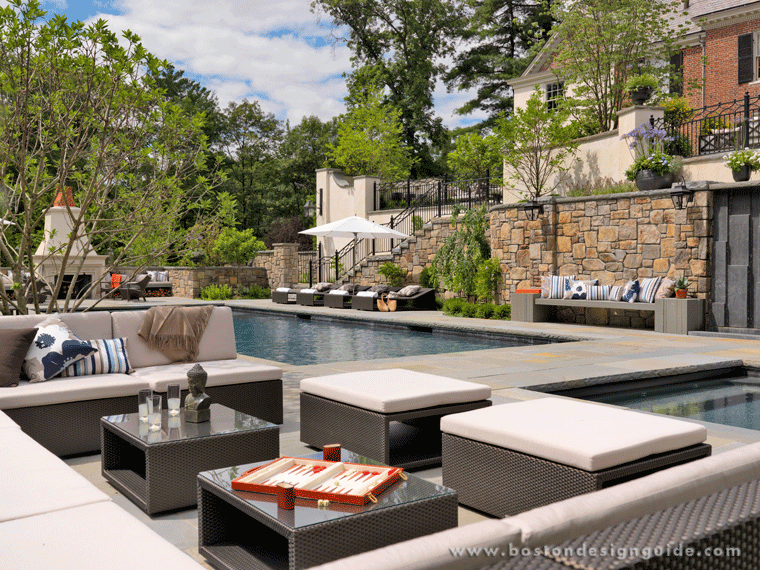 Katherine Field and Associates
When executed well, water elements wear a very different face during daylight hours than they do at dusk or nightfall when light and fire come into play. By day there is a serenity, light and color, which, says Field, "can range from a bright turquoise to the darkest blue." At dusk, a palette softens even as it builds intensity, oftentimes capturing the sky's saturated hues in its waters.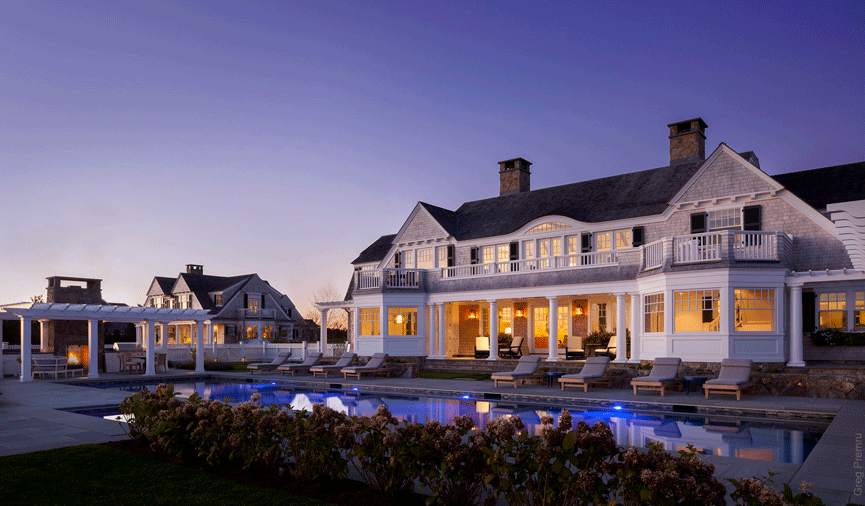 Dan K. Gordon Landscape Architects; photography by Greg Premru
By evening, a powerful visual drama can be achieved compositionally through the interplay of light and fire and reflections cast in shimmering pools. A nighttime landscape "should feel very special," contends Field. Special indeed. Residents may never come inside again. 

Katherine Field and Associates; glass art by Duncan Laurie; photography by Richard Mandelkorn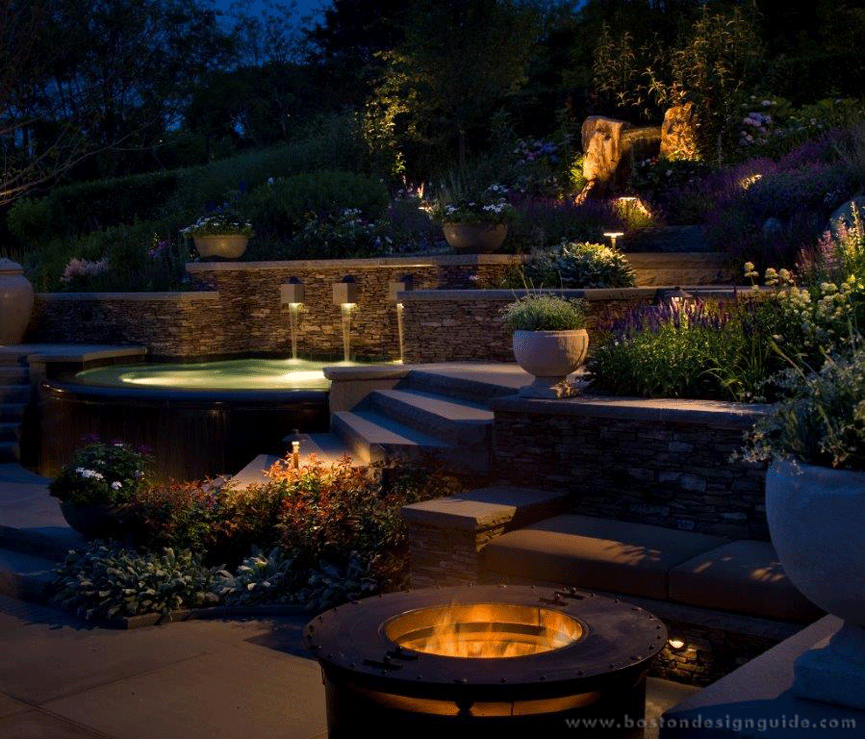 Katherine Field and Associates; photography by Warren Jagger