September 25, 2020 | Sandy Giardi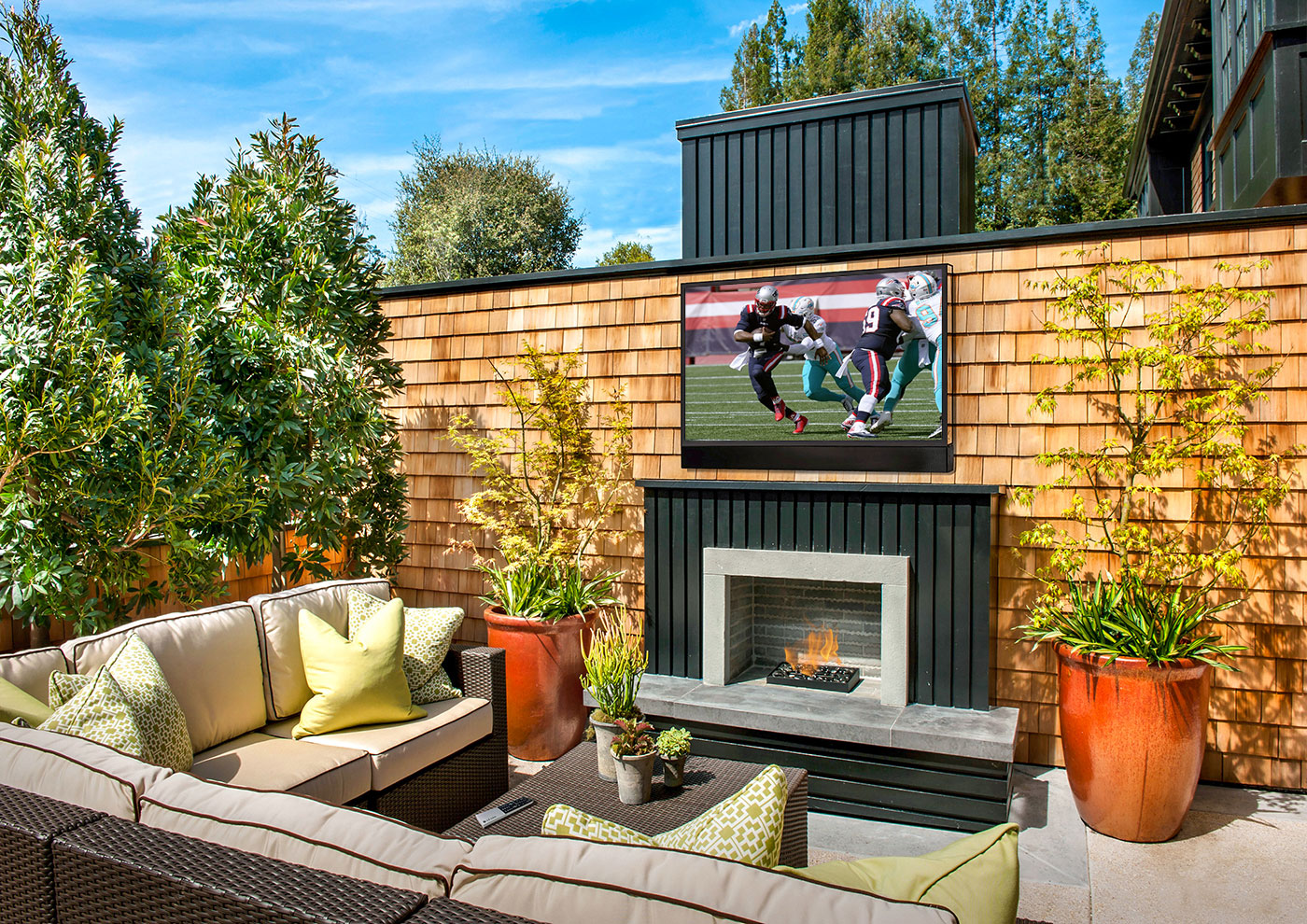 Advancements in outdoor living entertainment allow homeowners to take Elite Media Solutions' smart home and AV systems outside....
Now more than ever, homeowners are regarding the backyard as an extension of their house. Add COVID into the mix, and the outdoors has become the safest place to socialize, and a welcome escape from the four walls of home, with plenty of fresh air and opportunities for fun.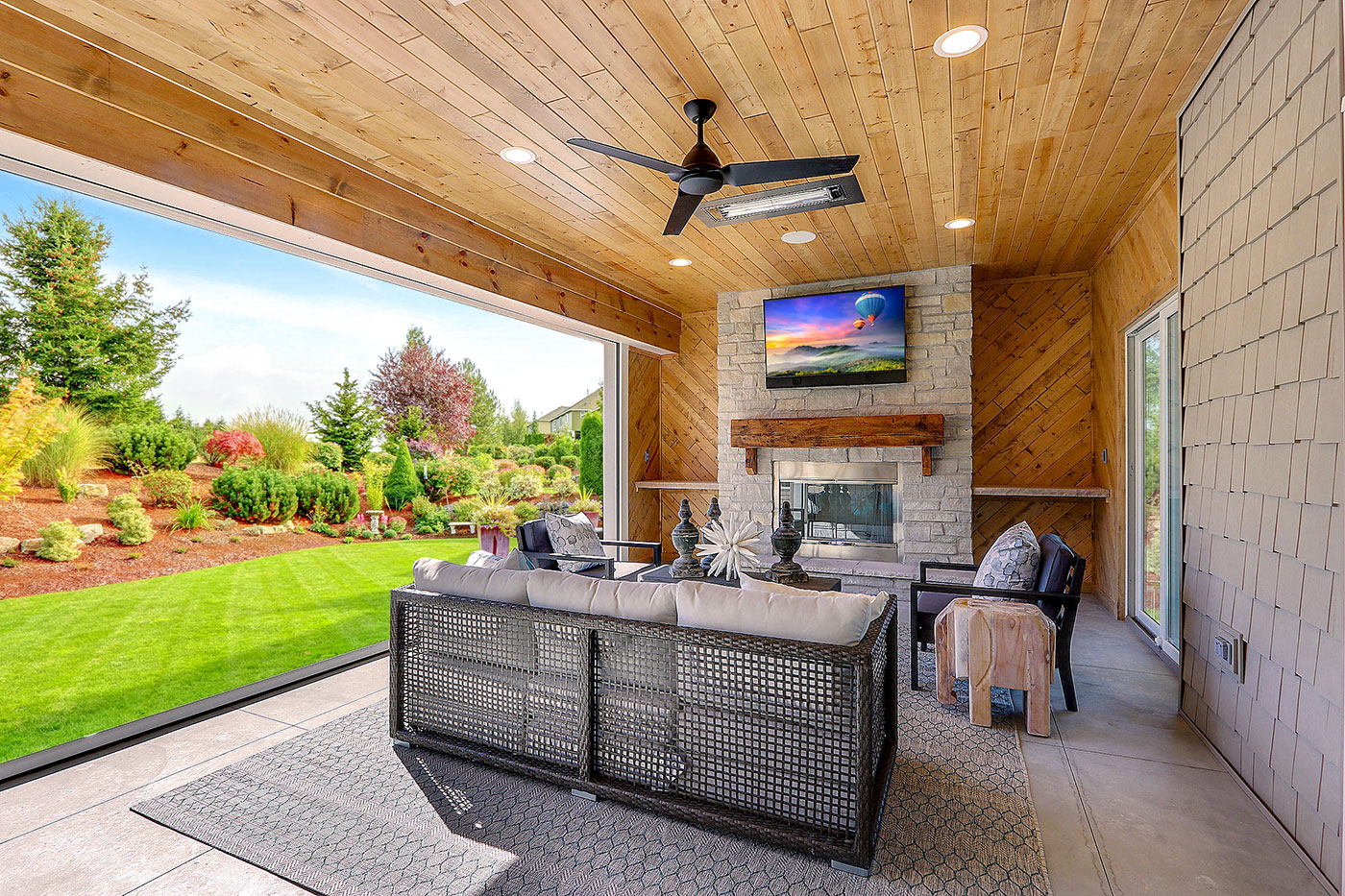 When choosing an outdoor TV, consider location. If you want to watch TV by day, opt for a full-sun, 55-inch TV, says Brian. If your TV will be housed within a porch with an overhang, choose partial shade. Outdoor TVs aren't inexpensive, but you have to keep in mind they are designed to withstand the rain, snow and cold, as well as the heat. Elite Media Solutions considers Séura (pictured above and top) to be "the best of the best."
Given the current climate, residents are "building a vacation at home," maintains Olivia Gibson, Manager of Marketing & Client Relations for Elite Media Solutions. This means adding outdoor TVs and home theaters for alfresco movie nights, incorporating targeted outdoor audio and illuminating pools and spas, pathways, granite steps, trees and gardens with landscape lighting. With these elements, "you're transported someplace else," says Olivia. Suddenly, you're not in New England anymore. 
Bringing AV and tech capabilities outside means first addressing your network, or what Owner and President Brian Gibson calls the "digital foundation of the house." Elite Media Solutions can configure access points that cover up to an acre of land, so you can expand your WiFi coverage and never be far from Netflix. "If you get your network right first, everything else will be fabulous," says Brian, "because everything has a direct pipeline to it."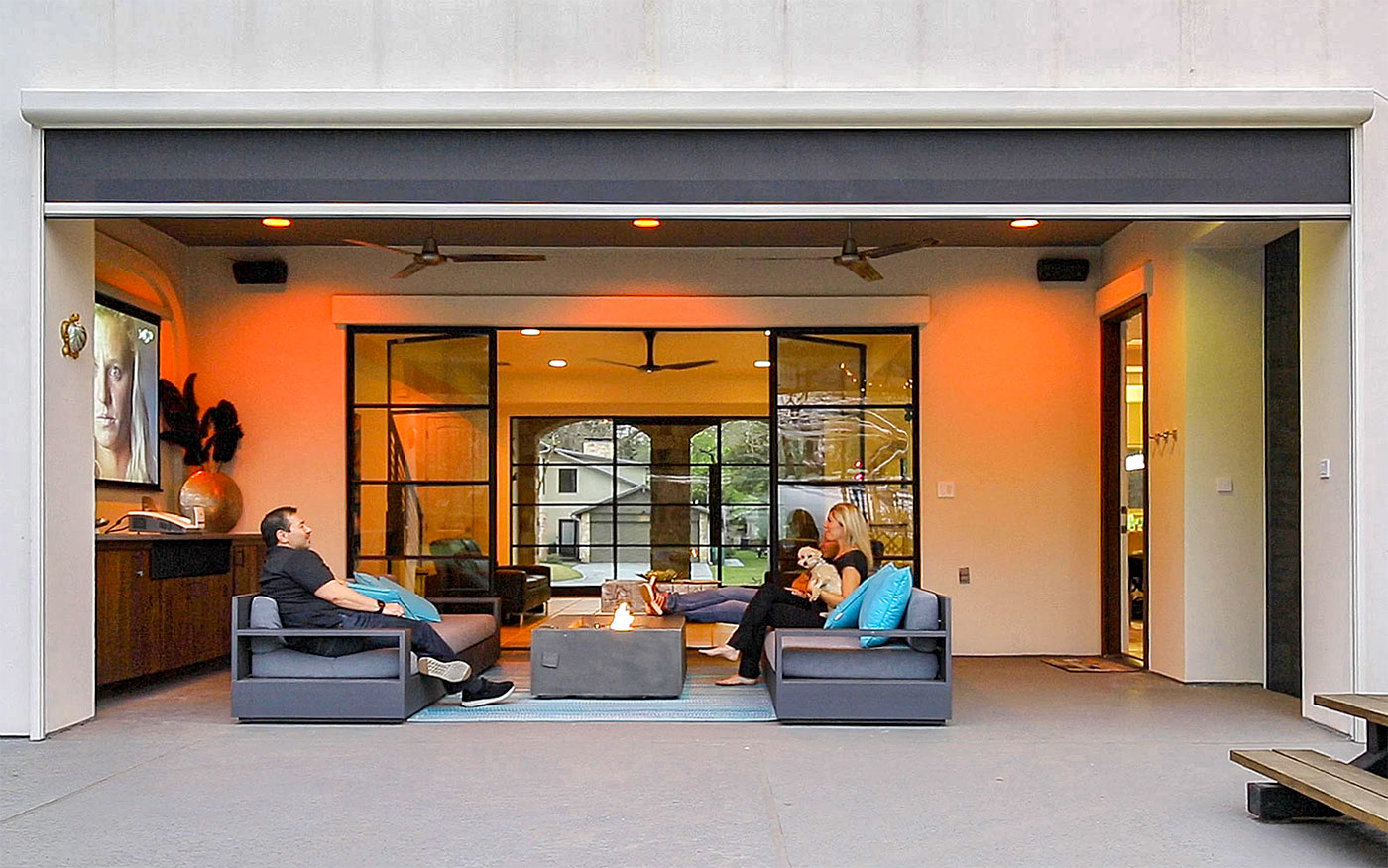 Screen Innovations' motorized shades seal off outdoor living, and offer full protection or shade. Some residents are screening fire pit areas to use them more often.
Many are embracing outdoor theater, with full cinema sound, and Elite Media Solutions has seen a massive demand for outdoor TVs. The prescient company was prepared for the spike, as they stock the Séura and SunBrite TVs they recommend—while most firms do not. When designing your viewing space, add motorized screens to keep the mosquitoes at bay and provide a bit of shade. They, too, are one of the season's hottest trends and allow homeowners to stay outdoors come nightfall.
Integrating audio into the landscape also "creates quite a dynamic" within your outdoor living spaces, says Brian. Elite embeds subwoofers underground and conceals small brass fixture speakers among the foliage. The immersive technology can enliven the atmosphere or help homeowners relax—and who among us couldn't use that?

Coastal Source
is Elite Media Solutions' go-to for landscape lighting and audio, due to its functionality and aesthetics. For lighting, Elite works with the landscape architectural plans and manufacturers to provide lighting suggestions—from uplighting trees to create a 3D effect, to wayfinding, to "lip lighting" pools and spas to beautify cascades of water. Typically, Elite Media Solutions positions audio around the perimeter of a patio area, targeting the rich, even sound toward the listeners, not the neighbors. Bollard speakers, pictured here (one is wrapped in birch), are ideal for smaller areas; the subwoofers are buried underground while the top portion blends in with the plantings.
Visit elitemediasolutions.com to outfit your outdoors.