June 2, 2021 | Marykate Forte
Some of the latest and greatest products to enhance your environment.
From disappearing televisions to musical art sculptures and invisible light controls, co-owner of Systems Design and Integration, Alexa Centeno, whose company integrates smart home system technology into spaces, knows what's trending.
"It's all about the aesthetics," says Centeno. "And being able to implement these technologies into homes where they blend in instead of standing out."
Seura vanity television mirrors are the epitome of luxury. Vanishing glass provides excellent mirror reflectivity while also making it possible for the television to completely disappear when turned off. The television can be placed almost anywhere in the mirror and is available in custom sizes and frames.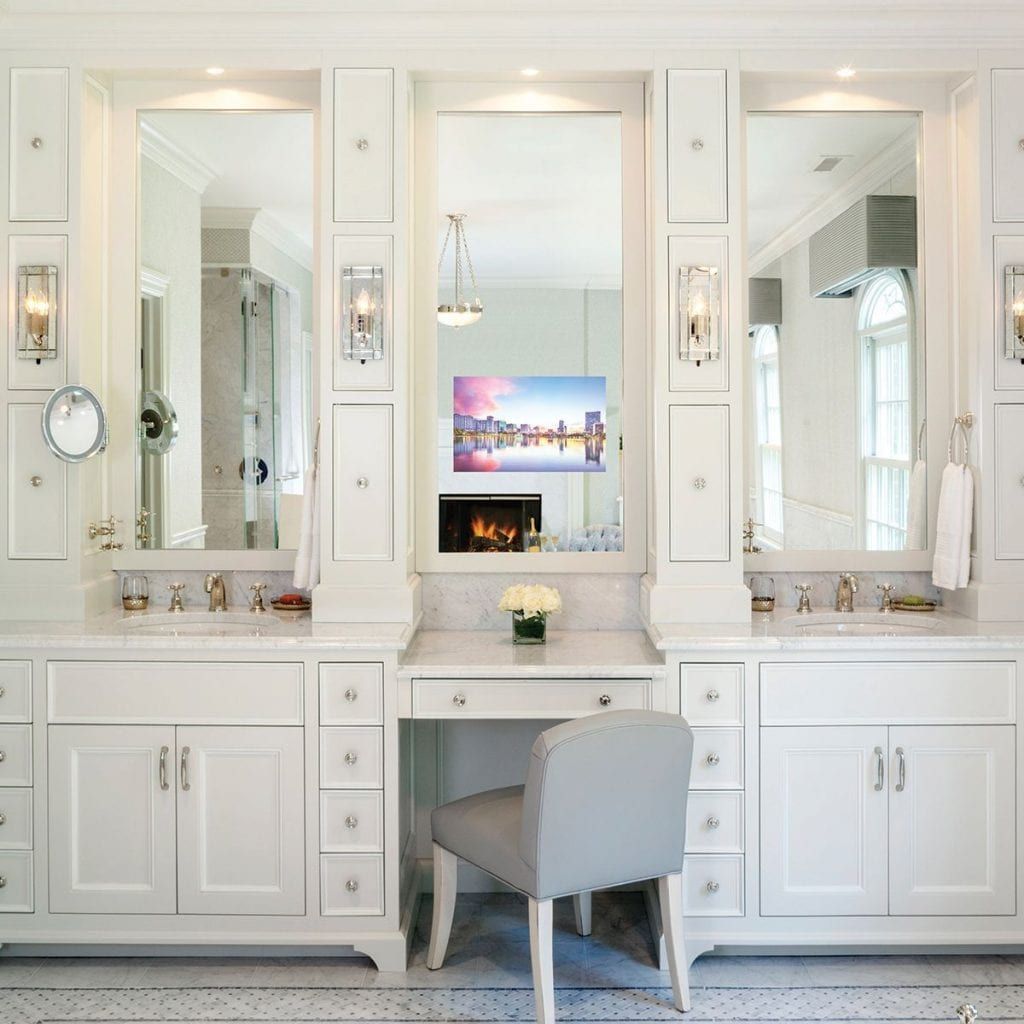 Elevate your décor with Eclipse Art Lifts, available in three models. These televisions are elegantly hidden behind any piece of original artwork and with the push of a button slide away to reveal the television. Eclipse Vertical moves the art up and down, Eclipse Horizontal moves it left and right, and Dual Eclipse splits the art down the center.
"This is a way to hide the television so it's not an eyesore," says Centeno. "They blend in with the design or interior of a home and clients can choose any art they want."
Leon's Ente Sound Sculpture creatively combines audio and art, producing a custom hanging sculpture that only requires an outlet. With audio channels and an amplifier inside the art, simply hang on the wall and enjoy. "This is very popular right now," says Centeno. "The music comes from the art and fits into rooms nicely."
Also on the rise is a Belgium-based lighting control, Basalte, that every designer and builder need to know about, says Centeno. Basalte's Sentido multifunctional design keypad is a touch-sensitive switch that can be used for lights, shades, scenes, heating, and air-conditioning. Sentido's sleek and minimalist look enables it to blend in every architectural environment and is available in a variety of high-quality finishes such as aluminum, bronze, brass, nickel, and copper.
"We are all about showing designers and clients what's new," says Centeno. "And Basalte is unique and not something you see everywhere."
For more information, visit https://sdiboston.com.