August 19, 2020 | Sandy Giardi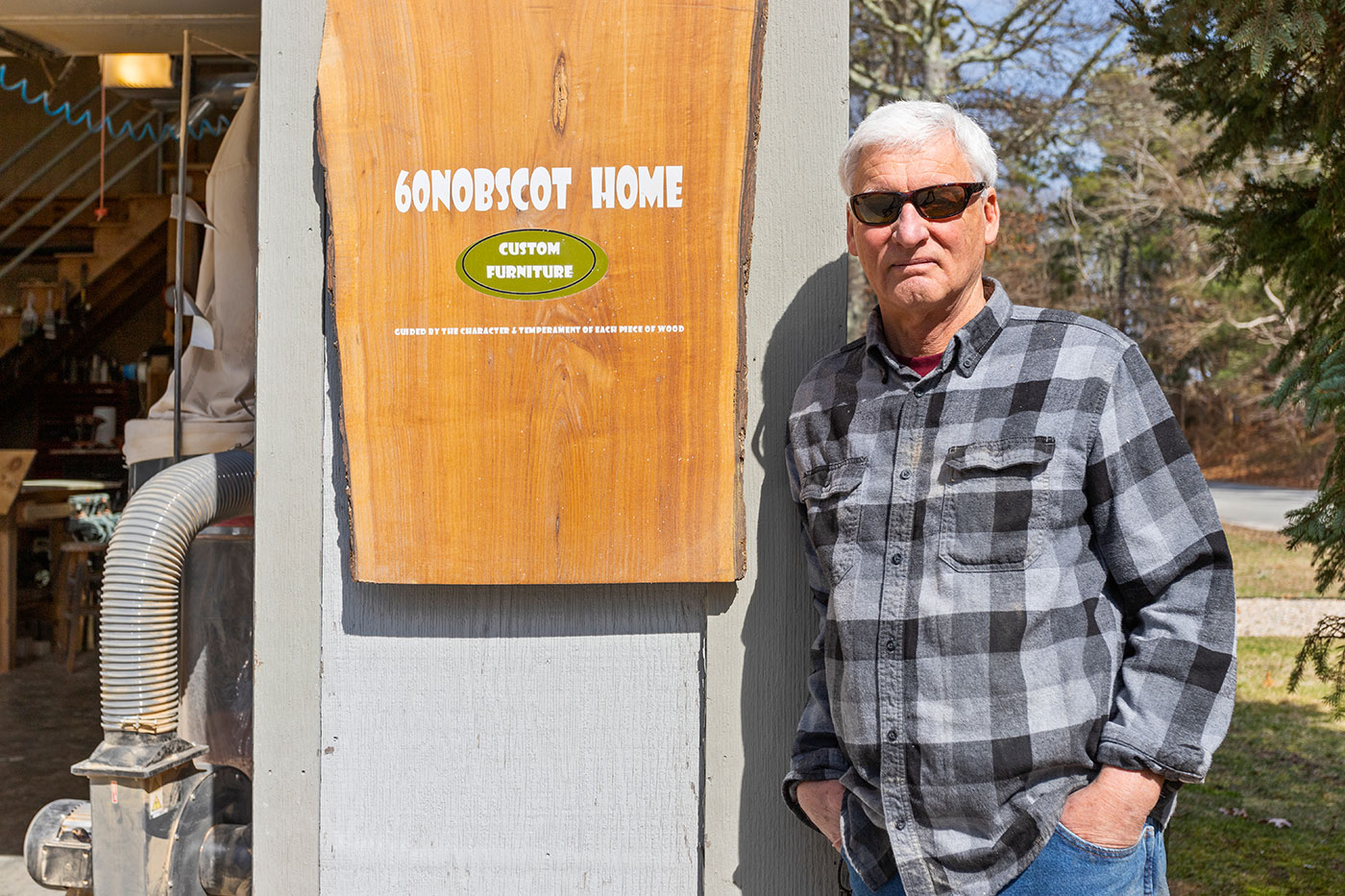 "One at a Time, One of a Kind" is how Ray Bachand approaches every piece of furniture he constructs at 60nobscot. Following a career in the music software industry and as a teacher at Berklee College of Music, Bachand is now enjoying a full-time gig in woodworking at his Cape Cod shop. There are more than a few parallels between music and woodworking, says Bachand. Being in a studio is akin to working in his shop. "There are a lot of similar juices flowing," says Bachand.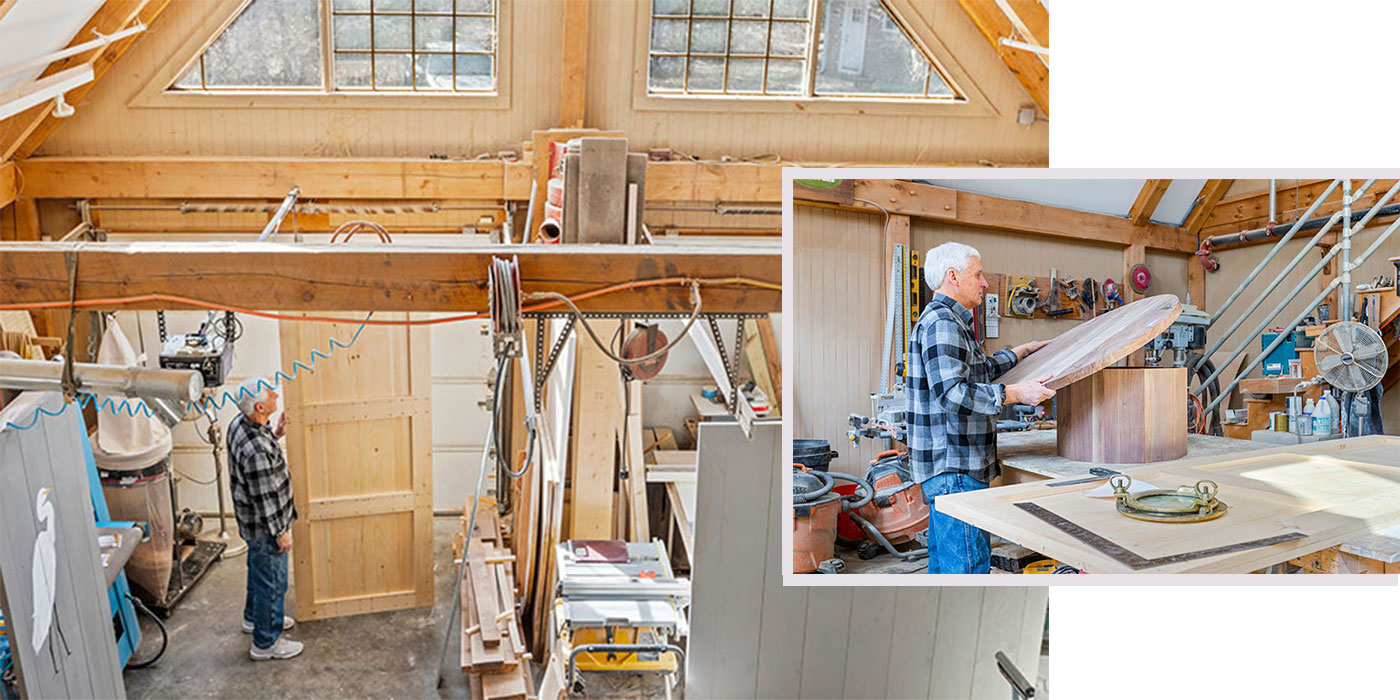 Ray Bachand in his woodworking shop.
While he crafts custom furniture including live-edge tables, coffee and console tables, media cabinets, sliding mirrors and more, he is best known for his handcrafted barn doors. "There is nothing better than the natural beauty of wood," says Bachand, "and we always use wood with some character. Things that could be considered defects, we highlight as things of beauty." He jokes that he hates doing anything twice, and the result is heirloom quality work for builders, architects, designers, and discerning homeowners.

A live-edge dining table (left) and a media console (right).
His custom barn doors are in the hottest demand. Beyond their beauty (and popularity on HGTV), barn doors "solve a lot of problems," says Bachand, and can be used as room dividers and in hallways, bedrooms, pantries and anywhere "you can't swing a door." Double doors work well if there isn't enough room to slide the door, bypass doors are a great replacement for failing closet bi-fold doors and don't require room on the sides, while two doors closing on the same plane allow homeowners to access to the full opening.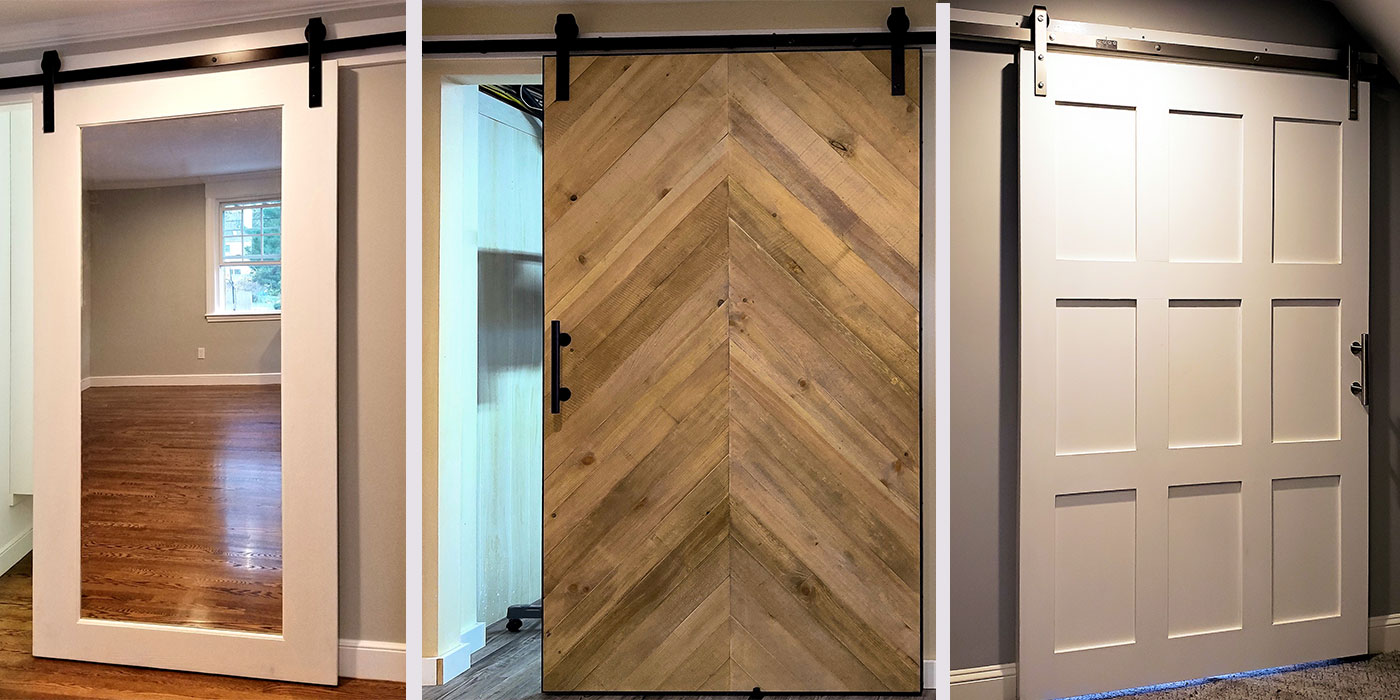 Bachand mostly works with tongue and groove pine, but he also works with oak, walnut, mahogany as well as specialty woods. Oftentimes Bachand will create tables from old wallboards or flooring, giving homeowners a vestige from the past. Reclaimed doors crafted from wallboards salvaged from a renovation are also popular (center), as are contemporary styles (pictured right), and mirrored doors for bedrooms (pictured left).
60nobscot's barn door styles vary from rustic to highly contemporary, adding allure and function in any design. The shop's "turn-key service" builds, supplies hardware and installs barn doors and is available by appointment.
Click below to join Bachand in his shop and explore his furnishings...
Video by Paul Celeste and Fish House Films; photos by Edward Glick BluWater Photography