November 15, 2016 | Sandy Giardi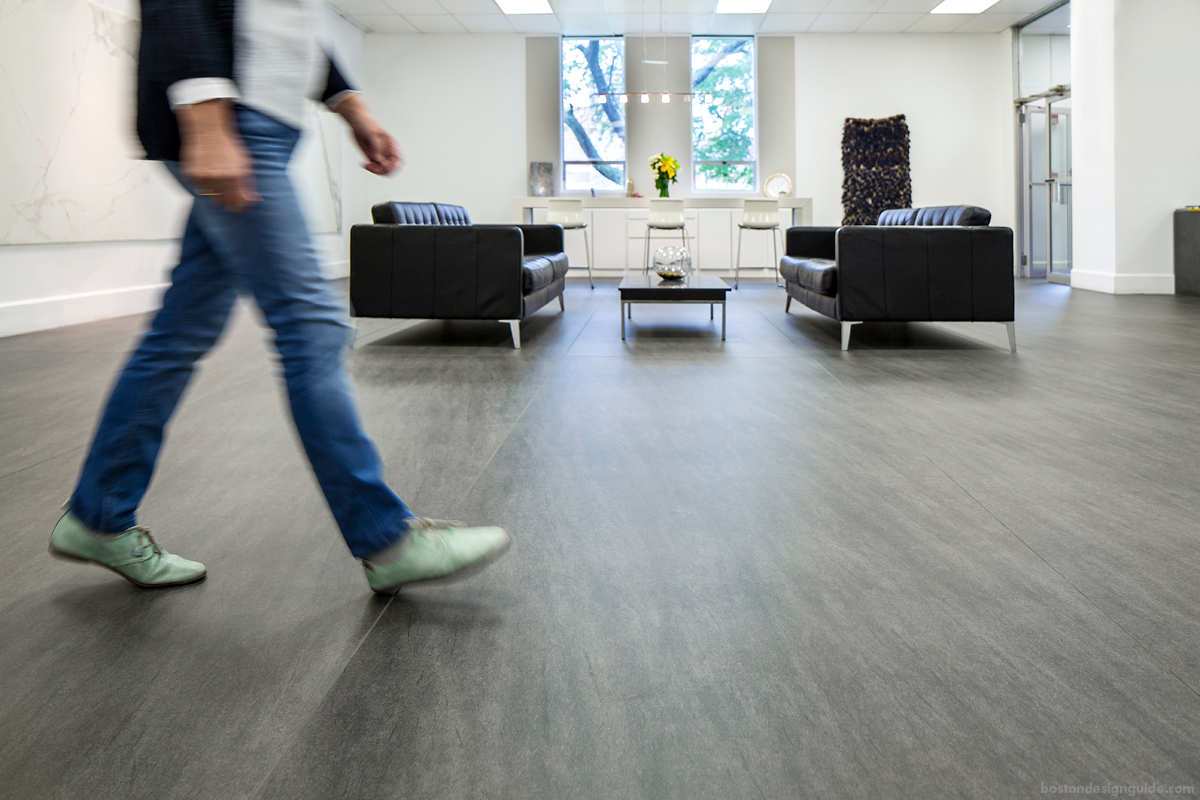 Marble and Granite, Inc.: Westwood's Best-Kept Secret for Natural Stone. 
Start your search for the perfect stone at this wholesaler and resource center.
Gone are the days of envisioning how a diminutive marble sample will translate to the sweeping polished surfaces that will transform your kitchen, bathroom or living room. Westwood's Marble and Granite, Inc. has seen to it. The pros at this cutting-edge wholesaler know that you can't possibly get the full effect of your choice of stone from a chip off the ol' block, as they say. If a customer can't properly preview the beauty and nuances of the material, maintains Sales Manager Jonathan Verrengia, come the installation, they could be disappointed. And that's not an option at Marble and Granite, Inc.—they're in the business of making homeowners happy.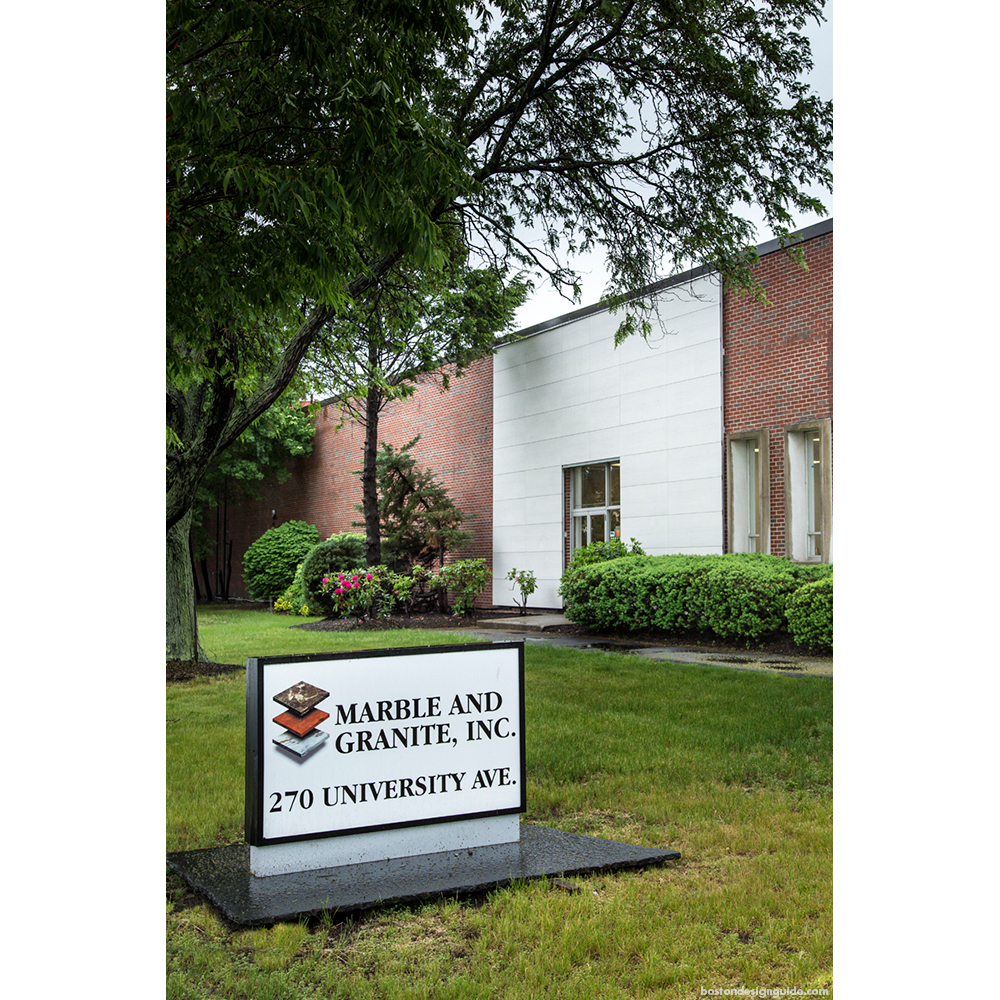 The wholesaler has gone to great lengths to become the ultimate starting point for consumers scoping out gleaming marbles, glossy granites and gorgeous, indestructible quartzes. While they work directly with stone fabricators, it's the homeowners they're looking to dazzle by educating them and showcasing premium materials hand selected both here in the U.S. and in their offices in Italy and Brazil, without a broker's markup.
In the warehouse, daylight lamps and skylights bathe the slabs in natural light to bring out their true colors and variances. The company has also set up a slab showing area—wide enough for a husband-and-wife team, an architect and interior designer—to take a step back and fully admire their options.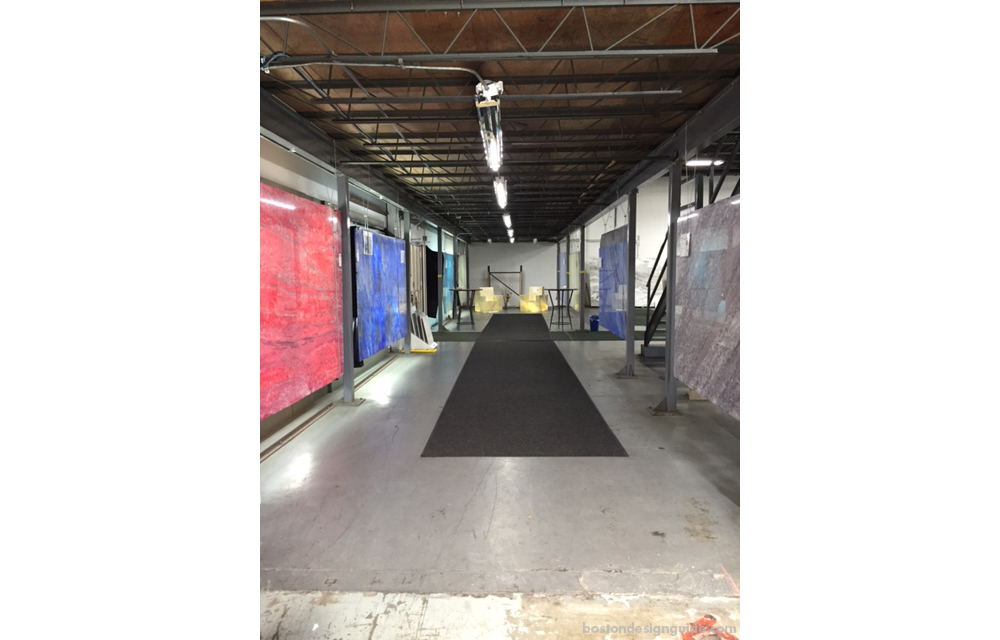 Crystaline displayed in Marble and Granite, Inc.'s viewing area
Most businesses will show you just one slab, explains Verrengia, because every time material is moved there is a risk of damage. However, Marble and Granite, Inc. sees a benefit to giving clients the opportunity to compare two slabs side by side. By way of illustration, Verrengia points to two stunning Bianco Statuario marbles next to one another: one is a clean, bright white with subtle veining, the other is riddled with a more pronounced and dramatic gray pattern. "This is an example of the same material, but two different lots. You can see they're similar, but they are cut from a different block" he says, ever the instructor.

Bianco Statuario
Every slab is barcoded through an intricate software system, ensuring that the material that is delivered is the one selected. Plus, every new delivery is photographed on arrival and featured on the company's website. Clients can view Marble and Granite, Inc.'s full inventory on the site real-time, and when a slab is purchased and unavailable, it's immediately removed.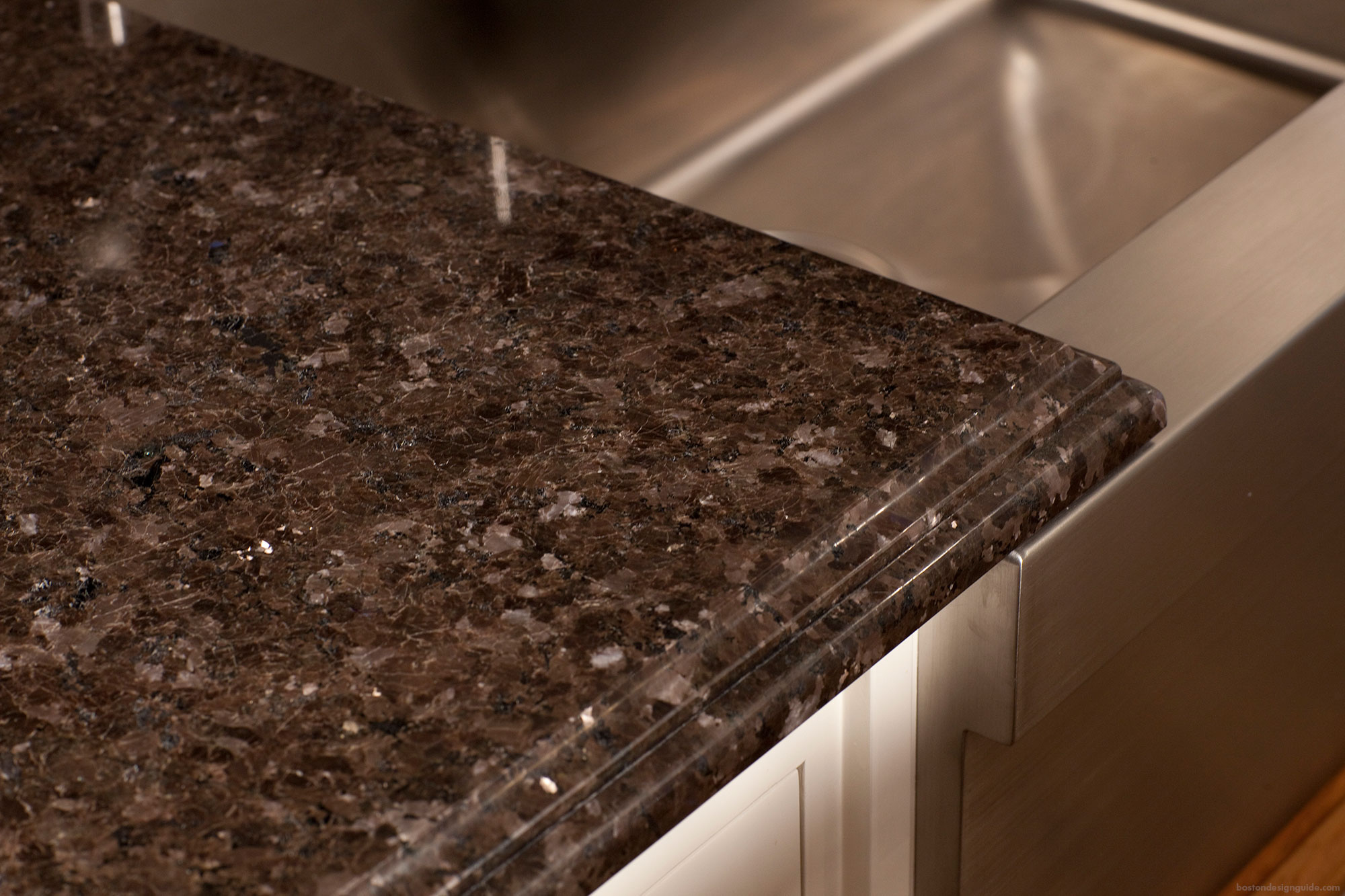 Kodiak leather finish granite
The warehouse is brimming with what Verrengia calls "nature's jewelry,"—marbles, quartzites, limestone, travertine, slate, soapstone—culled from materials found all over the world. "From a natural stone perspective, we deal with some of the most reputable vendors overseas," he says, "the ones that are involved in the discovery." The wholesaler can lay claim to materials from 38 different countries, and, while most of the natural stone is processed in Italy, clients can buy materials hailing from Namibia, Tanzania and Madagascar. Some are exclusive to Marble and Granite, Inc., like the new product segment Crystaline, a natural marble infused with color from a company out of Brazil.

People come here and say, "I'm seeing things here I've never seen," says Verrengia. This is no coincidence; Marble and Granite, Inc. makes a point of staying ahead of the curve. They were the first company in New England to introduce quartz to the market back in 2000, and every stone distributor has since followed suit. "If someone is looking for the newest thing, we're going to be bringing it in," says Verrengia. The wholesaler offers ColorQuartz for engineered stone (it's a better option over the ubiquitous Caesarstone, in their minds) and Neolith, an emerging material derived from the ceramics industry that is both scratch and heat resistant (up to about 1000 degrees!), explains Verrengia.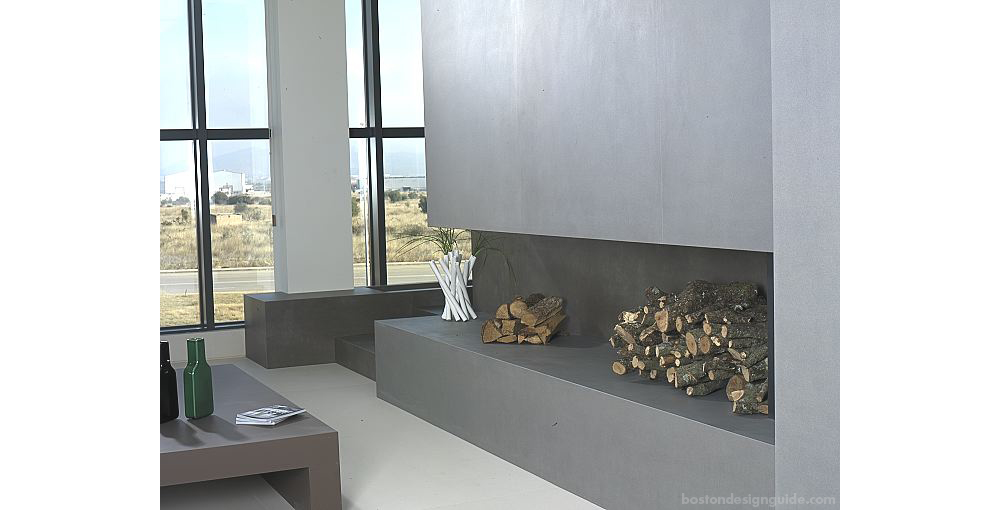 A Neolith cement fireplace
The company scouts the trends in Milan, ensuring that they're ready when the homeowners are. "When we go overseas, they'll say, 'We're selling a ton of this in New York,' and that's our cue. Even though nobody [New Englanders are traditionally slower to embrace the new] has asked for it here."
Marble and Granite, Inc.'s reputation also gives them access to the best here in New England, and increasingly hard-to-get materials like the Vermont Danby marbles. In fact, their pros trek to the quarry every two to three weeks to hand select the cream of that quarry.
"If you can't find it here, it either doesn't exist or there is a problem with the materials," says Verrengia. "If you're someone who doesn't know what you want, you're in a great place because we have so many options. If you're someone who knows exactly you want, we probably have it or something very similar." Marble and Granite, Inc. caters to both kinds of customer. You can be sure that, no matter what camp you're in, they'll help you fully understand the merits, advantages and beauty of your stone selection.
Marble and Granite, Inc. is located at 270 University Ave., Westwood, MA 02090, 781.407.9560, and 125 Old Gate Lane, Milford, CT 06460, www.marbleandgranite.com.