June 14, 2016 | carly stewart
Vispring Europa Luxury Mattress
Your favorite hello and hardest goodbye: your mattress. We all can attest that having a good night's sleep is crucial for functioning at our best throughout the day. Since we spend about one-third of our lives asleep, it is imperative that we spend this time comfortably and productively. Sleep needs varies across the board depending on one's health and lifestyle. Regardless, meeting the goals below will ensure you'll be productive, happy and healthy overall.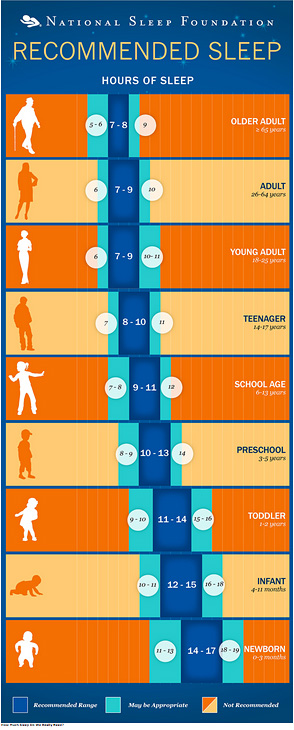 National Sleep Foundation Recommended Hours of Sleep Chart
Meet the Vispring luxury bed collection. It will be simply impossible to think of life before the Vispring mattress that revives the pep in your step after a well-rested night. Renowned worldwide, these mattresses transform the quality of your sleep with specially made Vanadium steel springs combined with the softest fillings including Shetland wool, silk, and cashmere. Available at The Organic Mattress.
There is no wonder why Vispring is known throughout the world as the leader in luxury beds. They have perfected the art of combining flawless ratios of pocketed springs, soft mattress fillings and premium fabrics to construct every individual bed. You'll feel like royalty with customized treatment like this.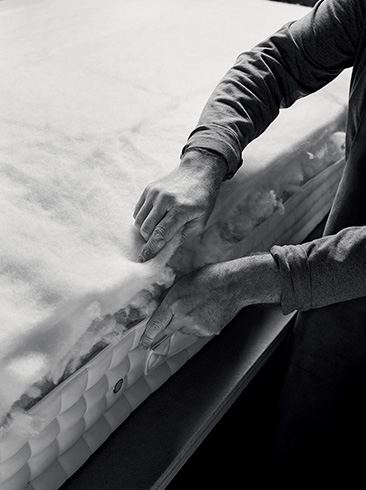 Vispring Enclosing
Vispring is one of the only bed manufacturers that makes their own springs; nearly unchanged since 1901. The perfect balance of strength and softness allows the bed to conform to your every movement providing constant support. Using Vanadium steel ensures that the mattress retains its strength and suppleness longer than mattresses with springs made from the average carbon steel. In fact, Vispring's master craftsmen create mattresses with single, double and triple layers of pocketed springs. You can even specify your preferred spring tension (Soft, Medium, Firm or Extra Firm) with the option of having different spring tensions on each side of your mattress so it's perfectly tailored to your and your partner's needs.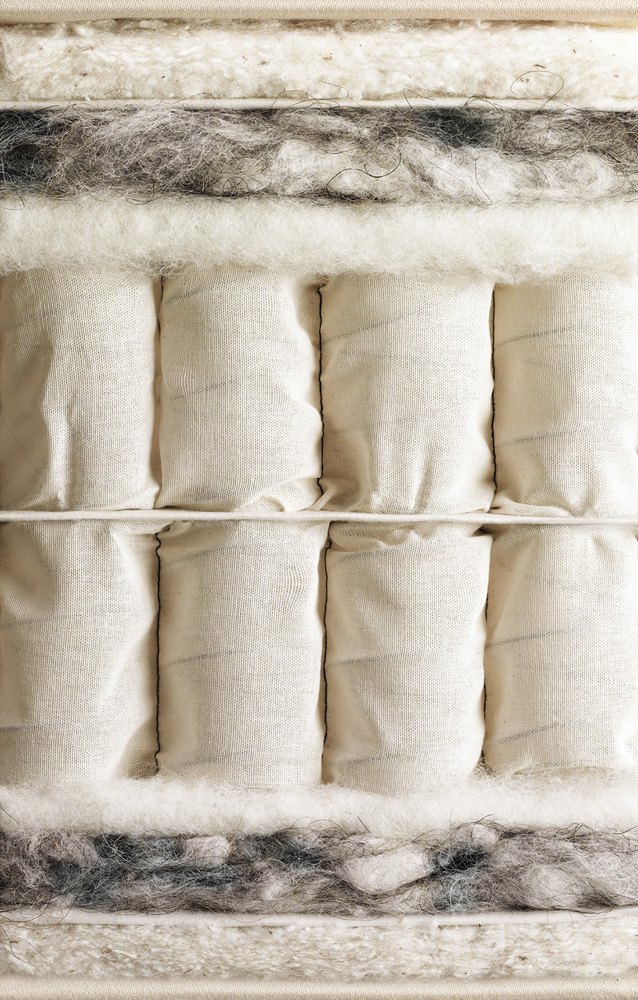 Sublime Superb Mattress Cut
Vispring beds generally include more fillings than most other beds, and they are passionate about using only the finest, renewable materials including Shetland wool, Platinum Certified British fleece wool, soft silk, warm cashmere, springy horsehair, strong coir and supple bamboo. Just, wow! Each spring is pocketed in pure calico while flax twine is used for hand stitching for strength.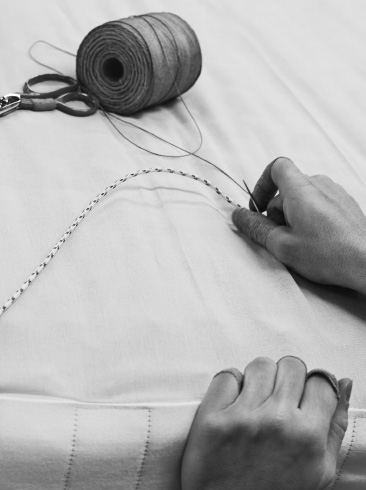 Vispring Hand Side Stitching
A glimpse at the finest natural materials that Vispring uses:
Cashmere. For ultimate softness and feel of luxury
Flax. A long, durable twine used for hand side stitching
Mohair. A fine wool-like fiber from the Angora goat, durable and insulating
Wool. 100% Platinum Certified British fleece wool considered the best in the world
Silk. One of the most prized textile fibers in the world bringing warmth in the winter and comfort in the summer
Horsehair. The longest of the natural fibers prized for its springiness
Coir. A coconut's tough fibers found between the husk and outer shell renowed for its durability
Cotton. Long-fiber cotton for breathability and absorbency
Calico. A strong and open weave of the pure cotton to house each spring and enable airflow
Cotton Cambric. An extremely tight weave to prevent unwanted percolation of fibers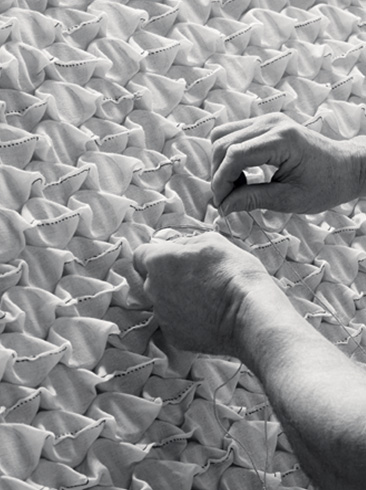 Vispring Hand Nesting
Still not sold? Take a peek at the benefits of just the pure Shetland wool used by Vispring…
Wool is hygienic and anti-allergenic unlike typical synthetic foam; repelling bacteria, mold, mildew and allergens.
The material sustains temperature control by responding to body temperatures.
The mattresses provide ultimate breathability and comfort with natural ventilation. Wool is able to absorb 30% of its weight in moisture without possessing dampness. It's also 10% more absorbent than the average synthetic materials.
No chemicals are used in construction making the material a natural fire retardant.
Unlike any other bed maker, typical Vispring mattresses contain wool from at least four high-quality, full fleeces certified by the British Wool Marketing Board.
Last but not least, the wool is produced with a traditional process that abstains from causing any harm to the sheep.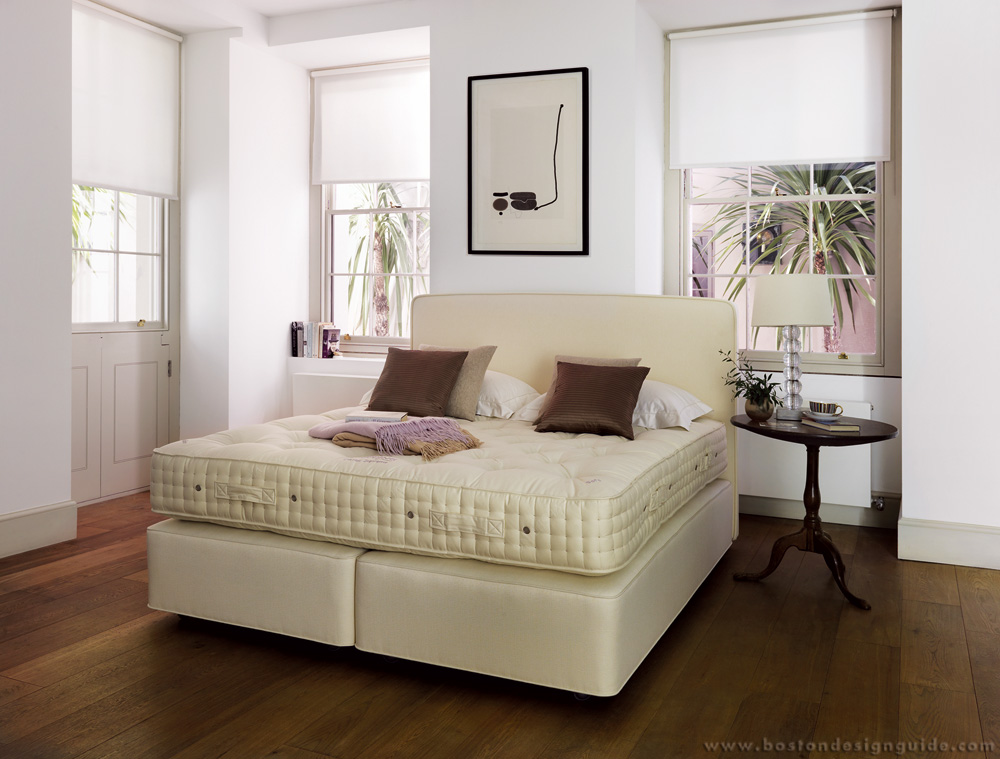 Vispring Classic Superb Undressed
Lastly, all this luxury and supreme comfort comes with a Lifetime Guarantee. They will repair or replace your mattress should it fail due to faulty materials or  workmanship for the lifetime of your mattress.
The Organic Mattress
348 Boston Post Road, Sudbury, MA 01776
978-400-8200