December 10, 2019 | Sandy Giardi
The experts at Monique's Bath Showroom don't want homeowners to get lost in a sea of fixtures. That's why, though they offer a diverse selection of the bath and kitchen industry's best, their Watertown showroom boasts a neighborhood feel. 
The family-owned, second-generation business is "passionate about what they sell," says Sales Associate Chris Sawicki. They are also knowledgeable. As a resource to architects, builders and interior designers, as well as homeowners, Monique's is well versed on Massachusetts code regulations, the finest brands, and what will look best in your kitchen or bath.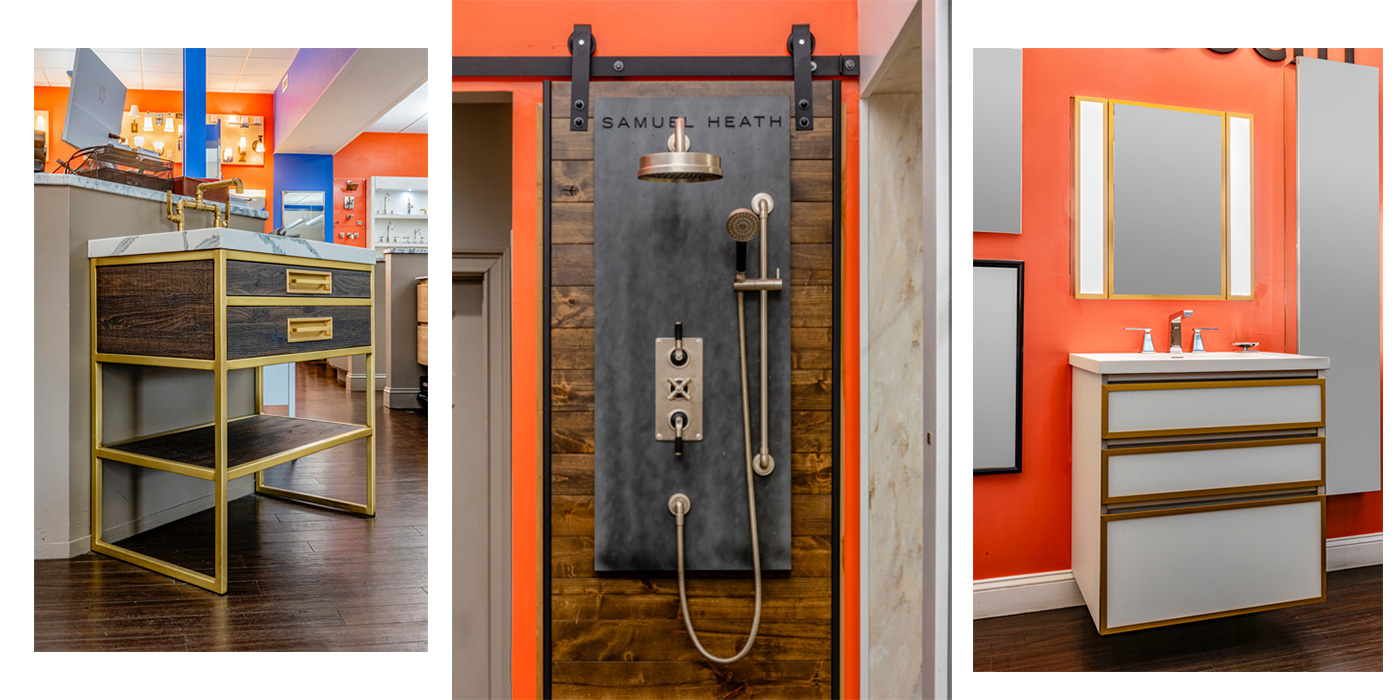 They are also up on the trends, so we asked for a highlight reel of Monique's hottest items. "Unlacquered brass is really popular right now," shares Sawicki, pointing to Watermark (featured top), a product line that rocks the look. Chrome and stainless, however, seem to be leaving people cold, he continues, and they are opting instead for fixtures that are warmer, and edgier. "Faucets have become statement pieces," says Sawicki, and brands like California Faucets allow buyers to create their own looks, with over 30 finishes to choose from. The industrial look—"the blacks, golds, graphites and carbons"—are also en vogue (pictured above, middle), as is mixed metal, particularly black and gold. 
As for vanities, shoppers are smitten with Furniture Guild (above, left) and Robern (above, right). That aesthetic—a metal frame, furniture-style box topped by quartz or an MTI composite—is the style of choice. Both look less like a cabinet, says Sawicki, and "more like a design piece."
Monique's Bath Showroom is located at 123 North Beacon St., Watertown, Mass., 617-923-1167.
Photography by Keitaro Yoshioka