April 28, 2015 | Sandy Giardi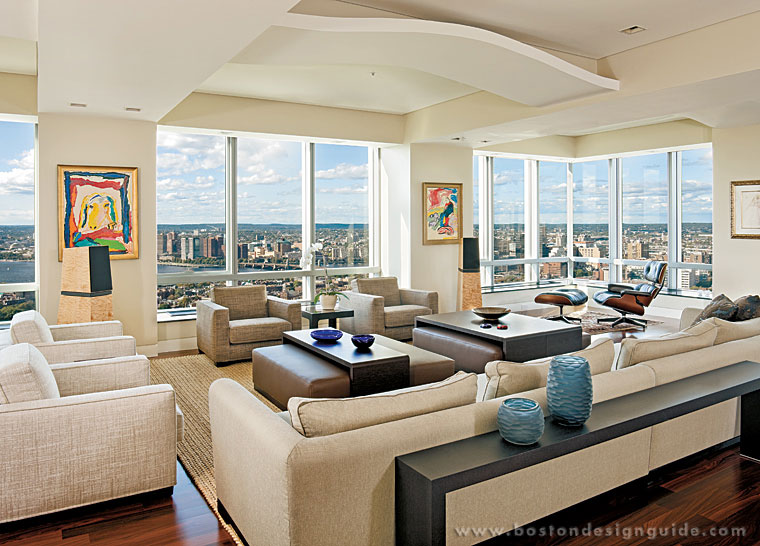 (Boston High Rise. Built by The Holland Companies; Photography by Greg Premru) 
More and more homeowners are trading in the suburbs for the city. Boston Design Guide explored this of-the-moment trend at a Boston Design Week event.
Boston Design Guide's open-panel event and reception last month at The Seaport's District Hall proved a great success. Themed "Urban Renewal: The Trend Towards Downsizing," the affair gathered an impressive panel of homeowners who have felt the call of the city, as well as industry professionals who weighed in on the timely topic and shared their expertise.
There's no denying that it's an exciting time to be in Boston. More and more homeowners are being drawn to the Back Bay's stately brownstones, the energy of the Innovation District, the arty South End—and the vitality and offerings the city affords. Publisher Melanie Kaplan wanted to examine the trend by hosting this informational session geared to those who are considering making the move.
To this end, she invited Boston residents Clare Kaplan, Juli Frawley, Alison Bonney and Beth Terrana to share their experiences, challenges and triumphs and provide trusted, valuable information. They discussed their respective burghs, the benefits of city living itself, as well as moving logistics from both a practical and emotional standpoint.
She also brought in leading authorities in architecture, construction, interior design and landscape design to share their insights and expertise, including Manuel de Santaren of Manuel de Santaren, Inc.; Patrick Hickox of Hickox Williams Architects; Steve Mielke of Constructure; John MacDonald of Morehouse MacDonald and Associates; Gregory Lombardi of Gregory Lombardi Design; Anthony Pisani of Pisani + Associates Architects; John Holland of The Holland Companies; and Amy Mizner of Benoit Mizner Simon & Co.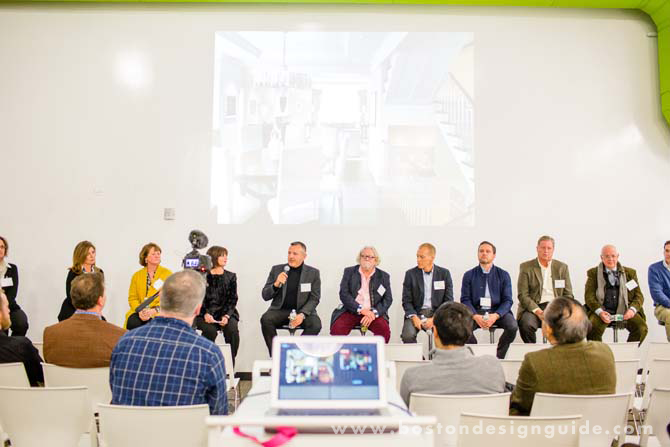 The beauty of this open-panel discussion was that we heard first from homeowners and the experts before the floor was opened up for questions. In the spirit of the event, and to recap for those who were unable to attend, here follows a glimpse into the stories of the homeowners and the feedback of the industry pros—straight from the sources.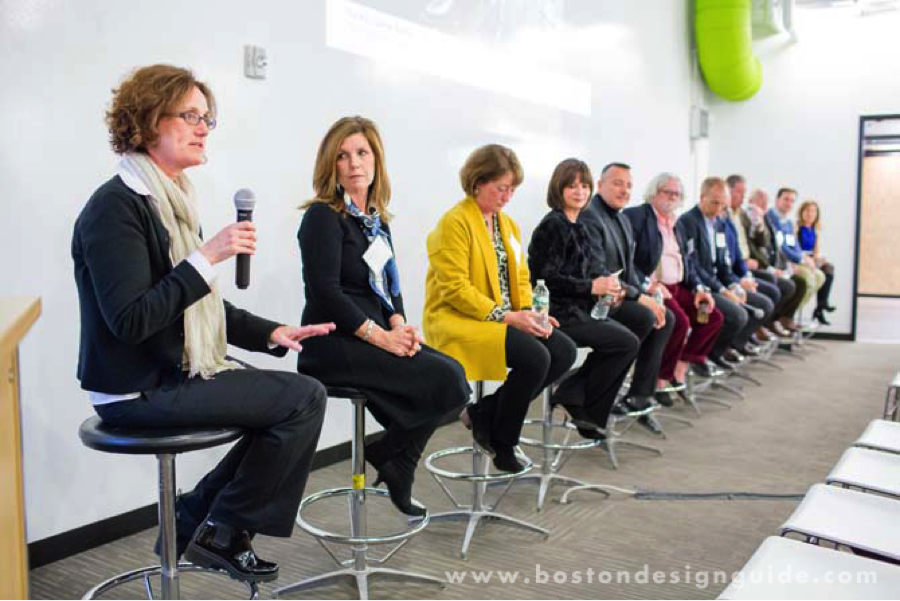 Meet the homeowners…
Clare Kaplan
Clare Kaplan moved from a four-bedroom colonial home in Sudbury to a two-bedroom condo in the Back Bay that is "probably half the size of what she had."
BDG: What appealed to you about the city and making the switch?
CK: After being in the suburbs for 20 years, I was ready to be around more vitality. I wanted to get out and walk to restaurants. I wanted to be somewhere that had more going on than the suburbs.
BDG: What was the most challenging part of moving into the city?
CK: Delivering the news to friends. After you've been in a neighborhood for 20-21 years, they're like, "What? You're leaving?" That was challenging and emotionally a lot to overcome. Also, reconciling the fact that you're leaving this home that you raised a family in, which is different from when you're a young person leaving an apartment or a condo. You're tied to this home in a completely different way when you've raised a family there.
BDG: How did you overcome that?
CK: In my mind, it didn't need to be a long-term commitment. That was liberating to me.
BDG: Your second bedroom is "very small and tight." So much so that the seller fretted over your daughter's opinion before the papers were signed. How did you handle that?
CK: We added a Murphy bed and, as part of that, a built-in desk on one wall, designed by Chloe O'Keeffe of California Closets. You have to be creative. Especially in a market where there's not a lot of inventory. You have to look beyond things and say, "How can we make this work?"
BDG: What's the best thing about living in Boston?
CK: The spontaneity! I can be completely spontaneous, and it's terrific.
Beth Terrana
Beth Terrana went from an expansive home in Wellesley to a Back Bay condo with 3.5 bedrooms overlooking the Public Garden. Beth calls the opportunity "a chance at a new life."
BDG: How did you choose your building?
BT: As I looked around, it was very clear to me that I didn't want to be in a big building. I didn't want to feel that anonymous. I didn't want to go through big public spaces to get to "my home." The Mandarin or the Intercontinental felt way too public and I'm not that public a person. I like my privacy.
BDG: How did you feel about shedding your possessions and furniture?
BT: I took 20% of what I own, and got rid of more once I was there. You just don't need as much stuff. There is something really cathartic about it. You actually realize that you had way too much stuff, you didn't need most of it, and it actually is more stressful than it is fun to have.
BDG: How did you tackle all that you had accumulated at the house?
BT: I've told everyone I know who's moving from a house to an apartment, "You need a professional—someone who's good at organizing and sorting and storing and packing and knows how to do it." Otherwise, you wind up keeping too much. Linda Reisert of the firm Sort Order is a lifesaver and helped me from being emotionally involved.
BDG: How has your mindset changed by living in the city?
BT: I probably walk about five miles a day. I'm in a great location because I've got Beacon Hill on one side of me, and I've got Back Bay on the other side. I'm less than a mile to anything in the South End. I view my neighborhood as all of those neighborhoods. I've explored [them] and use all of them.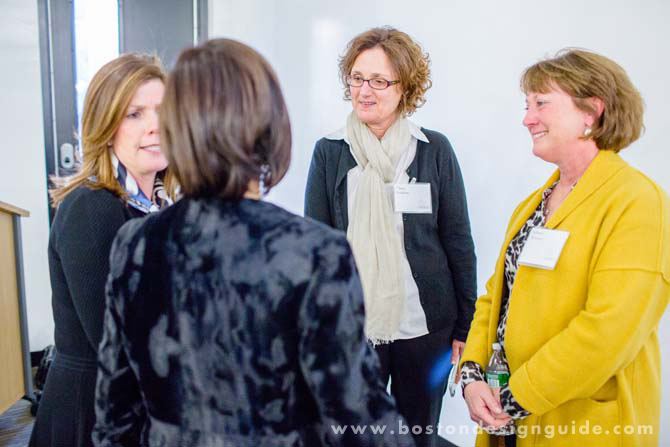 Alison Bonney
Alison Bonney "stumbled upon" a rare, single-family, four-floor home in the North End. Unlike the 1850s antique home she left behind in Sudbury, her new abode has a modern feel.
BDG: You're in a stand-alone, four-floor home. Is it truly a "downsize"?
AB: This house is probably half the size of our Sudbury house. In Sudbury, we lived in an antique house with many small rooms and a barn, on three-and-a-half acres.
BDG: Your North End home is a shining example of what a developer can do. Tell us about it.
AB: It was formerly a gentleman's club on the first floor [topped by] three apartment units that a developer gutted and turned into a single-family house. We purchased it from a developer, who had built a two-car garage on the bottom level and a kitchen and living room on the fourth floor with views.
BDG: Does the style of your new home differ from that of your antique?
AB: [Yes.] I've contemporized it. It's probably more modern than it is transitional. But I couldn't go from antique to ultra modern.
BDG: What is your approach to appointing your home?
AB: As part of it being a modern house, there are a fair amount of built-ins, including the desk in the office and the bed in the master. So we brought one dresser and some exercise equipment and that's all we brought. I prefer to live in the space for a while, and see how we use it and what I like and what I don't like. I tend to take things a little slower I think. Some people get anxious if it's not "done." I'm not that way.
BDG: What would you say to someone contemplating making the move?
AB: I would say, "Just go for it!" Change is sometimes hard, but I think change is good. It keeps things interesting. If you think you have an inclination to do it, you should do it. It's very freeing to change like that.
Juli Frawley
Juli Frawley is renting in a full-service high-rise in the Seaport District to test the waters, as it were. She and her husband enjoy the up-and-coming area's proximity to the airport and the concierge services of her building.
BDG: What drew you to the city?
JF: I always wanted to live in the city. I felt like if I was going to be an empty nester two years earlier than I had intentioned [Juli's 16 year old is at boarding school], I needed a change myself. I wanted the energy of the city. I wanted to have some new excitement for myself, instead of feeling sad about everything that isn't the same anymore. It's worked out perfectly. It's been exactly what I wanted.
BDG: Given that it's such a lifestyle change, would you recommend that people rent before they buy?
JF: It's worked really well for us. It gives you time to figure out what area you want to be in. Boston's so neighborhood oriented. It's given us a chance to figure out where we'd want to spend our money and buy. [We may even] try out a different apartment in September. That's the beauty of being in an apartment. You can shake it up.
BDG: We hear you're even renting your furniture….
JF: I tried a completely different style than I've ever had before. My apartment is really contemporary—a lot of white leather. I have beautiful views of the water, so I wanted it to be minimalistic and simple so that the eye is drawn to the view. Right now, it's all silver and light. It adds to this being a totally new experience.
BDG: Will you buy in the Seaport District?
JF: I'm not sure. In my opinion, [the Seaport District] has a ways to go in terms of making it friendlier for the people who live there, not just the conventioneers. There's a ton of restaurants, but what you don't have is a drugstore or a grocery store.
BDG: How did you feel about being in the city during Boston's epic winter?
JF: I loved being here in a snowstorm! You really can walk anywhere. I'm loving getting to know the city again.
The Pros Speak Out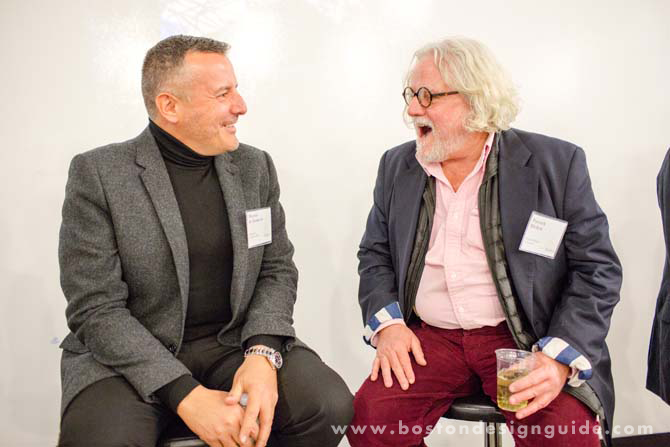 (Manuel de Santaren and Patrick Hickox enjoying a few words with each other while on the panel) 
Manuel de Santaren—Interior Design
If you're planning on using an interior designer, involve them early. Manuel de Santaren of Manuel de Santaren, Inc. was indispensable for Beth, who called him to join her to look at the Back Bay apartment at the first opportunity.
"Together," she says, "we went through the apartment and took copious notes. I gave him the floor plan and he met me at my house in Wellesley and went through everything I had. He checked off, 'We want to take this furniture, we want to take that furniture, maybe we'll take this furniture.'" He even suggested stripping and relacquering one piece to give it a new look.
They chose a rich eggplant color for the living room and dining room that, says Manuel, "looks great with everything." Beth concurs: "It's extraordinary what a great painter and really good lighting can do to completely update a space."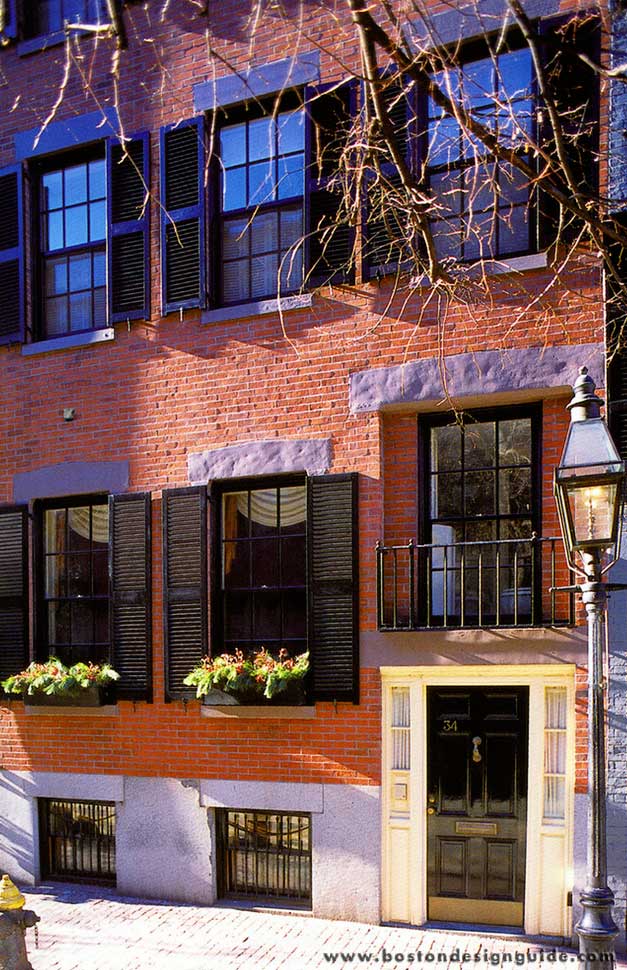 (Hickox Williams Architects)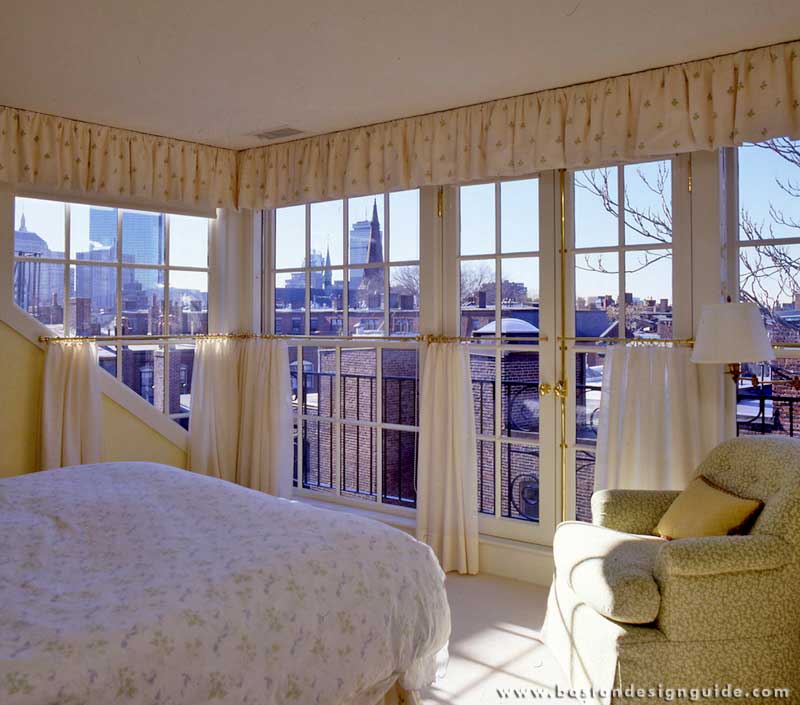 (Boston skyline views from bedroom | Architecture by Hickox Williams Architects) 
Patrick Hickox—Architecture
Give yourself a period of "unbridled speculation." That's the advice Patrick Hickox of Hickox Williams Architects gives those conceptualizing a new home in the city. With the help of an architect, homeowners should examine the "qualities, the kinds of experiences and the way of life that they envision," he maintains.
Questions like "How important is a garden? Would they rather be in a large flat on one level or would it be valuable to have an elevator? Do they tend to entertain? Do they have children or other family members they'd like to be able to host? Is cooking central to their lives or are they people who would rather go out to restaurants?" These are the quintessential questions to have asked and answered to maximize the long-term rewards of a city home.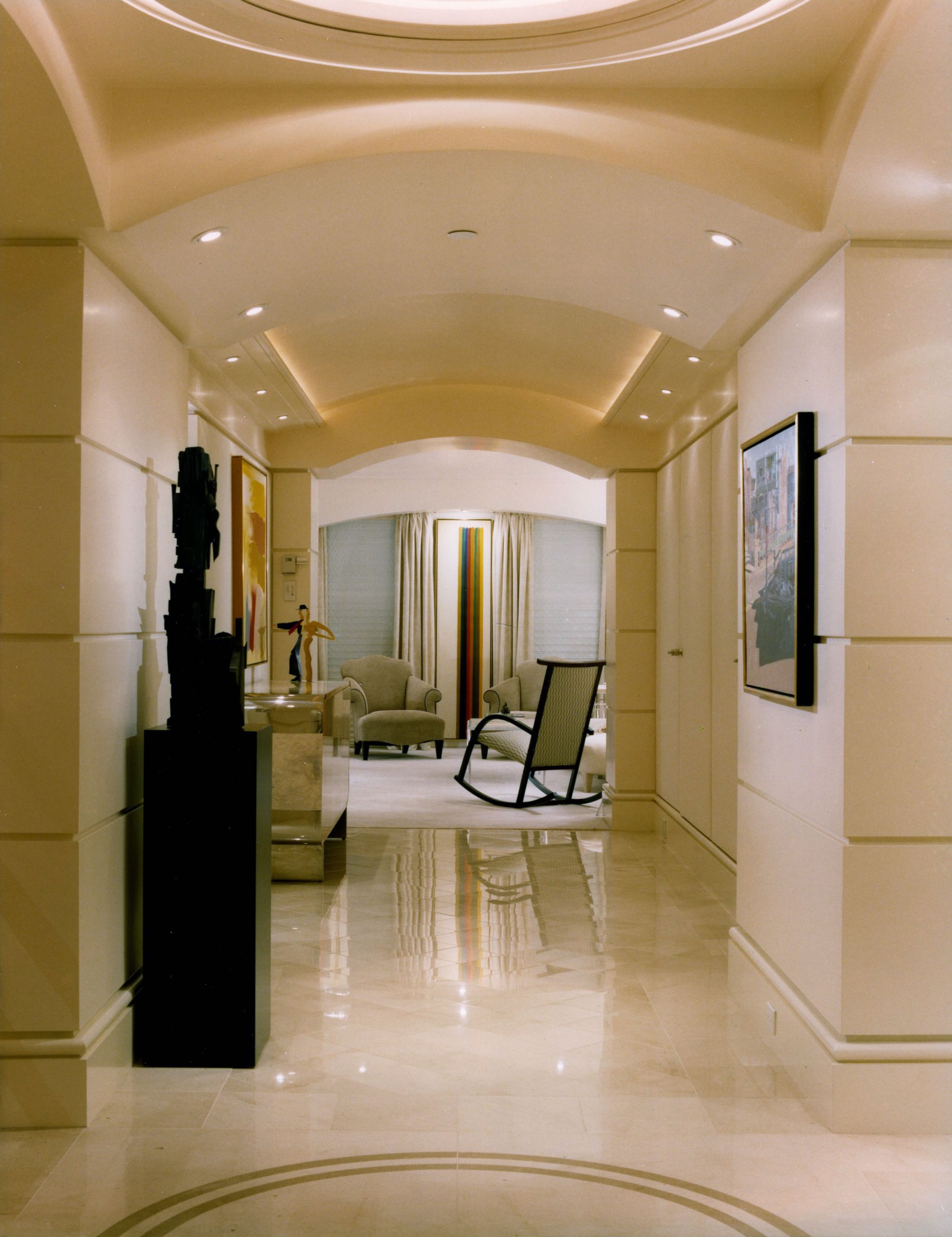 (Boston Tower Penthouse - Architecture by Morehouse MacDonald & Associates)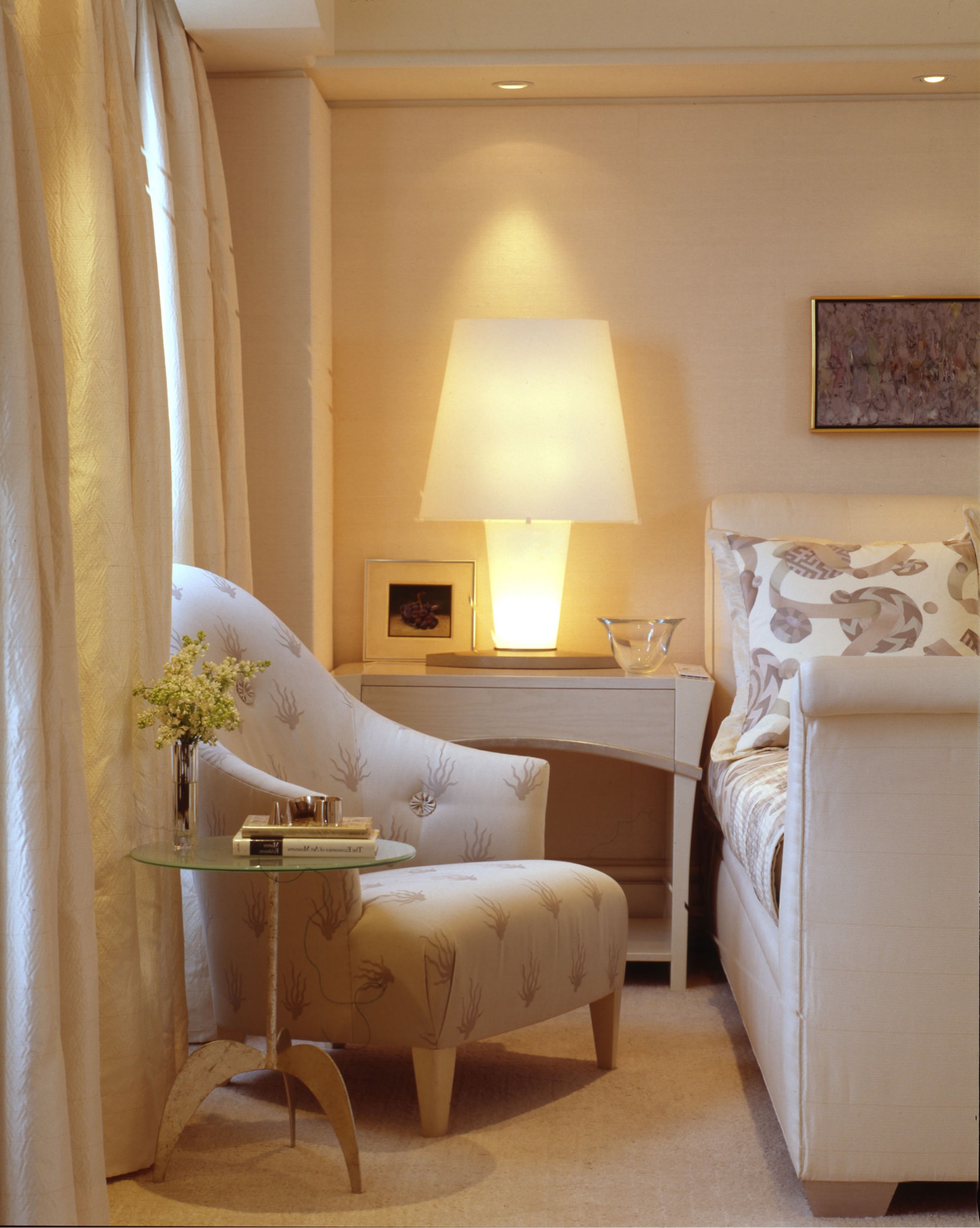 (Boston Tower Penthouse - Architecture by Morehouse MacDonald & Associates)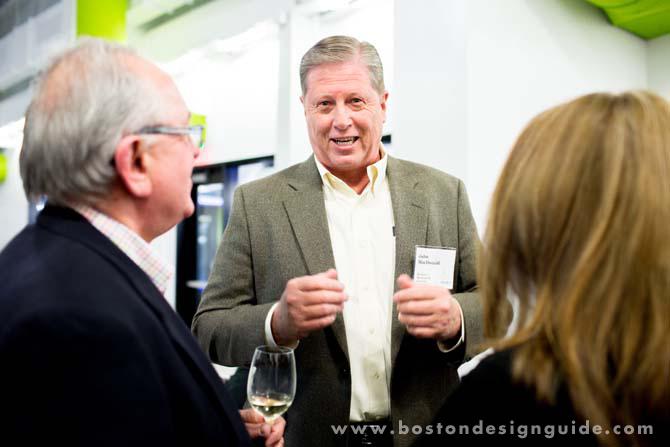 (John MacDonald talking with Owner of Troy Cabinetmakers John DeCurtis and Boston Design Guide Account Manager Maureen Lampert) 
John MacDonald—Architecture
Managing expectations and establishing a reasonable program is key for a graceful transition. "Coming from large homes in the suburbs or the country into town is a completely different dynamic," says John MacDonald of Morehouse MacDonald and Associates, who has worked on projects at the Ritz, the Mandarin and a number of Back Bay townhomes. "There are a lot of pros to it, but you have to kind of change what you are, who you are."
In most cases, clients are looking at 2,500- to 3,000-square-foot units. "You're limited. It's not as if you can add on to the structure. You have to work within those parameters and take into account the mechanicals that have to fit within those parameters. It's really different," John says. A client should carefully consider the unit itself, the orientation, the views and costs involved, which can be far greater than those in the suburbs. Enlisting an architect well versed in the many challenges (someone, say, who knows that a police detail is needed to deliver a baby grand to the 11th floor of the Mandarin) is wise, says John, "but the rewards are great."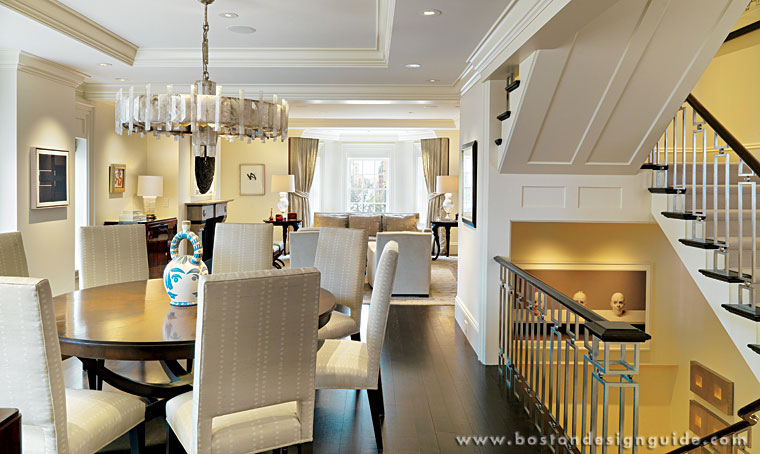 (Back Bay Penthouse | Built by Constructure; Home Integration by Creative Systems; Staining by New England Architectural Finishing; Photography by Richard Mandelkorn)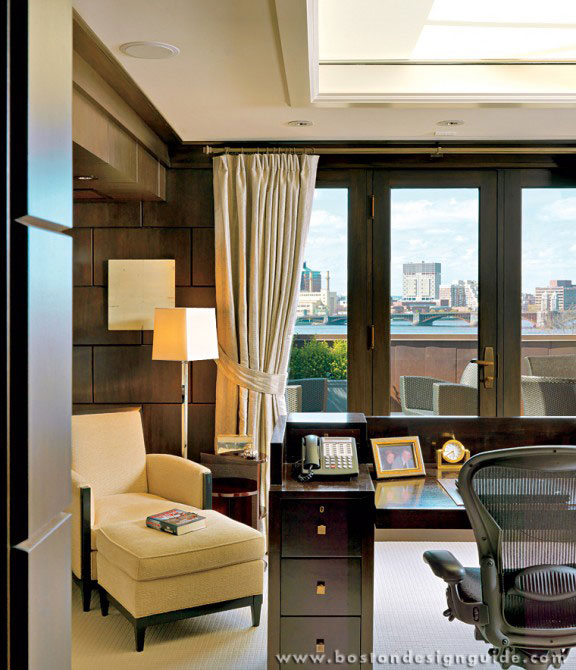 (Back Bay Penthouse | Built by Constructure; Home Integration by Creative Systems; Staining by New England Architectural Finishing; Photography by Richard Mandelkorn)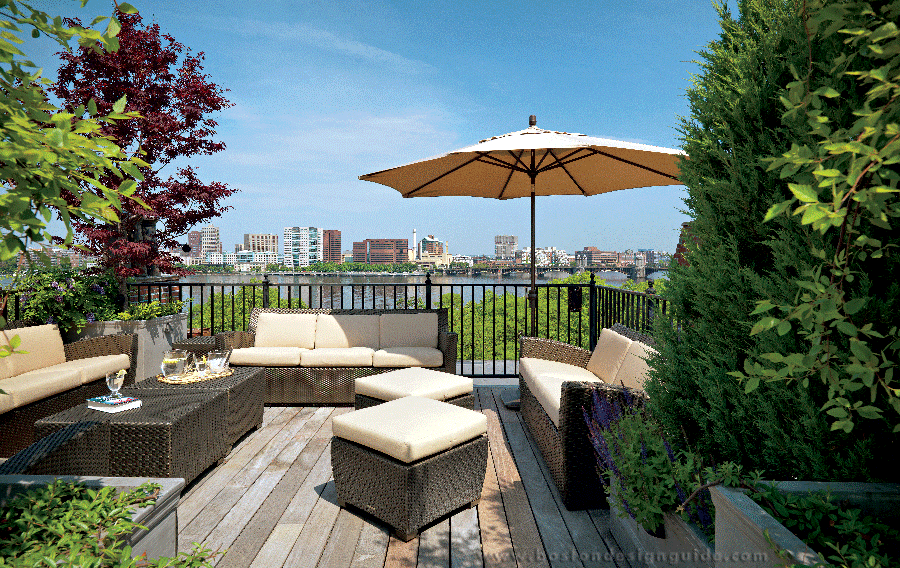 (Back Bay Penthouse | Built by Constructure; Home Integration by Creative Systems; Staining by New England Architectural Finishing; Photography by Richard Mandelkorn) 
Steve Mielke—Design/Build
Build an experienced team that "listens" and is willing to work together. As a builder with a degree in architecture, Steve Mielke of Constructure, Inc. "bridges the gap" between the two worlds. He underscores the import of having an owner's advocate during the process to navigate the many implications of successfully building and renovating in the city.
From beginning to end—meaning, the design process through permitting, the actual execution, the build out and the general contracting—it's essential for the client to have all of the information at hand and to understand the design choices and challenges, and their implications.
There are those along the "front lines" of the project, he maintains, but there are also many layers behind that team of subcontractors and tradespeople (i.e. masonry, restoration, interior designers, etc.) who bring expertise and information that are central to the realization and success of a given project.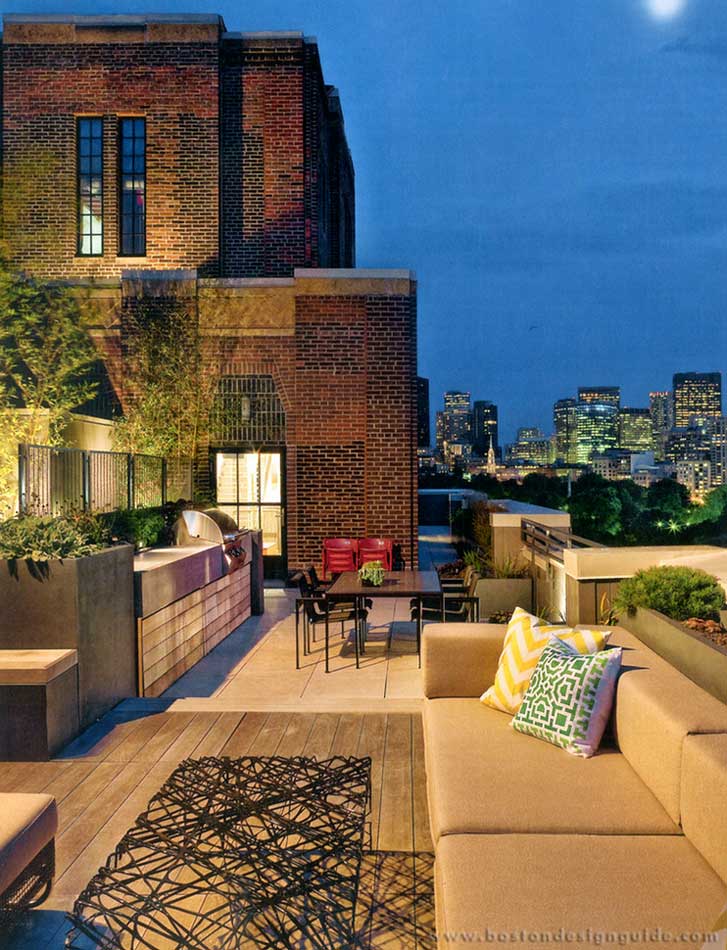 (Rooftop | Landscape Architecture by Gregory Lombardi Design; Custom Built by Sea-Dar Construction)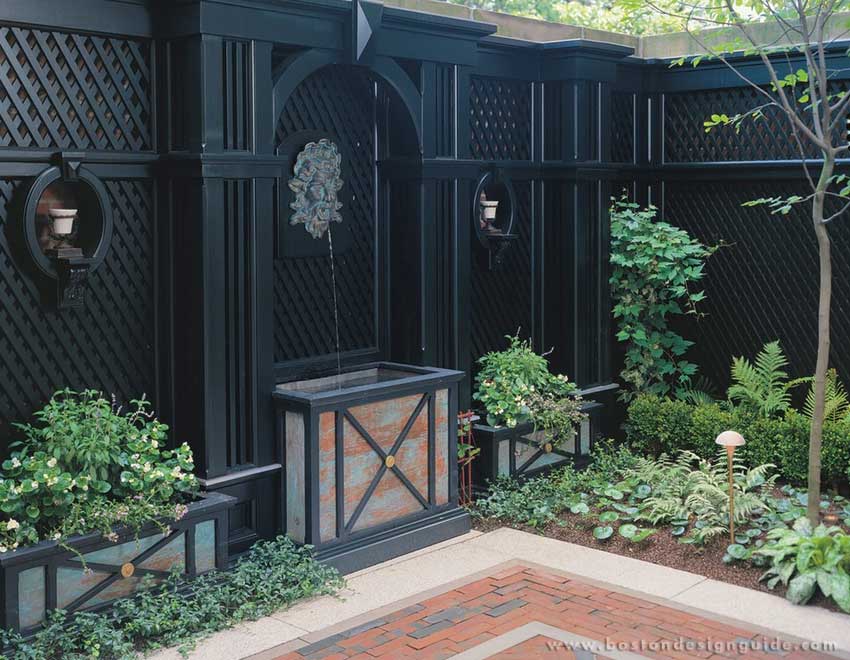 (City Terrace | Landscape Architecture by Gregory Lombardi Design)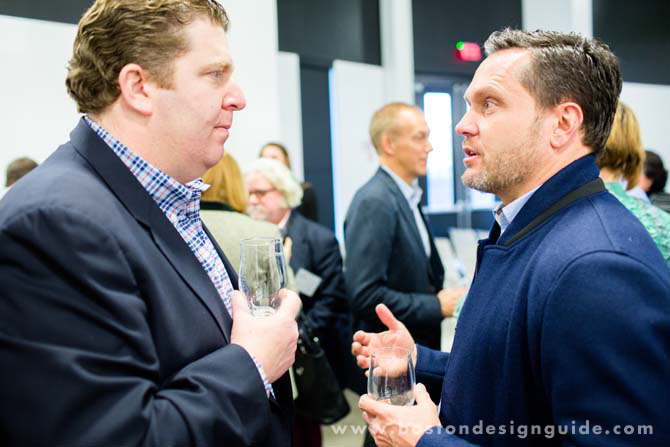 (Gregory Lombardi with Jon Fox of Kenneth Vona Construction) 
Gregory Lombardi—Landscape Design
City gardens differ from suburban landscapes and require out-of-the-box thinking. Gregory Lombardi of Gregory Lombardi Design feels he may not have as much to contribute as others on the panel, since the number of city homes with outdoor space is in the minority, and there is often a shift in the amount of upkeep the client is looking for.
It turns out, however, that Gregory has plenty to add to the conversation, including the idea that city gardens can be enjoyed from the inside of the home, what he calls a "passive view." His firm has designed spaces that can be appreciated when homeowners entertain and that enhance their daily lives as they come and go. "The visual of looking outside and seeing a beautiful seating group and a little garden [can be] enough."
Hidden gardens, container gardens, roof decks, a series of terraces or patios can also be programmed to suit the client's needs and city lifestyle.
(Anthony Pisani speaking on the panel) 
Anthony Pisani—Development, Architecture
Boston is so much more than high-rises on the waterfront. There are so many interesting choices today, contends Anthony Pisani of Pisani + Associates Architects, pictured above. As Anthony sits on the city's zoning board, he can speak firsthand to the amazing developments going on in the city.
"Boston is just so exciting," he offers, "especially the area on the waterfront," but there are 22 villages to explore as well. Some of the most interesting developments are happening in "South Boston, Dorchester, Roslindale, Jamaica Plain and Hyde Park." Roxbury, too, "is a gem," despite its negative image. "The city's pumping an incredible amount of money and resources into Dudley Square," he says, though, at the moment, "it requires an adventurous soul."
Those looking to buy shouldn't discount East Boston. Anthony hails: "East Boston is fabulous," and you have a million-dollar view of the city.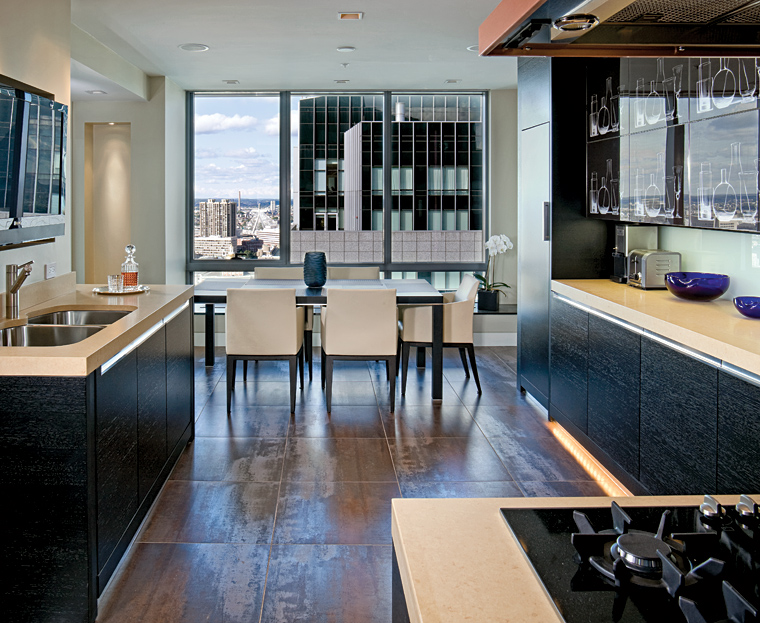 (Residence at the Ritz-Carlton Boston / The Holland Companies)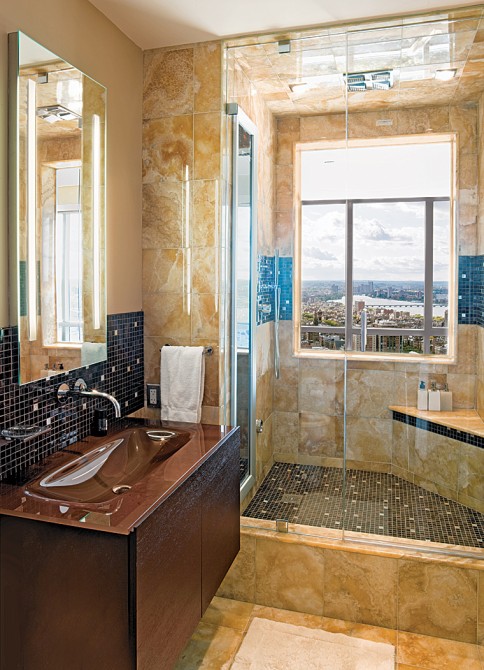 (Residence at the Ritz-Carlton Boston / The Holland Companies) 
John Holland—Development, Construction
The range of acceptable neighborhoods in Boston is expanding. "Thirty years ago," says John Holland of The Holland Companies, if you wanted to live in the city of Boston, you were a high-net-worth individual, and you only had the Back Bay to choose from and maybe Beacon Hill."
All that has changed, as development "is going right through the South End to the SoWa area and through Albany Street," explains Holland. It's an exciting time to be involved in building and beautifying the Hub's terrain. In fact, The Holland Companies is currently in the process of planning an 80,000 square-foot mixed-use project on Wareham Street that will give the dilapidated, largely boarded up street by the Flower Exchange a new life.
As Holland is both a development and construction company, John has a unique vantage of the real estate market. He advises: "If you're planning to rent, this is a great time to move to the city because we've overbuilt it. But, if you're looking to purchase a condominium, I wouldn't do it right now—there's not enough inventory. That inventory will get to the market, but it's not there right now."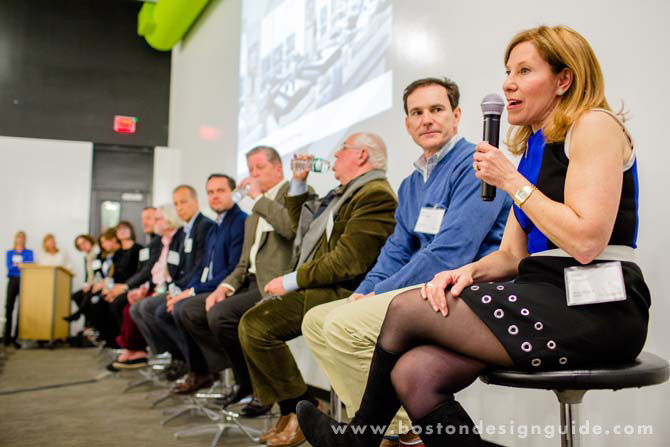 Amy Mizner—Real Estate
Align yourself with a good realtor. Amy Mizner (speaking, above) of the Weston and Wellesley firm Benoit Mizner Simon & Co. represented the suburban point of view on the panel, a task to which she's more than qualified as Weston's #1 real estate broker and one of the real estate market's top luxury brokers in Wayland, Dover and Sudbury.
Amy congratulated the homeowners on the panel for embracing a new adventure. She also made it crystal clear just how helpful a good realtor can be. Yes, they know the needs of buyers and sellers in the market, but they also have a strong network and a host of resources and tools that can make the overwhelming task of downsizing far more manageable and well within reach.