April 7, 2016 | carly stewart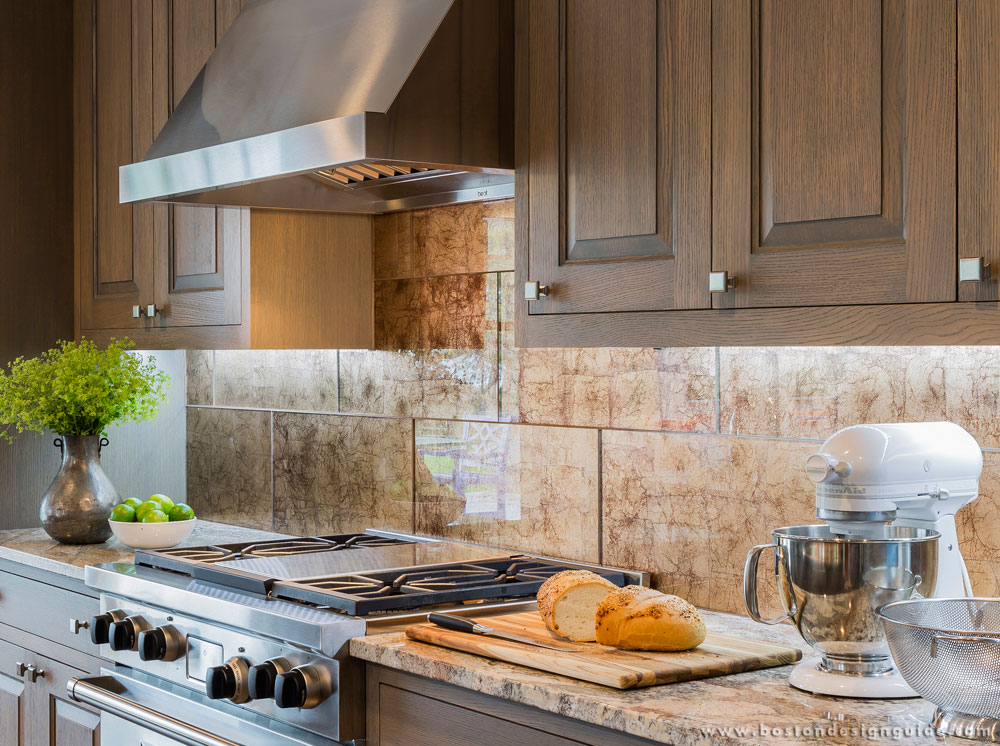 (Rustic stone alcove: The backsplash incorporates several different patterns and sizes of honed stone tiles behind the cook top, consistent with the old-world feel of the kitchen. The inner tile arch is an intentional mirror of the outer stone arch, both reminiscent of a hearth.)
The backsplash in your kitchen can be delivered as a strong focal point that can help define the entire room. There is an endless variety of materials available regardless of whichever style your home portrays. With possibilities ranging from color, shape and size to natural stone, glass, ceramic tile or stainless steel, how does one choose the best fit?
Elizabeth Swartz Interiors considers numerous factors when advising clients on choosing their kitchen backsplash. Personalized elements such as function, budget and design (including the overall look and how the backsplash coexists with existing design elements) are carefully measured.
Overall Look and Style
Your backsplash should be consistent with the overall look and style of your kitchen whether traditional or contemporary, bold or subtle. Consider other surfaces in the room, such as the countertop, the floor, the walls and the appliance finishes when narrowing down your options.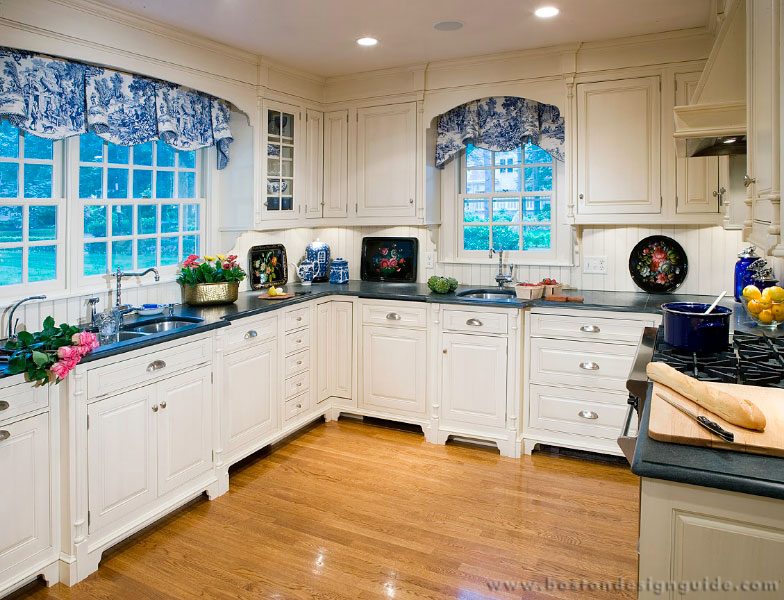 French country kitchen in Newton: The painted farmhouse bead board backsplash along with the dark marble countertop and traditional, decorative faucets blend with the custom cabinetry.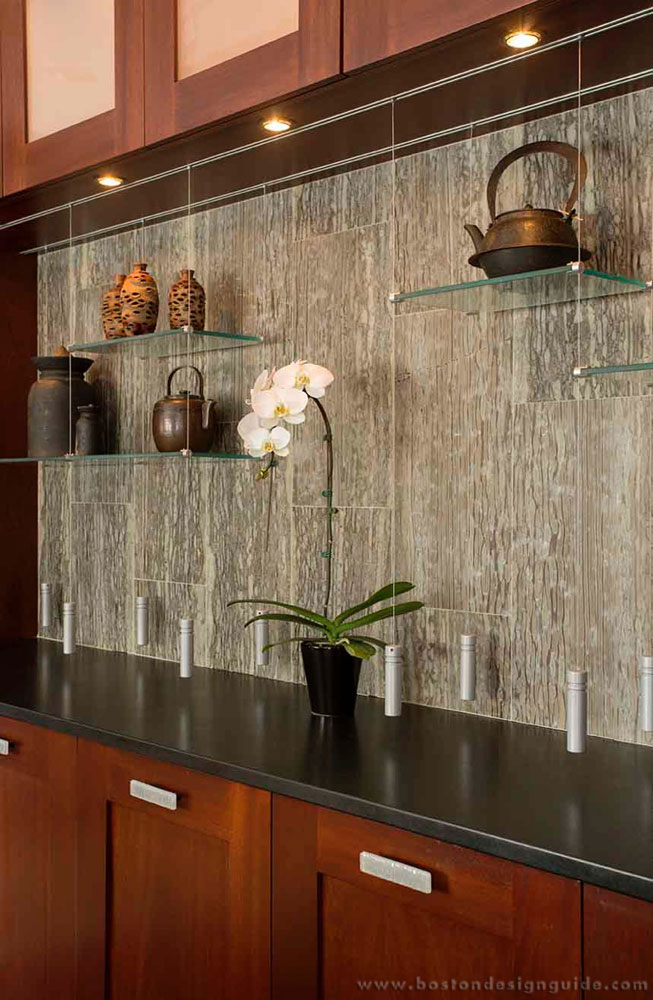 Contemporary home in Beverly: The vertical installation of this large-scale, richly veined, zebra-striped natural marble tile contrasts pleasantly with the leather finished black granite countertop. It embodies the perfect backsplash to showcase the floating glass shelves.  
Combining Color, Texture and Shape
A variety of colors, textures, sizes and shapes are essential in bringing together a backsplash design that is aesthetically pleasing.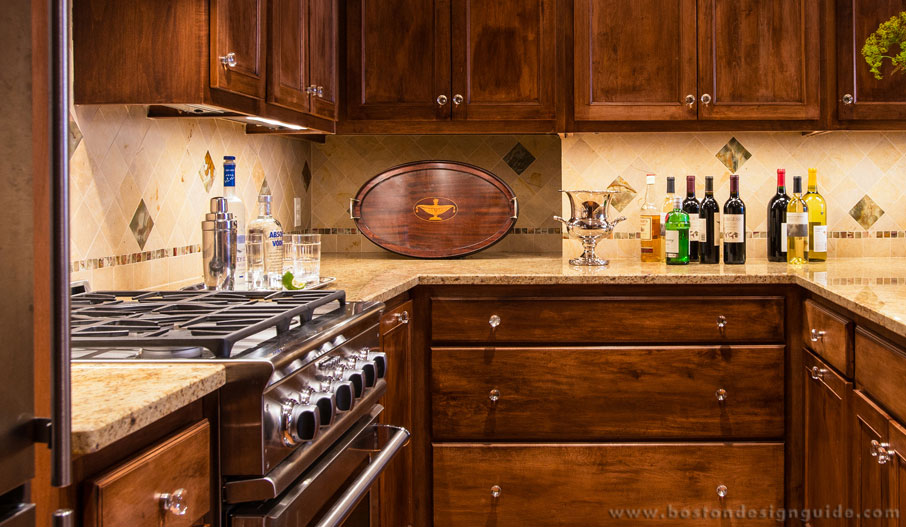 Small South Boston kitchen: Honed stone tiles set on the diagonal with polished Pistachio marble accents both interspersed and as a small mosaic horizontal border that runs the length of the countertop.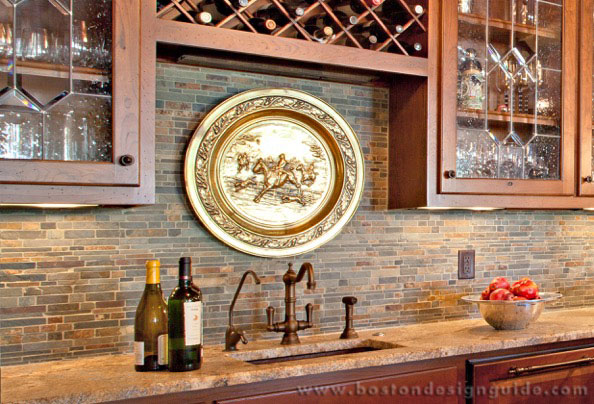 Vacation home's family room bar: This backsplash combines multicolored slate cut in varying sized horizontal strips. The rustic stone backsplash against the smooth granite countertop adds texture and visual interest to this otherwise traditional space.
Backsplashes using several materials can add visual appeal to a single color or smooth texture.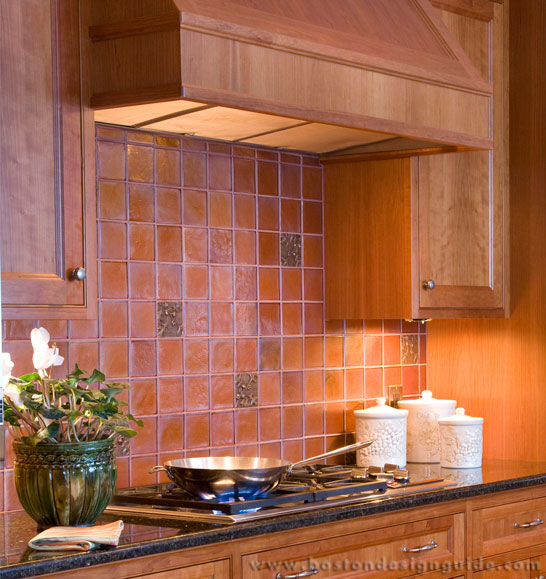 This New Hampshire home's textured glass tile has an iridescent glow that adds warmth. Simultaneously, the cast bronze tiles add texture and are a subtle complement to the outdoor motif of the room.
Function & Maintenance of a Kitchen Backsplash
Though the styles of backsplashes are visually captivating, exceptional function is a must. Choose materials that are heat and stain resistant, and require minimal effort to maintain.
Stainless steel is a solution that cleans easily and holds up to the heat thrown off by the oversized cooktop. It perfectly compliments wood cabinetry and both the honed marble and butcher block countertops, creating a look that is clean and simple. Similarly, the stain resistance of ceramic, porcelain and glass tiles is a practical choice because clean up is as simple as a quick wipe with a sponge or cloth.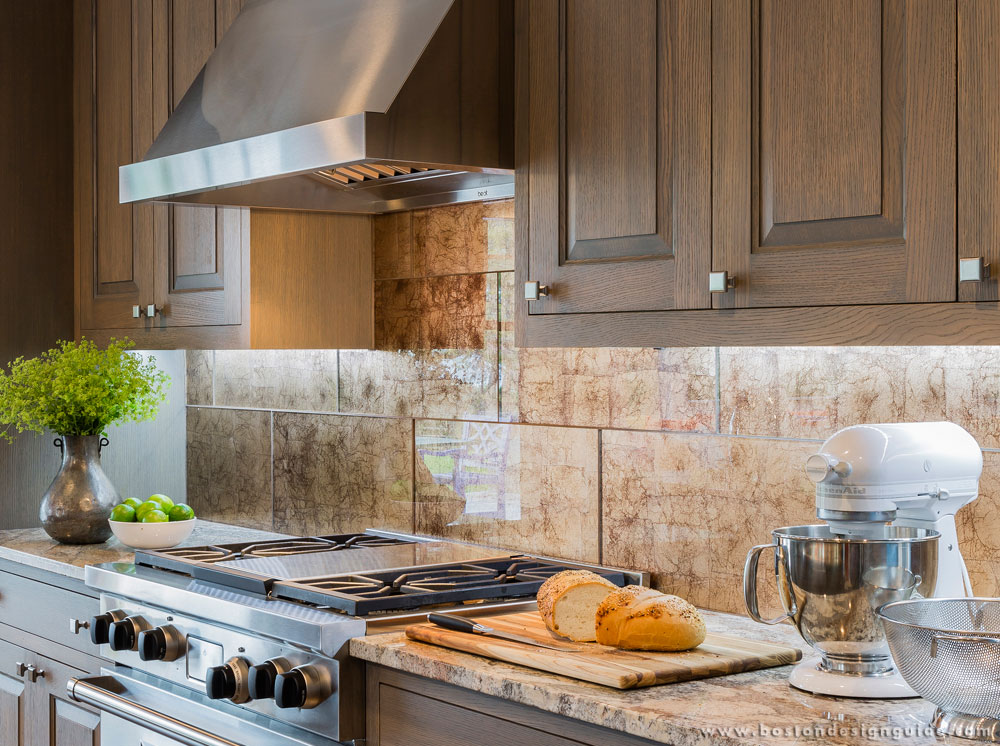 A large polished glass tile with antiqued copper leaf applied to the reverse side to create this kitchen's backsplash. The result is a beautiful look incorporating warm hues throughout the tile, counter and custom cabinets, yet it is practical for every day use.  
Budgeting for a Backsplash
Creating a backsplash can greatly vary in cost depending on the size of the kitchen and the materials used. However, it is relatively inexpensive in the overall budget of a kitchen remodel. Since backsplashes incorporate a significant element of design to your home, it can be the perfect place to splurge.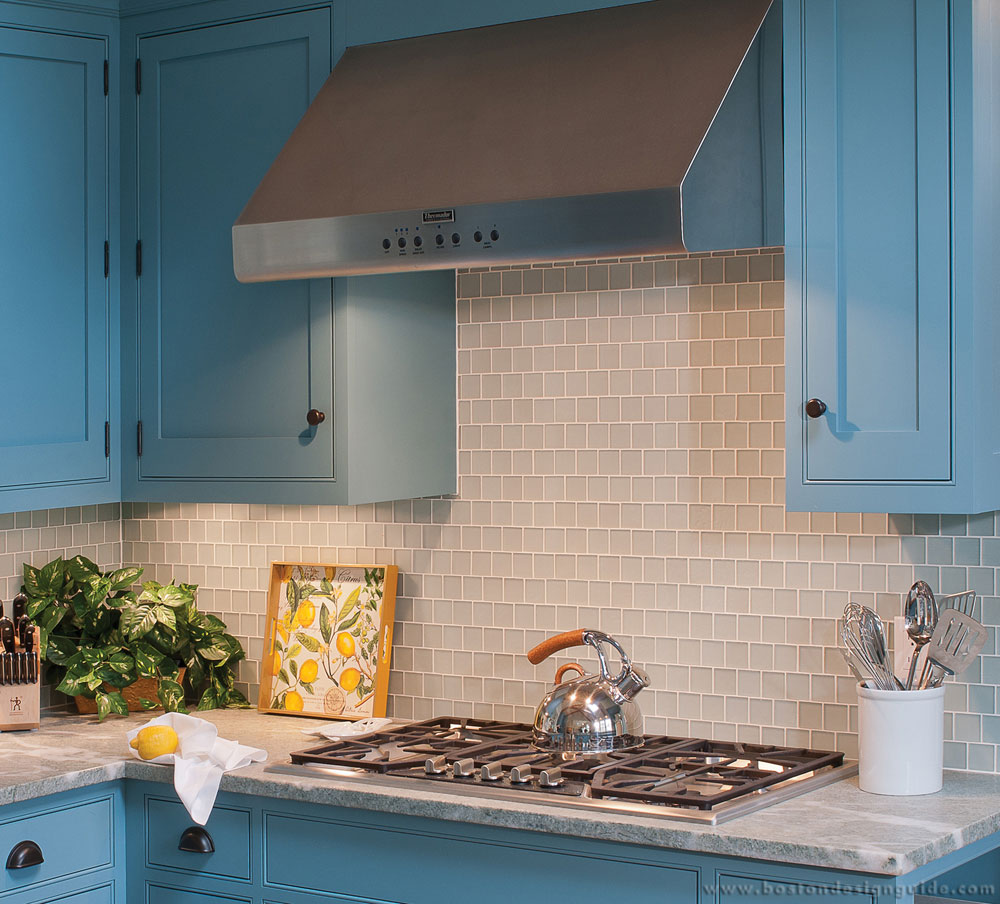 Ocean-side kitchen: Colors, shapes, sizes and combinations of glass tile are nearly infinite. Elizabeth Swartz Interiors specifically chose a pale frosted blue glass tile to coordinate with the custom cabinets.
Subway tile is an American classic and can be found in a variety of colors.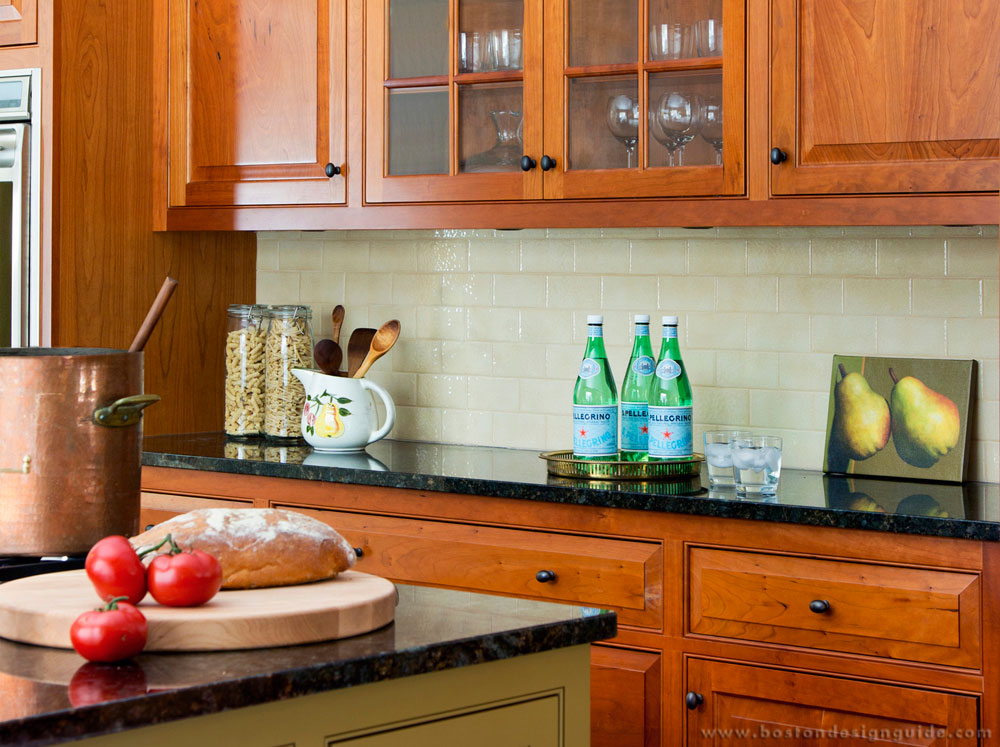 Colonial-style home: Instead of a traditional white, Elizabeth Swartz Interiors chose subway tile with a unique texture and a soft off-white glaze.
With the kitchen being one of the most important rooms in any home, backsplashes present homeowners with the opportunity to let their personal style shine through. Elizabeth Swartz Interiors helps guide homeowners through the process of design, space planning and material selection so that the kitchen, and every other room in the home, reflects their personal style.