October 26, 2015 | Sandy Giardi
Duro Olowu
Gone are the days when florals are strictly for spring. This season, high fashion is coming up roses, as well as an array of other posy-minded patterns.
Interior designers have long known that colorful florals, with their interesting tangles of vines and blooms, lend grace and opulence to the home. It appears that fashion houses have followed suit.
Burberry
Carter & Company Interior Design, photo by Sam Gray
Burberry's jewel-toned cotton gabardine trench coat, with its arresting botanical pattern and slim fit, is striking coming and going—much like Carter & Company's stately entry hall. The beauty of the premier design firm's foyer lies in the details. Gently curved architecture and meticulous tile enhance the meadow-green floral wallpaper that is serene but striking, welcoming all who enter the home.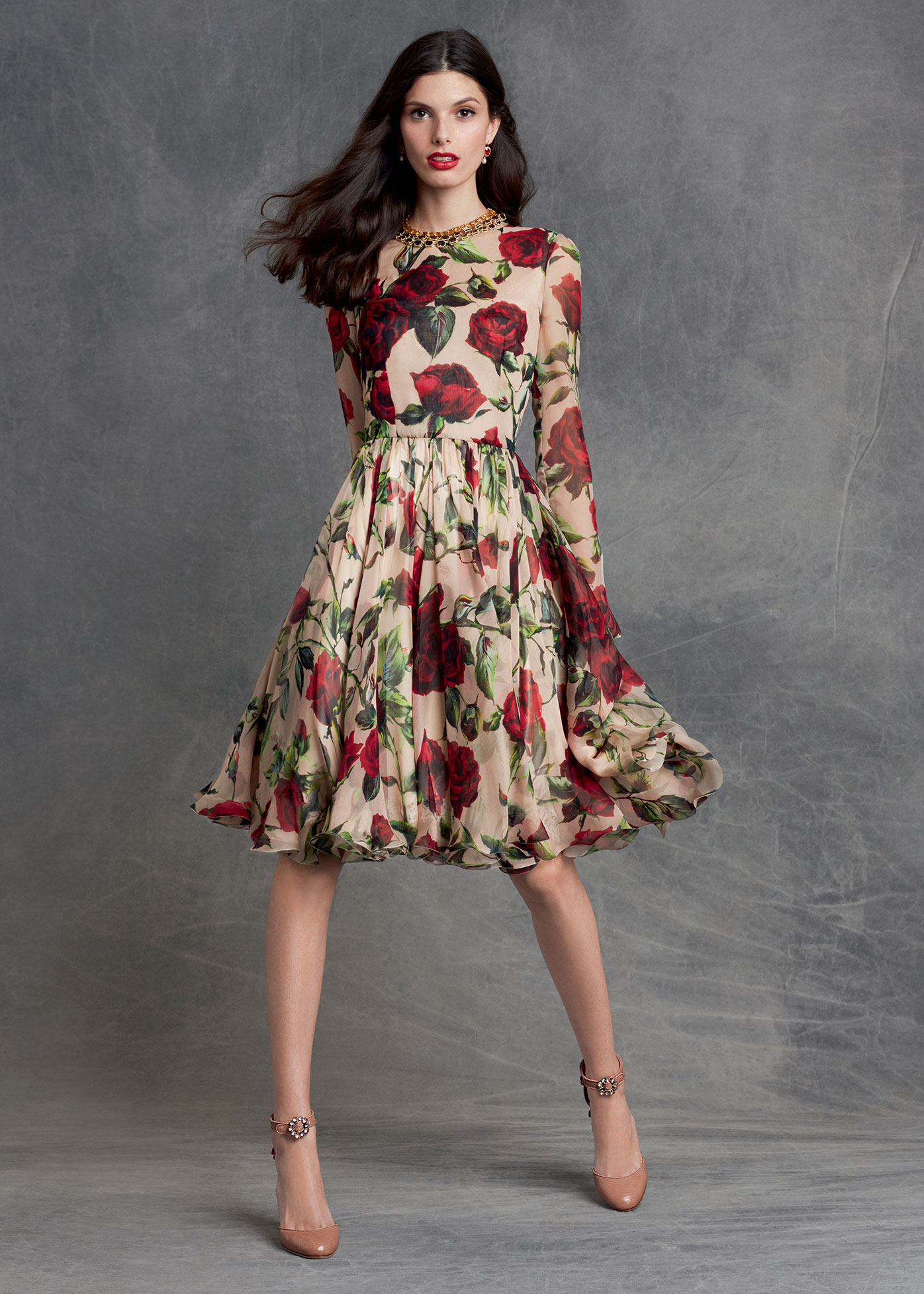 Dolce & Gabbana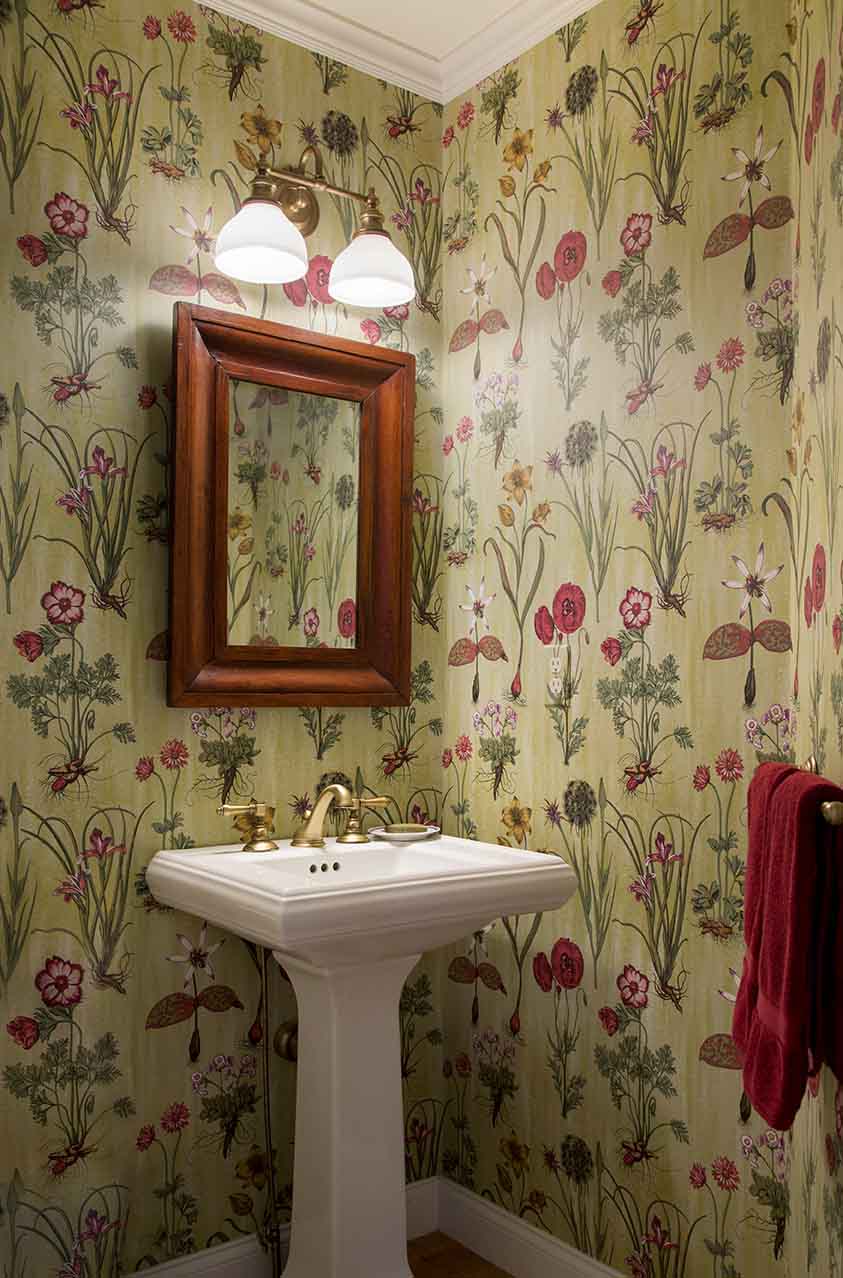 Elizabeth Swartz Interiors, photo by Eric Roth
There is nothing "garden-variety" about Dolce & Gabbana's frock; it's teeming with red roses and Grace Kelly glamour. Here, roses climb every inch of the fine fabric, just like the blooms adorning the walls of a Wenham powder room by Elizabeth Swartz Interiors. Elizabeth R. Swartz, ASID transformed the small space into "a gardener's delight," she offers, thanks to a fun Scalamandre wallpaper, vintage wood mirror and traditional lighting and plumbing fixtures.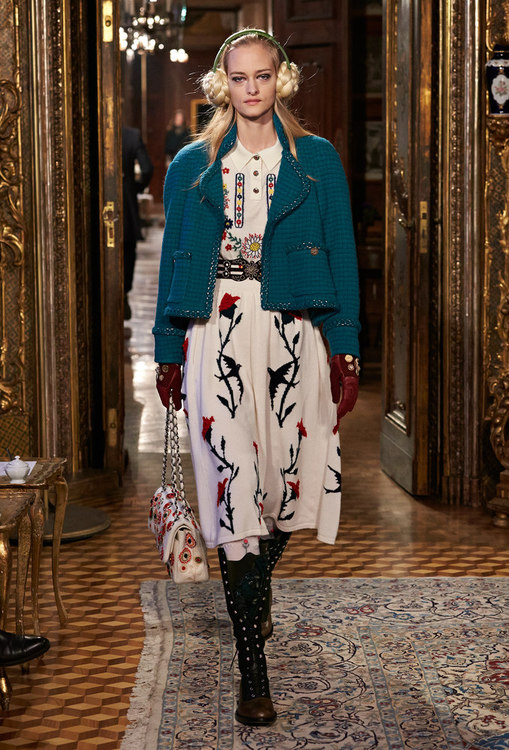 Chanel
Chanel rocks a Swiss miss look this season in this cream-colored cashmere skirt embroidered with roses. Here the floral motif is spare and paired with a handbag of still more blooms. Pairing florals that complement but don't match is truly an art form.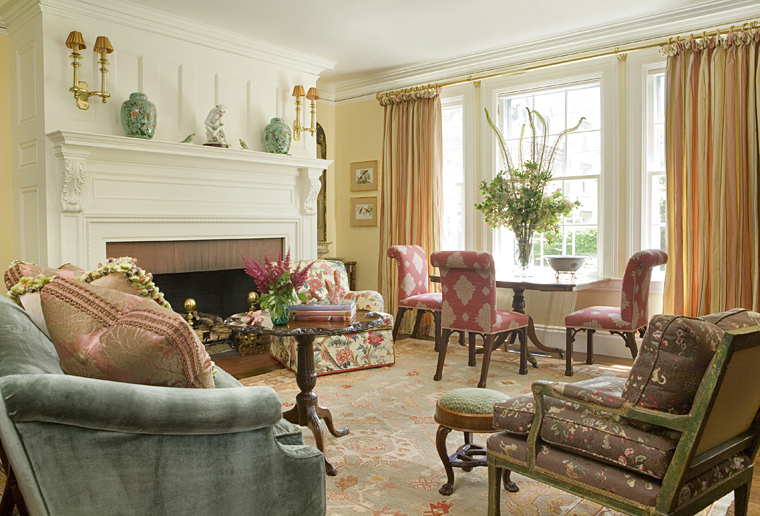 Anthony Catalfano Interiors, photo by Eric Roth
Interior designer Anthony Catalfano of Anthony Catalfano Interiors, Inc. is a master of the technique. In the gracious parlor above, he unites furnishings that vary in pattern—from the pillows to vases to armchairs and uprights—to form a cohesive and pleasing whole.