November 20, 2018 | Sandy Giardi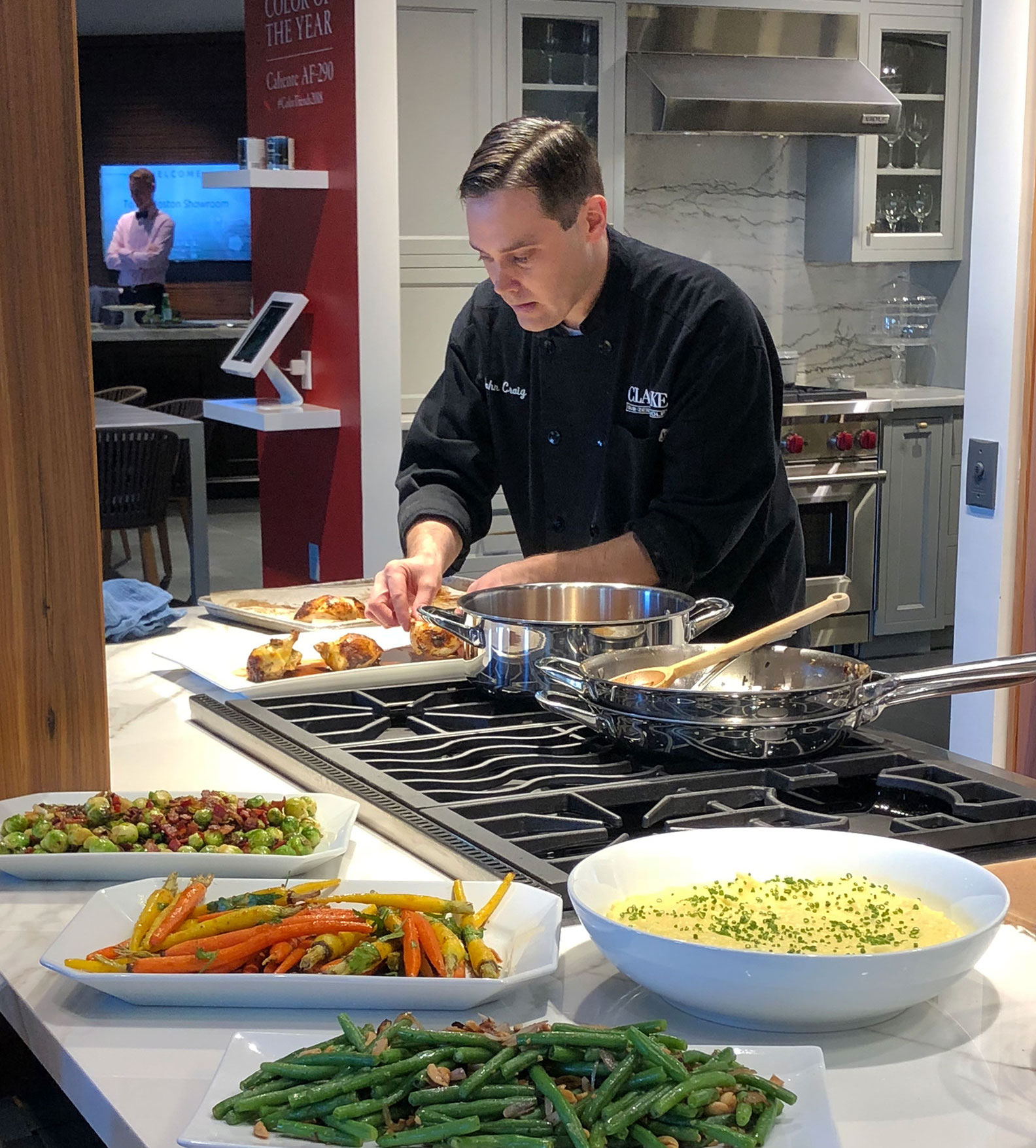 We recently met Executive Corporate Chef John Craig of Clarke at the 7 Tide Showroom in the Seaport, where he whipped up a holiday feast on Wolf's professional grade (and time-saving!) appliances. We are certainly thankful for the following recipes and wanted to share….
Herb-roasted Cornish Game Hens, prepared in the Wolf M-Oven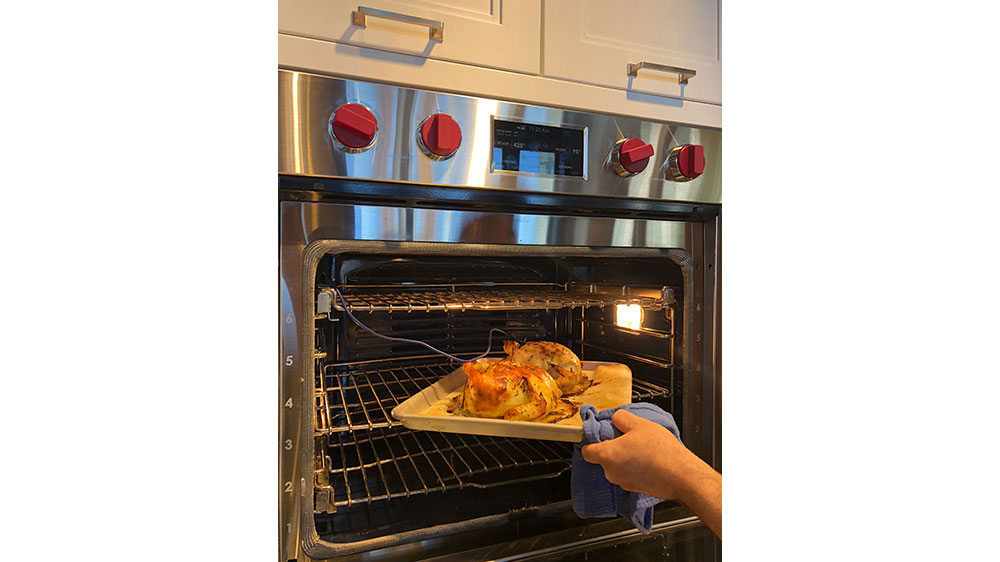 4 Cornish game hens
Salt & pepper to taste
1 tablespoon rosemary leaves, chopped
1 tablespoon thyme leaves, chopped
¼ cup Lemon Vinaigrette*
In the M-oven:
Select gourmet
Select meat
Select poultry
Select whole bird
Select unbrined
Select weight under 12 pounds
Directions: Insert probe in the breast, making sure to cover as much meat as possible.
Once game hens are roasted, portion them in breast and thigh pieces.
If desired, reinsert the pieces in the oven at convection roast at 450 degrees F° for a couple of minutes to crisp up the skin before serving.
*To Make the Lemon Vinaigrette:
2 tablespoons chopped shallot
1 tablespoon chopped garlic
1 teaspoon granulated sugar
1 cup lemon juice
Grated zest of 1 lemon
½ teaspoon crushed dried oregano
3 cups of blended oil
Salt & pepper to taste
Classic Yukon Gold Mashed Potatoes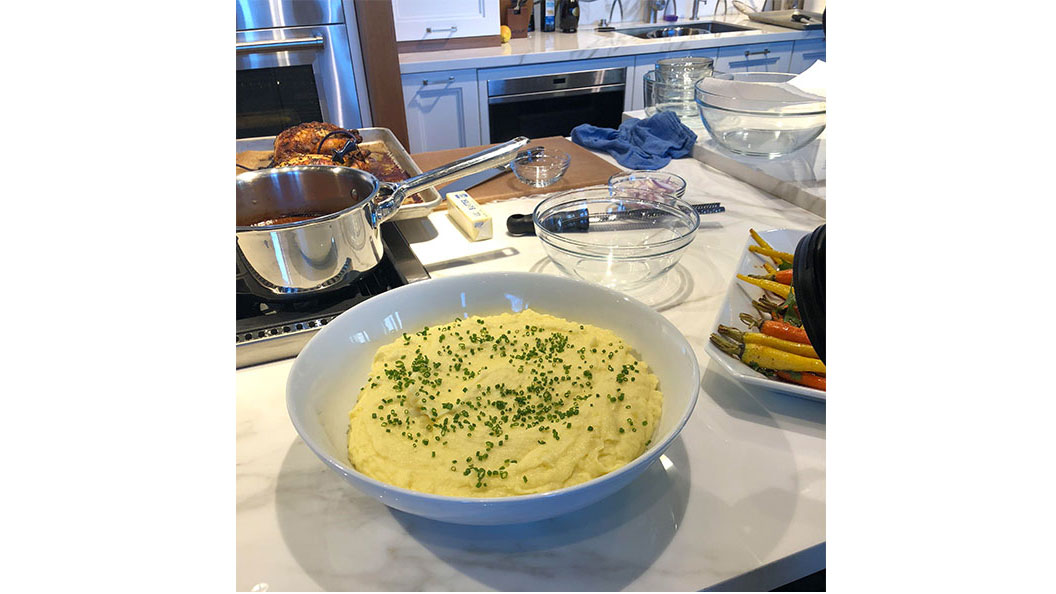 2 pounds Yukon Gold potatoes, peeled, washed and quartered
Kosher salt and black pepper to taste
1 ½ cup of heavy cream—warm
1 stick of butter, room temperature, cut into dice
Directions: Place the potatoes in a large saucepan. Cover with 1 to 2 inches cold water and season generously with salt. The water should taste like seawater! Bring the pot of water to a boil and cook potatoes until they are fork-tender, about 20 to 25 minutes.
Drain the potatoes and pass through a food mill or ricer.
Bring the heavy cream to a boil in a small saucepan. Once the cream has come to a boil, remove from the heat.
While the potatoes are still hot, add 1/3 of the cream and butter and stir well.
Repeat this process 2 more times until all the cream and butter are incorporated.  
Taste the potatoes for seasoning and add salt, if needed.
Serve immediately or cover and keep warm until ready to be served.
Roasted Rainbow Carrots with Cider Glaze, using the Wolf Convection Steam Oven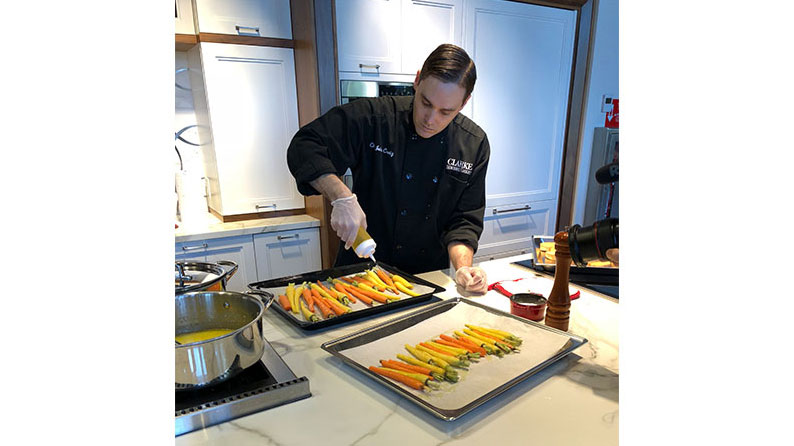 3 bunches of rainbow carrots
2 tablespoons olive oil
1 teaspoon salt
2 tablespoons chopped parsley leaves
2 tablespoons Apple Cider Syrup*
Directions: Set steam oven to "Convection Steam" at 440 degrees F°
Toss the rainbow carrots with the olive oil and salt and lay on a solid tray, or the steam oven porcelain baking sheet if available.
Roast for 7 minutes and toss carrots, roast for an additional 6 minutes or until tender.
Remove tray and toss carrots with the chopped parsley and apple cider syrup.
Serve at once.
*To make the Apple Cider Syrup:
Pour ½ gallon of good quality apple cider in to a wide-rimmed pot and simmer on a medium setting until reduced to a syrupy consistency. (About 1 hour)
Bacon Brussels Sprouts, using Wolf Induction Cooktop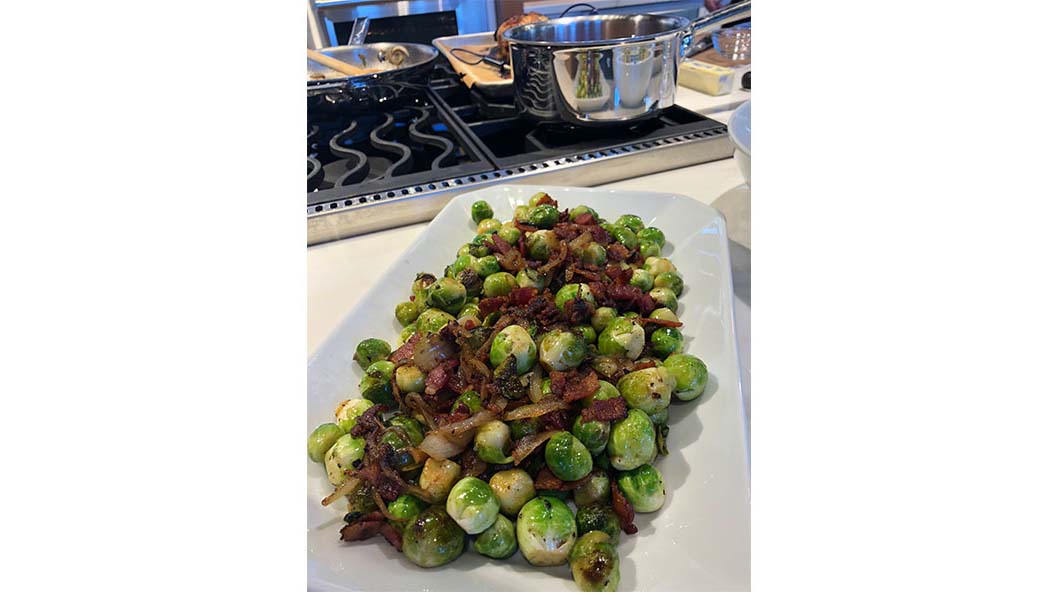 4 good quality bacon strips
2 tablespoons olive oil
1 pound bag baby brussels sprouts, ends trimmed
½ large onion, thinly sliced
Salt & pepper to taste
Directions: Turn induction burner onto a medium-high setting.
Add the bacon strips and cook for about 5-7 minutes, or until crispy. Remove to a paper towel-lined plate then roughly chop.
In the same pan with bacon fat, melt the butter over high heat. Add the trimmed brussels sprouts and the sliced onion and sauté for about 5 minutes or until well colored and crispy on the outside.
Re-enter the bacon and quickly heat through. Season with salt and pepper.
Serve at once.