April 29, 2020 | Sandy Giardi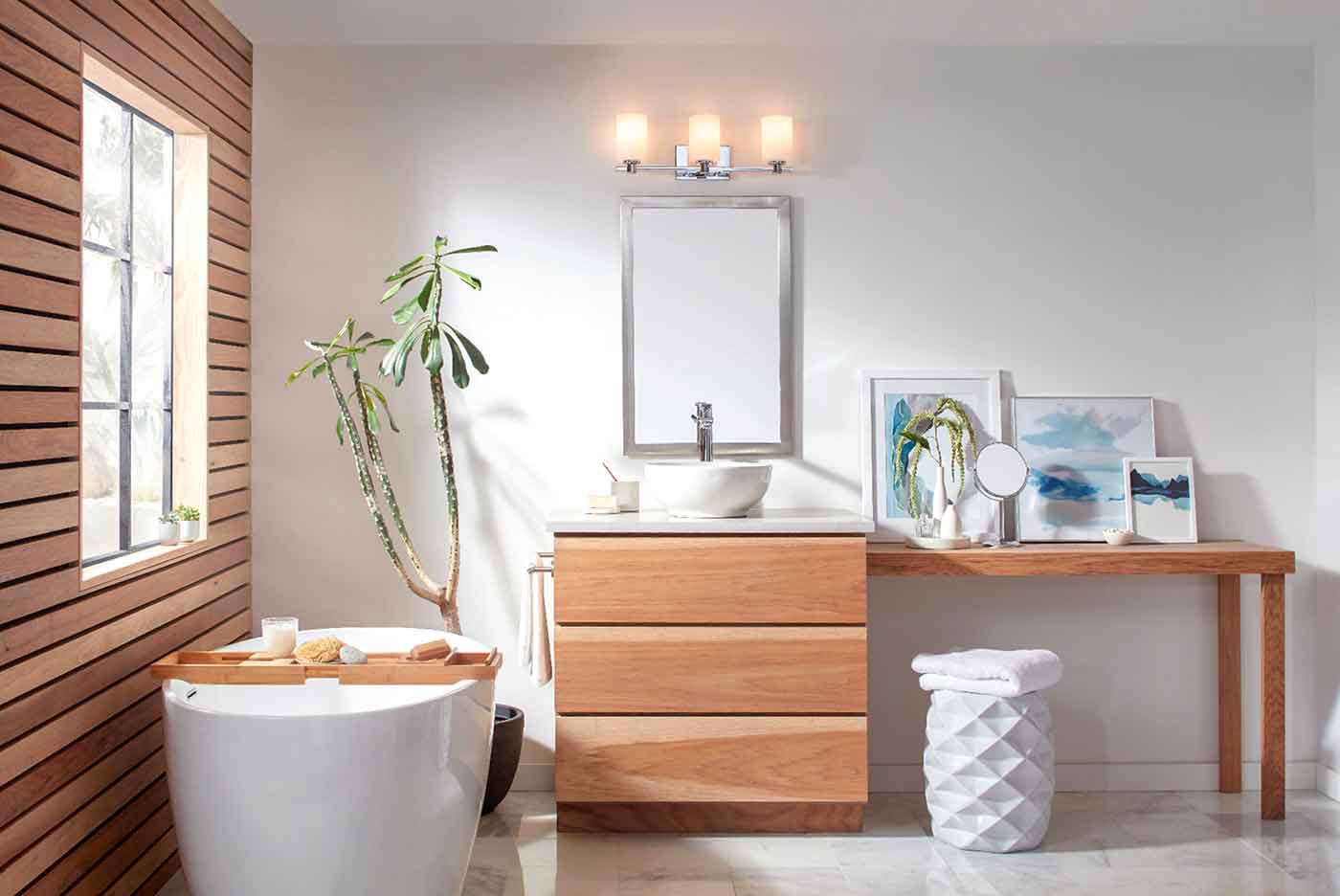 While most people choose their lighting fixtures based on how the fixture looks, you should select bathroom lighting for how it makes you look and how well it illuminates this all-important space in your home.
"Bathrooms should have a combination of ambient and task lighting," explains Jim Henderson, Frank Webb Home's lighting specialist. "Ambient lighting is your main lighting source. It's designed to illuminate the space evenly. This can be accomplished with a decorative overhead fixture, recessed lighting or an exhaust fanlight."
According to Henderson, task lighting is directed so that you have proper illumination for shaving or applying makeup. Your bathroom is also the place where you or members of your family may need to check a thermometer or take medications, so creating at least one section of your bathroom with enough directed brightness to see fine detail is important.
Sconces, positioned on either side of your mirror, are a popular form of task lighting. These eliminate shadows cast from harsh overhead light. "Many medicine cabinets now have LED lighting built into the mirrors, plus interior and nightlights," says Henderson. "Plus, don't forget your shower lighting. It's important for bathing and shaving your legs. Look for fixtures that are actually rated waterproof if they will be inside your shower."
Whether you are looking for a dramatic ceiling fixture, artful sconces for your vanity or a lighted medicine cabinet, Frank Webb Home offers a wide array of options and working displays to help you envision how the light will enhance your bathroom. With a dozen showrooms in Eastern Massachusetts, and 45 in all, a Frank Webb Home lighting expert isn't far from your home. 
For more information, including free lighting guides for download, visit frankwebb.com/lighting.