May 2, 2014 | Sandy Giardi
They're here. Gorgeous May days drenched with blooms, breezes, sunshine and stars. The mere thought of them lifted our spirits even as the snow fell around us in the thick of winter. It's official: your favorite room in the house is no longer inside. To herald the height of the outdoor living season, we've called upon landscape architect and tastemaker Katherine Field of Katherine Field and Associates, Inc. to divulge the details that make a terrace shine.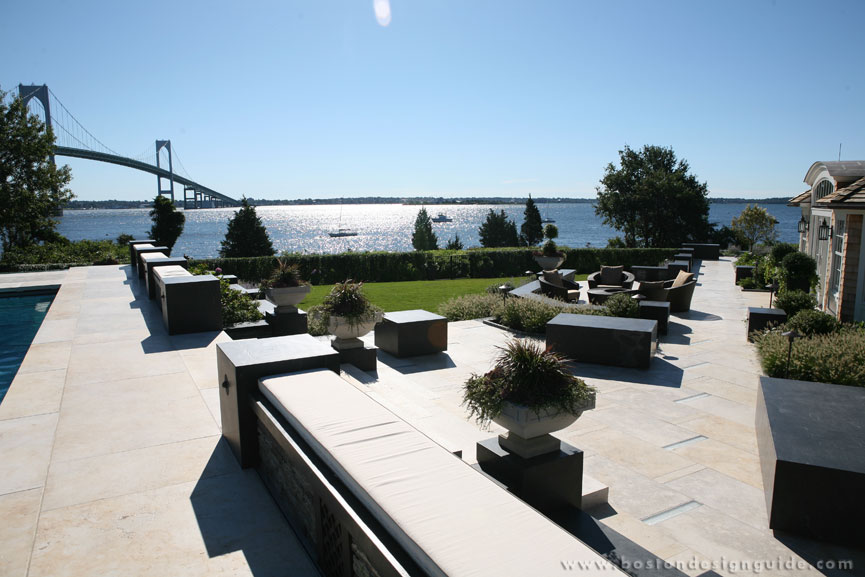 Katherine Field and Associates, Inc.; Photography by Richard Mandelkorn
Field believes that one's definition of home shouldn't be confined to a building or structure; it should extend to the outdoors and include nature. It's why she does what she does. As her goal is to get people outside and adore being there—and with her firm's designs, who wouldn't?—we felt she was a perfect person to task with tips for the terrace.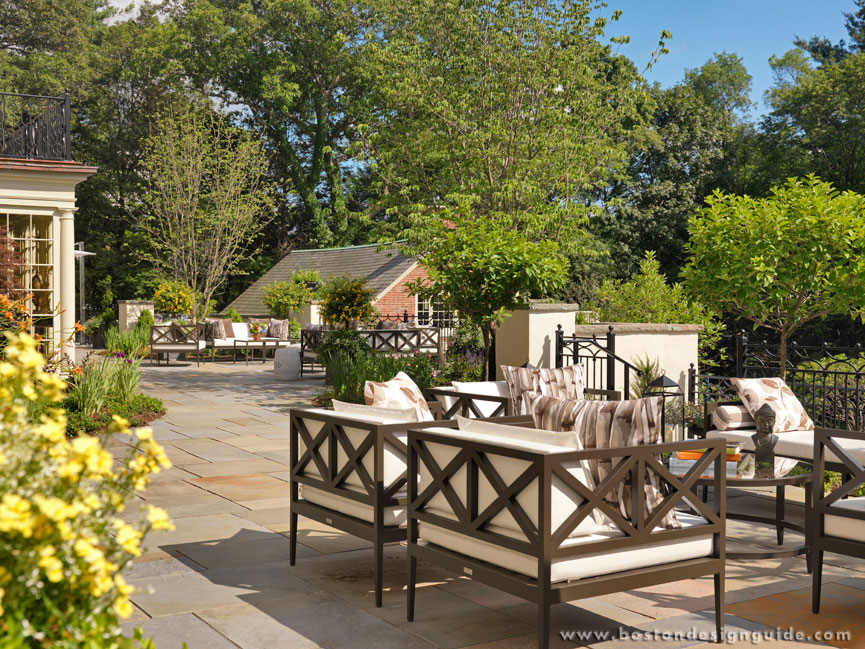 Katherine Field and Associates, Inc.; Photography by Richard Mandelkorn
Usage
"Form always follows function," Field maintains. "So you have to think about how you're going to be using [the terrace] and how many people you intend to furnish it for." Homeowners should consider and then provide for "normal usage," she emphasizes, and then think about how you can comfortably "expand that usage for entertaining." Say you and your husband love to host dinners for two other couples, she illustrates, you should furnish your space with a table and six chairs. 
For larger-scale entertaining? Purchase "a second table that you can hook to the end of the first table, bring out some chairs from inside, and now you've got a table for ten."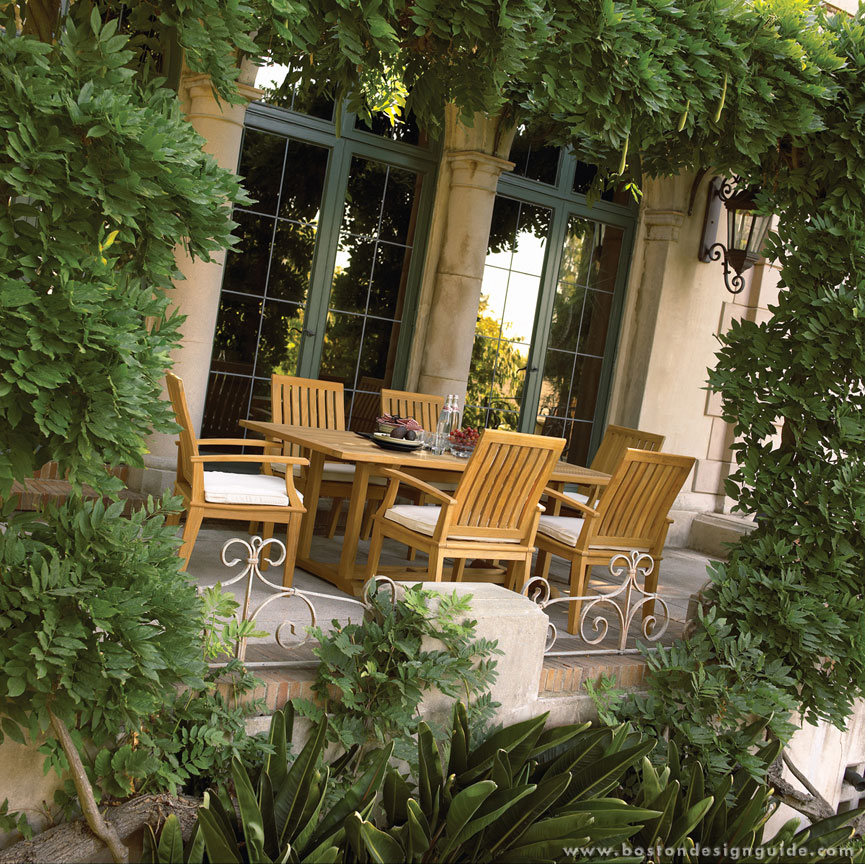 Classic Wood Dining Table, available at Seasons Four - The Outdoor Living Store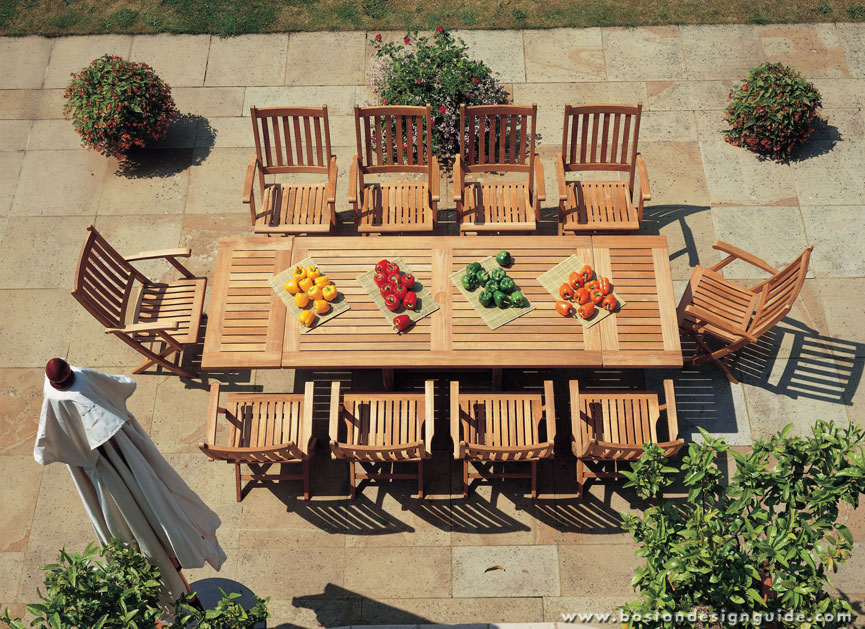 Barlow Tyrie Ascot and Arundel Teak Collections, available at Didriks
Seating Configuration 
Seating follows this same philosophy. Clients should consider what a standard seating grouping looks like, i.e. "how many people can sit down and chat" easily, and what your max capacity is. "Seating for eight to 10 people is probably plenty," says Field. The space should breathe. "Circulation into the seating area" is a must. "When you approach the terrace from the house, there should be an open entrance into the seating."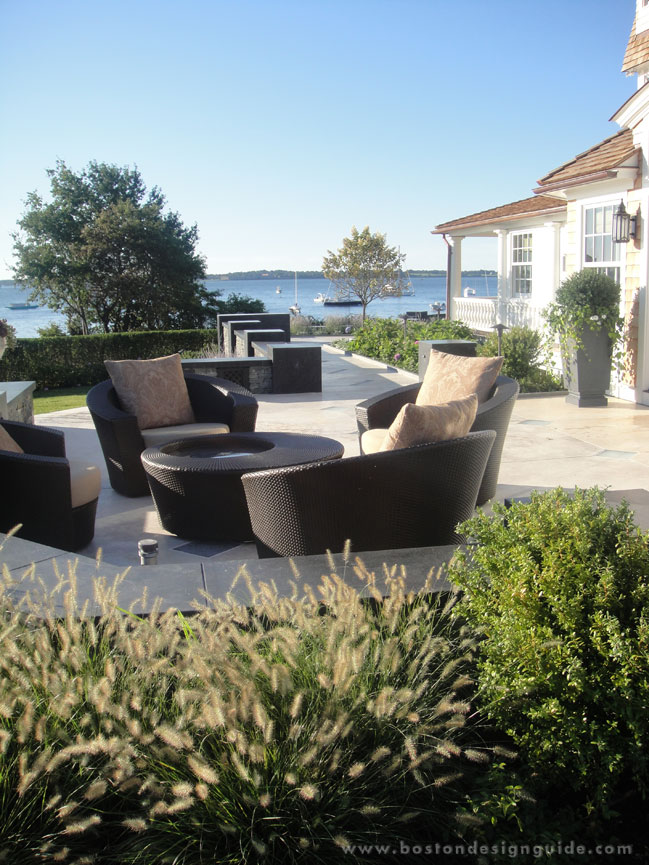 Katherine Field and Associates, Inc.; Photography by Richard Mandelkorn
Vantage is also important. What you view while you're relaxing is paramount. You should be "looking at something pretty," she says, and immersing yourself in a pleasing natural setting. 
Furnishings
Field advocates "building a terrace collection" and investing "in one or two signature pieces every year." Then, she suggests, "fill in with things you know have a shorter shelf life and are not too expensive. You can still get a great look that way."
Field actually designs furniture for her clients, but her company also pulls from a wide range of vendors. How you outfit your terrace depends on your style and budget. Conjure a coastal mood with wicker, go traditional with teak or opt for a more formal aesthetic with metal.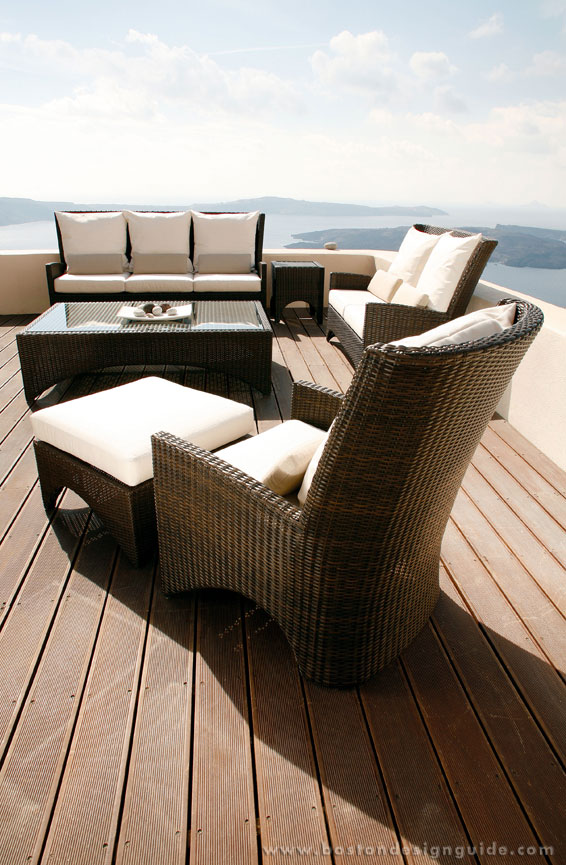 Barlow Tyrie Savannah Collection, available at Didriks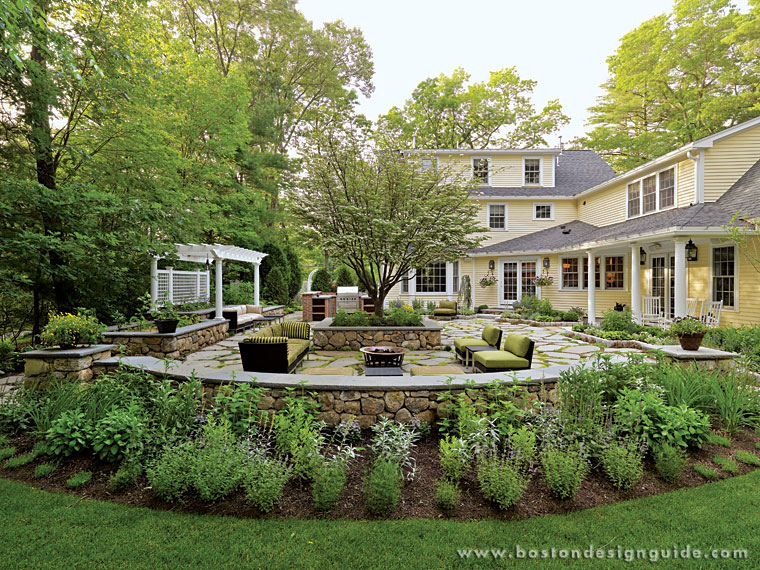 Landscape Architecture by Karen Sebastian, LLC; Landscape Construction by Anderson Landscape Construction; Home Renovation Built by Fallon Custom Homes; Photography by Richard Mandelkorn
Definitely think deep. Seating you can sink into will entice you and others to spend more time on your terrace. Create an outdoor living room, so to speak, with "a sofa, a couple of club chairs and perhaps some ottomans that can be moved around," says Field. "Obviously you'll [also] want to have side tables or a big enough coffee table that everyone can place their drink on it without having to get up and down to reach it." 
"Cushions are always a question," says Field. While "incredibly comfortable," homeowners "have to recognize that if it's raining, [cushions] need to be turned on their sides or brought inside." Field never leaves her pillows en plein air, and delights in using fabulous fabrics that don't need to weather the elements.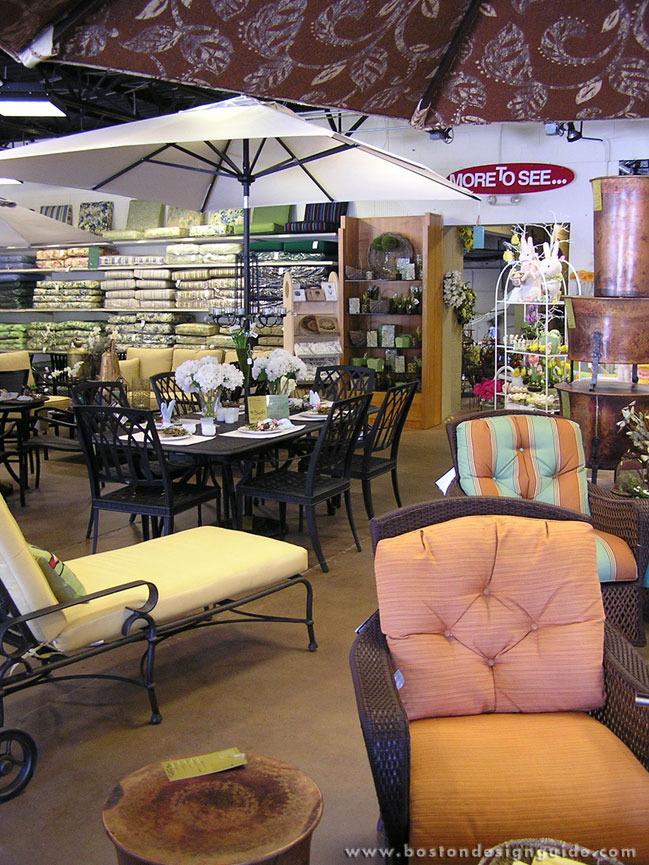 An extensive selection of cushions, accessories and furnishings at Seasons Four - The Outdoor Living Store
Materials
As for the hardscape? Flat foundations are best for terraces designed for furniture—you wouldn't want your Sancerre to spill due to a wobbly leg. Fieldstone "is natural, and very pretty and romantic looking," says Field, but uneven and "it may not be comfortable for the long run." Instead, she says, go for concrete, bluestone, brick, granite or what she chose for her landscape: "French gravel, which is a very small gravel of stone dust that I rake and roll." Crafted from a very soft material, "it's probably one of the least expensive terraces you can put in, but it has a great feel to it."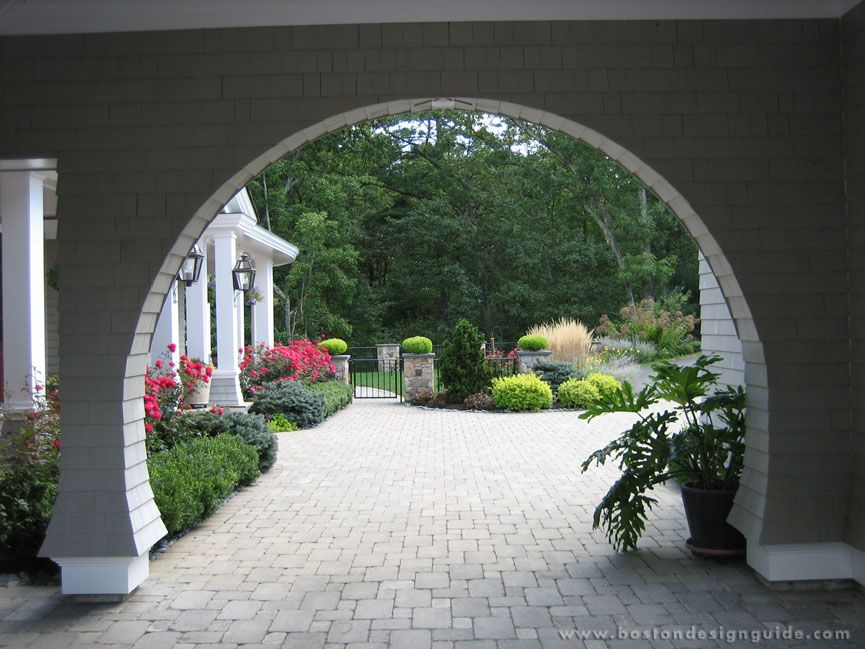 Hardscape of decorative concrete pavers; Dana Schock and Associates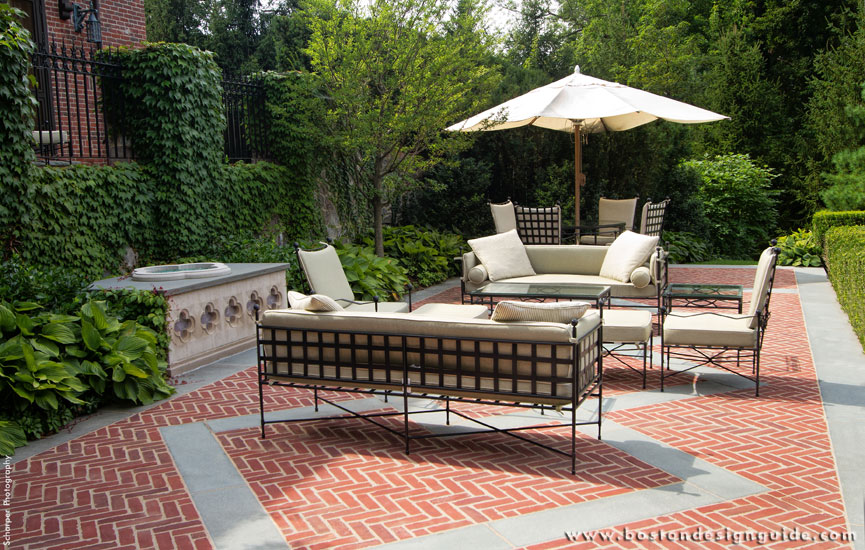 Dan K. Gordon Landscape Architects, Photography by Scharper Photography
Field takes her cue from the exterior of the home itself. "If it's a Shingle Style house, brick may just not be appropriate. But if you're in Providence or Boston [in] more of an old, urban setting and there's brick on the house, then brick might be your terrace," maintains Field.
With regard to the build, you'll need to "know yourself" and decide if you're up for weeding the cracks of your terrace or if you'd prefer mortared joints. Details like these are why enlisting a landscape architect for your project at the outset is wise. "Each one of these little decisions…will impact the overall aesthetic of your terrace" and your budget, contends Field. Working with "someone who understands the materials," can pay off beautifully.
Lighting
Hit the lights to create drama, romance and a festive feel when a celebration's in order. Illumination should be "low-level lighting, like path lighting, and always shield the light source." She explains, "You don't want to be looking at sconces on the house when you're sitting outside trying to look at the stars."
Load up on "lanterns, hurricane lanterns and big candles and let the light come from a beautiful angle." You'll cast a nice, warm glow this way and look good doing it—"people look pretty in candlelight," says Field. I'm sold.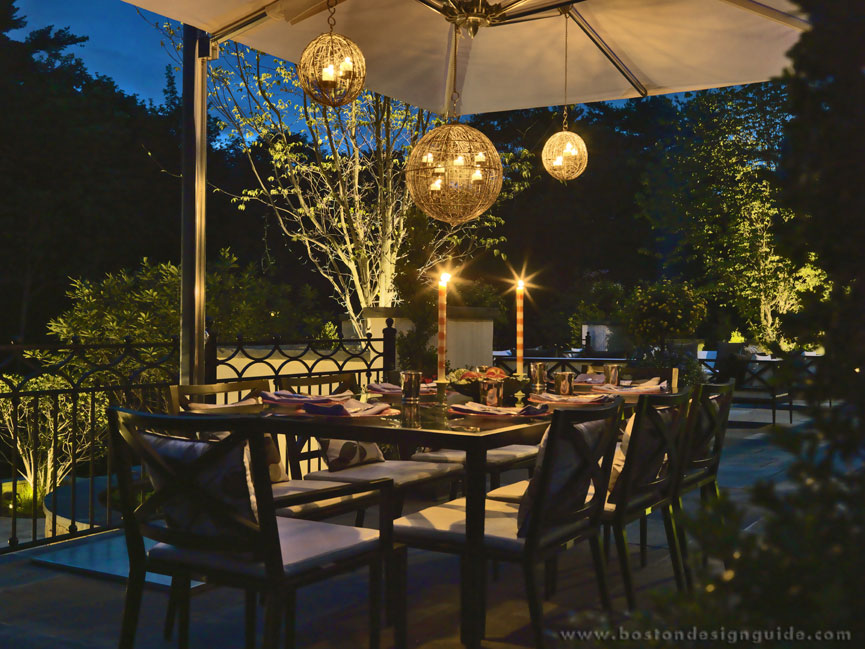 Katherine Field and Associates, Inc.; Photography by Richard Mandelkorn
"Dress up your terrace" for an event. Tiki lanterns, a canopy of party lights supported by bamboo stakes or Japanese lanterns make your space radiant. Field has had success with all of the above, and laughs that she used to be "a snob about using tiki lanterns." But after lining them up and down her bocce court for a spirited soiree, she's a believer. "They definitely say party."
For you city dwellers, Field suggests putting an oversized market umbrella above your table (select carefully, she cautions, so your parasol can handle a gusty eve), and stringing lights within it—to elicit a "sense of enclosure and privacy." Of course, a market umbrella also serves the dual purpose of shading you from the rays when sunshine, brunch and Prosecco toasts are on the menu.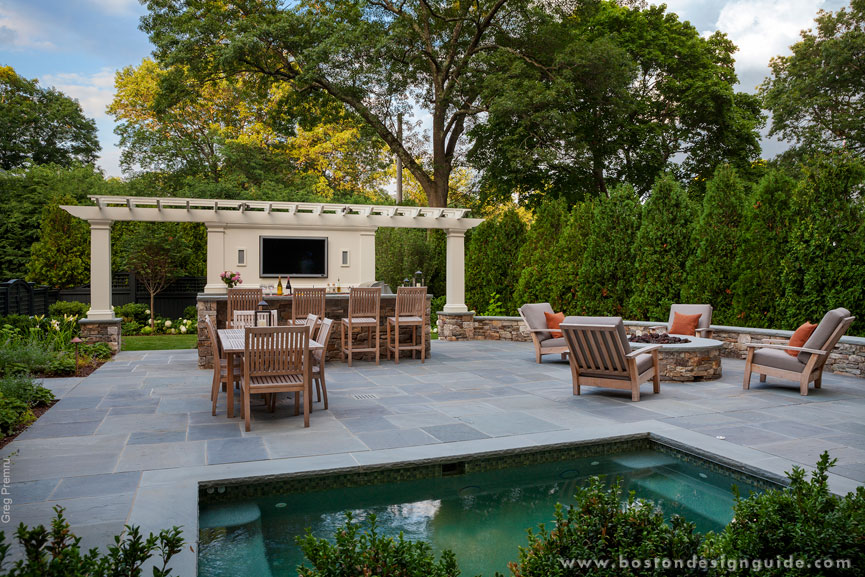 Dan K. Gordon Landscape Architects; Photography by Greg Premru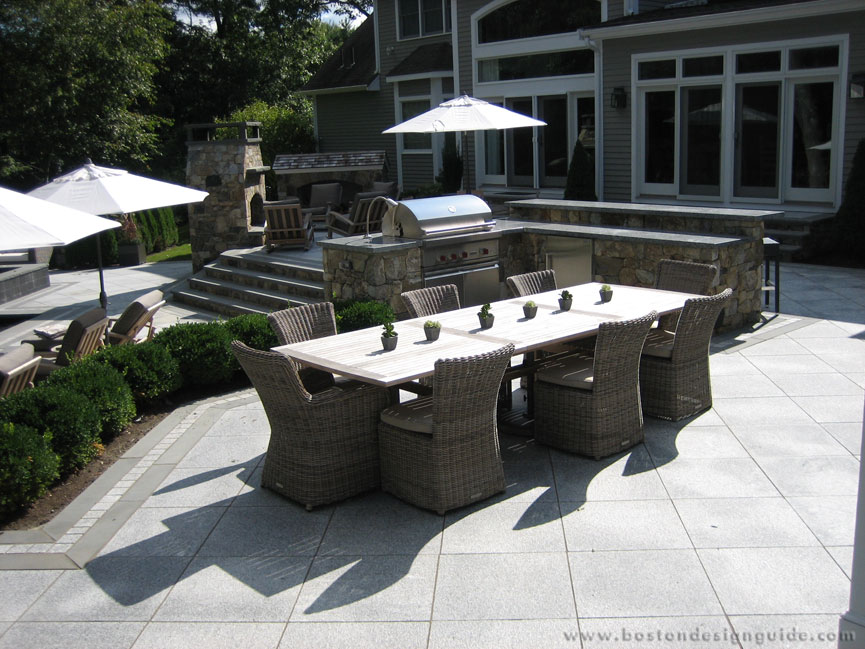 Grilling
Many upscale homes are integrating kitchen, refrigeration and bar areas into their terrace's hardscapes, a newer trend that Field says is "awesome…as it makes people go outside, which is my whole goal."
However, if you haven't the room or the budget for that, says Field, don't despair. "You shouldn't feel that you're in some way, less than." You can create a summery vibe and "do just as well with a stainless steel rollaway grill" and "a cool metal bucket" loaded with ice to chill cold drinks. "There's a lot that can be done with fun furniture," states Field. If you are including a grill and cocktail area in your terrace, having a side table or a bar cart for a buffet or your glassware makes entertaining easier.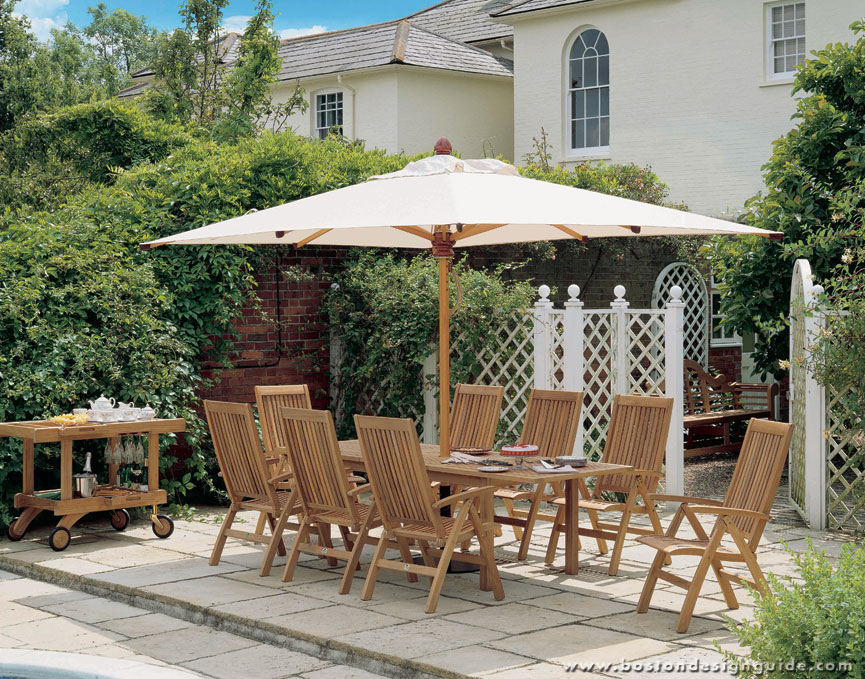 Barlow Tyrie Parasol, Table and Bar cart, available at Didriks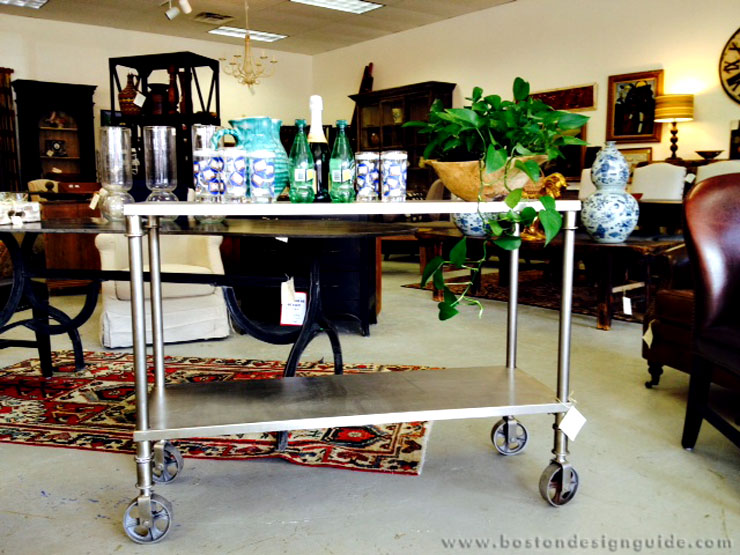 Stainless Trolley available at Darby Road Home Furnishings
Accessories
A great bouquet of flowers—cut from your yard, of course, says Field, "because you've had such wonderful and thoughtful planting"—and "pretty tablecloths and napkins" complete your tasteful terrace. Steer clear of green linens; Field has yet to find a green that does justice to the color of trees and grass. Instead, opt for the purple and blue family, the color of hydrangeas, or a complementary, bold red.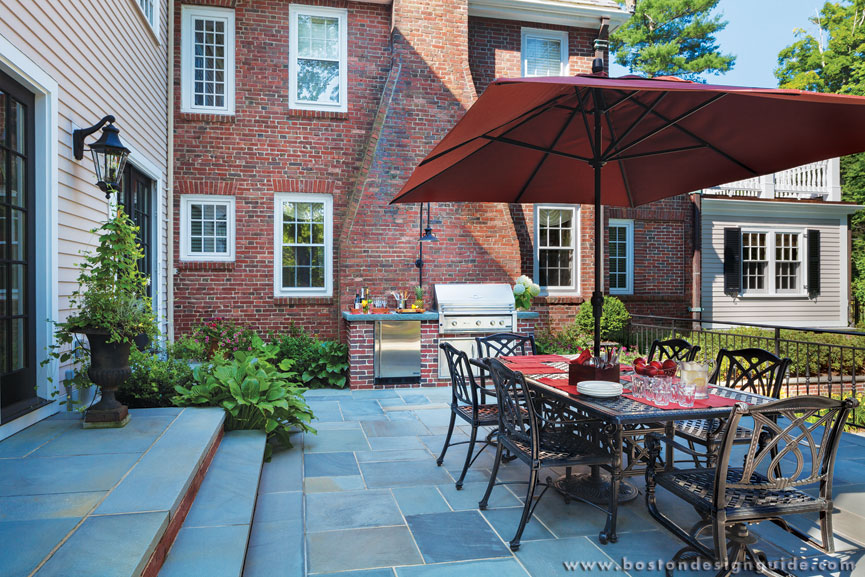 Dan K. Gordon Landscape Architects; Photography by Greg Premru
Position striking pots teeming with blossoms for privacy and to further beautify your outdoor oasis. Field suggests having green and perennial plantings around your terrace—"like hostas and rhododendrons and things that bloom naturally" without much work—and then potting color-rich annuals that dazzle all summer. She raves about the hand-turned urns and planters of Lunaform in Maine, and the terracotta oil jars of the U.K. based Italian Terrace. Too stunning to be called accents, these sculptural vases boast exquisite shapes and textures, and are hardy too. They can call the terrace home all year long and have been, dare we say it, winterized.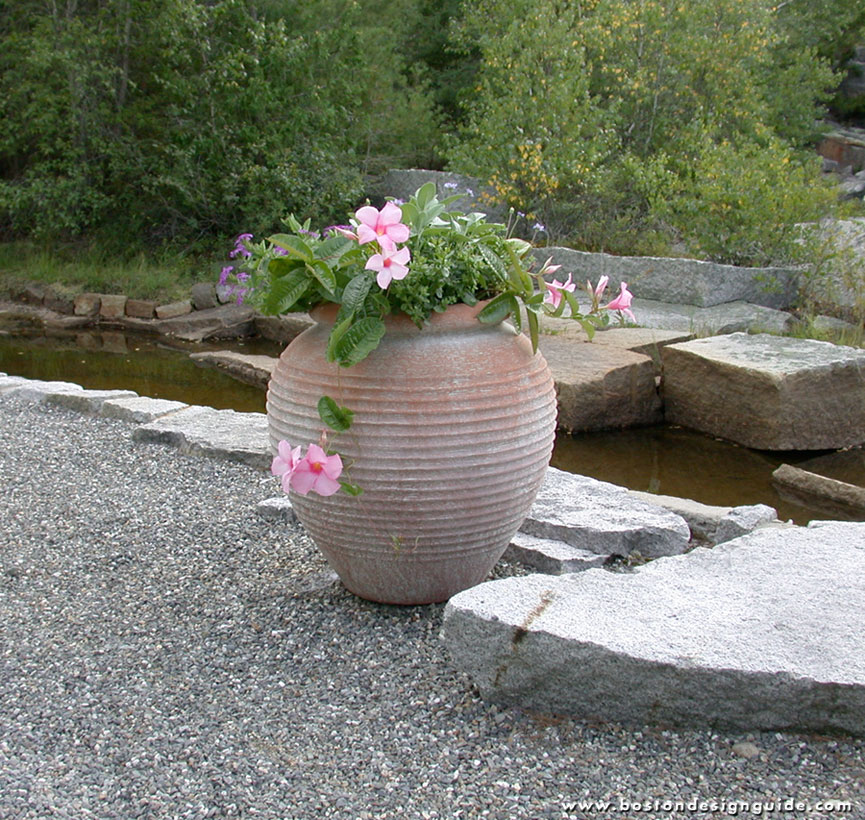 Luna Urn, handcrafted in concrete and steel, by Lunaform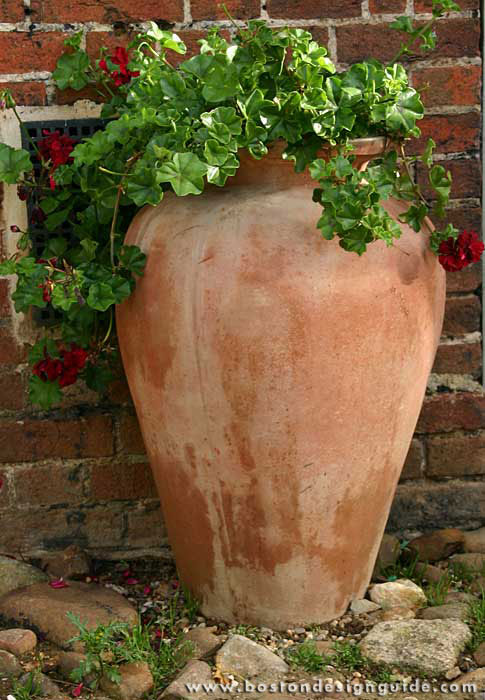 Terracotta Oil Jar by Italian Terrace; while based in the United Kingdom, Italian Terrace also operates out of Connecticut, where many of their best designs can be sourced.
Written by Sandy Giardi