June 8, 2020 | Sandy Giardi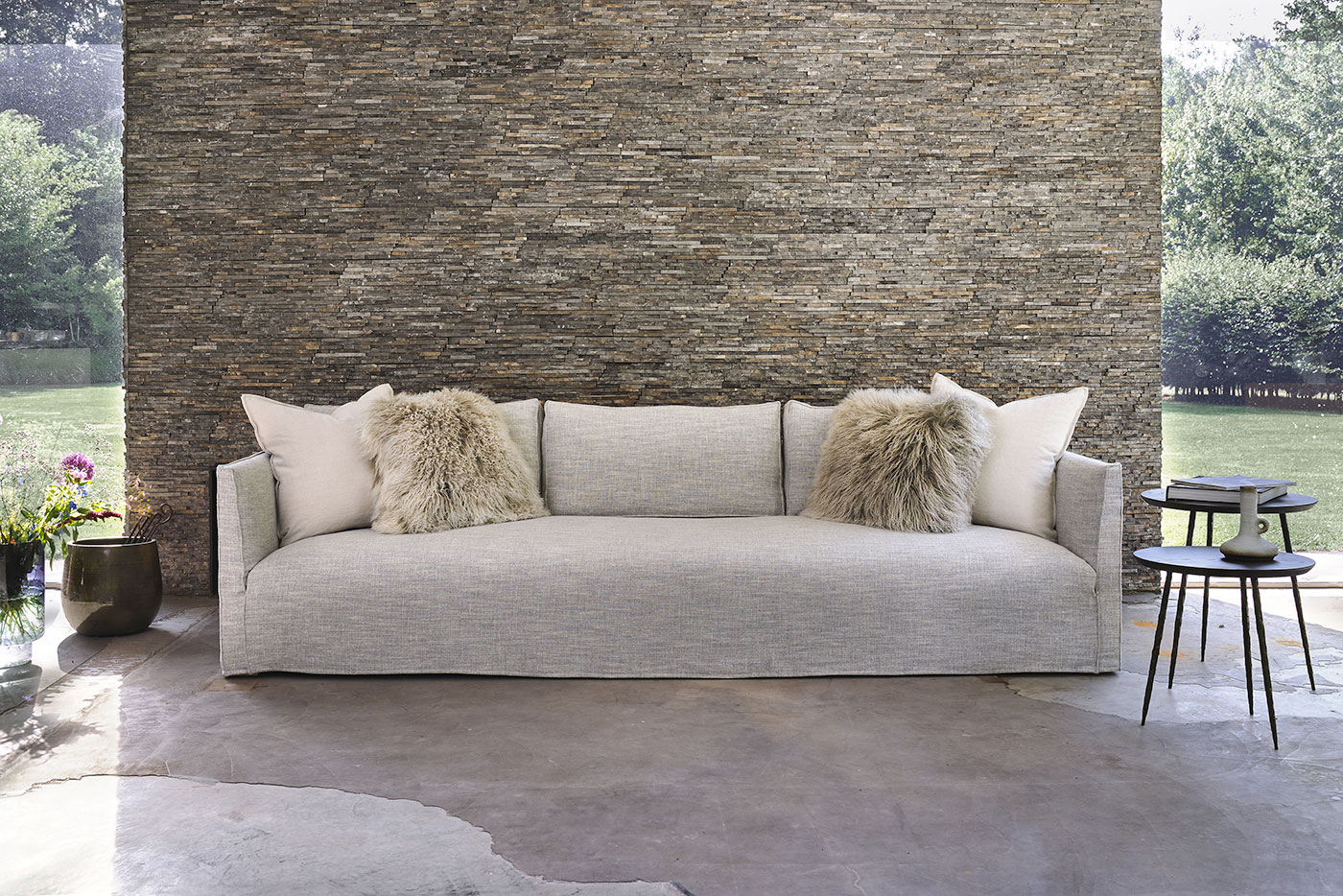 Nine years ago, renowned designer Tom Verellen handpicked Sue and Maureen Walsh of ARTEFACT to represent the high-quality Verellen furniture brand in the New England market. Verellen—which is rooted in Belgium, where flax fields and natural materials abound, and bench-made in the U.S.—is wholly aligned with Sue and Maureen's aesthetic. The owners, a sister act, prize comfort, luxury and craft in the curated items for the home they carry in their Belmont shop and in their new South End location, a Verellen salon enhanced with select decorative accessories, tabletop wares and "objects of desire" of their own design and from other artisans.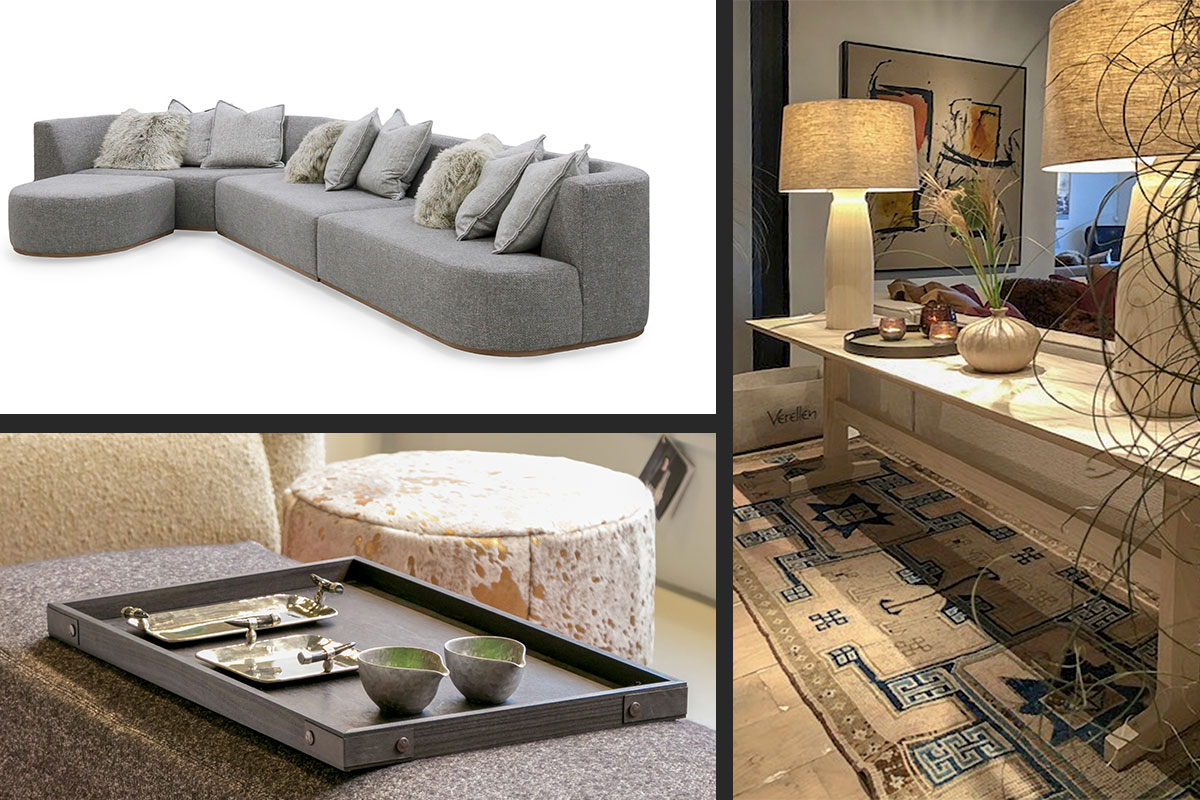 Top left: Hamilton modular sofa in grey wool; lower left: custom designed leather tray, a collaboration of ARTEFACT and designer-maker Keith Waters; right: I-Beam console and rug by Verellen and Amadi Carpet
For Verellen, "it's about a better product, better materials and better resources," Tom explained at the launch of the Washington Street boutique. Verellen's heirloom furniture is sustainable, customizable and, with its soft contours, easy on the eye. For Sue and Maureen, who have impeccable taste and love to entertain, comfort as well as sophistication is key. "We want each piece to be gorgeous, but we want it to be very approachable," says Maureen. "We've always felt that way about Verellen. "It isn't too fussy, and the design is spectacular."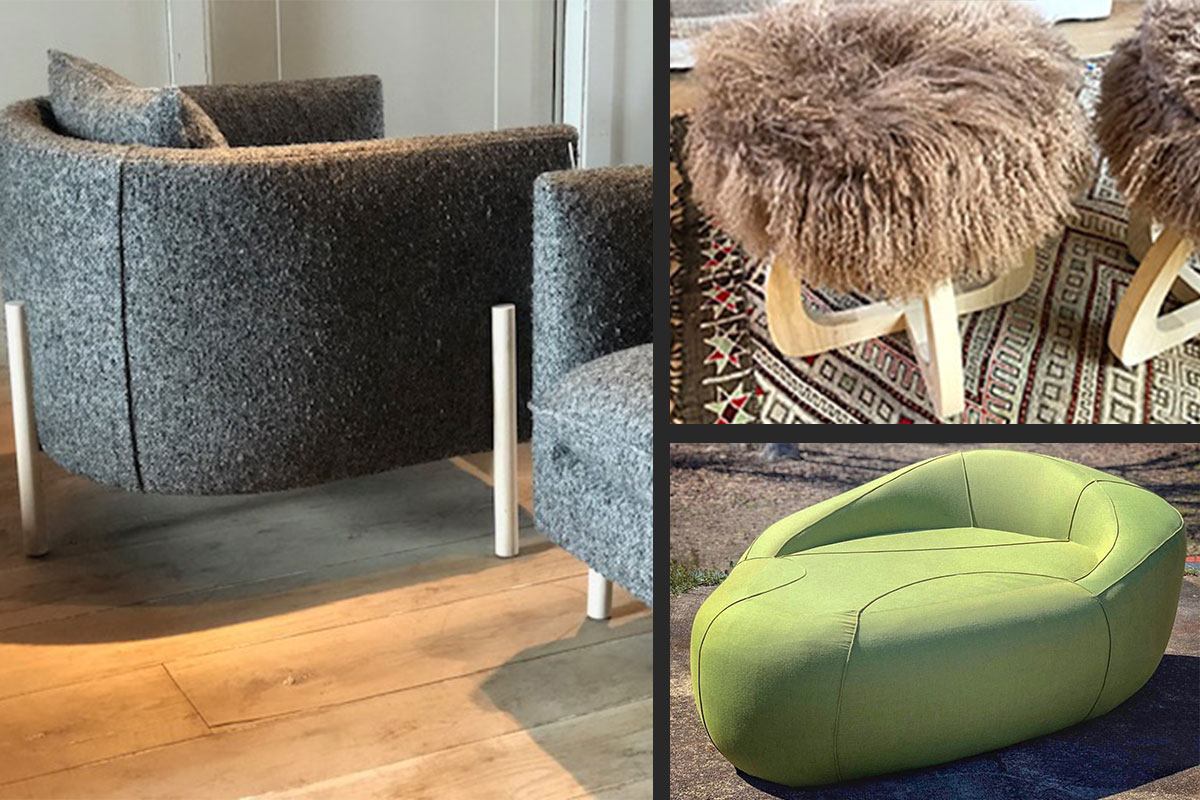 Left: Verellen's Sullivan Club Chair: top right: Verellen's Tarifa Dining Stools, Himalaya seat; lower right: Verellen's outdoor Lola Lounge
The pair is enthralled with the latest collection, a complete line of sofas, chairs, dining and case goods, rife with luxurious fabrics, new designs and subtle refinements to Verellen classics. The line is full of curves, and "very textural," says Sue. "Very now."
And yet timeless. This beautiful intersection is where Verellen shines, as the furniture maker synchronizes authenticity and a weaving tradition with forms that are wonderfully fresh and current.
ARTEFACT works with the trade as well as homeowners to customize Verellen's luxury products. Maureen and Sue are intimately acquainted with every piece, and are happy to help with fabric selections and detail options. In light of the current "retail reality," email
artefacthome@gmail.com
for custom furnishings, quotes, fabric and finish samples. The Belmont store—located at 1000 Pleasant St., Belmont—and the Boston store—located at 1317 Washington St., Boston—are currently open for parking lot pickup and curbside pickup, in compliance with federal, state and local safety guidelines. Call 617-993-3347 for assistance. Visit 
artefacthome.com
for more information.
Pictured top: Verellen's Thibaut Sofa