April 26, 2019 | Sandy Giardi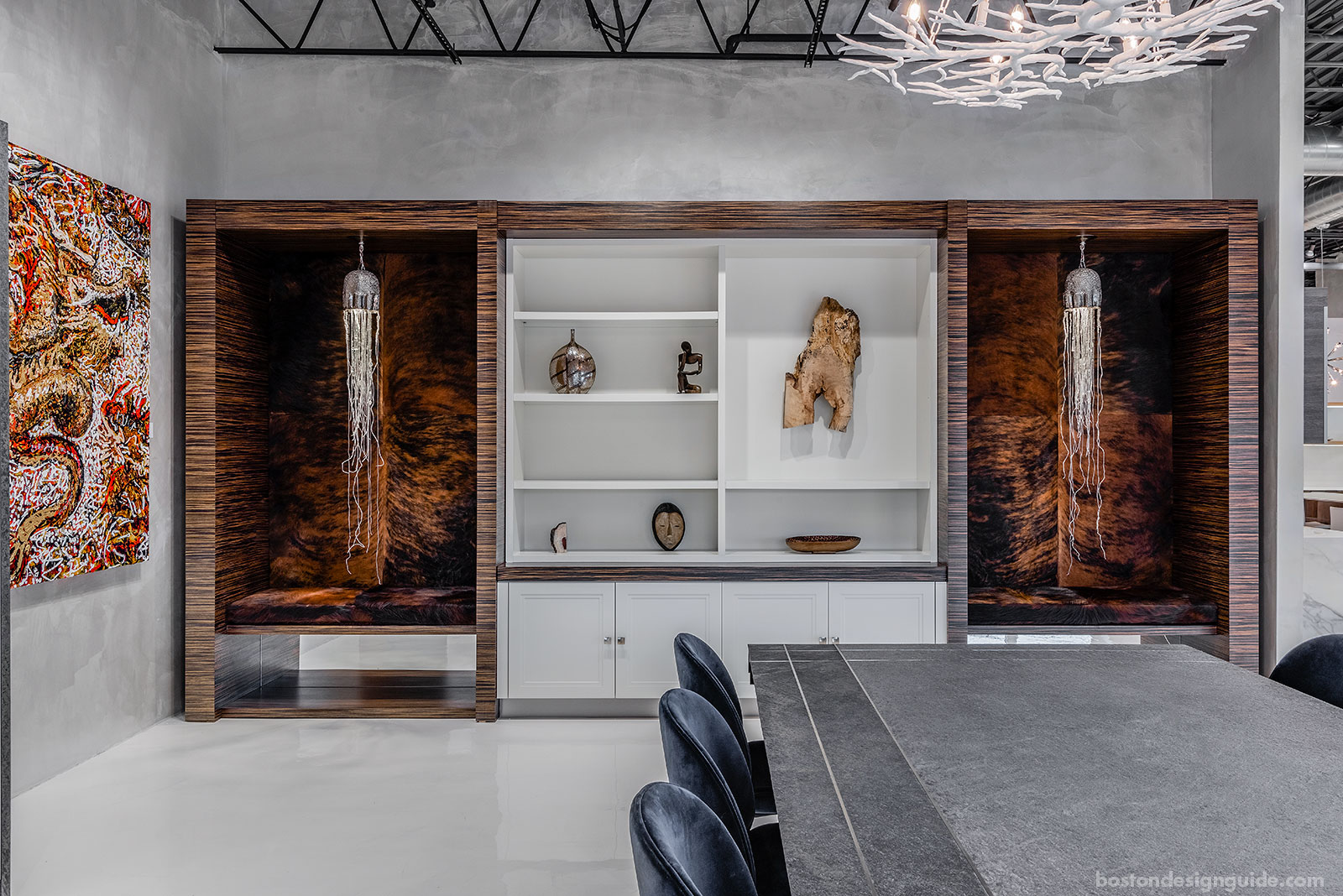 Pierre and Tricia Matta of Newton Kitchens & Design were looking to start fresh when their lease was up, and their new 6500-square-foot space on Wexford Street in Needham provided a blank canvas. The move allowed the family-owned business to undertake a complete gut renovation and conceptualize (in a mere 16 weeks!) an artful new home with plenty of room for their custom and cutting-edge cabinetry.
Their new location, a serpentine space with shiny, white epoxy over cement floors, Venetian plastered walls with a pearl finish by in-house Venetian plasterer Cusato Creative, eye-catching lighting fixtures, and multicolored and multidimensional artwork by Giovanni DeCunto, is equal parts showroom and gallery. It has a great flow and is dripping with style and a bit of their trademark edge. Within six month's time, it will also boast a working kitchen at its core, which, says co-owner and designer Pierre, "is going to be hot."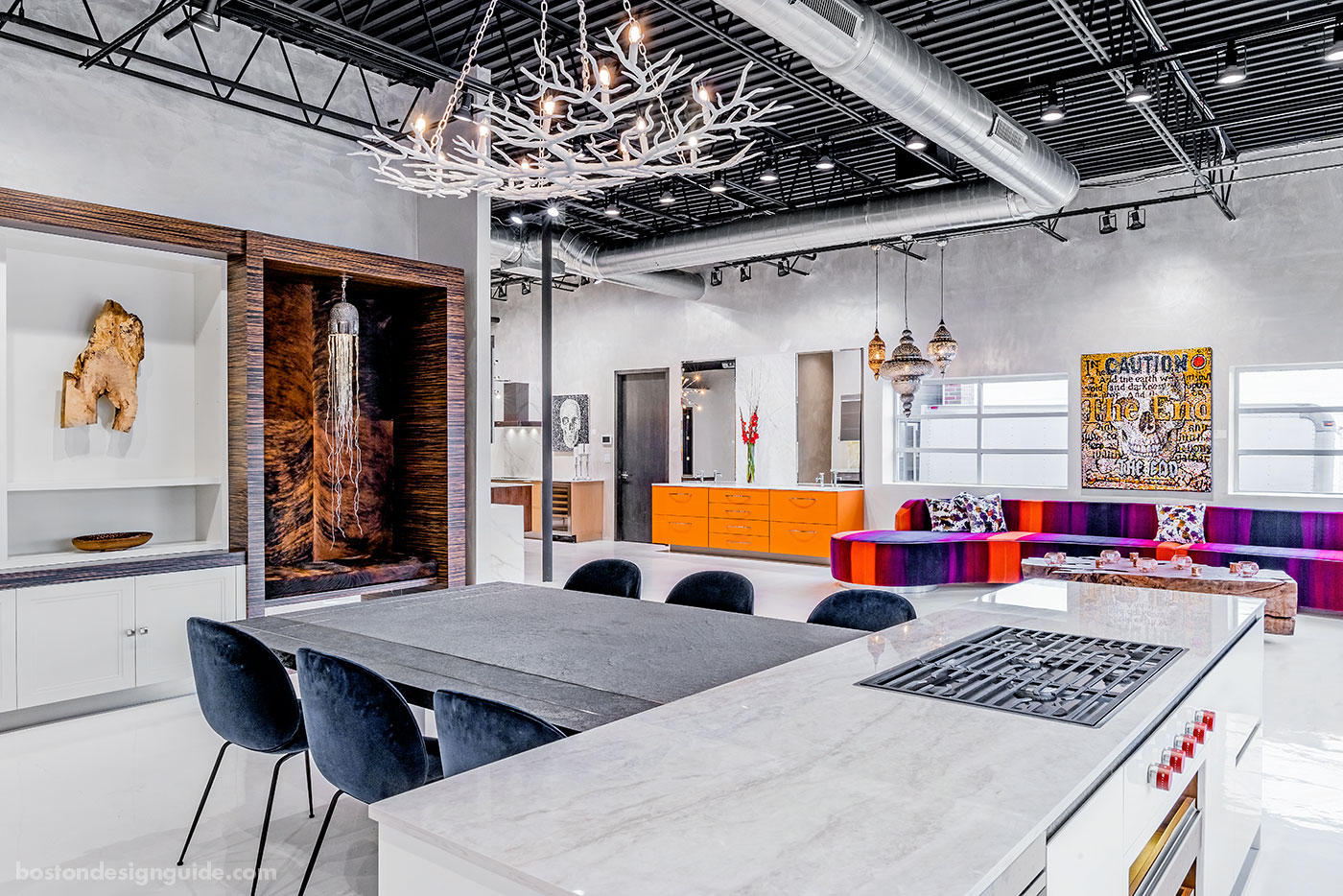 When you walk in, you're greeted by a design vignette with a Moroccan flavor, featuring a 23-foot custom-made sofa sheathed in rich indigo, violet and orange that embraces a thick wood table with a live edge. While cabinetry is Newton Kitchens & Design's raison d'être, the area serves as an immediate signal that their custom furnishings extend well beyond the kitchen. "If a customer says they want it," says Pierre, "we'll make it for them."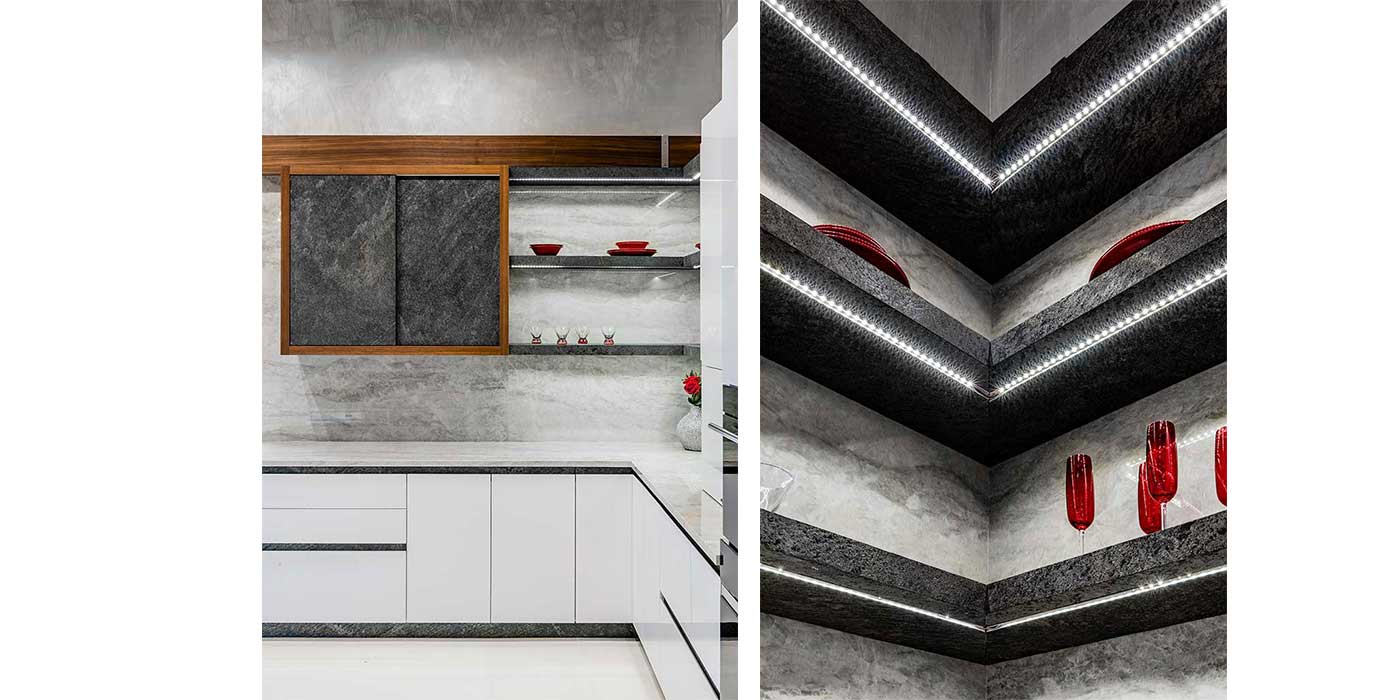 Displays show just what the cabinetmaker can do, and installations juxtapose different styles and materials. In one area, a design mingles white lacquer, walnut and a thin stone veneer on the cabinetry, open shelving and toe kicks (above), while another plays a striped exotic Macassar ebony wood against cowhide and bright white cabinets (top). Though Newton Kitchens & Design can accommodate traditional tastes, "People come to us because they want something different," explains co-owner Tricia. "They don't want the cookie-cutter kitchen."
The company teams up with other professionals—like Nezam Custom Iron, who did the custom metalwork in a stone table (pictured at top) and the base of the conference table—to give their pieces more of an artistic flair. Many of their counter surfaces hail from Marble & Granite, while First Class Marble and Granite in Franklin, their fabricator, installed the showroom's striking countertops. For cabinet hardware, lighting, faucets and sinks, they walk clients right next door to Needham Lock & Decorative Hardware.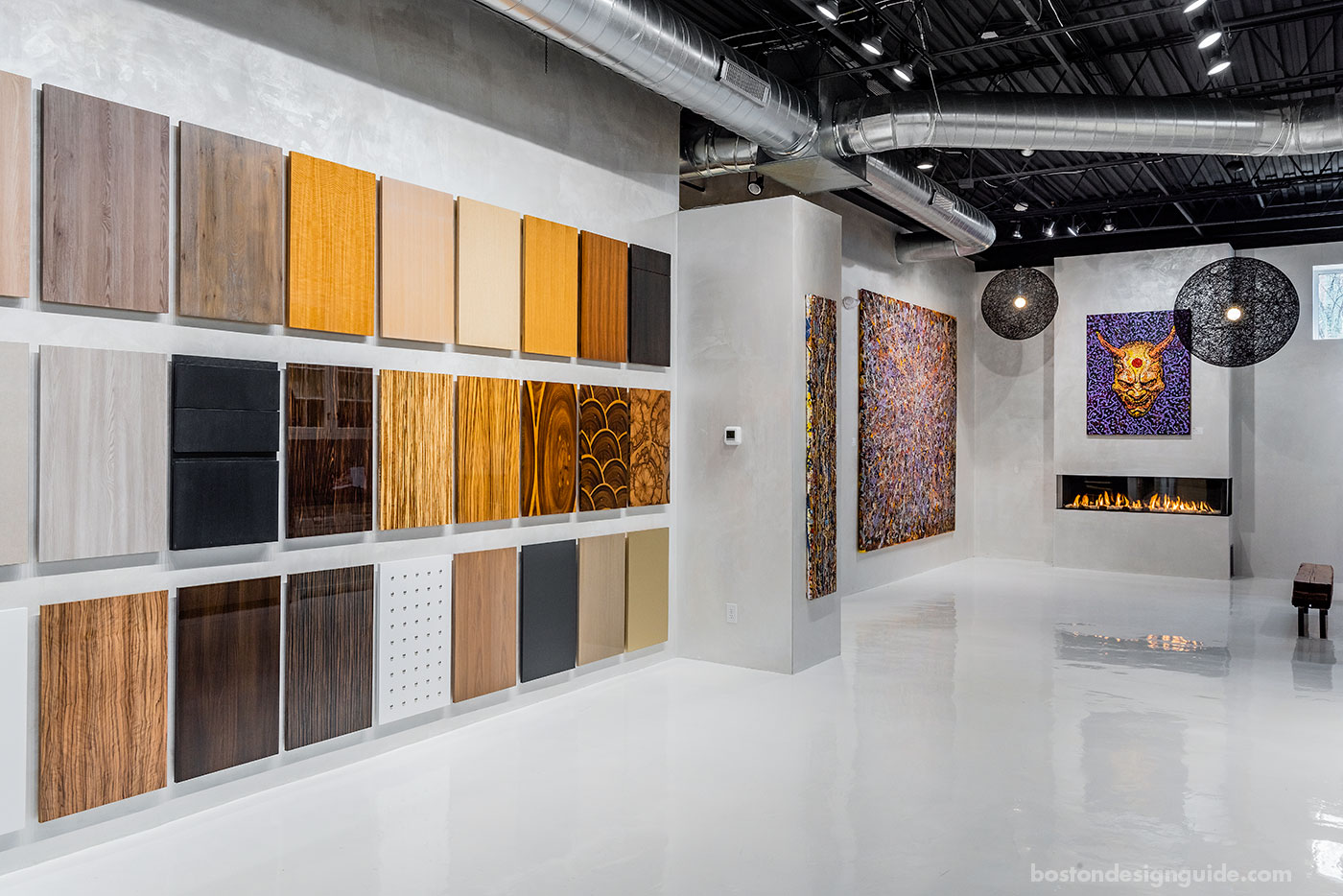 They are known for their high-gloss lacquers and funky woods (think rosewood and palm), as well as other materials and textures like acid wash mirror, leather hides, zinc and linen, and they now have the space to show clients the many possibilities. Pricing runs the gamut; though their new digs certainly look rich, the Mattas make a point of including some inexpensive options. They know how to achieve a high-style look for less. "Because we're building the cabinetry," says Tricia, "we have more control over the materials we use."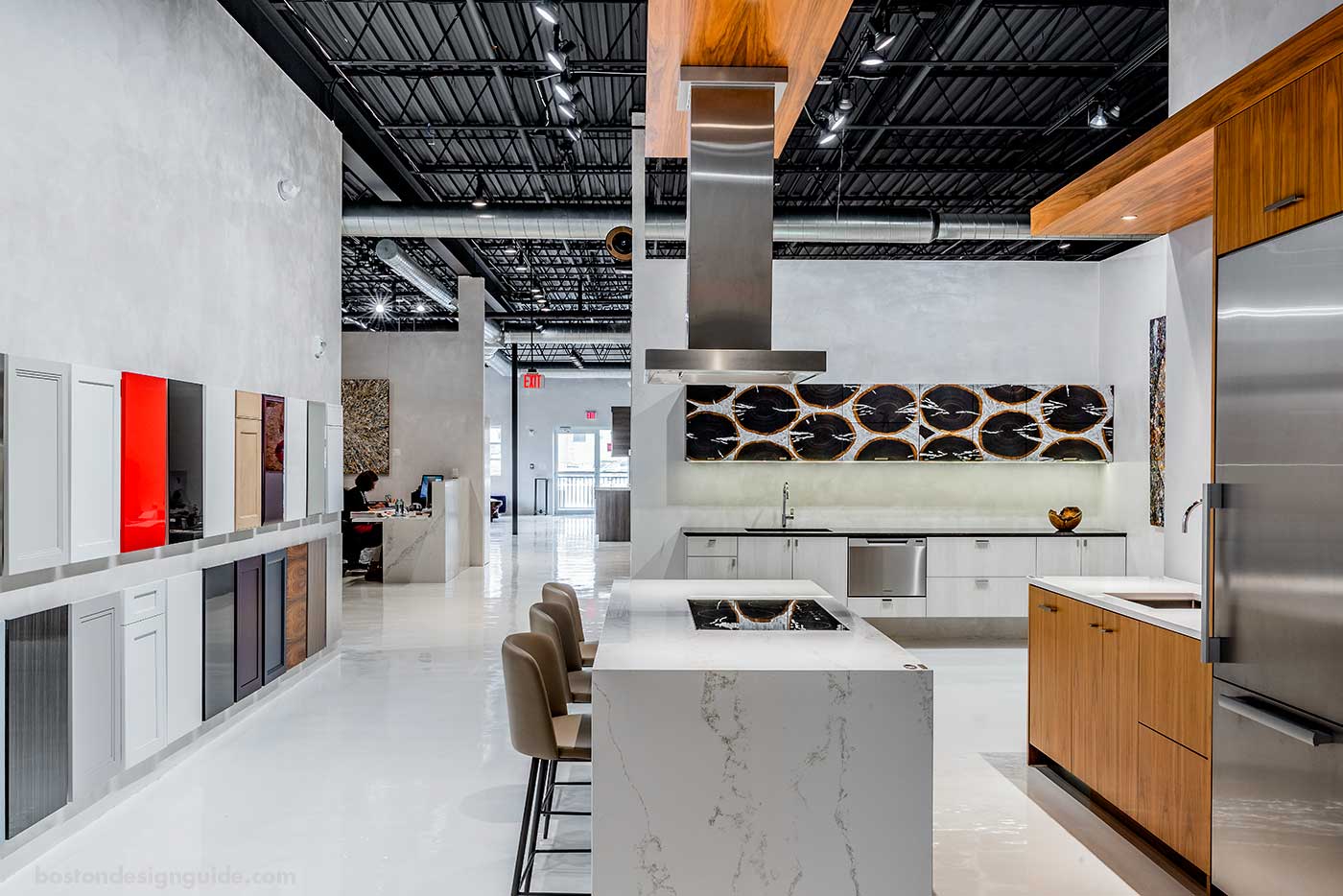 Filling the large space isn't a problem. "Pierre's mind never stops working," says Tricia. He is inspired by travel, other people's work, architecture, and by the out of the ordinary. Though his earliest craft explored the traditional—projects with fluted pilasters, crown moldings and dentils—he soon found a passion for the contemporary. He loves warming up sleek designs with a little wood and/or metal for texture. Pierre's bespoke, out-of-the-box commissions have gained quite a following; says Tricia, "All he wants to do is create." 
Photography by Keitaro Yoshioka