December 12, 2018 | Sandy Giardi

The holidays are fast approaching, are you ready? From the art aficionado and hostess on your list to the golf or wine enthusiast, we've amassed 12 inspired gift ideas to help you wrap up your shopping.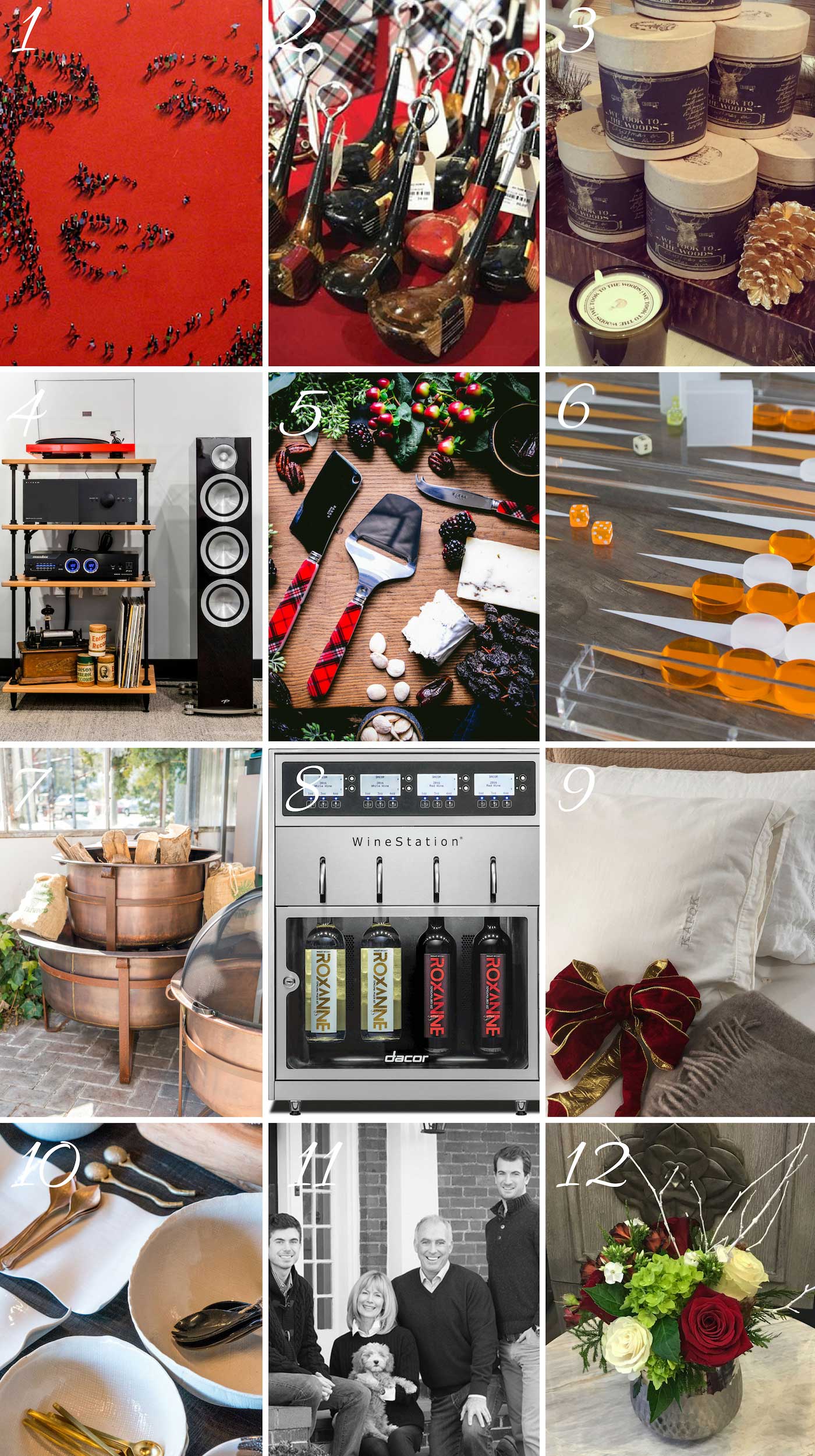 1. Marilyn 
Pop art darling Marilyn Monroe finds new expression at Renjeau Galleries, with Craig Alan's mixed media on canvas. 
Framed 27x27, $4500. www.renjeau.com

2. Antique Golf Club Bottle Openers
Antique golf club heads are repurposed and given new life as bottle openers. 
$38. www.anthonycatalfanohome.com

3. "We Took to the Woods" Candles
These hand-poured, 100% pure soy wax candles bring to mind "mulled cider on the stove, and Chantilly cream on the pecan pie." 
$39 small, $79 large (two wicks). surroundingshome.com
4. 2-Channel Turntable, Amp and Speakers
Sounds Good Corporation's turntable from Music Hall, 2-Channel amp by anthem and Paradigm speakers fill a room with high-fidelity sound.
Music Hall turntable, $549 and amplifier, $4,499; Paradigm 95F speakers, $5,498 for the pair. soundsgoodboston.com
5. Sabre Royal Tartan 3-Piece Cheese Set
Treat guests like royalty with Weston Table's smashing three-piece cheese set designed in the Queen's clan dress plaid.
Dishwasher safe on a delicate cycle. $140. westontable.com
6. Backgammon Board 
Nantucket Looms' refreshing spin on the classic board board doubles as home decor in acrylic plexi with pops of orange and white.
$157.50. nantucketlooms.com
7. Copper Fire Pit
Jatex's handcrafted copper fire pits at Seasons Four are a surefit hit for those who love outdoor living. Chestnuts sold separately.
 42-inch diameter $2,659. www.seasonsfour.com.
8. Heritage WineStation
An oenophile's dream, this WineStation dispenses your favorite varietal at the touch of a button and keeps wine fresh for up to 60 days.
Free standing or built-in. $5649. Available at jarvisappliance.com
9. Kapok Pillow
 The Organic Mattress's most popular pillow never flattens and stays cool. Plus, you can remove or add to its natural fiber fill.
$99 standard, $109 queen, $129 king. 978-440-8211, theorganicmattress.com
10. Artisan-made Ceramics
These delicate porcelains with the subtle texture of linen or cotton are the work of architect turned ceramist Yuka Uchida.
$94 wavy plate; $26-70 small plates and bowls. artefacthome.com

12. Faux Florals
Lifelike and lasting, these festive silk bouquets and arrangements are a beautiful option for those traveling over the yuletide. 
 Photography for No. 7 and No. 10: Liam McInerney