January 12, 2018 | Sandy Giardi
For those of you who didn't resolve to eat healthy or go dry this month, we've got just the French toast recipe for you as you head into the weekend.
The keys to this indulgent yet easy-enough recipe are the brioche, caramelized bananas and small-batch syrup. We used Fireking Baking Company's out-of-this-world Cinnamon Bread, out of Braintree, Mass., (We've seen it at Brothers Marketplace, Roche Bros. and Sudbury Farms) and Cask Force's Bourbon & Rye Barrel Aged Vermont Maple Syrup (we sung its praises in an earlier blog: see Bourbon Notes: Serious Sipping).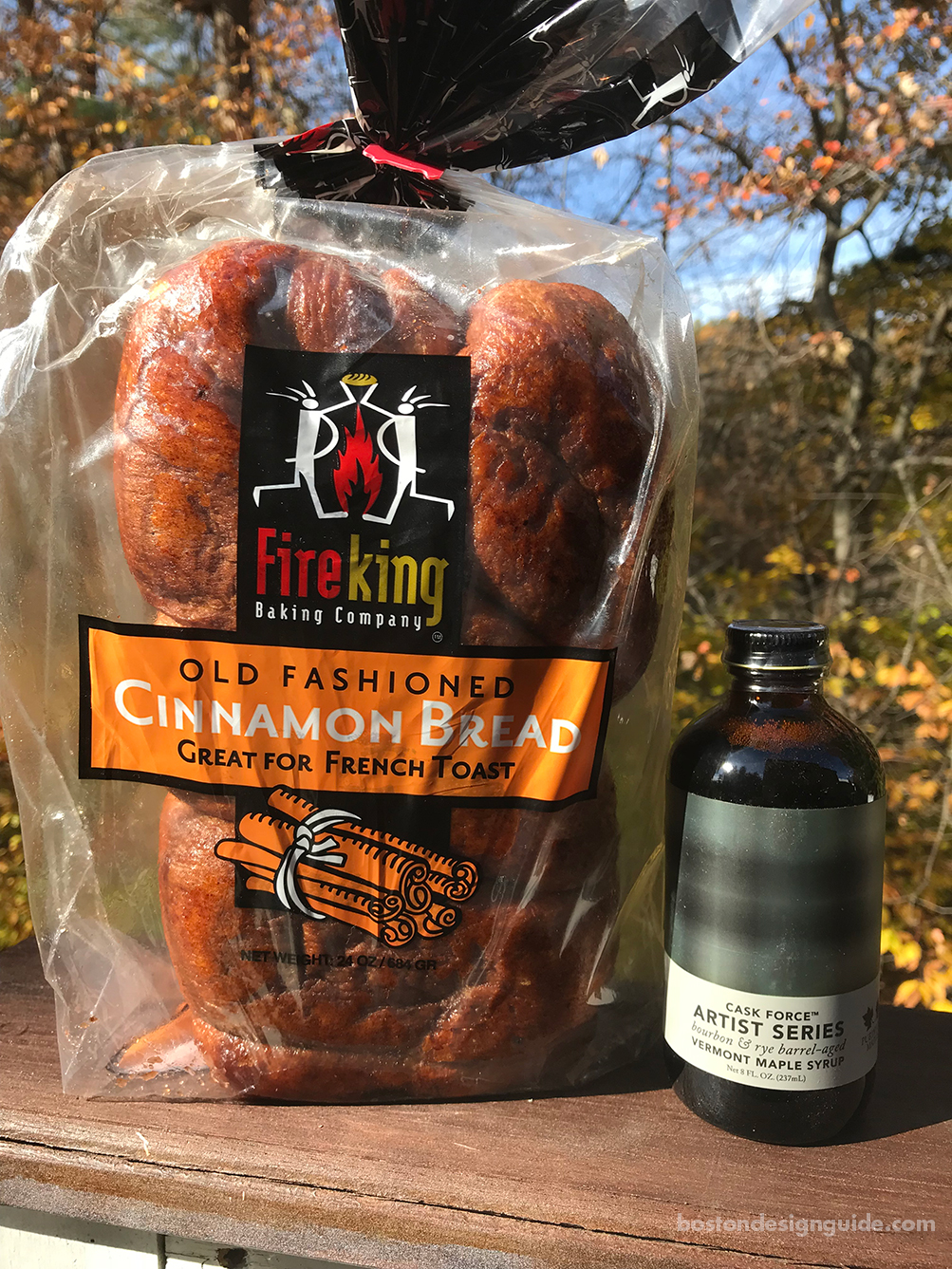 The caramelized bananas, together with the warm syrup with bourbon notes are delicious together and perfect for a long, lazy breakfast or a spirited brunch. For those of you sticking to your New Year's resolutions, more power to you! And, hey, there's always February.
Serves 4
INGREDIENTS:
5 large eggs
1 cup whole milk
½ cup heavy cream
3 tablespoons light brown sugar
½ teaspoon cinnamon
dash of nutmeg
¼ teaspoon salt
2 teaspoons pure vanilla extract
8 thick slices of brioche or Firekings' Cinnamon Bread
4 tablespoons clarified butter
For the caramelized banana syrup:
3 bananas, sliced horizontally and then cut into 1-inch chunks.
1 cup Cask Force Bourbon & Rye Barrel-Aged Vermont Maple Syrup
TO PREPARE:
Preheat oven to 350°F.
Whisk the eggs and milk together in a medium bowl.
In a small saucepan over medium heat, warm the heavy cream until just steaming (about 3 minutes). Remove from heat.
In a small bowl, combine the brown sugar, cinnamon, nutmeg and salt. Add this mixture to the warm cream and stir until the sugar is dissolved. Add the cream mixture to the egg and milk mixture and stir in the vanilla.
Working with one slice of bread at a time, soak each slice in the egg mixture for 15 seconds per side. Set each slice to rest on a rimmed baking sheet lined with parchment until all of the slices have been dipped and the pan or griddle is heated to medium heat.
Melt some clarified butter on the large nonstick skillet or griddle. Place 2 or 3 bread slices on the pan and cook for roughly two minutes per side, until the bread is golden brown. You can add a bit more butter after you flip, if needed. (Note: using clarified butter is worth the extra step; because it can withstand higher heat, it is less likely to burn). Transfer the slices to a baking sheet lined with a wire cooling rack and keep it warm in the oven while you cook the remaining bread.
Meanwhile, heat the bourbon maple syrup and bananas in a medium-sized skillet over medium heat. Cook until hot and bubbly.
Serve the French toast with the caramelized bananas and syrup on top and sprinkle with a dusting a confectioner's sugar.
Cask Force maple syrups are available at Post Road Liquors in Wayland; Upper Falls Liquors in Newton; Needham Wine & Spirits in Needham; and Auburndale & Spirits in Auburndale, as well as cask-force.com and Room680nline.com.