March 19, 2018 | Sandy Giardi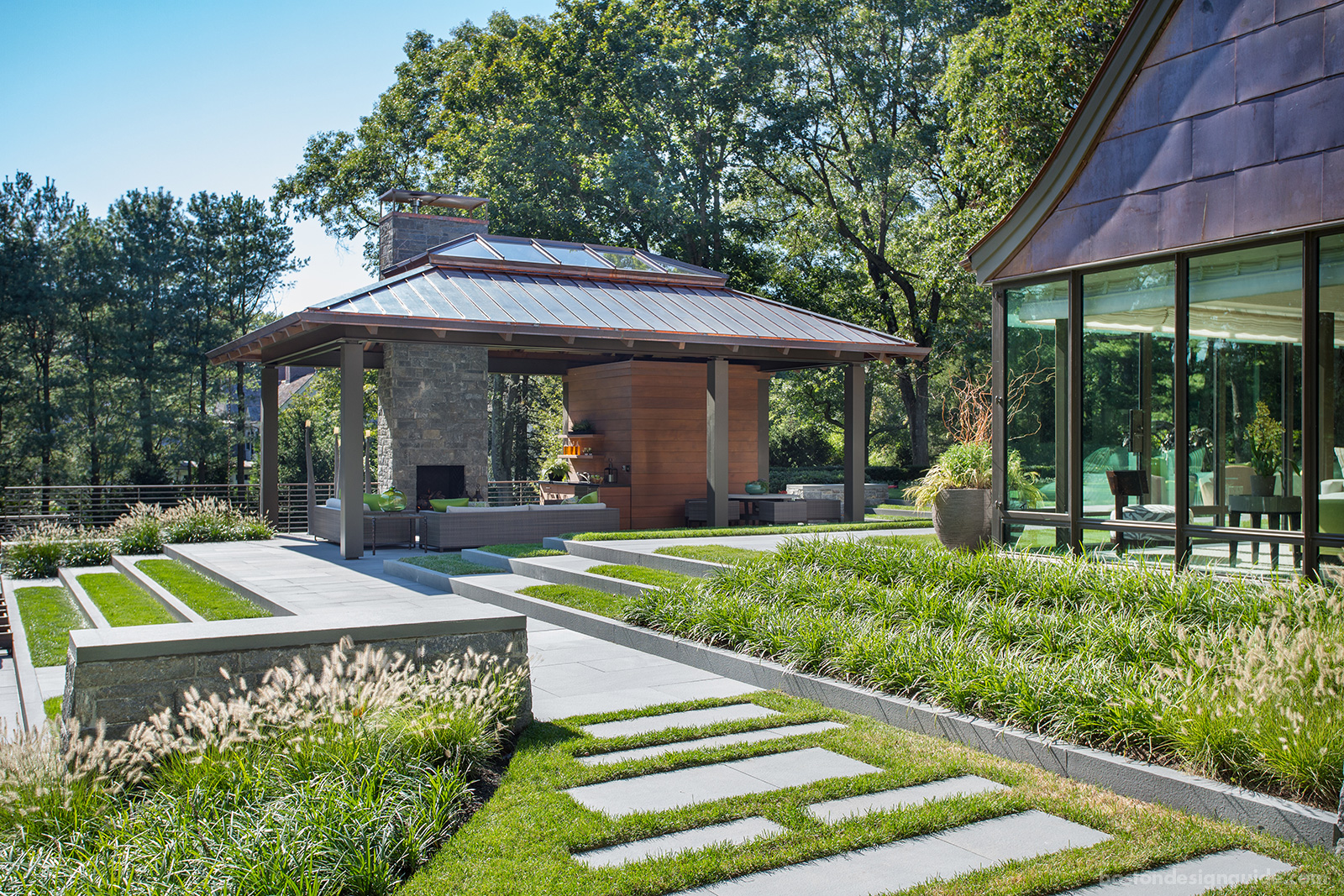 Homeowners are using every inch of their properties and creating specialized structures that enhance the way they live. From amped-up entertainment barns and pool houses to beautiful boathouses, garden structures and chicken coops, these onsite structures are functional, recreational and, often, a mix of both.
Carriage House/Pool Cabana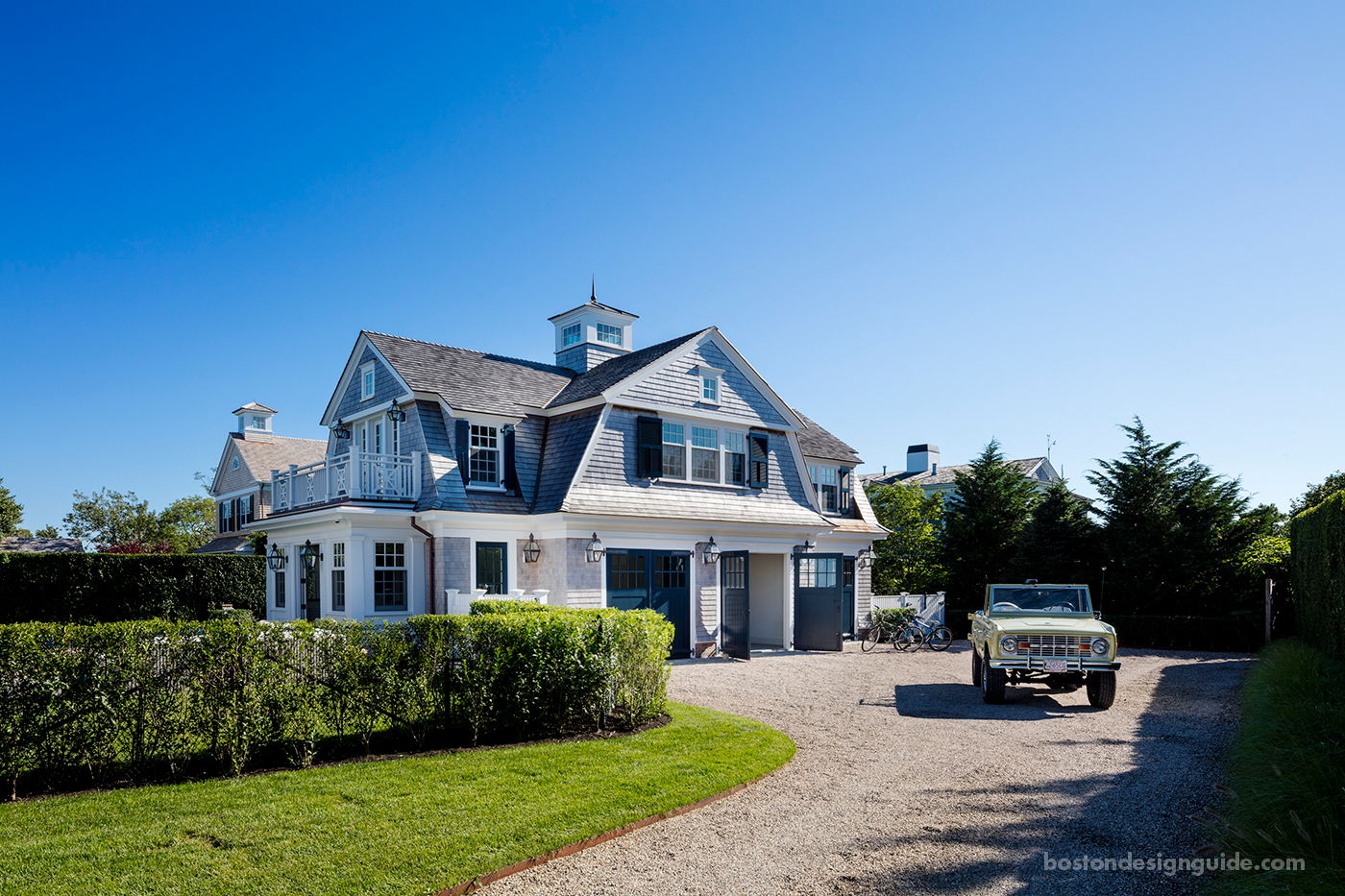 Patrick Ahearn Architect, photo by Greg Premru
Principal Patrick Ahearn, FAIA, of Patrick Ahearn Architect all but wrote the book on creating spaces designed for the art of living well. He often designs outbuildings for the Vineyard properties he conceives, but we were particularly struck by this multitasking structure that serves as a carriage house as well as a pool cabana.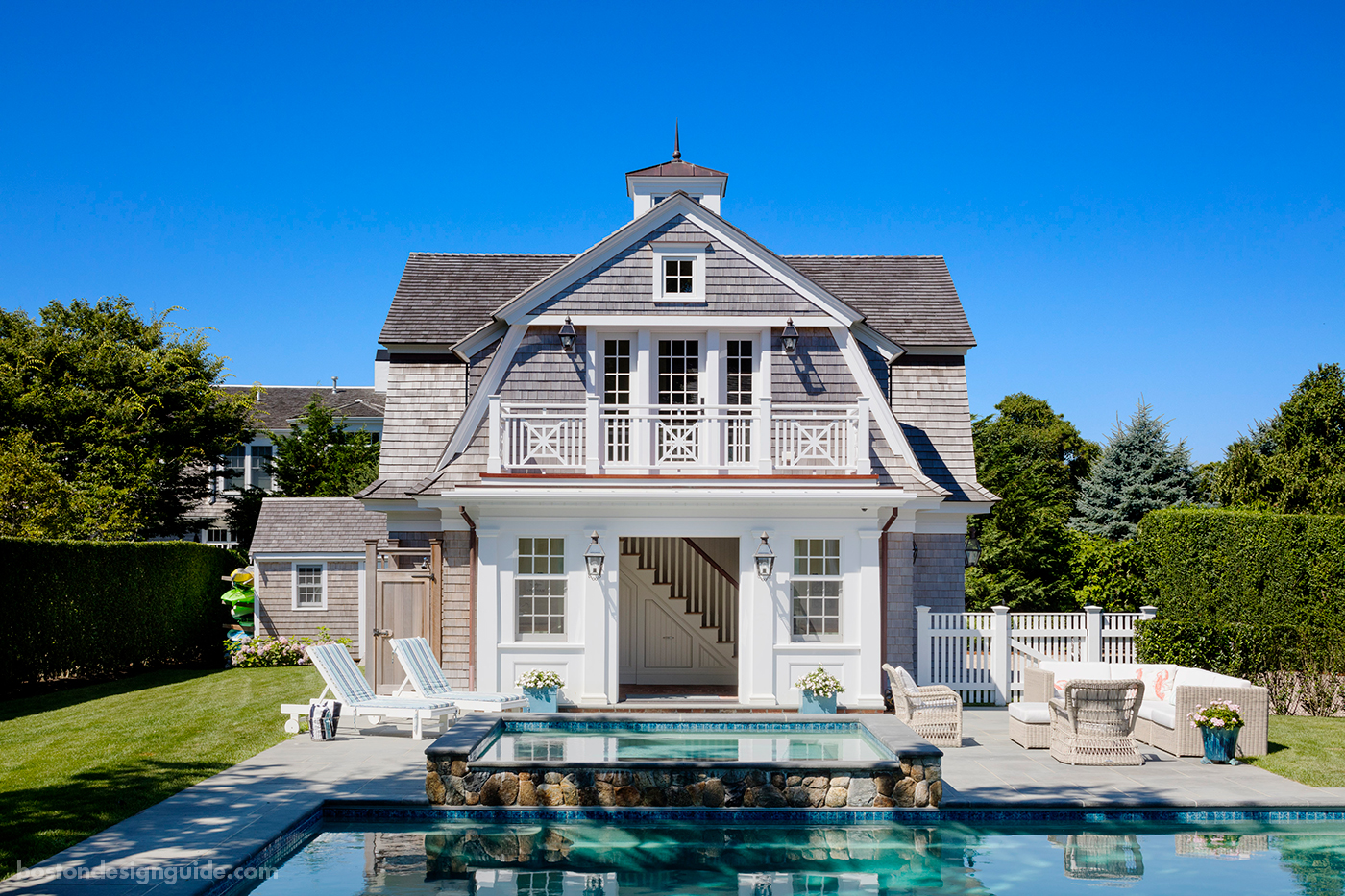 Patrick Ahearn Architect, photo by Greg Premru
The building as a whole was designed on a smaller scale than the main home to respect the hierarchy of the property and bring that architectural balance that Ahearn's firm is famous for. While the North façade functions as the carriage house, the eastern side serves as a pool cabana with guest quarters above. The poolside's entry echoes the design styling of the main entry, and includes playful Chippendale railings inspired by the portico and widow's walk of the main home. There are other charming details as well, like a ping-pong room with bricked flooring and sliding barn doors.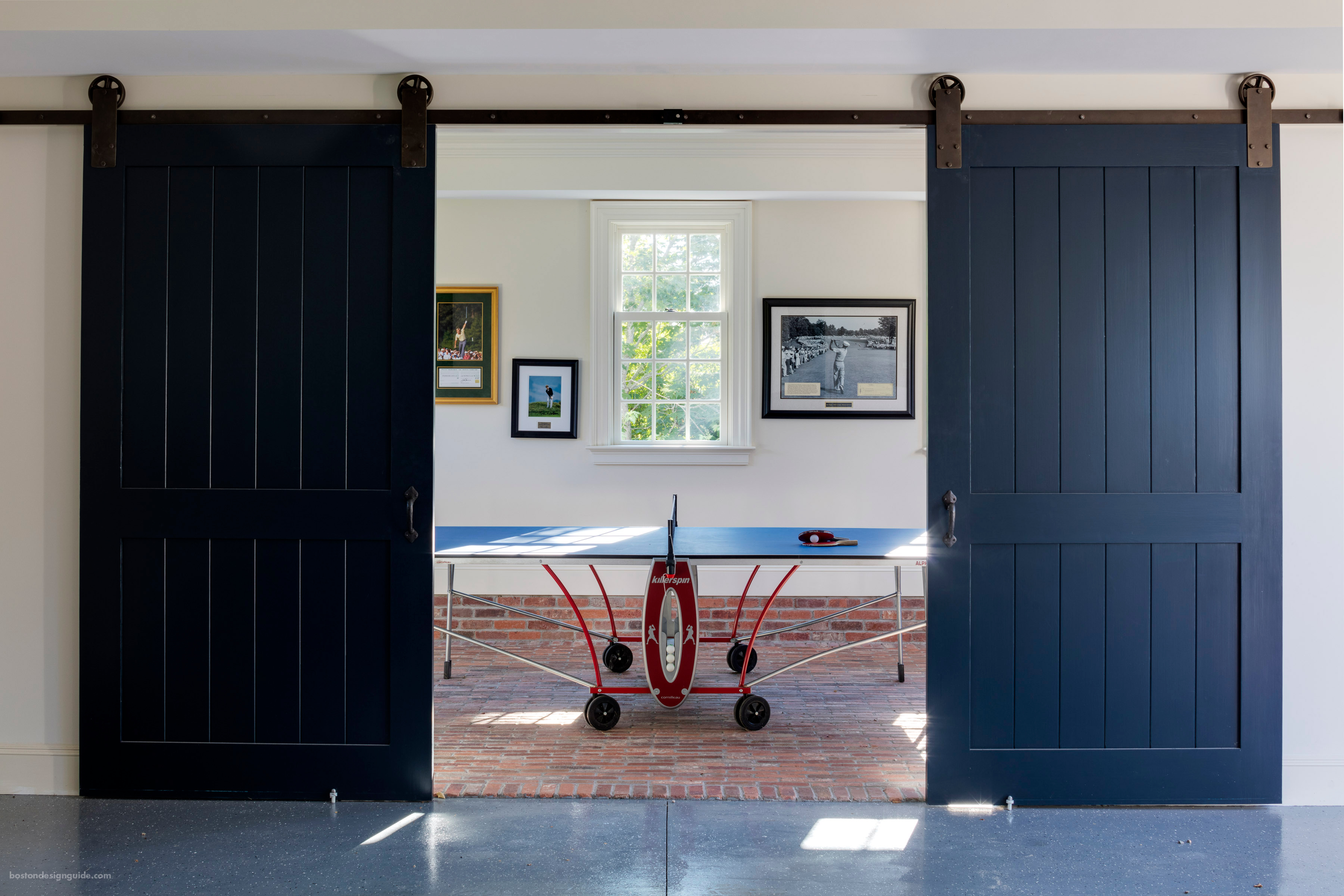 Patrick Ahearn Architect, photo by Greg Premru
Limonaia and Chicken Coop
Charles Hilton Architects has a relationship with a Greenwich, Connecticut, homeowner that's a throwback to that of the patron/architect bonds of yesteryear, when architects enhanced properties throughout generations.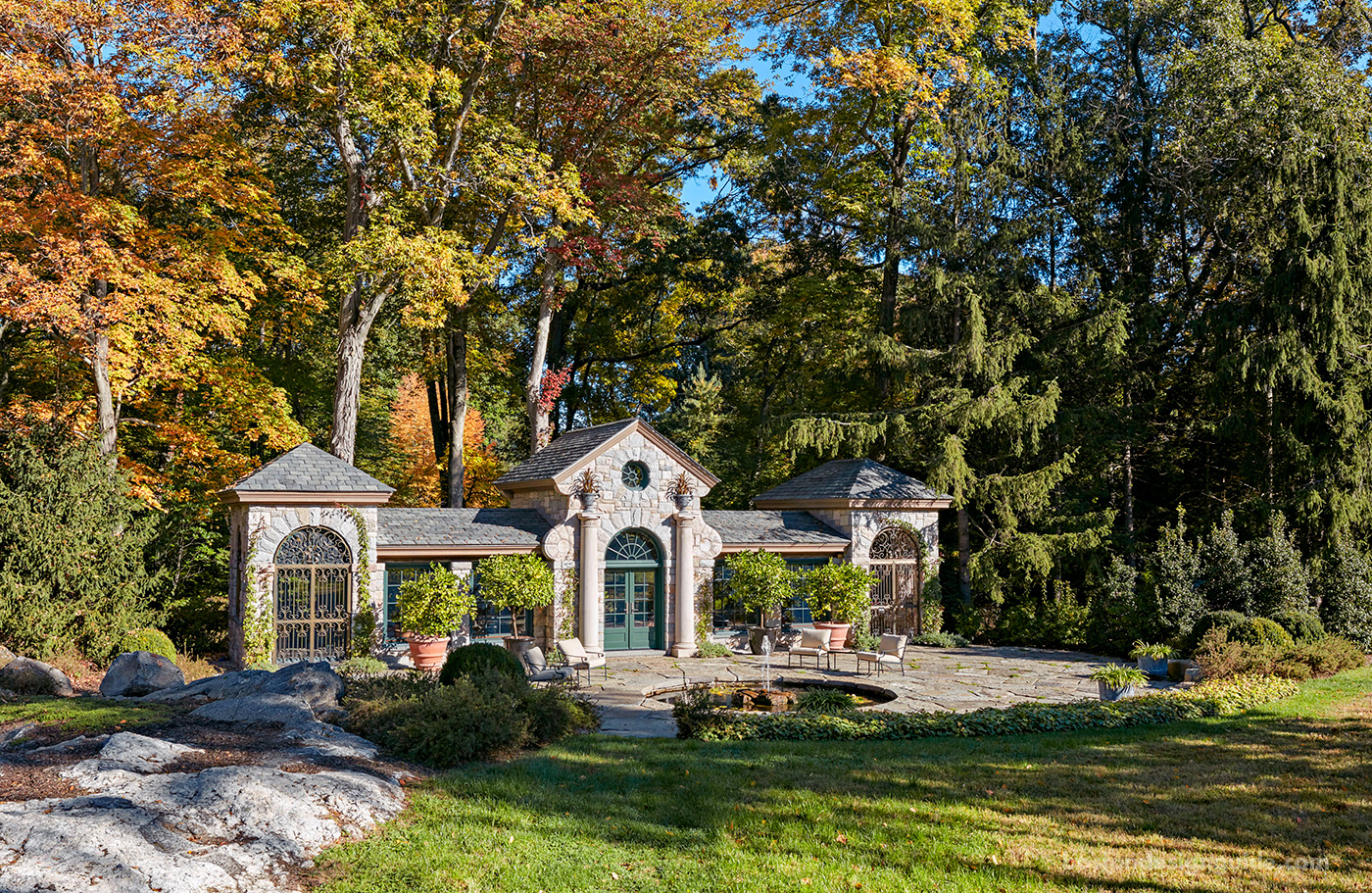 Charles Hilton Architects
Over a 25-plus year period, Charles Hilton Architects has added new structures to a Georgian estate as the homeowner has acquired new pieces of land. Chief among those additions is a Marie Antoinette-inspired French Normandy farmhouse, a secondary property made for entertaining and serving up farm-to-table fare. While we won't be so bold to suggest that the farmhouse is an "outbuilding," there are a few structures that are, including the above limonaia, which was built in 2014 for the residents' lemon trees.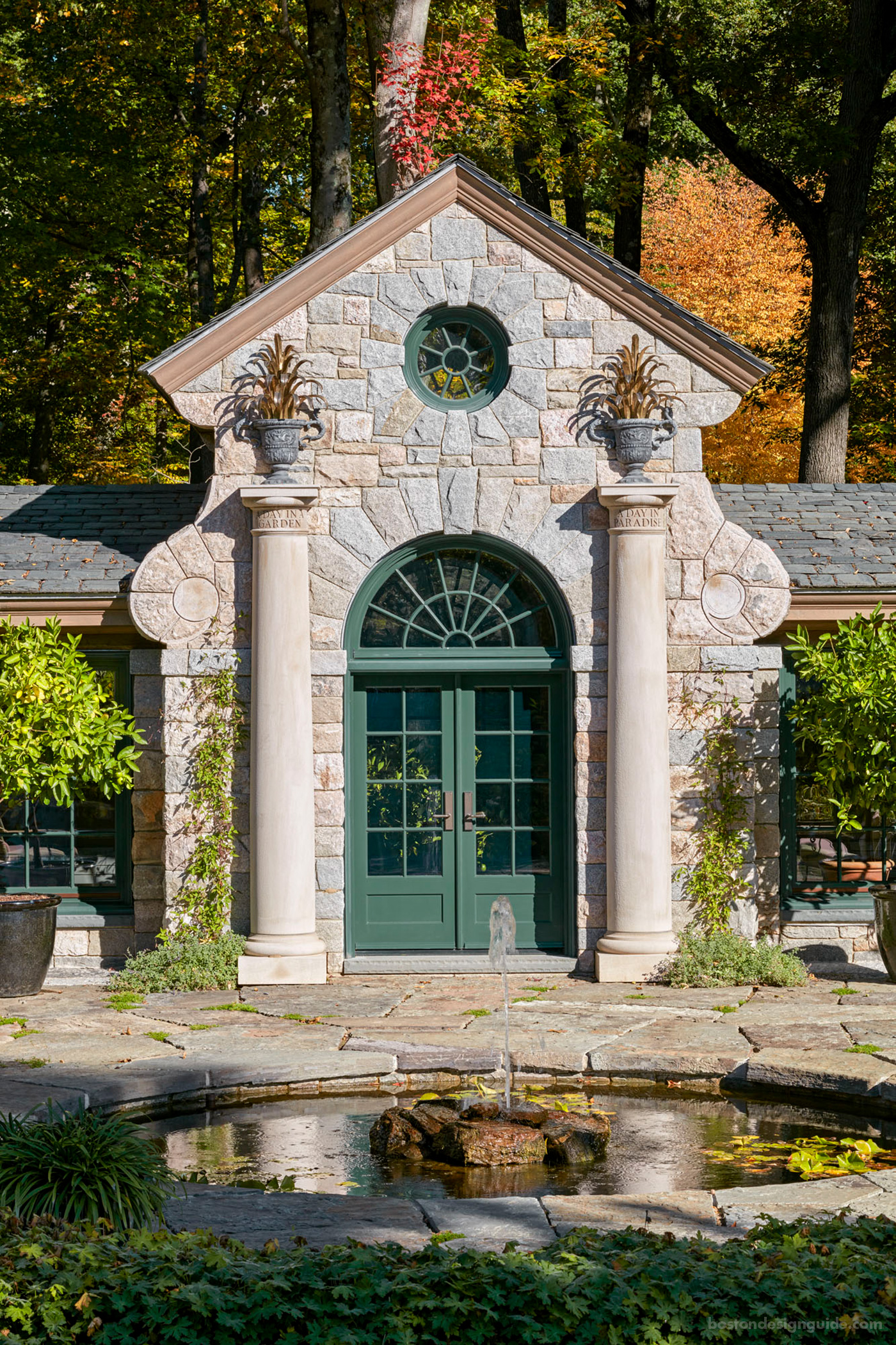 Charles Hilton Architects
The Palladian structure was "inspired by the owners' sojourns through the gardens of Italy," shares the firm, and certainly looks the part, with its rusticated stonework, handcrafted bronze gates and entryway fountain. The limonaia was designed to command attention to the central pavilion and loggia, features a potting room and antique carved limestone sink in pavilions at opposite ends, and, of course, bears fruit that owners enjoy in their recipes.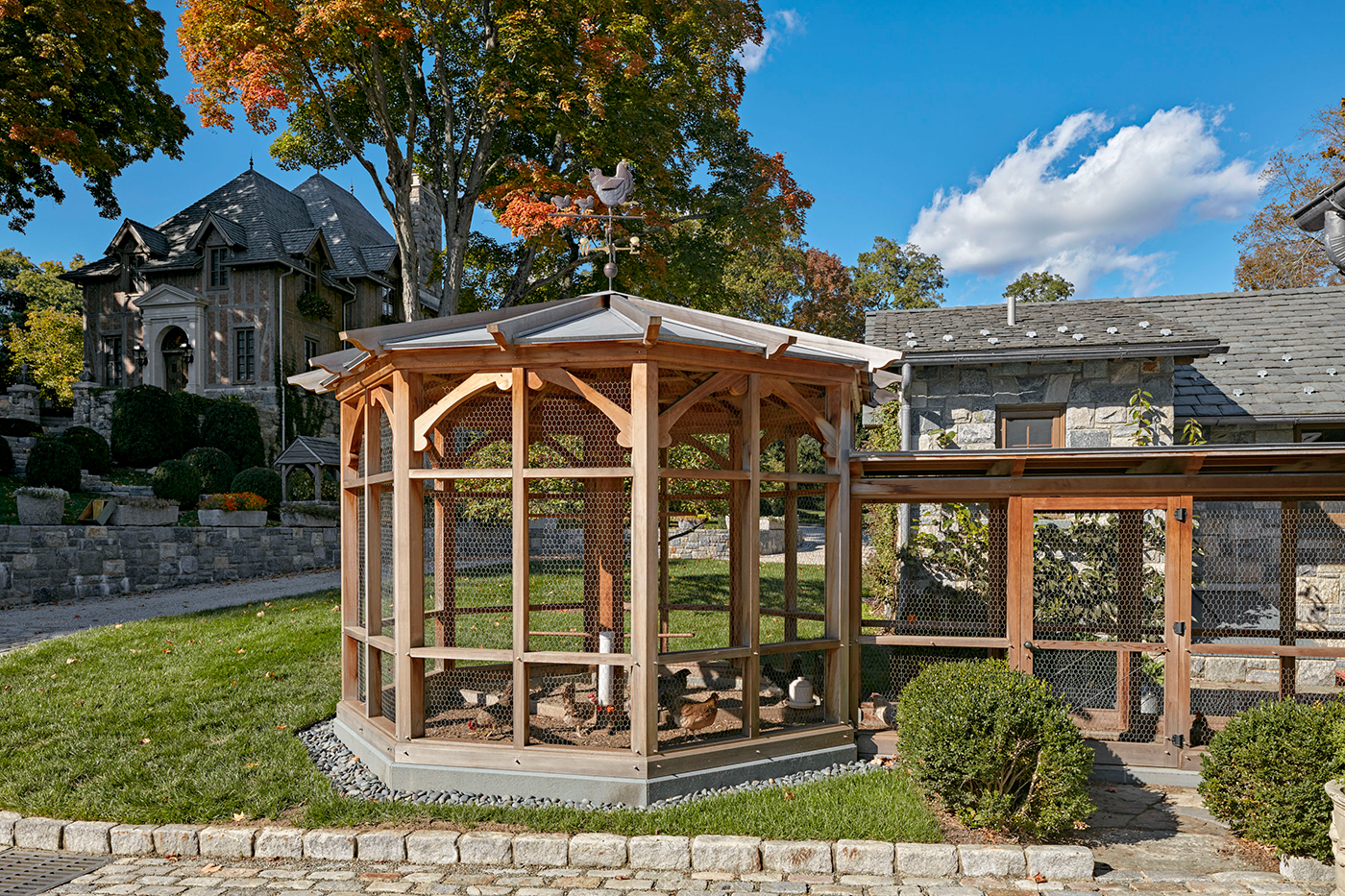 Charles Hilton Architects
In another spot of the property, Charles Hilton Architects connected a chicken coop to an existing guesthouse. A little less grand but no less useful, the structure gives the chickens a roost of their own, and the homeowners have fresh eggs from their working farm.
Winnepesaukee Boathouse
Rob Bramhall Architects
When a picturesque Winnepesaukee shingle style lake house needed a worthy boathouse, the owners enlisted Rob Bramhall Architects to completely reface the existing structure that had been there since 1921. The firm re-clad the boathouse in that unmistakable red cedar shingle finished with a green-black trim and refreshed the structure to be in keeping with the main home.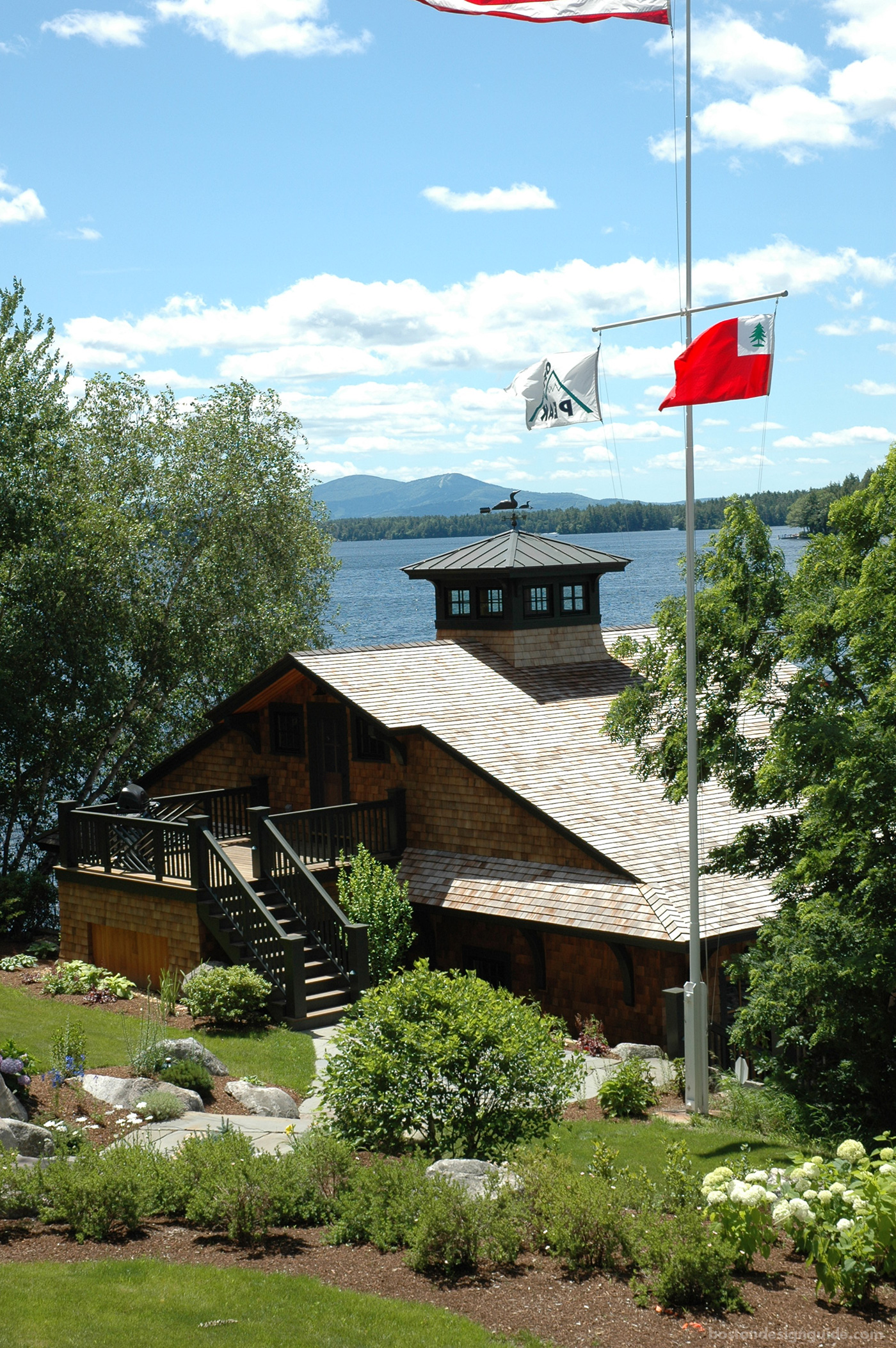 Rob Bramhall Architects
The boathouse, which is laden with Douglas fir in the interior, has space to garage three boats—including a vintage 1925 Chris-Craft, as well as a second-story family room that spills out to a lengthy terrace. The incredible views from the deck and the rippling waters below confirm the regional mantra that "Life is Better at the Lake."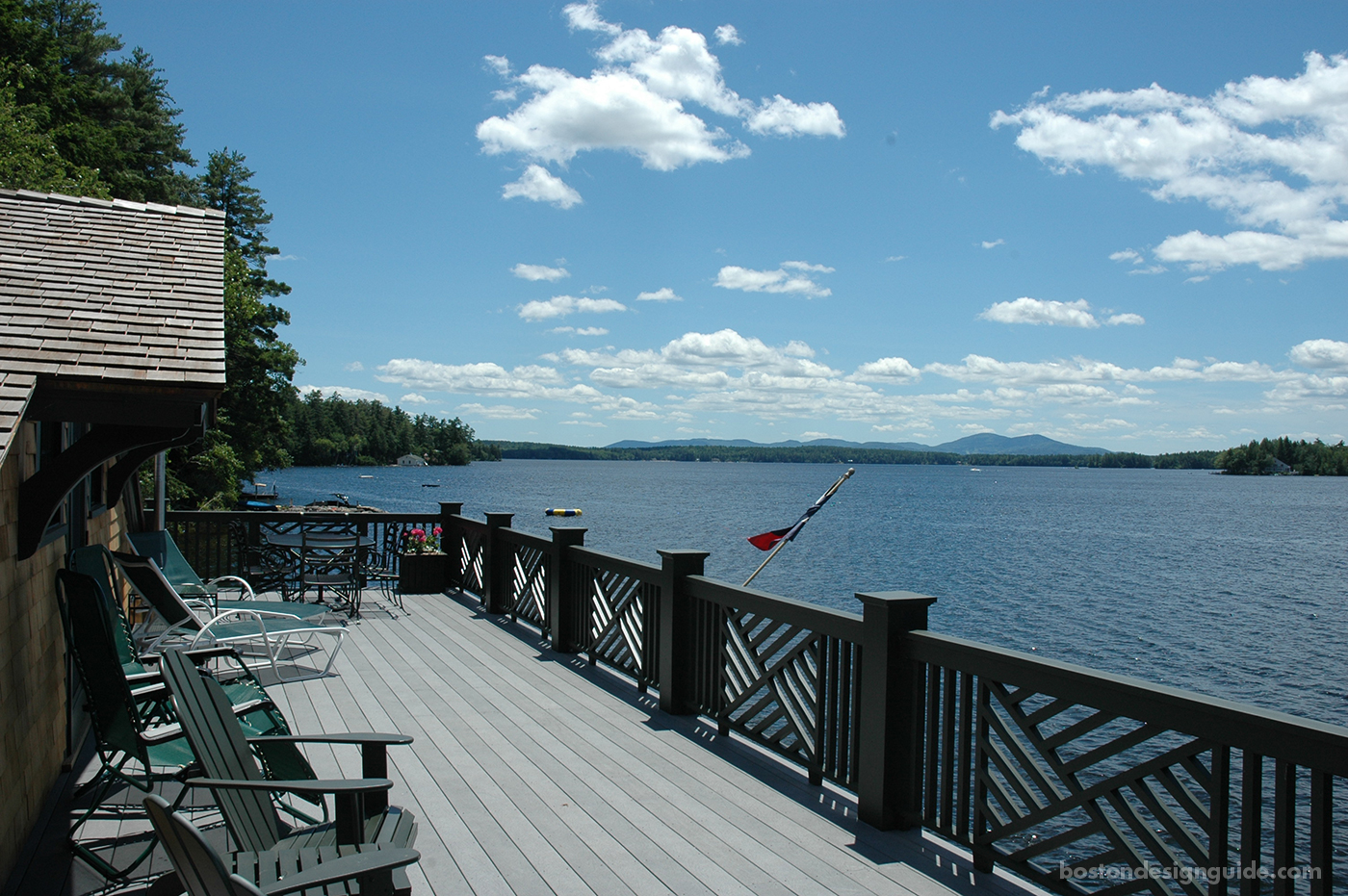 Rob Bramhall Architects
Maine Playhouse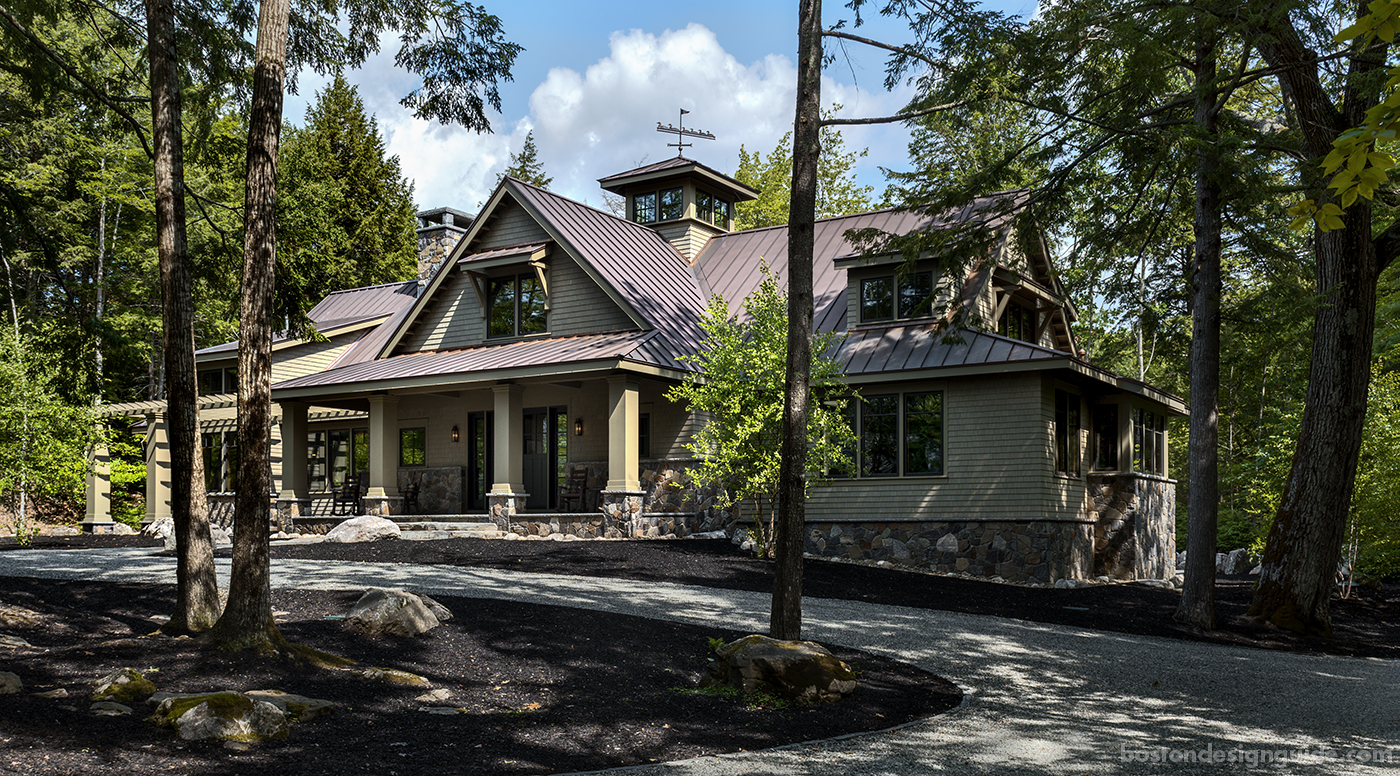 TMS Architects; photo by Rob Karosis Photography
Another lake house property, this one imagined by TMS Architects, sought to create a separate 'playhouse' that could delight their extensive family friends and serve as a favorite getaway destination. For the exterior, the firm used the same—or similar—materials to the main house and guest cottage, including cedar shingles, stone veneer and a copper roof, while the interior is replete with reclaimed chestnut wood from down south. An eight-foot wide cupola spills plenty of natural light into the structure, which was designed to evoke a Maine summer camp lodge.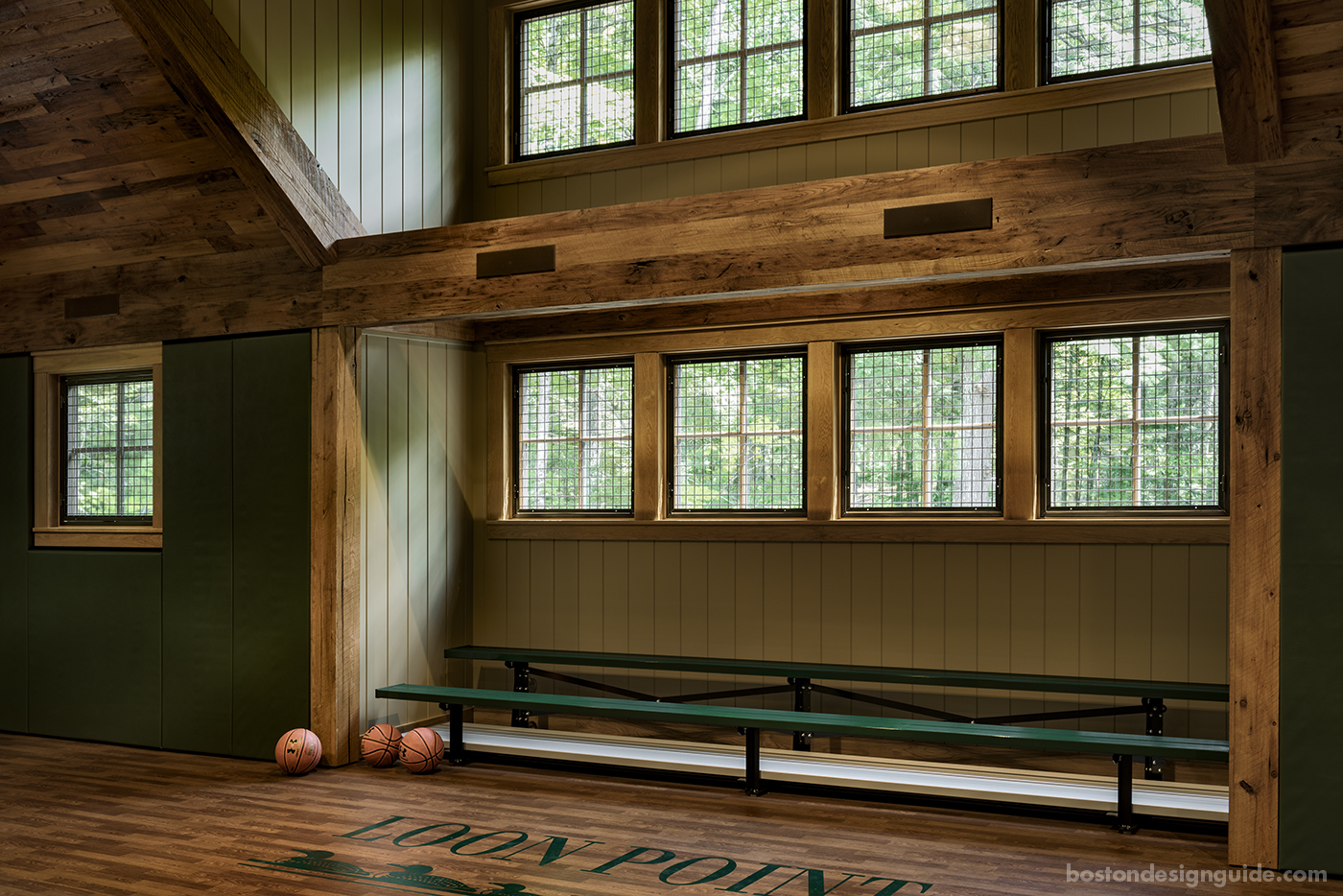 TMS Architects; photo by Rob Karosis Photography
Though it's termed "playhouse', this outbuilding pleases young and old alike with amenities including a kids' game room as well as an adult lounge warmed by a rustic double-stone fireplace, two 10-pin and duck-pin bowling alleys and a snack bar with vintage charm in spades. The gymnasium, however, complete with bleacher seating and a basketball court, is a definite highlight, and scores big with the fans that come each summer.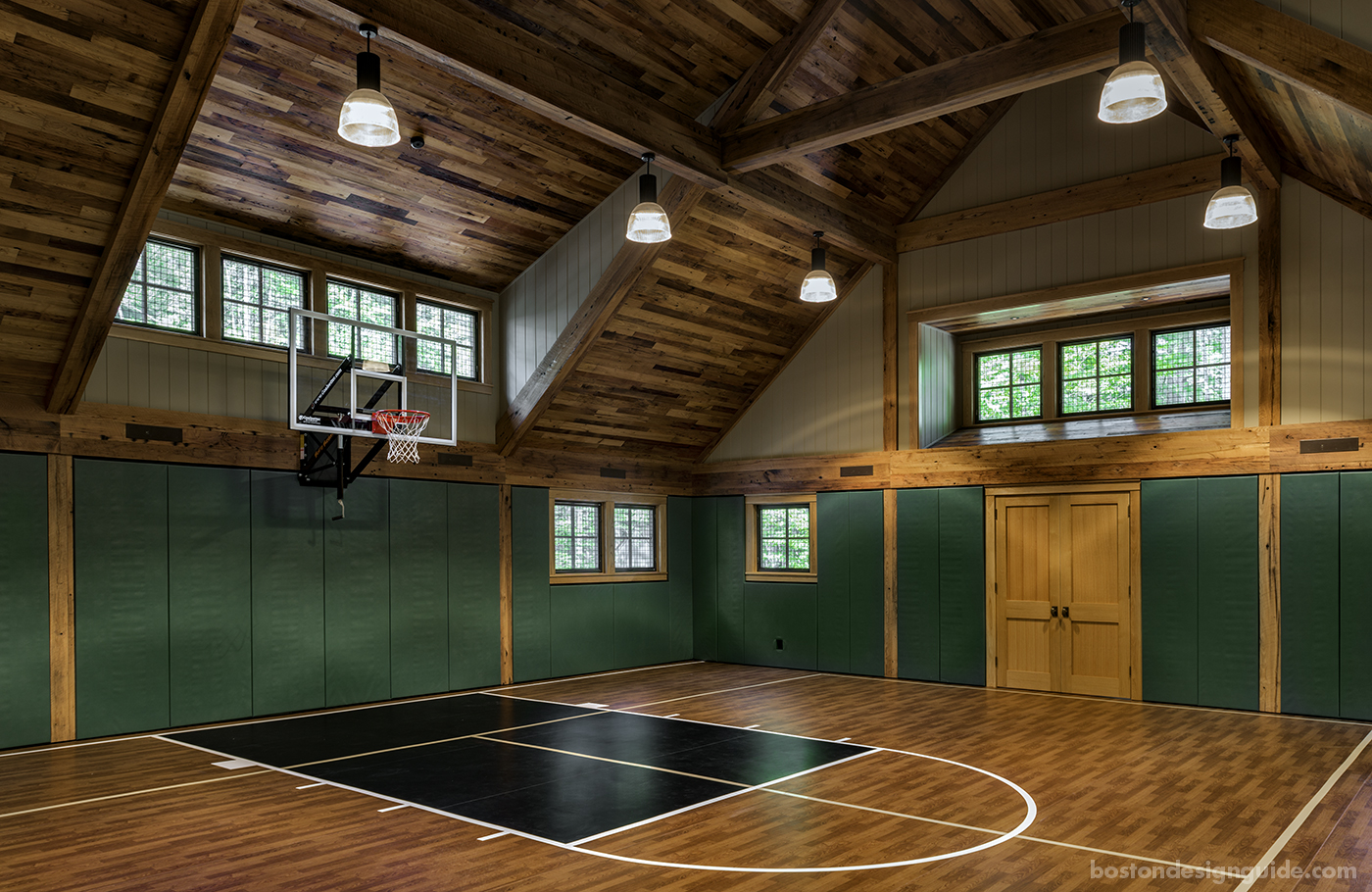 TMS Architects; photo by Rob Karosis Photography
Modern Pool House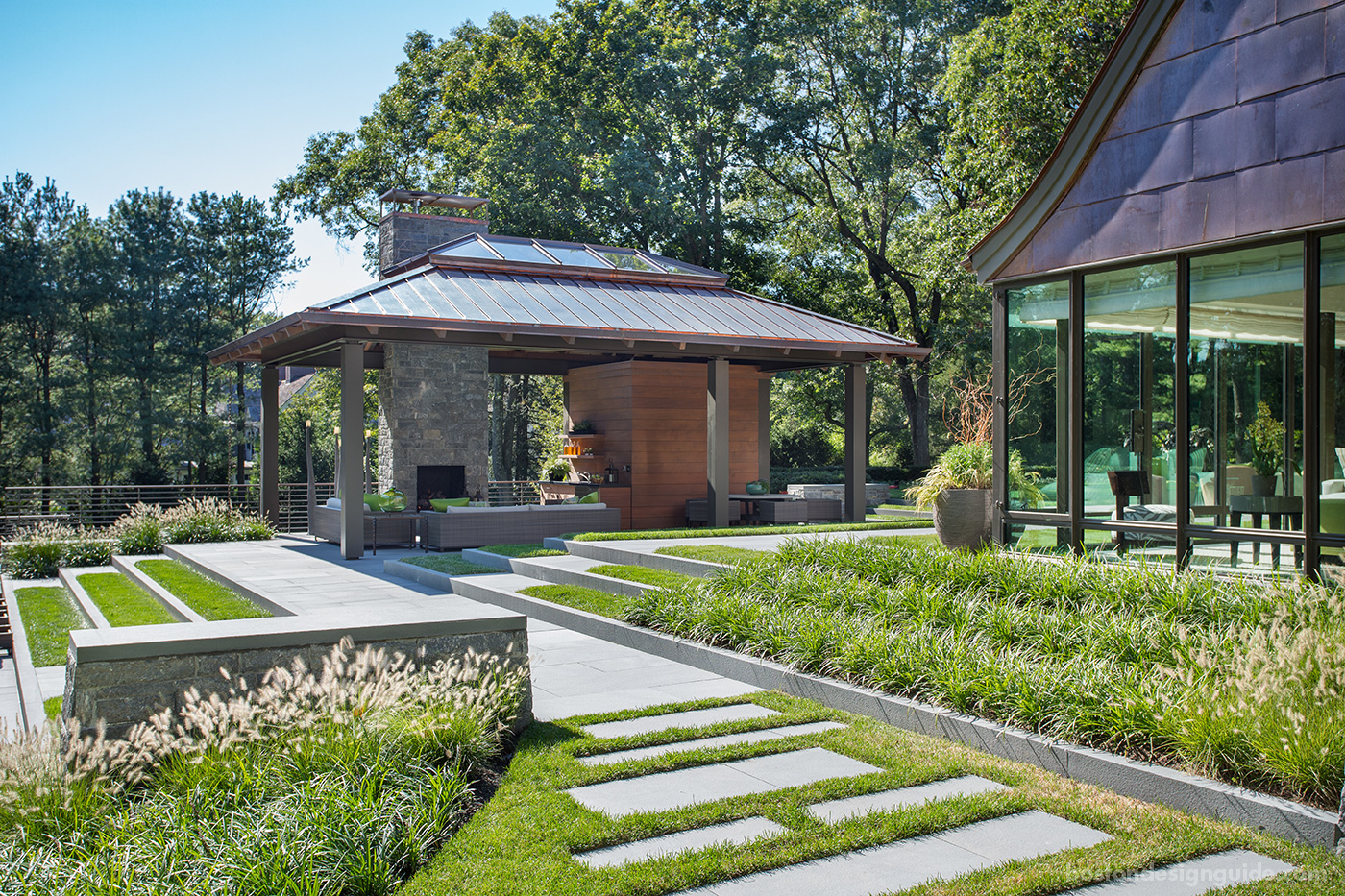 LDa Architecture & Interiors; photo by Eric Roth
When a client wanted an open-air pool house that they could also enjoy before the heat of the summer season, LDa Architecture & Interiors created a garden getaway, with proximity to both the house and pool. The homeowners didn't want a patio or a screened-in porch, but rather a building that was open on all four sides where you can feel disconnected from the house yet connected to the landscape.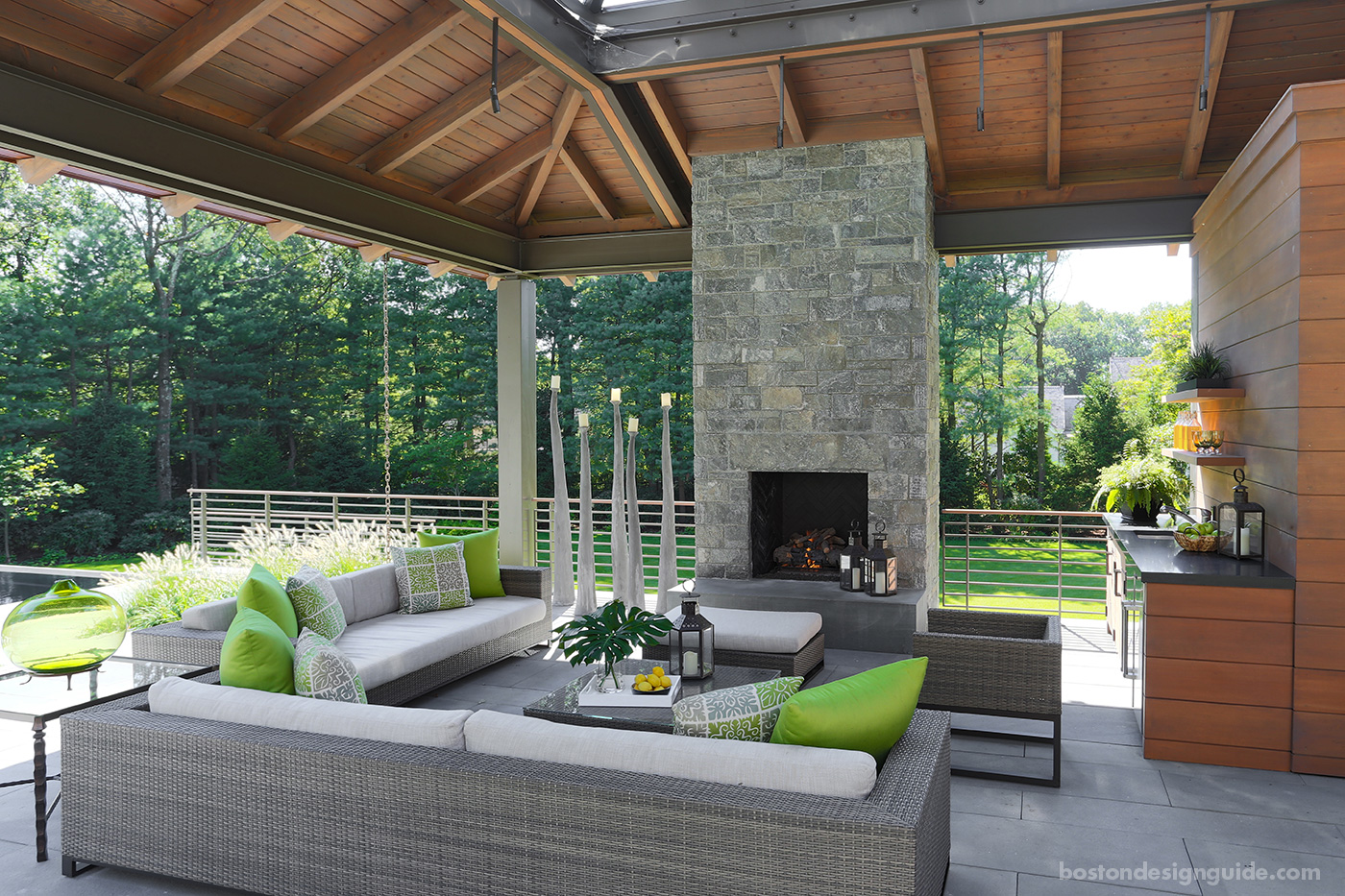 LDa Architecture & Interiors; photo by Eric Roth
"As a garden element we could play with the design," shares LDa principal Treffle LaFleche, AIA, and the firm used "a language of contemporary materials," including a steel superstructure, a timbered wood roof and copper cladding that connects the construct back to the main house. The fireplace became an integral design feature (key during the shoulder season), and a pyramidal skylight crowns the structure, which, depending on the time of day, streams in sunshine or starlight. Other amenities include a wet bar, sink and refrigerator, as well as a bathroom and changing room and a lower level that stows all of the pool equipment.