February 27, 2019 | Sandy Giardi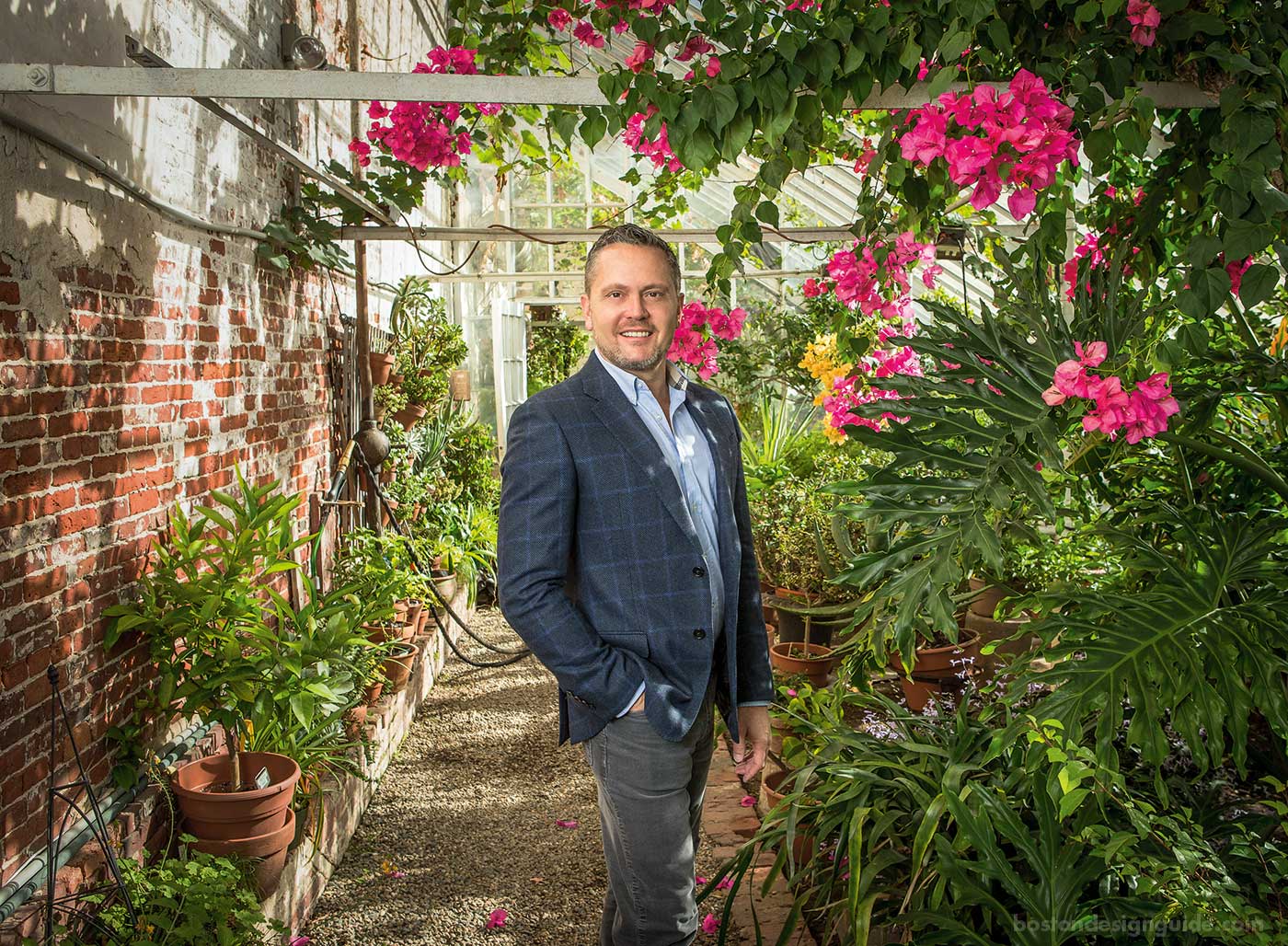 When we asked to photograph landscape architect Gregory Lombardi of Gregory Lombardi Design in his environment, he suggested meeting at Historic New England's Lyman Estate in Waltham instead. While it isn't his own backyard, it holds meaning for him; Lombardi is on the board of Historic New England and on its Preservation Committee.
This marquee property, however, is one of his favorites, both for the Lyman Estate Greenhouses and for the genteel country estate on its riverside grounds. As a landscape architect, he can appreciate that the greenhouse complex contains some of the oldest surviving greenhouses in the U.S.— it is known for its 1804 grape house, camellias and orchids. As an architecture and history enthusiast, he is taken by the Federal-style home and the stories and collections that endure to this day.
"I love the surprise of it," says Lombardi. "You're so close to Boston and then you come around the bend and it all unfolds. The house looks like something out of Pride and Prejudice." It reminds you that things weren't always as they are today, "and that kind of gives you free space to think, What if?"
Historic New England's mission is about saving these sites, but it is also about interpreting them and getting people to come. Lombardi has embarked on a smaller mission of his own, by raising awareness within his industry. "Design professionals should be interested in the history. We all draw on it. It's part of our collective memory." In this era of overdevelopment and teardowns, "it's going rapidly," he says wistfully, "and then where will we be?"
Lombardi believes that if people find something in these properties, they will support them, which is why he held a recent event at Lyman Estate. "Places matter to me," he says. "And when something is cherished by many, it is preserved."
Visit the Lyman Estate Greenhouses:
Open Tuesday-Sunday, 9:30am-4pm.
185 Lyman Street
Waltham, MA, 02452
free admission
Call 617.994.5913 for more information.
Upcoming special events:
"Camellia Days" runs
until March 24
. The Lyman Estate is holding a "History of Camellias in Boston" lecture
March 2, 2-3pm
, in the Lyman Estate. Afterwards, take a tour of the 1804s greenhouses and see their large camellia collection in bloom. Advanced tickets required ($15), click
here
to register. Spring Orchid Sale,
April 12-14
.
Portrait photo by Roger Pelissier