July 29, 2019 | Sandy Giardi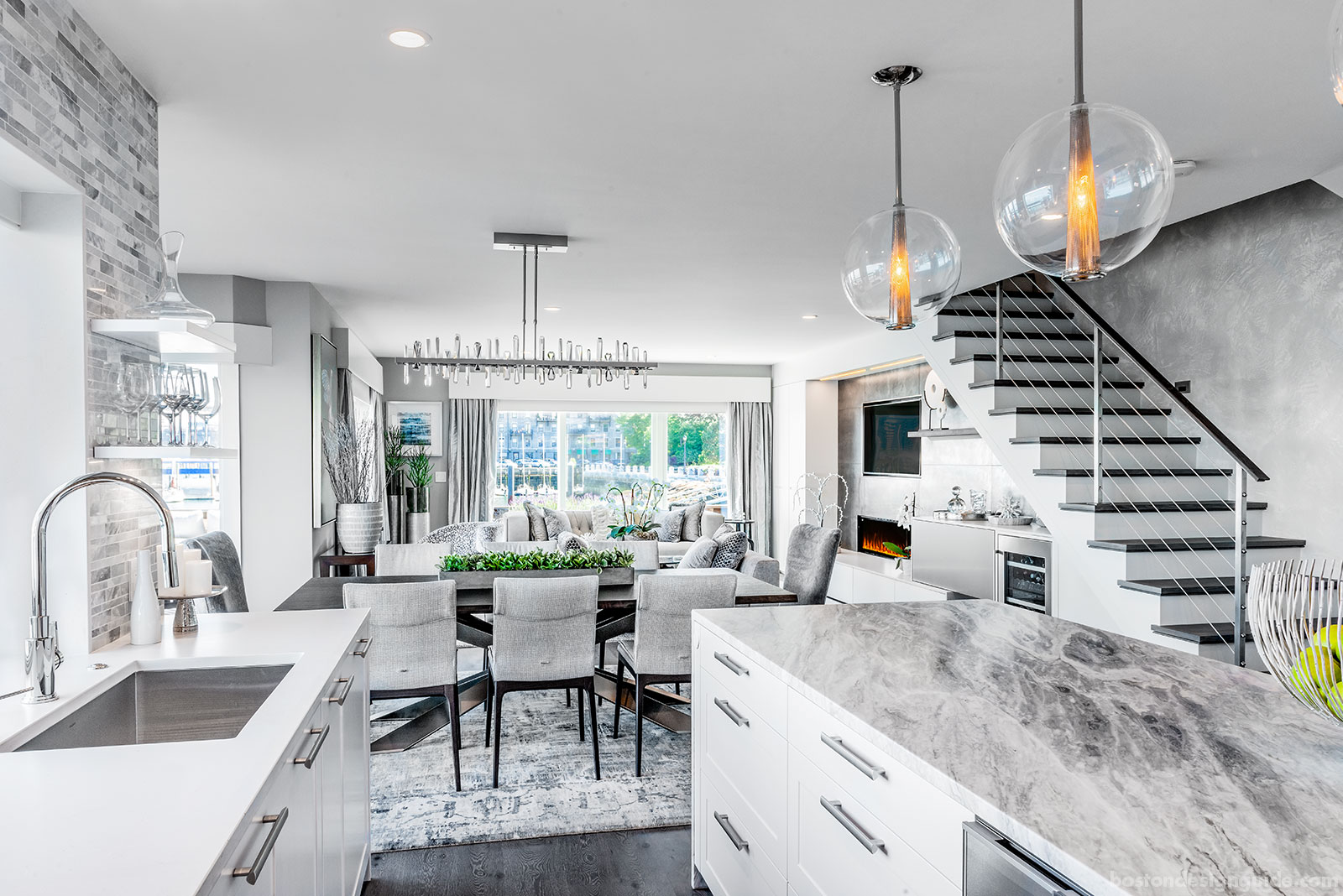 For the renovation of key features of a townhouse on Boston's Union Wharf, Divine Design Center made the most of every square inch. Divine Design Center, a design and build resource and showroom with a European flair, was tasked with creating a fireplace feature wall in the living room with plenty of storage and style and a modern kitchen that plays up the home's harbor views.
Owner and principal designer Mariette Barsoum, who owns the center with husband, Magued, maintains that "a great designer is able to give a homeowner all of their needs and requirements"—even when you're building in the city and space is at a premium. Mariette, together with Divine Design Center architect and interior designer Jana Neudel, created a luminous, sophisticated look for the living room of the townhome that is as functional as it is sexy.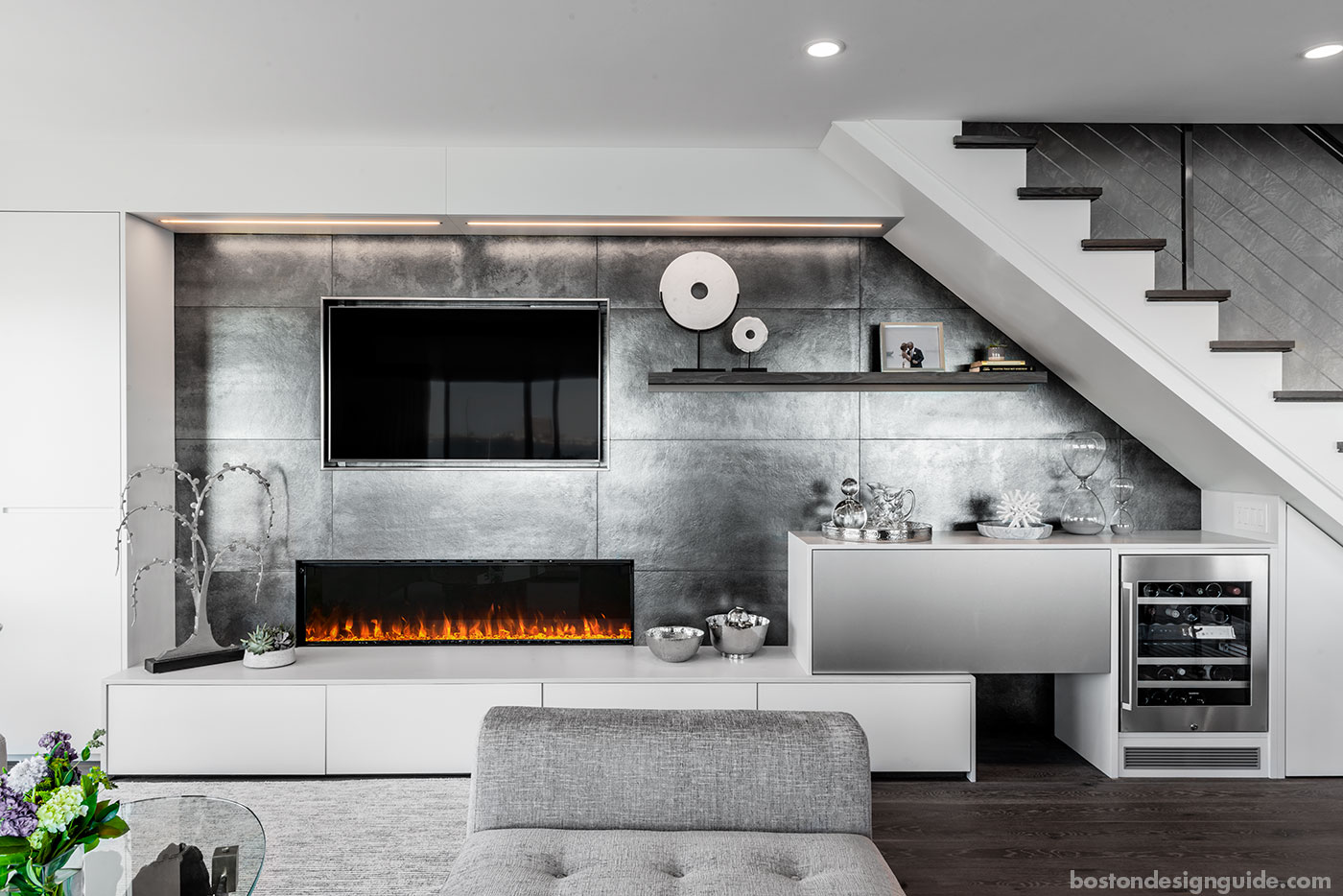 The living room's fireplace feature wall was a particular area of concentration, and designed in a way that proves that big, bright ideas aren't at odds with an economy of space. Along with a fireplace and TV, Divine Design Center created a place for a dry bar underneath the stair, outfitted with a wine refrigerator and oversized drawers. The wall plays well with the room's upscale and richly textured furnishings and accessories selected by Erika Laurito of Erika Z Interior Design Studio.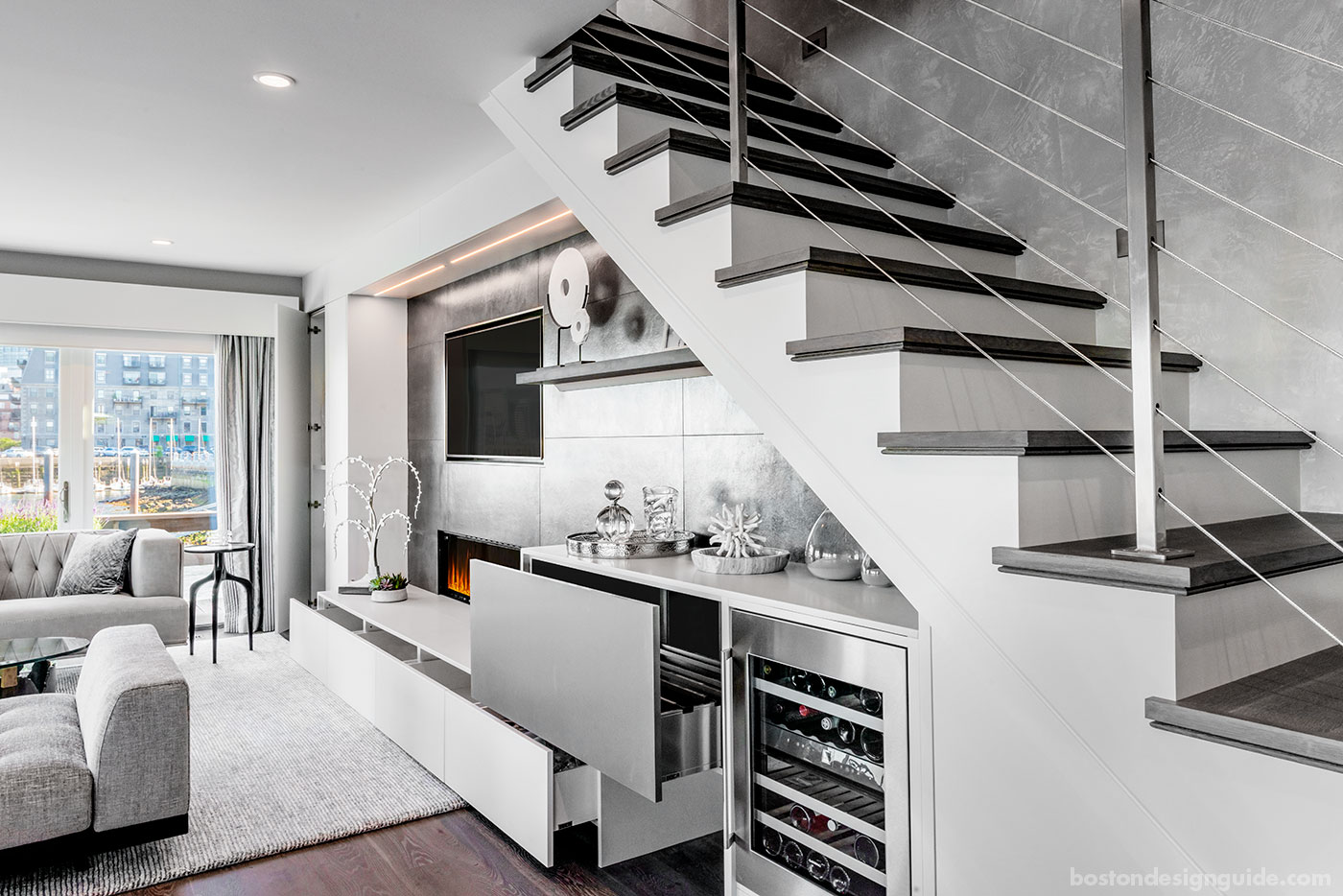 Additional storage drawers run underneath the hearth, culminating in extra tall cabinets that house what the kitchen can't. Illuminated display shelving and a textured gray metallic tile create a luxurious backdrop. "When the light hits it, the wall has an iridescent feel," says Mariette. "A little bit of shimmer."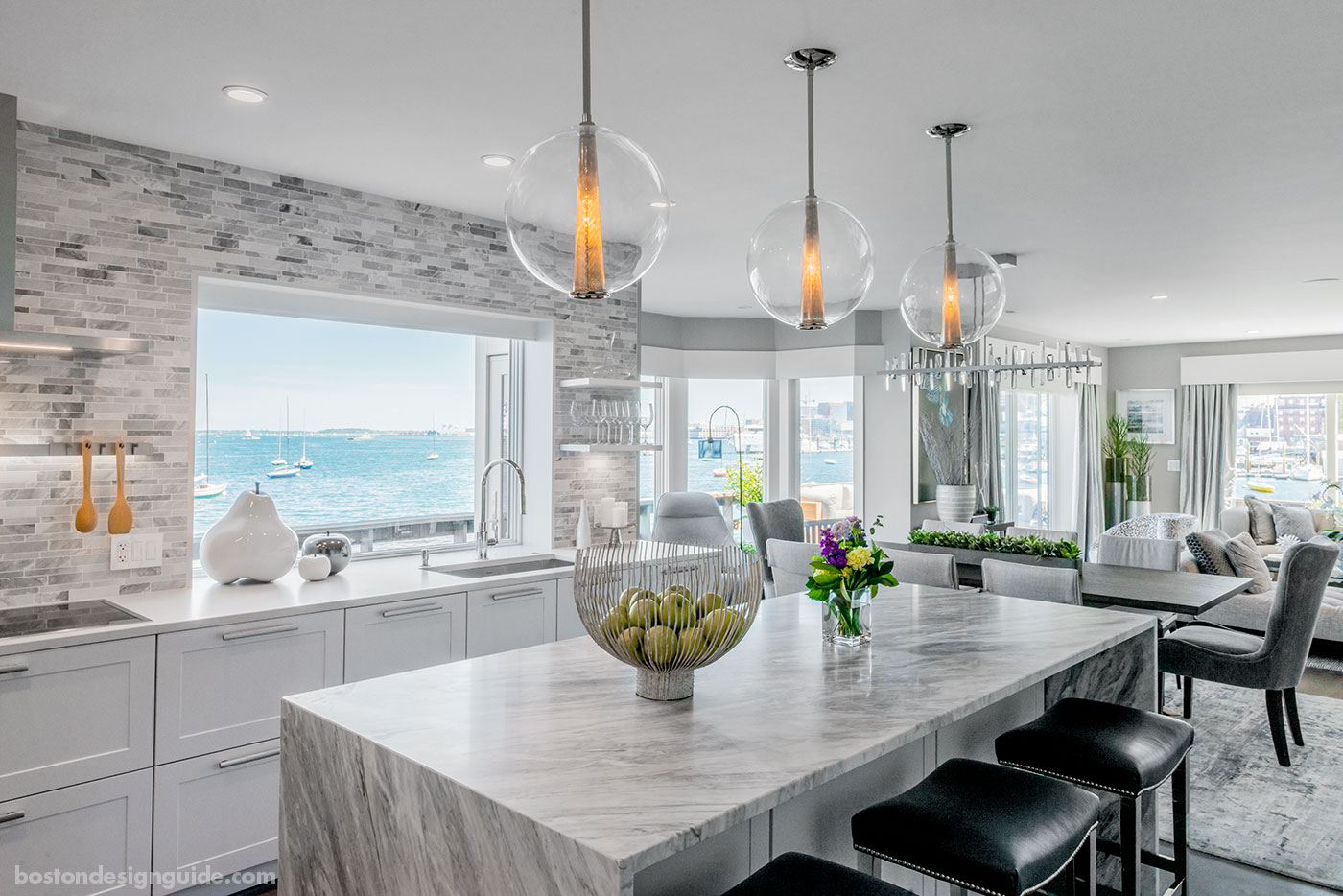 The kitchen takes the form of an L-shape, and was designed to be as open as possible to soak up the water vistas. Appliances were positioned along the back wall, explains Mariette, so as not to detract from the view. The room has a transitional feel that fits well with the Shaker style cabinetry the client wanted, as well as some modern flourishes, like the waterfall edge of the center island.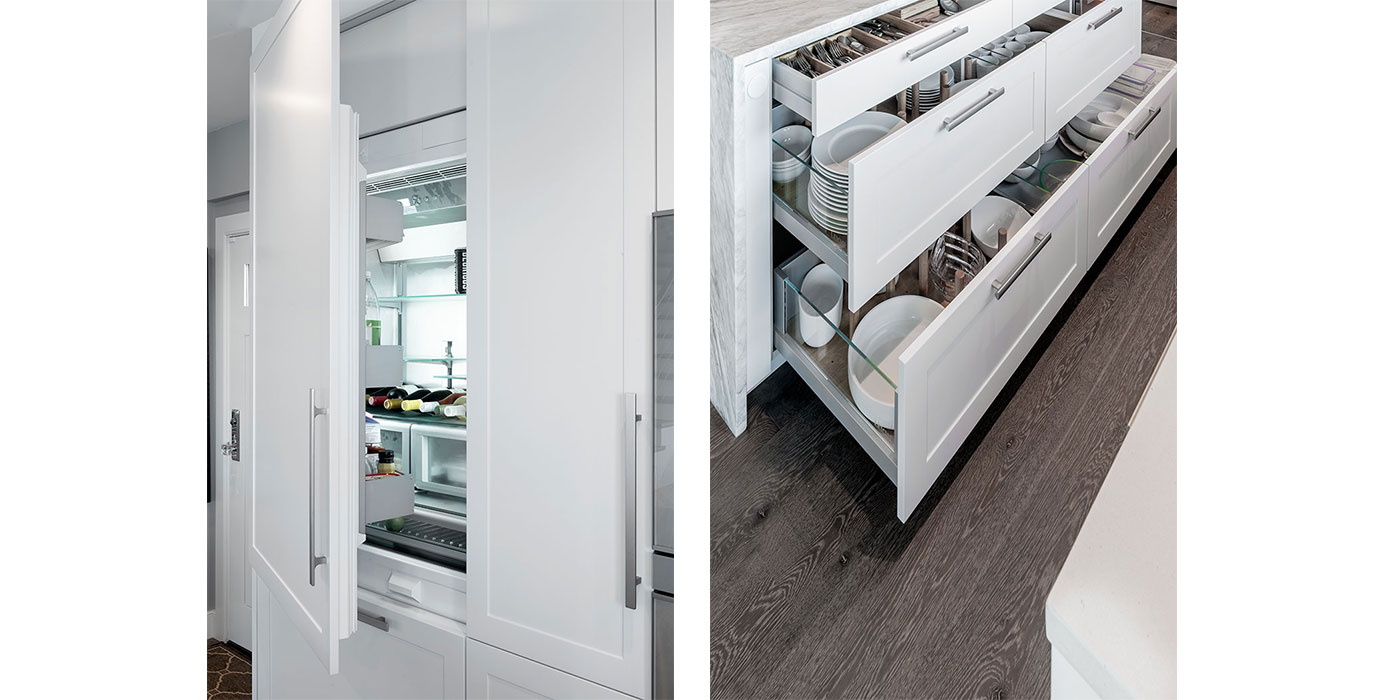 Because the client needed a lot of storage, the island was designed to house plenty of utensils and dishware, and the cabinetry runs clear to the edge of the walls. Fitting everything in, in a way that didn't compromise beauty or feel utilitarian, was perhaps the biggest challenge, says Mariette. It's a delicate balance to be sure, to ensure that the spaces are as hardworking as they are pleasing to the eye. Mariette is most gratified by how well everything flows and works. To be able to truly customize living spaces and accommodate the client's wish list is, she says, "the best reward a designer can have." 
Furnishings and interior design by Erika Z Interior Design Studio
Construction by C-Concept Corporation
Photography by Keitaro Yoshioka